10 Festive DIY Christmas Decorations You'll Love
Want to add a personal touch to your holiday decor? These festive DIY Christmas decorations will bring joy and warmth to your home this holiday season. 
Uncover a treasure trove of unique and easy-to-create DIY Christmas decorations, perfect for adding a personal touch to your celebrations. Whether you're decking the halls or crafting with family, these Christmas crafts bring a festive spirit to your home and create lasting memories.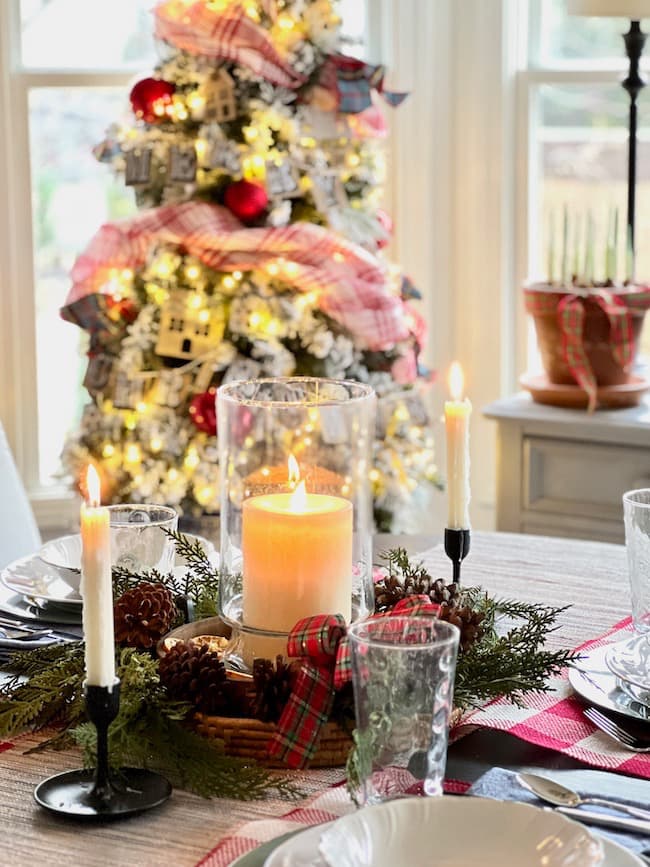 (This post contains affiliate links, so I may earn a small commission when you make a purchase through links on my site at no additional cost to you. As an Amazon Associate I earn from qualifying purchases.)
Whether you're adding a few homemade decorations to your Christmas collection or creating handmade gifts to share with friends and family, the holiday season is upon us, and it's the perfect time to craft!
So get your hot glue gun, acrylic paint, paint brush, and scissors ready to create some fun and Christmas magic to share with those you love.
Today, I'm sharing some of my favorite Christmas DIYs I use to decorate our home during this festive time of year, and I hope they inspire you to get creative and craft away!
Favorite Homemade Christmas Decorations:
There are so many creative possibilities when it comes to DIY Christmas decor, and these are some of my favorites!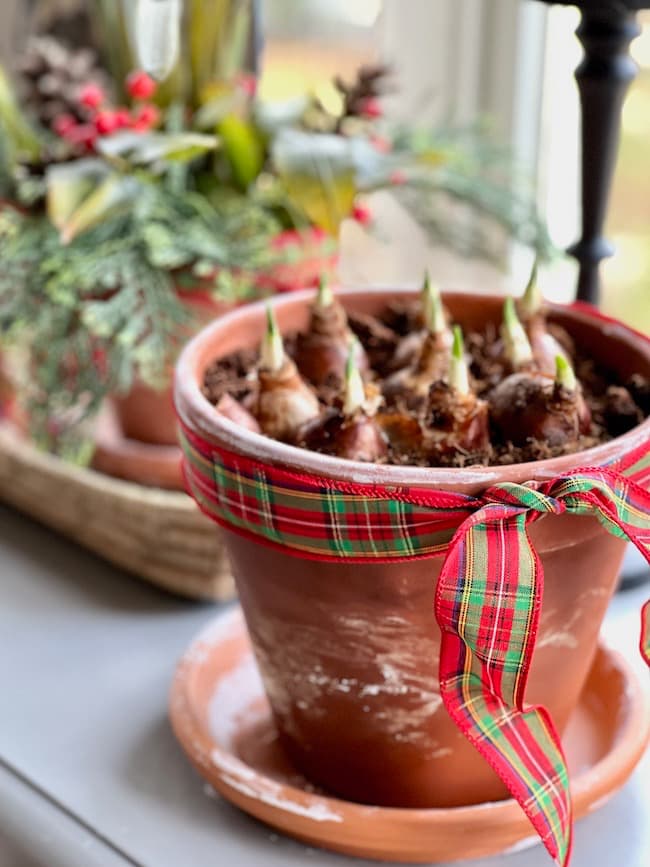 1. Plant Paperwhite Bulbs in DIY Aged Terra-Cotta Pots
The holiday season is the perfect time to plant paperwhite bulbs to bloom in time for Christmas. There's something incredibly satisfying about watching paperwhites grow, especially when nestled in these charming DIY aged terra-cotta pots. It's an enchanting way to bring a little life to the heart of the home during the cold winter months.
Place the pots in a sunny kitchen window or as a centerpiece on the kitchen table or kitchen island and watch your plants come to life.
​If you don't have naturally aged terracotta pots, never fear. You can create this look with this simple DIY.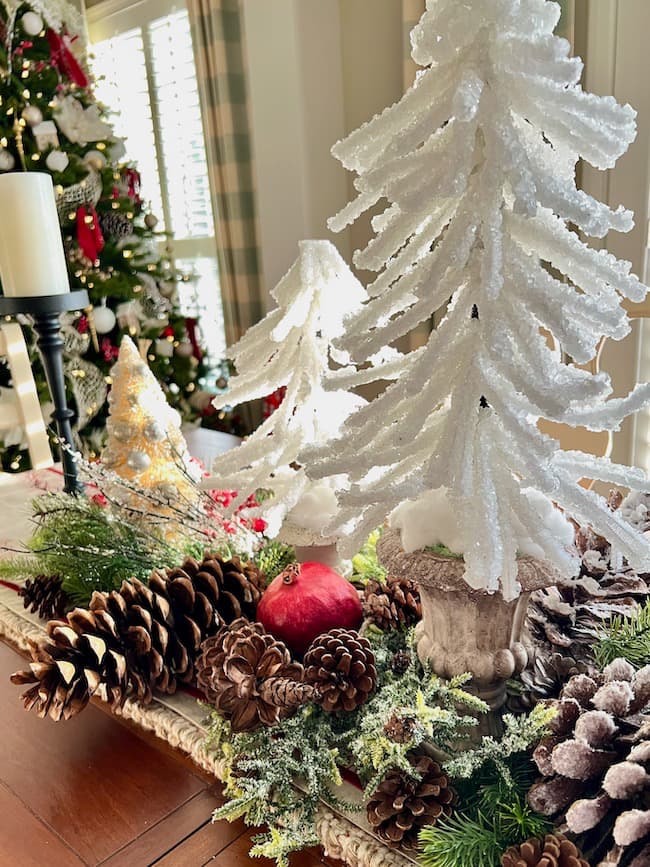 2. Craft Snowy Crystal Christmas Trees
Create a winter wonderland with these amazing crystal trees made with Borax! These snowy crystal Christmas trees will bring a touch of winter's beauty to your indoors! Get the kids involved for this fun science experiment that results in a shimmery whimsical work of art that doubles as a stunning conversation piece.
Create multiple snowy trees for a lovely wintry vignette on a mantel or coffee table.
Read the step-by-step instructions here!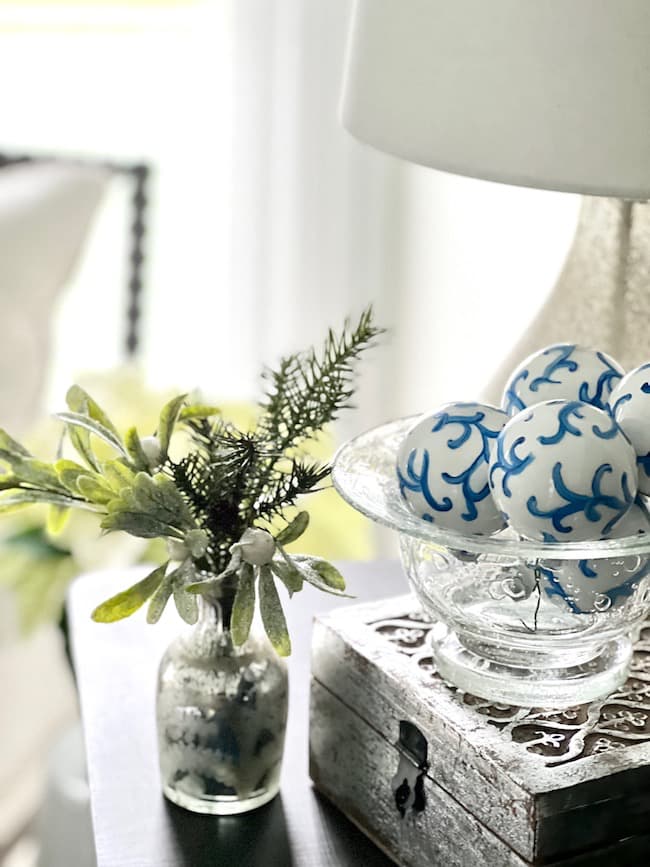 3. Hand Paint Chinoiserie-Style DIY Christmas Ornaments
Paint these blue and white Chinoiserie-style ornaments to add an elevated and personal touch to your Christmas decorations. These simple DIY makes the most beautiful ornaments for your classic blue and white themed tree. Adorn your gift packages, fill a pretty bowl, or give them as a handmade gift.
These homemade Christmas ornaments carry an air of elegance and result in a timeless piece that's sure to become a treasured part of your holiday collection. See just how simple they are to make!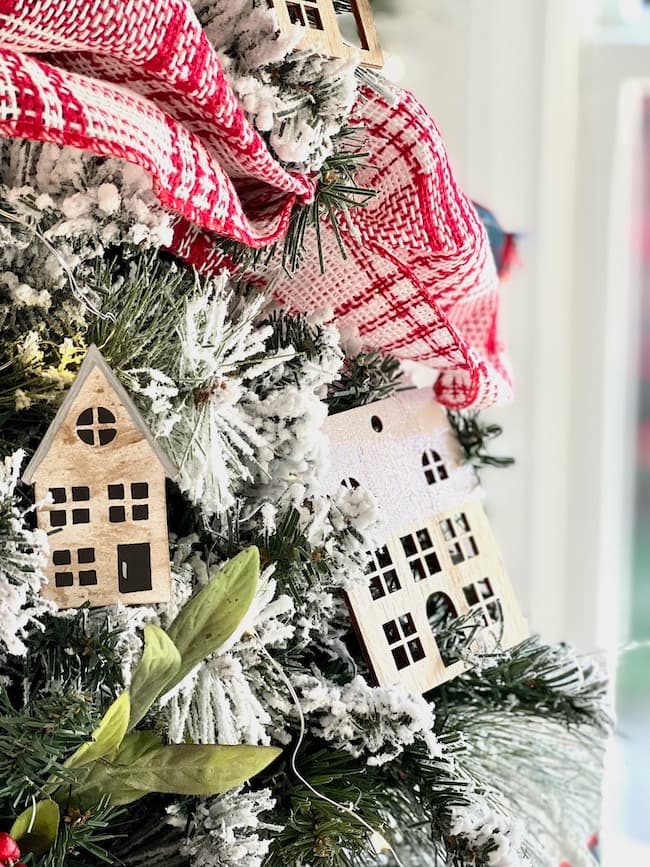 4. Create Simple Christmas House Ornaments from Paper
These small paper Christmas houses are so easy to make, and add such a cozy and charming look to your tree. With a simple pattern and a few cuts, you can craft a quaint village that captures the cozy essence of the holiday season.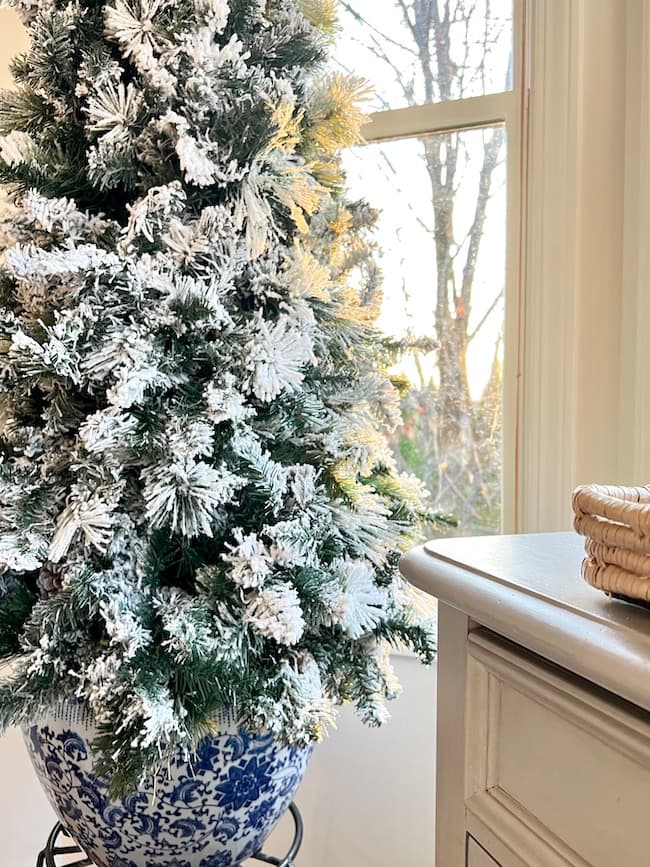 5. Turn an Old Potted Evergreen Tree into a Flocked Beauty
The beauty of a flocked tree is its versatility — it pairs equally well with bold, traditional colors and with a more subdued neutral palette. And when the lights twinkle amongst the snowy branches, your home will feel like it's straight out of a Christmas card.
No, this DIY doesn't involve any messy powder to flocking material. And the best part — you can convert it back to its original green whenever you like! Check out this easy flocked tree hack!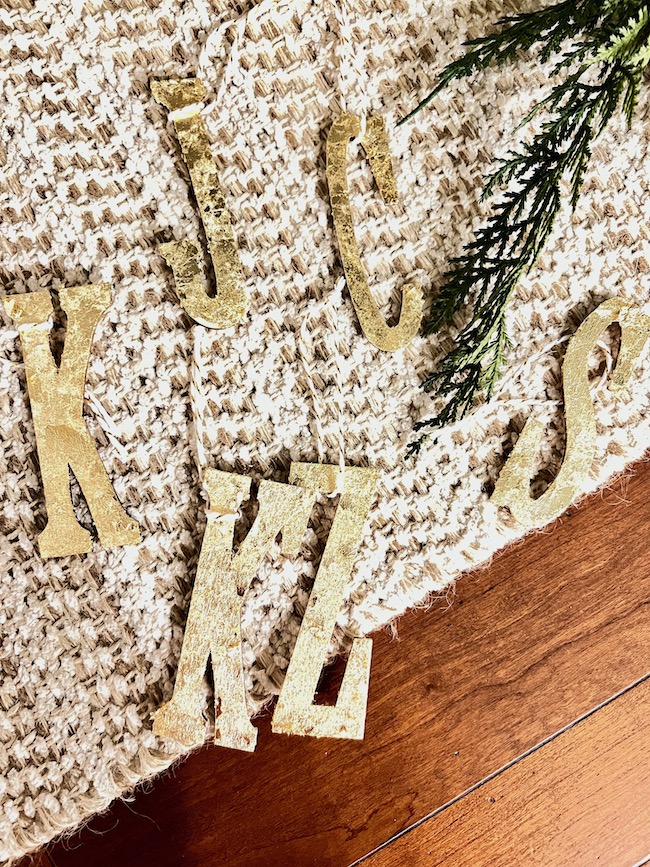 6. Craft Elegant Gold Leaf Initial Ornaments
Crafting gold initial ornaments adds a personal and elegant touch to your holiday decor. Each sparkling letter represents a sweet family member. These easy DIY ornaments can adorn your Christmas tree, mantle, or even serve as sophisticated gift tags that recipients can later use as decor.
It's such a fun and satisfying DIY! If you'd like to give metal leafing a try, these simple homemade ornaments are a perfect place to start!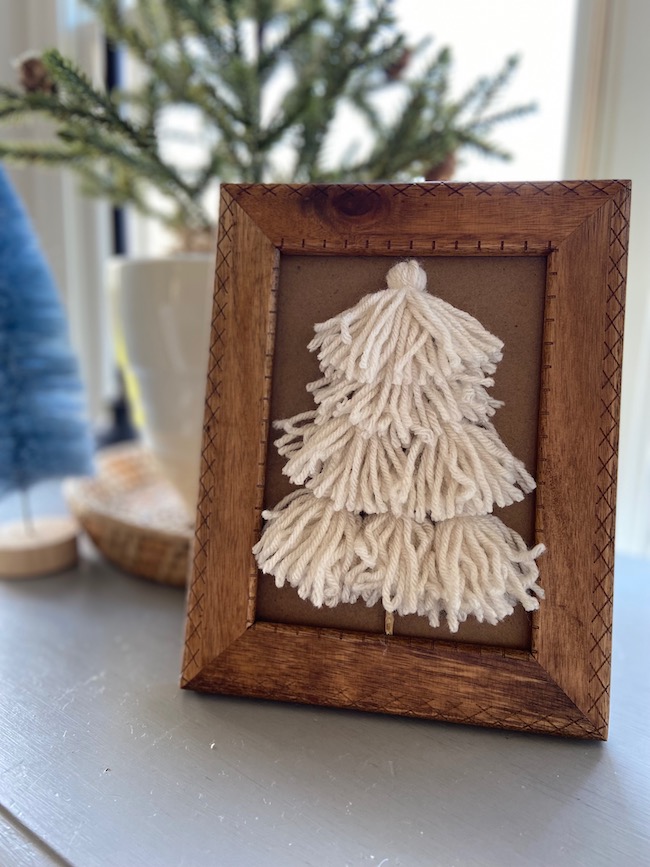 7. Make Yarn Tree Art
Yarn trees are fun to make and can be crafted and displayed in a variety of ways to add texture and color to your holiday decor. Whether you choose to make a colorful tree or a more neutral version, this framed piece of yarn art adds a cozy touch to your holiday decor.
These yarn trees can be made in various sizes, perfect for dotting around the home where spaces might need an extra touch of whimsy. They also make great projects for kids and adults alike, offering a festive craft that doubles as a stylish piece of decor.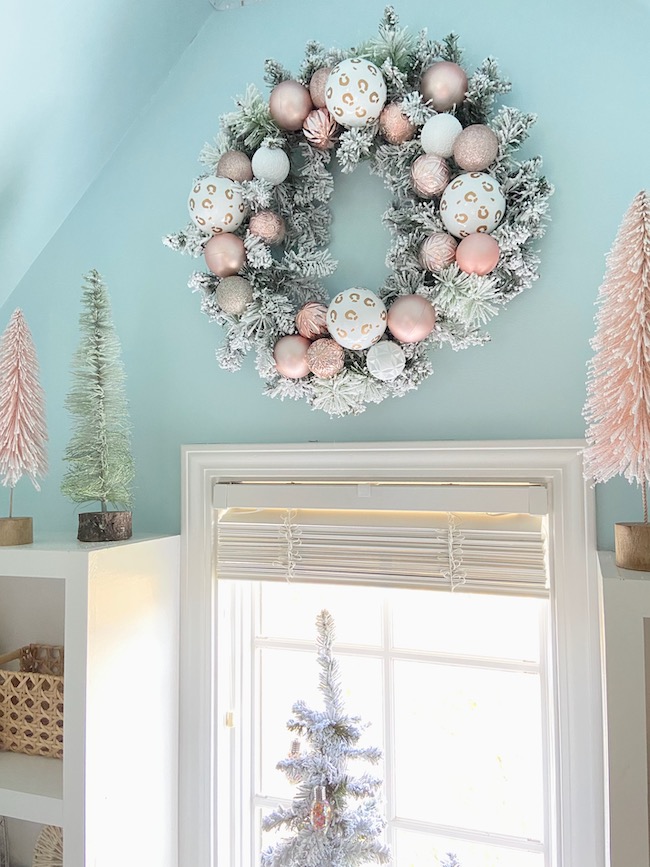 8. Design a DIY Christmas Wreath for a Teen Girl's Room
Creating a DIY Christmas wreath for a teen girl's room is all about fun, color, and personality. Incorporate fun elements that speak to her interests, style, and favorite colors.
Hanging on her door or above her bed, this wreath will infuse her personal space with the holiday spirit.
Simply add a few festive Christmas balls to a flocked wreath for this festive look!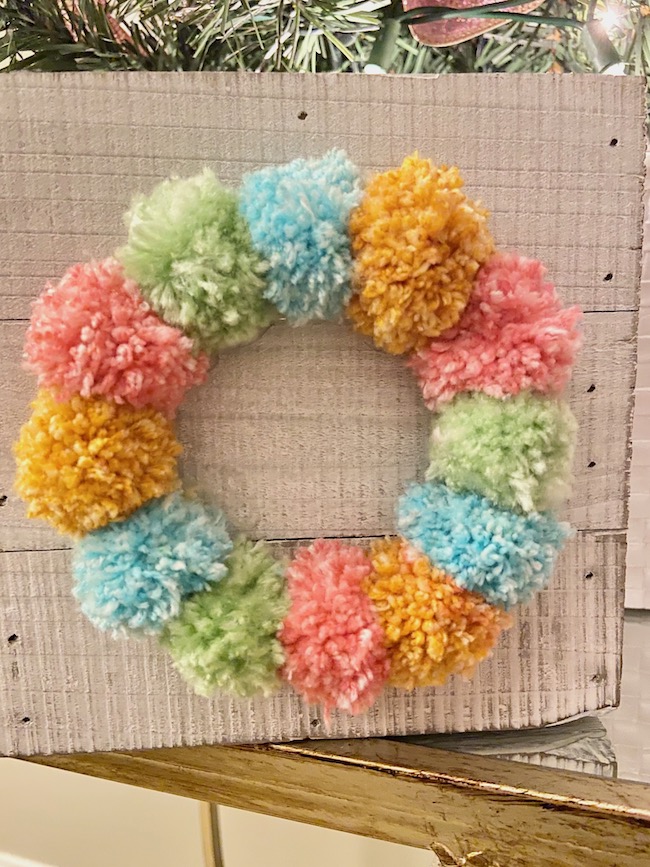 9. Make Small Pom Pom Wreath Art
This DIY pom pom wreath is a playful addition to your Christmas decorations. Whether you choose a spectrum of colors or stick to a monochromatic scheme, this small piece of decor packs a punch with its texture and charm, perfect for livening up a nook or cranny that needs a bit of cheer.
Perch this little wreath DIY on a shelf for a touch of whimsy and fun! It's these little details that make a home feel fully dressed for the Christmas season.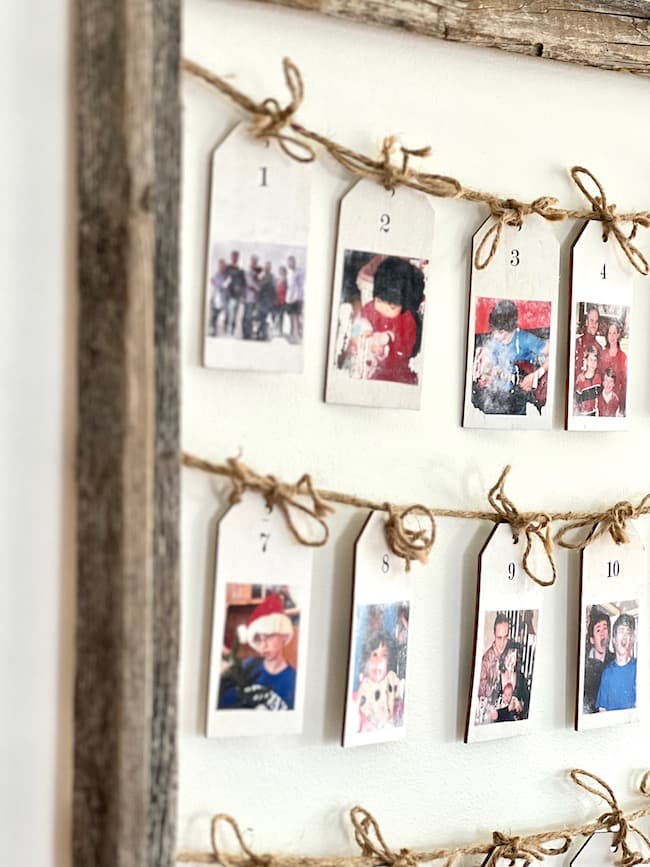 10. Create a Sentimental Photo Advent Calendar
Our photo advent calendar is one of my favorite Christmas DIYs!
The advent calendar is a treasured holiday tradition, and transforming it into a celebration of memories makes it all the more special. A sentimental photo advent calendar is not just a countdown to Christmas; it's a daily walk down memory lane. Each day reveals a new photo—a cherished moment, a loved one's smile, or a snapshot from past holidays.
This DIY project is a bit of a labor of love and a heartfelt way to personalize the holiday season and share stories with your family. Read all the details and instructions here!
I hope you've found inspiration among these handcrafted decorations to bring a dash of handmade charm to your holiday home. Whether it's the natural elegance of paperwhite bulbs in terracotta pots, the shimmering beauty of snowy crystal trees, or the personalized touch of hand-painted ornaments and pom-pom wreaths, each craft is a celebration of the season's joy and a reflection of your personal style. May your days be merry, bright, and filled with the satisfaction of creating beautiful things.
Happy Crafting and Merry Christmas!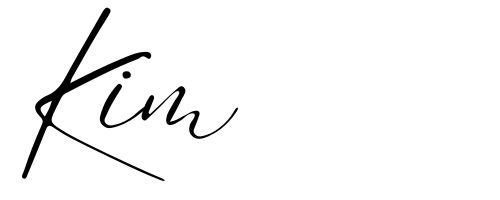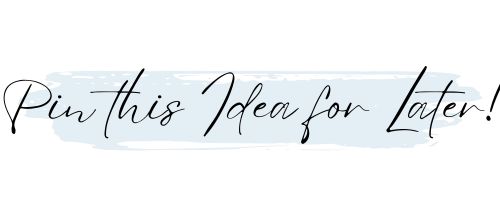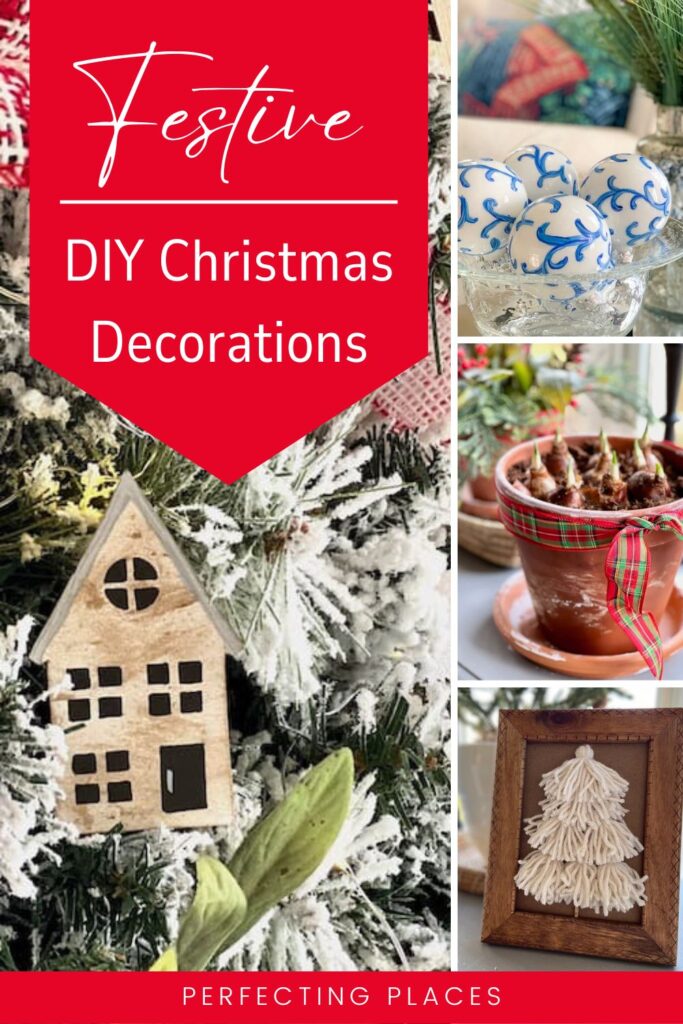 By the way, do you follow me on all the socials? If not, check out my Pinterest, Instagram, and Facebook and be sure to follow along so you don't miss out on any of my decorating and DIY ideas.