DIY Yarn Christmas Tree Art and Pom Pom Christmas Crafts
Do you need simple DIY ideas for Christmas? These DIY yarn Christmas tree and pom pom Christmas crafts make great holiday decor and handmade gifts.
Whether you're looking for an elegant addition to your living room, a colorful piece of art for a bedroom, or simple framed art for a tabletop or shelf, these simple yarn DIYs have you covered.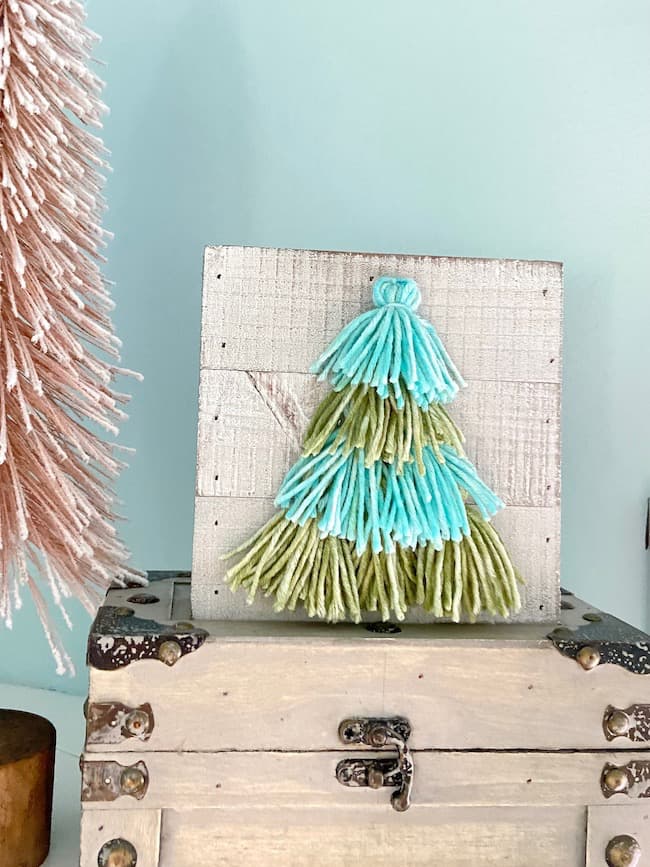 (This post contains affiliate links, so I may earn a small commission when you make a purchase through links on my site at no additional cost to you. As an Amazon Associate I earn from qualifying purchases.)
My sweet Caroline loves decorating and organizing her room.
She has quite the decorative eye, and definitely a strong opinion about how her room should look.
She recently re-organized and re-decorated the built-in shelves in her room. I'm amazed at how well she intuitively arranges the decor and accessories on them!
As the holidays approach, I thought it would be fun to add a little extra Christmas cheer to her built-in shelves, so I decided to make some Christmas art for her room using colorful yarn.
Tassel Christmas Tree and Pom Pom Art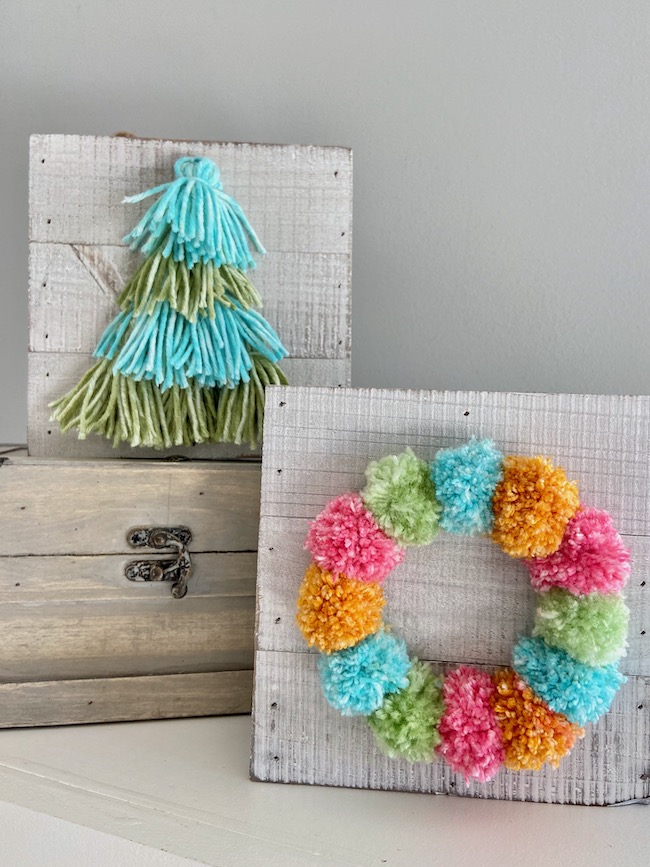 I created some fun DIY yarn Christmas tree art made from yarn tassels. I also used a pom pom maker to make pom pom wreath art to coordinate with her yarn tassel tree.
 How to Make Adorable Yarn Christmas Trees: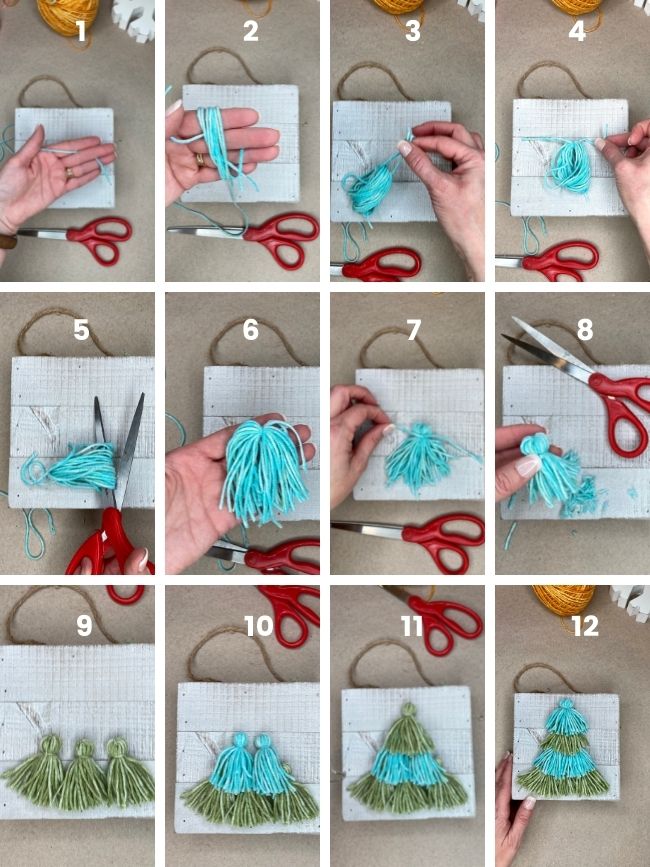 Craft Supplies for this Yarn Tree DIY:
square wooden block
2 different colors of yarn
scissors
hot glue gun and glue sticks
To make each tassel, cut a small piece of yarn, approximately 5 inches long and lay across your hand securing between your fingers.
Pull the end of the yarn from the skein, and wrap it around your fingers about 20 times. After you've finished wrapping, cut the yarn.
Remove the yarn from your fingers, keeping the loops together.
Tie off the yarn using the 5″ yarn piece.
Insert scissors and cut the yarn loops at the opposite end of the tying string.
Fold all of the yarn down, including the string that you tied with.
Use another 5″ strip of yarn to tie the yarn together.
Trim the tassel to the desired length. My loose yarns are about 1 1/2 inches long from the tying string. (Duplicate this entire process for the number of tassels you need to complete your tree. I used 7 tassels for this project.)

Glue the tassels onto a wooden block forming a Christmas tree shape. Use a hot glue gun and glue three green tassels across the bottom.

Alternate colors and add a new row with 2 blue tassels.
Add one green tassel above these.
Finish off with another blue tassel to top the tree.
You can watch the IG reel for this project here.

 Colorful Pom Pom Christmas Wreath Art:
I used another wooden block and multi-color yarn to create this adorable pom pom wreath art.
Craft Supplies for the Pom Pom Wreath Art:
pom pom makers
yarn in a variety of colors
scissors
wooden block
hot glue gun and glue sticks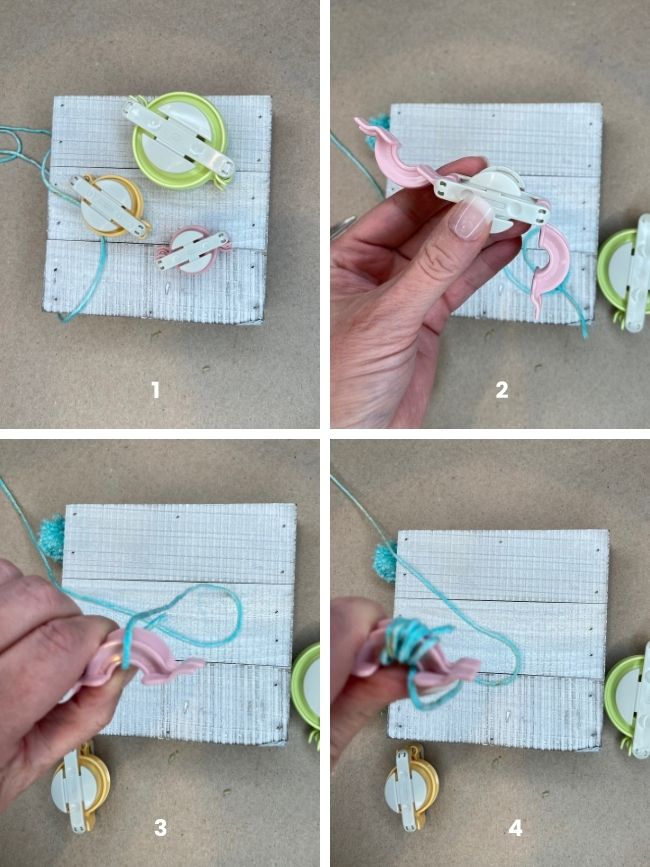 Make your pom poms first. I made 12 with the small pink pom pom maker from this set of pom pom ball makers. It's really helpful to use micro tip scissors like the pair below to clip the pom poms open and trim them.
You can see how I made the pom poms and attached them to make the wreath in this Instagram reel.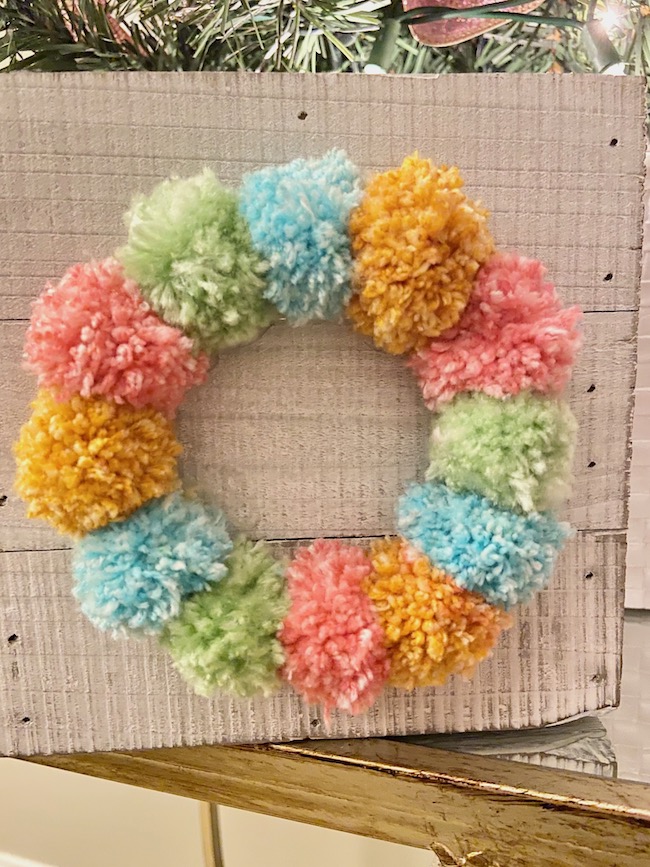 The colors of the yarn tree and pom pom wreath art are perfect together for Caroline's bookshelves!
 Neutral Tassel Tree Art:
I made this sweet little framed tassel Christmas tree out of cream yarn for our kitchen buffet.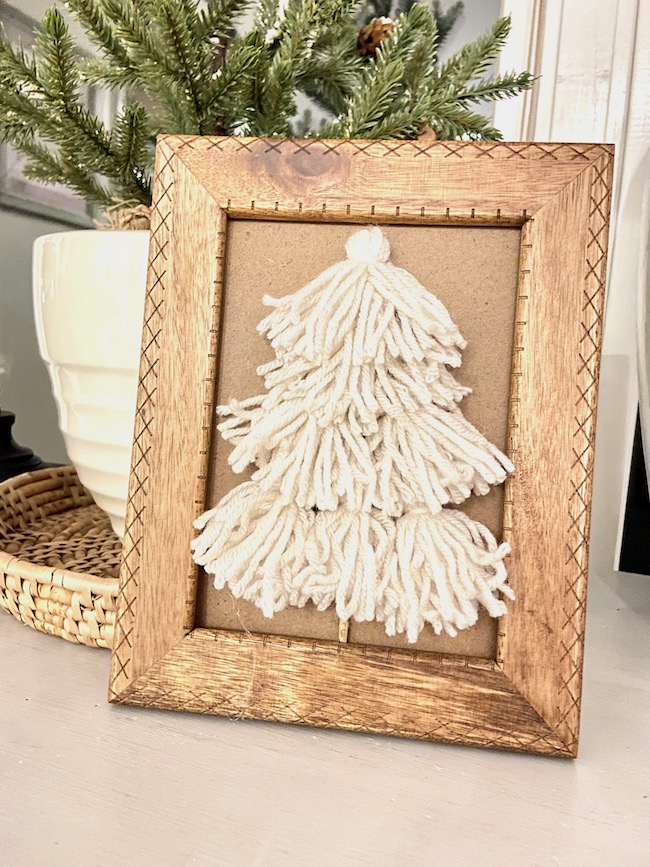 I used this pretty wood 5 x 7 frame from Walmart, as well as this off-white yarn for a natural look.
Follow the steps outlined above to create the yarn tassels, and add them to the frame. I made 7 tassels for this tree. If you want to use a larger frame to make a bigger tree, you would need to make more tassels.
I removed the glass from the frame and glued the tassels directly to the back of the frame, covering the holes with the tassels.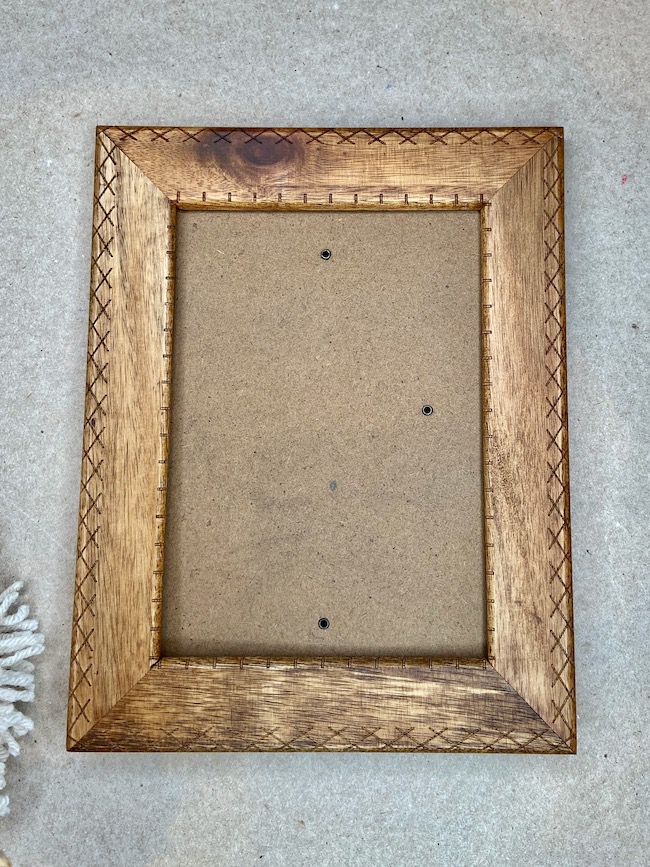 The tan backing of the frame is the perfect shade and texture for the neutral look. I collected a small twig from the yard to glue on for the tree trunk.
I love how pretty it is on our buffet!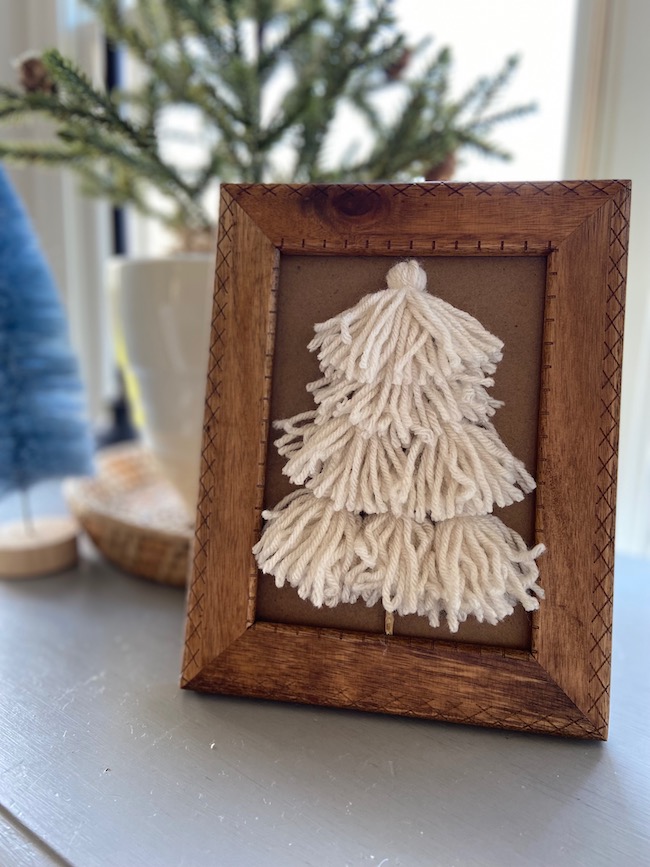 Pom Pom Christmas Wreath Pillow
I made this Christmas wreath pillow a few years ago with dark green yarn and a purchased lumbar pillow cover.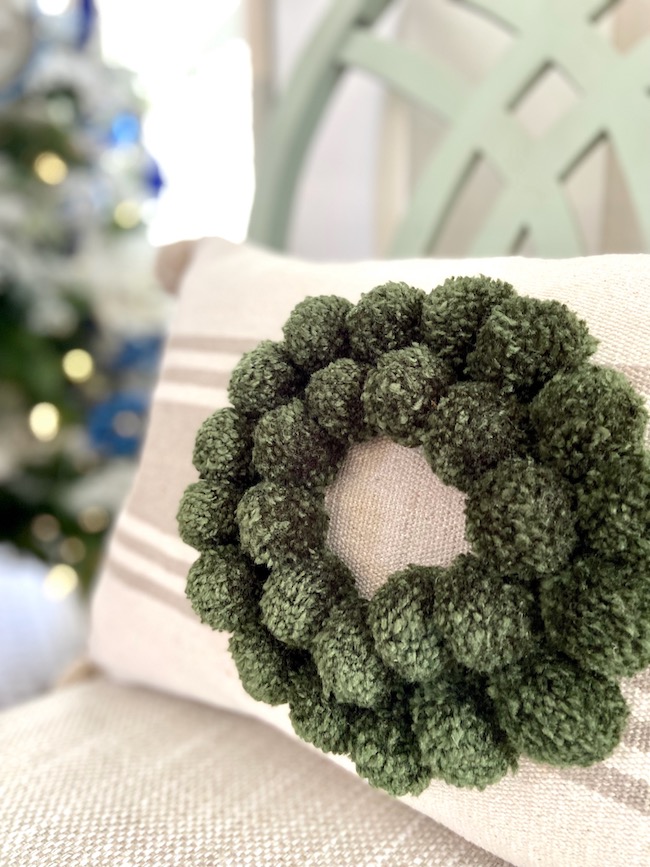 Craft Supplies:
dark green yarn
pom pom makers
sharp pointed scissors
lumbar pillow cover
large embroidery needle
You can use either the pink or yellow pom pom maker for this wreath.
For these pom poms you should leave the tying strings attached to thread through a large needle to attach the pom poms to the pillow. As an alternate method you can glue them on, but the sewing method is more secure.
Create two rows of pom poms in a circle to achieve the nice, full look of the wreath.
Shop for Supplies

I hope these ideas for Christmas decor you can make with yarn get your creative juices flowing! This DIY yarn Christmas tree art and Pom Pom Wreath art adds a special homemade touch of Christmas around your home, and they make perfect gifts as well!
Happy Creating!!
For other Christmas decorating and craft ideas check out the following:
An Easy Chinoiserie Ornament DIY and Christmas Tour
3 Great Inexpensive Christmas Wreaths from Walmart
Our Blue and White Color Scheme for Christmas
5 Simple Ways to Decorate with Bottle Brush Trees
Pin It for Later!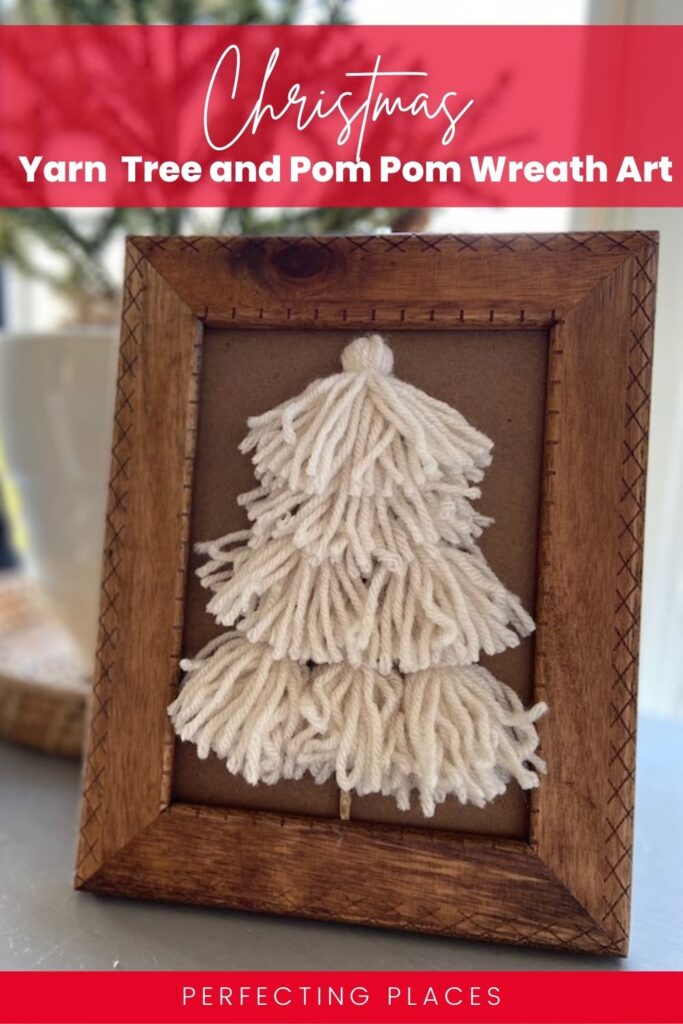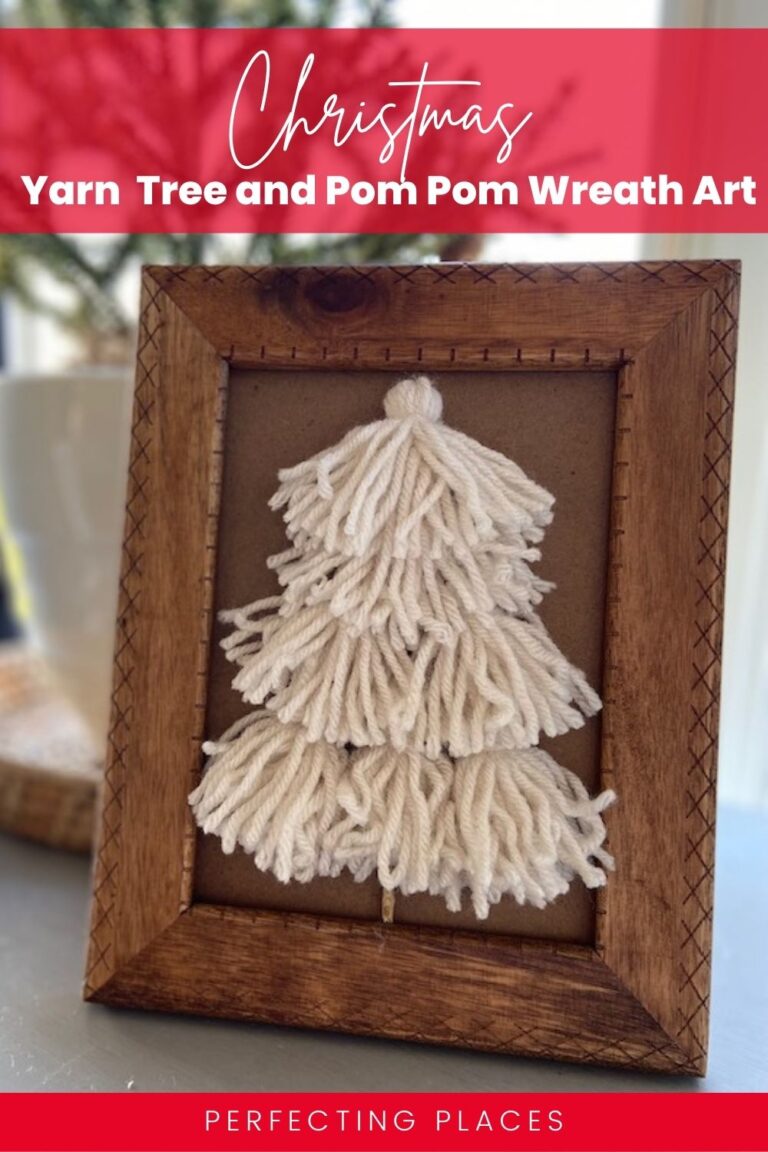 By the way, do you follow me on all the socials?? If not, check out my Pinterest, Instagram, and Facebook and be sure to follow me on all the socials so you don't miss out on any of my holiday decorating and DIY ideas!