The Best Kitchen Christmas Ideas for Decorating
Do you decorate your kitchen for Christmas? I'm sharing the best kitchen Christmas ideas for adding holiday cheer to the heart of your home.
Christmas is my absolute favorite time to decorate, and I love adding touches of Christmas all over our home! Our kitchen is certainly the heart of our home, and we spend a lot of time in there over the holidays. I love adding festive and cozy touches all around the room, and today I'm sharing some of the best ways to decorate your kitchen for Christmas.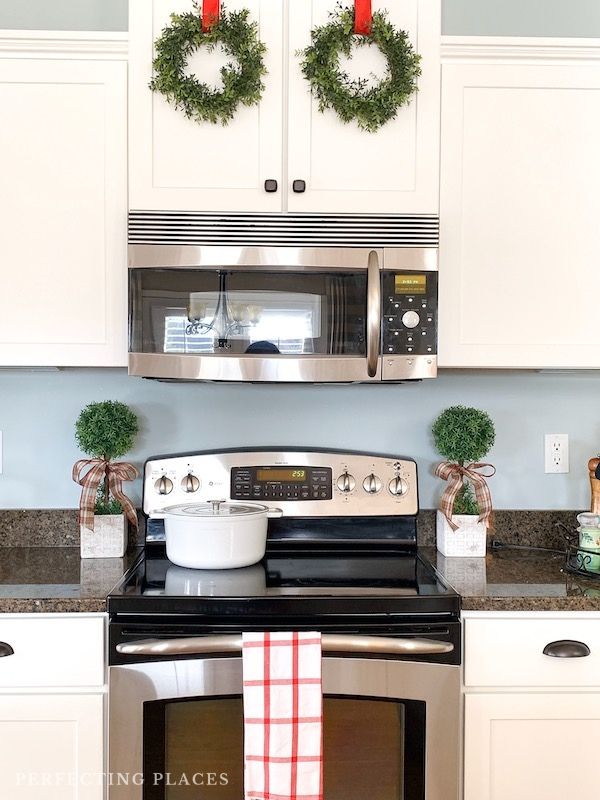 (This post contains affiliate links, so I may earn a small commission when you make a purchase through links on my site at no additional cost to you. As an Amazon Associate I earn from qualifying purchases.)
We spend LOTS of time in our kitchen during the holidays! Our kitchen certainly gets lots of love and attention with all the holiday baking, cooking, entertaining, crafting, cookie decorating, and not to forget — game playing that happens when all of our kids are home for Christmas.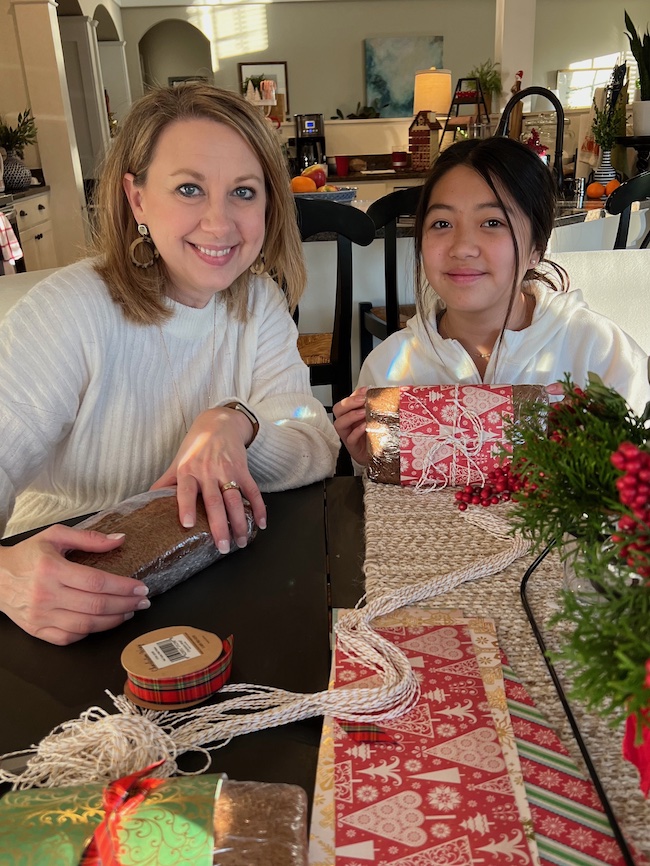 It's true that the kitchen is really the heart of the home.
I'm sure if you entertain often in your home you'll find that guests tend to gather and linger in the kitchen. You can have an entire house decorated and ready to receive guests, but they just always seem to be drawn to the kitchen.
So today, I'm sharing some of my favorite kitchen Christmas ideas to spruce up your space for this Christmas season. Just a few simple ideas can add a lot of holiday charm to your room.
10 Favorite Ways to Decorate Your Kitchen for Christmas: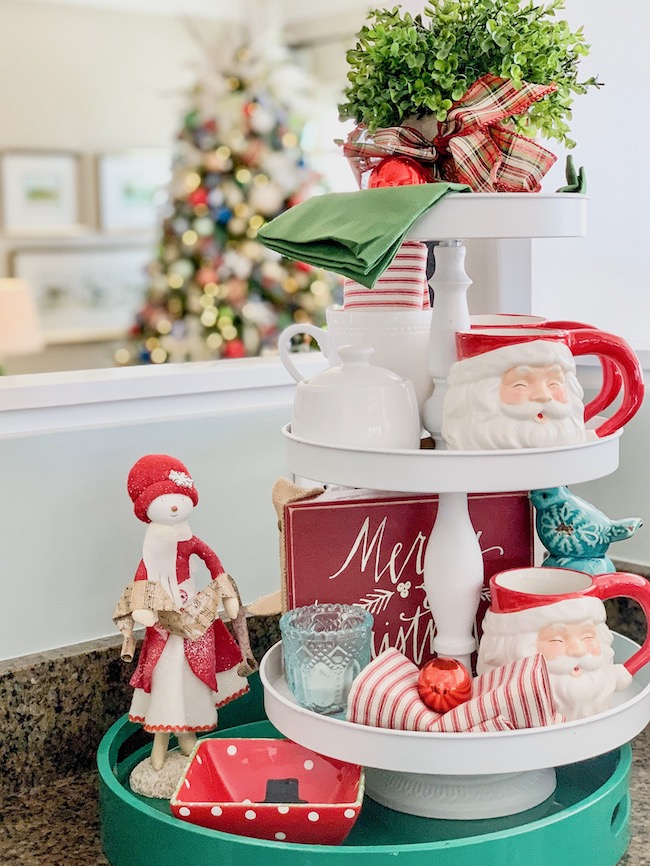 1. Add some Santa mugs to a 3-tiered tray.
Santa mugs are perfect for serving up delicious hot cocoa. Complete the look by adding mason jars full of your favorite hot chocolate toppings.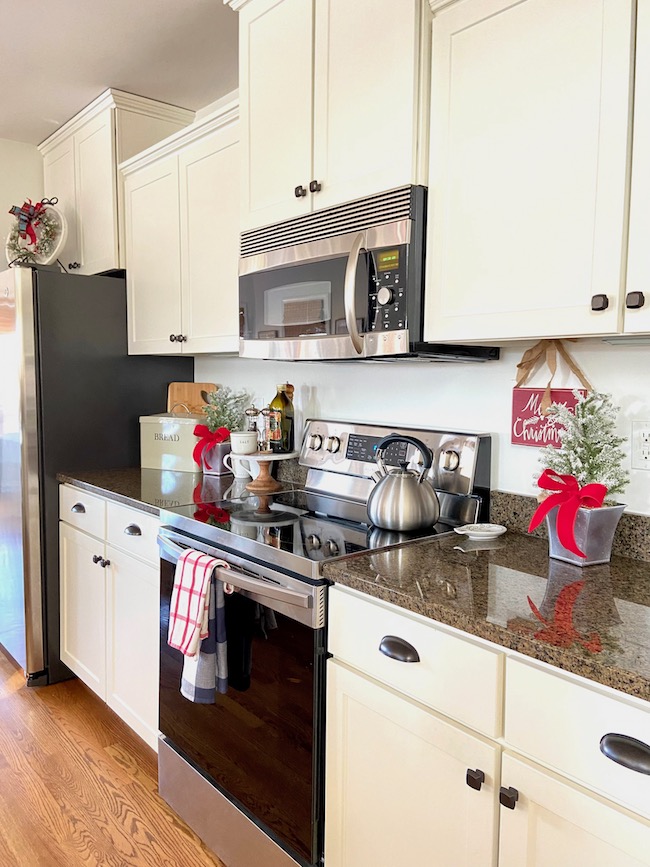 2. Flank your stove with pretty Christmas topiaries decked out in red velvet bows.
Red velvet ribbon makes everything look more festive!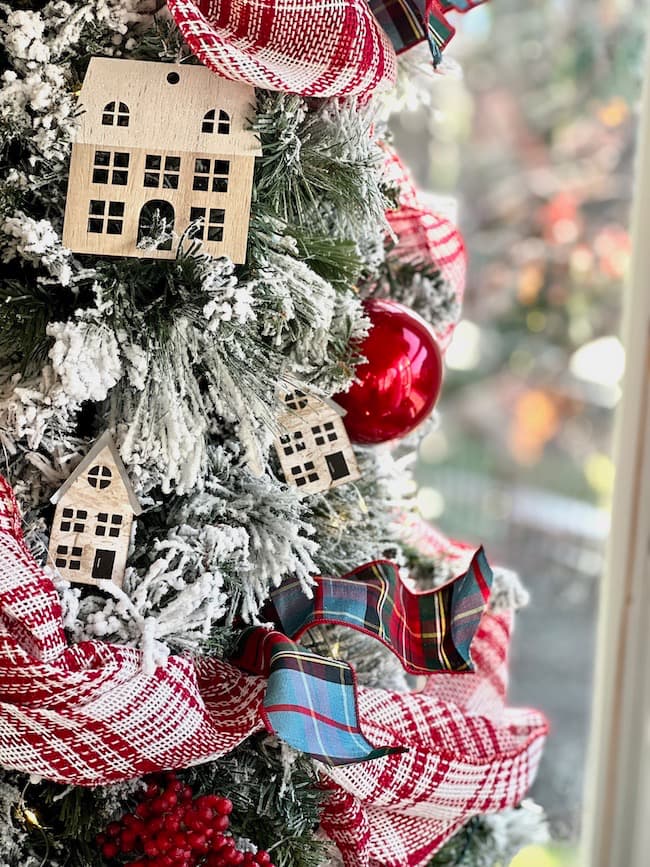 3. Decorate a kitchen Christmas tree with cute DIY Christmas house ornaments.
These Christmas house ornaments were so fun and easy to make. Get the details here!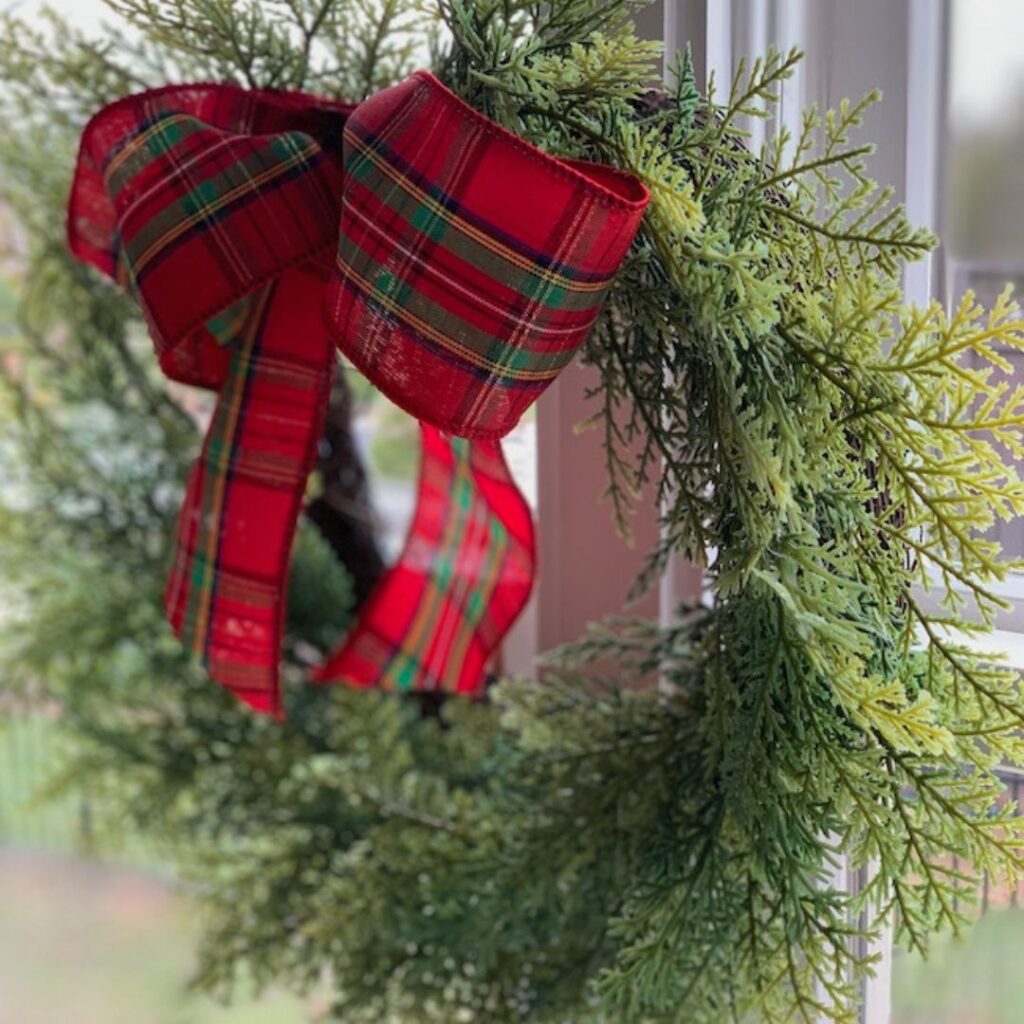 4. Decorate with red tartan plaid.
Tartan plaid ribbon added to a wreath in the window is the perfect touch for cozy Christmas kitchen.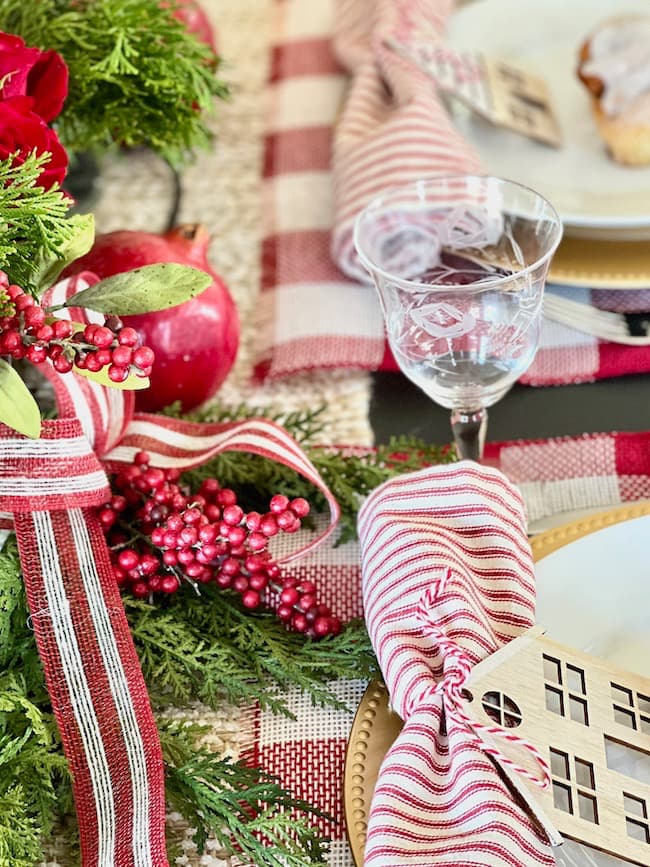 5. Make red and white checked placemats from a roll of decorative jute mesh.
I created these placemats from a roll of this jute mesh. I pulled some of the threads along the edges to create a frayed look.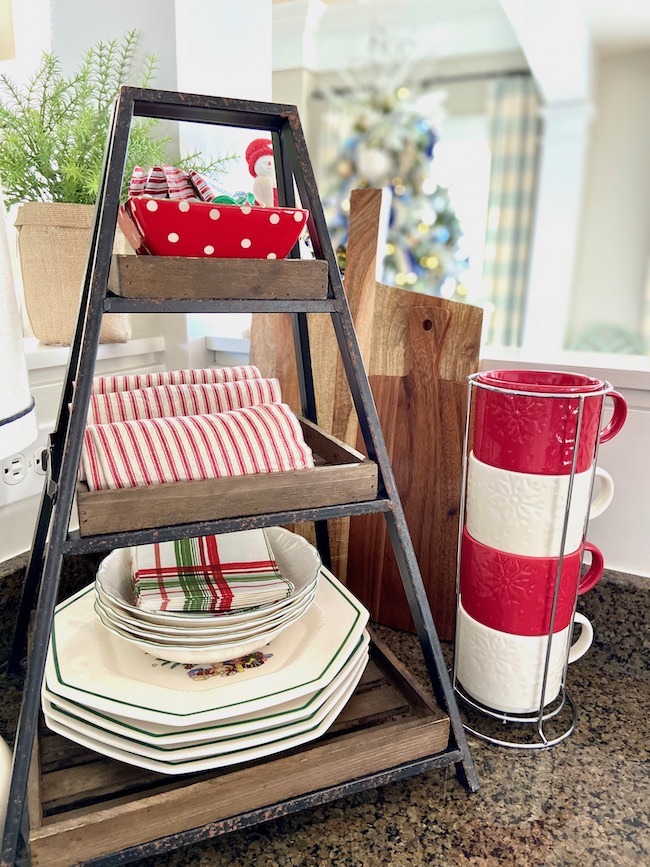 6. Display your Christmas dishes on your kitchen counters in a cute tiered tray.
I like to keep our Christmas dishes handy to use everyday during the holidays. Displaying them on your countertops makes them easy to use everyday.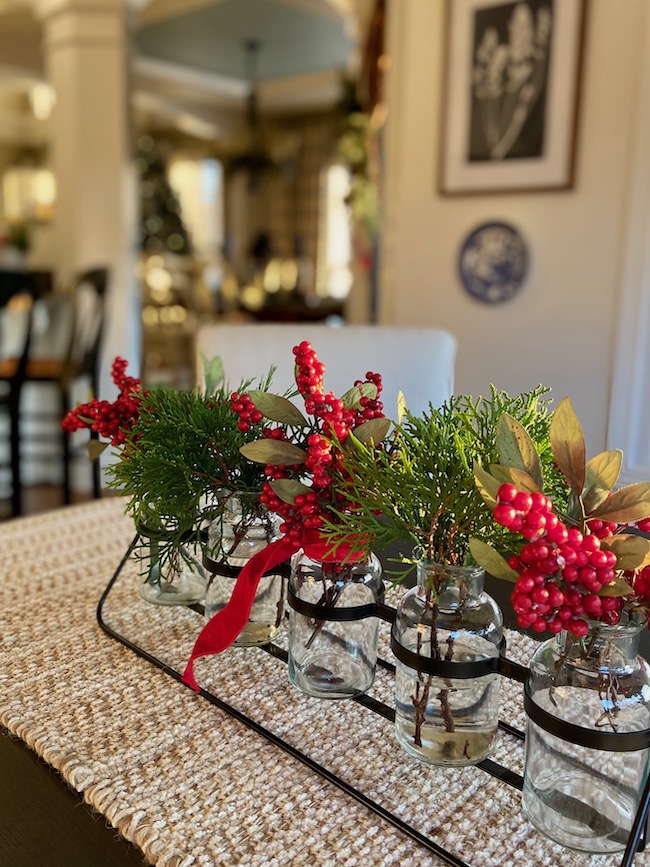 7. Use a multi bud vase holder to create an easy centerpiece with greenery and berries.
A vase holder like this makes it so easy create simple Christmas arrangements for your table. Just at a little greenery from your yard and some berries. I even mix real and faux stems to create this look.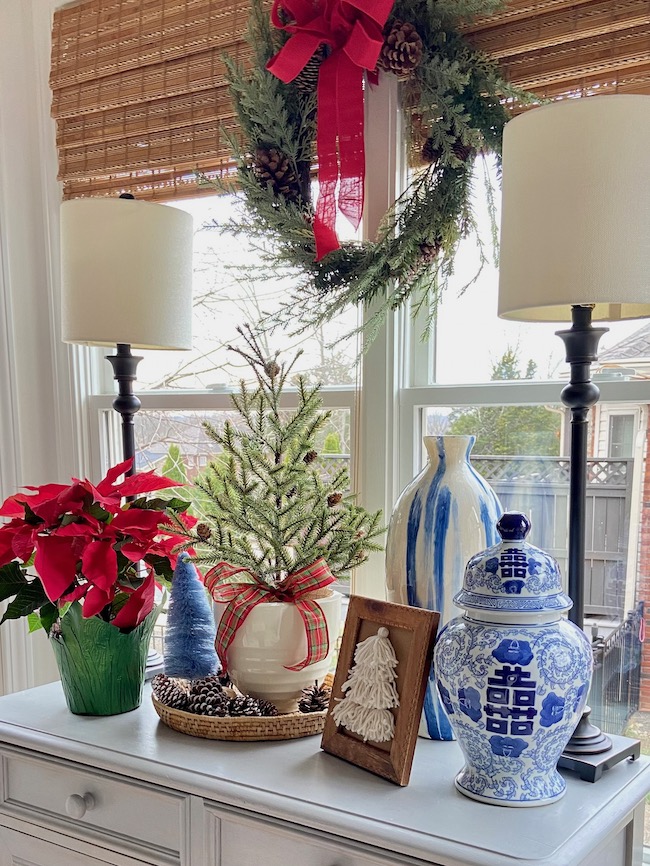 8. Add a small tabletop tree to a kitchen buffet.
Even if it's undecorated, a simple tabletop tree is perfect for the top of a buffet in the kitchen.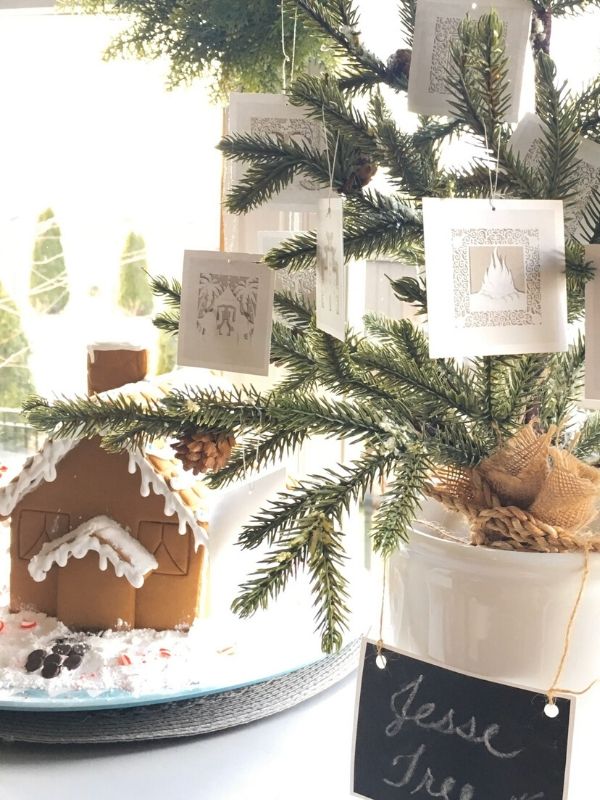 9. Decorate with gingerbread houses.

Does your family love to make and decorate gingerbread houses? Create a pretty vignette with them.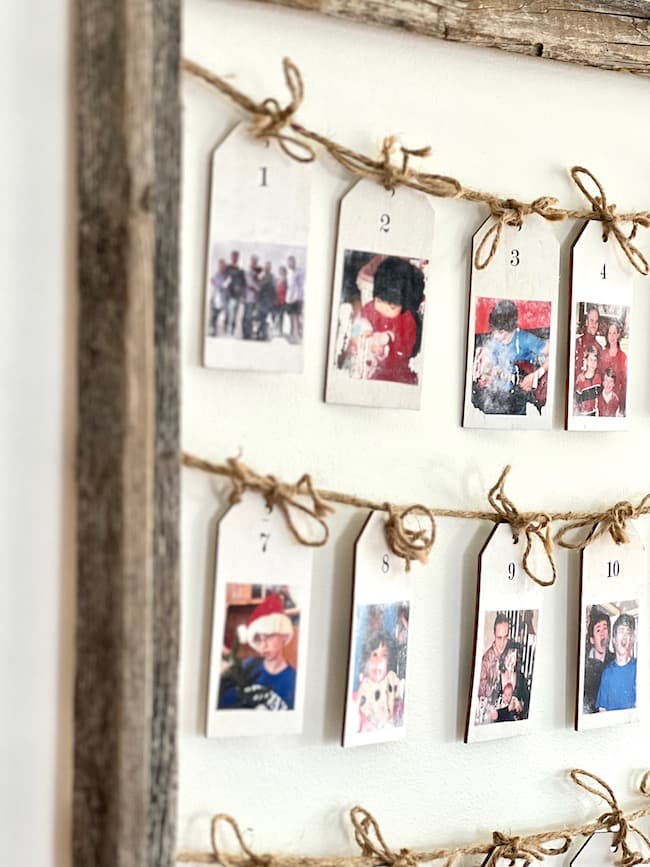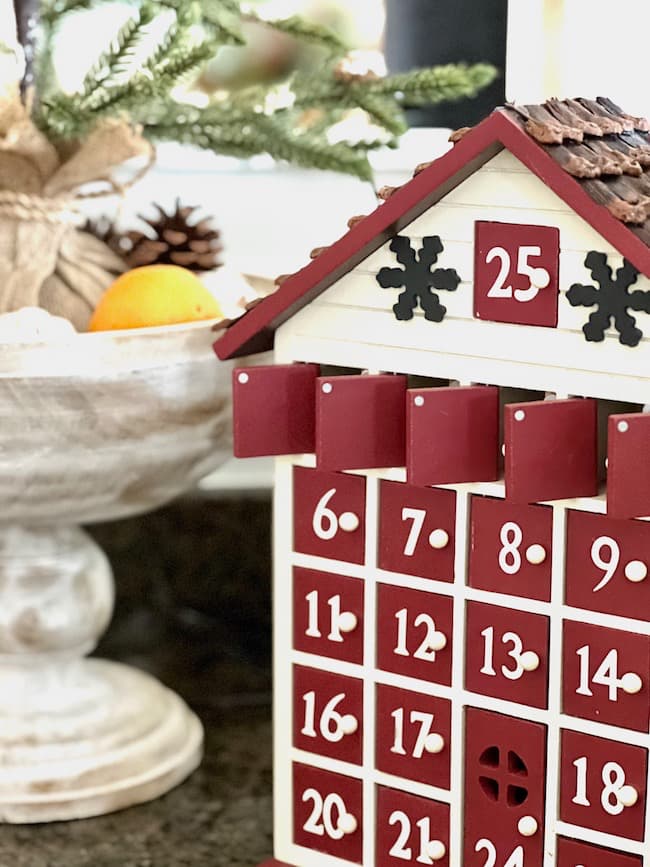 10. Add an Advent calendar to your wall or countertop.
Countdown to Christmas with an Advent calendar. This family photo Advent calendar DIY is such a fun and special project your family will love.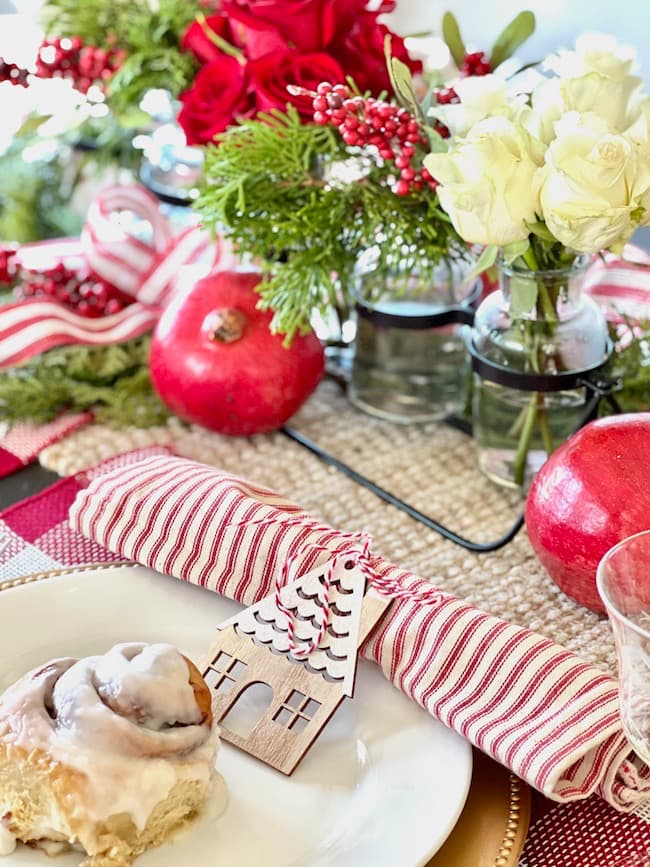 11. Create adorable napkin rings with twine and little wooden houses.
This is such a fun look for your Christmas table. It's a perfect look for a Christmas brunch. You can see the rest of the Christmas table here.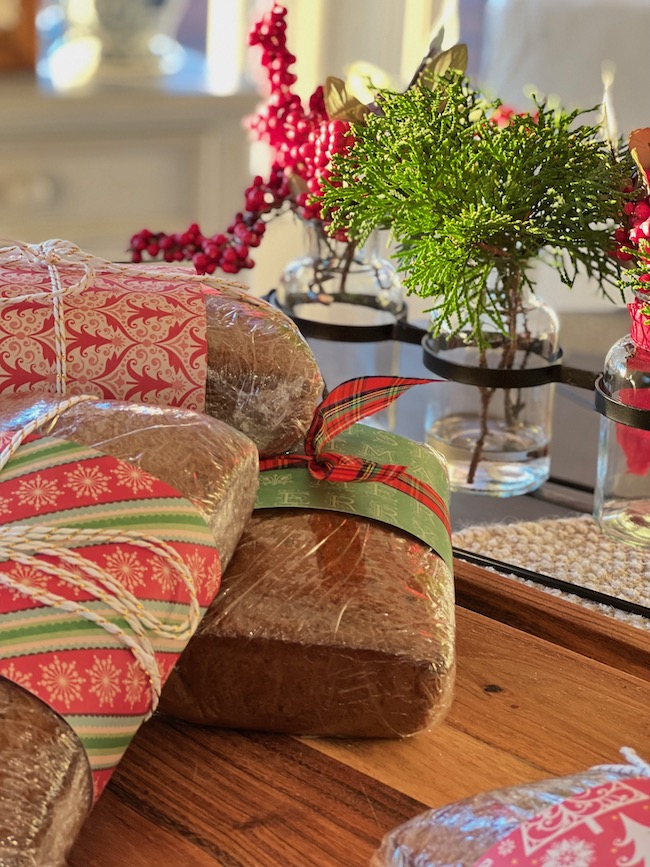 12. Display your baked goods in pretty wrapping and ribbon.
If you bake sweet breads to share at Christmas, wrap them with simple Christmas papers and tie with ribbon. They're so pretty displayed around your kitchen. See some of my favorite Christmas treats here.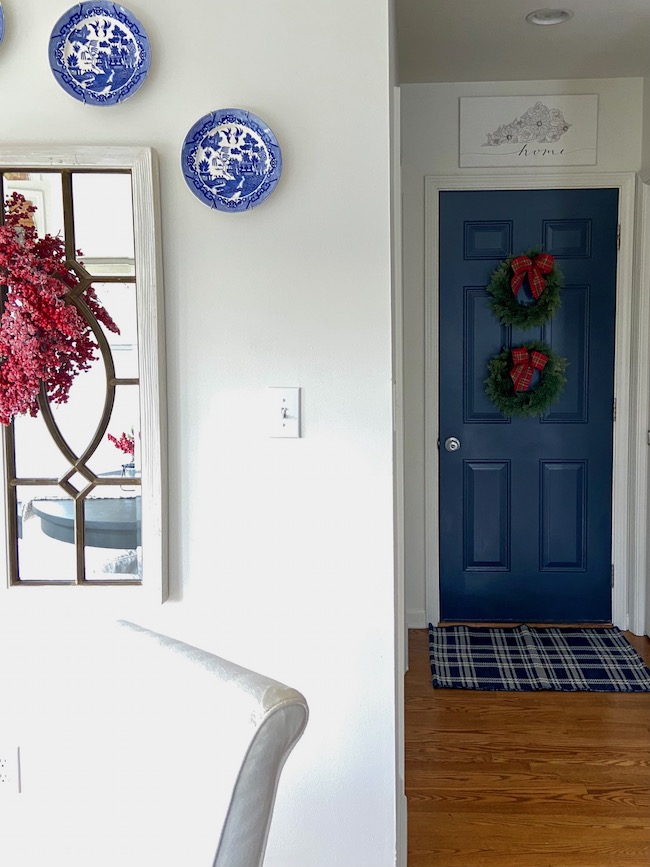 13. Stack two small wreaths together on your kitchen door.
Why just stop at one wreath when you can add two! It's a pretty Christmas look!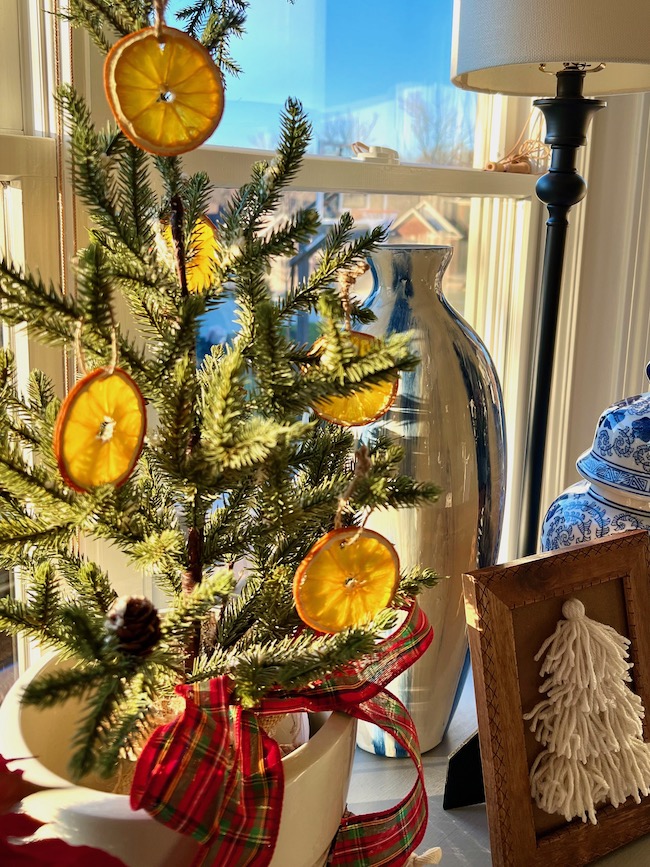 14. Dry oranges and tie to a small tree with jute string.
Have you ever dried oranges? I've dried oranges the past two years for Christmas and love using them around the house. Thread some jute twine through the slices and hang them on a tree.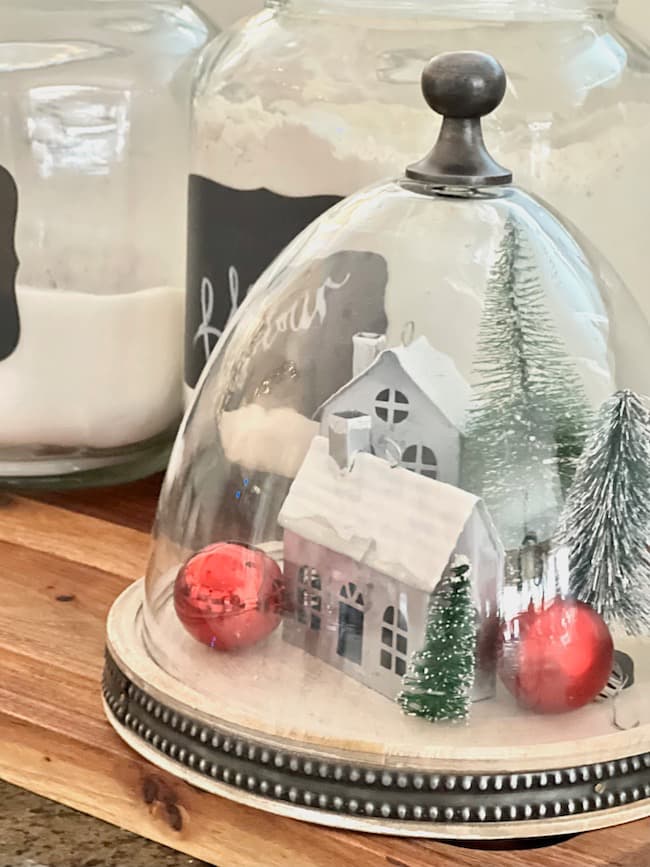 15. Add tiny houses and small bottle brush trees to a decorative glass cloche.
I added these cute little galvanized house ornaments and some small bottle brush trees to this glass cloche to create a miniature village. Display the cloche on your countertops.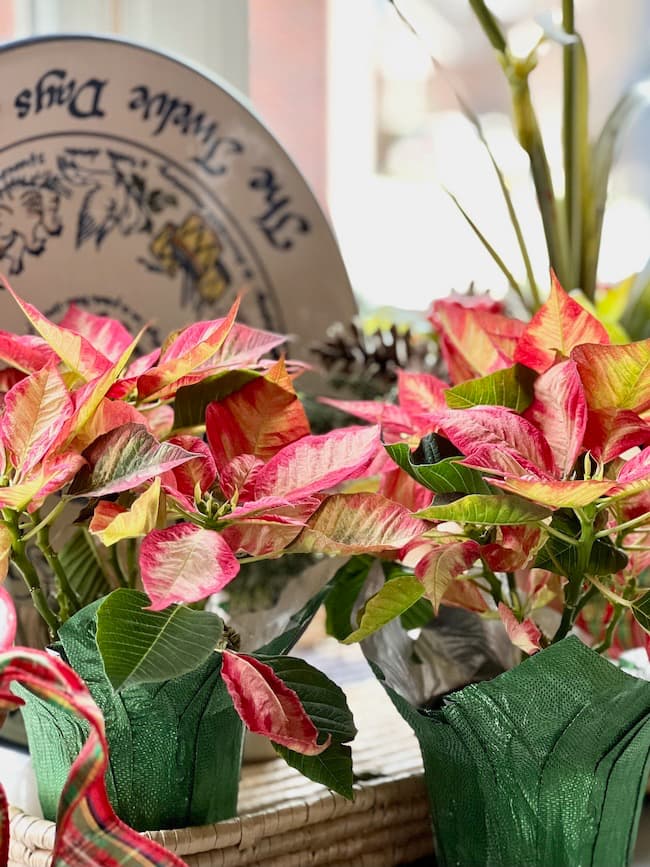 16. Create a display of small poinsettia plants.
I love this pretty red and cream variety of poinsettias. I actually used them on my Thanksgiving table this year and then added them to this buffet display for Christmas. Whether you go with traditional red, white, pink, or variegated varieties, poinsettias make any room look Christmassy!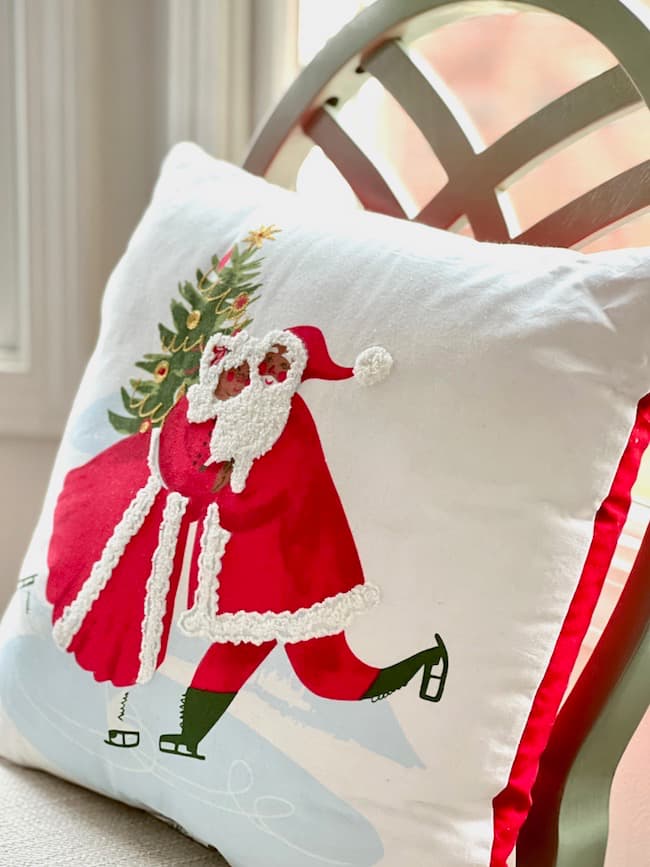 17. Add a cute Christmas pillow to a kitchen chair.
These vintage-look Christmas pillows from Target are fun.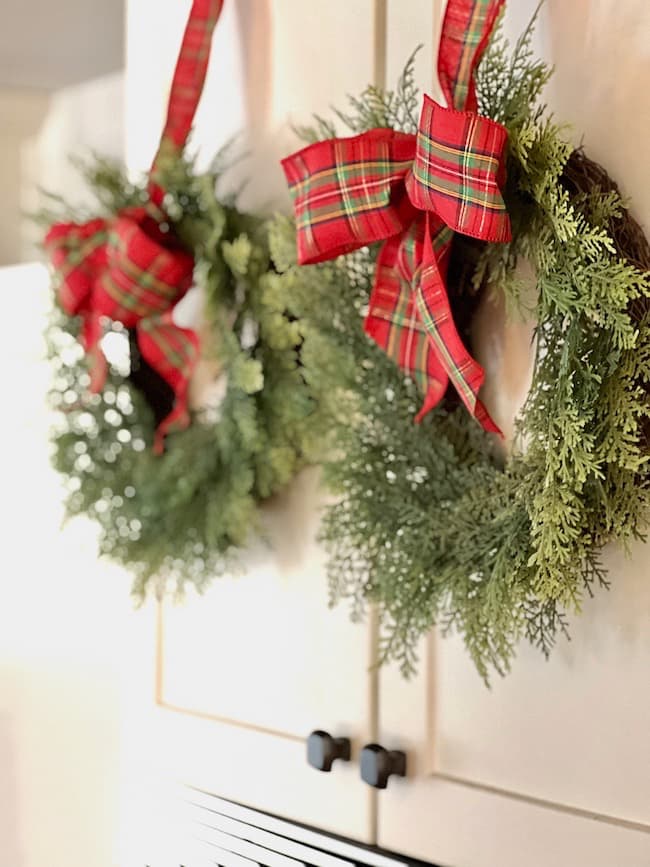 18. Add wreaths decked out in plaid bows to your kitchen cabinets.
I love adding wreaths to our kitchen cabinets. I added a pair to the tall cabinets over our stove.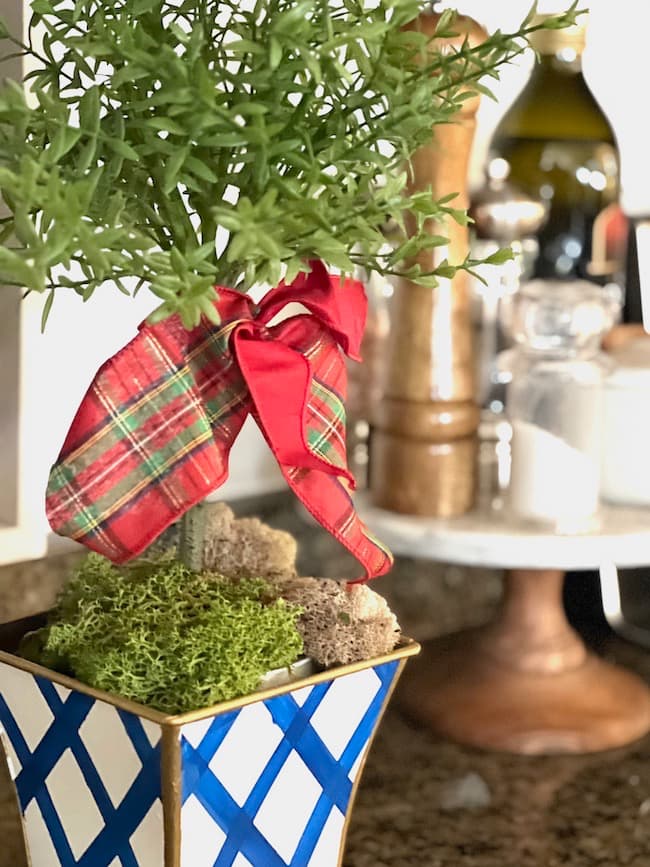 19. Tie a ribbon around cute topiary in a festive DIY cachepot.
The tartan plaid ribbon really dresses up these DIY blue and white cachepots filled with rosemary topiaries. You can see the painted cachepot DIY here.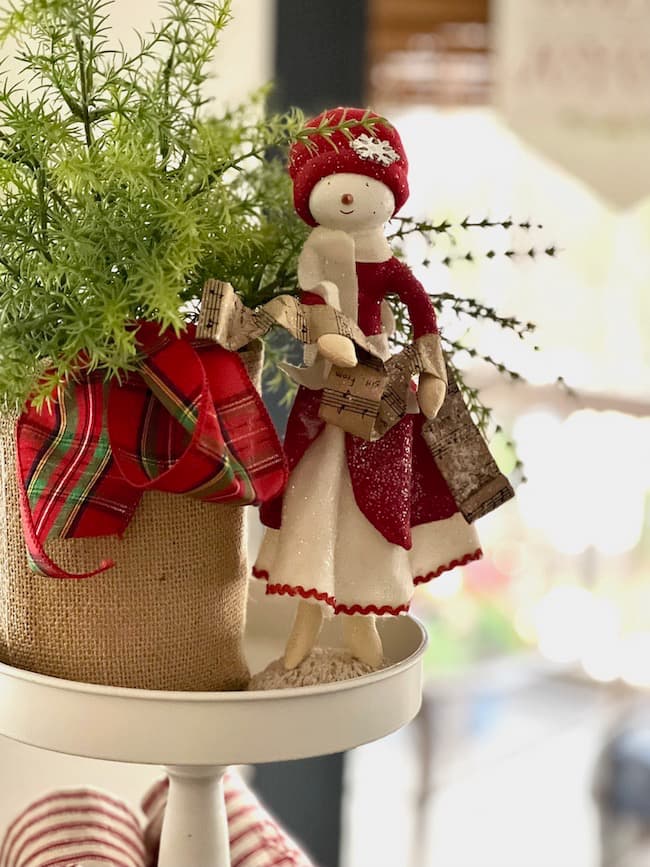 20. Add a touch of whimsy.
You can find so many fun whimsical decor pieces perfect for your kitchen at Christmas. I added our fancy little snow-woman to the top of our tiered tray. We call her Miss Julie.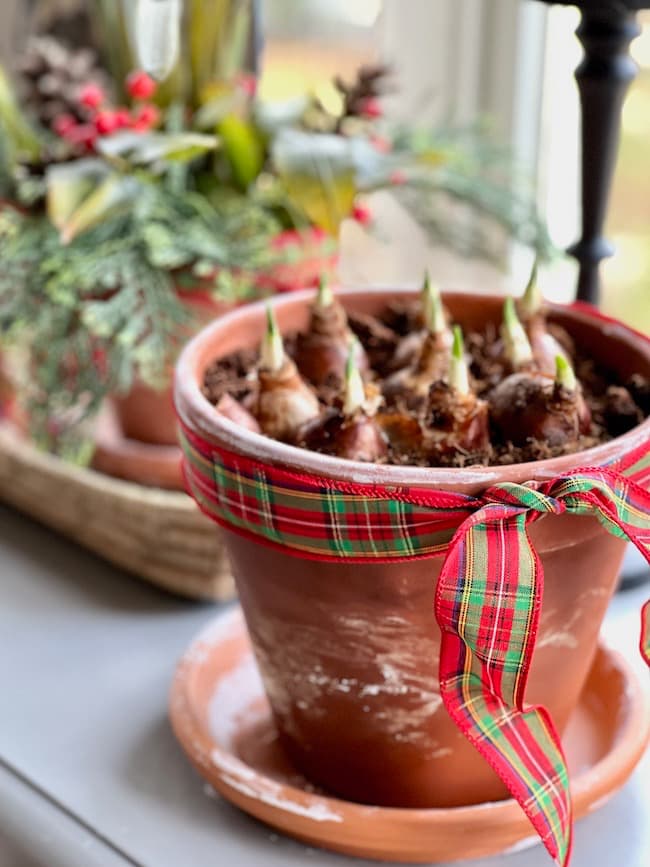 21. Force some Paperwhites to bloom in cute tartan plaid-wrapped terracotta pots.
Delicate white Paperwhite blooms are so pretty during the holidays and beyond. I faux-aged these terracotta pots and added a pretty Tartan plaid ribbon. It's fun to watch the plants grow and exciting to see the white blooms at Christmas.
---
Shop the Look

---
I hope this inspires you to give the heart of your home a few Christmassy touches with these cozy classic kitchen Christmas decor ideas.
Happy Decorating!
Pin It for Later!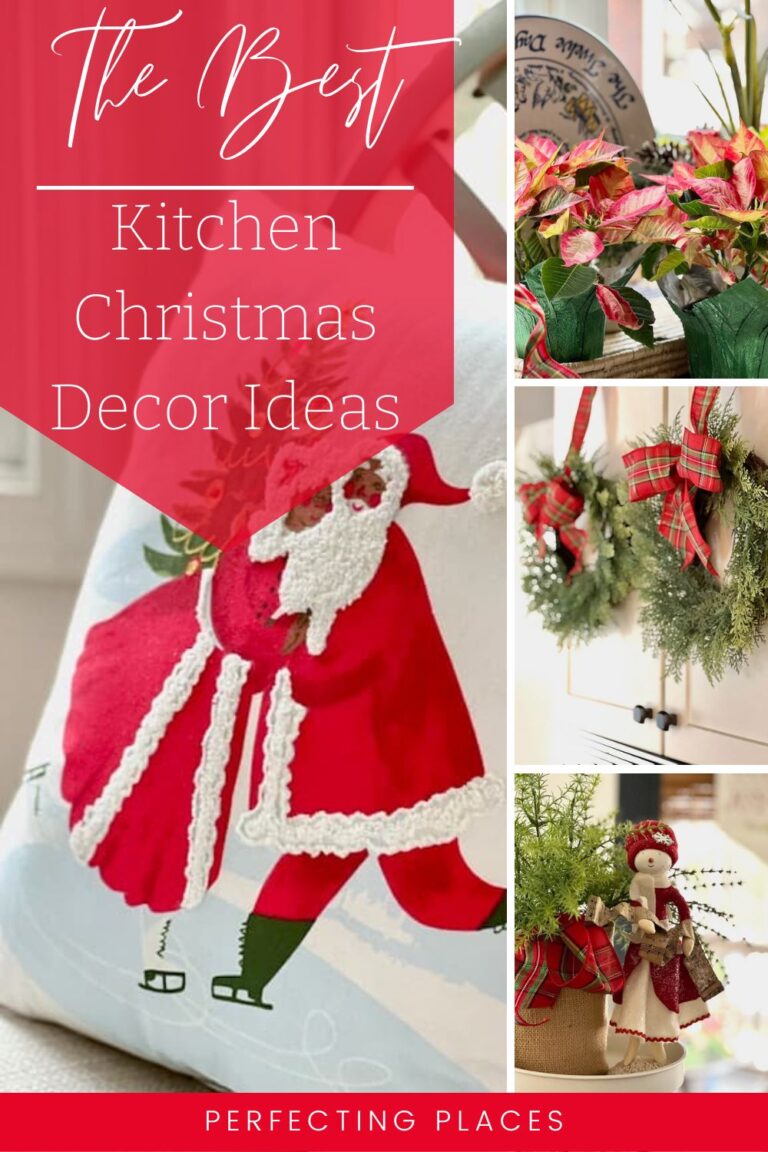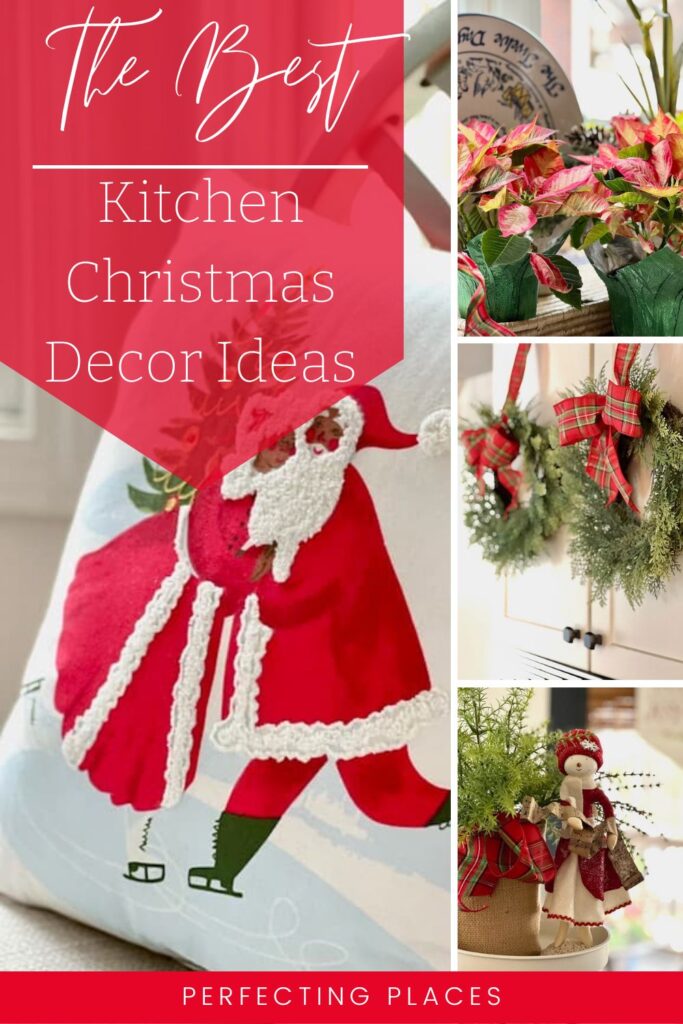 By the way, do you follow me on all the socials?? If not, check out my Pinterest, Instagram, and Facebook and be sure to follow me on all the socials so you don't miss out on any of my holiday decorating and DIY ideas!