An Easy Chinoiserie Christmas Ornament to Make
Do you love blue and white Christmas decor? This hand painted blue and white ornament idea is an easy Chinoiserie Christmas ornament to make.
I love to decorate with blue and white in my home. It's such a classic look. These hand-painted blue and white ornaments add a timeless look to your Christmas decorations. Add them to your tree, a Christmas tablescape, or a bowl on your coffee table. This easy DIY project is fun to make and also makes a great gift idea.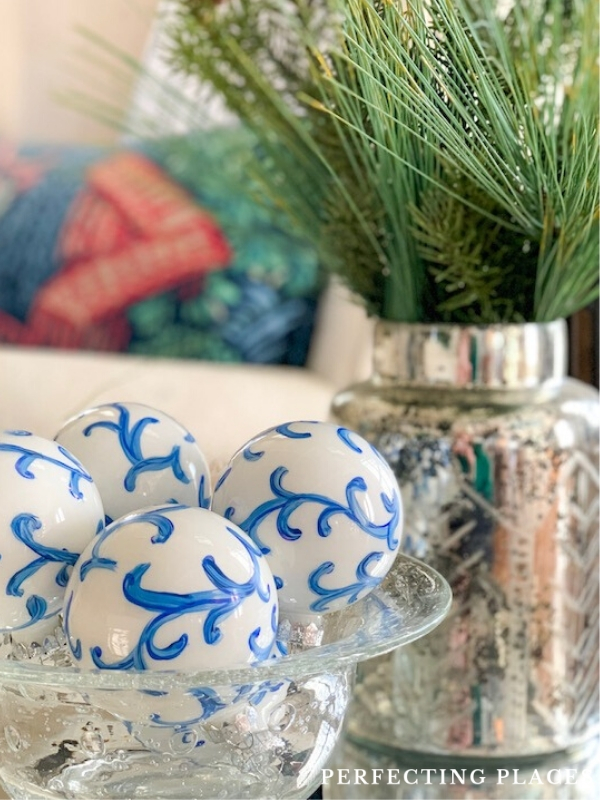 (This post contains affiliate links, so I may earn a small commission when you make a purchase through links on my site at no additional cost to you. As an Amazon Associate I earn from qualifying purchases.)
I just love an easy DIY project.
The best ones are quick and simple, but yield gorgeous results that look amazing!
This is one of those projects!
If you're a blue and white lover like I am, you'll love this simple DIY ornament. With a little blue and white paint you can transform a simple white ball ornament into a gorgeous Chinoiserie style ornament for your tree.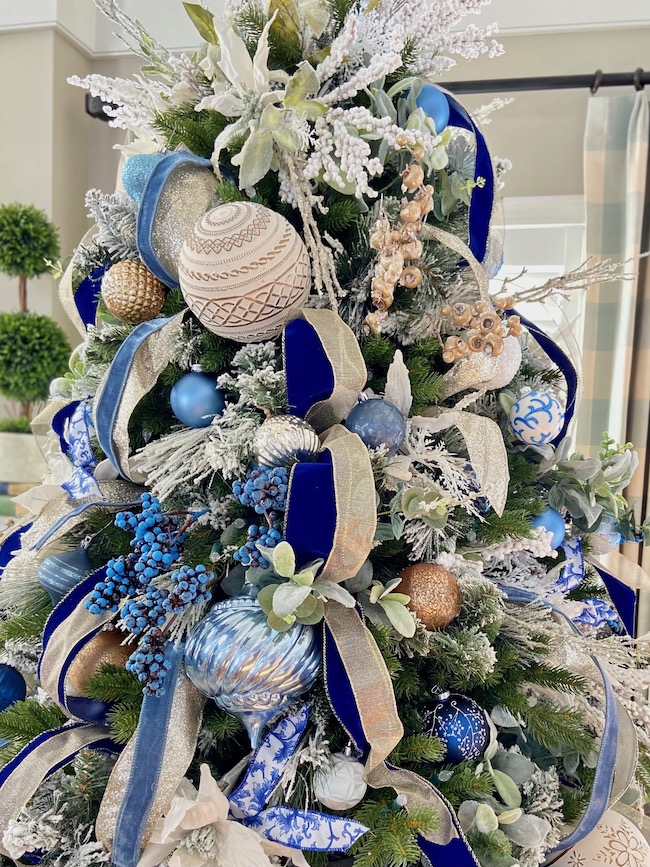 If you love classic design, you know that blue and white ginger jars are a design staple. No matter the color scheme of your room, an injection of a blue and white vase just elevates the room.
These ornaments are inspired by the look and style of those gorgeous vases, and you can make them at a fraction of the cost of Chinoiserie-style ornaments you can buy.
And rest assured, my painting process is very simple!
Supplies Needed for this Christmas Ornament DIY:
---
Shop the Supples

---
How to Paint These Easy Blue and White Chinoiserie Christmas Ornaments: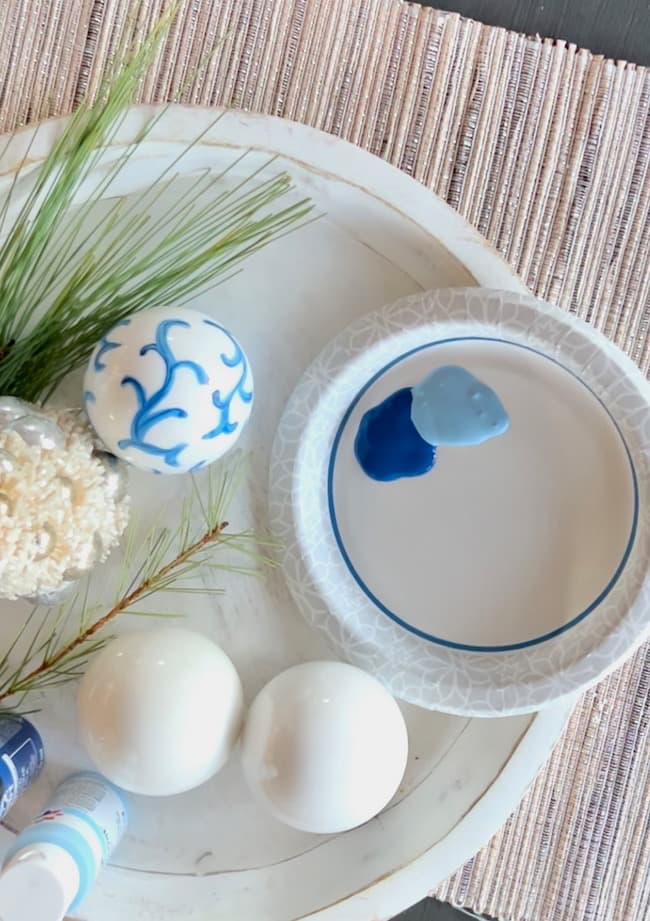 1. Start with a shiny white porcelain Christmas ball, a paint marker, and a couple shades of blue paint.
You can use a ball with a more matte or satin finish; however, I think the glossy porcelain finish looks more like the finish on a blue and white ginger jar.
2. Use a blue Sharpie marker or a paint pen to draw on your swirly pattern design.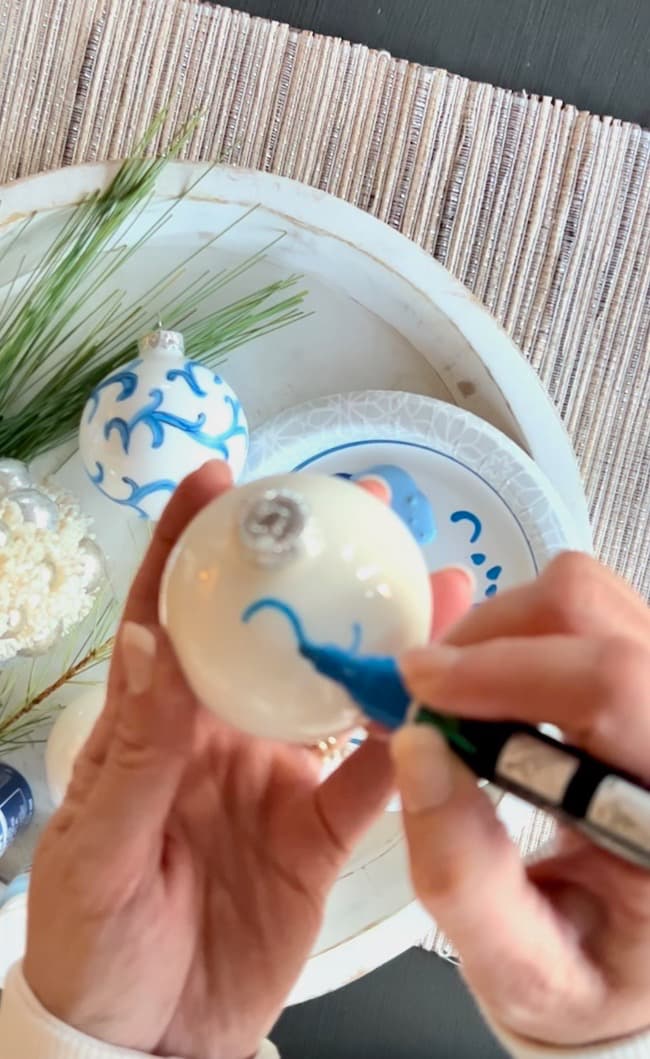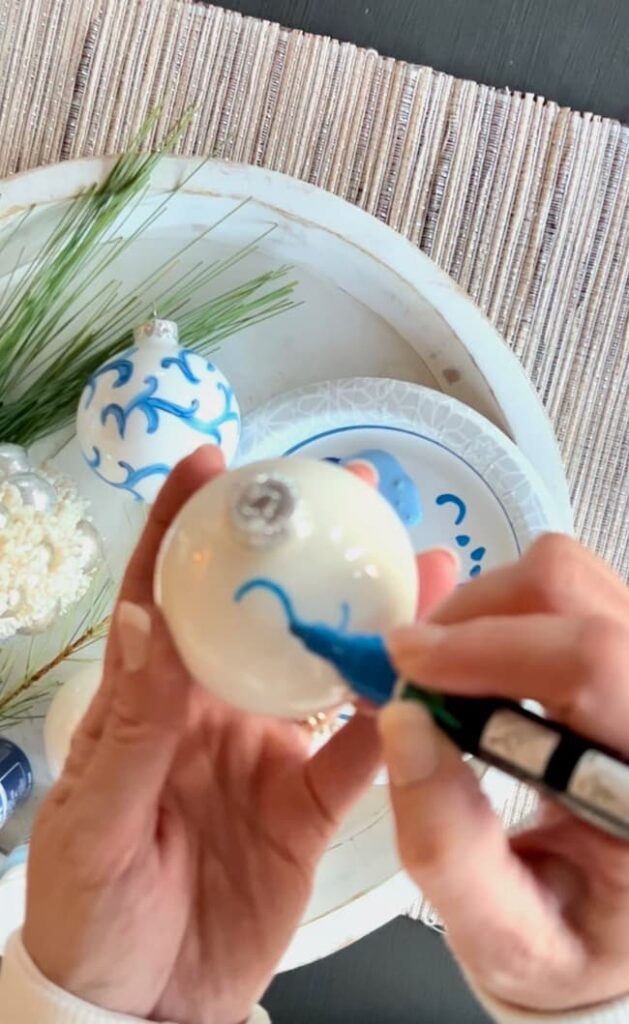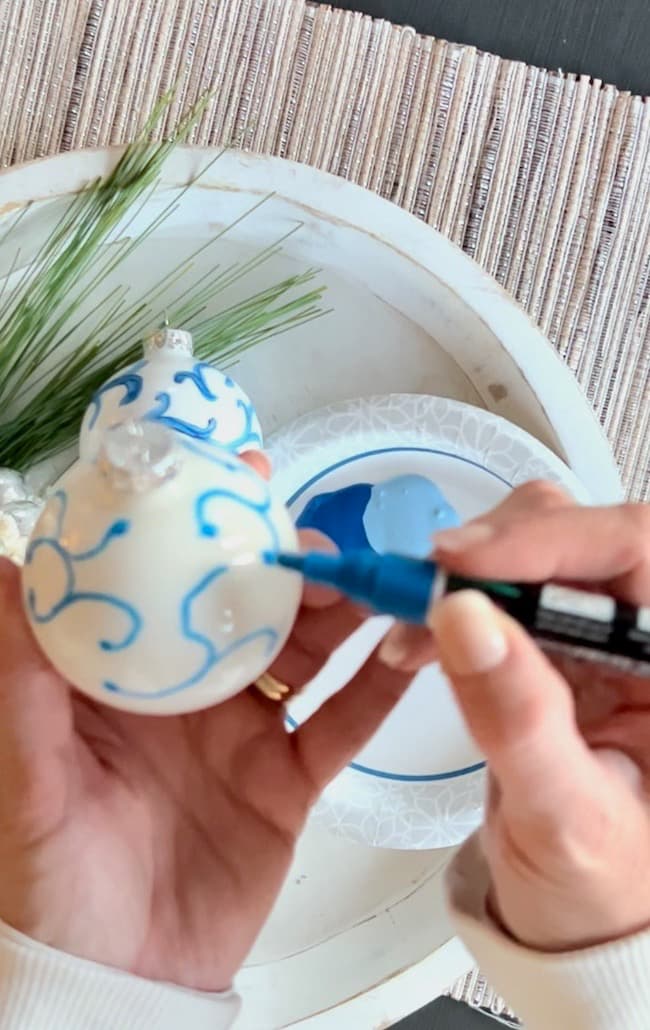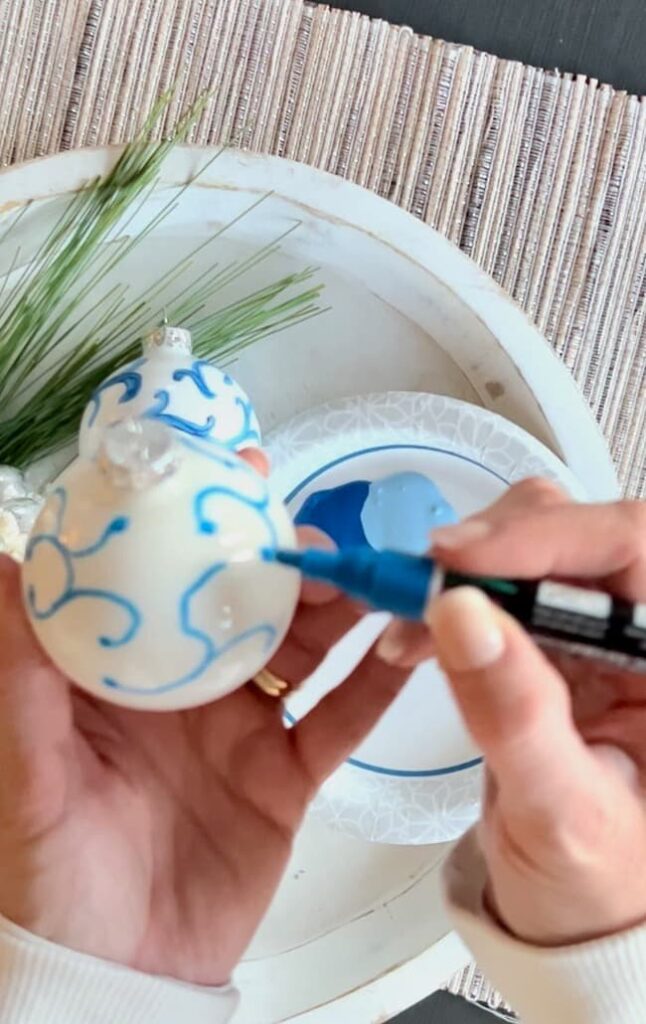 I have used both a Sharpie marker and a paint pen for this process. In these pictures, I'm using a blue paint pen to draw the design; however, I think I prefer a Sharpie marker. The Sharpie marker dries to the touch instantly, so you're less likely to smear the design.
If you do get a few smudges you can use a little acetone nail polish remover to clean the smears.
I basically start by drawing an "s" and then draw branches coming off of the s. I work all over the ornament adding this pattern until I have the look I want.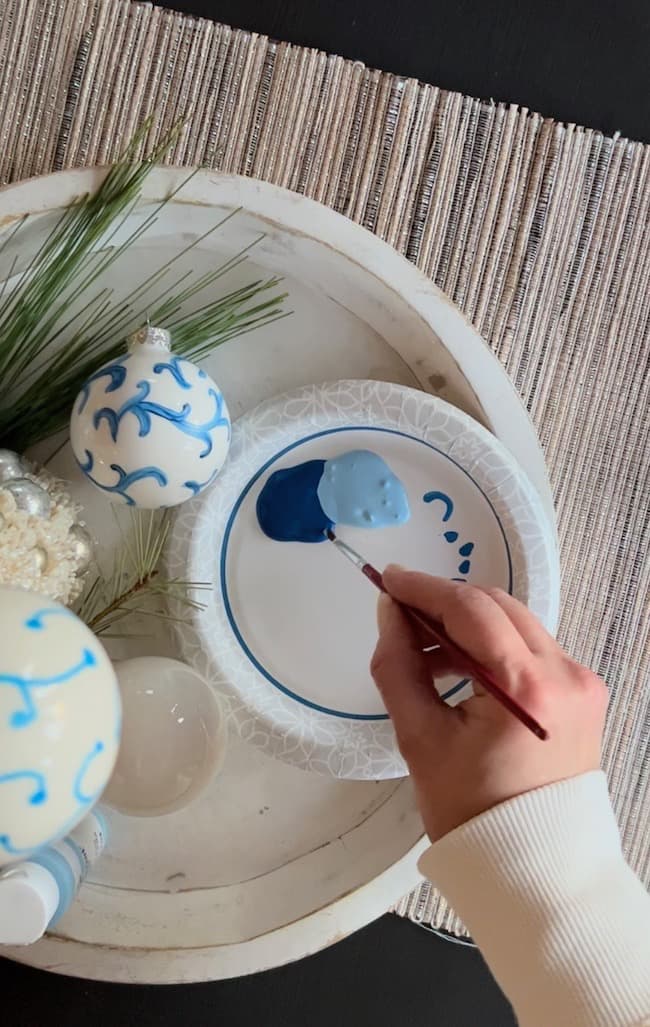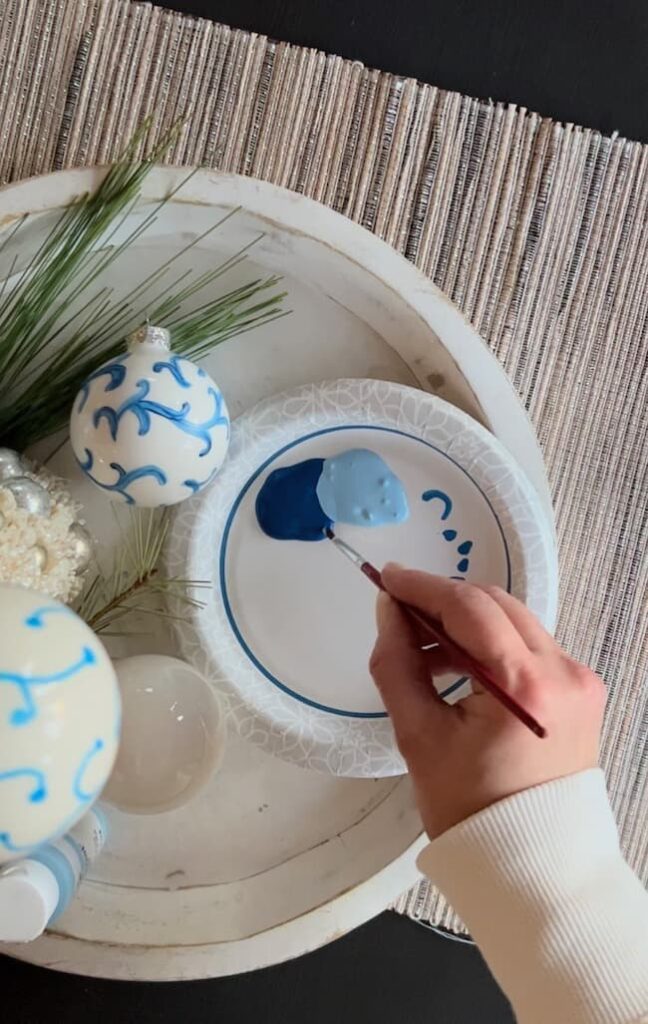 3. Paint over the lines with shades of blue paint.
I used a small detail brush to pick up a little bit of the dark and light blue paint at the same time, then paint over the lines I've drawn. You don't want to "mix" the colors together, just pick up a little bit of each on your brush.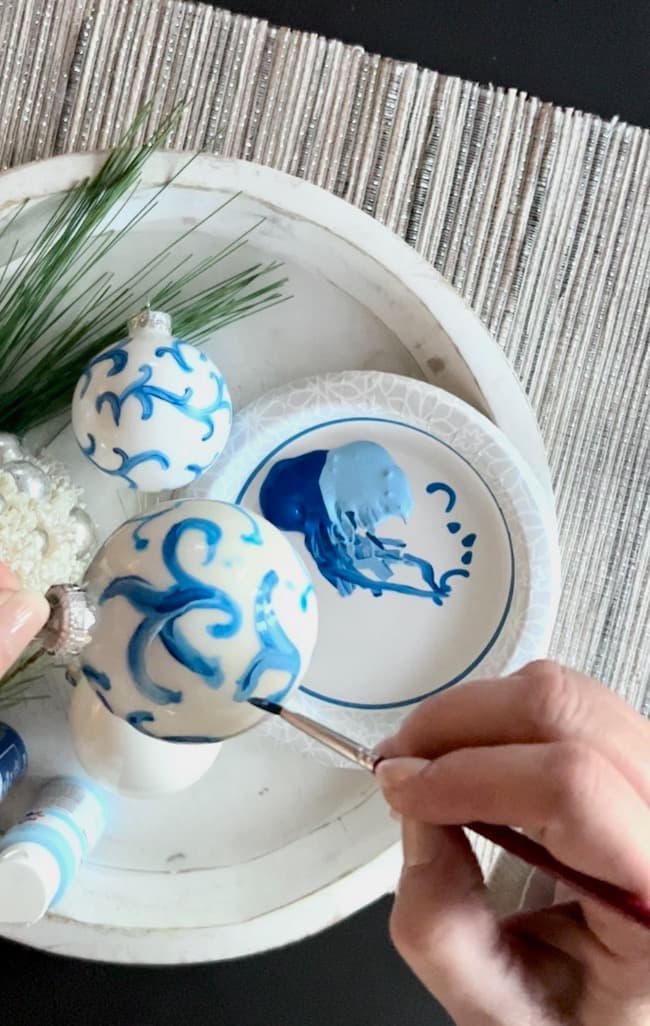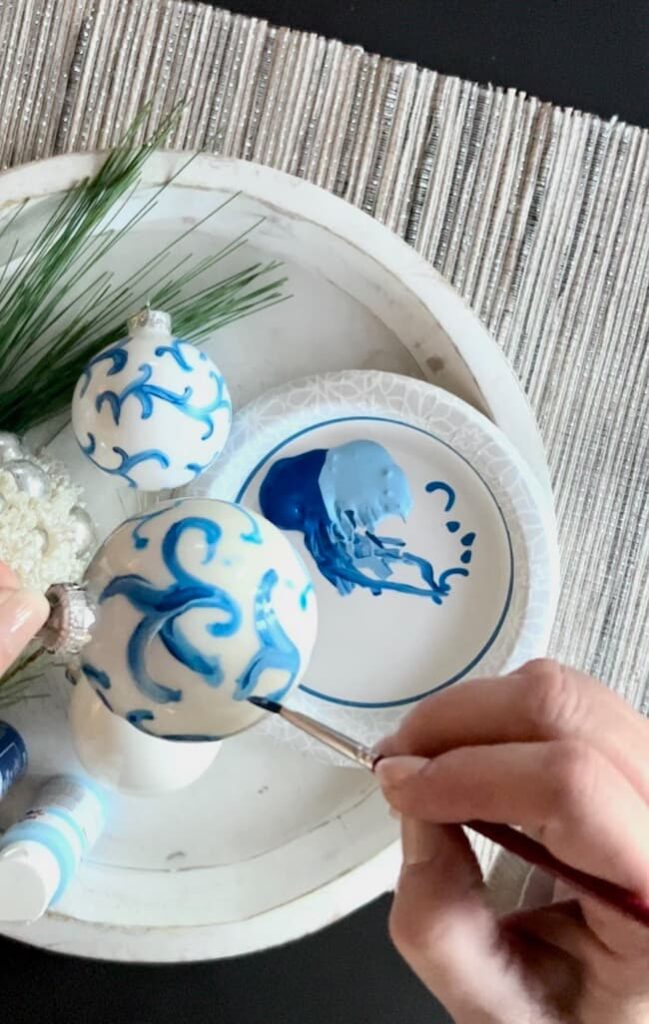 This will give you a variegated look in your brush strokes rather than a perfectly blended look. If I feel like a stroke looks too blended, then I'll pick up either the light color or dark color add it along the swirly lines.
It's also ok if you have thicker areas of paint. That just adds a little texture and charm!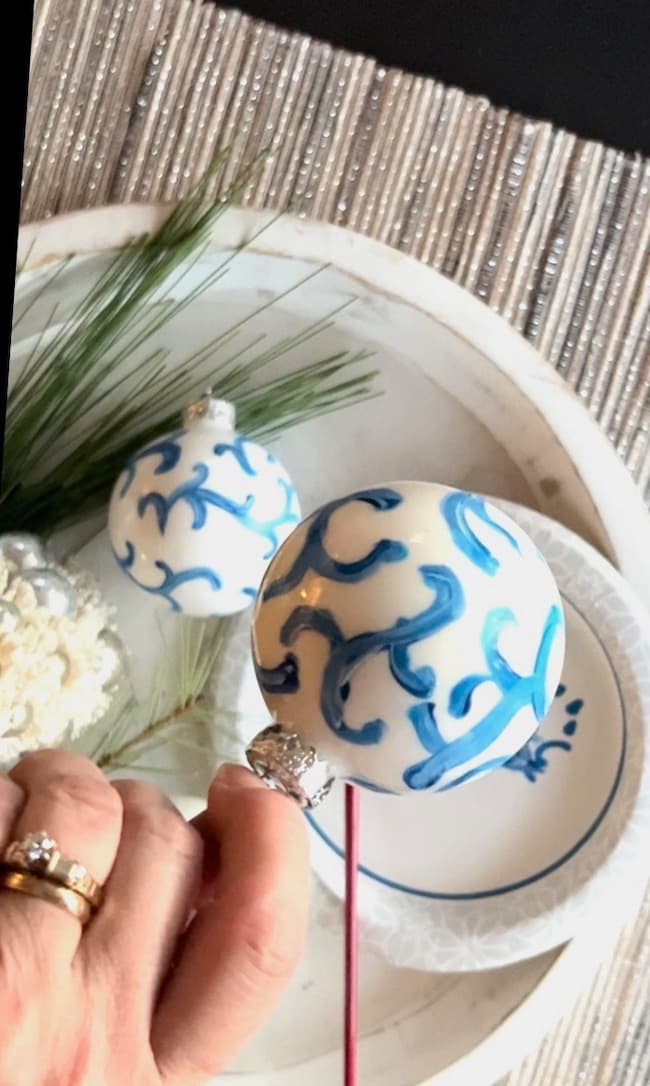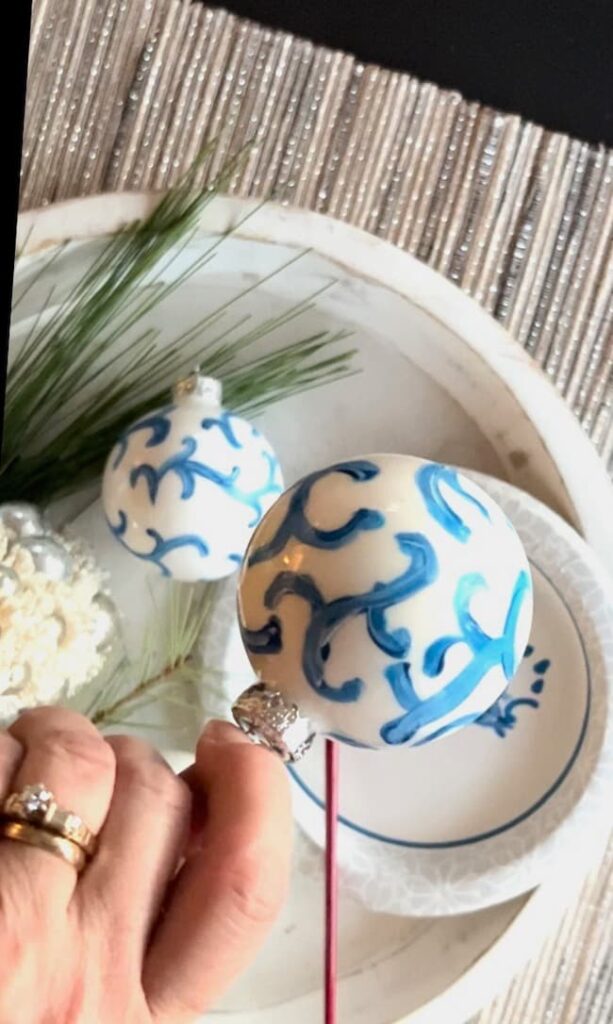 4. Hold the ornament by the top ring so you can twist it around easy to cover the entire ball.
5. The acrylic paint will dry pretty quickly, but you can speed it along with a blow dryer on low.
Just make sure some of the thicker areas of paint are completely dry before using your ornament.
How to Decorate with DIY Blue and White Ornaments:
There are so many lovely ways to add blue and white ornaments around your home for Christmas. Add them anywhere you need a touch of classic Chinoiserie charm.
Add Hand-painted blue and white balls to your Christmas tree: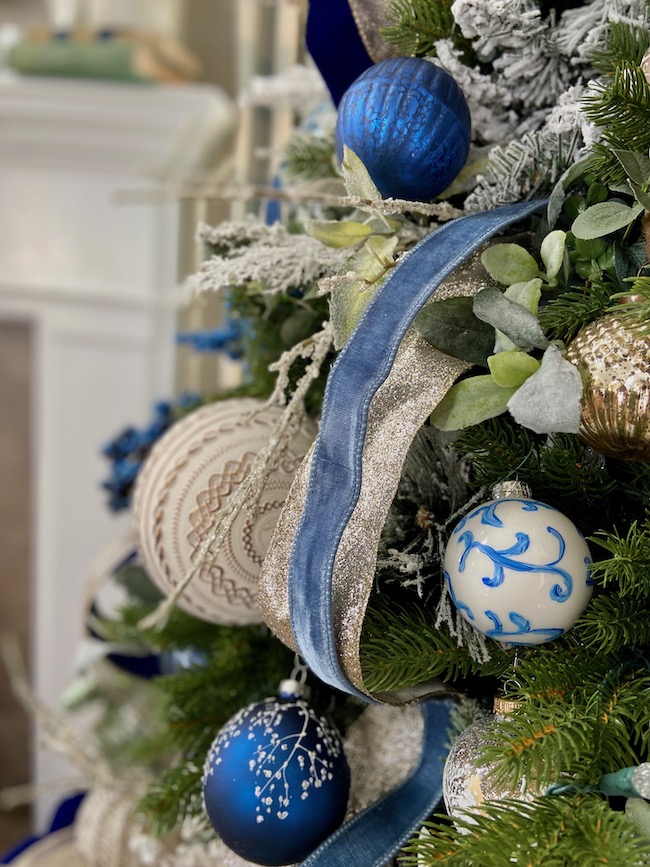 These ornaments are gorgeous on a blue and white themed Christmas tree. Add pretty blue velvet ribbon, mercury glass balls and other ornaments in this color scheme for an elegant look.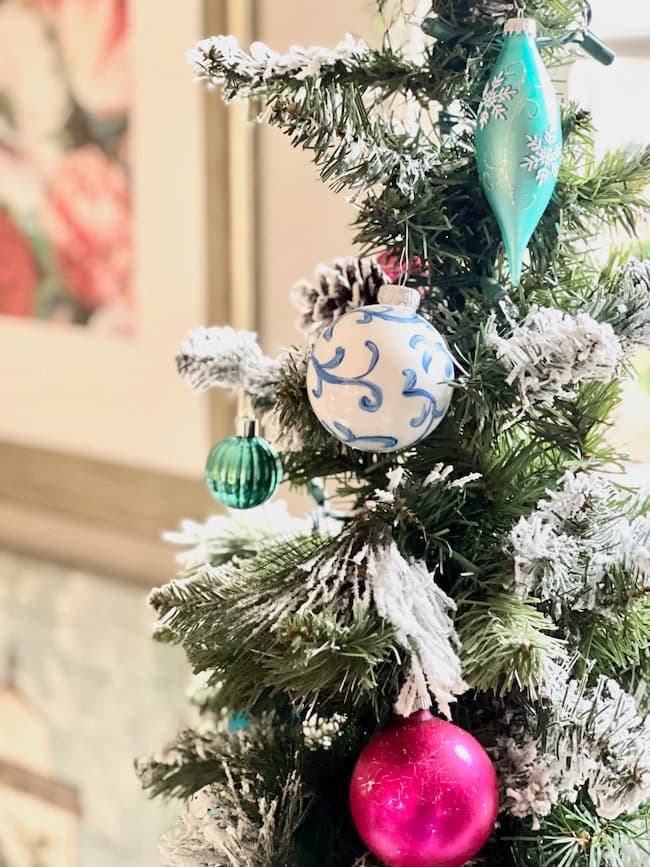 Here, I've added them to a small flocked tree in my office paired with colorful vintage ornaments.
Use blue and white Chinoiserie Christmas balls in a tablescape: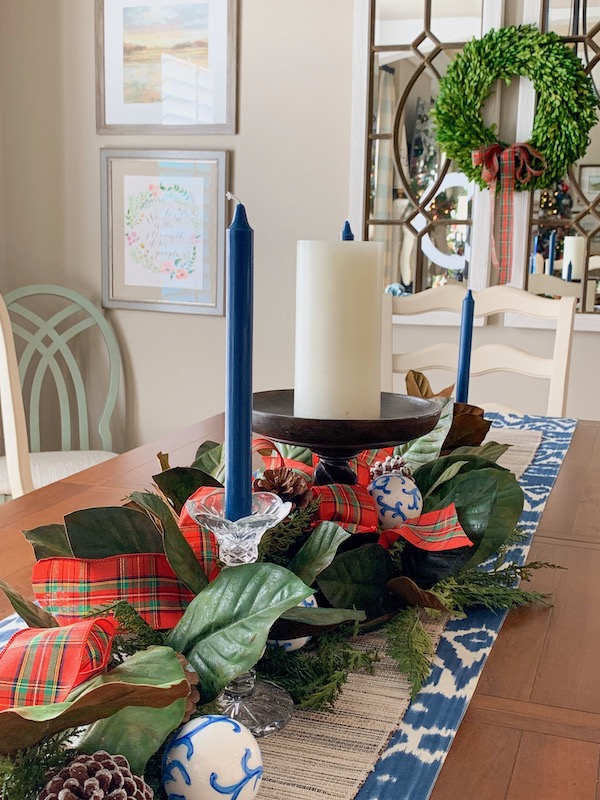 These ornaments are perfect in a classic Christmas tablescape paired with greenery, magnolia leaves, and Tartan plaid ribbon. It's the perfect classic Christmas look.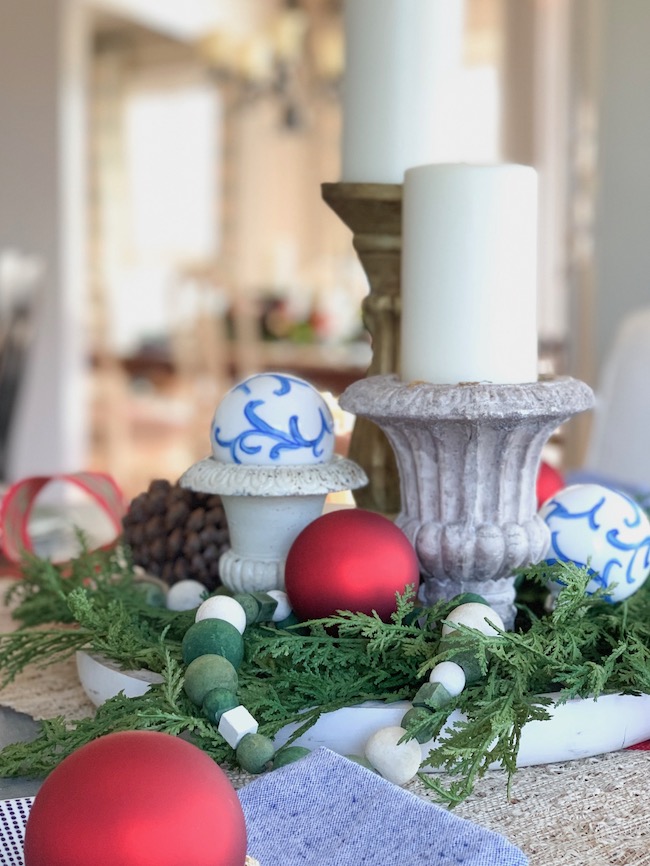 Place the ornaments on a pedestal and add them to a tray with greenery and wood beads for an easy Christmas centerpiece for your table. You can dress them up or down depending on the look you want for your table.
Display your ornaments in a pretty bowl.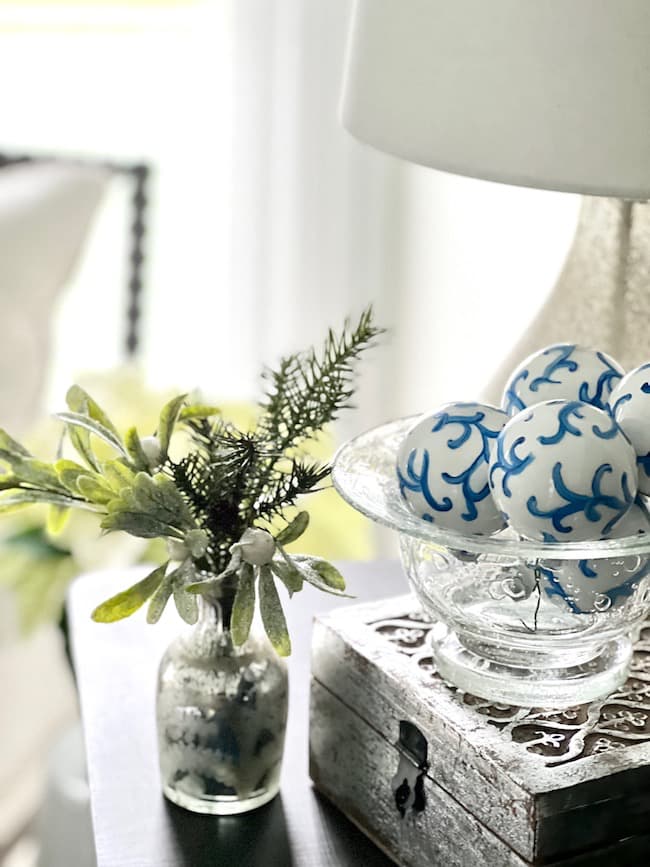 I've added the hand-painted ornaments to a small glass bowl and placed them in a simple vignette on the dresser in our bedroom to add a pretty touch of Christmas to our room.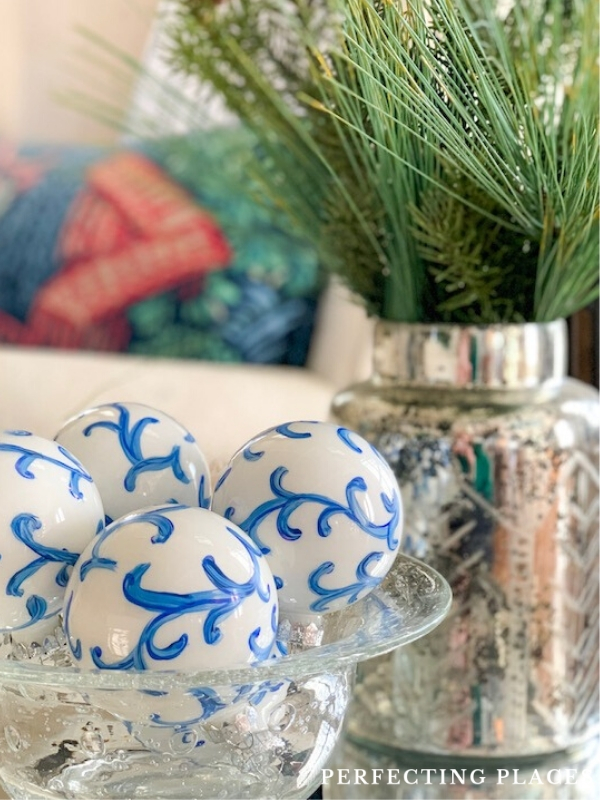 You can also place them in a bowl on your coffee table, a foyer table, or anywhere you need a little blue and white Chinoiserie Christas style.
---
Shop the Look

---
I hope you give these easy DIY blue and white Chinoiserie style ornaments a try this Christmas. They are so easy and fun to make!
Pin It for Later!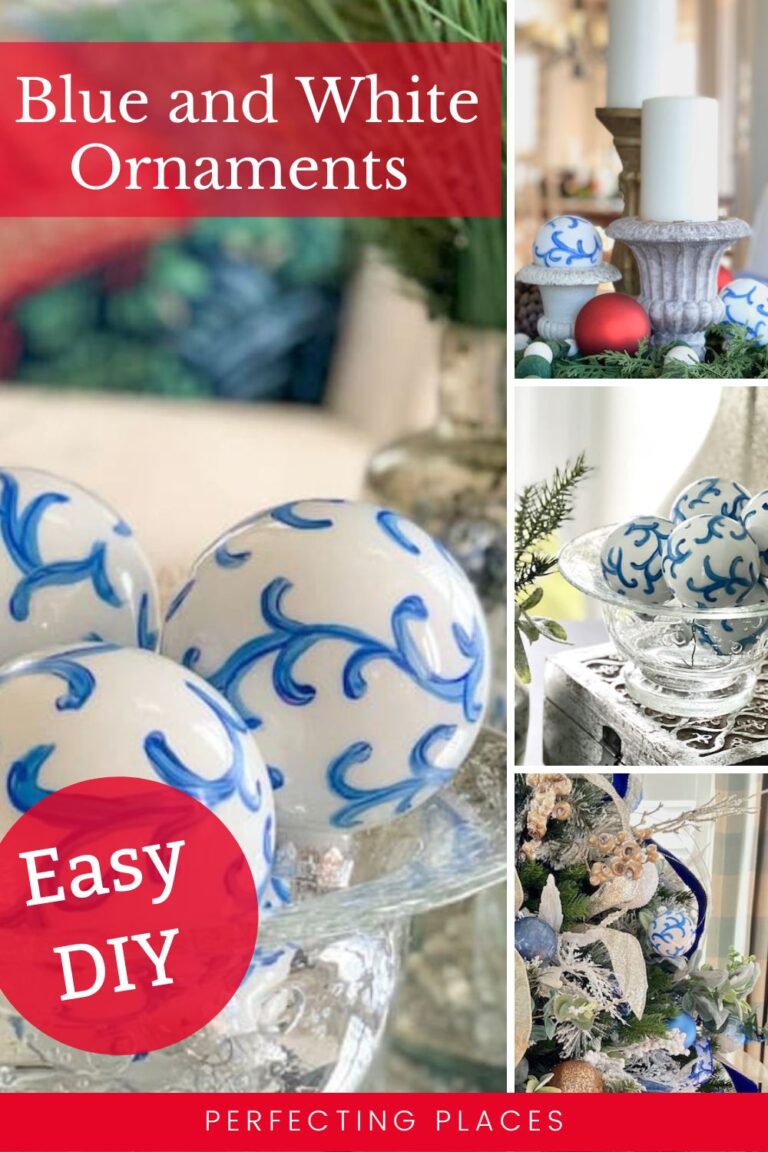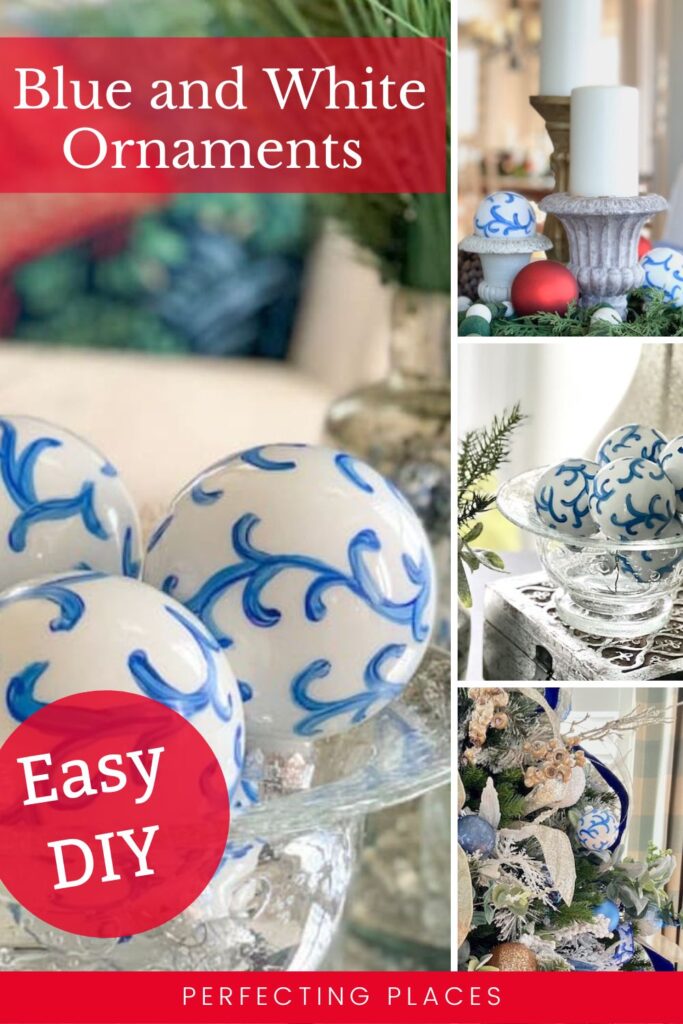 By the way, do you follow me on all the socials?? If not, check out my Pinterest, Instagram, and Facebook and be sure to follow me on all the socials so you don't miss out on any of my holiday decorating and DIY ideas!