15 Ways to Decorate for Spring with Flowers
Spring has finally arrived! I'm sharing my favorite ways to decorate for spring with flowers around your home.
Whether you choose fresh flowers or faux, adding spring blooms to your home decor is one of the easiest ways to refresh your home for the season.
(This post contains affiliate links, so I may earn a small commission when you make a purchase through links on my site at no additional cost to you. As an Amazon Associate I earn from qualifying purchases.)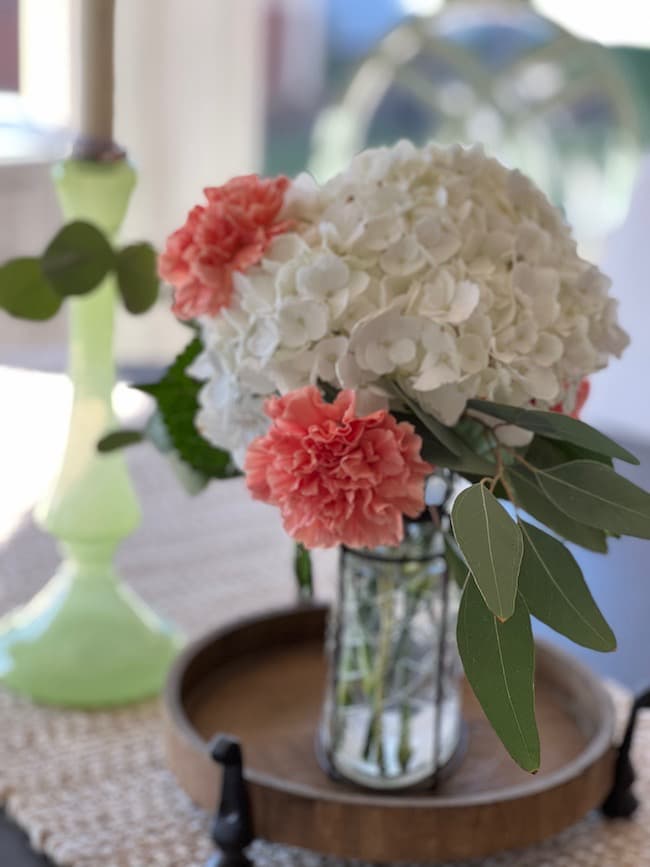 We had an unseasonably warm February here in Kentucky, but March has seen more than it's fair share of frigid winter temperatures!
Spring officially arrived this week on the calendar, and warmer weather and sunshine are here as well!
All of this sunshine has certainly put me in a spring mood, and I've been adding touches of spring around our home for the past couple of weeks. There are lots of ways to brighten your home for the season, but my favorite way is with gorgeous spring blooms!
What are different ways of decorating using flowers for spring?
Flowers are such an easy way to herald a new season of decor in your home. You can certainly add flowers to a vase, but there are so many other creative ways to decorate with your favorite florals.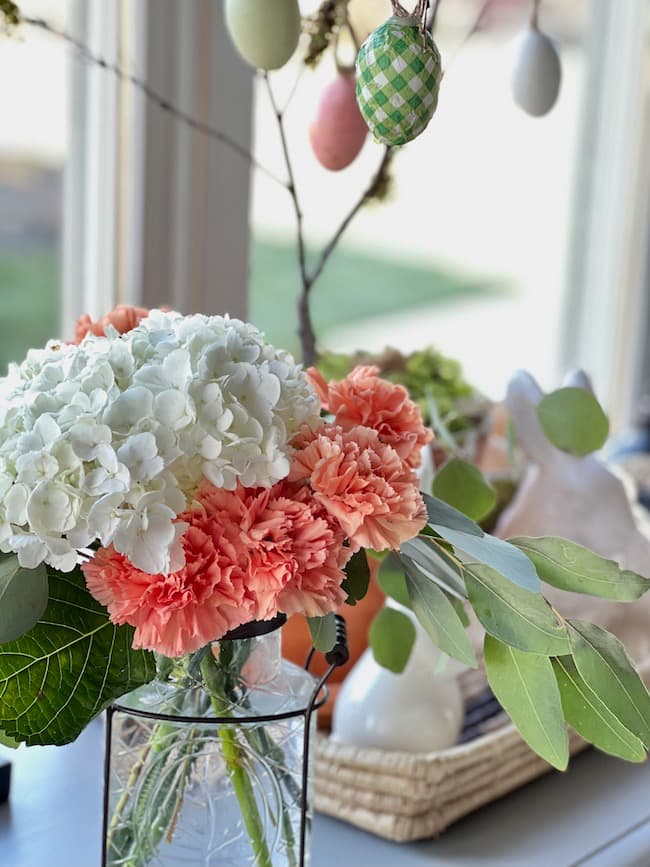 1. Combine white hydrangea with coral carnations and eucalyptus for a fresh spring look.
This color combination is perfect with the Easter egg tree covered in green and white gingham decoupaged eggs and eggs in shades of coral, green, and white. You can see how I made the tree and more coral and green spring decor in this post.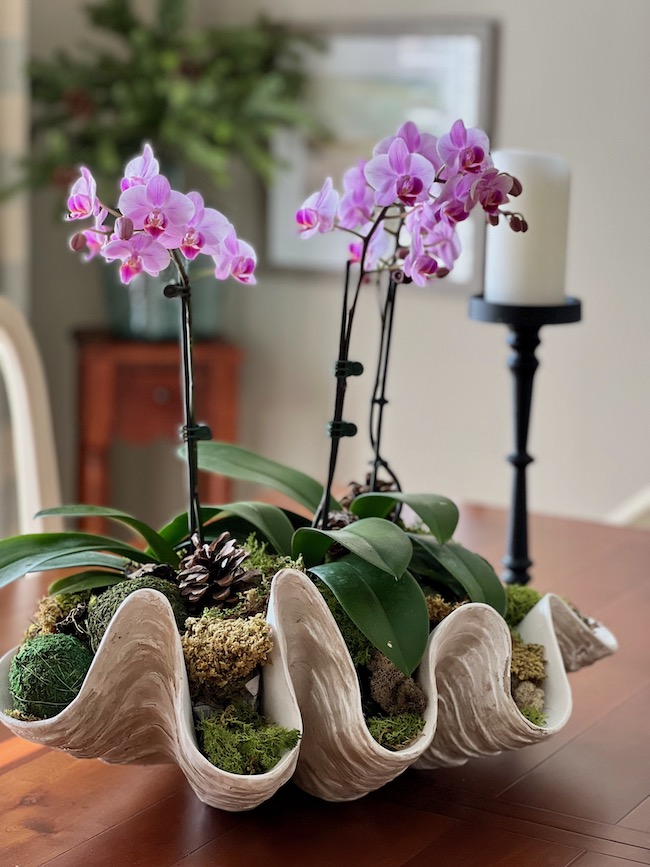 2. Add potted orchids to a pedestal bowl.
Orchids are some of my favorite flowers for any season, but spring is a great time to create pretty centerpieces with them. A super easy way to use orchids is to add 3 small orchids to a pedestal bowl and cover with moss. You can see more great ideas for decorating with orchids in this post.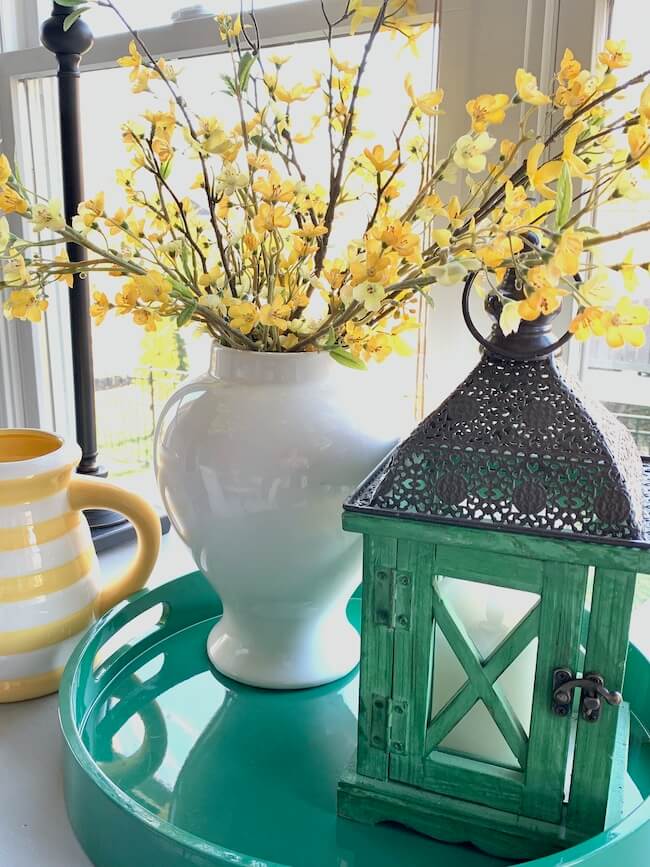 3. Force some flowering branches to bloom.
You can force some flowering branches to bloom indoors before temperatures are warm enough outdoors. Forsythia, quince, cherry, and crab apples are a few blooming varieties that you can force to bloom indoors. You can often find branches in your local grocery store or Trader Joe's to bring home and force to bloom.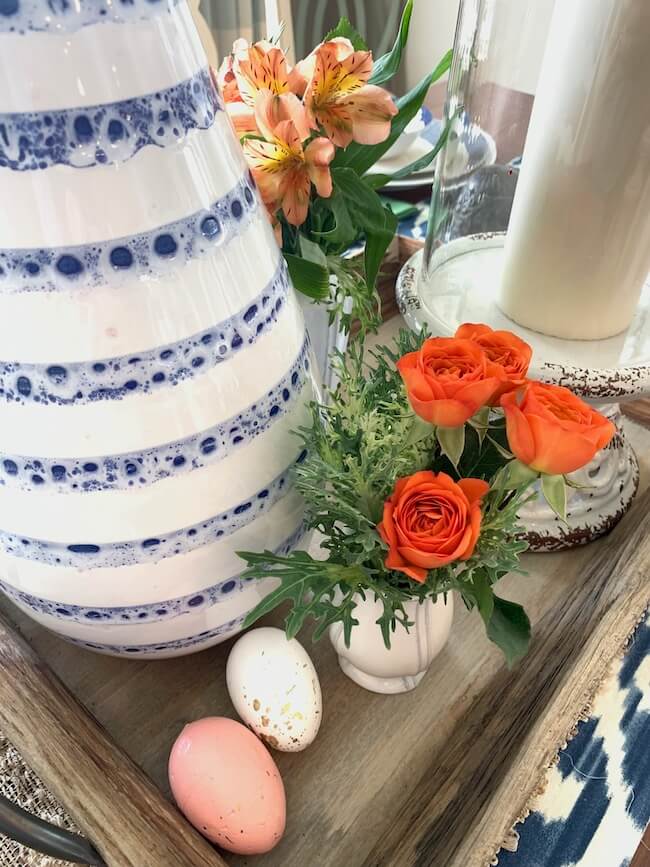 4. Create mini rose bouquets on a tray.
I like to create several miniature flower arrangements in little bud vases for a centerpiece. Petite miniature coral roses add pretty pops of color to the table.
5. Decorate with fresh or faux tulips.
Tulips are the perfect spring floral. Whether you use real or faux flowers, tulips and soft pastel color to your spring decor.
6. Add a potted orchid to a lantern.
This sweet little potted orchid makes a big impact when added to a wooden lantern in our foyer! It's a perfect way to greet our guests!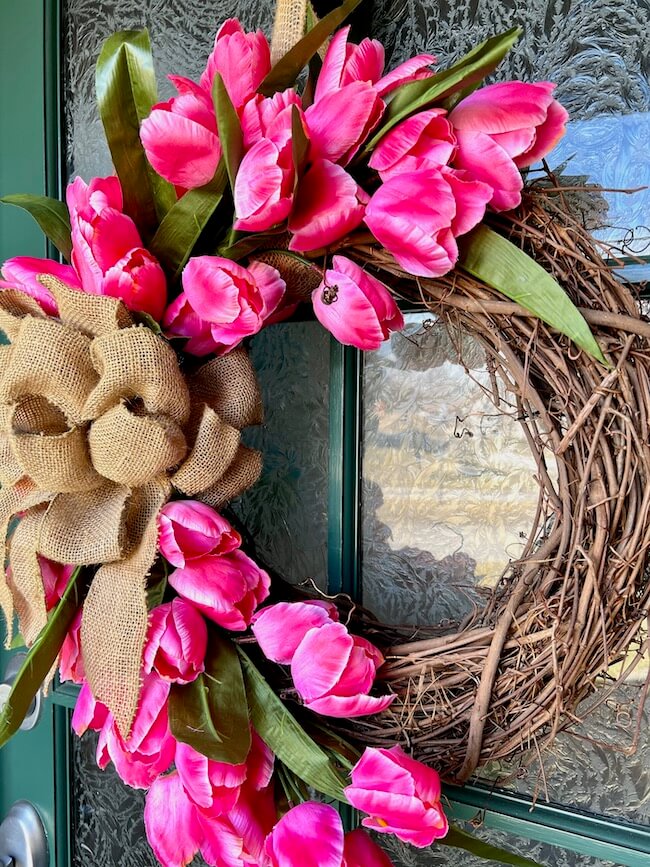 7. Make a tulip wreath for your door.
This colorful spring wreath made with bright pink faux tulips brings new life to the front door after a long cold winter.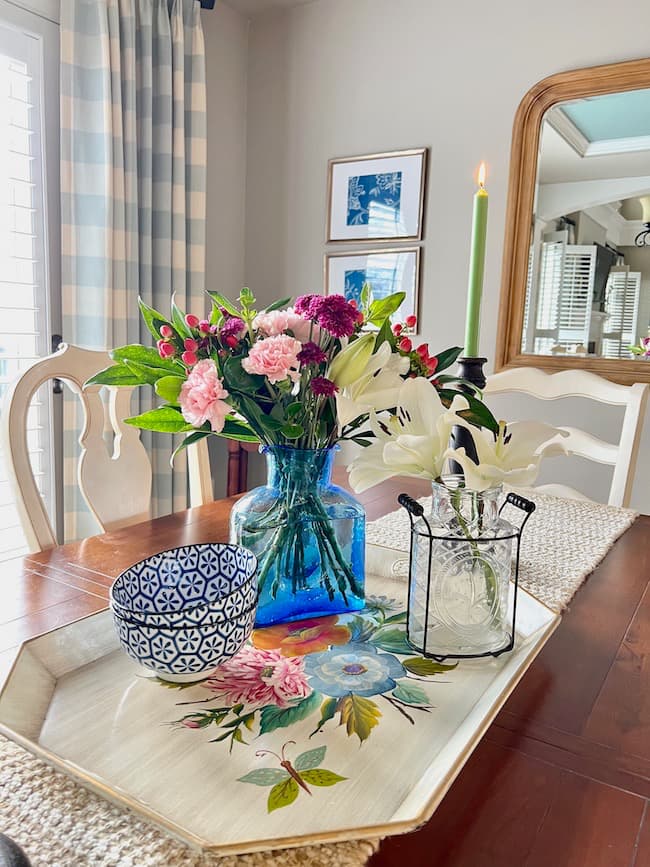 8. Place a colorful bouquet on a pretty floral tray.
A simple small flower arrangment compliments the beautiful color palette of this painted tole tray. It's perfect for spring!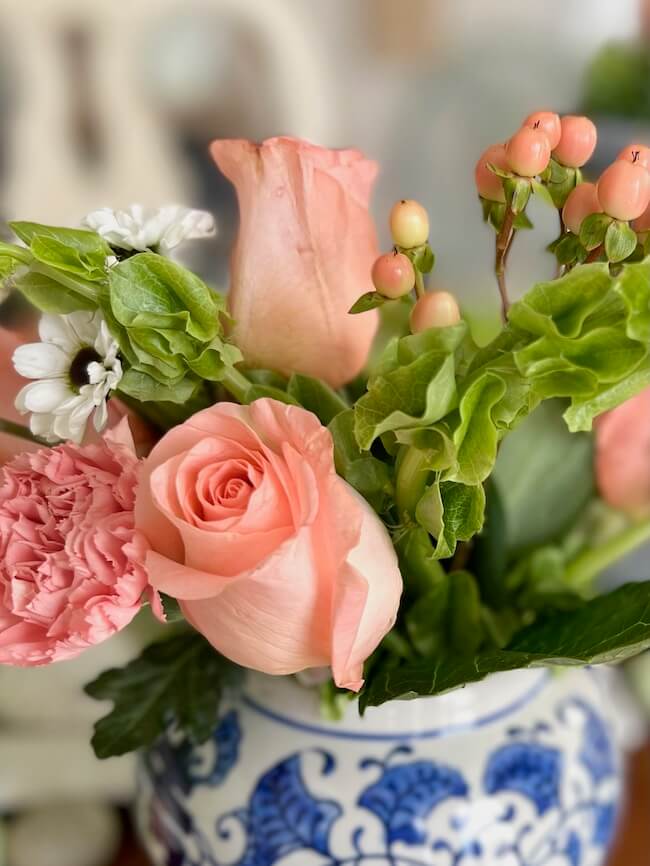 9. Add soft coral roses to a blue and white vase.
Soft shades of coral and pink roses in a blue and white vase is a beautiful way to brighten your room.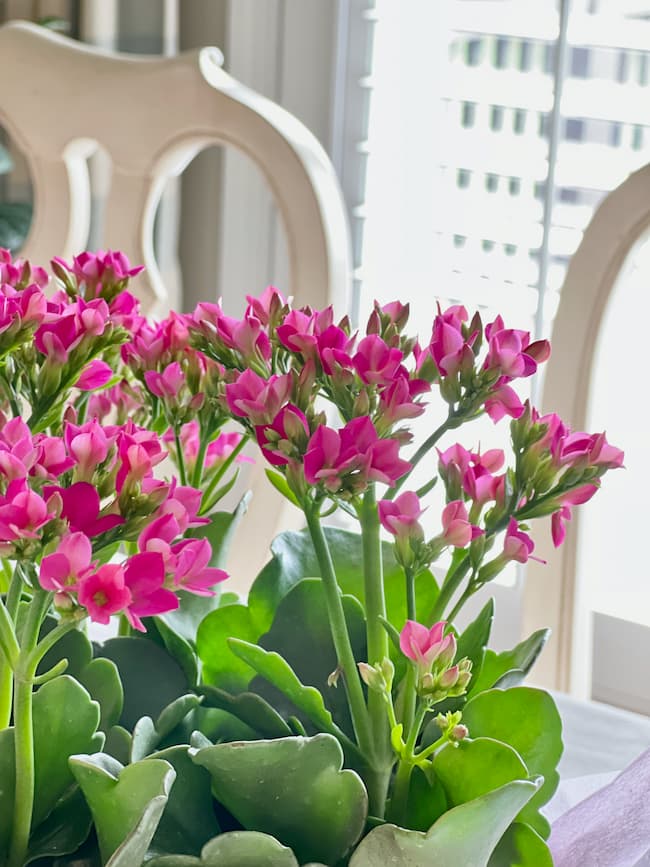 10. Create a simple centerpiece with potted pink kalanchoe.
Potted plants make great centerpieces for your dining table, and kalanchoe is a great choice for long-lasting blooms.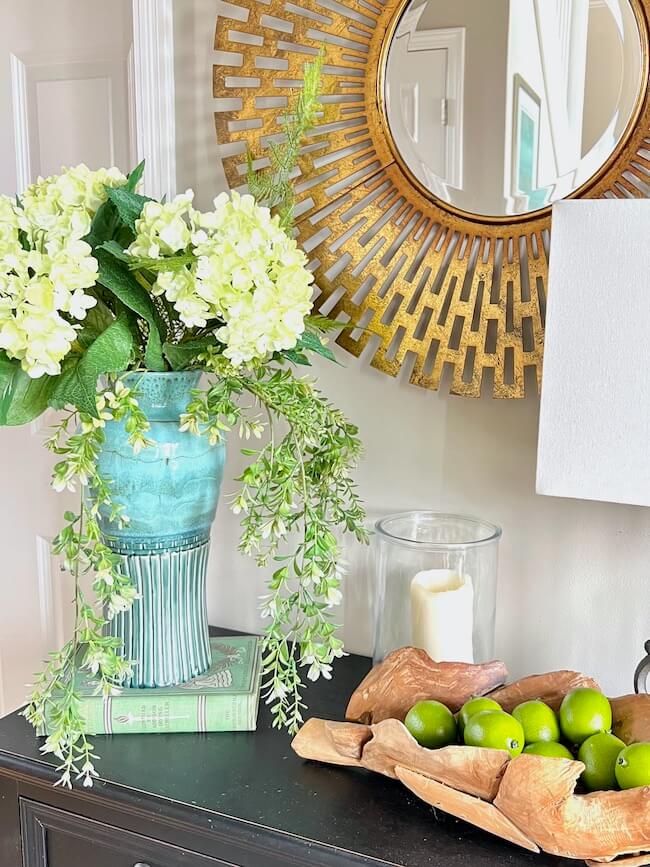 11. Add hydrangeas and a trailing vine to a vase in the foyer.
Decorate your entry table for spring with beautiful hydrangea blooms in a tall vase.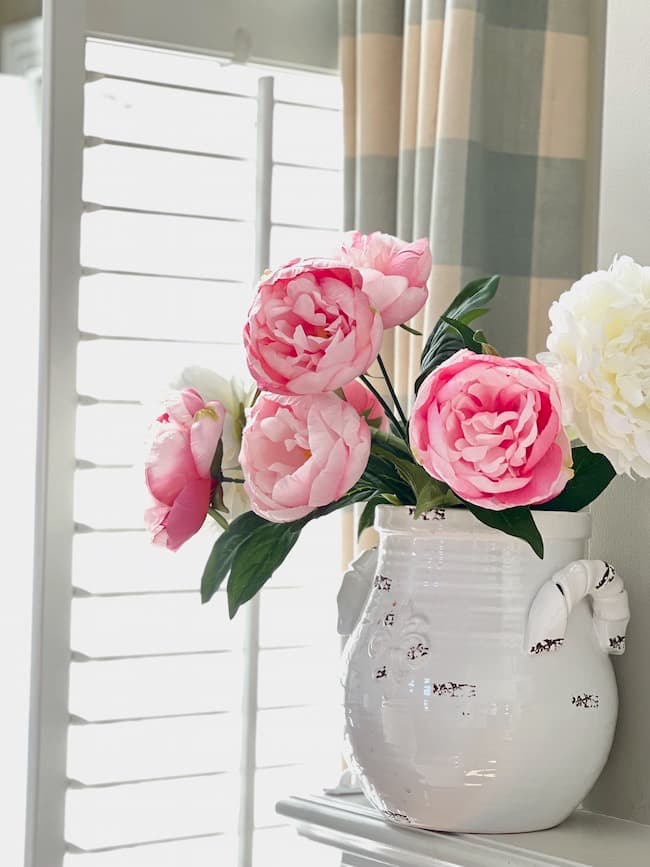 12. Add fresh or faux peonies to the mantel.
Peonies are perfect for spring decor — especially late spring. Pink peonies in a creamy vase add a fresh pop of color on the mantel.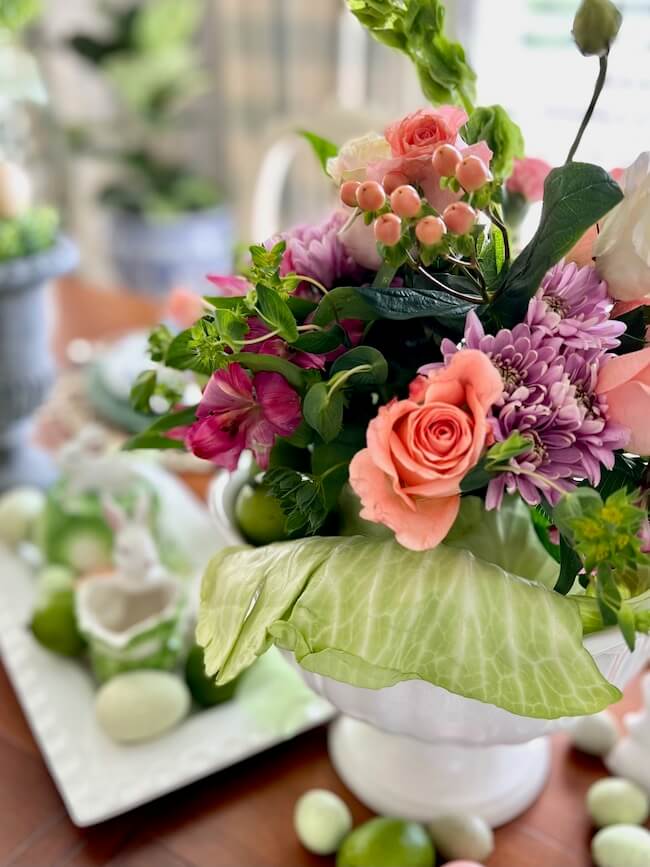 13. Create a cabbage centerpiece for your table.
Get creative with your spring flower arrangements and use a head of cabbage for a vase! Read how to create this cabbage centerpiece and colorful Easter tablescape here.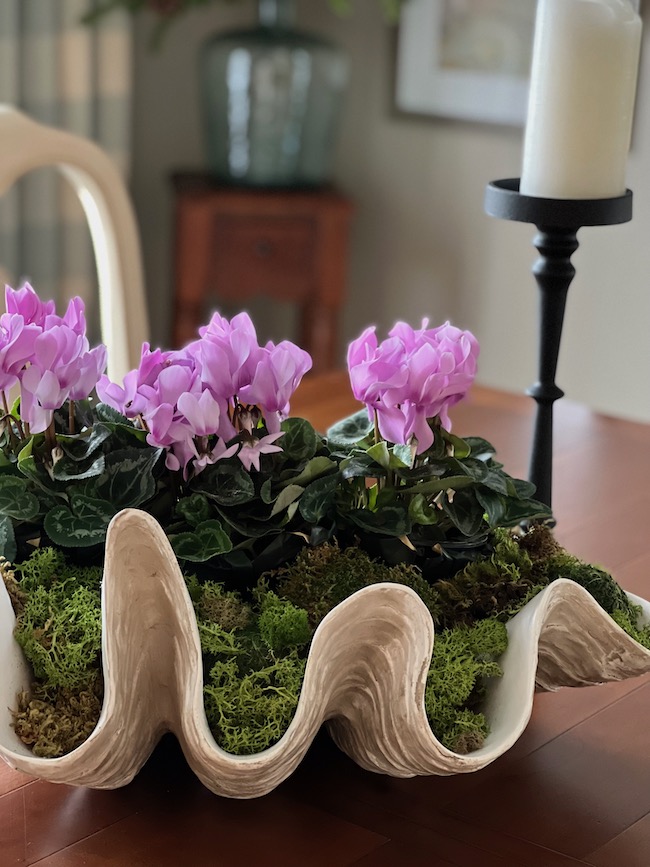 14. Add potted cyclamen to a clamshell bowl.
Cyclamen in a gorgeous lilac color makes quite a statement when added to a large clam shell bowl.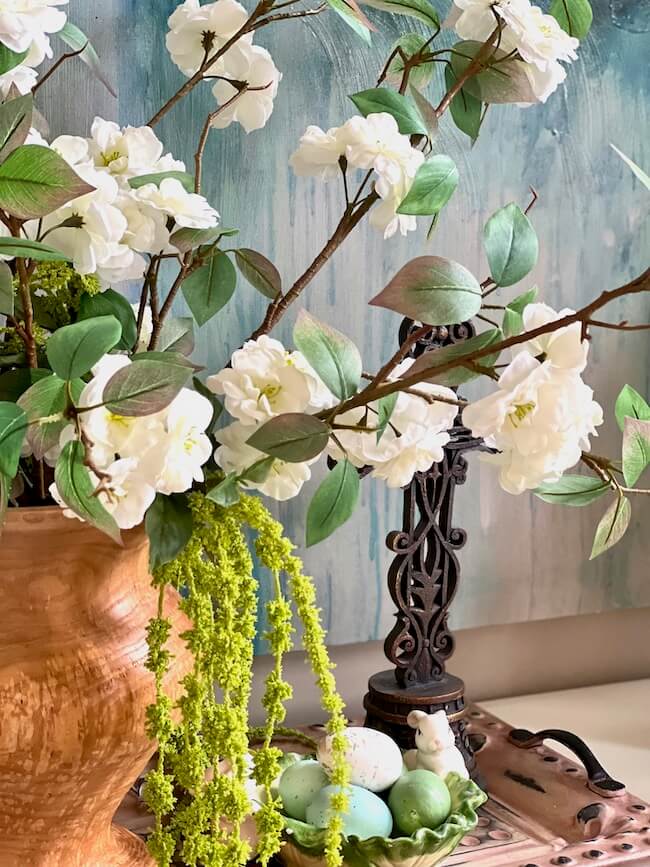 15. Add faux cherry blossom stems to a carved wooden vase.
These sprawling cherry blossom stems on the sofa table in our living room create a beautiful focal point for the room.
---
Shop the Look for Spring Flowers

---
There are so many beautiful ways to create gorgeous floral arrangements in your home for spring. Simple arrangements and small potted plants make it easy to refresh your home this time of year.
I hope these ideas inspire you to create pretty arrangements of spring flowers for your dining table, foyer, mantel, coffee table, kitchen island, or anywhere you need a spring refresh.
Happy Spring!
Pin These Ideas for Later!