Decorating with Orchids Three Ways
Do you love decorating with orchids? Today I'm sharing three ways you can make an orchid centerpiece with supermarket orchids.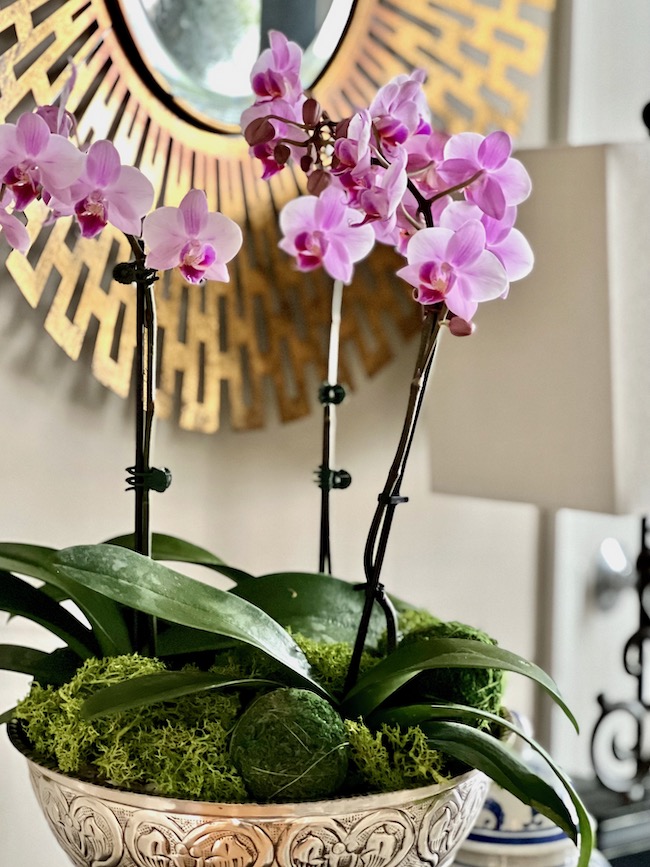 (This post contains affiliate links, so I may earn a small commission when you make a purchase through links on my site at no additional cost to you. As an Amazon Associate I earn from qualifying purchases.)
I love decorating with fresh flowers in my home! It makes it so easy to change out my decor with the seasons, or add a splash of color to a room. No matter the season, fresh flowers just make your home feel special.
It can be expensive to always display fresh cut flowers in your home — unless, of course, you grow your own in your garden during the warm months of the year.
I've found that one of the best and most cost-effective ways to display fresh flowers indoors is with potted flowers, and orchids are my favorite flowers to use in my home. Since the plants are still living, you can get months of color. Potted orchids are usually available at your grocery store, so it's so easy to pick some up for a quick arrangement or centerpiece.
There are so many pretty orchid colors to choose from, and if you care for them well, you can get them to bloom time and time again! My daughter has been doing this for years!
Today, I'm sharing three super easy ways to create an orchid centerpiece, using three different types of containers.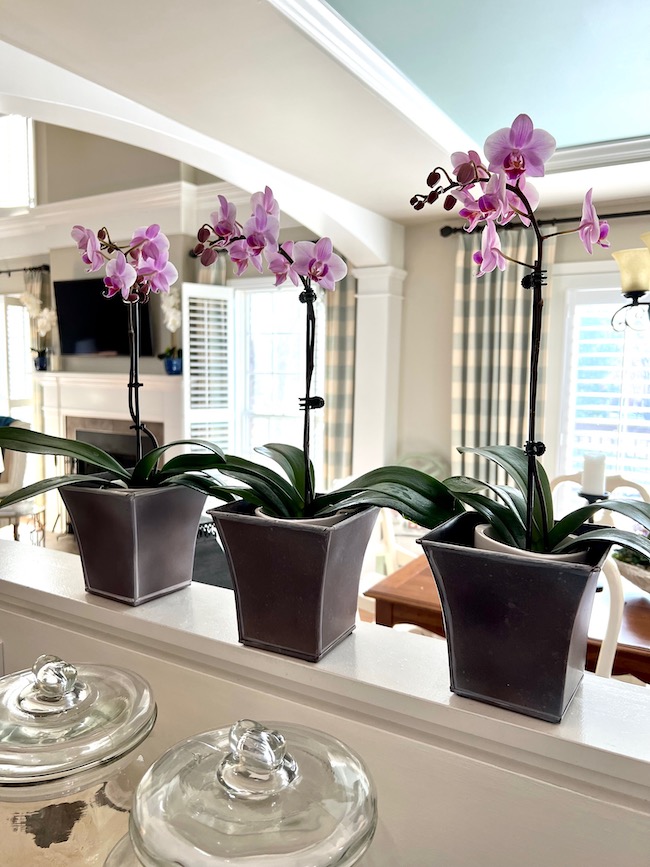 1. Use a Trio of Potted Orchids in Small Cache Pots.
Simply use a trio of three matching containers like these metal cache pots, and display them together for maximum impact on your dining table,  kitchen island, or coffee table.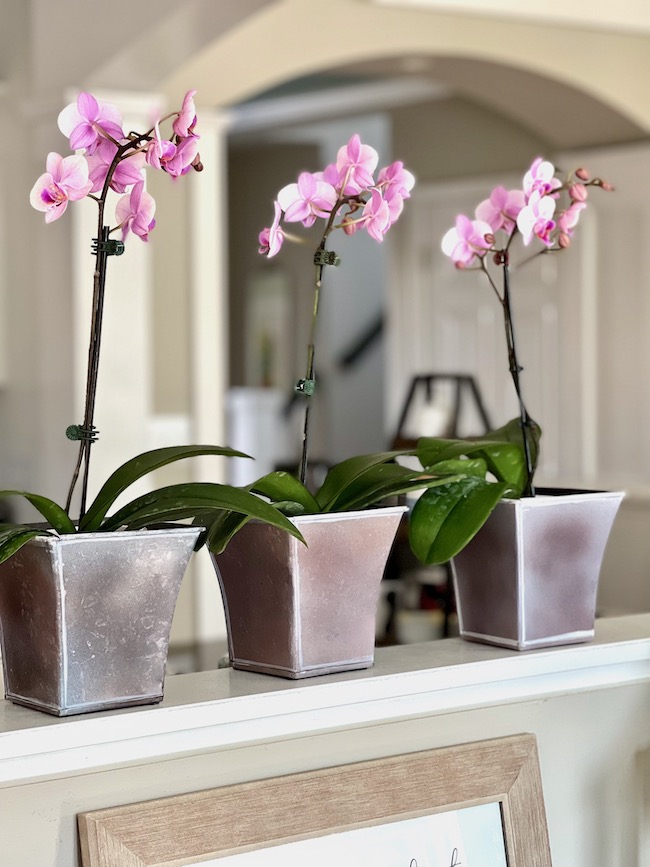 I'm using mine on the half-wall between our kitchen and dining room. It's a tricky area to know what to do with sometimes, and this trio of cache pots filled with potted orchids is just perfect for this space.
Use this idea anywhere you have a long linear space that needs a little pop of color.
For a pretty and colorful blue and white Chinoiserie spin on this cachepot trio, check out this painted cachepot DIY!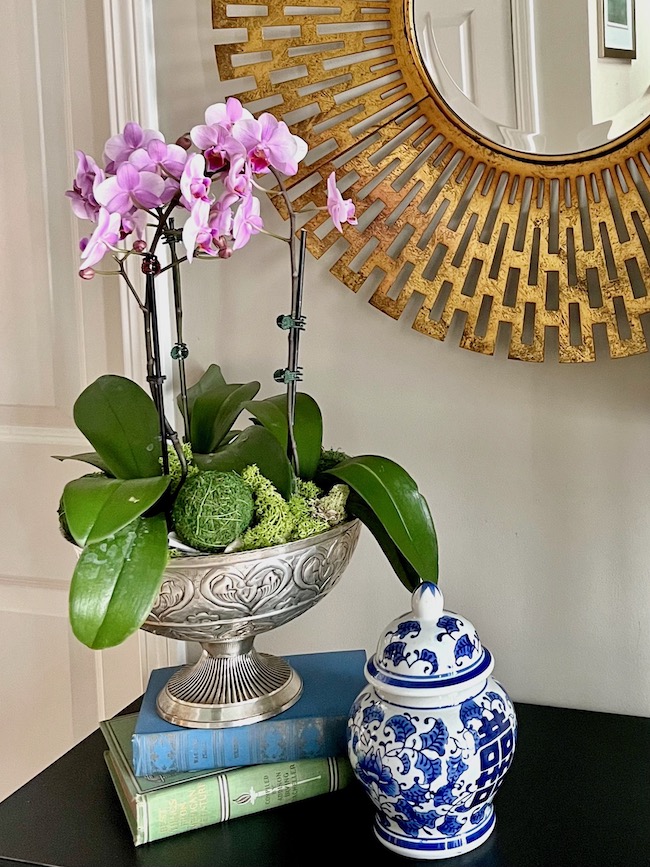 2. Decorating with Orchids in a Pedestal Bowl
You can really make a statement with potted orchids in a beautiful pedestal bowl! I'm using a pretty silver pedestal bowl, but you could certainly use another material. A wooden pedestal bowl would be stunning arranged with orchids.
You need 3 – 5 small orchids, depending on the size of your bowl. Use an odd number of orchids to be more visually appealing. Arrange the orchids in the bowl, and anchor them with wadded up newspaper or small moss balls to hold in place. Then cover with moss to finish off the look.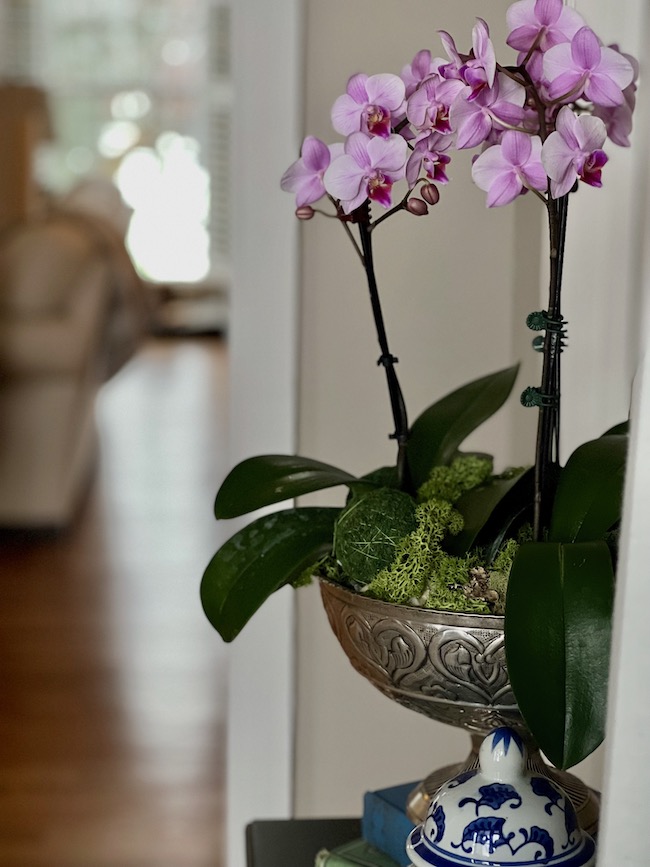 This orchid pedestal bowl arrangement would be gorgeous displayed in your foyer, on your coffee table, your kitchen island, your dining table, or any number of places in your home to make a lovely statement.
I've displayed mine in our foyer to greet guests when they arrive.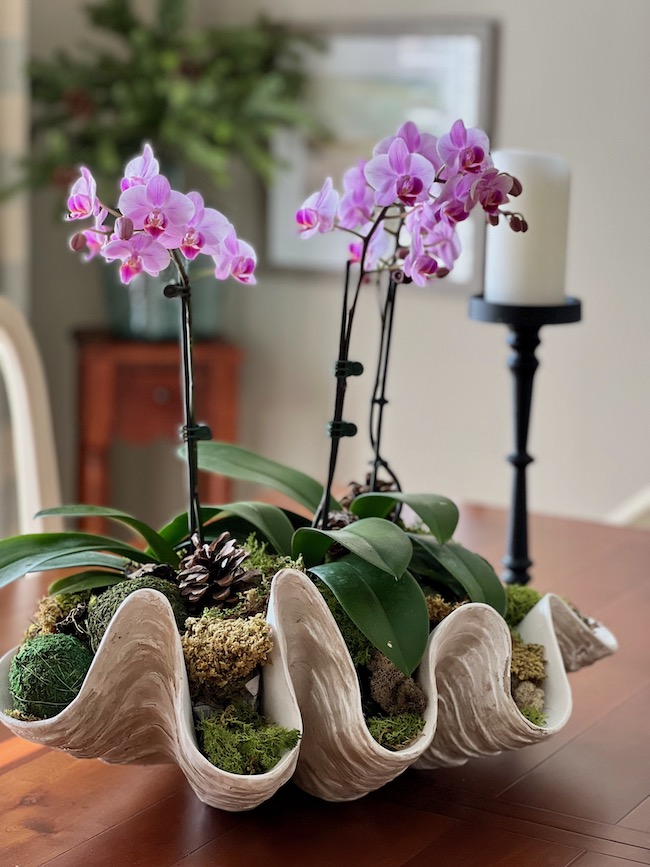 3. Make an Orchid Centerpiece with a Large Clam Shell.
My favorite way of decorating with orchids is arranging them in this pretty clam shell bowl. Ours is from Ballard Designs, and you can purchase it here.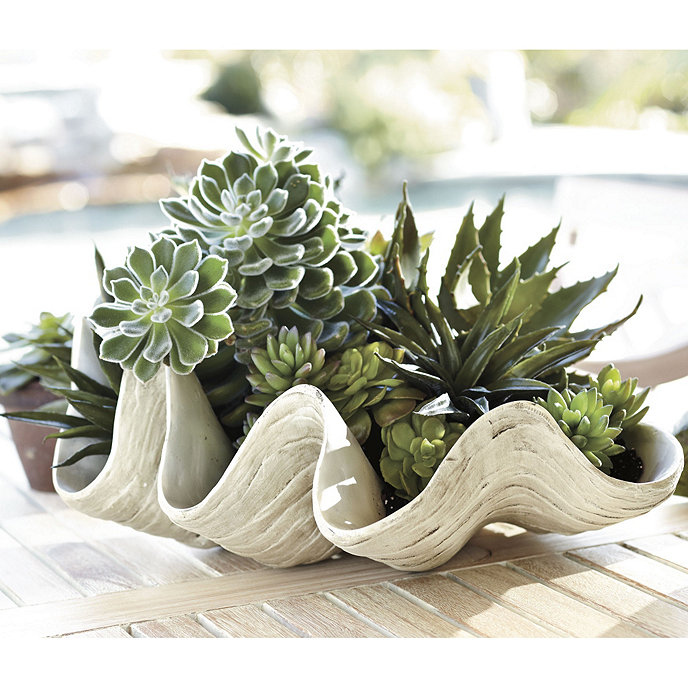 As with the pedestal bowl, use newspapers and moss balls to anchor your orchid pots into place. Then fill the bowl with moss to cover the anchoring materials. I like to use moss balls to help anchor because they look great, and help to fill in the space. They look like the moss, so it doesn't take as much moss to cover.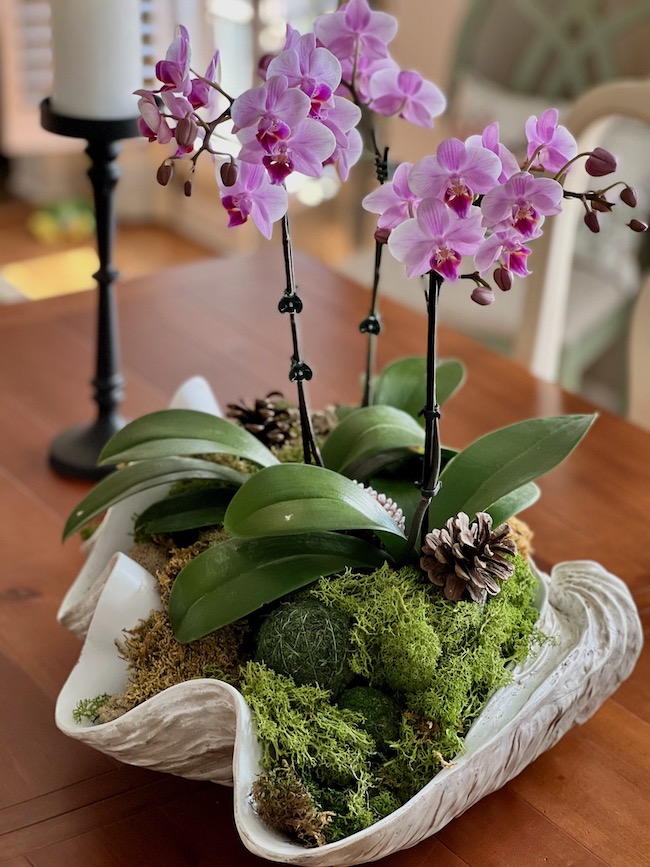 I used three small potted orchids in this clam shell bowl. I kept them in their ceramic pots. You could actually use five orchids in this bowl if you remove the plastic inserts from the ceramic pots. You just need to remember to completely drain your orchids each time you water them — which is a good idea to do anyway!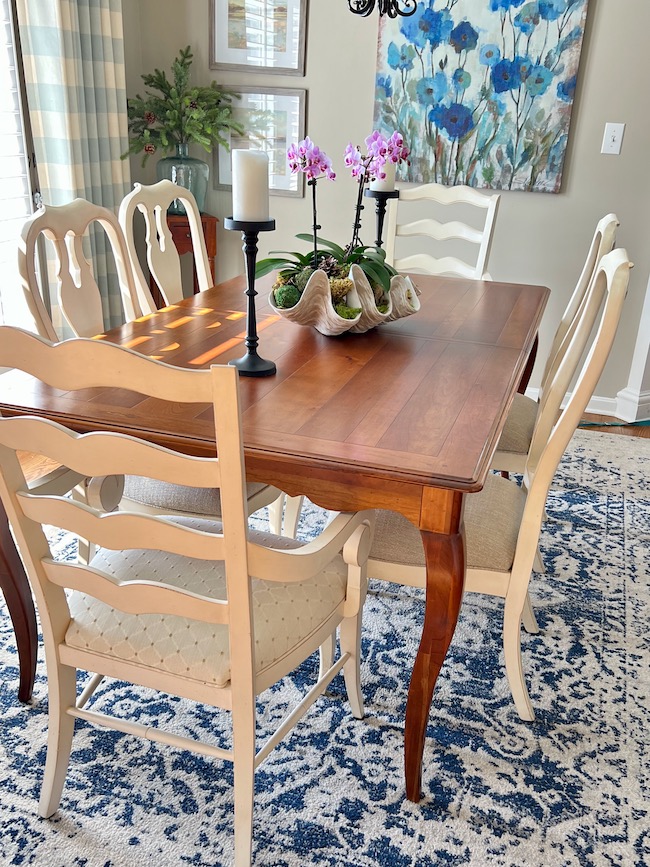 Supples Creating Orchid Centerpieces:
Small potted orchids — the smaller size orchids are easier to work with if your container is fairly shallow. However, if you have a large, deep and wide container, a trio of large orchids on your dining table would be spectacular!
A container — make sure your container is deep enough to house the orchids.
Newspaper and moss balls for anchoring your potted orchids.
Preserved artificial moss to cover the pots and finish off your arrangement.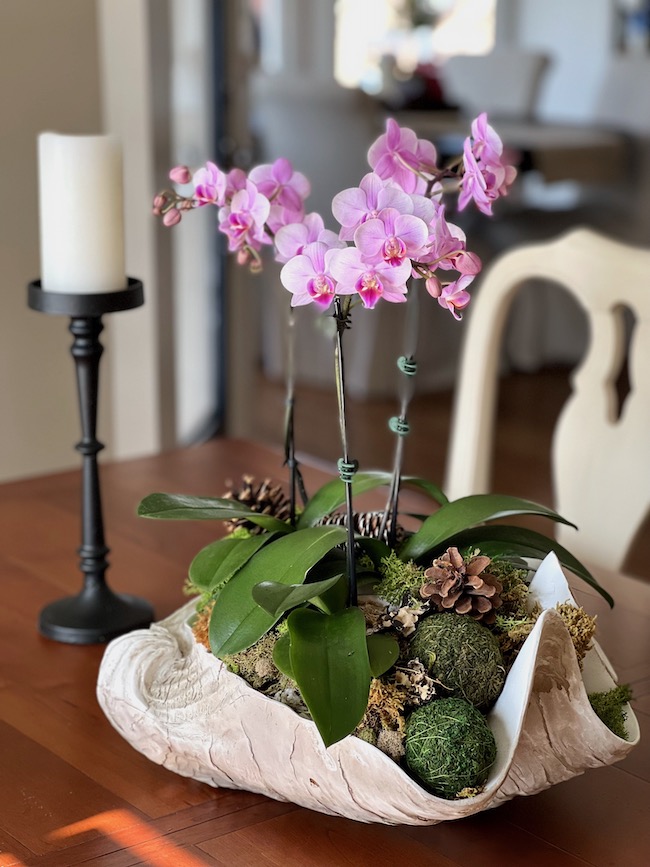 Tips for Buying Grocery Store Orchids
Look for healthy orchids with new buds.
Purchase the petite or medium size orchids for arranging. Observe the pot size to make sure multiples with fit in your container.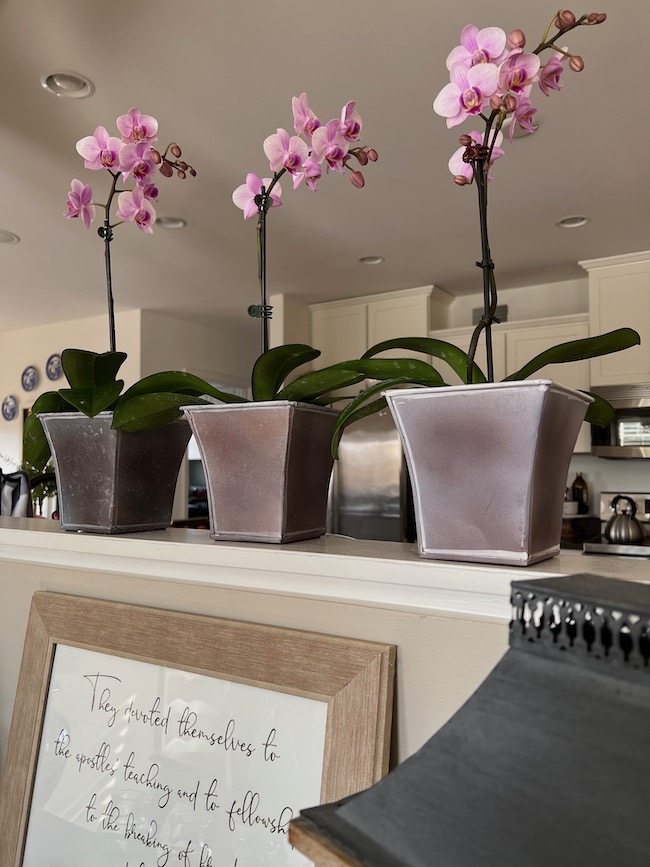 Tips for Buying  Containers for Potted Orchids
Choose containers that make a statement in size, color, or texture.
Make sure your container is deep enough and wide enough to house your orchids.
Consider where you want to display your orchid arrangement to determine what size and material you'd like your container to be.
Containers and Moss for Potted Orchids
---

---
Caring for Potted Orchids Indoors
Orchids are very easy to grow, and with a little extra care the blooms will last for 2 – 3 months. Once they are spent, you can get them to re-bloom again after a few months.
Light
Orchids love bright, but filtered light. It would be fine to place your orchid in an east-facing window with morning light or in a room with south facing light, a few feet away from the window.

Water
Don't overwater your orchids. Once a week, water your orchids at your sink where the excess water can easily drain completely from the pot before placing back in your centerpiece container. Water temperature should be close to room temperature.
Cutting back and Re-blooming
You don't have to throw your plant out once your orchid blooms fade. With a little care, you can get your orchid to bloom again. This article does a great job of explaining how to prune your orchid to get it to bloom again.
I hope this inspires you to pick up some potted orchids the next time you're at the grocery store so you can try one of these ideas for decorating with orchids in your home!
Do you like to use orchids in your home decor?
Happy Decorating!!
Save for Later!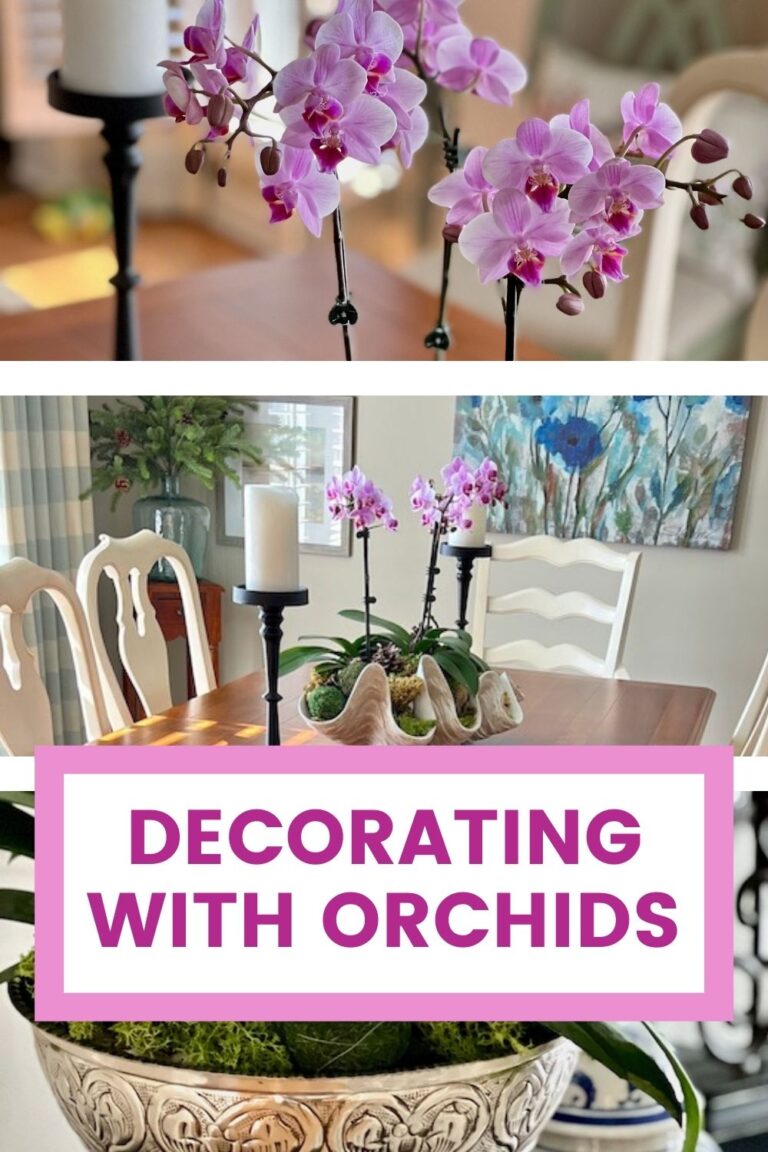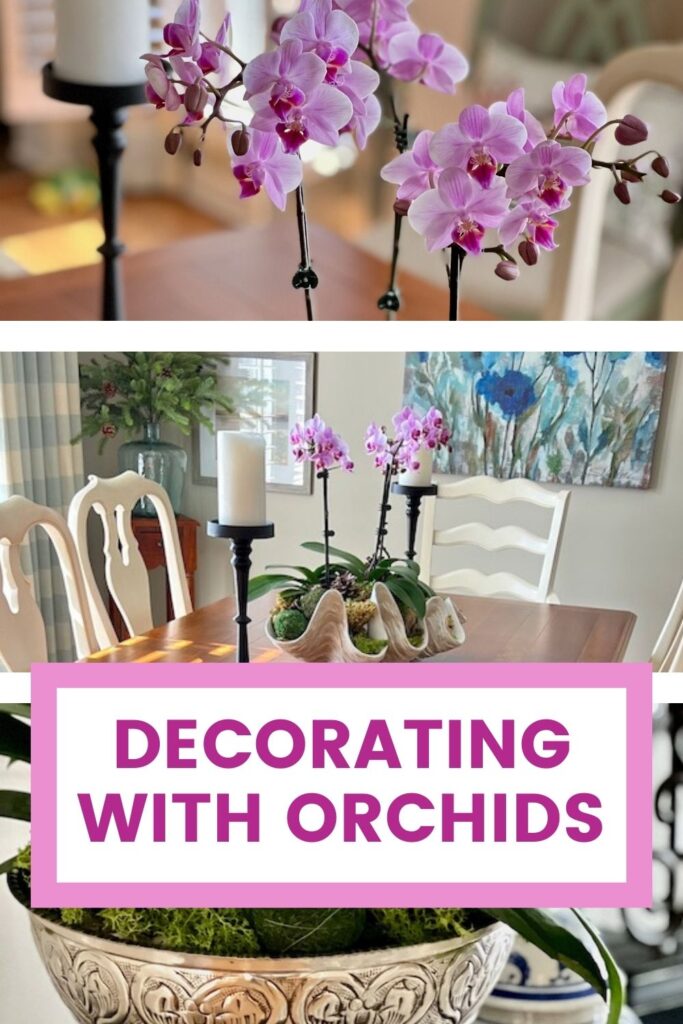 You might also enjoy:
Biophilic Design — How to Bring Nature into Your Home
Four Basic Home Decor Accent Pieces for the Holidays
Joining in these fun link parties:
Fabulous Friday Link Party at Living Large in a Small House.
Sundays on Silverado link party at The House on Silverado.