Welcoming Autumn: Fresh and Cozy Fall Kitchen Decor
Warm up your kitchen this autumn with these cozy and affordable decor tips. Explore easy fall kitchen decor ideas to celebrate the season in style!
Infuse the warmth and charm of the season by integrating warm tones, seasonal produce, and subtle fall accents into your kitchen. Make it a welcoming space for hearty meals and cozy gatherings. These fall kitchen decor ideas offer something for everyone to bring the spirit of fall into the heart of the home.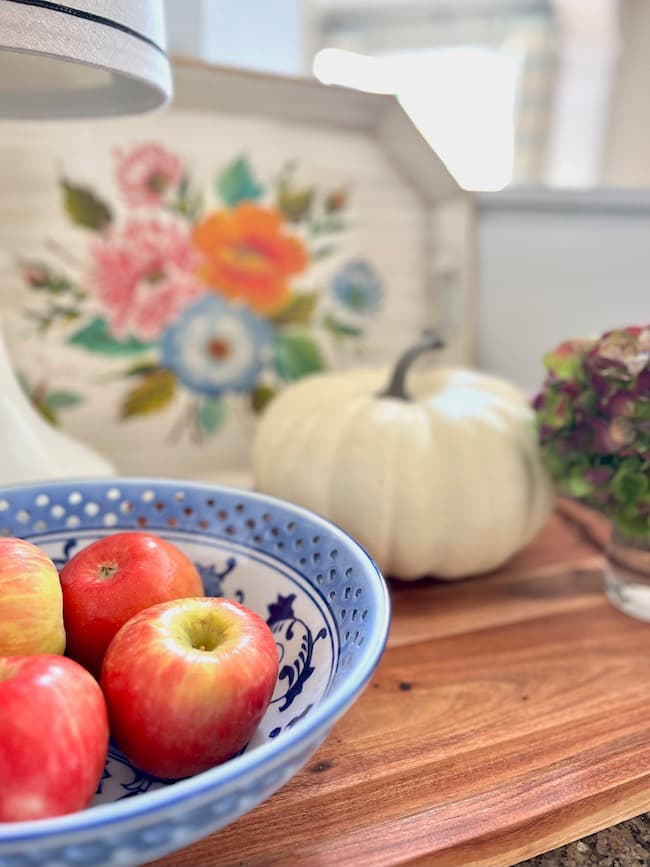 (This post contains affiliate links, so I may earn a small commission when you make a purchase through links on my site at no additional cost to you. As an Amazon Associate I earn from qualifying purchases.)
There's just something about fall that makes me want to spruce up our kitchen!
Maybe it's the anticipation of all the seasonal celebrations; or the chill in the air that calls for hearty soups and chilis, or possibly the abundance of apples and pumpkins that make up some of my favorite seasonal baked goods.
It's probably a combination of all these wonderful things that makes me want to create an inviting feeling in the heart of our home for fall.
Our kitchens are places of nourishment and gatherings, and they're the ideal spaces to embrace the cozy and welcoming essence of fall. These simple, affordable, and creative fall kitchen decor ideas will bring the fall spirit to your home.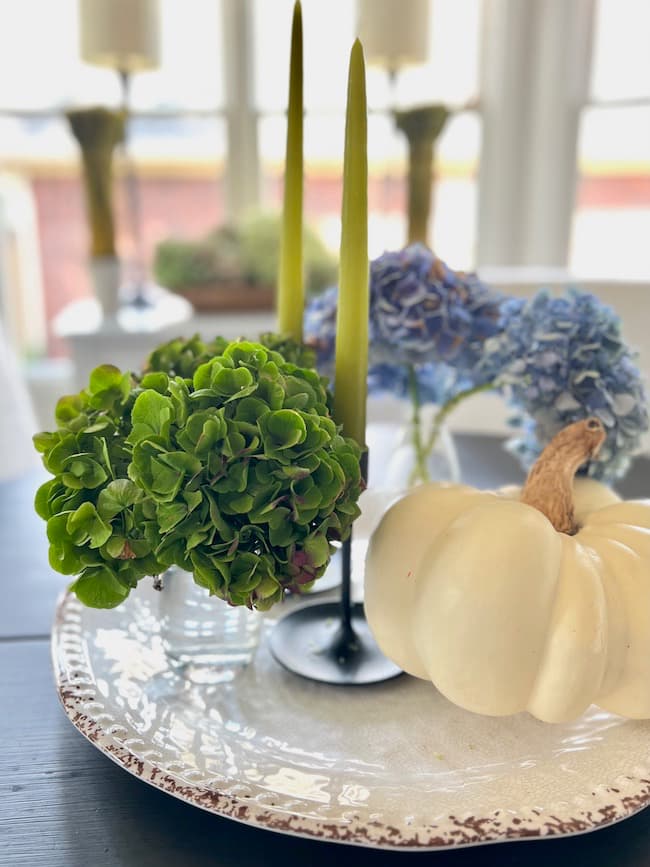 1. Create simple autumnal centerpieces for your kitchen table.
Dried hydrangeas from our garden are some of my favorite fall accents! During the final days of summer and early days of fall, I begin clipping and drying our hydrangeas to use in our home throughout the fall and winter months.
I created a simple centerpiece for our kitchen table by gathering bud vases full of hydrangeas from our yard paired with the prettiest green taper candles and a faux white pumpkin. A large round platter made it easy to corral these fall items to create a simple yet elegant centerpiece for our table.
You can create a vibrant fall centerpiece for your kitchen table using a rustic wooden tray or a copper bowl filled with faux or fresh pumpkins, multi-colored gourds of various sizes, pine cones, and fall leaves. Use white pumpkins if you prefer a more neutral touch. Fall provides an abundance of natural elements which are so easy to display in a pretty bowl or tray!
You can find this pretty bowl here!
2. Infuse autumnal scents in your home with fall-scented candles.
Do you have a favorite scent that reminds you of fall? Place fall-scented candles on kitchen countertops or the center of the island to fill your kitchen with the scents of autumn. They create a welcoming and cozy fall kitchen ambiance and complement the visual appeal of your fall decor ideas.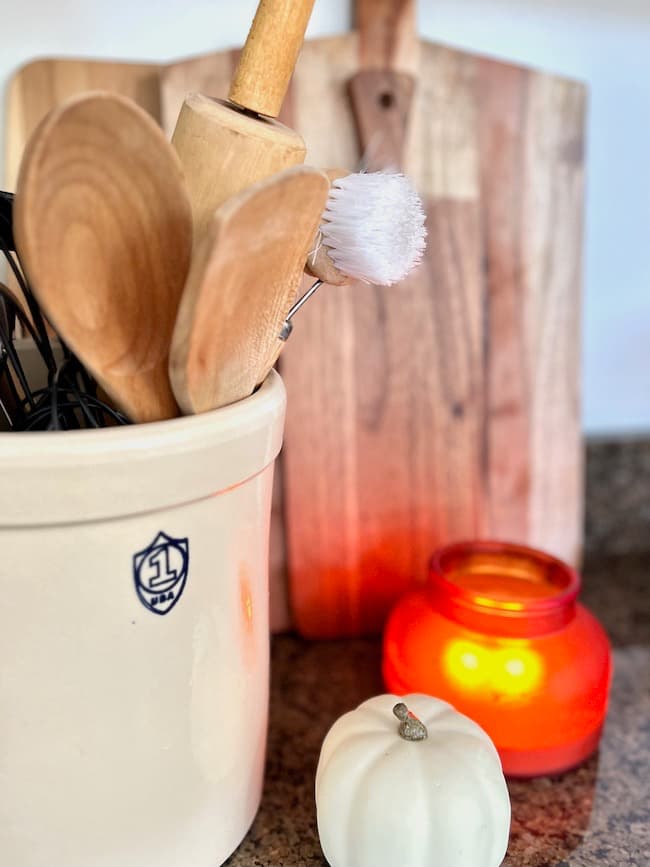 This Red Lava Citrus candle is my favorite scent to use in our home year-round, and the pretty orange-red jar is perfect for fall into Christmas!
3. Seasonal Wreaths:
Hang a DIY or store-bought fall wreath made with autumn leaves, berries, and twigs on your kitchen door or windows to bring in the fall spirit.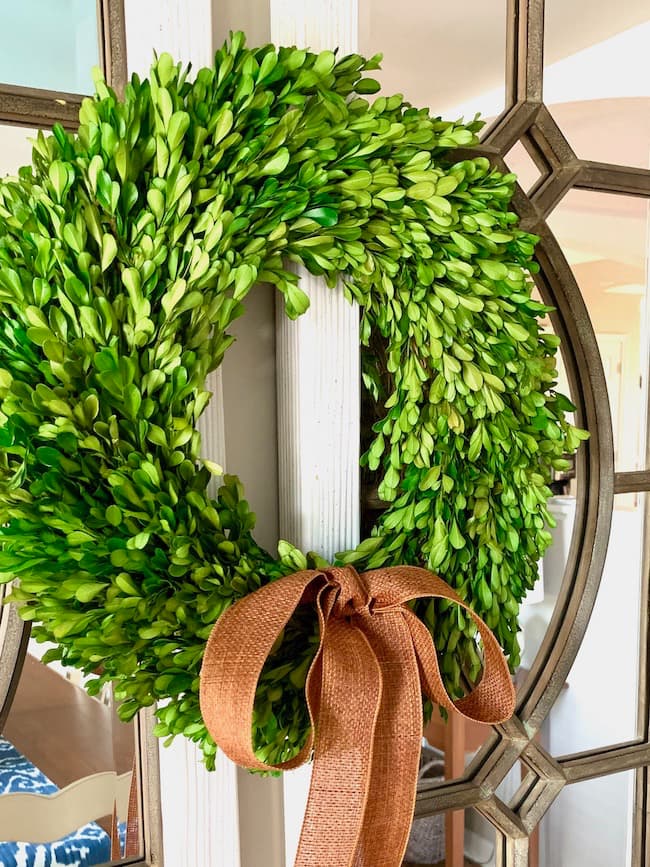 I keep a boxwood wreath on the pair of mirrors in our breakfast area, and add a pretty fall ribbon for a nice autumn touch.
​There are so many inexpensive wreaths to choose from such as these favorites:
Or, you can make your own wreath like this DIY Pinecone Wreath.
4. Add seasonal decor to open shelves in your kitchen space.
Do you have open shelving in your kitchen? Whether its open shelving mounted abovelower cabinetry, built-in bookshelves, or a simple display shelf hung on your wall, these horizontal surfaces are the perfect places to add simple fall touches and fall accents.
Decorate them with a grouping of white ceramics or milk glass. Add natural elements such as pine cones, fall stems, mini faux pumpkins to your everyday display.
5. Add texture, color, and warmth with cozy fall textiles.
Swap out your usual kitchen towels and tea towels for ones in warm fall colors or fun patterns.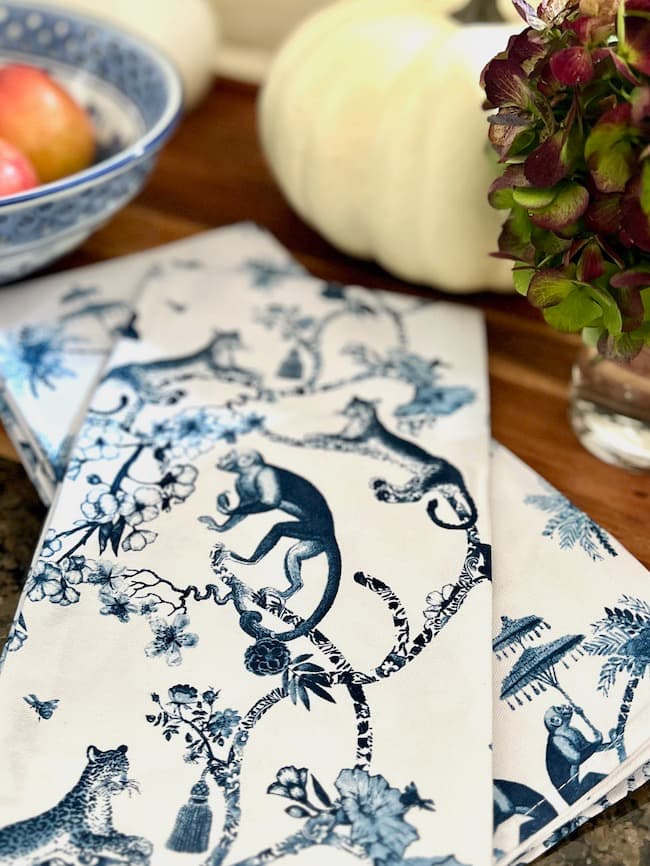 While they aren't "technically" fall, I love these gorgeous blue and white Chinoiserie tea towels! They pair well with my fall decor, and can still be used year round! They're a super price for this set of three, and make lovely hostess gifts for all of your fall and holiday gatherings!
I love adding texture to our kitchen table with a table runner. I often use a jute runner, but these textured table runners come in a lovely variety of fall colors!
6. Create a fall aesthetic with seasonal wall art.
Replace your regular wall art with autumn-themed prints or paintings to immediately transform the look and feel of your kitchen, adding more seasonal touches to your space. A moody landscape or classic still-life create a feeling of fall.
You can try your hand at creating your own piece of fall art, such as this DIY botanical print idea, in a fall color scheme.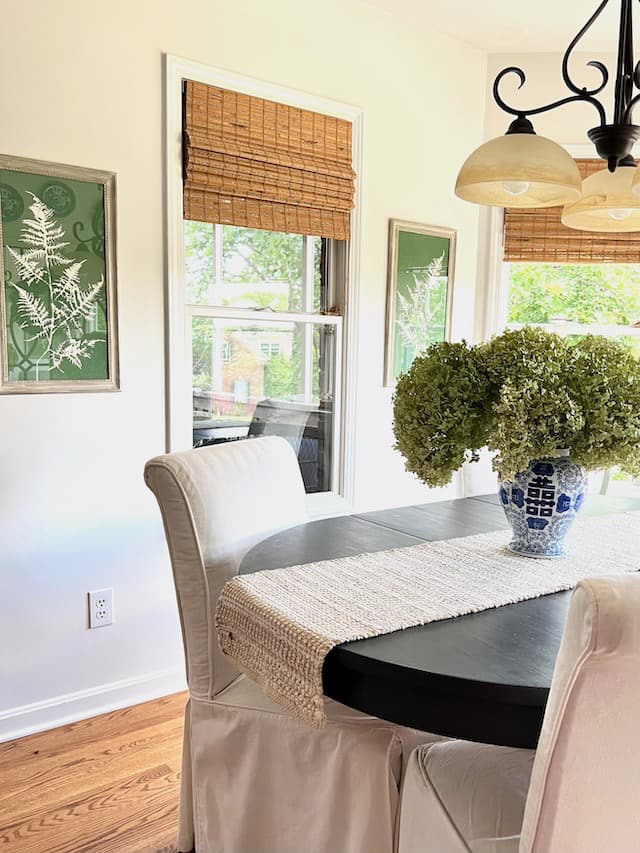 7. Remember the importance of cozy lighting.
I can't emphasis enough how big of a role lighting plays in creating a cozy and inviting home! It's the most important way to create ambiance in a room — even your kitchen! (You can read more about that here.)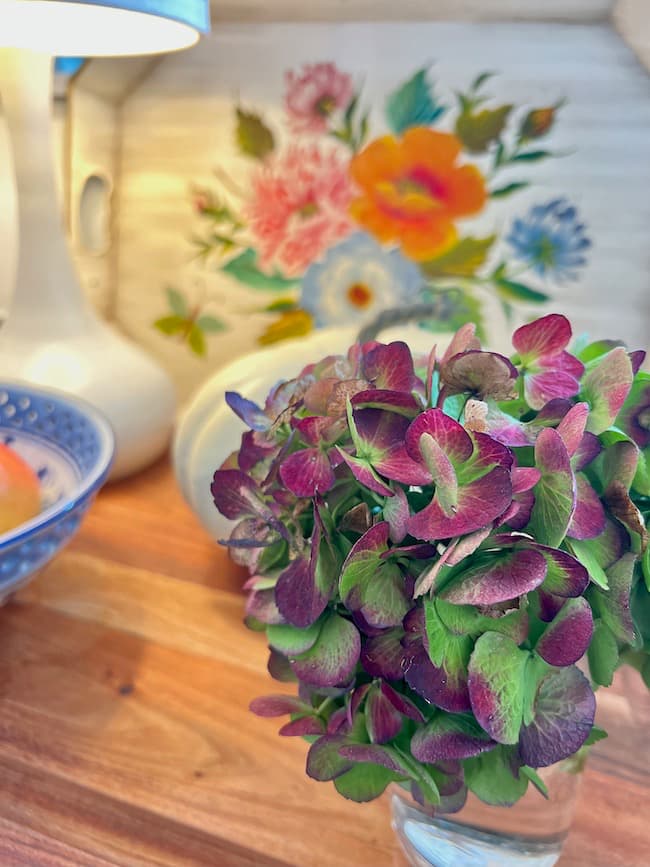 Fall is the perfect time to infuse warmth in your kitchen with some simple lighting ideas.
Consider adding fairy lights to a vignette or upgrading your lighting with warmer bulbs to create a cozier atmosphere. No cool temperature light bulbs allowed! Soft candlelight adds a warm glow, and a small lamp on a countertop creates a cozy look.
Add warmth to your table or a cozy kitchen nook with this fabulous pair of battery-powered lamps.
8. Incorporate warm wood tones in your fall kitchen decor.
Integrate warm wood tones into your kitchen through items like cutting boards, dough bowls, or wooden utensils to complement the natural colors of your autumn season decor. Add these pieces to tabletop displays, countertops, and vignettes for a cozy and natural fall look.
9. Display pumpkins, gourds, and fresh seasonal produce.
Display fresh pumpkins and seasonal produce such as apples and pears in a beautiful bowl or basket on your kitchen countertop. Not only is it decorative, but it encourages healthy, seasonal eating!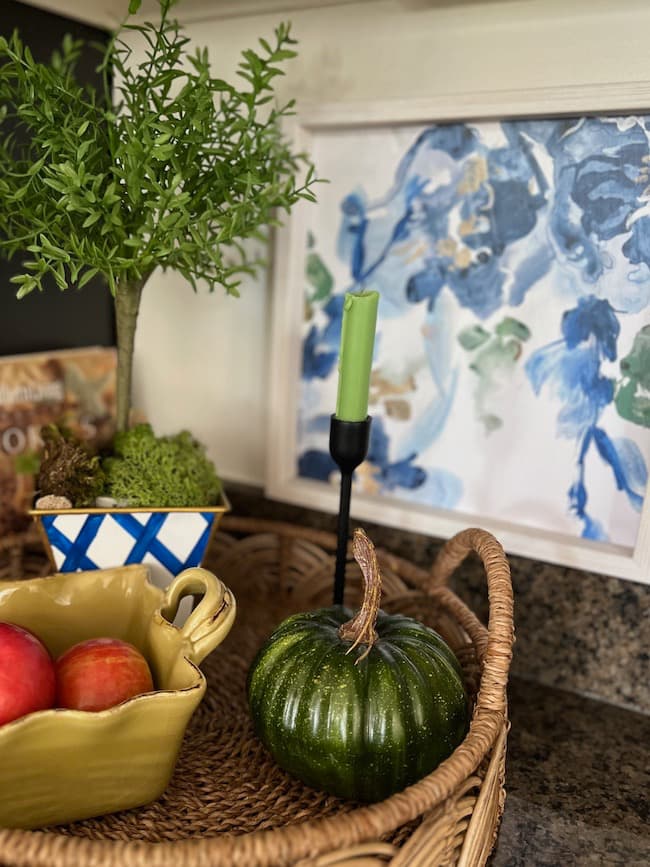 Position the produce in a copper bowl, on a rustic wooden tray, or on a tiered stand. Pair them with pretty fall flowers for a lively, fresh traditional seasonal look.
10. Update your kitchen countertop decor for the autumn season.
The kitchen countertop is an excellent place for seasonal decor.
Arrange a seasonal vignette on your kitchen countertop using a mixture of fresh and faux pumpkins, multi-sized gourds, and autumn foliage. Complement it with fall-themed containers or small decorative items to bring in more textures and colors, achieving a balanced and festive look.
Place a dough bowl filled with fall leaves, pine cones, and small pumpkins at the center of the island.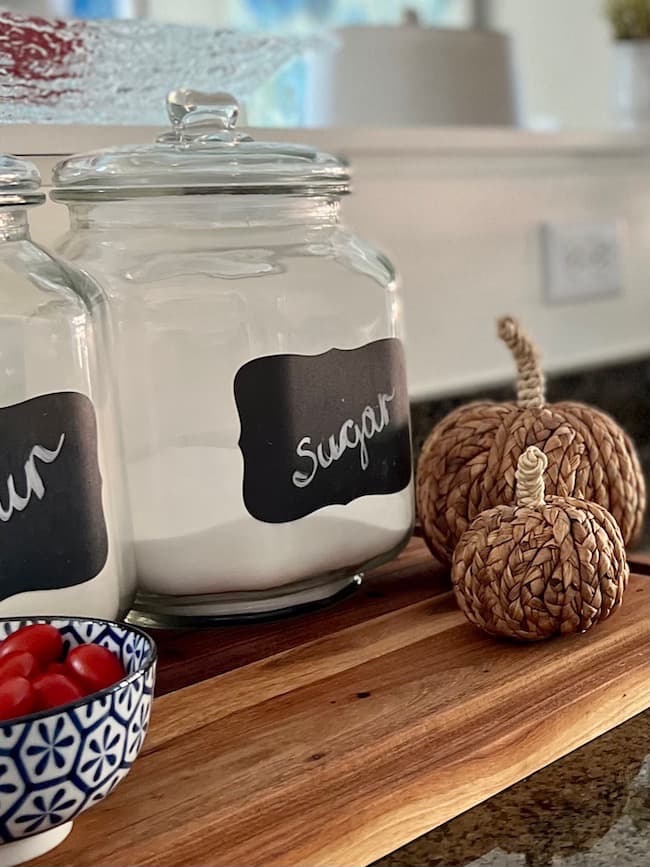 While fall-themed decor is fun to add, I also love the way many of my year-round pieces look for fall.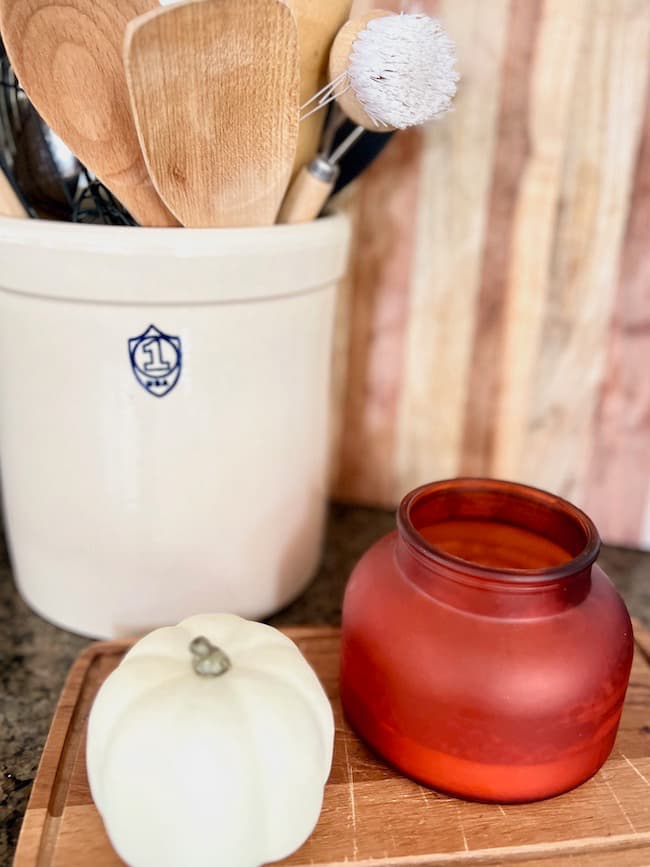 Our crock full of kitchen utensils and glass canisters full of baking needs feel welcoming and beckons you to prepare a delicious meal or baked goods!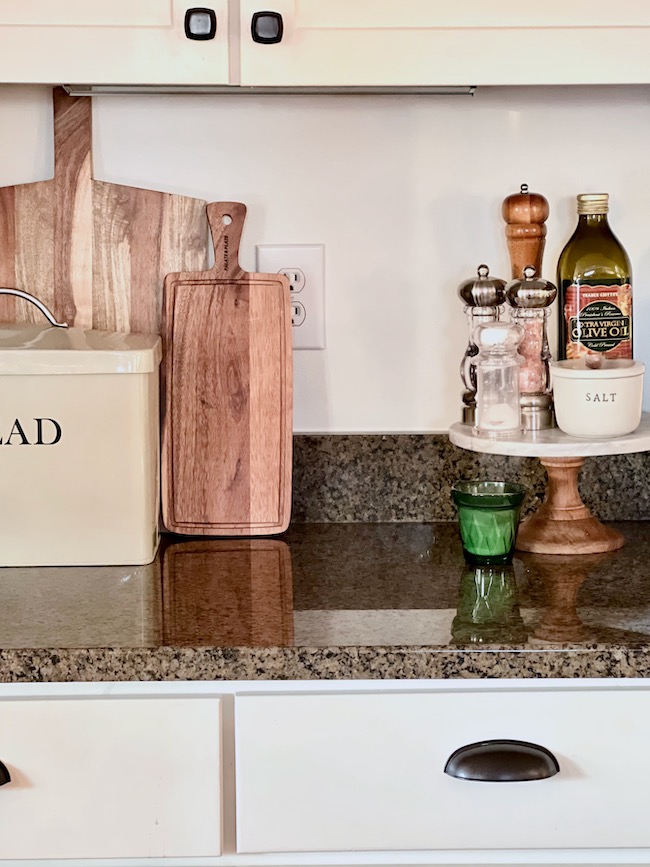 ​Our marble pedestal beside the stove corrals cooking oils and seasonings. It adds contrasting texture to on our countertops while keeping things close at hand.
​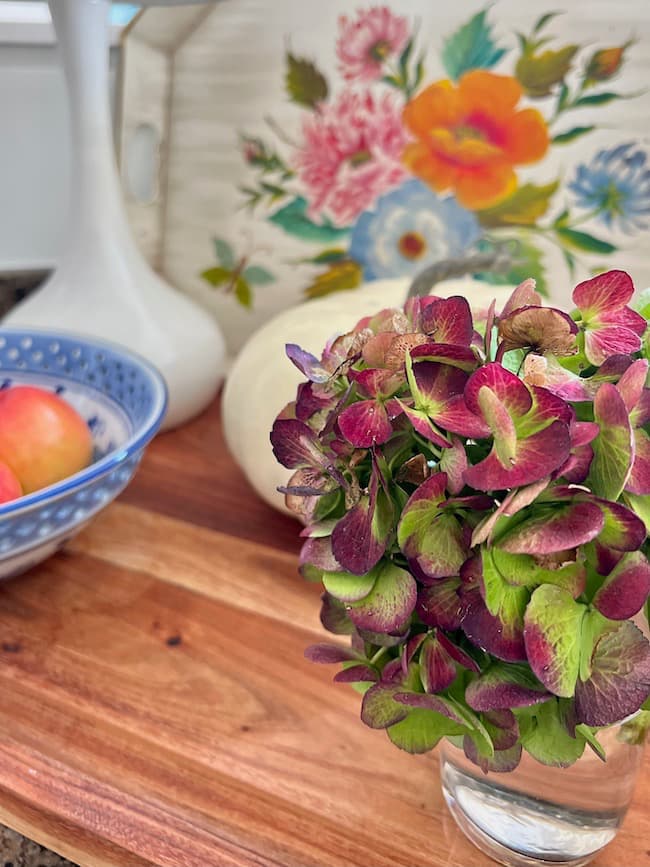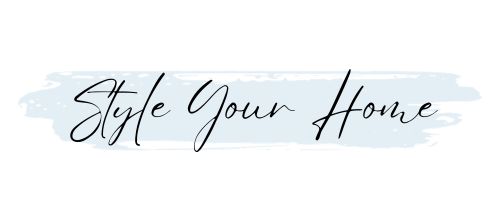 Integrating the fall season into your kitchen decor doesn't have to be complicated or expensive. With simple touches, affordable decor, and a bit of creativity, you can transform your kitchen into a cozy, elegant space that resonates with the vibrant and warm essence of autumn.
Whether it's through a dough bowl filled with seasonal goodness, a rustic wooden tray displaying multi-colored gourds, or the scent of a fall candle wafting through the air, your kitchen will be a welcoming place and the center of activity for this time of year!
Happy fall decorating!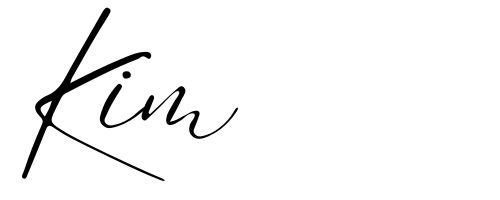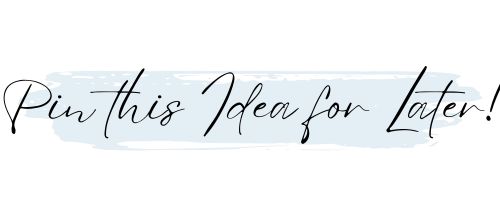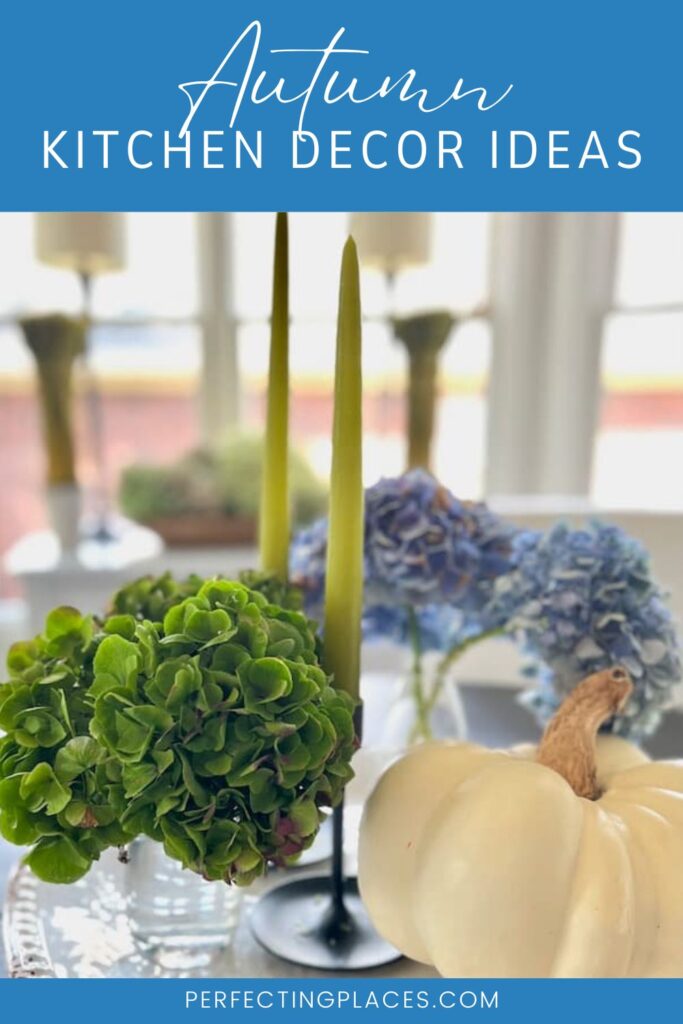 By the way, do you follow me on all the socials? If not, check out my Pinterest, Instagram, and Facebook and be sure to follow along so you don't miss out on any of my decorating and DIY ideas.