Fall Decorating Ideas in My Fall Home Tour
Welcome to the Fall Tour of my home where I hope you'll find LOTS of great fall decorating ideas that are simple to do! Fall has finally arrived in Kentucky, and I'm so happy!! No matter the season, more than anything else, I want our house to feel like home –  a happy, warm, inviting, welcoming, cozy, comfortable, place to rest and relax. All of the textures and accents of fall just lend themselves especially well to those warm, cozy feelings. Adding simple seasonal touches to my existing decor makes it easy! So grab a cup of coffee and a pumpkin muffin and come on inside. Welcome to our home!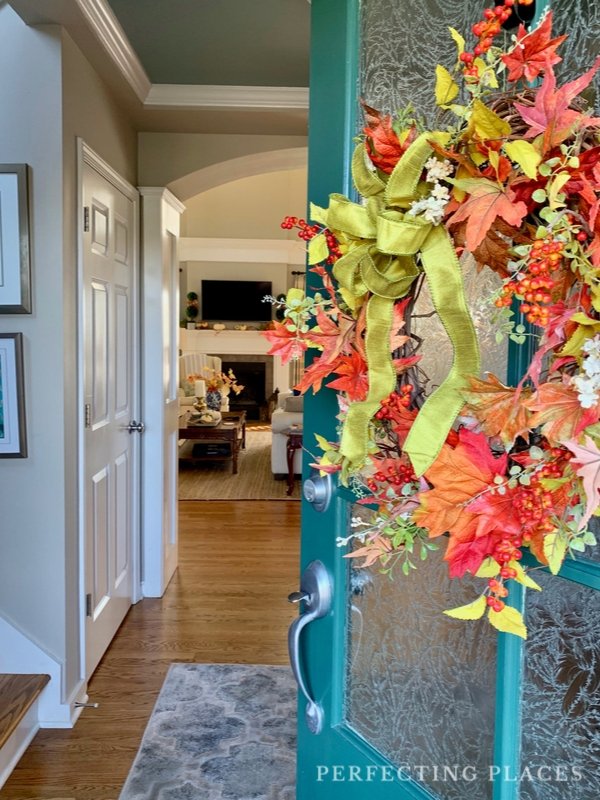 I like to create a pretty entry for guests as they arrive. I spruced up an old fall leaf wreath this year and added a pretty chartreuse ribbon. Pots of mums and leftover summer ferns show off the colors of fall. I love our pretty green door! You can read about the paint color here.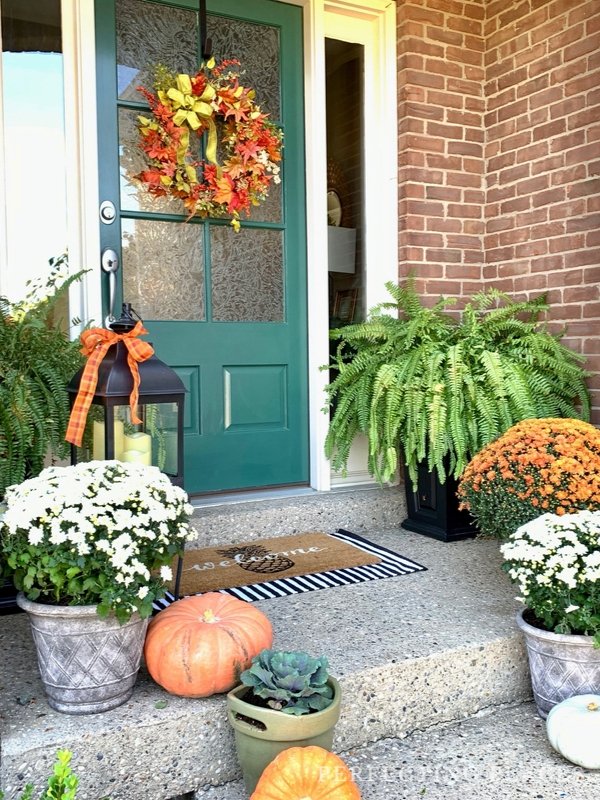 Just inside the foyer, I added a pretty mix of fall greenery, florals, and ribbon to a tall blue-green vase. I just LOVE the vibrancy of the chartreuse stems in the vase. The green lantern and gold mirror add more touches of pretty, warm fall color.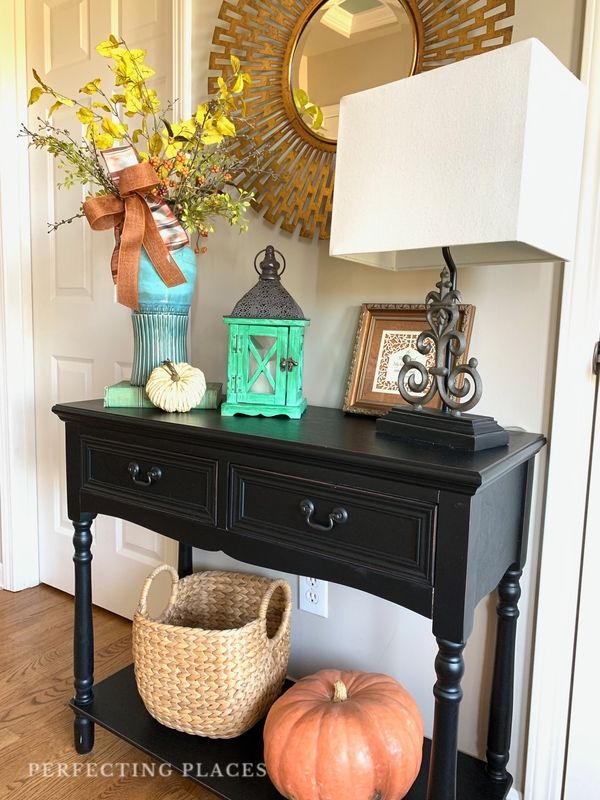 Last year at this time, we were in the middle of painting our kitchen cabinets and installing new hardwood floors in the living room. So this is our first fall with hardwood floors in the living room. What warmth they add, and I just love the added texture of the jute rug for fall.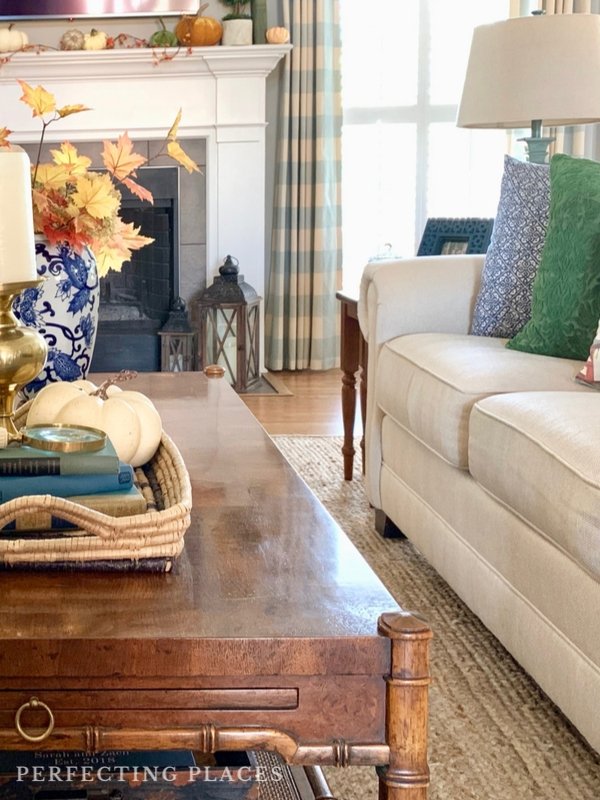 Of course, I had to change up the pillow scape on my sofas by adding some new fall fabrics. My favorite local fabric store marked its bolt fabric 75% off and I snagged this pretty chinoiserie fabric in soft shades of fall. It's so pretty with the colors of the kilim pillow.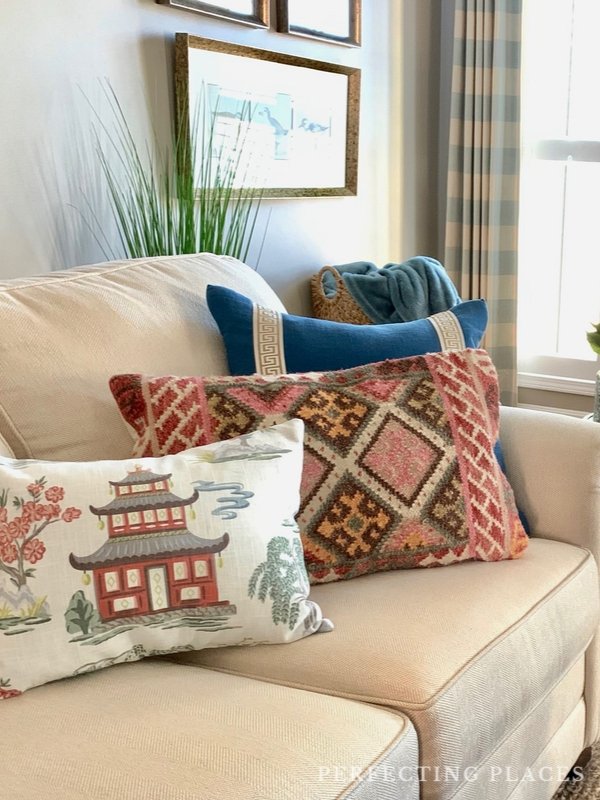 A textured tray, a vase full of fall florals, and pumpkins, along with stacked antique books atop our thrifted faux bamboo coffee table create a pretty place to rest your warm cup of coffee or prop up your feet as you snuggle up in front of the fire.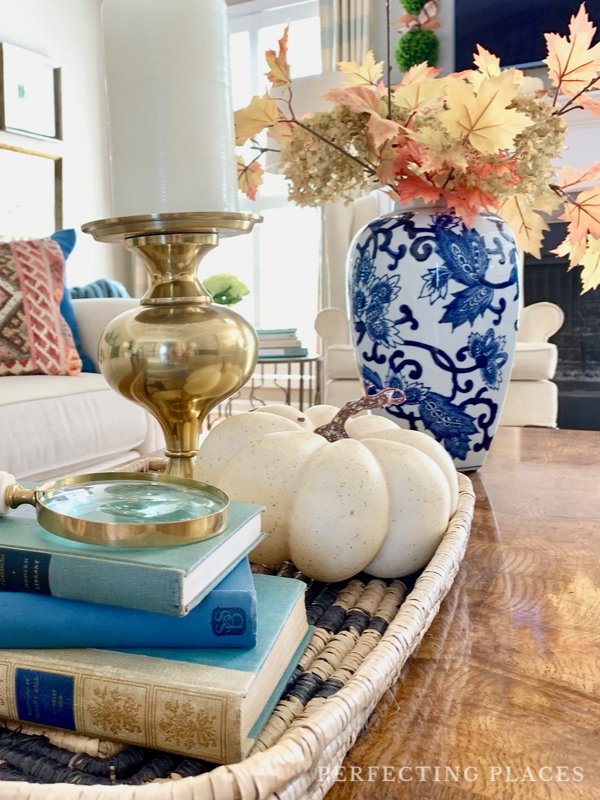 I love to decorate with lanterns, and added this pretty, petite wreath to update them for fall. I'm in love with this pretty subtle plaid ribbon. I think it adds such a soft touch of fall without being overwhelming.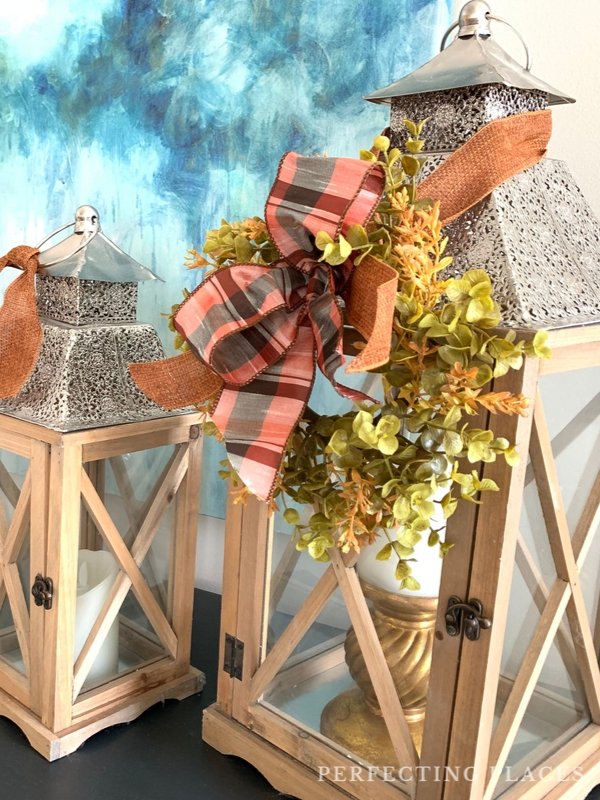 When we updated our home last fall, we moved our TV over our fireplace.  I confess that I would rather have a piece of artwork over the mantel. It would be so much more fun to decorate; however, the TV over the fireplace is very functional for the layout of our living room with the 2 facing sofas, and we actually really enjoy having it there. I love pretty design, but I also think rooms should be functional. I just have to keep my mantel decor low and to a minimum. This combo of faux and velvet pumpkins and bittersweet adds the perfect touch.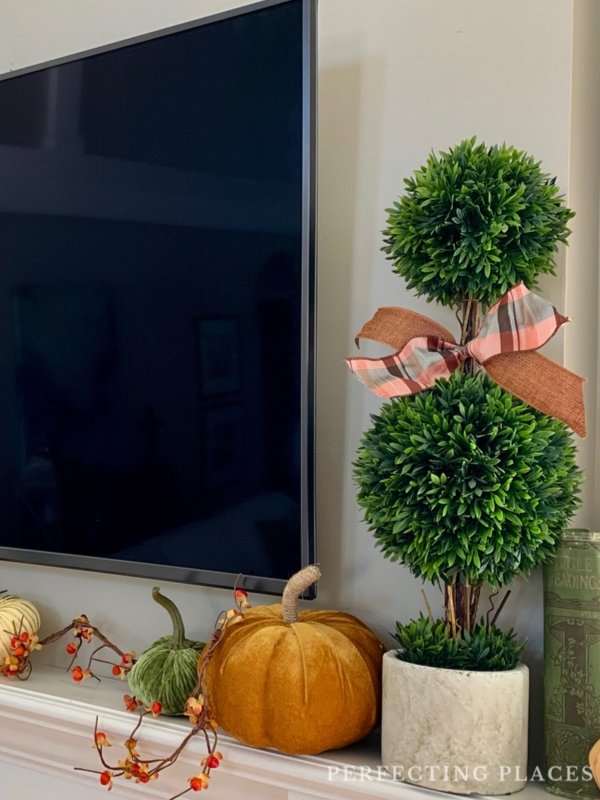 In the dining room, I've kept the decor very simple by bringing in the leftover hydrangea blooms from our yard to dry. I love the combo of the dried hydrangeas and the blue and white pottery with the white pumpkins for a simple, yet elegant look. And, of course, a tray is always the perfect anchor to a grouping of decorative items.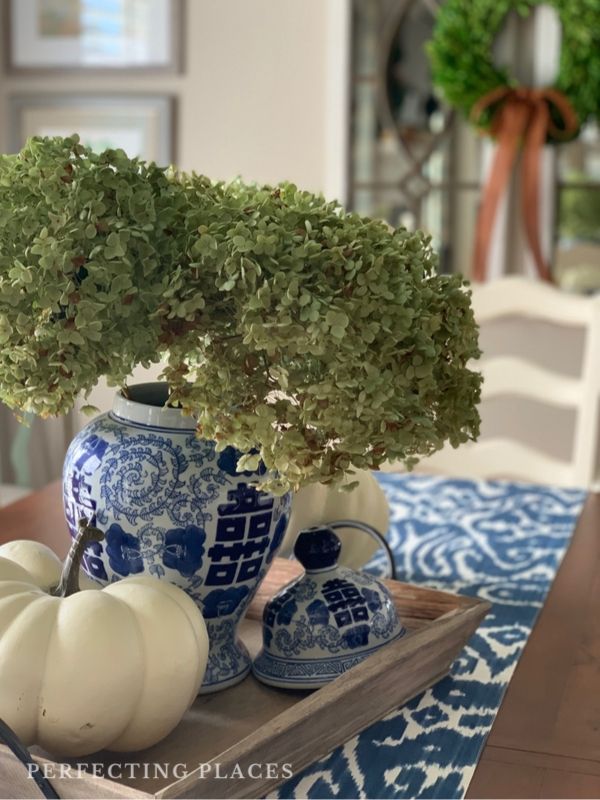 This boxwood wreath gets a quick fall update with added ribbon. Is anyone else a ribbon fanatic??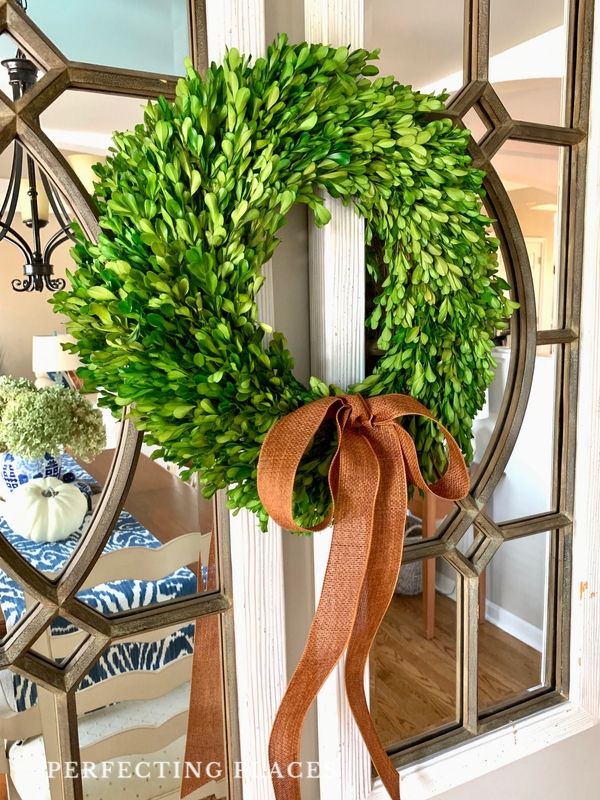 In the kitchen, again, I like to employ simple fall decorating ideas. My little 3-tiered tray allows me to quickly change out a few pieces with some touches of fall with very little effort.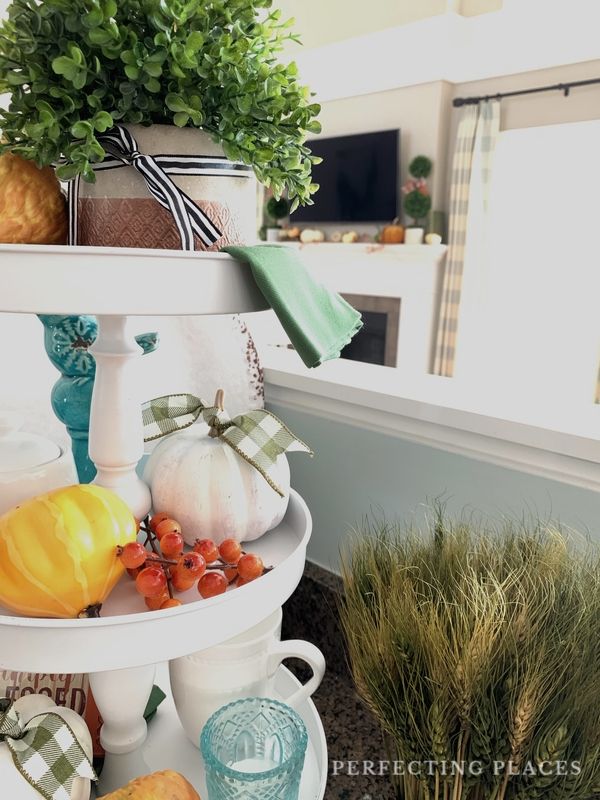 I've had this metal pumpkin for years, and it's actually a candle holder, but this year I've added some greenery and ribbon to create a little centerpiece, and resting it on top of this pedestal adds height and makes it the perfect addition to our kitchen bar.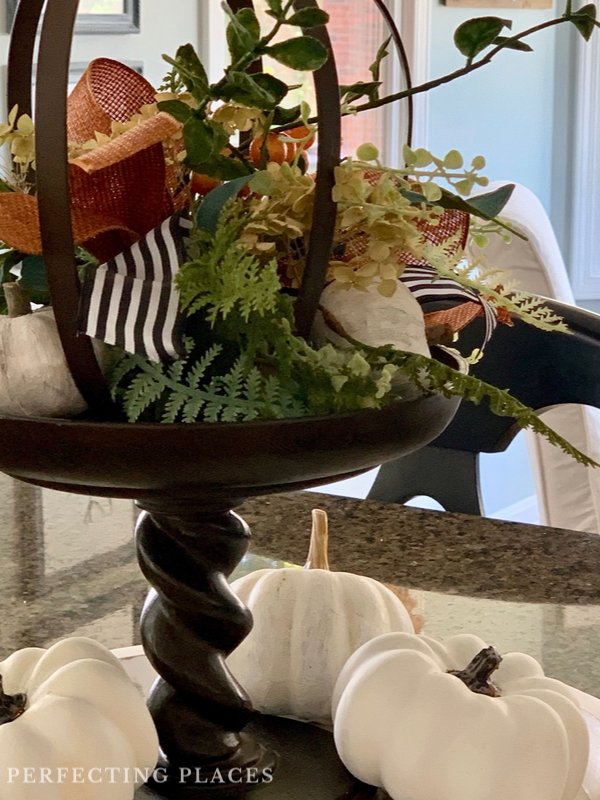 I gathered a few items for a simple combo on a favorite green tray for our kitchen table centerpiece.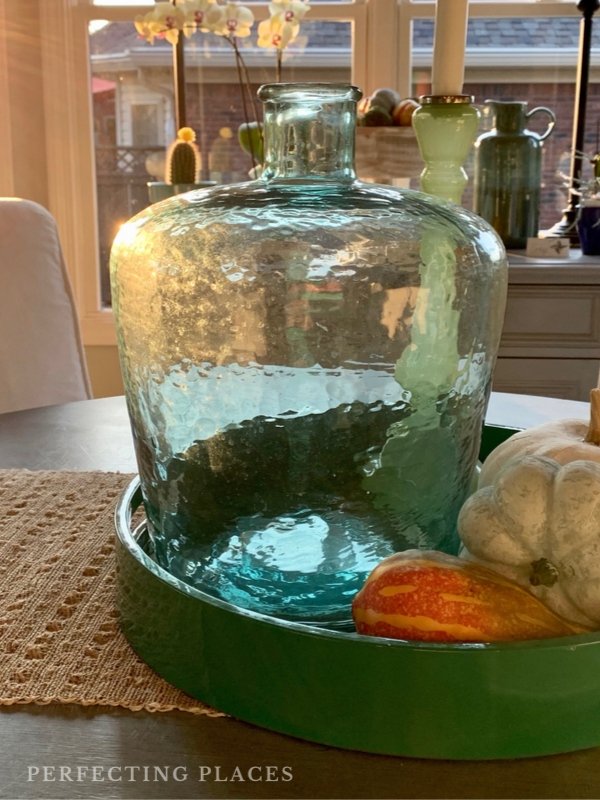 My daughter's new love of plants forms the theme of my kitchen buffet. It's actually the best place in our home to grow plants. With a switch out of some pumpkins in the pedestal bowl and some added wooden beads, the buffet now says fall and works with her orchids and cactus. And would you believe she's getting the petite orchid to bloom for a third time? She certainly has the green thumb in the family! You might even spot the name tags she's created for her plants.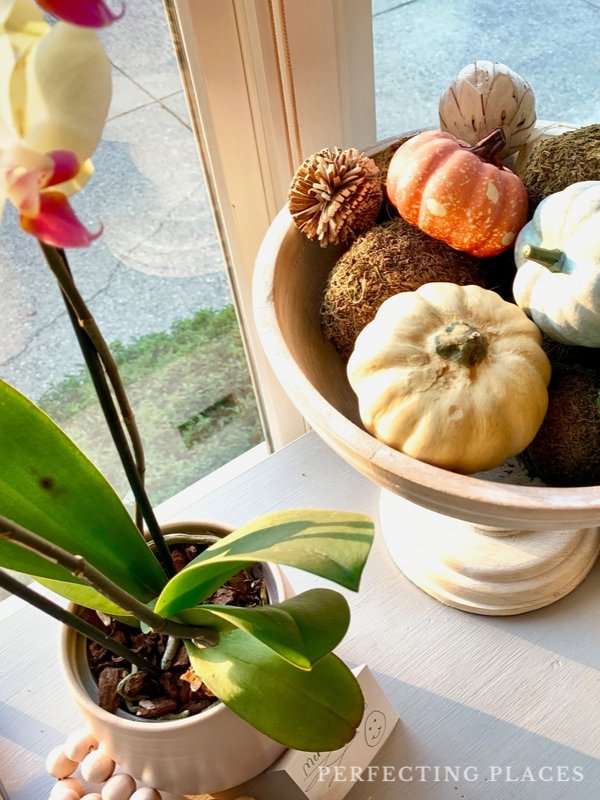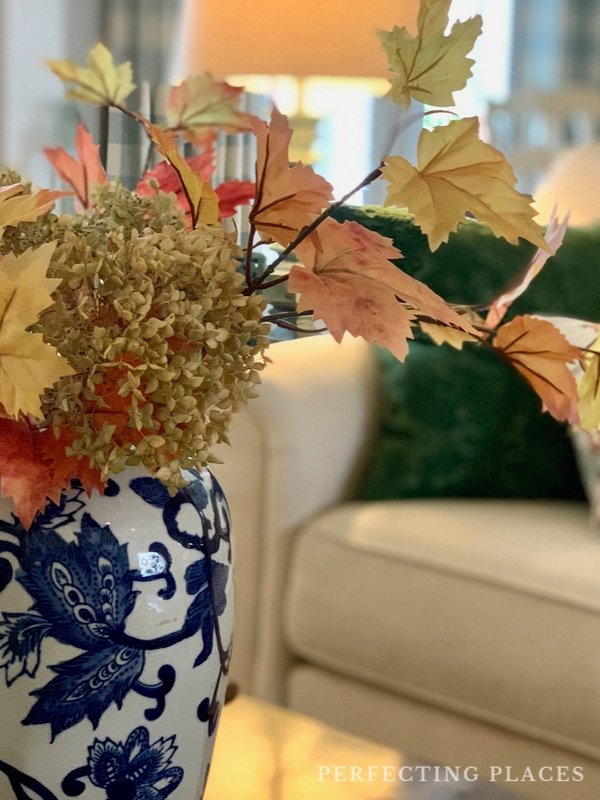 So, I hope you enjoyed our Fall Home Tour and found some great fall decorating ideas. Thank you so much for stopping by. I hope you're inspired to add some simple touches of fall to your home. Drop a comment below and let me know what you're doing in your home to create a warm fall atmosphere.
Happy Fall Decorating!
Kim