Easy Fall Decorating with Blue and White Decor
A classic blue and white color scheme is perfect for fall! I'm sharing easy ideas for fall decorating with blue and white decor.
Blue and white is the perfect color combo for any time of year. If you have a blue and white color palette in your home, you can still add lots of gorgeous traditional fall color.  Today I'm sharing how I'm adding these pretty colors to the blue and white decor in our own home.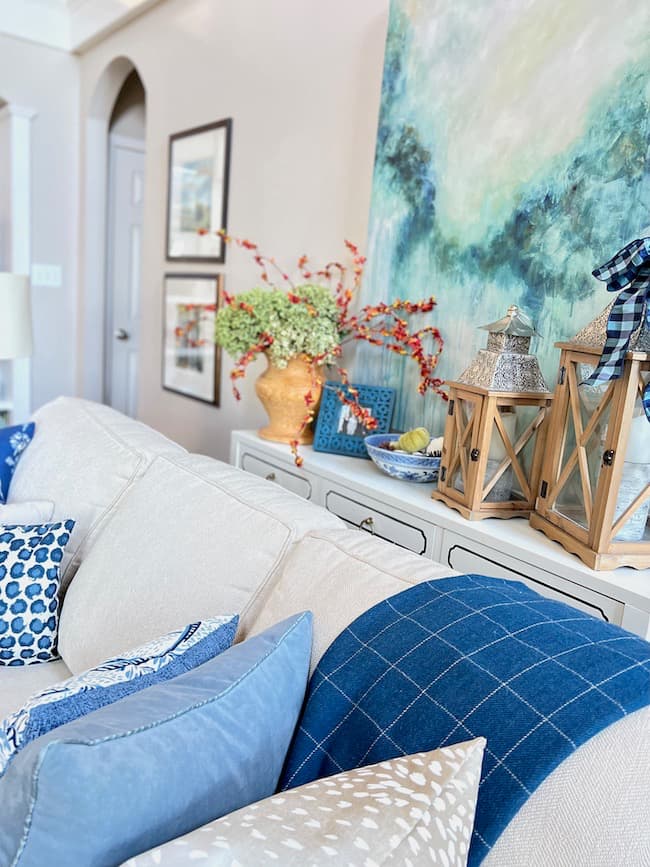 (This post contains affiliate links, so I may earn a small commission when you make a purchase through links on my site at no additional cost to you. As an Amazon Associate I earn from qualifying purchases.)
Who are my fellow blue and white lovers? It's classic and timeless and just makes me so happy!
No matter how far down the "new color scheme" road I might try to venture, I always come back to blue and white. It's a classic, and I just love it!
However, I don't let that stop me from adding new colors into my blue and white mix, especially as the seasons change.
And fall is the perfect time to combine two of my favorites – pretty fall colors and blue and white decor!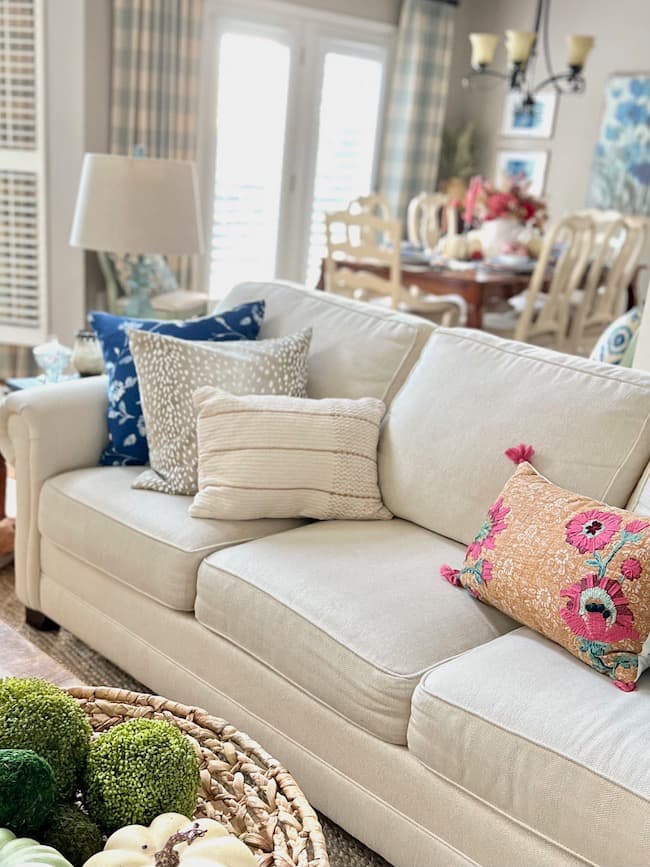 How to Decorate with Blue and White for Fall:
Nothing is more classic than blue and white decor. Whether you have an entire room in this color scheme, or just a few blue accents, it's easy to add classic blue and white style to any room.
There are, of course, a few essential blue and white elements that every room needs.
Use blue and white ginger jars for fall.
Blue and white ginger jars are quintessential accessories when it comes to decorating with blue and white. They're the perfect classic addition to a room no matter what decorating style you prefer.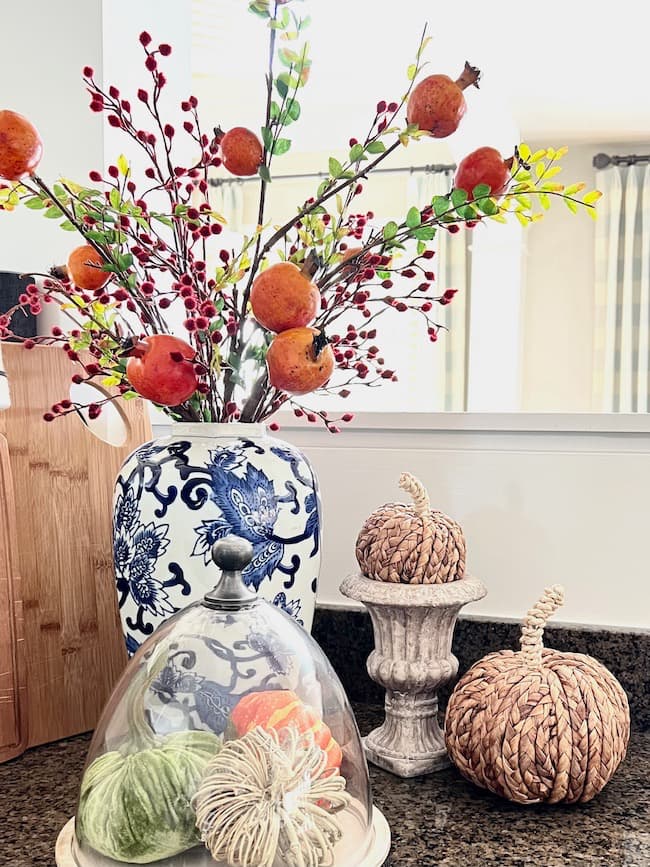 They add a touch of charm and sophistication, and just make your room feel a little more elevated.
Blue and white ginger jars are perfect on their own, but they're also gorgeous in vignettes with other accessories. These blue and white vases are beautiful grouped together when you have a variety of sizes and shapes.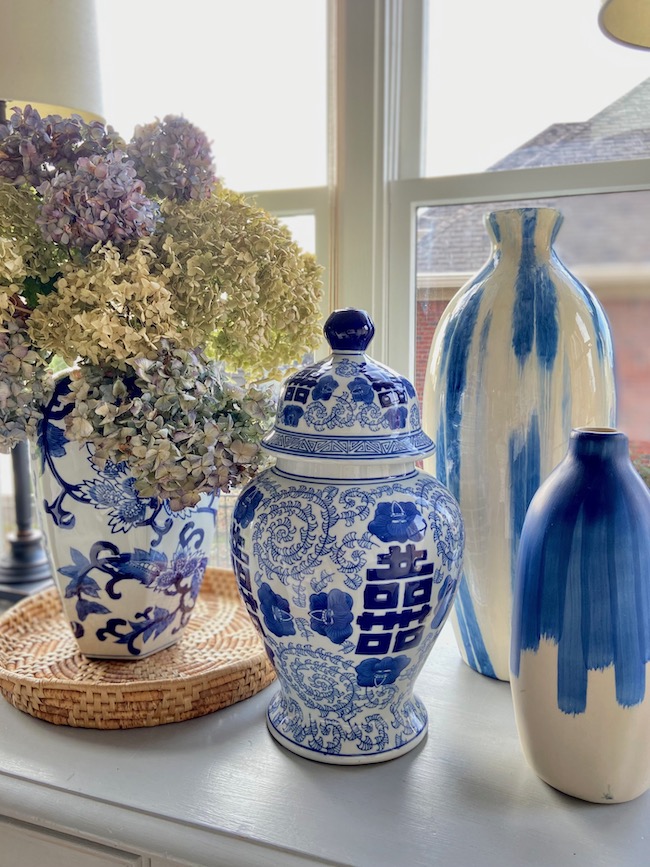 You can often find vintage blue and white pieces in thrift stores and consignment shops, but you can also find reproductions and inexpensive pieces online and in local stores. Most of the blue and white home decor pieces I have around our home are simply purchased reproductions but they're still great decor pieces.
For fall, you can use a ginger jar as a vase to display pretty fall stems, wheat bundles, dried hydrangeas or other fall clippings and natural elements from your yard. They just make your fall decorations feel a little more special.
Add pumpkins to a blue and white bowl.
Pumpkins are the perfect fall accessories, and adding a few white and green miniature faux pumpkins to a pretty blue and white bowl is a great way to create a beautiful fall look with your blue and white decor.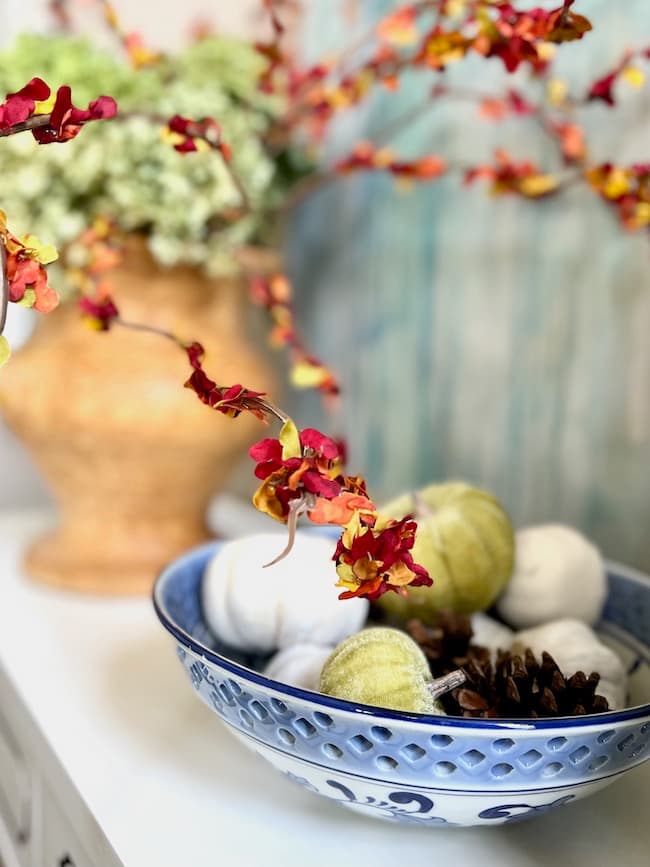 I've added a mixture of pine cones, small white pumpkins, and a green velvet pumpkin to the blue and white porcelain bowl on our sofa table in our living room.
If you prefer brighter, more traditional fall colors, you could use brighter shades of peach or orange pumpkins in your bowl.
Mix blue and white throw pillows with fall and neutral colors on your sofa.
Can you ever really have enough blue and white pillows? Throw pillows add the perfect pop of color in your living room.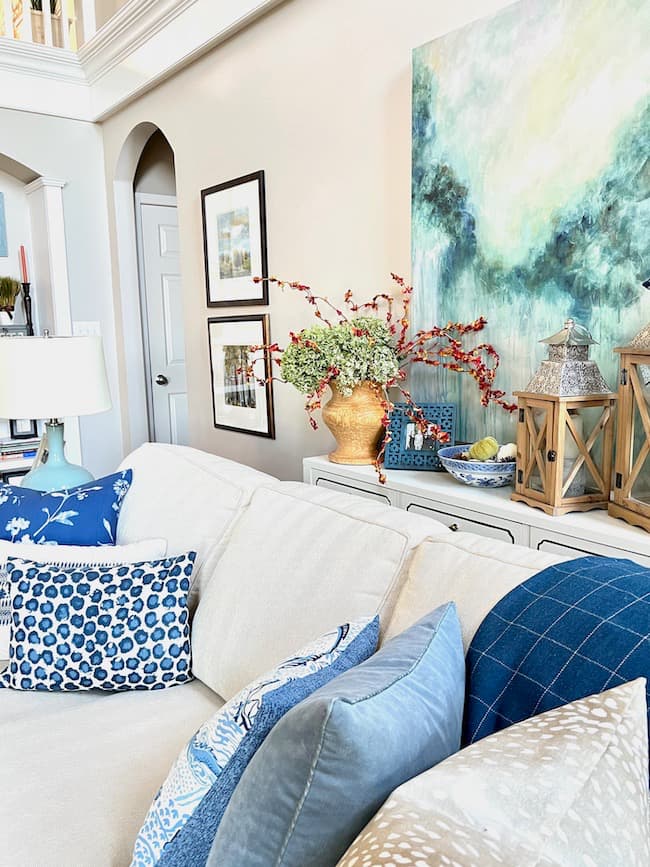 You could stick with all blue and white throw pillows on your sofa for fall, or try mixing your blue and white pillows with other fall colors and neutrals in your pillow scape.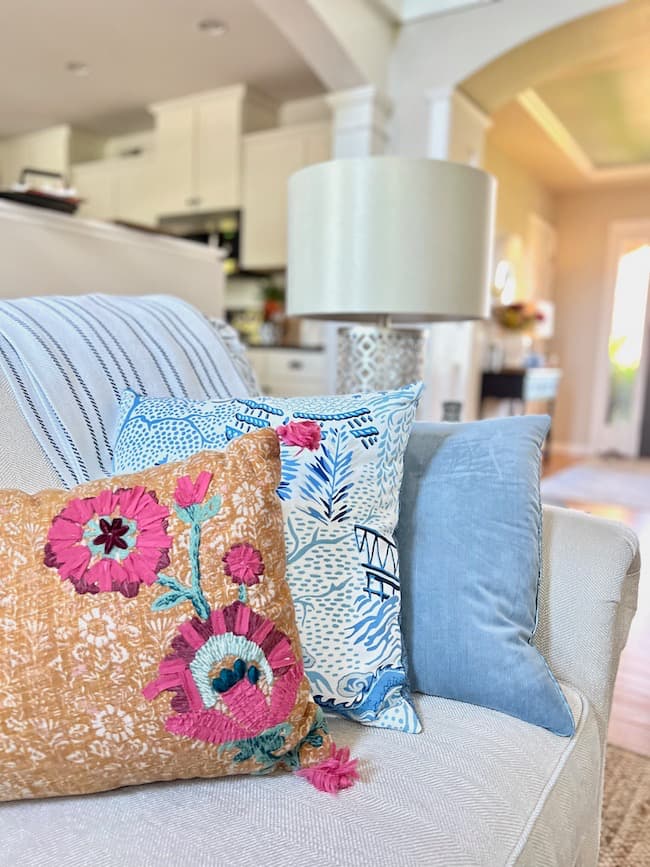 I had a couple of sample pieces of this pretty blue and white chinoiserie style fabric. The pieces were a little smaller than I like to use for pillows, but I decided to use them anyway and make a couple of new throw pillow covers to add to our sofas. Even though they're a little smaller than I typically use on the sofas, I like having the extra blue and white print added in the living room.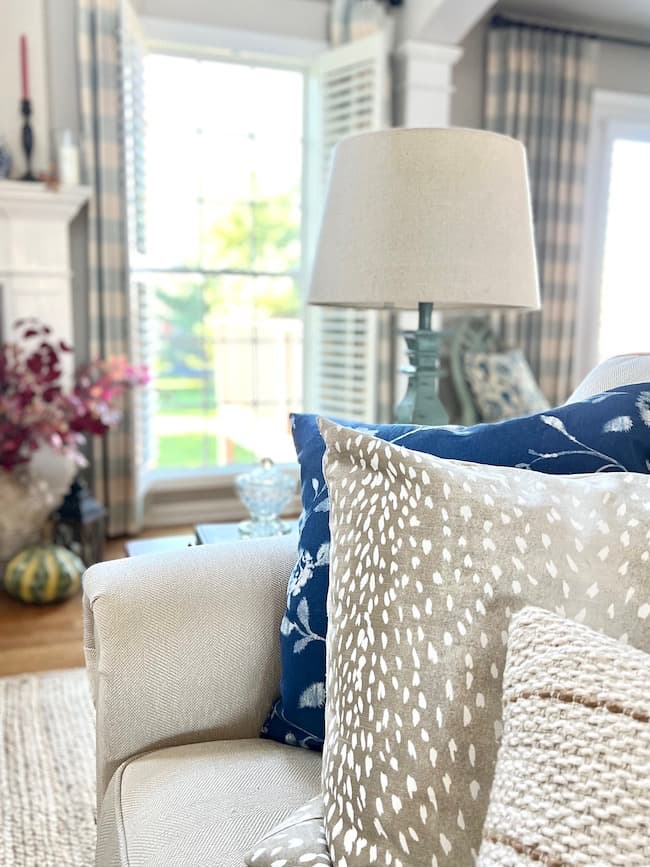 I added some pillows in fall colors and textures to the blue and white pillows on the sofa. These Antelope print pillows are a nice neutral paired with all those beautiful blues!
Decorate your fall fireplace mantel with blue and white accents combined with mini pumpkins and orange bittersweet.
I used a small lidded blue and white ginger jar on our mantel and mixed in with some miniature white pumpkins with painted blue pumpkins.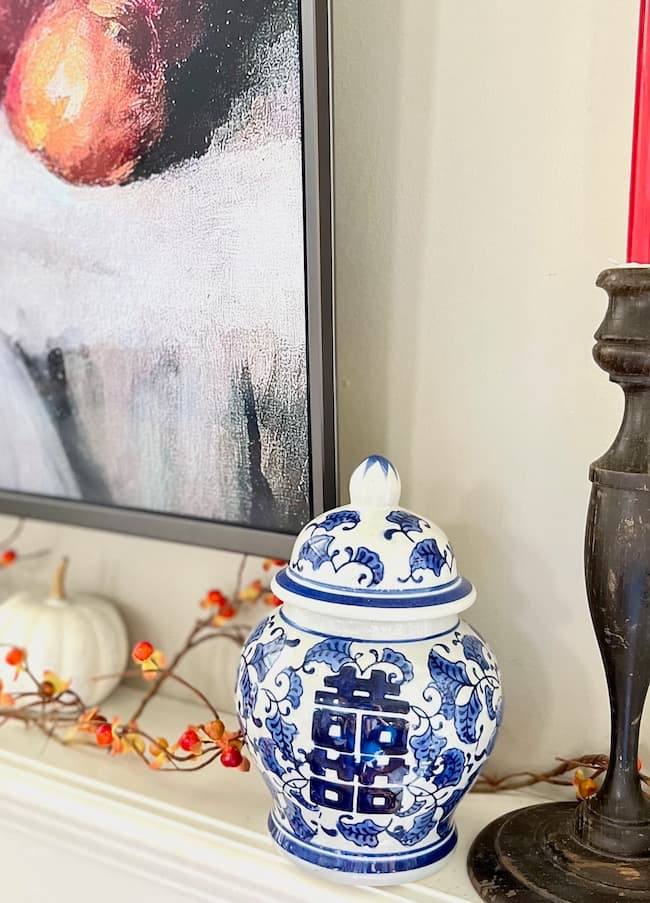 A small blue and white bowl filled with pumpkins sits in the center of the mantel. Orange bittersweet vines scattered along the mantle add a little traditional orange color, which is perfect with the blue accents.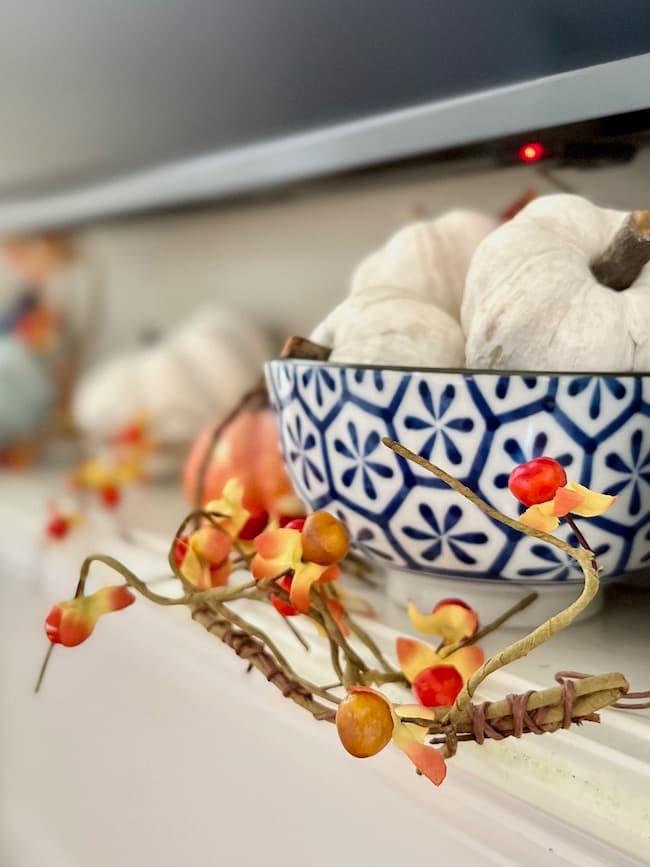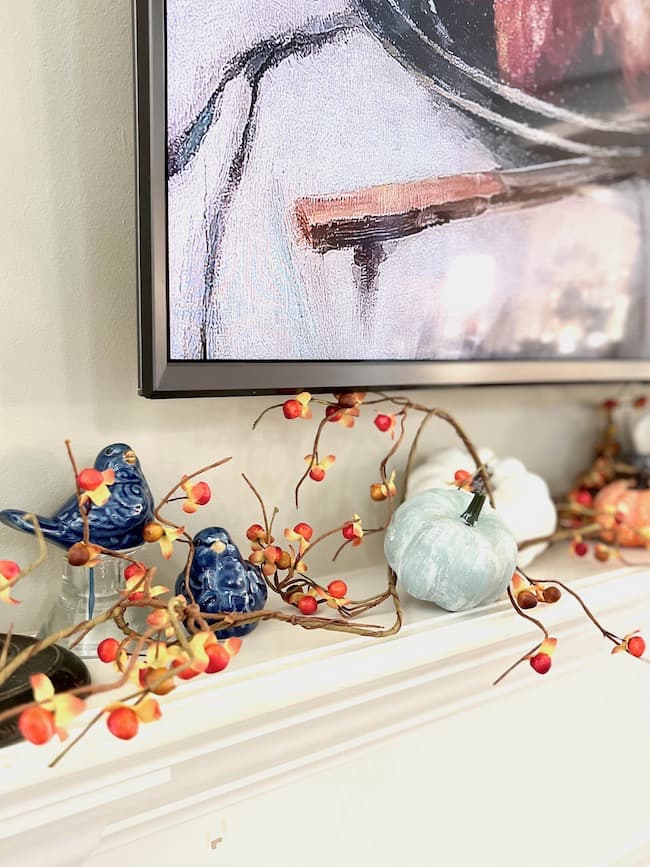 I found the cutest little blue ceramic birds and added them to the mix on the mantel.
What are some fall colors that go with blue?
There are several different colors that are perfect with your blue and white decor in the fall.
Of course, you could stick with simple white pumpkins for an easy subtle blue and white fall color scheme. You could even paint some pumpkins a lighter shade of blue, or use velvet pumpkins in different shades of blue if you prefer to stick with a predominantly blue and white color scheme.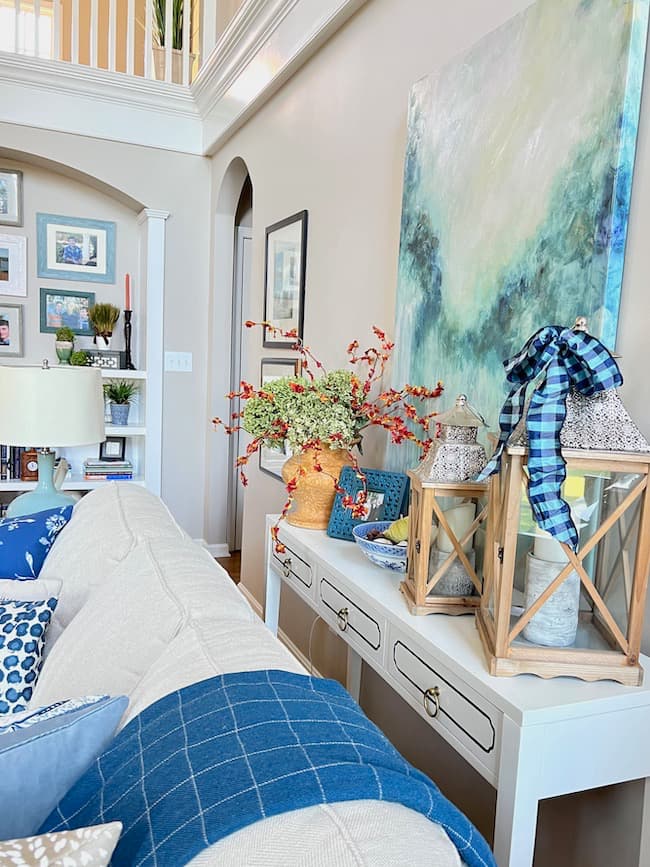 I'm loving orange, pink, and cranberry red accents with our blue and white decor this fall season! The orange bittersweet on the living room mantle and in the large wooden vase on the sofa table are the perfect complements to the blue in the room.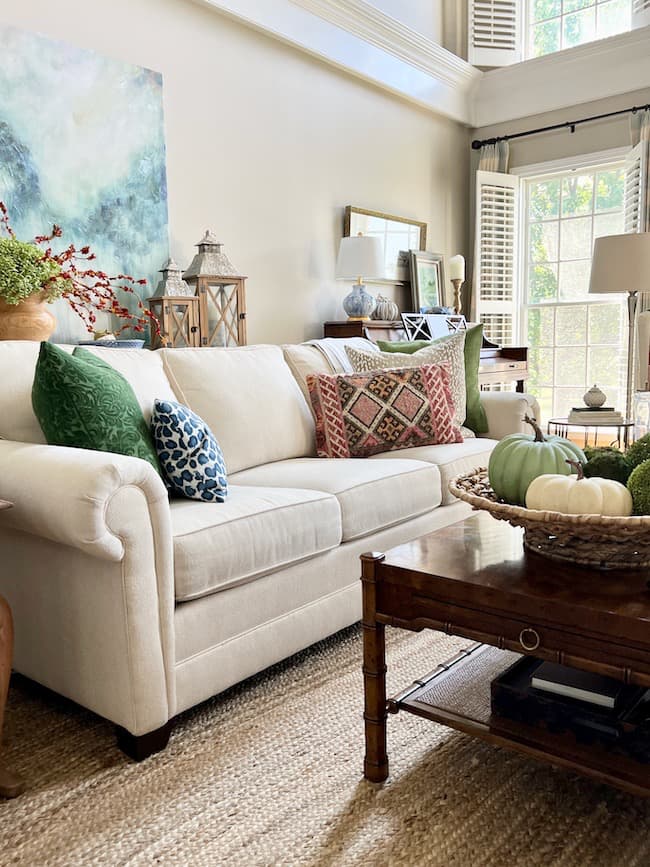 Textured fall pillows in pretty shades of cranberry and pink and look pretty with the blue. The key to adding traditional fall decor colors is to mixing and to repeating the colors enough around your room so that the color is balanced.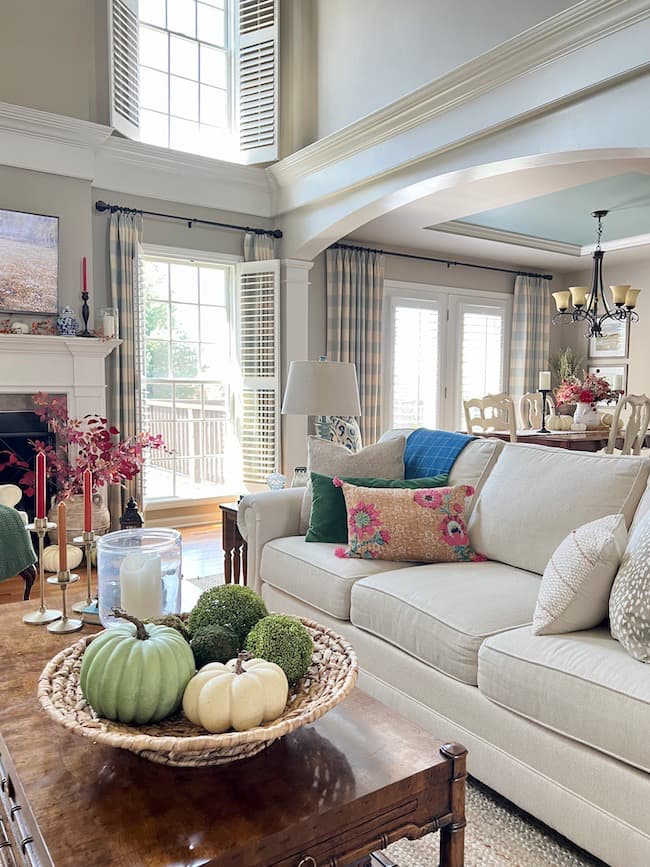 Green is another fall color that works well with blue and white. I've paired different shades of green pumpkins and white pumpkins in a large basket on our coffee table. I added other large green moss-covered balls to complete the look in our fall living room.
Blue and White Fall Dining Room Ideas
I love creating fall tablescapes on our dining table, and I'm loving the color scheme in our dining room this year! Pretty cranberry reds, terracotta, blush, and pink are paired with our blue and white dishes to create a colorful fall table!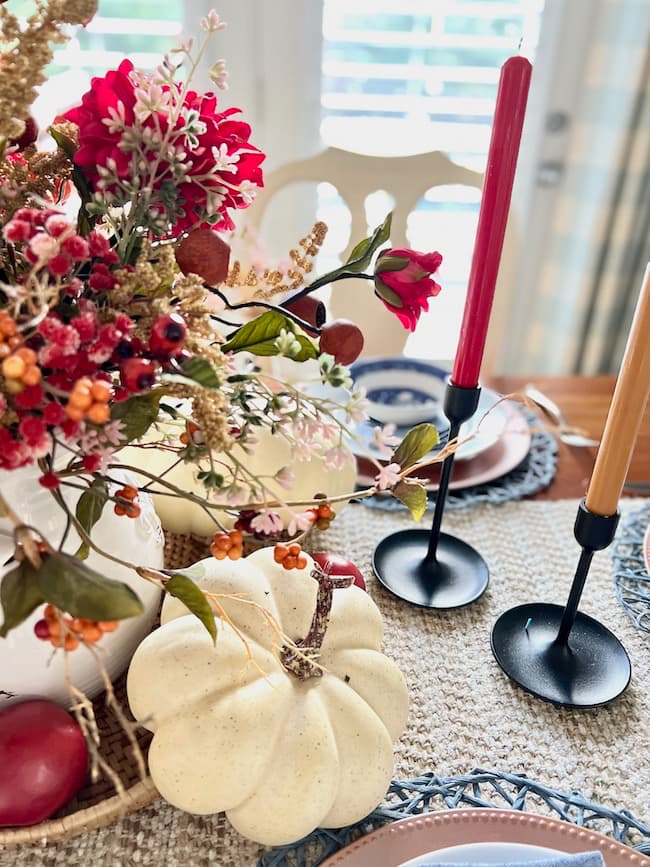 I've added shades of cranberry, rose, pink, and orange in a beautiful floral arrangement on the table, and scattered faux white pumpkins and faux red pears along the jute runner in the tablescape.
For the place settings, I'm using blue placemats as the base.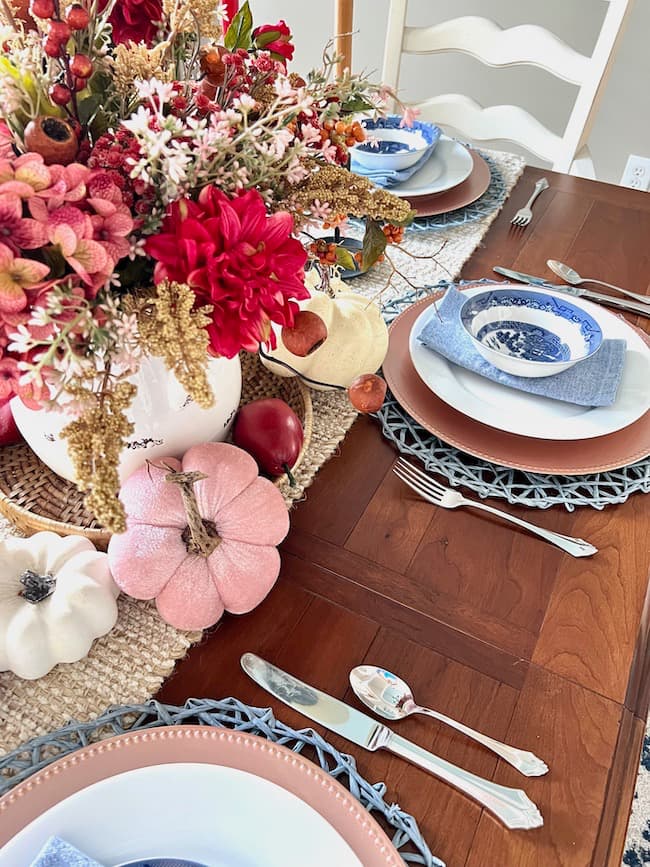 Remember when I told you about all of the gold Dollar Tree chargers I purchased 4 years ago to use for a bridal shower and the rehearsal dinner for our son's wedding? I have so many, and they've come in handy when I want to get all creative and paint some fun chargers for our table settings. I painted some of the chargers black and white plaid to use in a Halloween tablescape here.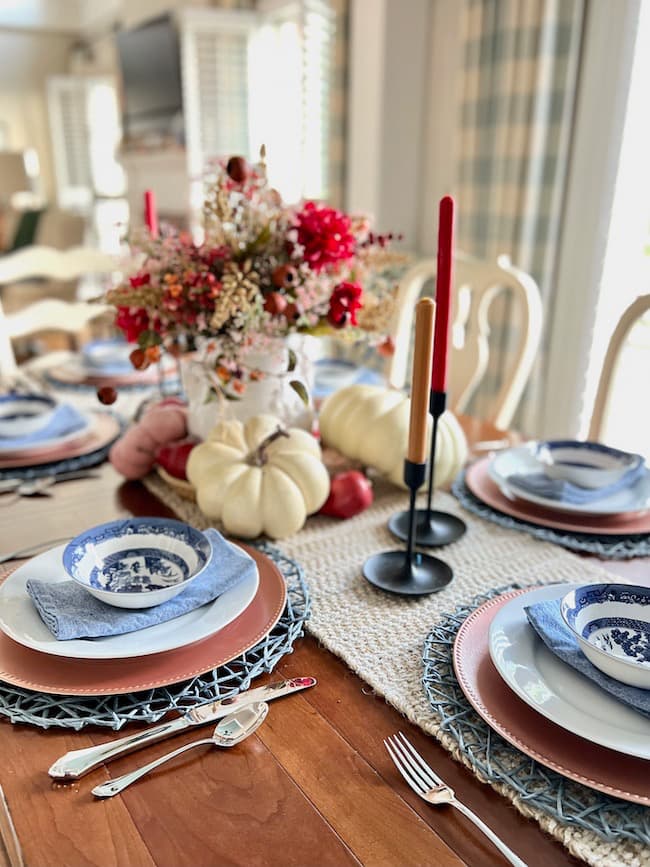 Well, I decided to do another quick little DIY project and painted some of the gold chargers rose gold metallic. I'm using the rose gold chargers with my white dishes and Blue Willow bowls on our fall table.
Our blue chambray cloth napkins round out the place settings and add a nice casual element to the table.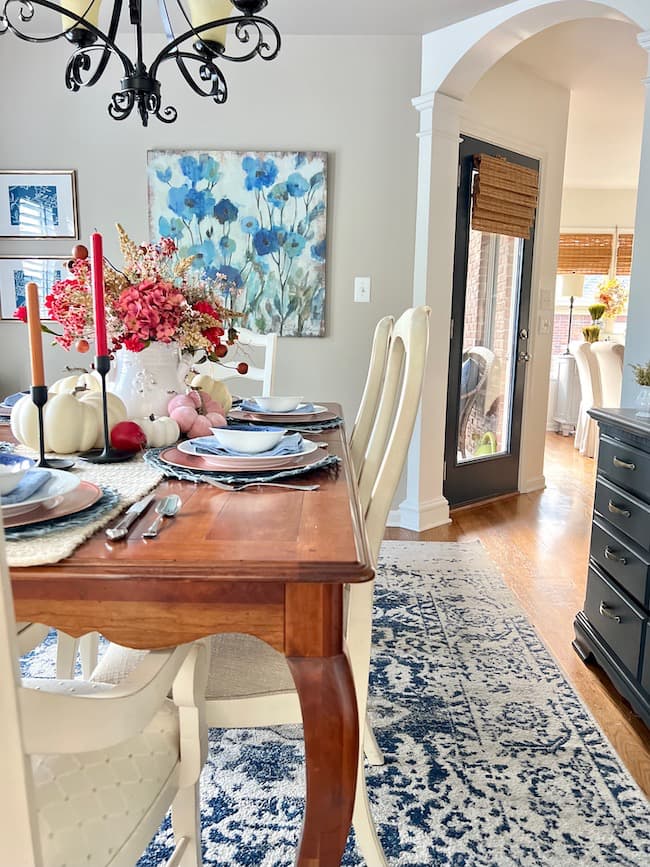 These colors of our table look pretty with the blue and white dining room area rug! (And yes, you can see the green watering can which I failed to move for the photo!)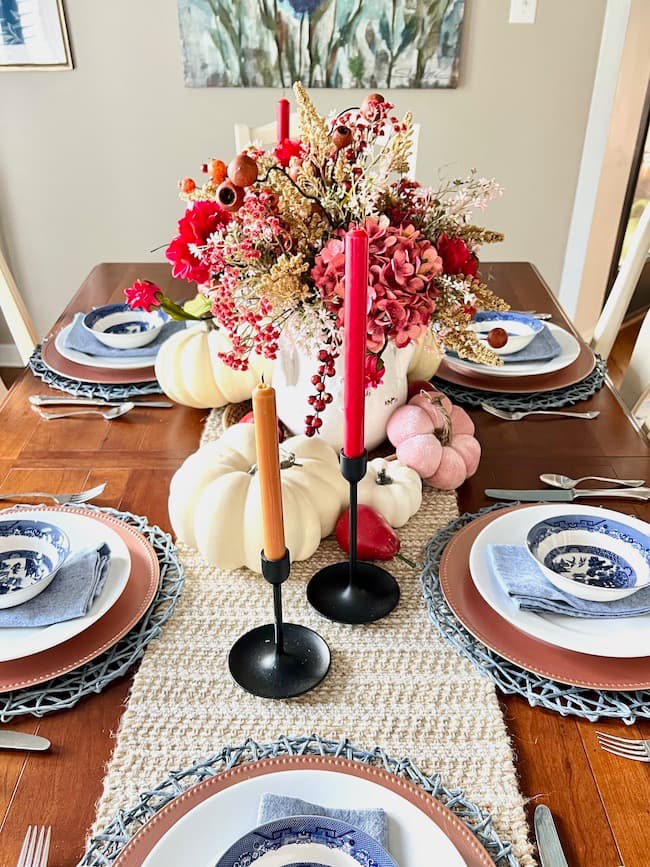 I love how these rich colors compliment the blue and white dining room color scheme!
Fall accents in Our Blue and White Kitchen:
The color scheme of our kitchen is a subtle blue and white combination. The walls are painted Sherwin-Williams Alabaster (SW 7008). Our kitchen doors are painted Benjamin Moore Hale Navy (HC-154).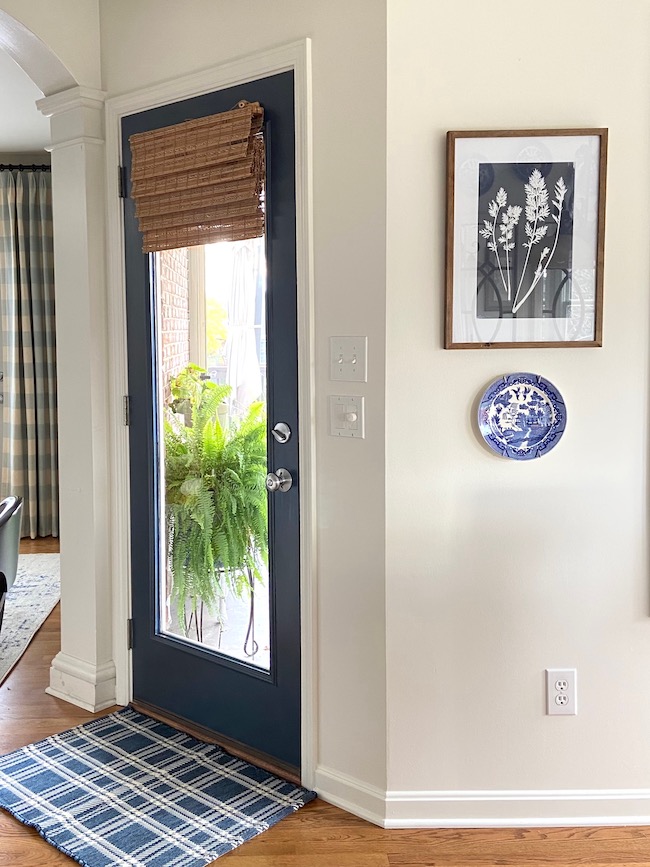 I like to add pops of fall color around the kitchen, and this subtle blue and white kitchen color scheme is super easy to work with.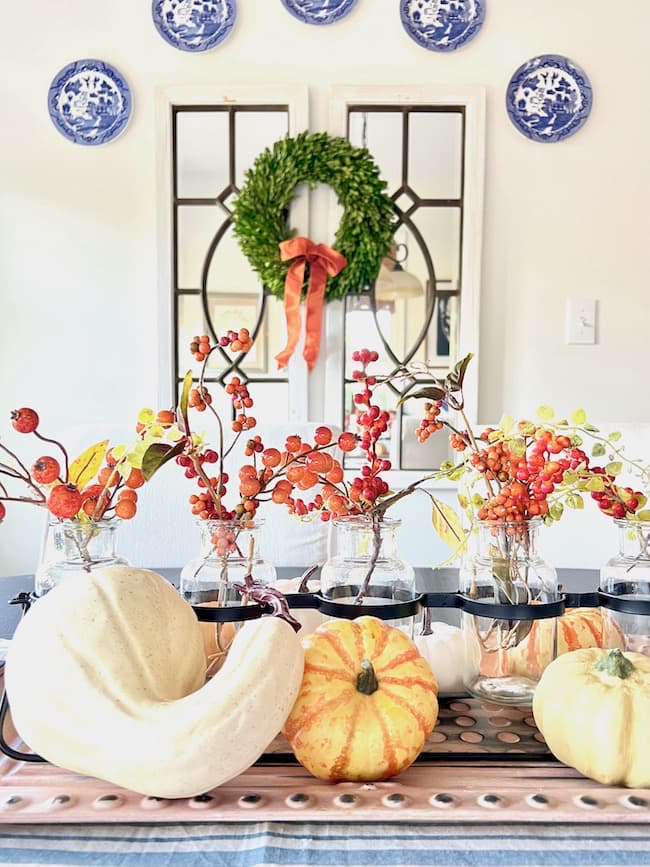 On the kitchen table, I created a simple fall centerpiece by adding orange fall berries to our bud vase holder. I placed it on one of my favorite trays, and added some pops of color with orange and white miniature pumpkins. It's an easy way to create a fall tablescape!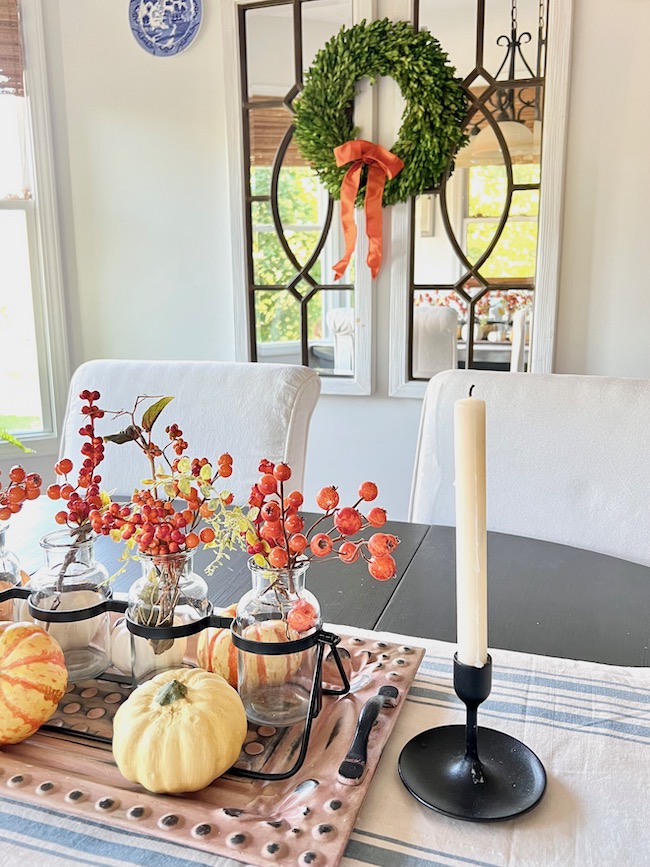 I added a simple blue striped table runner to the kitchen tablescape.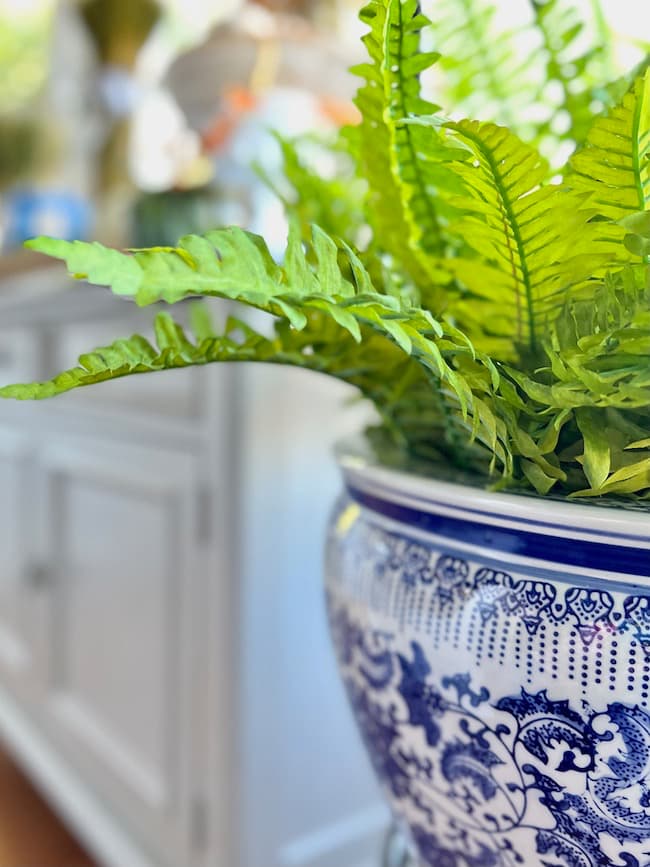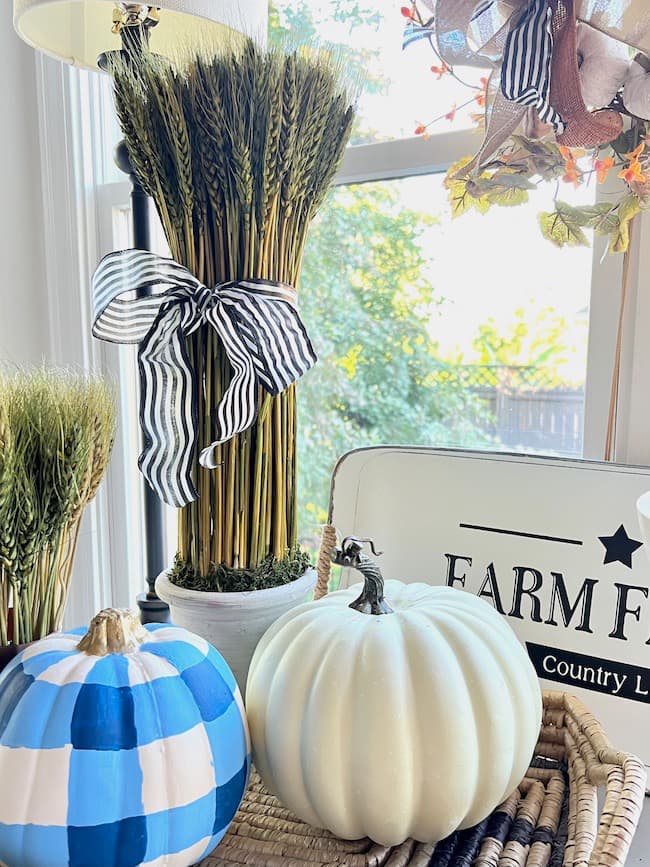 On the buffet, I placed two wheat topiaries in a basket tray along with a blue and white painted plaid pumpkin. I filled a wooden pedestal bowl with pumpkins in shades of orange and white.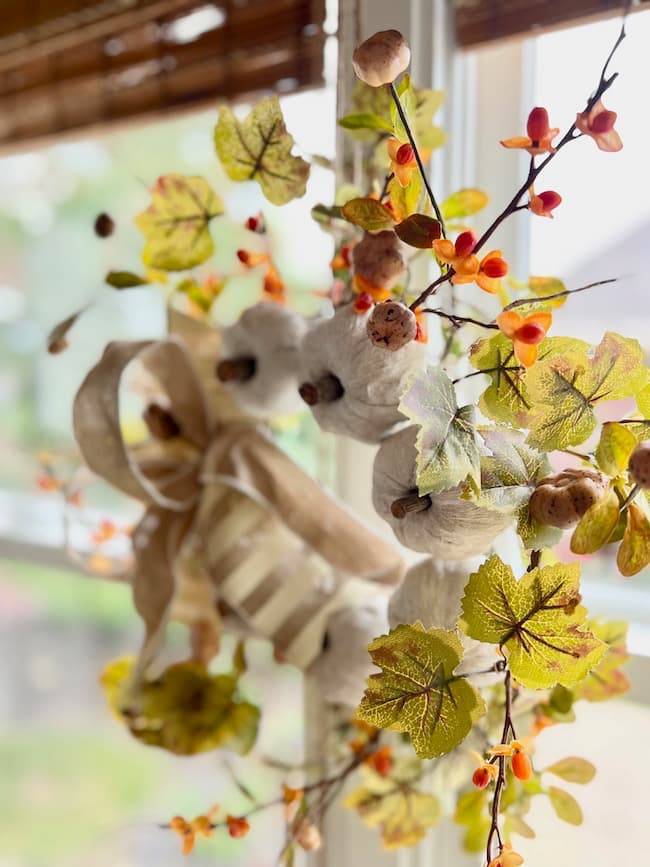 One of my favorite things in the kitchen is this cute little fall wreath that I repurpose this year. I added some small white pumpkins and a little bit of orange bittersweet to it. Don't you just love a wreath hanging in the kitchen window? I think it just makes it feel like home!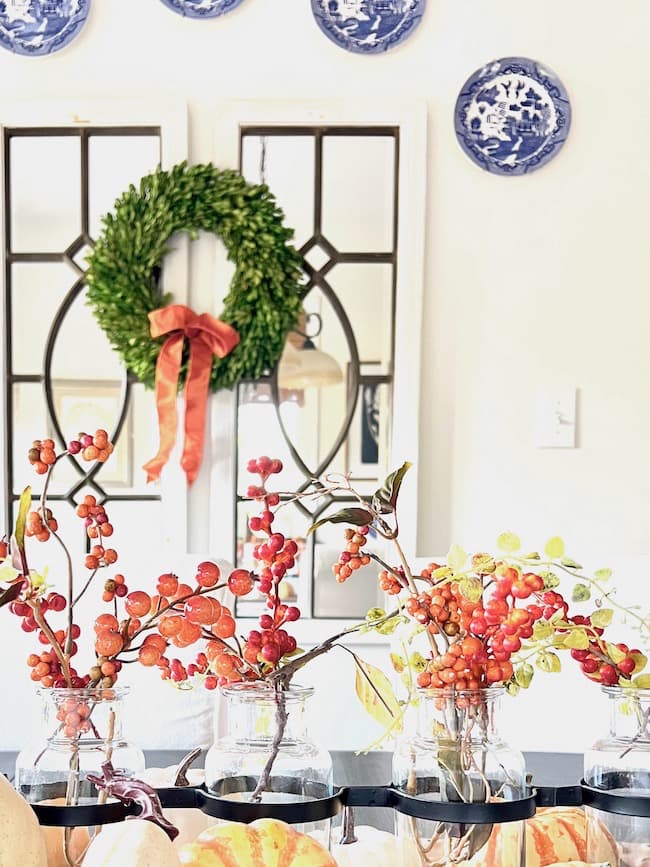 I finished off the kitchen breakfast area decor by adding a simple orange ribbon to the boxwood wreath that hangs on mirrors in our breakfast area. The orange ribbon perfectly complements the blue and white Blue Willow dishes that hang above the mirrors.
Add touches of fall to the kitchen countertops.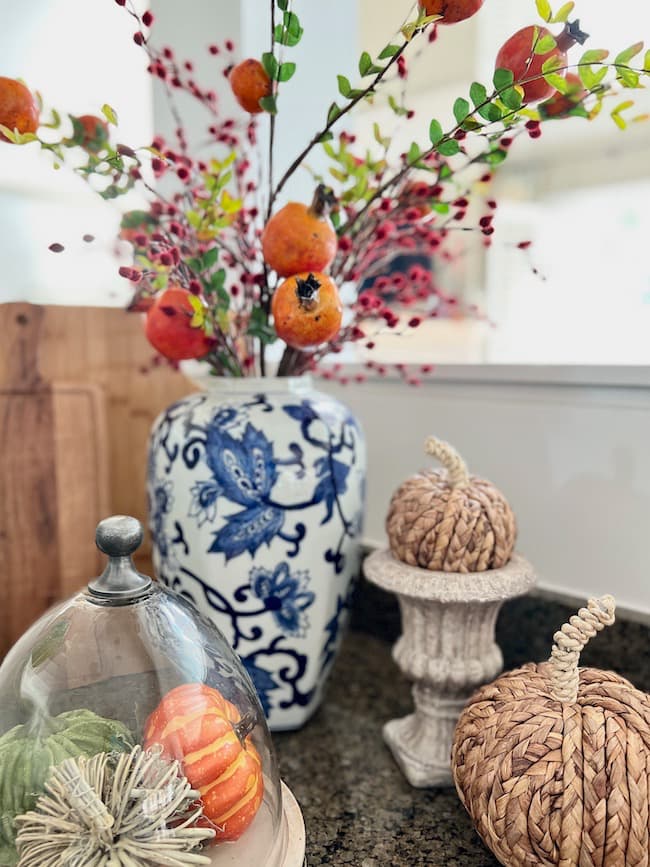 On the countertops in the kitchen, I added a few touches of fall. A blue and white ginger jar filled with some gorgeous fall stems fills this countertop corner. These orange pomegranate stems are so pretty and I love them in the blue and white ginger jar!
And who doesn't love cute little pumpkins in a little glass cloche!!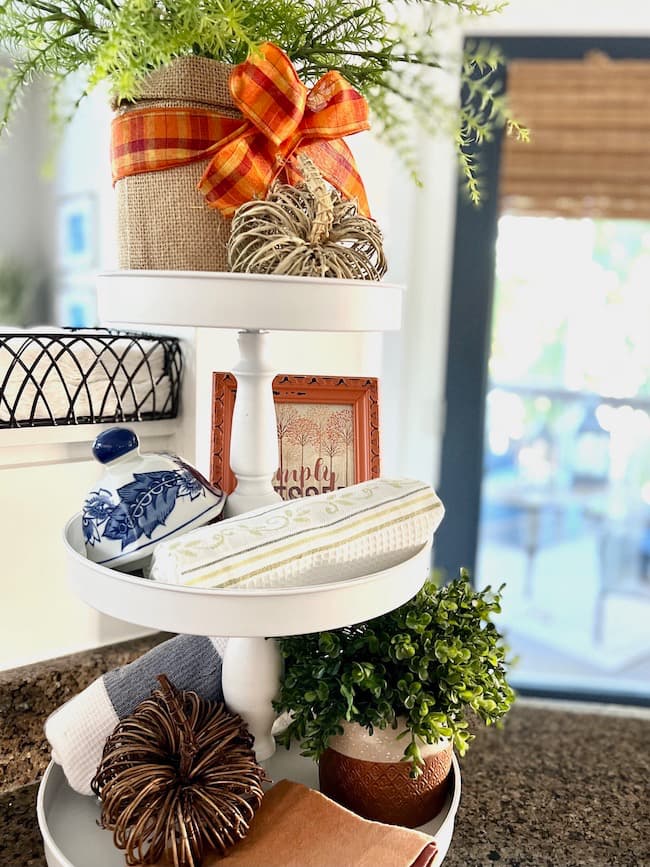 The three-tiered tray beside our sink is full of autumn decor touches as well with little vine pumpkins and a small framed art. I added the blue and white ginger jar lid to the tiered tray for more blue and white color love!!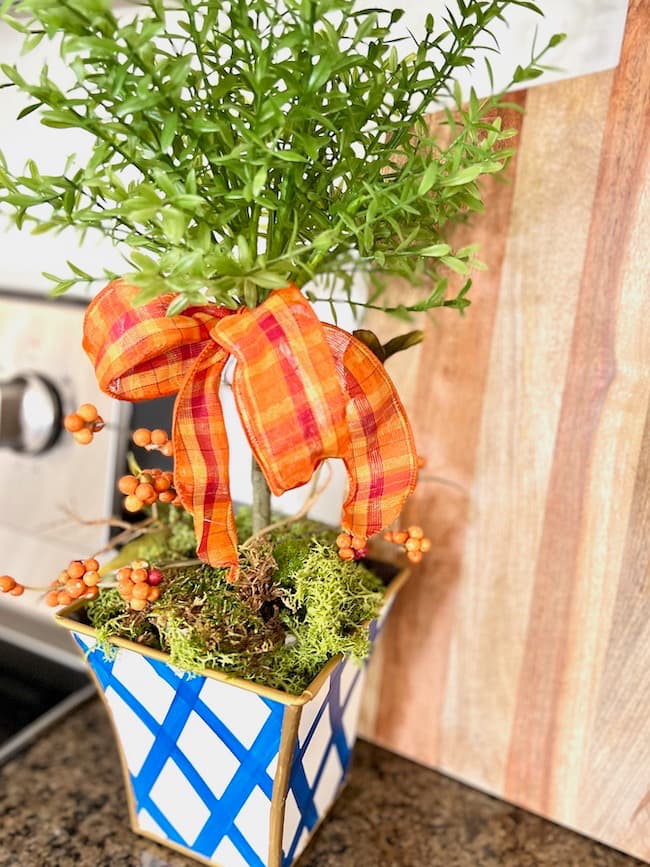 I added some fun orange plaid ribbon to a little rosemary topiary and placed it in this cute little blue and white DIY painted cachepot.
---
Shop Gorgeous Blue and White Decor with Fall Colors
---
Do you have a blue and white color scheme in your home?
I hope you enjoyed these easy ideas for fall decorating with blue and white decor! We get to enjoy the best of both worlds this fall — our pretty blue and white color scheme and the gorgeous colors of fall paired with it!
Happy fall decorating with your blue and white!!
Be sure to Pin this Post for Later!!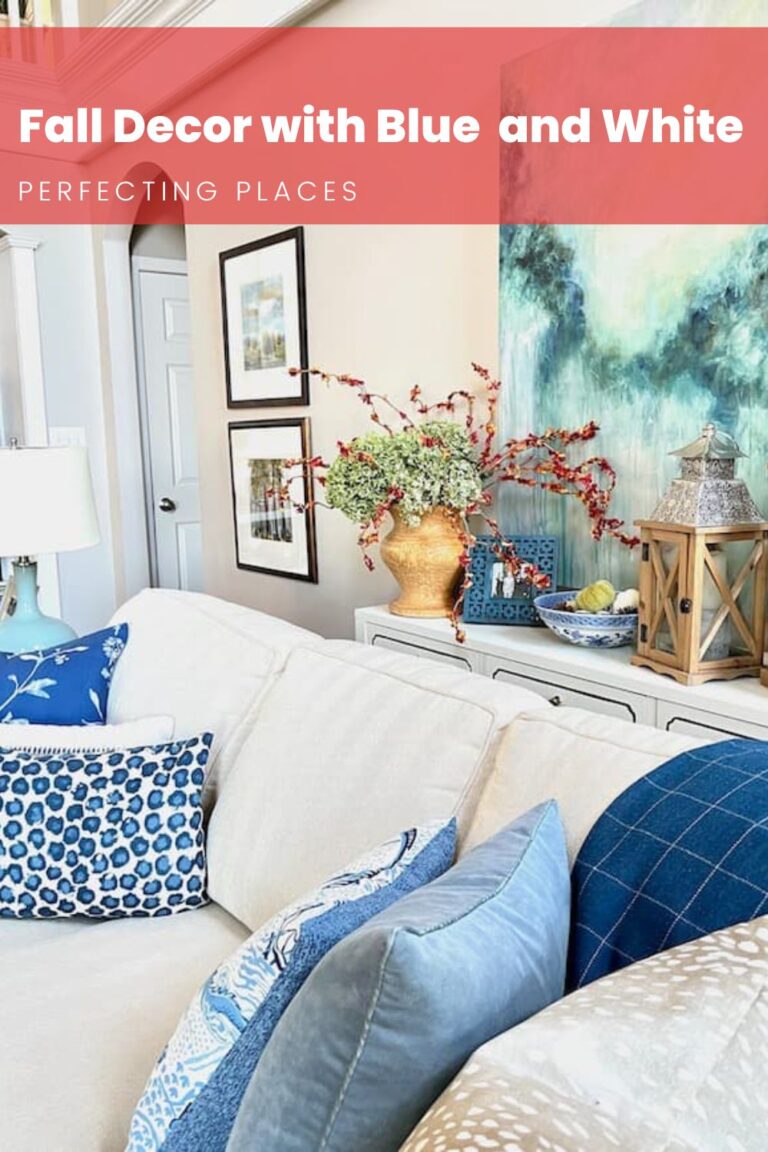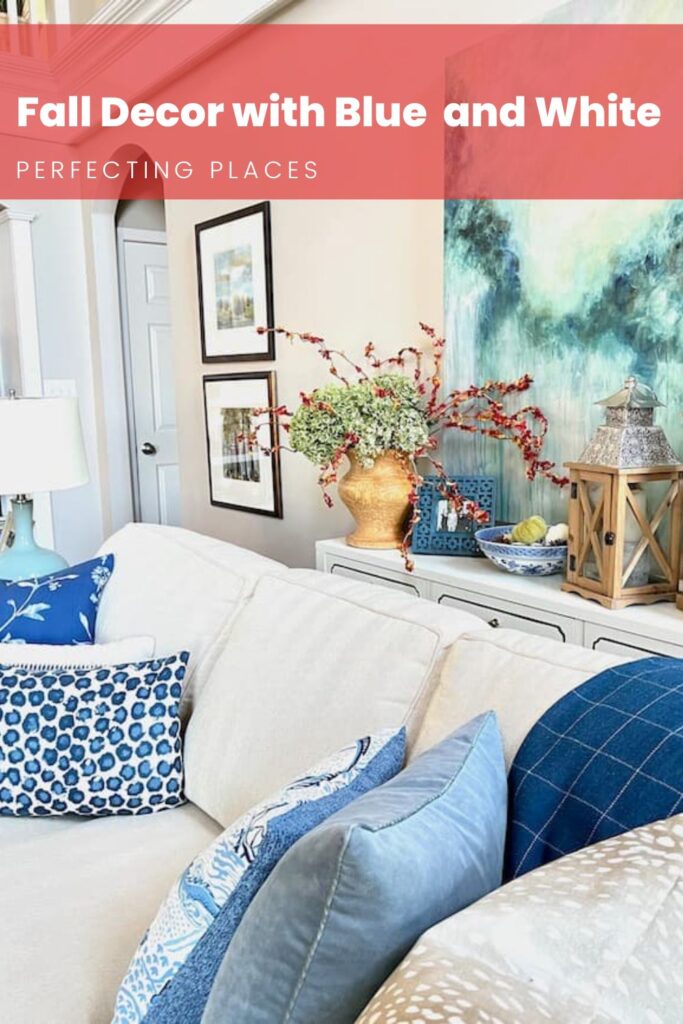 You might also enjoy:
Choosing Colors for Fall Decor for Home
An Easy Early Fall Wreath for Front Door Decor
How to Create a Fall Centerpiece