The Best Ambient Lighting Ideas to Make Your Home Feel More Cozy
Long Winter days can feel dark and dreary. These great ambient lighting ideas will make your home feel more inviting during the long winter months.
The way you light your room makes a big impact on how cozy and inviting the space feels. Most people don't put enough emphasis on their lighting choices; however, adding multiple sources of light is one of the easiest and best ways to make your home feel warmer and more inviting. I'm sharing the best tips for how you can add more general lighting to your living room, and some of my favorite ambient light sources to give your home a cozy designer feel.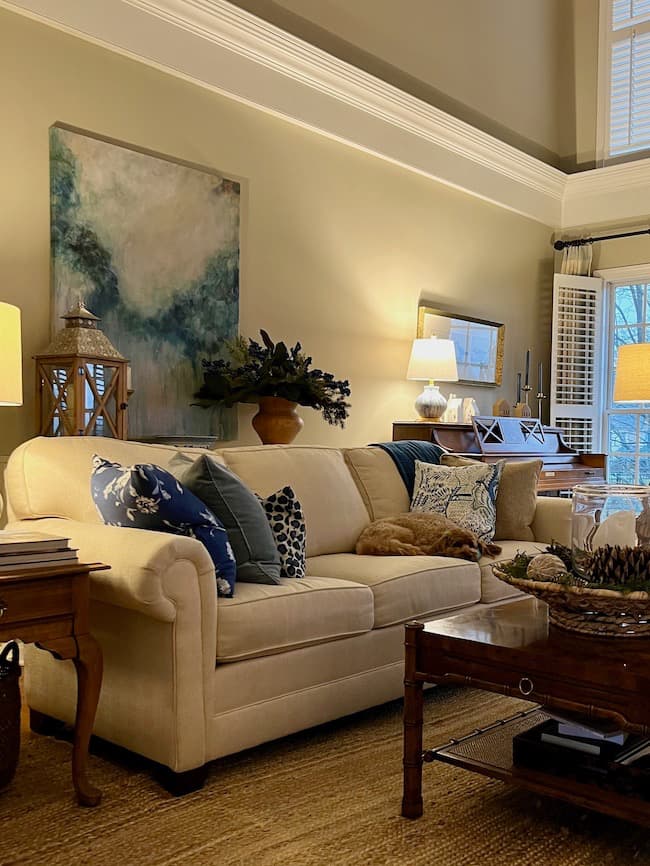 (This post contains affiliate links, so I may earn a small commission when you make a purchase through links on my site at no additional cost to you. As an Amazon Associate I earn from qualifying purchases.)
Does lighting impact your mood the way it does mine?
A long time ago my husband gave up the campaign for me to turn the lights off because he knows just how important just the right light is to how well I function in our home and my energy level. It seems like the lighting in our room has the biggest impact on me during the winter months.
This time of year in Kentucky it feels like the dreary days can just drag on and on. We have long patches of cloudy sunless days.
You can find more cozy winter decorating ideas to warm up your home in this post.
I'm always looking for ways to warm up our home, add a little extra light, and make a room feel just a little warmer and cozier during these cold winter months. Adding just the right lighting to your room can make such a big difference.
At any given time in our home you'll find several sources of lights turned on, even during the day. You would be surprised just how much the lighting in your home can impact your mood, your energy level, and just your overall enjoyment of the space. I need as much natural light as I can get in a room, but artificial light sources are important to me as well.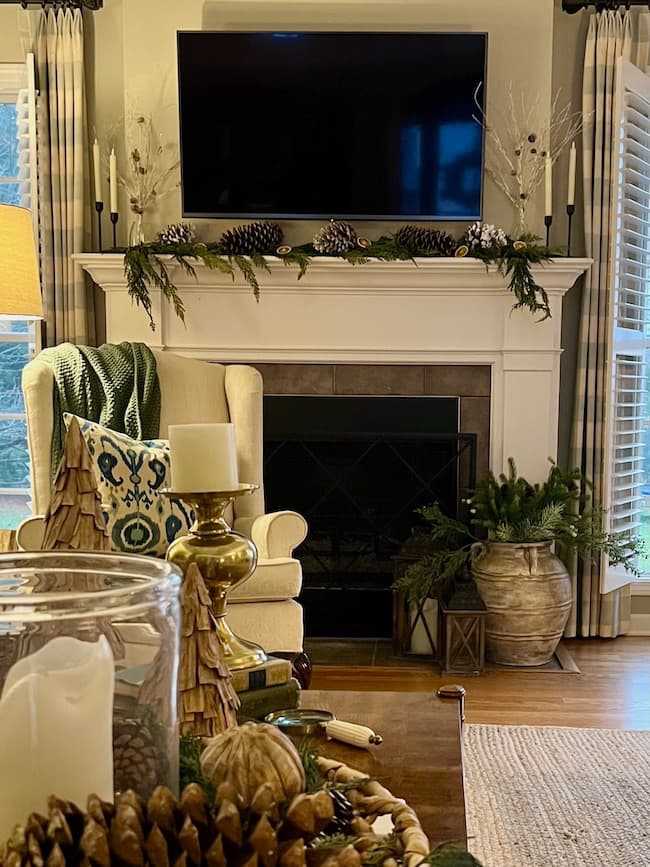 I think a lot of people ignore this important design element when decorating their homes. It's fun to choose paint color, fabric, accessories, rugs, and other fun things when decorating a space, but one of the most important things to consider is the lighting in your home.
Adding layers of lighting to a room is what makes it feel warm and cozy. You need more than just a single ceiling light in your room, and in this post we're going to look at some of the best ways to combine additional types of lighting with your overhead light fixtures.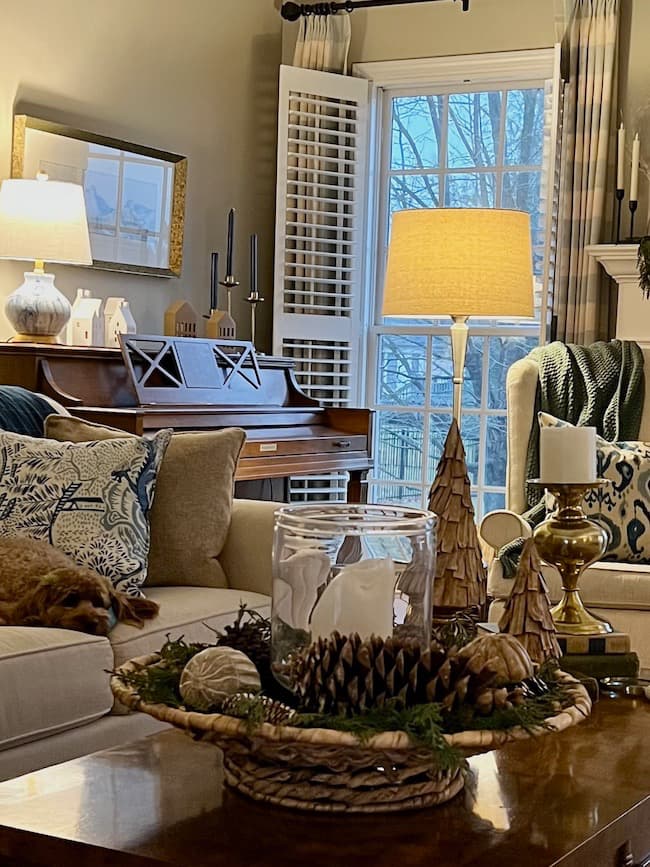 What is ambient lighting?
Another word for ambient lighting is the general lighting in your room. Ambient light refers to the light sources that evenly fill the space of your room to provide enough general light for the area. The most inviting spaces are those that include a variety of these different types of ambient light sources.
What are common types of ambient lighting?
Ambient light in a room is made up of a variety of light sources rather than one simple ceiling light in the center of the room. It includes wall sconces, chandeliers, pendant lights, floor lamps, and table lamps.
Chandeliers
I like to think of a chandelier as the jewelry in the room. A beautiful chandelier centered in the center of your ceiling can be a lovely focal point in your living room. We traditionally think of using chandeliers in the dining room or over a breakfast table, but adding a large chandelier to a high ceiling in a living room adds a gorgeous touch to the space.
As gorgeous as a chandelier can be, your lighting options shouldn't stop there for most living rooms. A living room tends to be the largest room in your home, and you need several sources of ambient lighting to create a cozy space in this room.
Think of the chandelier in the living room as a pretty accent piece or decorative accessory in the room, rather than your only source of light. If you have a chandelier in your living room, it's a great idea to put it on a dimmer to add additional ambiance to your space.
---

---
Flush Mount Lights
If you have a smaller living room you might have a flush mount light in the center of your room as its primary light source. Flush mount lights are, just as their name implies, mounted flush against the ceiling. A semi-flush mount light is another type of overhead lighting which drops down a few inches from the ceiling.
Again, this single light is just one source of lighting to add to your room. As with a chandelier, it should not be the only one. In our home we rarely use the ceiling light during the course of most days and evenings at home when it's just our family. We rely mainly on table lamps to cast the perfect light and create the perfect ambience for our rooms.
---

---
Recessed Lighting
You often find recessed lighting or canned lights installed as ceiling lights in the corners of a living room. You find this particularly in larger homes where a single ceiling light centered in the room is not enough for the space. While recessed lighting helps to add additional lighting to a room, it shouldn't be the only source of ambient lighting if you want a cozy look and feel.
Floor and Table Lamps
Floor lamps and table lamps are my absolute favorite type of ambient lighting for your living room. As far as I'm concerned, you really can't have too many.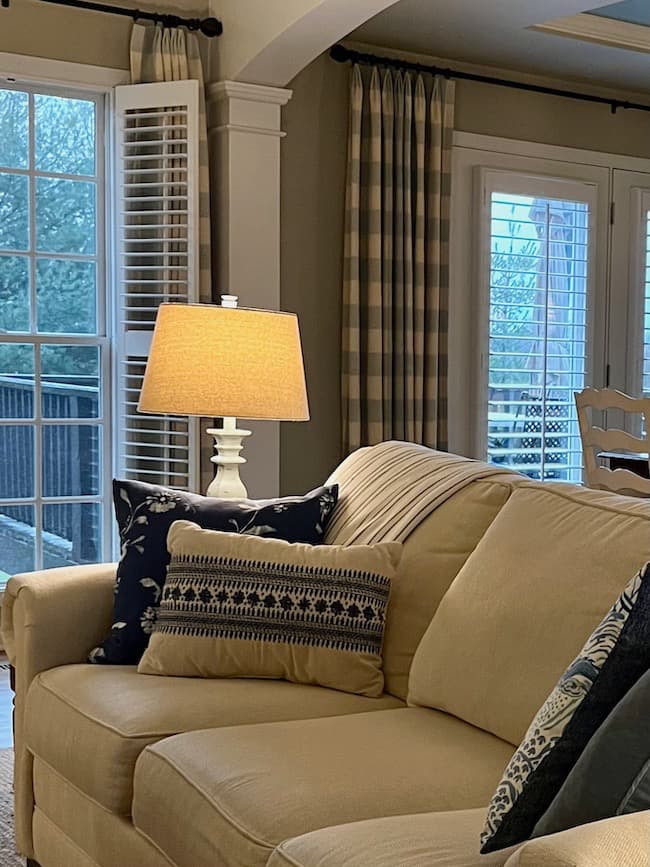 Table lamps play such an important role in creating a comfortable atmosphere when added to just the right places. They add a soft light to your room, and they're the best way to create a cozy and inviting feeling in your living space. Even if you have a ceiling light, or a chandelier in the middle of your room, you need lots of table lamps if you want to have a cozy feeling in the space and brighten all the dark corners.
---

---
Places to Place a Table Lamp:
There are several places you can place a table lamp around your living room. You can use table lamps or floor lamps at the end of your sofas, on top of a piano, behind the sofa, or on a sofa table.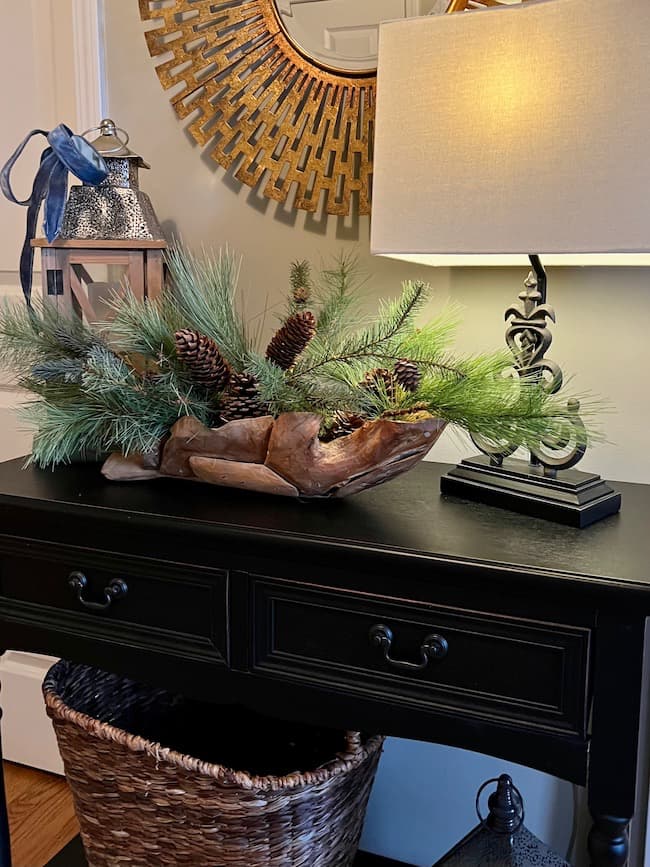 The most obvious place to place a table lamp in the living room is on an end table next to your sofa or an armchair. If you have a sofa table or console you can add one or two lamps here. If you have an accent table or desk in the living area, that's a perfect place for a lamp. We keep a small table lamp on the piano in our living room.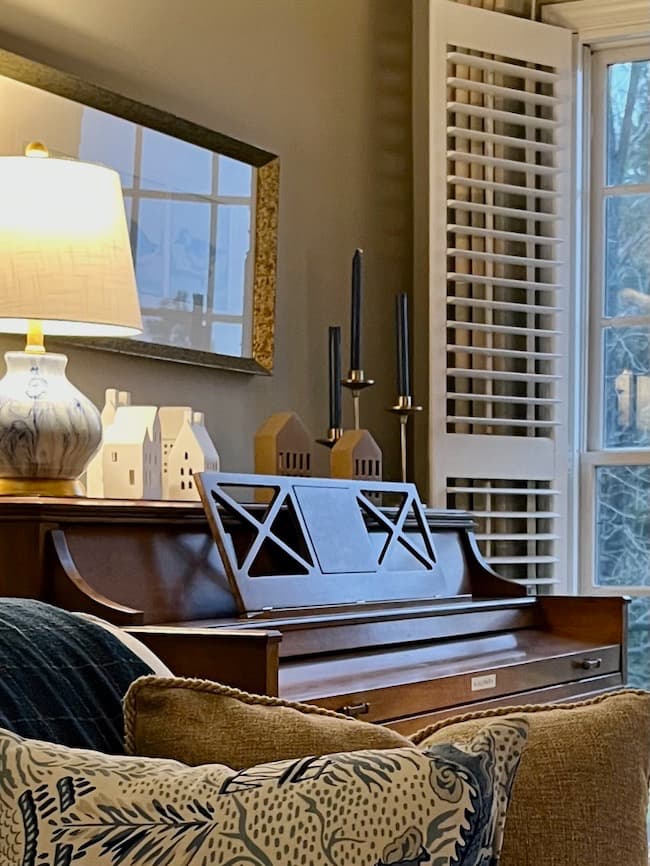 You can even place small table lamps on the mantle in your living room.
The Best Ambient Lighting for Your Living Room
Some of my favorite table lamps:
Below you'll find some of my favorite sources for table lamps. Adding a lamp not only adds lighting but also can add color, texture, and pattern to different areas in your room.

Some favorite chandeliers:
These are gorgeous chandelier options for your living room.

Some favorite flush mounts and semi-flush mount lighting sources:
If your living room ceiling is too low for a chandelier, these flush and semi-flush mount light fixtures are great options.

Additional accent lights:
Wall sconces are a great way to add more light to your living room. They're perfect above your mantel, above your sofa flanking artwork, or in a niche or cubby area of your room.
One problem that often presents itself with sconces is the need for hardwiring them into your electricity. If that process is too complicated or not an option, there are fortunately some great alternatives.
There are two easy ways to add sconce lighting without hardwiring into your electricity.
1. Install battery-operated sconces. The sconces below do not require hardwiring into your electricity.

2. Install a normal sconce, but instead of hardwiring into your electric, simply use a battery-powered puck light in the sconce. This particular puck light set comes with a remote control and two settings for warm white light and cool white.
I hope these living room lighting ideas inspire you to evaluate your living room lighting to see if it could benefit from a little more ambient light to create a cozy atmosphere. That empty end table or dark corner just might need the perfect table lamp, and it might add just enough light to brighten your whole room — as well as your mood!
Are you as impacted by lighting as much as I am? Let me know in the comments below.
Pin It for Later!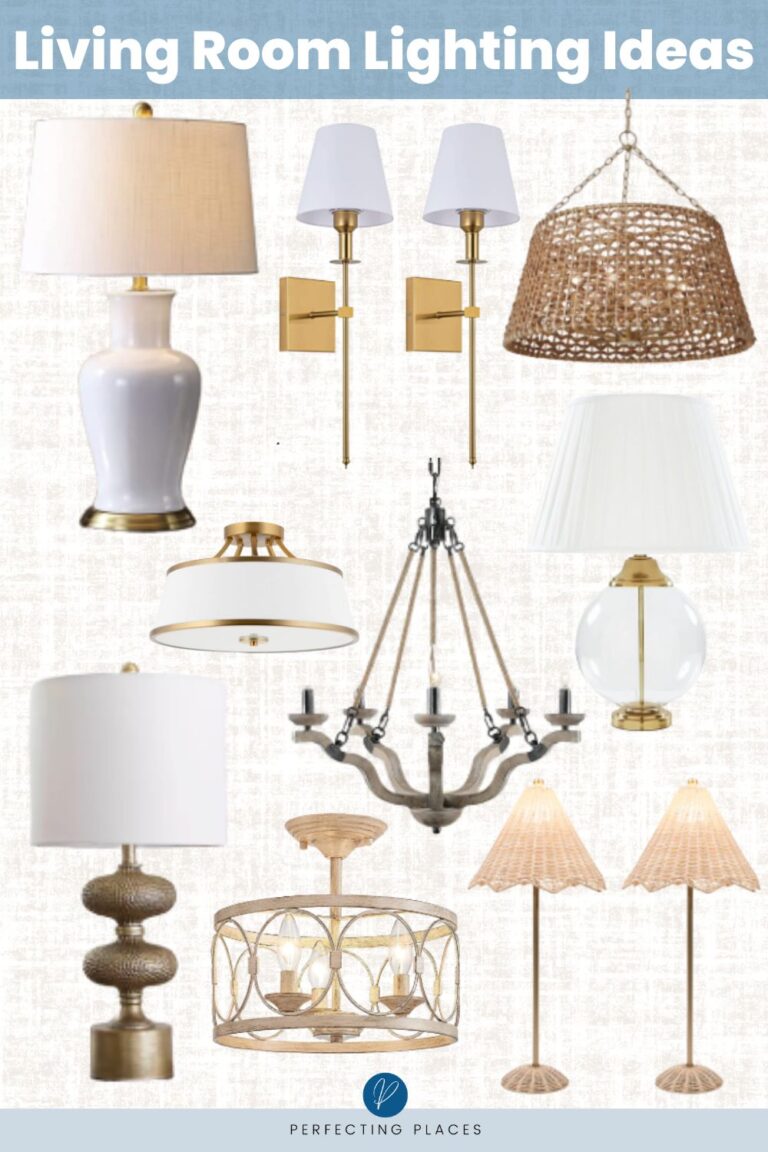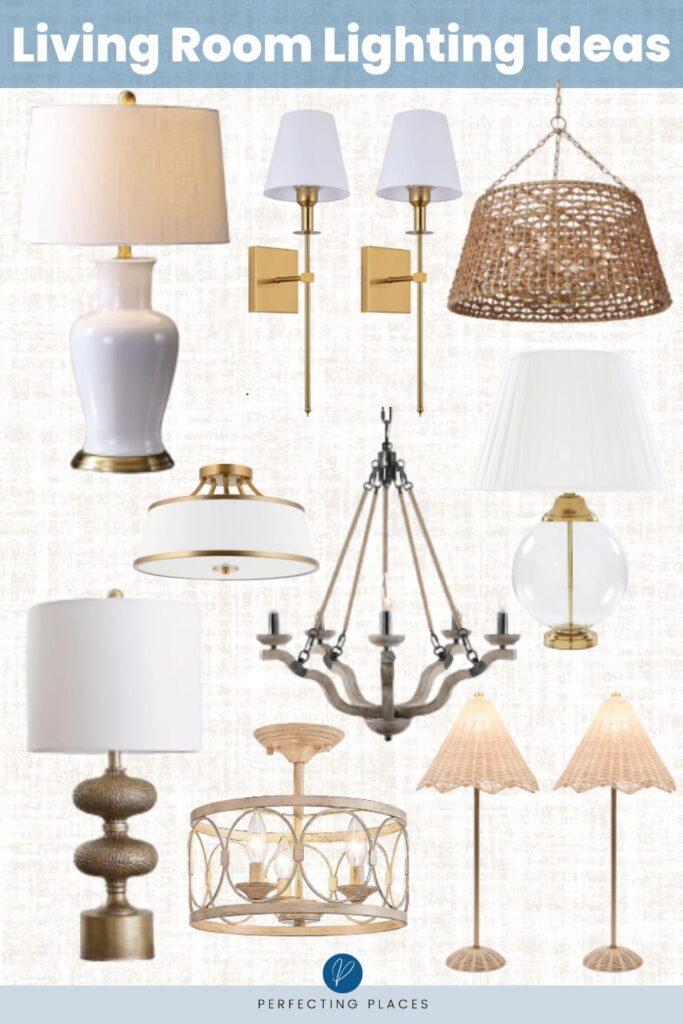 By the way, do you follow me on all the socials? If not, check out my Pinterest, Instagram, and Facebook and be sure to follow along so you don't miss out on any of my decorating and DIY ideas.