Cozy Winter Decorating Ideas for Your Home
Do you struggle with how to decorate after Christmas? These cozy winter decorating ideas for your home are perfect for after the holidays.
After all of the Christmas decorations come down our homes can feel a little cold and bare. Today, I'm sharing some easy ideas to help you transition your home from holiday decor to a cozy winter decor vibe.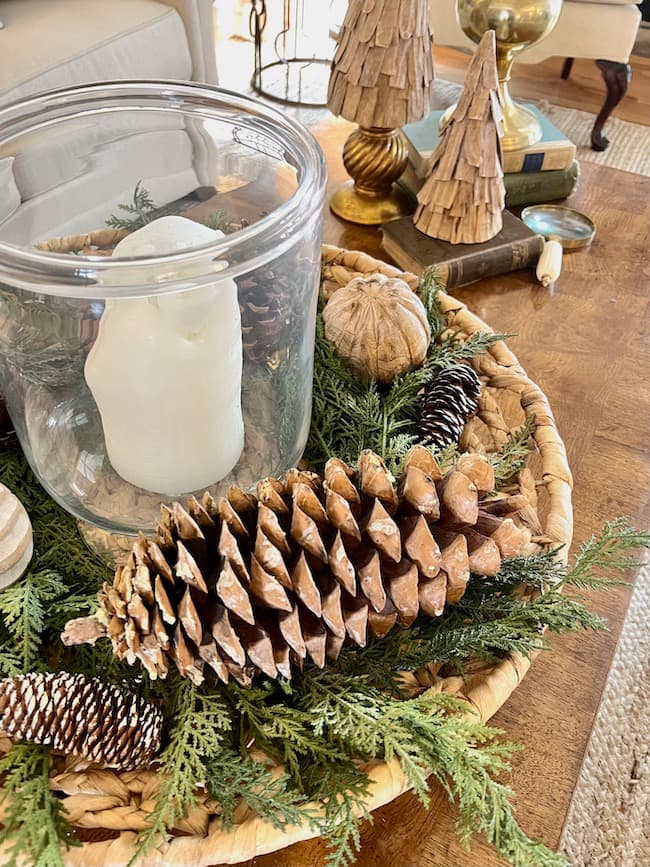 (This post contains affiliate links, so I may earn a small commission when you make a purchase through links on my site at no additional cost to you. As an Amazon Associate I earn from qualifying purchases.)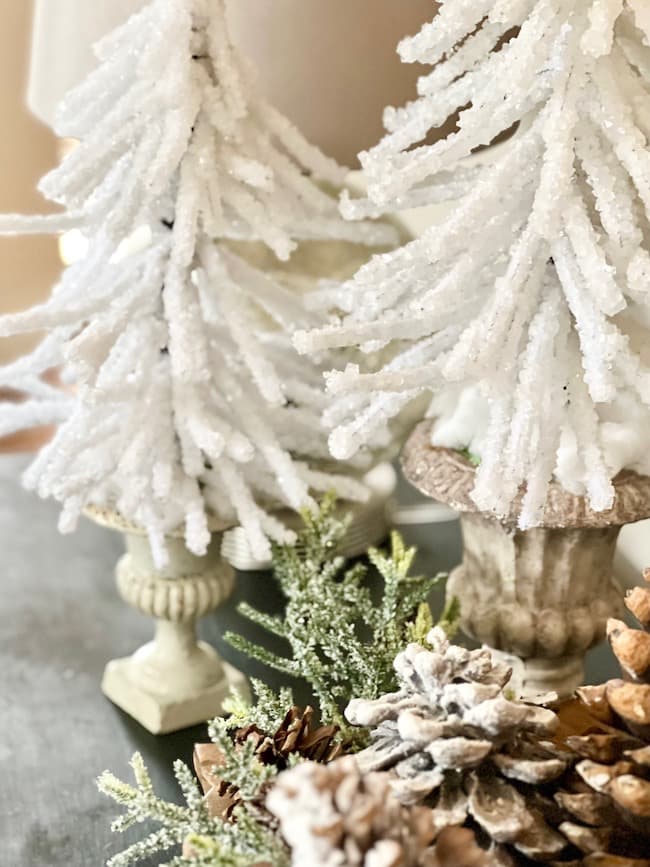 Happy New Year!
It's been a perfectly lovely holiday break with wonderful Christmas parties with family and friends.
The week between Christmas and New Year's was intentionally slow and relaxing, with lots of puzzle working, a little Netflix watching, and just a much slower pace to life. It was a much needed break!!
I've never been one to pull our Christmas decor down right after Christmas. It seems like the week after Christmas is when I finally have time to slow down enough to really enjoy it, and there's just something magical and wonderful about soft Christmas lights.
I love the way our home looks during the holidays — the cheerful reds, the velvety ribbons, the twinkly lights and the rich greenery. It's all so warm and cozy.
I like to keep the warm and cozy feeling even after all of the Christmas decorations are stored away. Winters in Kentucky are pretty cloudy and can feel a little dreary, so I like to create warm and inviting spaces in our home, especially during these long winter months.
So today, I'm sharing how I decorate our home after Christmas, and some easy winter decorating ideas to help you transition your home decor after the holidays.
1. Return to a soft subtle color scheme like blues, greens, and neutrals.
I like to create a calm and peaceful feeling in our home during the winter months after a busy holiday season full of lots of vibrant color and details. I remove the Christmas reds and return to a more subtle color palette of blues, greens, and neutrals.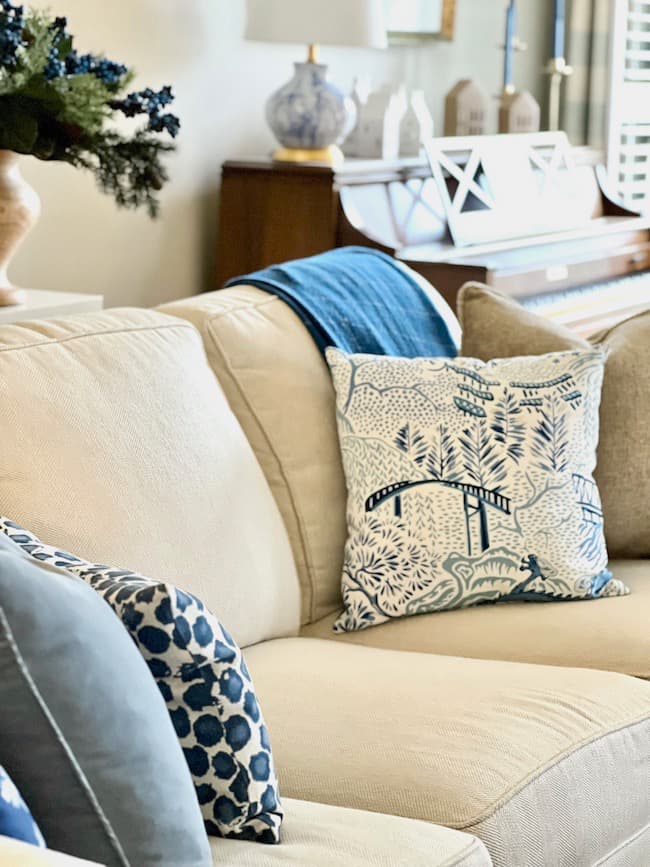 I stick with blue and white throw pillows on our sofa, with some neutrals thrown in, and drape a green throw over an arm chair.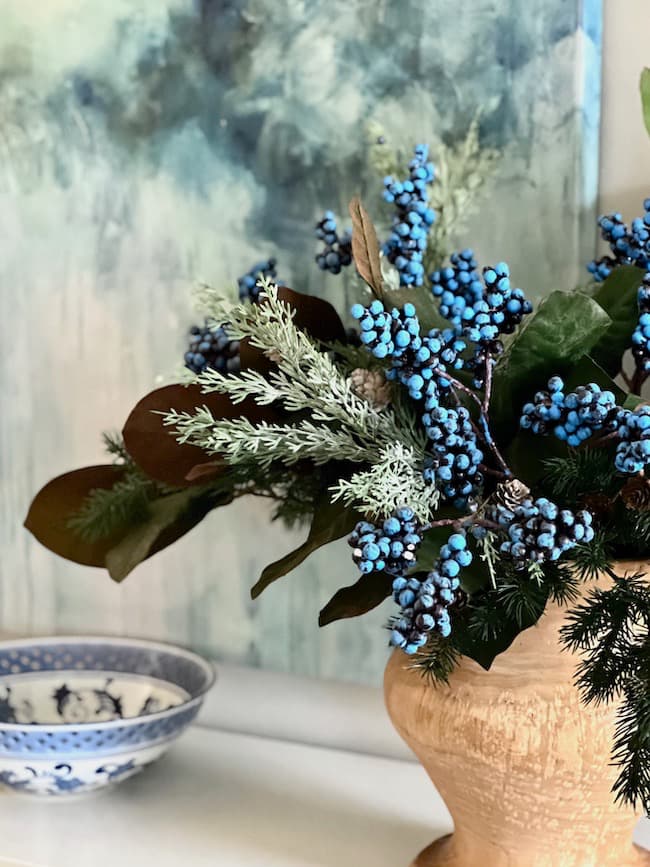 Blue berry picks replace the red berries in the large magnolia branch arrangement on our sofa table.
Blue and white ginger jars and bowls are perfect for this subtle winter color scheme.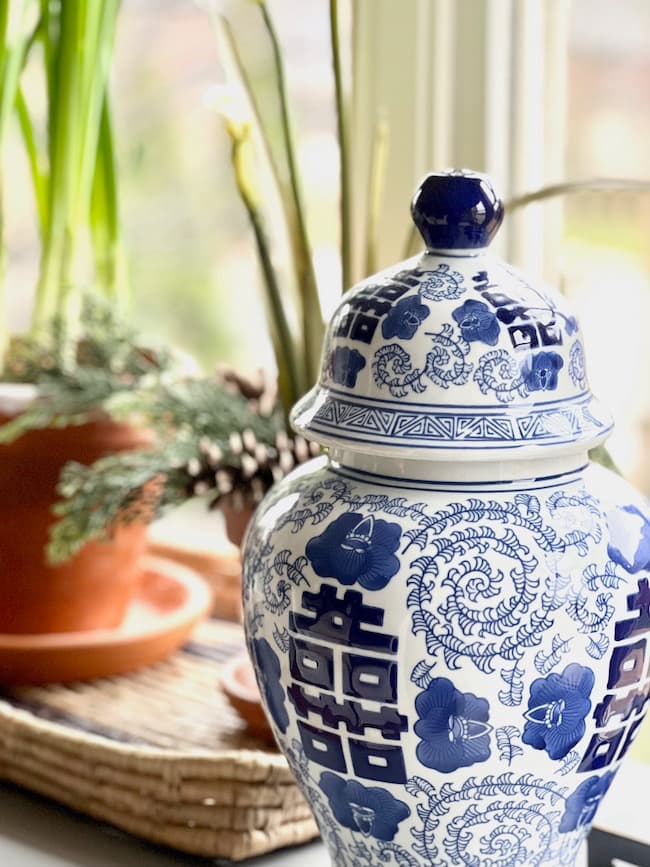 2. Keep the greenery.
Don't pack away your faux greenery after Christmas. It's perfect for transitioning into the winter months.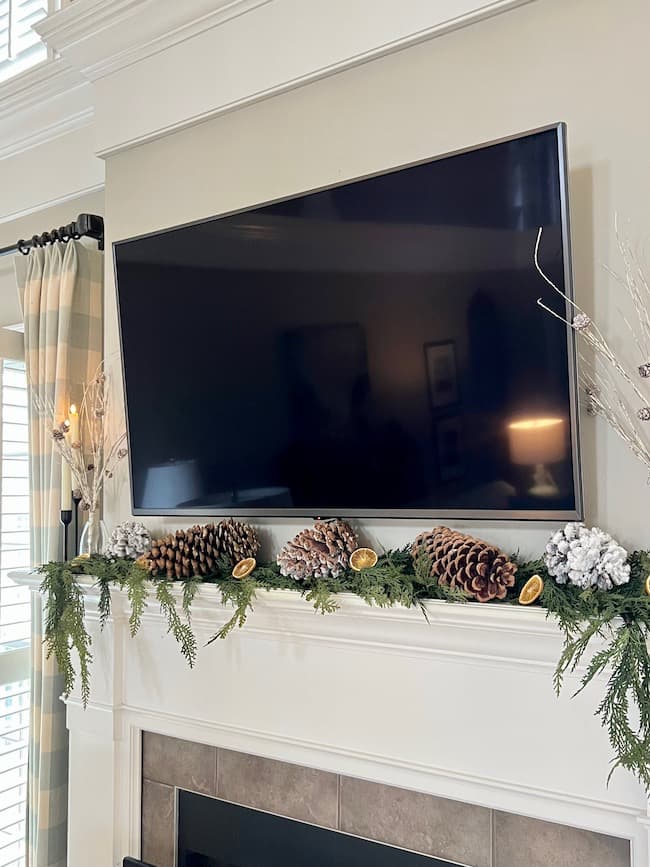 Drape some garland on your mantel. I pared our Christmas mantel down a little bit, but still included a garland of greenery.
Magnolia branch arrangements are perfect for winter.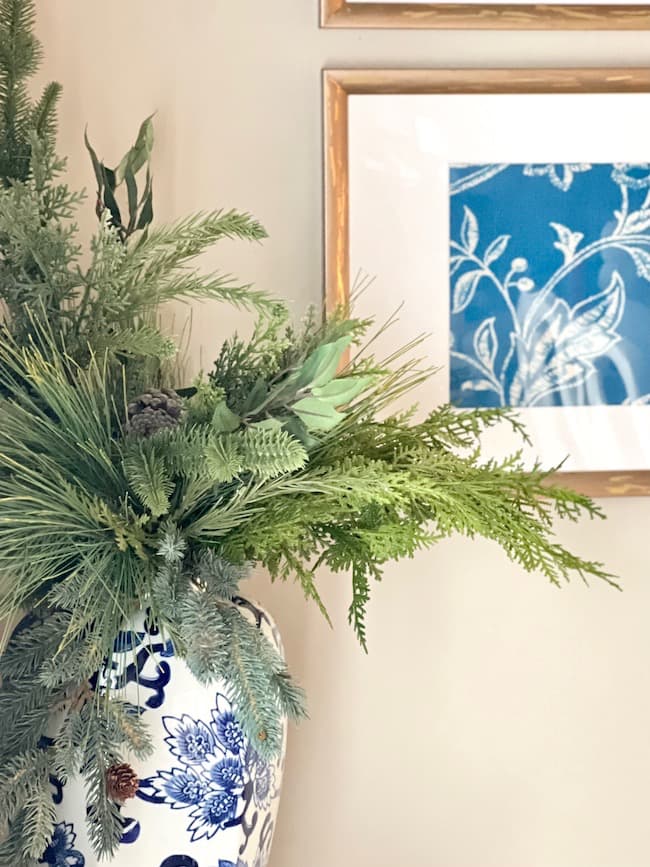 A blue and white ginger jar full of pine and other winter greens graces a corner of our dining room. It's the same greenery-filled vase I used during Christmas, but it's still perfect for January!
3. Add cozy textures.
Cozy knits and furry throws are perfect for this time of year. They create an inviting look and add great texture and interest to your room.
4. Keep your dried oranges.
Do you dry oranges for your Christmas decor? Dried oranges are the perfect natural touch for the winter months, and they add subtle color to a neutral palette.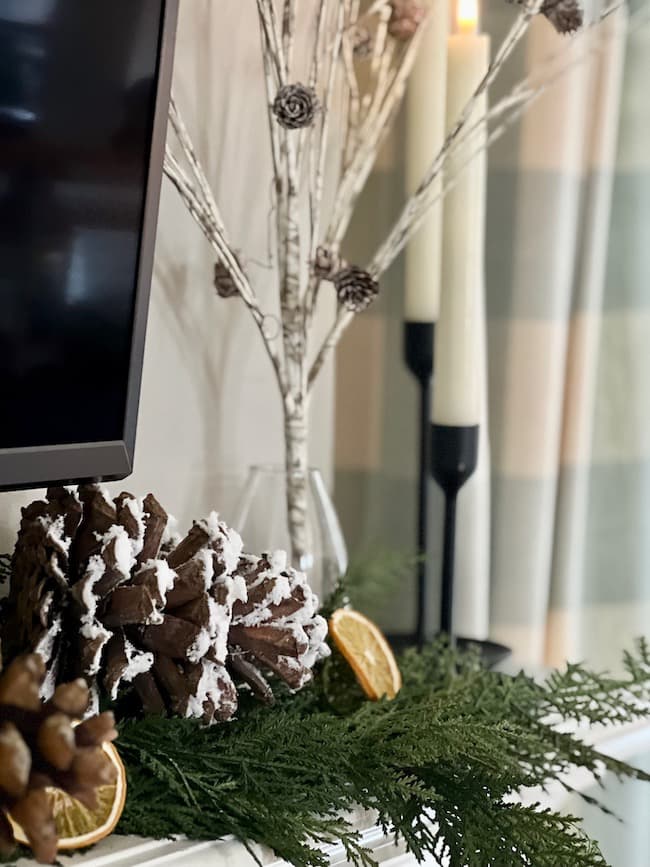 I like to add them to the garland on our winter mantle along with pine cones for a simple natural winter look.
5. Include lots of warm wood tones.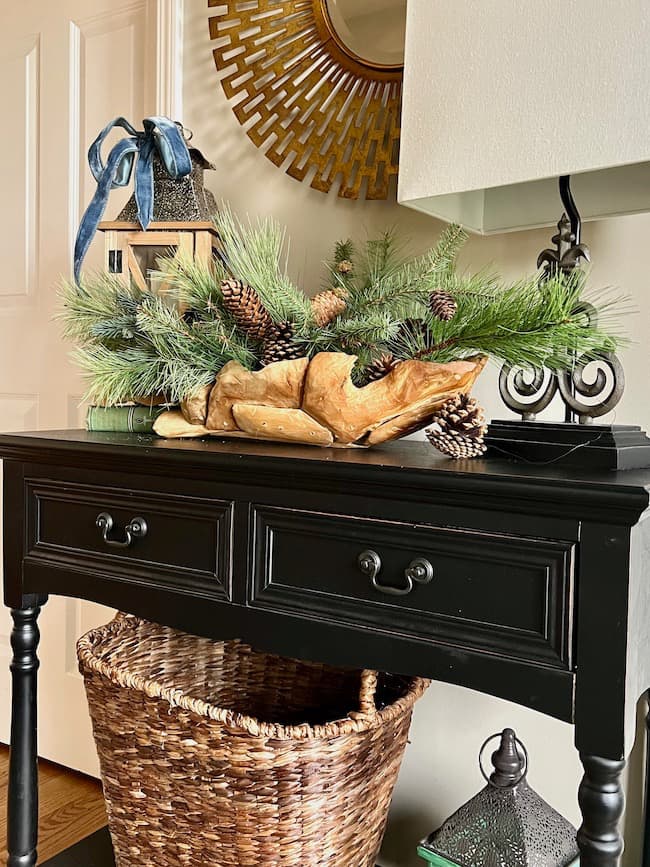 Winter is a great time to add some wood tones to your decor. The natural texture of the wood adds warmth to your room. You can add large baskets, wooden bowls and vases, and wooden decor items to vignettes on your tables.

6. Add lots of candlelight and gentle light sources.
Lighting is a must during the dark and dreary winter months. Now is a great time to add additional ambient lighting such as table lamps in your rooms.

Lighting is one of the most important ways to warm up your home and create a cozy living space. Yet, it's often overlooked. A single overhead ceiling light is not enough to create an inviting look in your home.
It's also important to add lots of candlelight during the cold winter months. Battery operated taper and pillar candles are perfect to use this time of year.

I keep battery operated pillar candles with timers in our lanterns year round. They come on every evening at dusk and remain on until bedtime. I absolutely love the subtle light they cast in our home year round!
Battery operated taper candles are the perfect addition to our winter mantel!
7. Use snowy trees.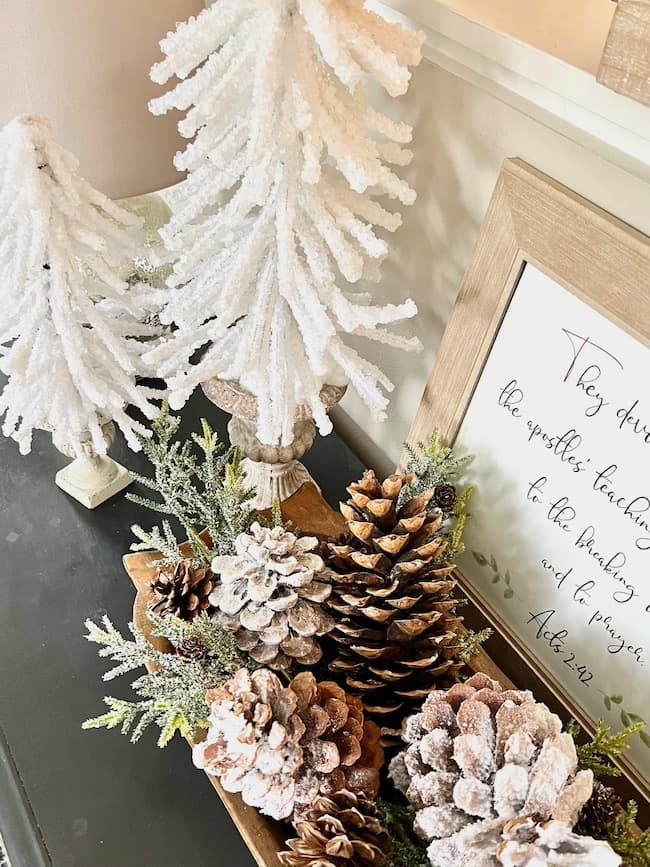 I created these fun snowy trees for our Christmas decor, but decided to leave them out for winter. The crystals were formed from a Borax and water solution, and you can read all about how I made the Borax trees in this post.
I love them on our dining room buffet!
8. Decorate with pine cones.
Along with faux greenery, pine cones are one of my favorite natural elements to use during the winter months. I love them in all sizes and shapes!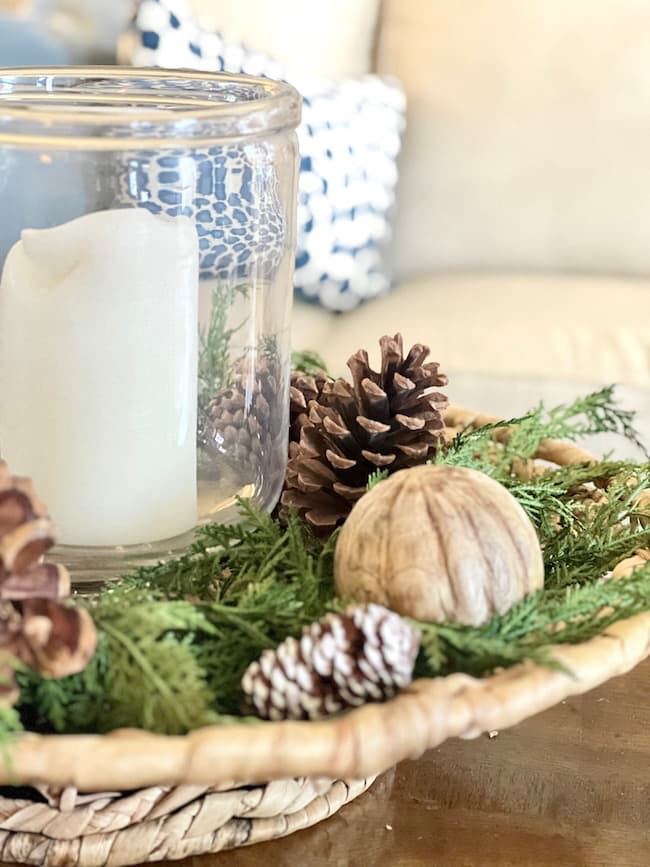 Fill a large basket or bowl with them on your coffee table and add a hurricane lantern with a candle for the perfect cozy winter look.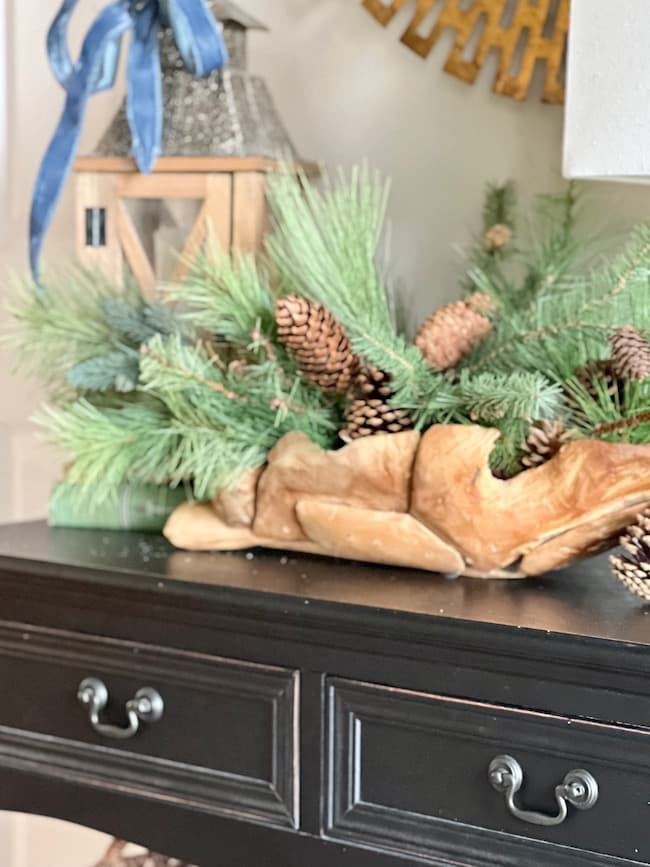 9. Add some reflective metallics.
Don't forget to include metals in your winter decor. The metallic surfaces reflect light and brighten your spaces during these dark months.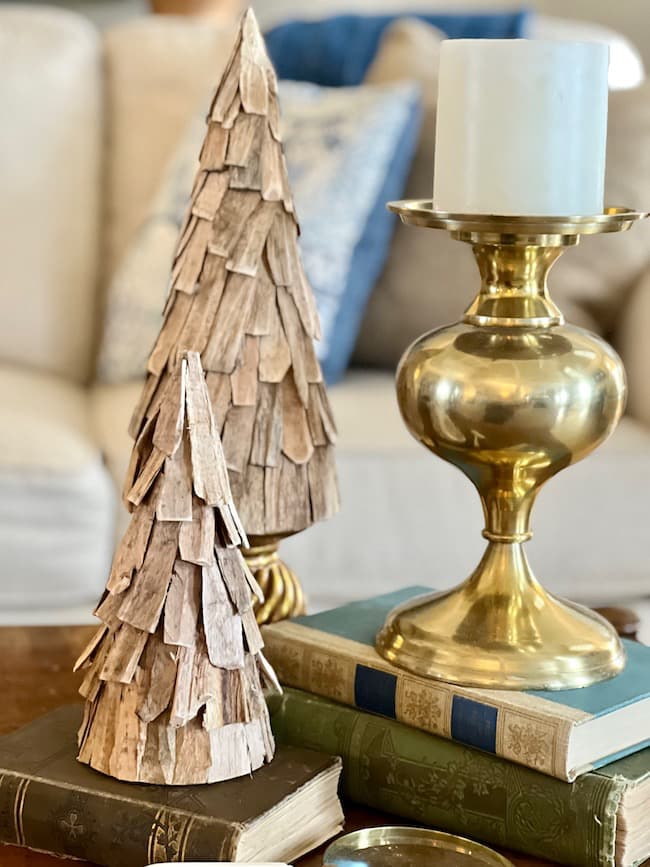 A brass candle holder on our coffee table adds warmth and a reflects the light coming in our living room windows.
10. Add soft colors like pink or lilac in your florals.
I love to add soft color with potted florals on our dining table during the winter months.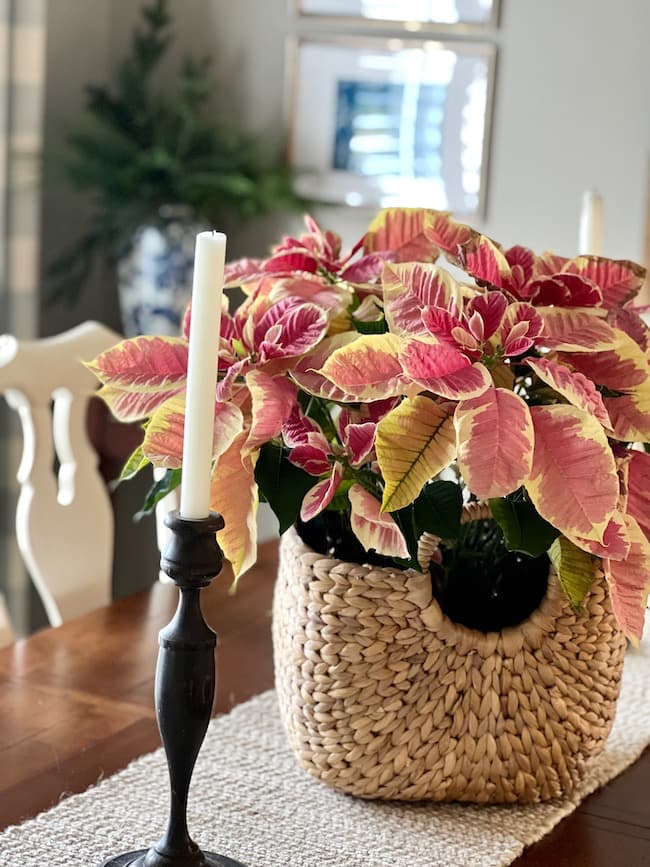 This pink variegated poinsettia is still thriving, and I've transferred it to our dining table to serve as a centerpiece. I love the soft pink color.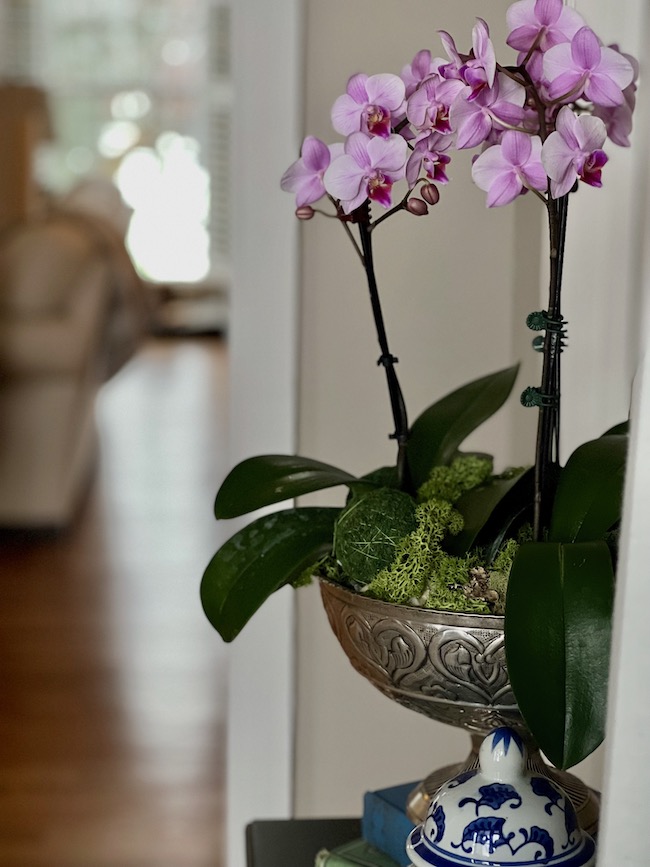 I also like to use orchids during the winter months to brighten our spaces. You can see three ways I like to use orchids in this post.
I hope these simple winter decorating ideas inspire you to create cozy spaces in your home this month as you transition away from your holiday decor. By adding a few simple touches around your home you can create a warm inviting look for your family to enjoy.
Pin It for Later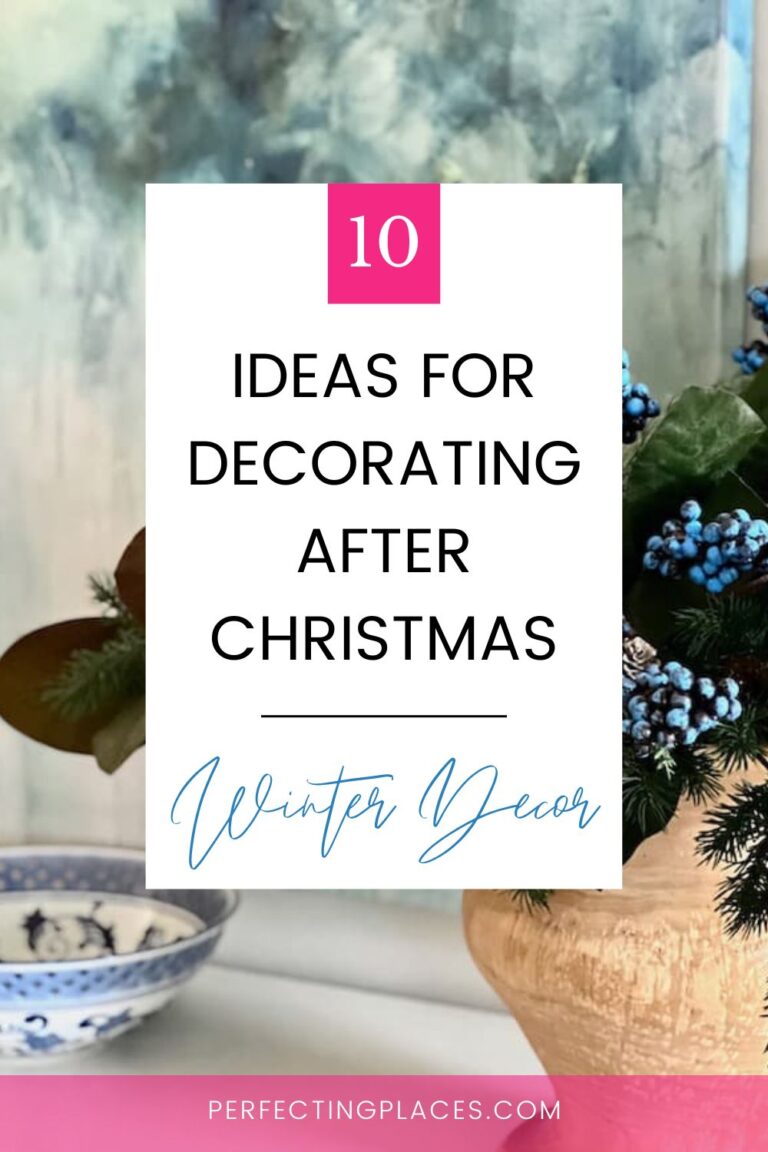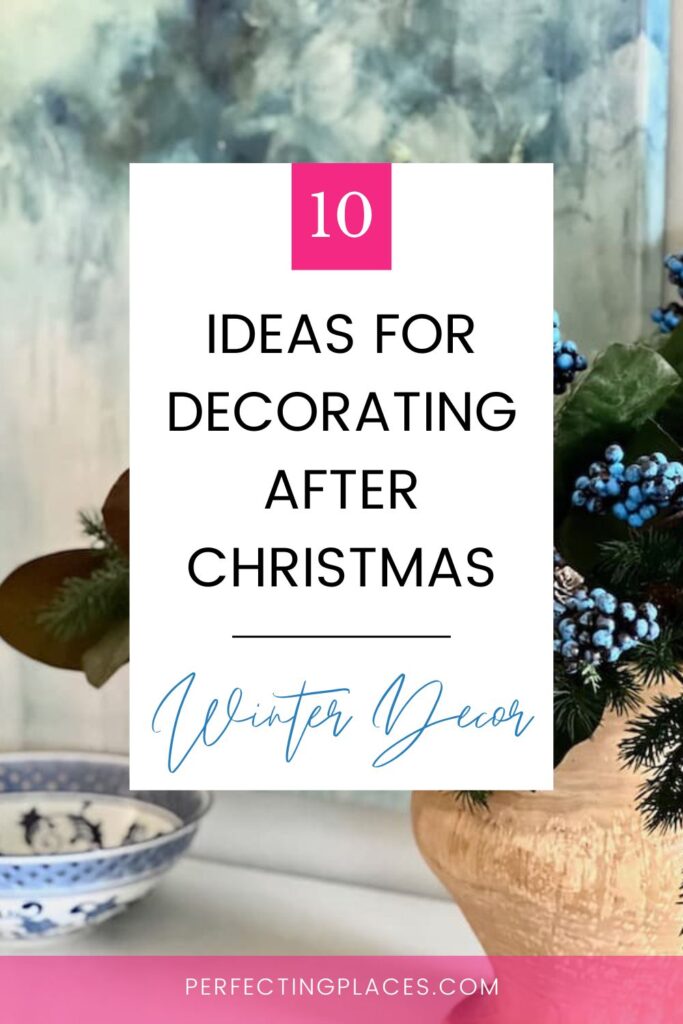 By the way, do you follow me on all the socials?? If not, check out my Pinterest, Instagram, and Facebook and be sure to follow me on all the socials so you don't miss out on any of my decorating and DIY ideas!