A Timeless Budget-Friendly Kitchen Makeover
Want a kitchen makeover?? Not everyone has the budget for a full-scale kitchen renovation, but with the magic of paint you can make some amazing transformations without spending tens of thousands of dollars!  This fall we're letting paint do the heavy lifting for our budget-friendly kitchen makeover.
Our hand is being forced a little this fall to jump into some renovations that we hadn't necessarily planned for, so we have to make budget-conscious decisions through this process. Because of a leaking toilet in our powder room we have to replace the hardwood floor boards in the room. Of course, this means the ENTIRE first floor of hardwood needs to be sanded and restained to match the new powder room floors. This, in turn, creates the perfect opportunity to select a new stain color for our floors (which I've wanted to do since we bought the house). And, of course, because we are sanding and restaining the hardwood anyway, it calls for replacing the living room carpet with hardwood! (Yes, I realize this step is clearly optional, but if we don't do it now it probably won't happen later!) So of course, since the whole area will be torn up anyway, it only naturally makes sense to freshen up our kitchen as well!!  The problem is, with the expense of the flooring, we need a budget-friendly kitchen makeover, and the best way to do that is with the magic of paint!! Whew!! (Kind of reminds me of If You Give a Mouse a Cookie!!)
We won't dare tackle the flooring on our own, but the kitchen cabinets will definitely be a DIY project. More on the details of that paint project to come, but for now, I'm creating my design plan for the makeover, with cost and longevity being the MAJOR factors. To accomplish this timeless budget-friendly kitchen makeover, I'm making timeless color choices for our paint.
The Backstory:
We've lived in our home for 10 1/2 years.  We're the original owners, but it was a spec house with most design elements already selected when we purchased it. While I wasn't crazy about the orangey cabinet stain or the granite choice at that time, with two boys ages 9 and 12, we selected our particular home mainly because it had a big backyard and a large driveway with side entry garage. They were perfect for a basketball goal and football field!
Timeless Choices:
We have a very open floor plan on our main level, with the kitchen at the center of it. I'm all about timeless style selections for the fixed elements in your home. Applying timeless design principles to design elements such as the stain color of your flooring, the finish of your cabinets (ie. stain vs. paint), and your countertop and tile selections is very important to insure your home won't look dated in 10 years. 
Tips for Incorporating Timeless Style Selections in Your Kitchen:
1. Painted vs. Stained cabinets.
I've always loved painted cabinets — even before they were on-trend. Our cabinets are a tell-tale 1990s/early 2000s orangey brown stain. The color of the stain of your cabinets will date your kitchen as that stain trend fades. Painted cabinets have always been, and will always be an on-trend option. A white, off-white, or cream cabinet is ALWAYS an on-trend style choice no matter the decade. Our simple shaker door style is also a timeless choice. We'll be painting our cabinets off-white to match the trim color in our home. Unfortunately, I can't tell you the exact color since we didn't select it originally, and we've been color-matching it ever since. 
2.
 

Don't ignore the fixed elements in your design if you aren't able to replace them.

Our granite countertops are brown, Tropic Brown to be exact. We don't have the budget to change our countertops right now, so when choosing color or backsplash options in our home, I MUST consider these brown countertops and select colors that compliment them. Since our kitchen is the center of a very open first floor plan, our brown countertops play a major role in the color palette for the space. Fortunately, they are fairly solid in nature and not overly busy or bossy, but I have to keep my brown countertops in mind when making color choices.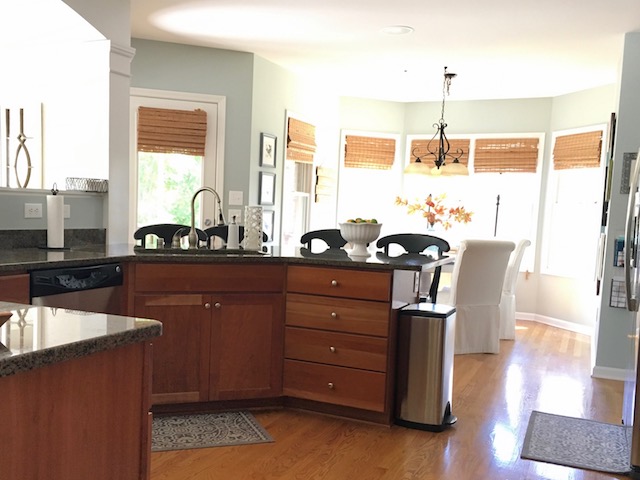 3. Make sure the fixed elements complement each other instead of fighting each other.
There should only be one star in the kitchen! Busy granite partnered with busy flooring, or a busy backsplash, just overwhelms the eye! What do you want to be the star? Do you have a beautiful countertop? Then select a simple backsplash. Do you have a patterned tile backsplash? Then your countertops should be more solid in nature. Too many patterns in the fixed elements overwhelm the eye and result in a cluttered look. Keep it simple for a timeless design and you won't grow tired of it. Subway tile is a simple, timeless look that can tone-down a busy granite. If you love encaustic tile, then keep the countertops simple.
4. Select a timeless color for your hardwood flooring to keep from looking dated in a few years.
Like cabinets, the stain of your flooring can also place the age of your home or renovation within a specific time or trend. I've selected a medium brown stain, avoiding any trendy gray-tones, dark espresso tones, orange or red tones. There are lots of beautiful flooring options available in a variety of color and style, but for the sake of longevity and not getting tired of a trend, a medium brown tone is a timeless choice for me.
5. Update cabinet hardware.
Mixed metals are all the rage now. Our home was built with brushed nickel fixtures and hardware installed throughout. Changing out your hardware is an inexpensive way to make a big impact. I plan to address the brown of my countertops by either using oil-rubbed bronze or brushed gold hardware.
6. Update the lighting.
We aren't adding or installing any new fixtures in our makeover, but we do have the wiring in place to add a ceiling light in the kitchen area. I'm also hoping to replace the fixture in the breakfast area in the near future. Updating your light fixtures can make a huge impact in a makeover. Repeating the new metal of your updated hardware is a great way to carry the theme throughout your room. We may not be able to replace our current fixtures right away, but this is the direction I would like to head.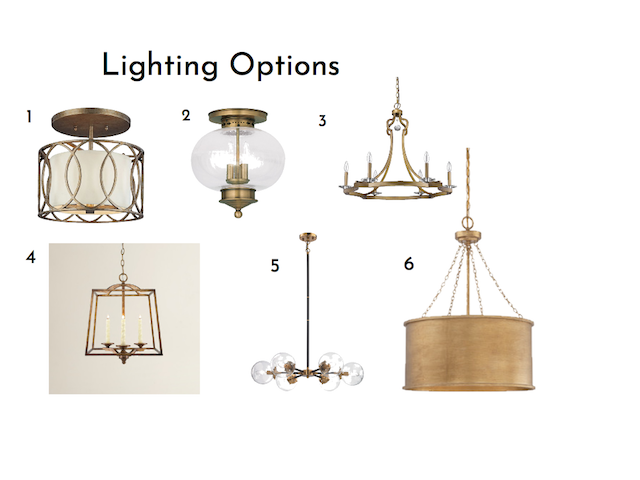 So, that's the plan for our timeless budget-friendly kitchen makeover. Now it's time to get to work! Our flooring doesn't get installed until the week after Thanksgiving, but we will tackle painting the kitchen cabinets in the meantime. I'm seeing lots of take-out meals and eating out in our immediate future!