Beautiful Living Room Coffee Table Ideas for Spring
Deck out your coffee table in style this spring. These living room coffee table ideas will add beautiful touches of spring to your room.
If you love to decorate with blue and white, you'll love this blue and white Chinoiserie style tablescape on our large rectangular coffee table.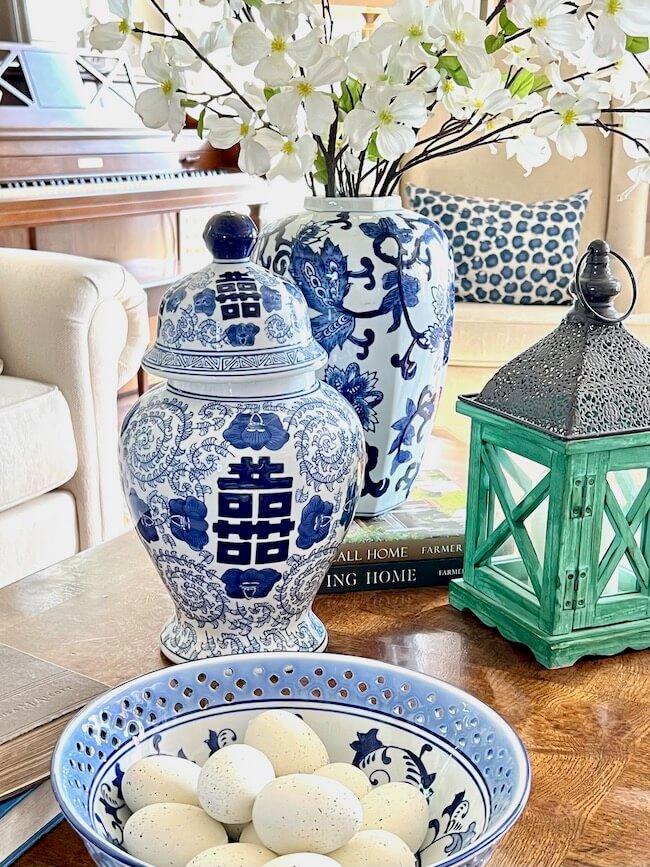 (This post contains affiliate links, so I may earn a small commission when you make a purchase through links on my site at no additional cost to you. As an Amazon Associate I earn from qualifying purchases.)
Spring is such fun time to decorate as the weather starts to warm, the grass starts to green, and spring blooms become plentiful. It's a fresh start, a new beginning, and I love to create that feeling in our living room by decorating our coffee table for spring.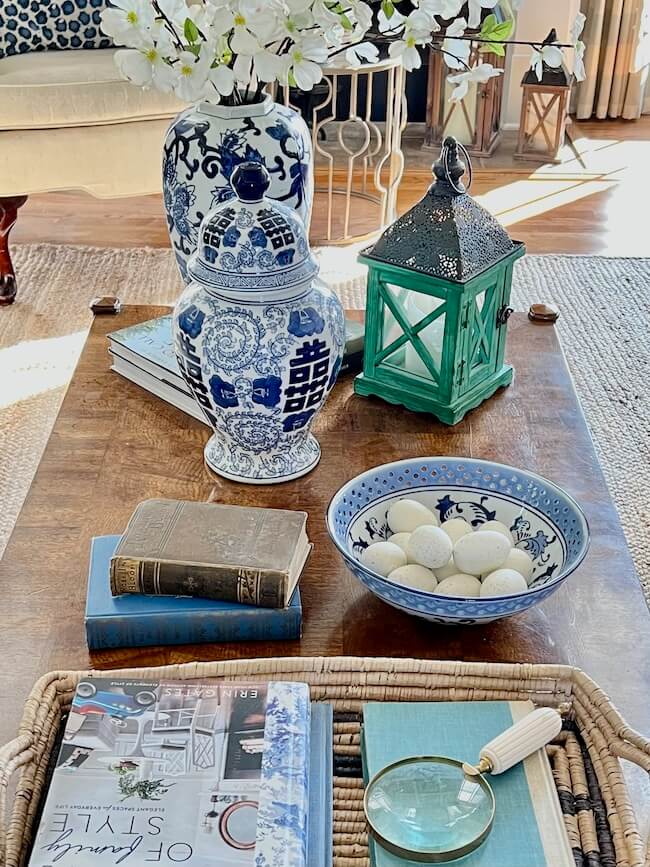 Our thrifted coffee table is one of my favorite pieces of furniture in our home. I was so excited the day I discovered this pretty Mid-Century Hollywood Regency piece with its burled wood and faux bamboo styling. I knew it had to come home with me! The price was perfect, too, which made it even better!
It's quite a large coffee table, so it's fun to style it for each season!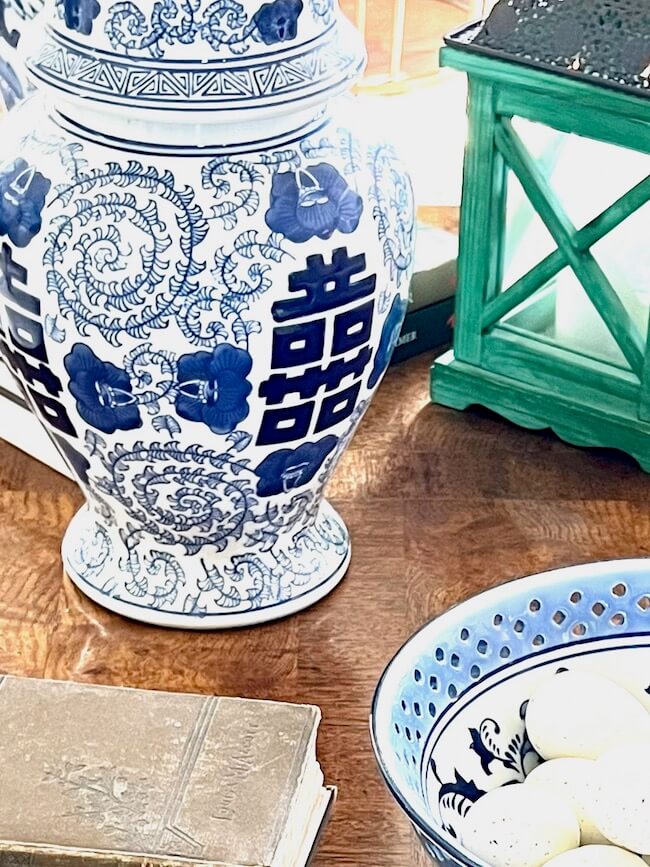 I go back and forth from season to season between filling our coffee table full of pretty things or sticking to a little more minimalist look (well, at least as minimal as I get).
Blue and white is always right, and I love all of the blue and white touches on this spring table.
How do you style a coffee table for spring?
Styling your coffee table for spring is easy with some great staple decor pieces. Starting with foundational decor pieces such as trays and bowls makes it easy to add seasonal touches throughout the year.
There are so many pretty spring accessories to choose from, such as spring floral stems, Easter eggs, moss, or bunnies. Adding a few touches of spring to your staple decor accessories creates the perfect spring coffee table decor!
Some Favorite Spring Accessories

Create a collection of favorite staple decor pieces for your coffee table.
I love to keep a selection of baskets, trays, decorative bowls, lanterns, and candlesticks to use on our coffee table. Of course, I love to use blue and white ginger jars.
Some Favorite Staple Decor Pieces

Blue and white spring coffee table decor is always classic.
As I mentioned at the beginning of this post, you can never go wrong with blue and white accessories! Blue and white ginger jars are the perfect spring accessories for a beautiful traditionally-styled coffee table! Grouping the pieces together makes quite a statement on the large coffee table.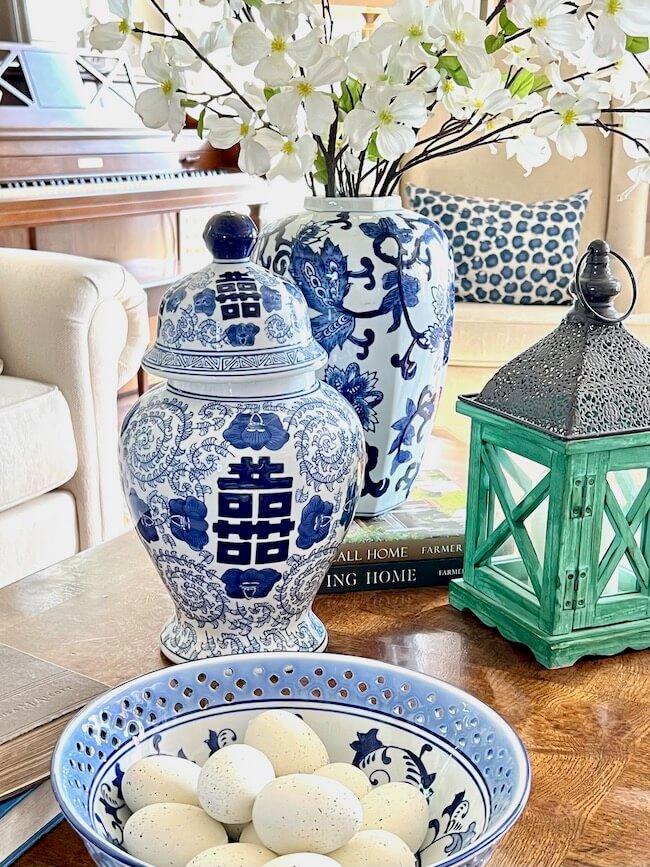 Add pretty spring floral stems or greenery.
Adding long sprawling spring dogwood stems to the blue and white vase adds height to the coffee table. These are pretty faux branches, but as the season draws on and the trees bud out, some fresh cut branches would be lovely! We have a pretty pink dogwood in our front yard, so I just might need to replace these faux white blooms with fresh pink branches in a few weeks.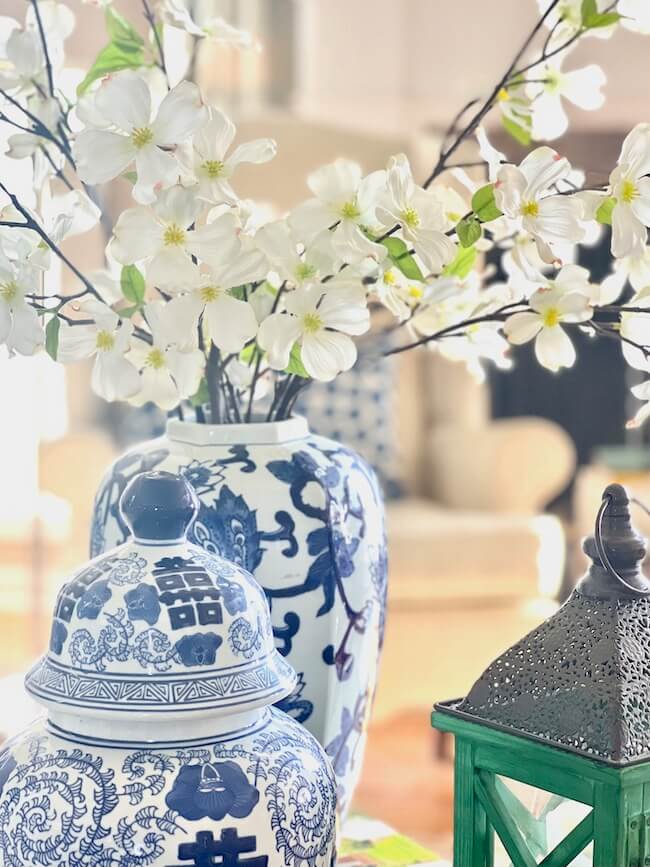 I've included some other gorgeous spring faux flowers and greenery below that would be perfect in a pretty vase on your table. You'll find even more great ideas for decorating with spring florals in this post!
Incorporate blue and green into your spring table color scheme.
I'm a huge blue and green color scheme fan, and this little green lantern is a favorite of mine. I like to use it in so many ways around our home. I love it paired on the coffee table with the blue and white ginger jars and white dogwood stems. I think the blue and white and green is such a fresh spring color scheme!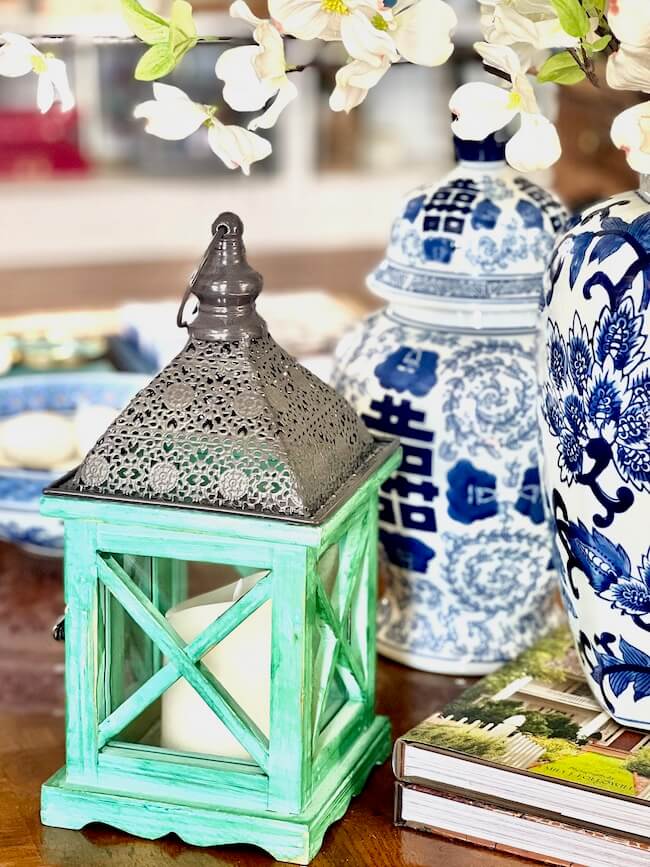 White speckled eggs are perfect for your spring coffee table decor
I've filled a blue and white bowl with some pretty white speckled eggs for spring. If you prefer a more colorful egg display, you could certainly add eggs in pretty pastels or colorful patterns and textures.
Add a blue and tan woven basket to your table.
Every large coffee table needs a large tray or basket to corral books or other decorative objects. This blue accented basket is one of my favorite pieces to bring out during the spring. I love it's casual vibe paired with the more formal look of the blue and white Chinoiserie ginger jars. It creates a nice "high-low" decor look and creates a relaxed traditional look.
High-low decor style is simply the combination of more luxury looks with more budget friendly pieces to achieve a well curated look in your home while keeping to a budget that works for you. Combine this approach with casual elegance style that pairs more formal pieces with casual textures and patterns and you have a really personalized look in your home on a budget that works for you.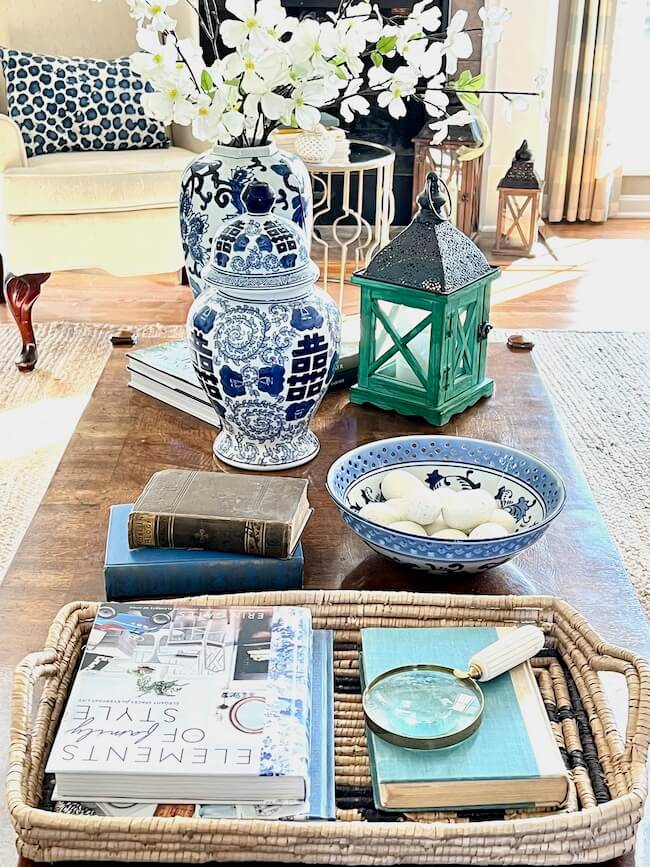 Decorate Your Coffee Table with Books, Books, Books!
Of course, coffee table books are the perfect accessories for a spring coffee table! I'm using some larger books stacked to add height to the blue and white vase, and have other favorite books corralled in a basket.
Decorating with books adds texture, height, and color to your displays and vignettes.
Not only do books provide a collected look in your room, they can create a sense of history or place in your home. They create a curated, collected style and are a perfect way to inject some of your personal interests, experiences, style, and values into your decor.
My coffee table display includes some of my favorite design books linked below!
---
Best Styling Tip for a Large Coffee Table: Break Your Spring Coffee Table Decor into Zones
When styling a large coffee table, it helps to break the table top down into zones, and then group your accessories within those zones. Creating zones is a great way to fill the space, yet maintain some order to the accessories grouped together.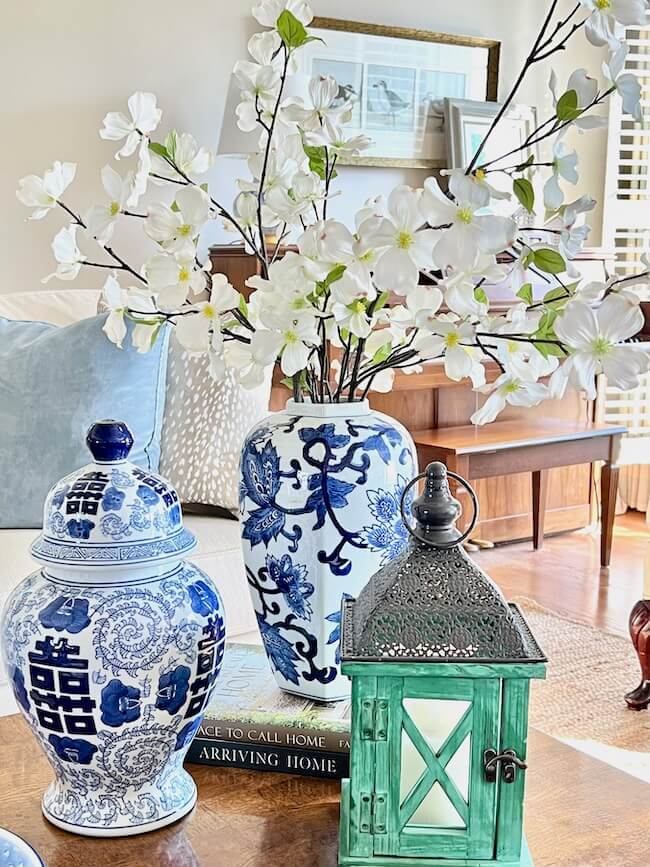 The first decor zone is filled with the ginger jar vases, books, the green lantern.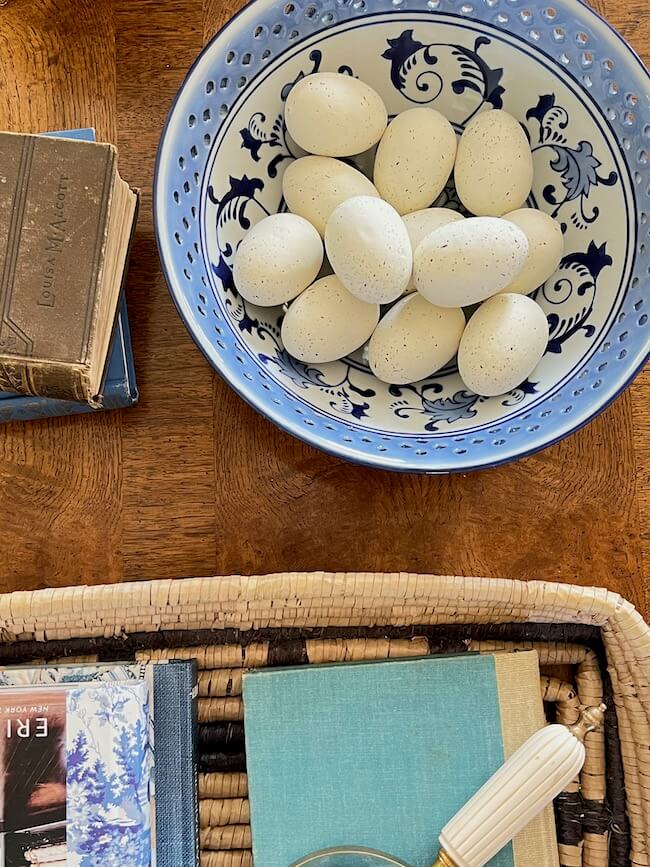 The bowl of eggs and small stack of books form the middle zone on the coffee table.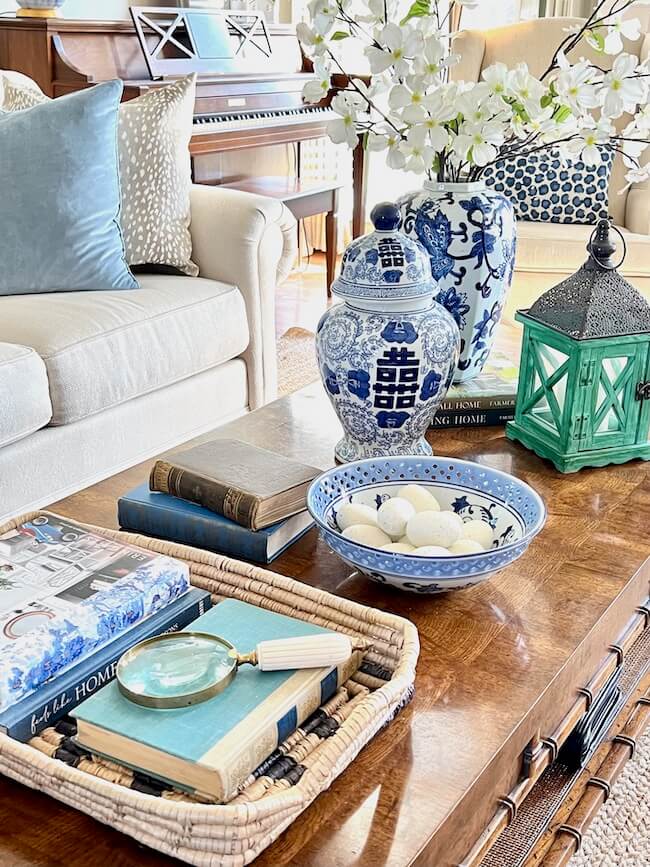 The tray filled with design books forms the third zone on the end of the table.
Get the Look: Spring Coffee Table Accessories

---
I hope this gives you a little inspiration to create a gorgeous coffee table look for spring!
Do you enjoy decorating your coffee table from season to season? What's your favorite spring coffee table decor piece to use in your home?
Pin It for Later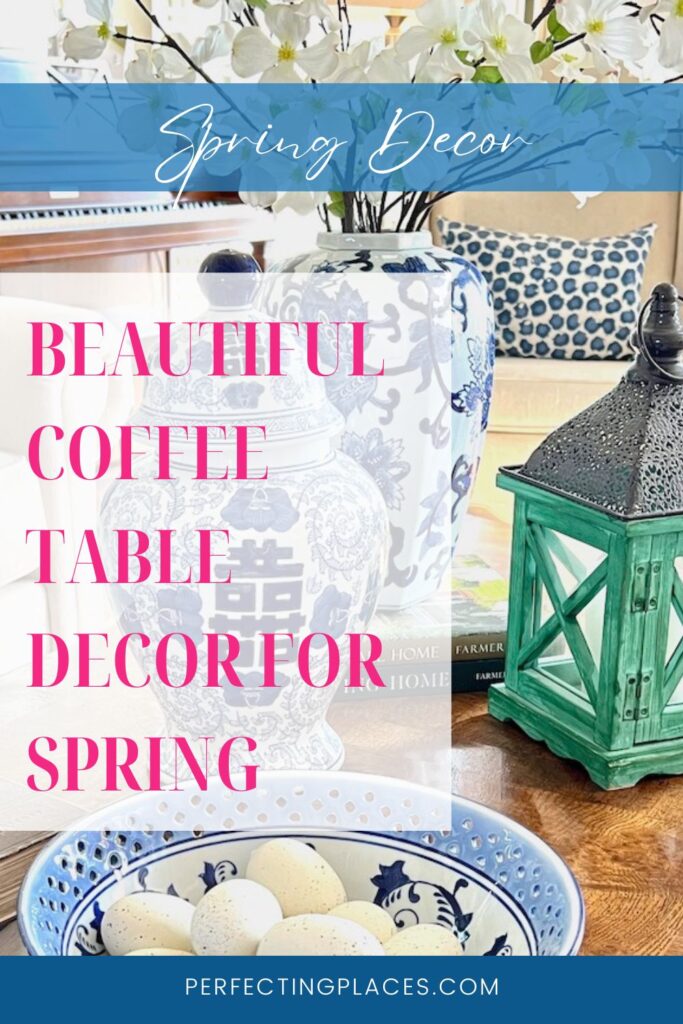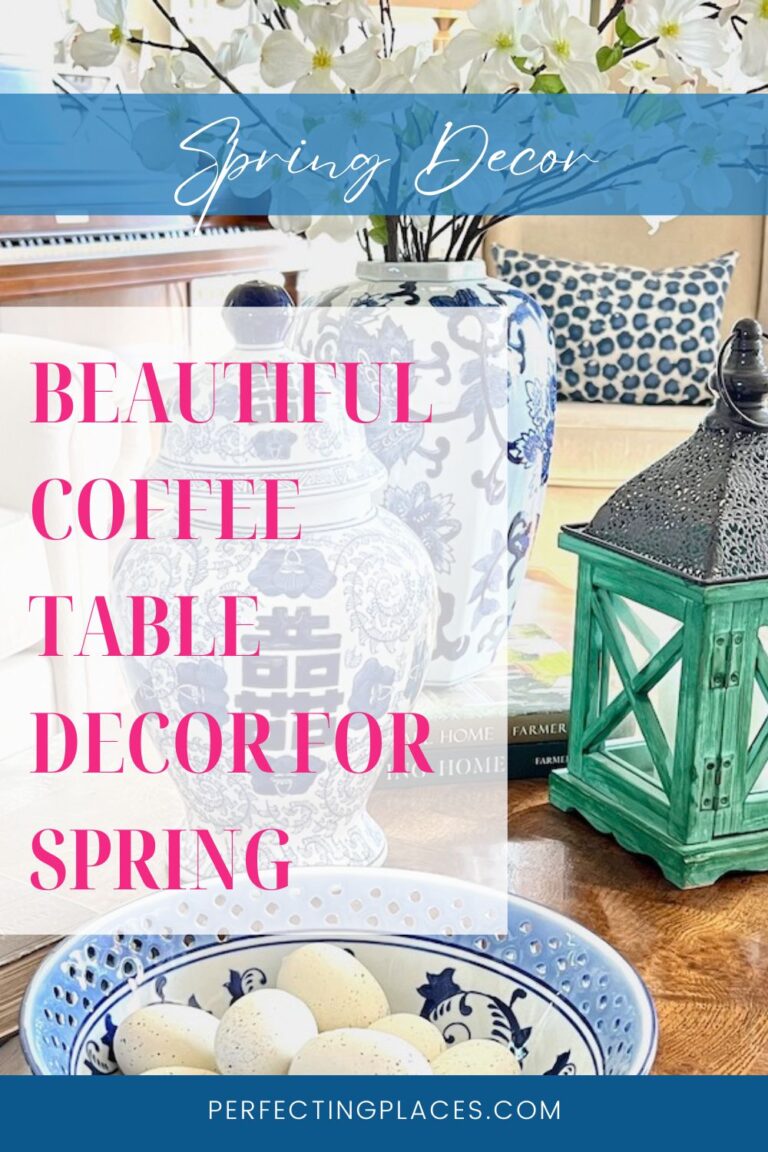 By the way, do you follow me on all the socials? If not, check out my Pinterest, Instagram, and Facebook and be sure to follow along so you don't miss out on any of my decorating and DIY ideas.