Great Ideas for Outdoor Entertaining and Outdoor Living
Do you love spending time outdoors during the summer? You'll love these great ideas for outdoor living and entertaining!
Whether it's on your screened porch, back patio, or deck, these sources and ideas for outdoor entertaining in your outdoor living spaces will help you create an inviting place to gather and enjoy the summer!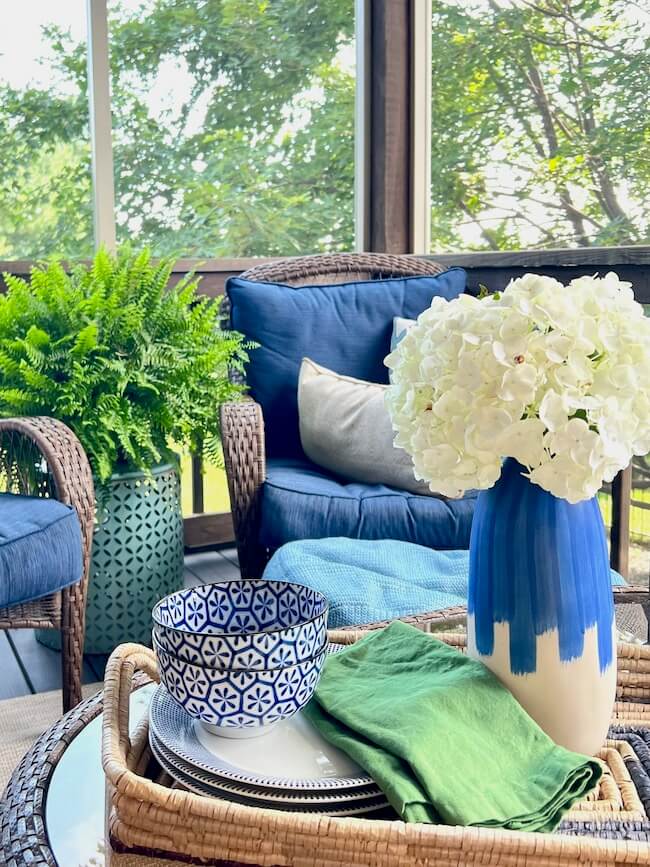 Do you have a favorite place in your home? 
I do. Well, it's technically outside my home. It's my screened-in porch, and if the weather permits, that's where you'll find me relaxing, working, doing my morning quiet time, watching a movie, reading, visiting with guests, spending time with my sweet husband, snuggling our puppy, …
Well, I think you get the point. I love it, and it fact, I'm actually typing this post while sitting on my screened porch right now!
And, it's so enjoyable because we've brought the comforts of indoors outside and created a cozy little outdoor area that we love. It's kind of like adding square footage to your house!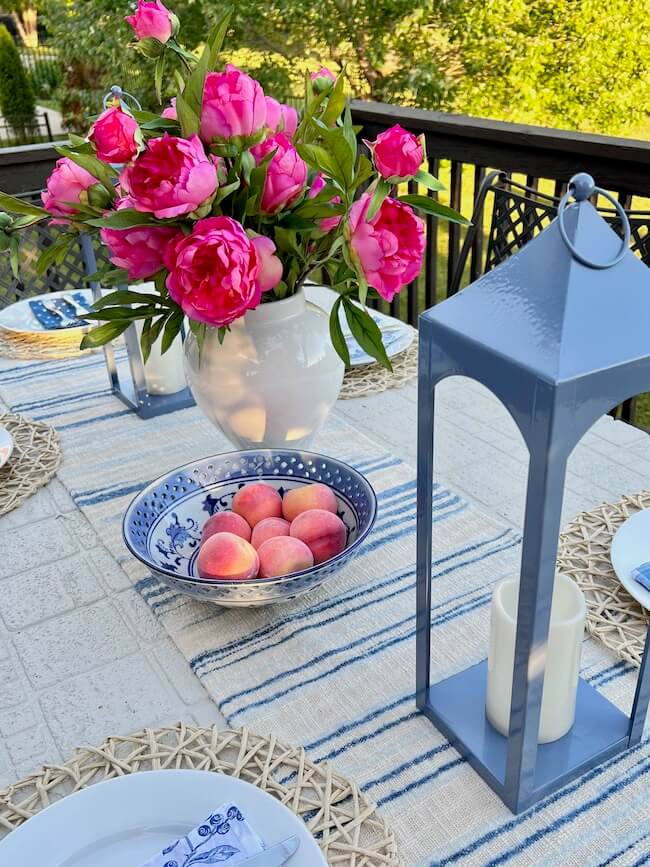 And, is it just me, or does your food just taste better outdoors? We love to eat out on our deck on summer evenings, and we've especially been enjoying our freshly made-over deck table!
It's taken a few years, but the maple tree we planted years ago has finally grown enough to provide wonderful shade for our evening meals. Up until now, we relied on our wonderful, large off-set umbrella to shade our table.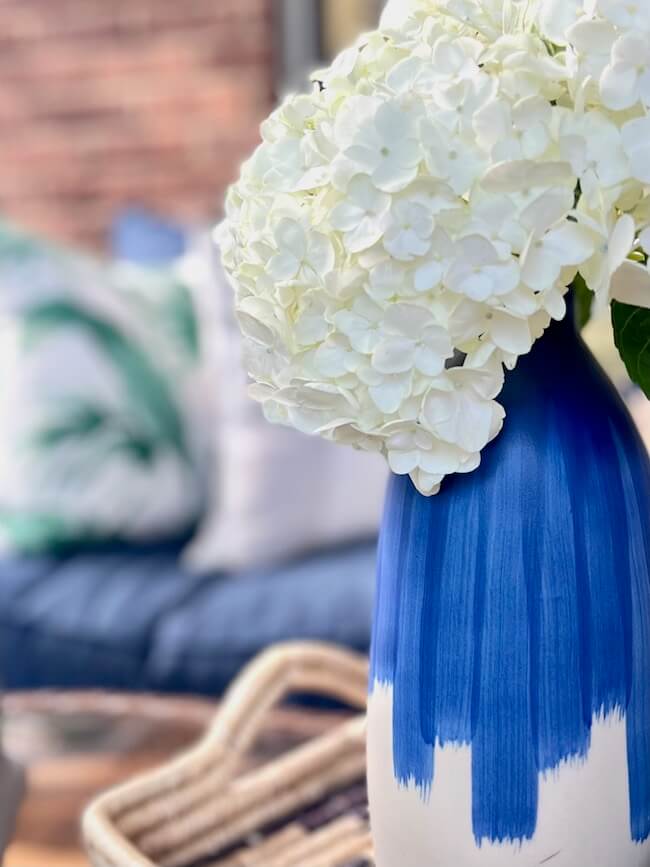 If you love to relax, dine, or entertain outdoors, I'm sharing some great tips for creating a beautiful, welcoming outdoor living space.
How to Create an Inviting Outdoor Living Space:
1. Create a beautiful, comfortable, and cozy seating area.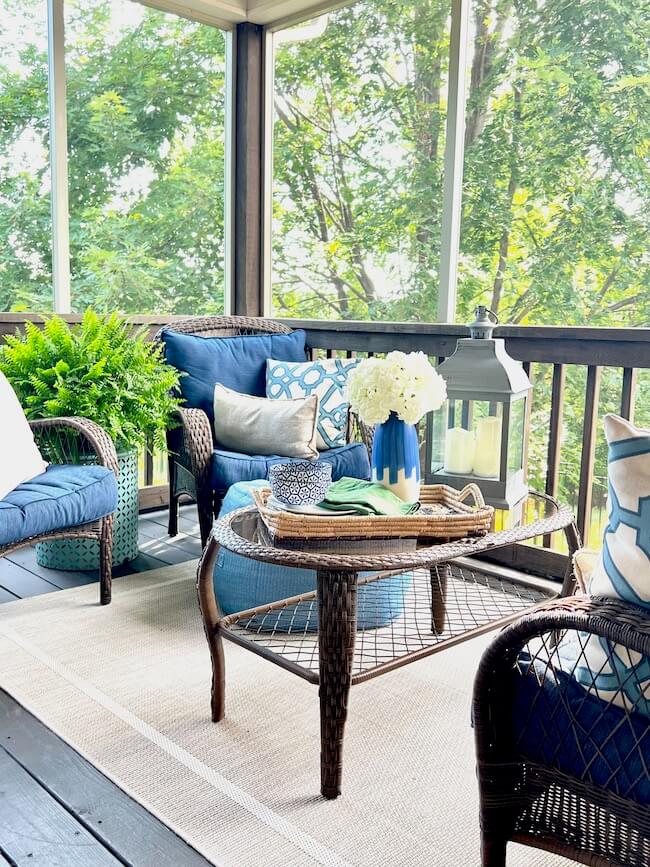 You definitely need a comfy, cozy spot to sit and enjoy the beautiful summer weather, whether you enjoy spending quiet mornings outside, or relaxing at the end of a summer day. Just like indoor gathering spaces, your outdoor living area functions as an outdoor living room, so you need some comfortable furniture to create this space.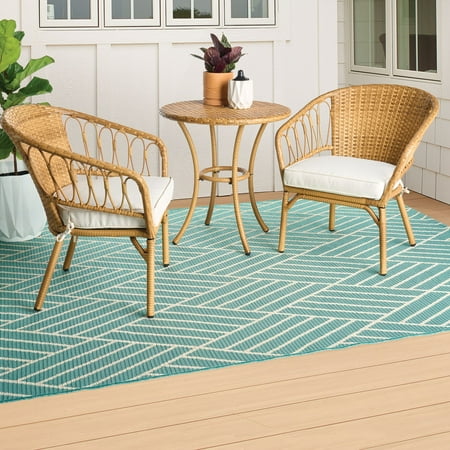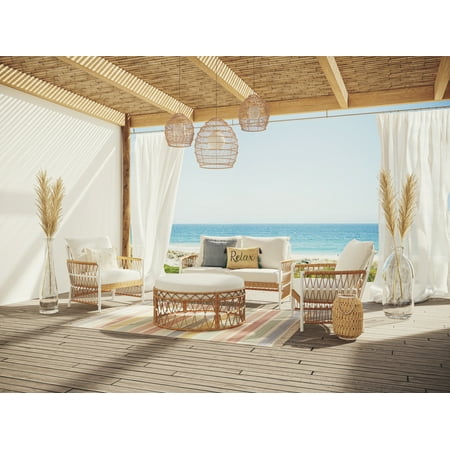 2. Define your outdoor seating or dining area with an outdoor area rug.
There are so many gorgeous outdoor rugs available now in a variety of sizes. (I've even been known to use them indoors in high-traffic areas or in "messy" areas like kitchens because you can clean them easily with water.)
Make sure you get the right size for your outdoor space. Don't skimp! Rugs under outdoor dining tables should be large enough that when you pull the chairs out from the table, they still remain on the rug. The same guidelines apply for outdoor living areas as for indoor living rooms. The outdoor rug in your seating area should be large enough that at least the front legs of your furniture is on the rug.
You can add so much color and charm to your outdoor room with the perfect outdoor area rug!
Not only does an outdoor area rug help to define your sitting area, it also makes the area more comfortable to kick off your summer sandals.
And speaking of kicking your shoes off …
3. You need a comfy space to put up your feet in your outdoor living room!
I love the outdoor ottoman that we have on our screened porch. It's the perfect place to prop my feet up at the end of a long day!
There are so many outdoor ottomans and poufs to choose from, whether you choose a coffee table type ottoman, or a smaller option.
4. Add summer outdoor throw pillows to add pretty color and texture to your porch or patio seating.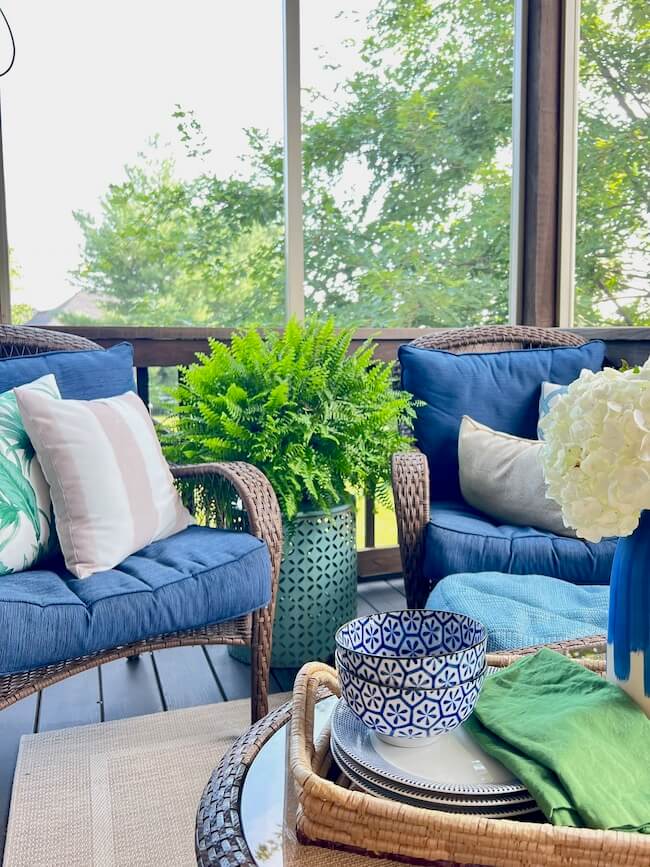 If you've followed me for long, you know I love throw pillows! They just add so much cozy comfort to a room, even an outdoor room!
Whether you love creating a neutral, serene outdoor living space, or injecting a little more color and fun, there are so many pretty pillows to help create the look you love.
5. Eat delicious summer meals on an outdoor table for perfect alfresco dining!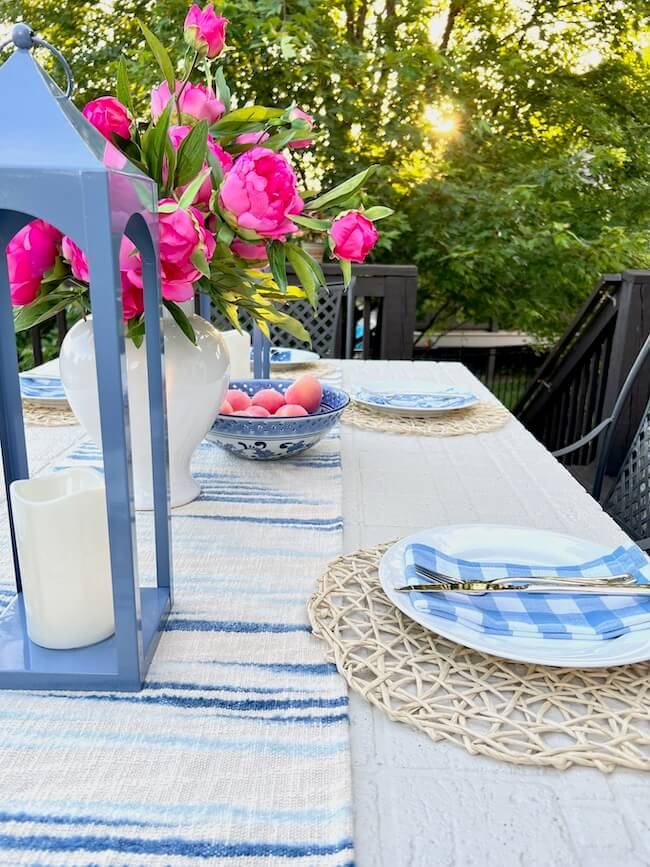 We love eating dinner outside on our deck during the summer months when the weather allows!  Our deck table got a fresh update this summer when I painted the tile top to spruce it up! You can read about the table makeover here.
6. Serve up your summer meals on beautiful melamine dinnerware and glasses.
Outdoor dining is casual dining! No one wants to fuss with heavy breakable dishes and glassware outdoors. And, if your outdoor dining area is near a pool, non-breakable dishes and glassware is a must!

7. Create a lovely summer tablescape with pretty and fun table linens.
Whether you use a table runner, placemats, or cloth napkins, you can really set the tone and feel of your outdoor summer dining with the table linens you choose.
8. Add lanterns or candles to your outdoor living areas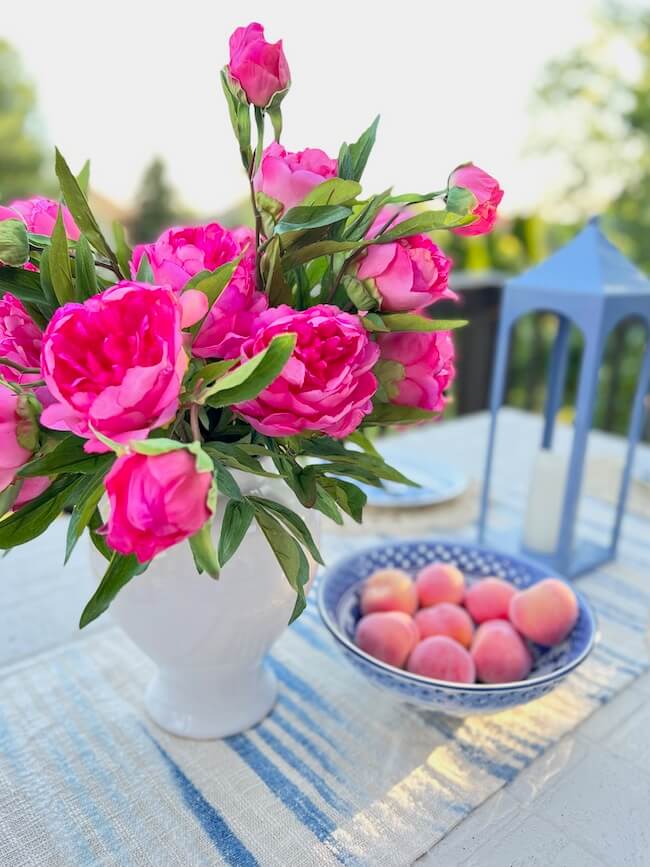 Soft lantern or candle light just adds the perfect ambiance to an evening outdoors, and there are so many fun styles to choose from!
9. Decorate your outdoor space with pretty flowers and plants in gorgeous planters and pots.
I love adding color to the outdoors with beautiful potted flowers, and I like to add a variety of planter types for interest.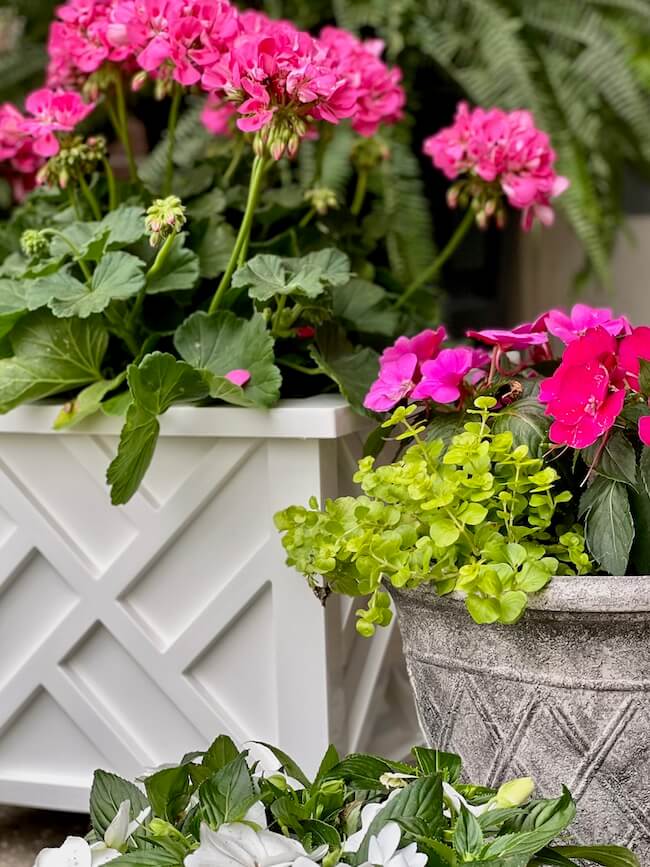 10. Create a cozy area around a fire.
Firepits are not only fun in the summertime, but are perfect on cooler nights in the spring and fall. Nothing is cozier than gathering around an inviting fire, and there are so many great portable options for fire pits.
I hope this inspires you with some great ideas and resources to create an outdoor living space where you can make wonderful memories with your family and friends.!
Do you love spending time outdoors during the summer? Let me know in the comments!
Happy Summertime!!
You might also enjoy:
A Simple Patio Table Makeover for Summer
Easy Breezy Ideas for Patio Decor
Summer Ideas for Small Porch Decor – Summer Porch Blog Hop
Pin It for Later!!