Our Christmas Home Tour Part 2: Pretty Christmas Porch Decor and More!
Welcome to Part 2 of this year's Christmas Home Tour! Today, I'm sharing our Christmas porch decor on our front and back porches. I'm also sharing a few simple touches of Christmas in our bedrooms and office area. I like to spread Christmas cheer all over the house!
Our porches are all decked out for Christmas this year, from giant jingle bells to classic red and plaid decor, our porches are definitely sporting some Christmas cheer!
I hope you stopped by on Tuesday for Part 1 of our Christmas Home Tour. I shared how I've decorated the main living areas of our home for the holidays, and today I'm sharing the rest of the tour! You can see Part 1 here in case you missed our "Pinecones and Velvet" theme.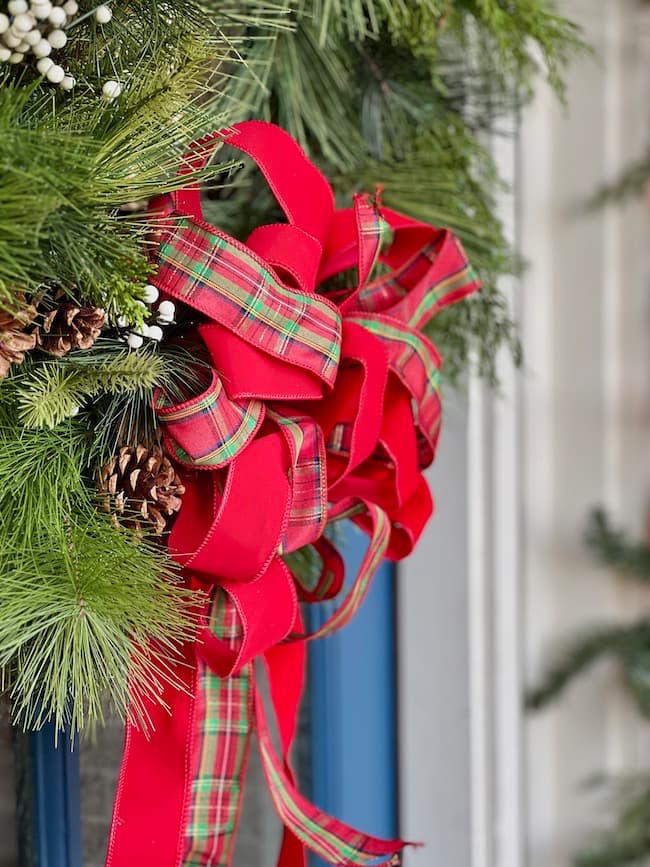 I can feel the excitement in the air!
Today is Caroline's last day of school for Christmas Break, and we are ready to do some celebrating around here!
Our adult children start trickling in tomorrow, and we can't wait to have a full house for a few days!
We'll be hosting both sides of our families this year, so I wanted to make sure all of the details are covered on the inside and outside of our home!
So grab a cup of coffee and enjoy the rest of the tour!
Classic Christmas on the Front Porch:
This year it was fun to decorate our front porch for Christmas with our new blue front door color! Last spring I painted our front door Sherwin-Williams Endless Sea (SW 9150) for a fun update, and I love how it looks with our festive red ribbon and red Tartan plaid bows.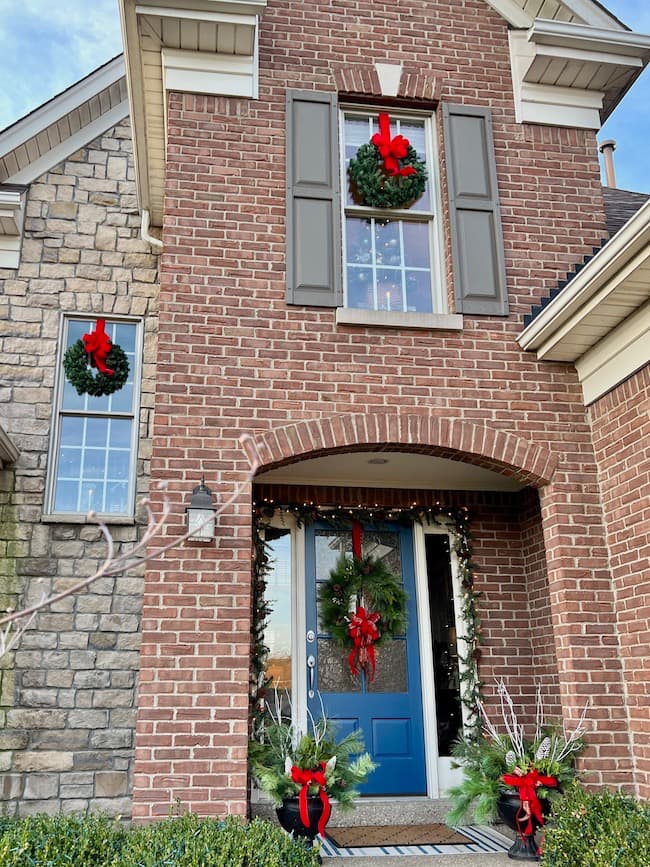 Our covered porch is small so I keep our Christmas porch decor very simple. I love to create winter pots full of greenery. I start with a base of faux greenery stems that I use year after year. Then I add in real greenery to fill out the pots.
Using a mixture of real and faux greenery helps stretch the decorating dollar if you don't have an abundance of evergreens in your landscape to cut from. The realistic faux stems provide the structure to the arrangements and support the fresh greenery that I add.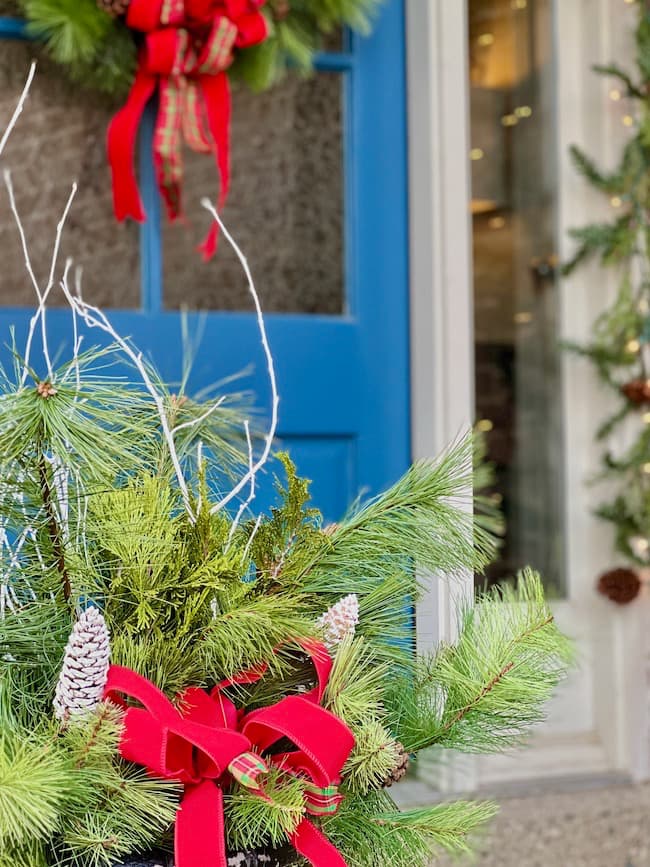 I finished off the pots with some painted white stems, snowy pinecones, and pretty red and plaid bows for a festive look!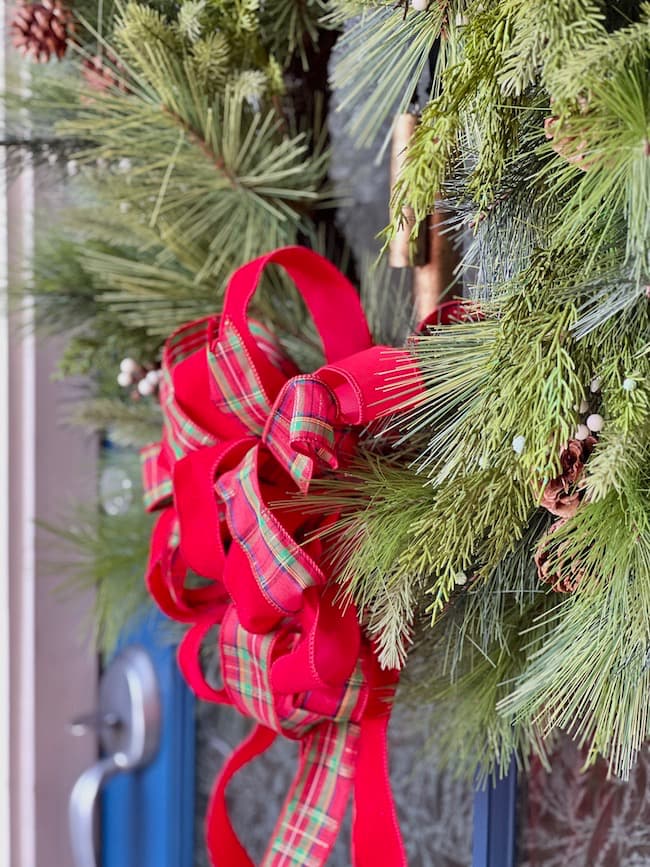 Our wreath is actually made from this wreath from Target's Magnolia Hearth & Hand Collection. Target has carried this wreath for several years at Christmas. This is at least the third Christmas I've used it. I love that it comes with the gold bells.
I've added some additional evergreen stems to fill it out a little more, and of course added the red and plaid bow for perfect Christmas color!

Jingle Bell Christmas Porch Decor on Our Screened-in Porch:
Jingle bells are definitely the star of the show on our screened-in porch this year!
I purchased these large gold jingle bells this year, but then decided that I wanted them to be red. I started by painting the bottom halves of the bells with red chalk paint. While I waited for the bottom halves to dry, I tested out how the two-toned bells looked on the porch. I decided that I like the shimmer of the gold paired with the red paint, so I left the top half of the jingle bells gold.
I love how they look on the porch!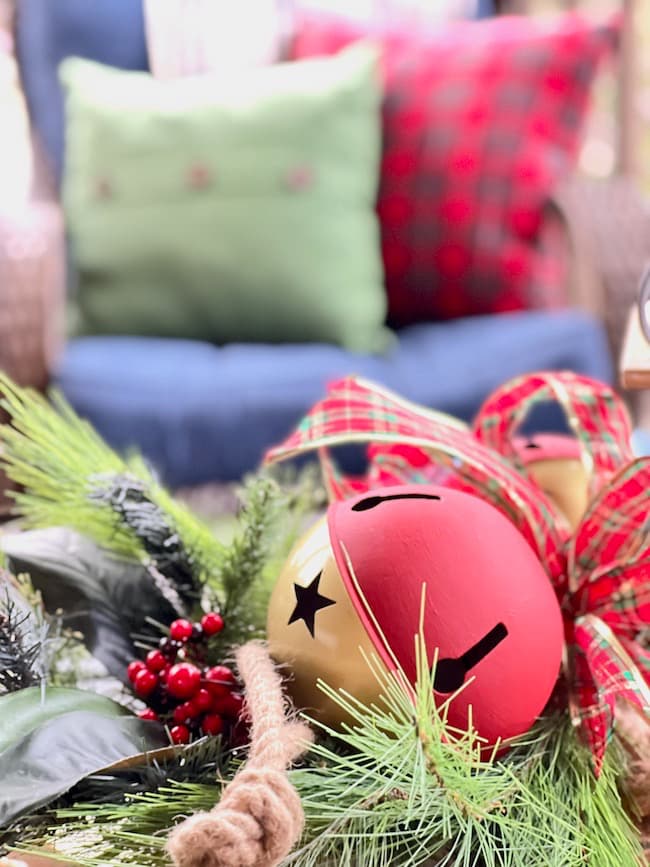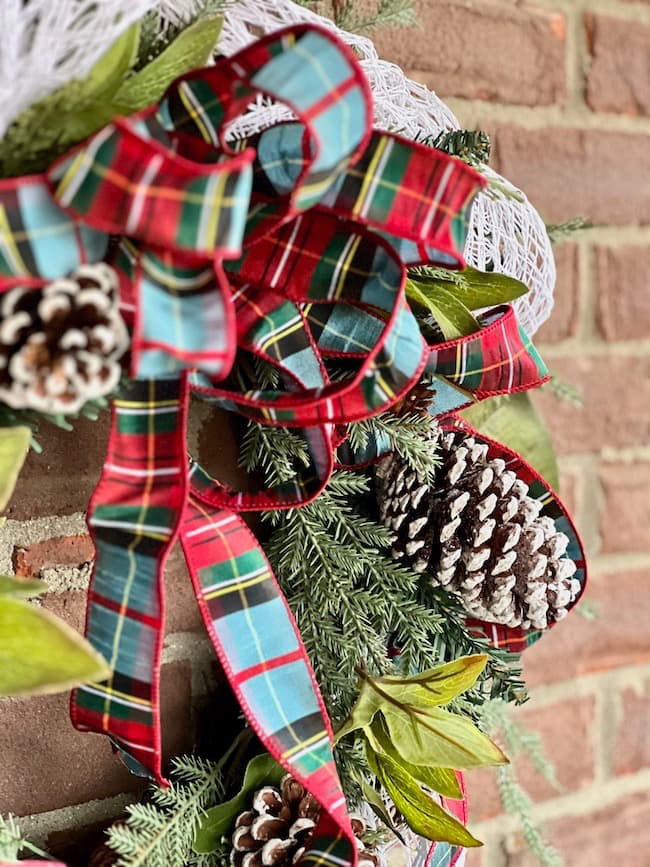 I added pretty plaid ribbon and large pine cones to a Christmas wreath on the wall of our porch. I purchased this gorgeous blue plaid ribbon locally a few years ago. I get lots of requests for links to purchase it, but it is unfortunately no longer made, so it's very difficult to find. I did, however, find an Etsy link to a few rolls of this gorgeous ribbon, so maybe you'll get lucky and score a roll or two if it's still available.
Here are some pretty alternatives: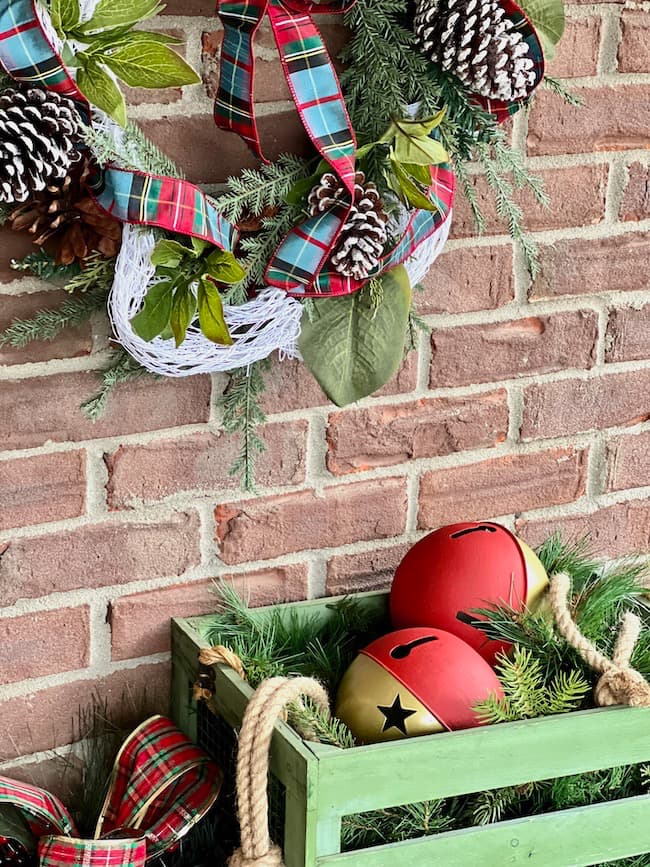 A cute little green wooden box filled with greenery and jingle bells is a fun look under the wreath.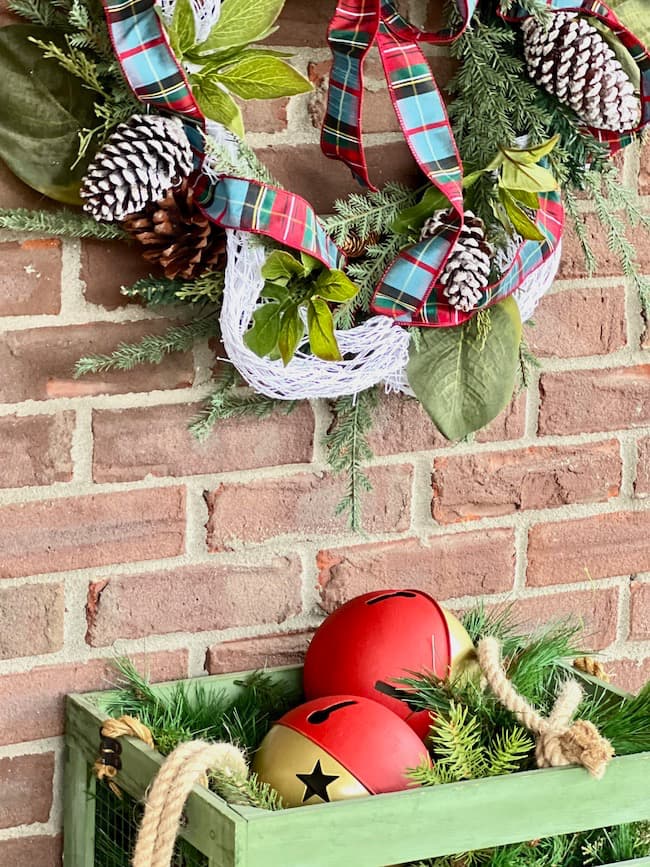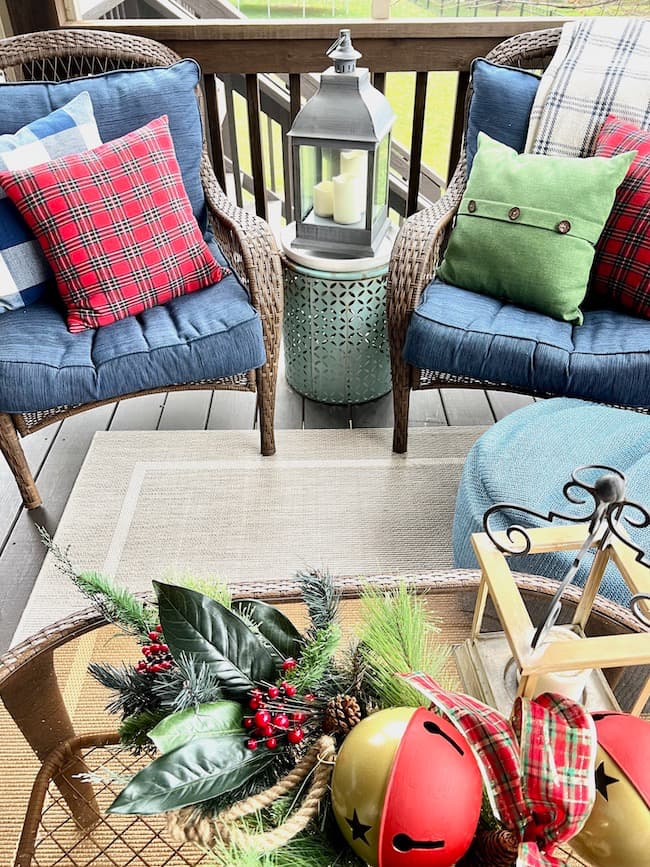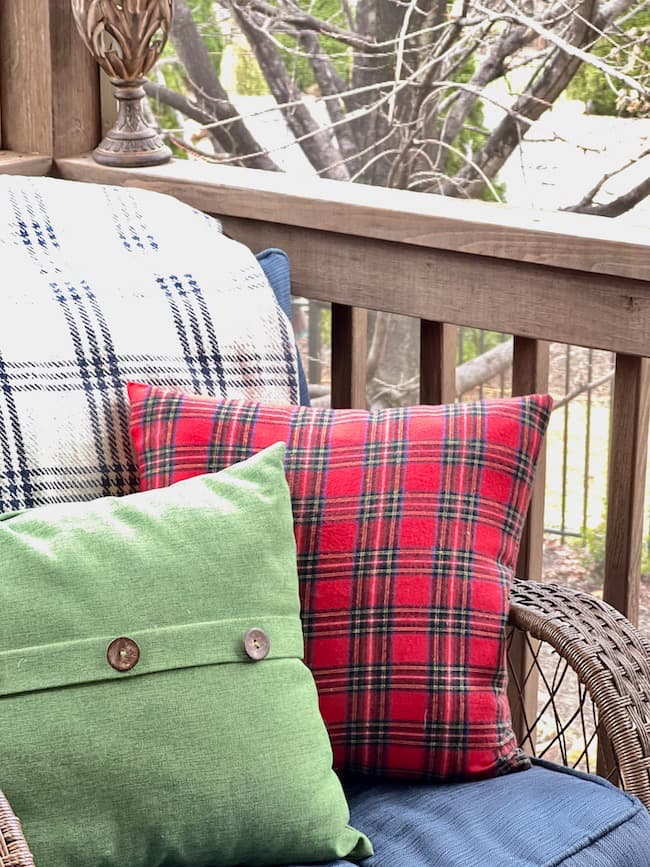 I added red Tartan plaid and green pillows to the chairs along with this cute cream and navy throw.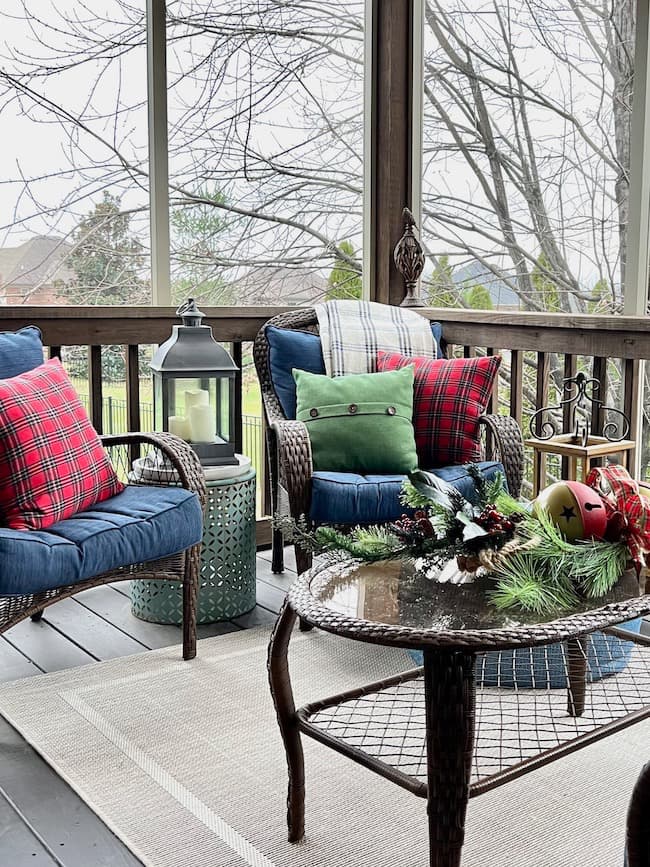 I think the screened-in porch looks festive and fun for Christmas — even if our dreary Kentucky winter sky doesn't!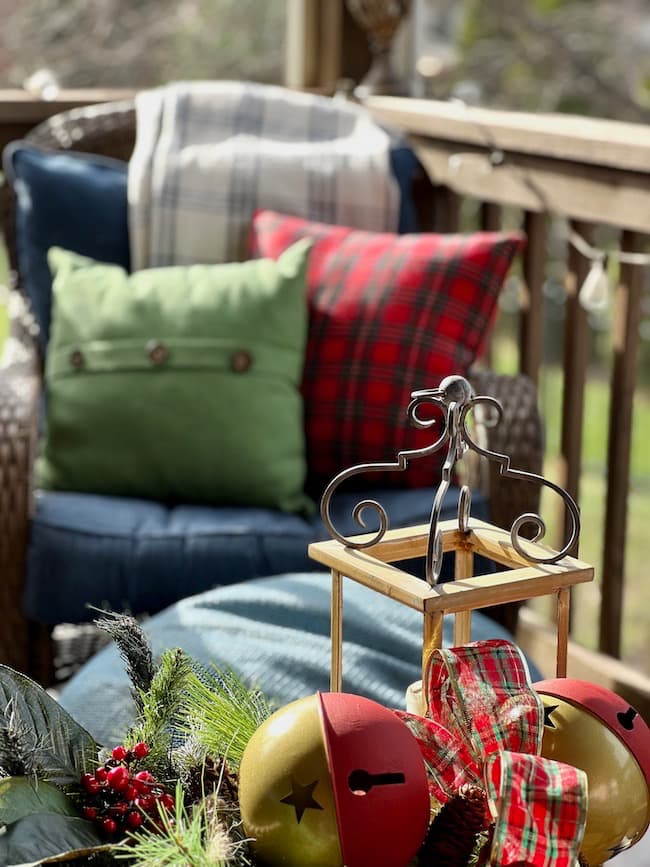 Subtle Christmas Decor in the Primary Bedroom and Bath:
I added a few subtle "Christmassy" and winter touches in our bedroom this year. I wanted to stick with our soft blue and white scheme.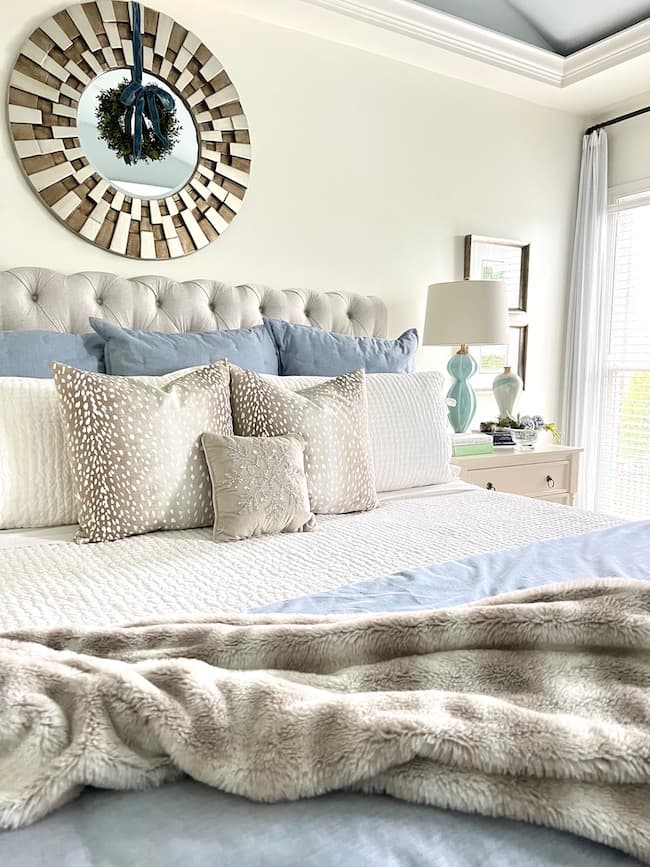 I attached a simple blue velvet bow to a small wreath and added it to the mirror over our bed.
I layered a furry throw at the base of our bed to add cozy winter texture. I also switched out our blue and white floral print pillows for some antelope prints.
You can see the DIY for these antelope print pillows here, or similar ones can be purchased here.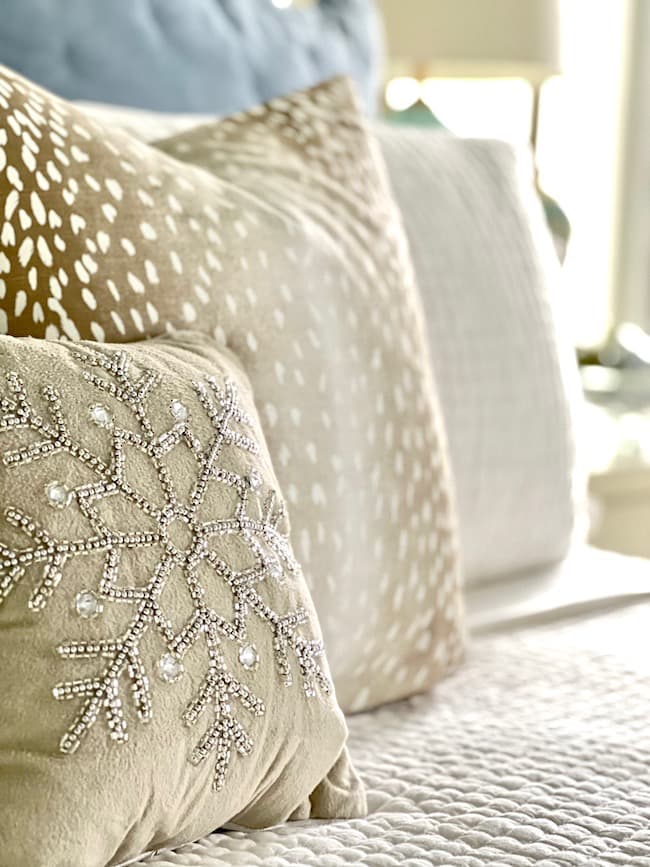 I love this cute little velvety, sparkly snowflake pillow I found at TJ Maxx.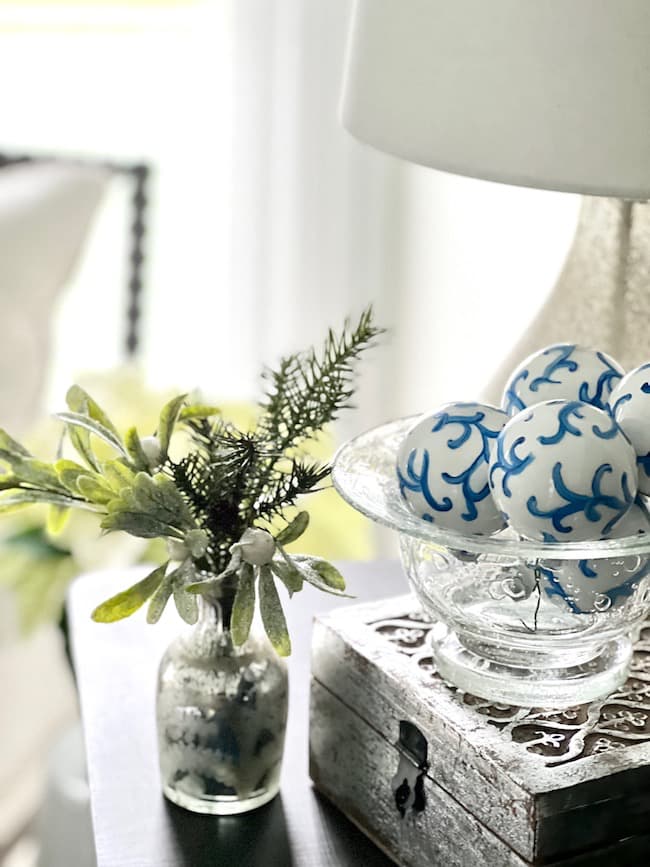 Glass bowls filled with these DIY hand-painted blue and white Christmas ornaments add pretty Chinoiserie style to the room.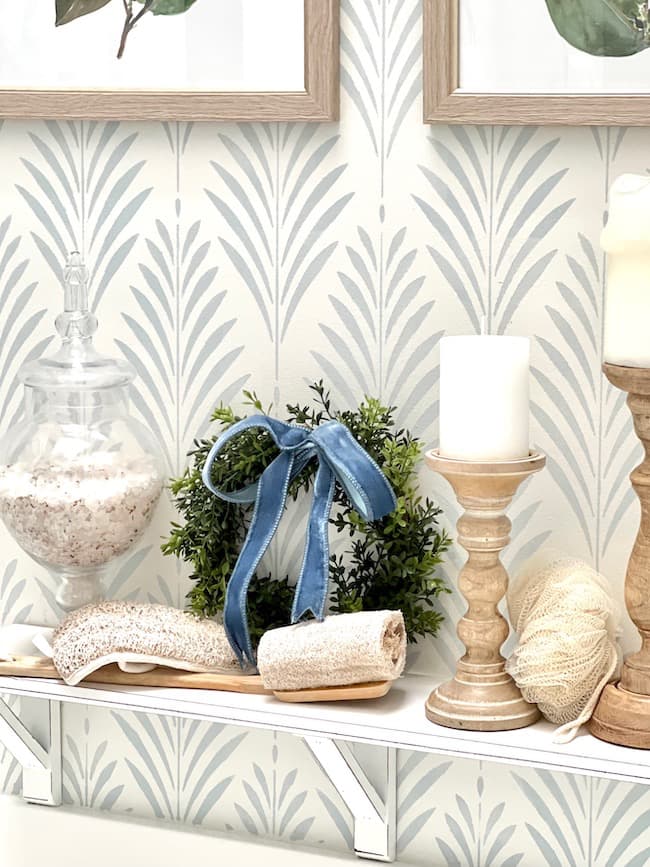 In our bathroom, I added another small wreath with a blue velvet bow to the shelf above our garden tub.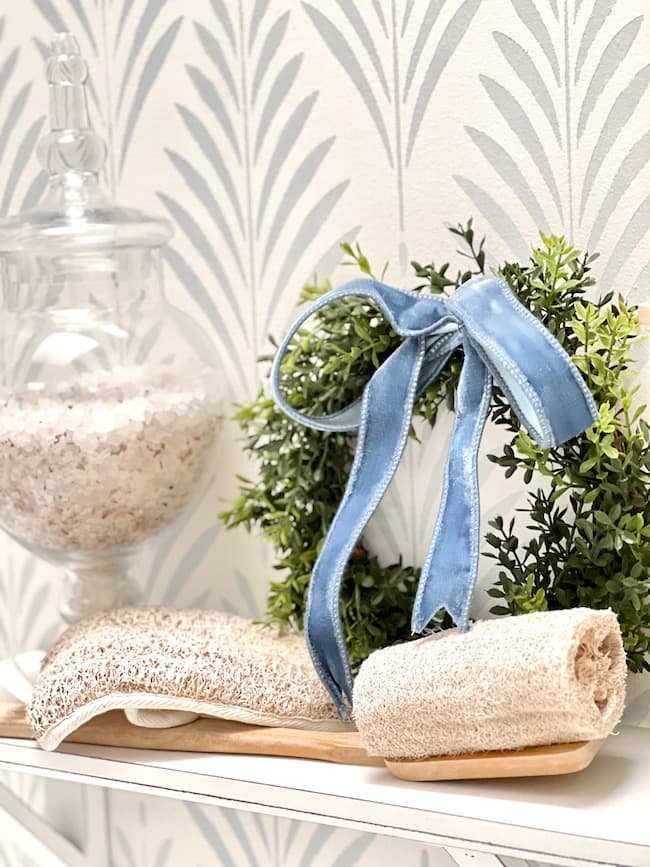 I think it's the perfect simple touch for our bathroom, and I absolutely love how it looks with our stenciled walls! You can read how I created this stenciled wall look for our bathroom in last spring's One Room Challenge!
Simple Christmas Decor in our Loft Office Area:
The next stop on our Christmas Home Tour is the loft which serves as my office area.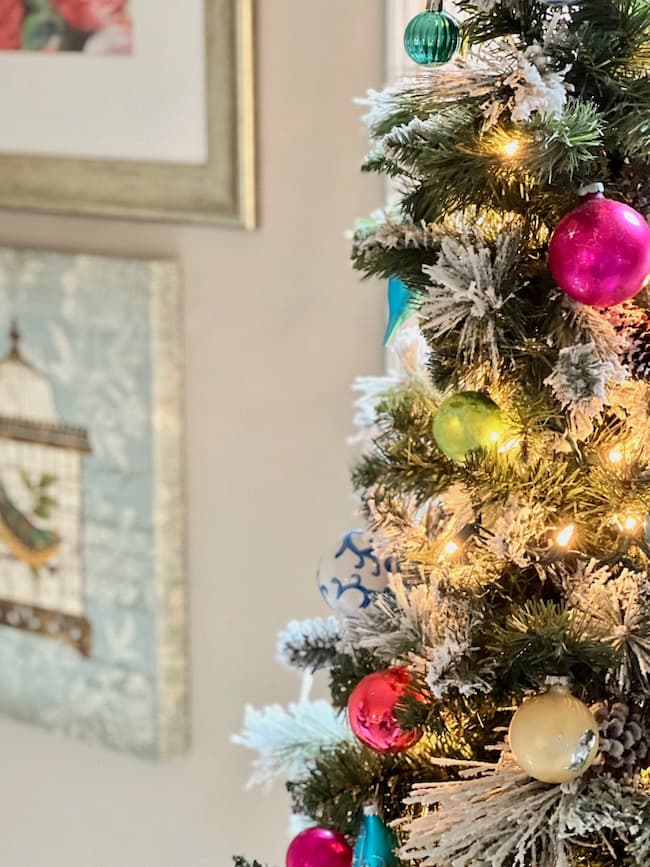 I created another "flocked-look" tree from a small potted tree. You can see my technique for "flocking" and beefing up a skimpy tree with flocked garland here. I had a little leftover flocked garland pieces from the tree I made for our kitchen so I created one for our loft area as well.
I do all of my blogging in this loft area which overlooks our living room. I love having a small tree in this area. I decorated this tiny little tree with some colorful vintage ornaments and added a few hand-painted blue and white ornaments.
I placed this little tree in a small basket and set it on a little table in front of our window.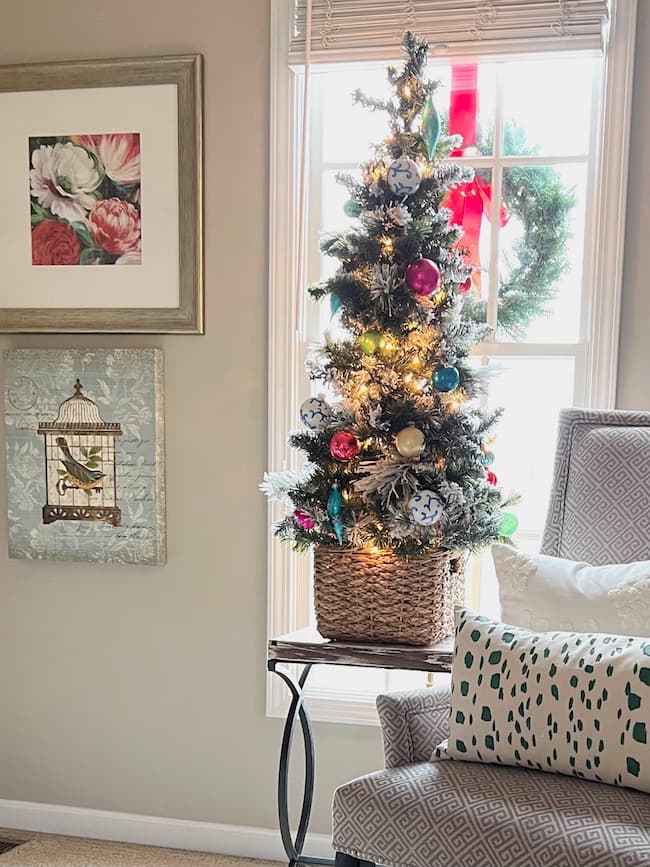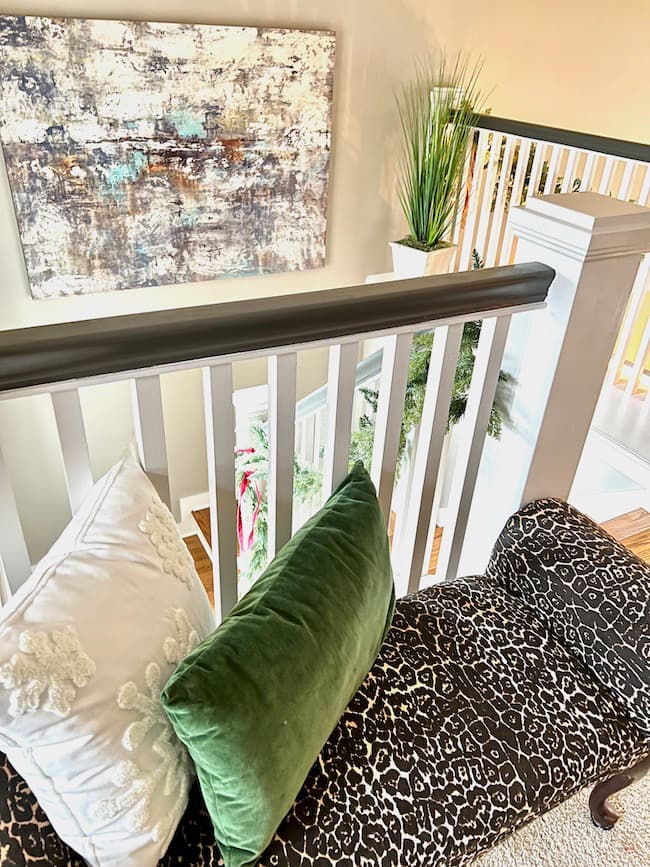 A few festive green and white pillows are perfect for this little area. I added these adorable creamy white snowflake pillows (which are actually pillow covers from Amazon at a great price!). I love the green velvet lumbar pillow, and the printed pillow is a hand-painted DIY pillow project from the summer! I think it's perfect for this loft area!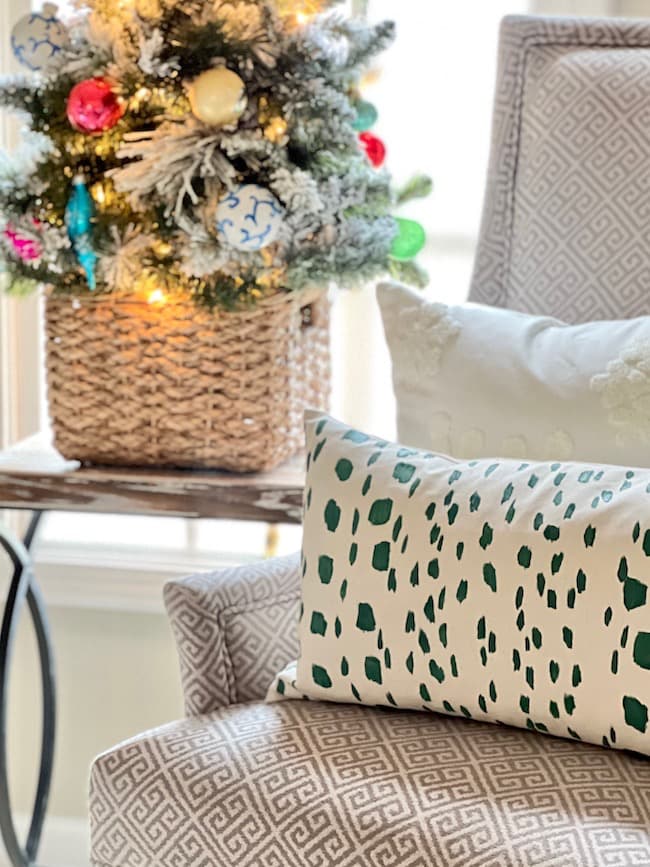 Teen Girl's Bedroom Christmas Decor Ideas:
Caroline is great at decorating her room, and she added lots of festive decor this year.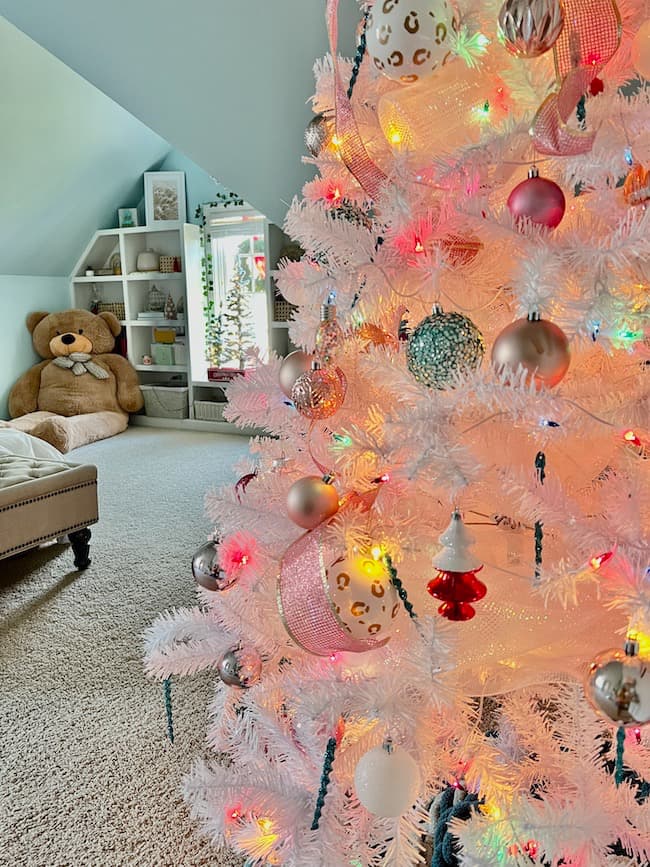 Her tree is a white pre-lit tree in pretty pastel colors. It's fun and colorful! She's added lots of pink and turquoise ornaments, with a few cheetah prints thrown in!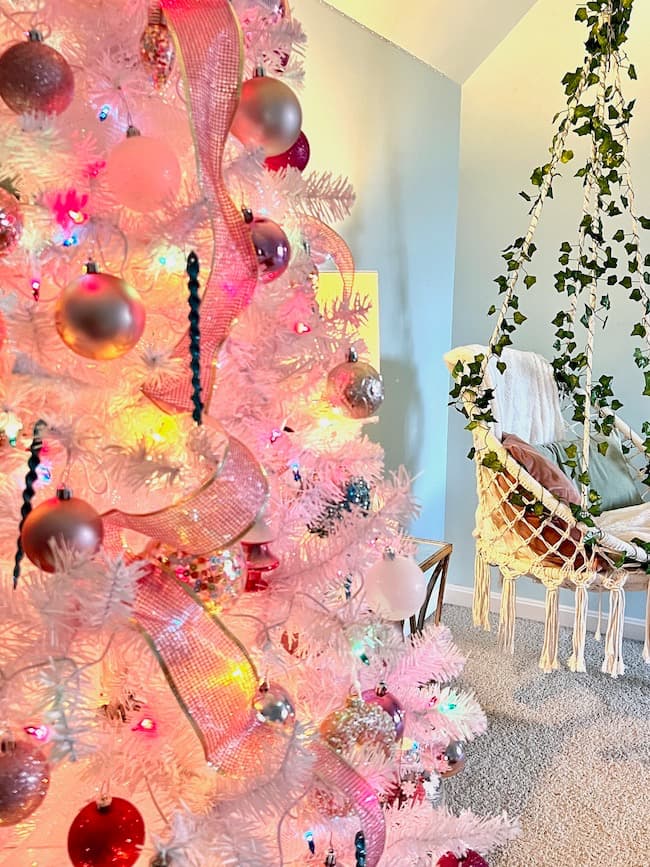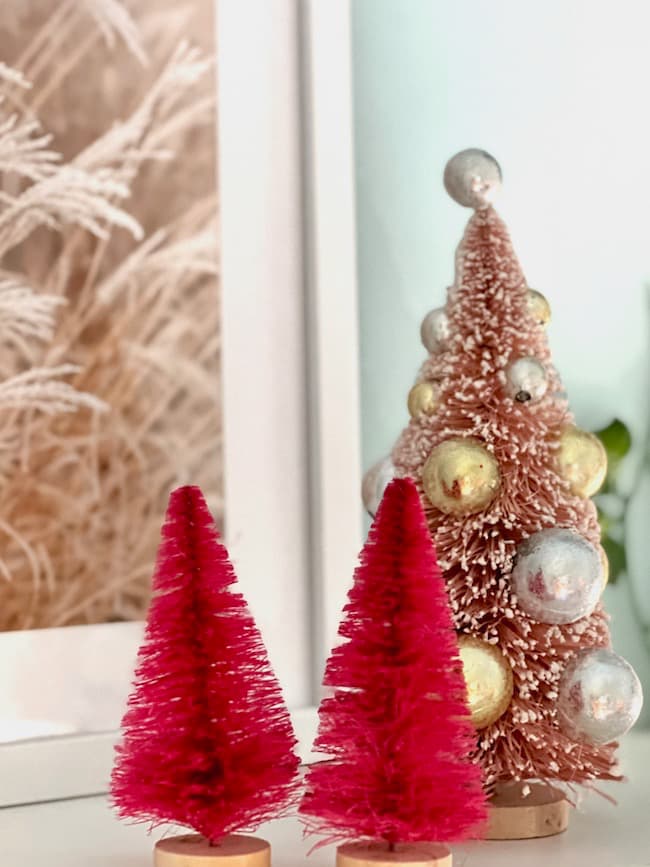 She has a few small bottle brush trees scattered around and a small pair of lighted flocked threes in her front window,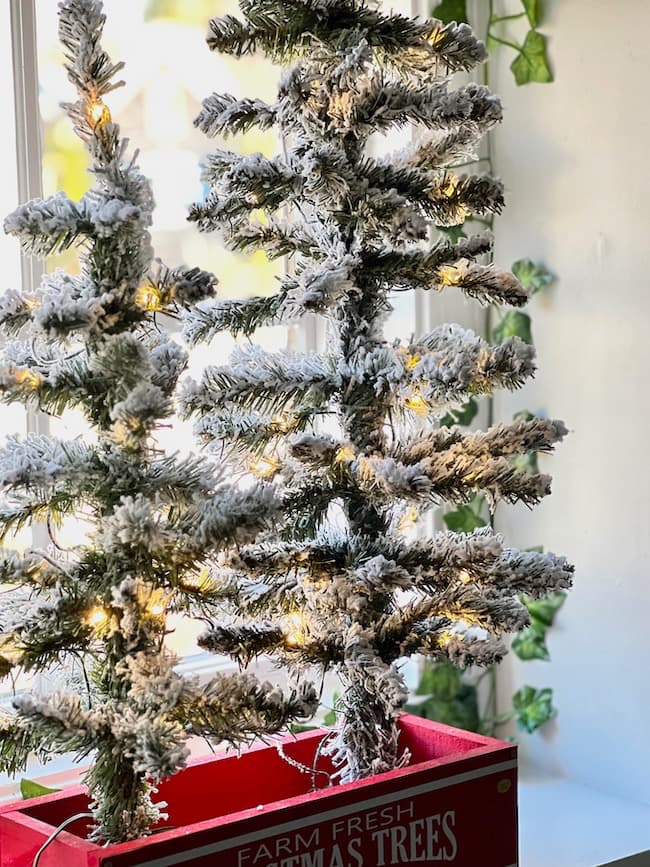 That wraps up Part 2 of our Christmas home tour this year! Thanks so much for stopping by, and I hope it's given you lots of inspiration for your own home! Be sure to check out Part 1 of the tour here if you missed it!
More importantly, I hope you enjoy your own wonderful home this Christmas. As we head into Christmas week, I wish you much joy and lots of cherished time with family and friends!
Enjoy the beauty of the season!
Shop the Look

---
Pin It for Later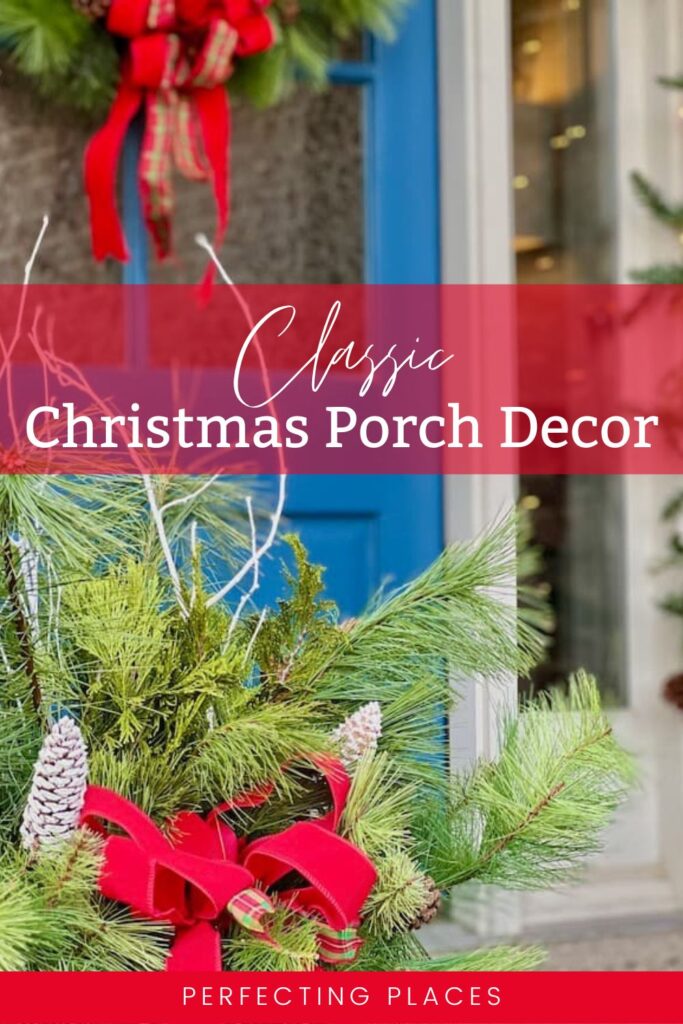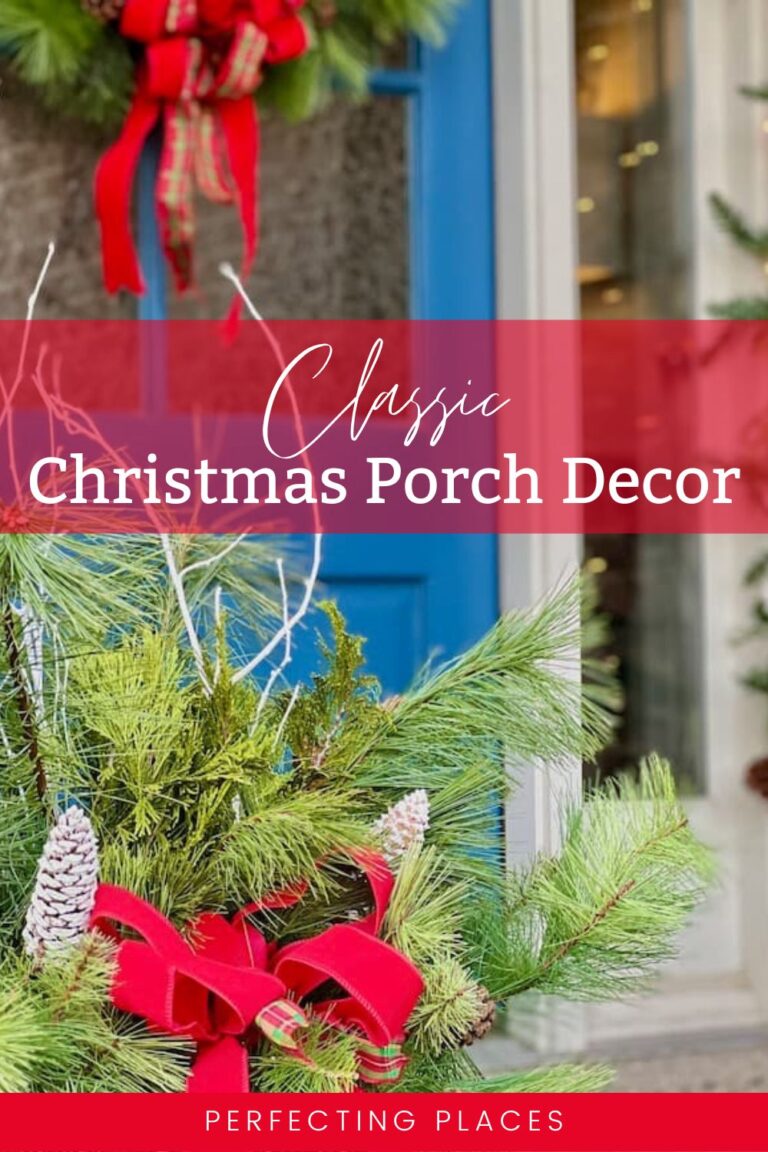 By the way, do you follow me on all the socials?? If not, check out my Pinterest, Instagram, and Facebook and be sure to follow me on all the socials so you don't miss out on any of my holiday decorating and DIY ideas!