Summer Ideas for Small Porch Decor – Summer Porch Blog Hop
May is here, and that means it's time to spruce up your front porch for summer! Today, I'm sharing my summer ideas for small porch decor, and I'm teaming up with some other wonderfully talented bloggers for a Summer Porch Blog Hop hosted by Maria  of Pure Happy Home. So, be sure to check out all of the other great ideas and blogs on the tour!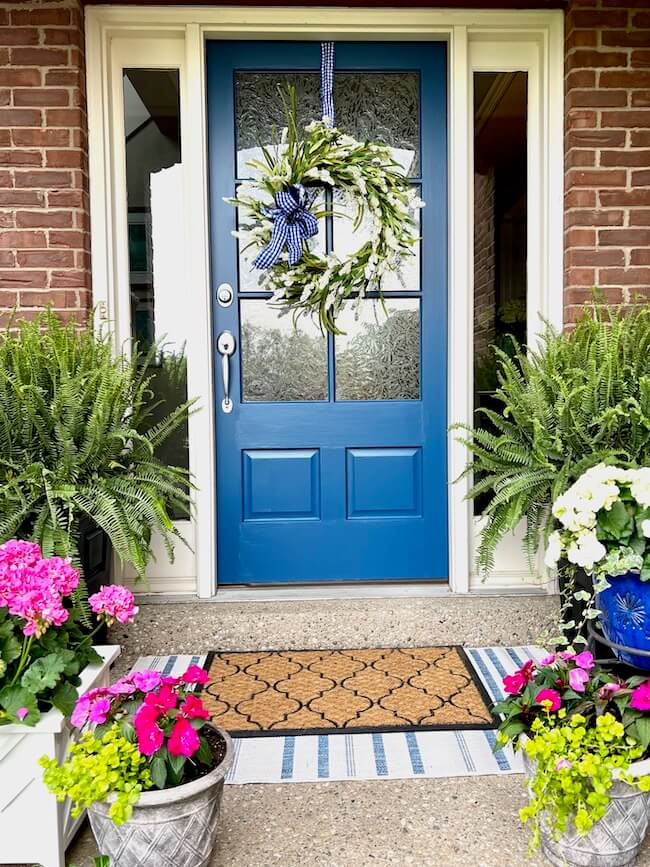 Don't you just love a gorgeous big front porch decked out with cozy seating and rocking chairs and front porch swings and lush pots of flowers and ferns and plants layered together and overflowing. Oh, how I love a big, beautiful front porch!!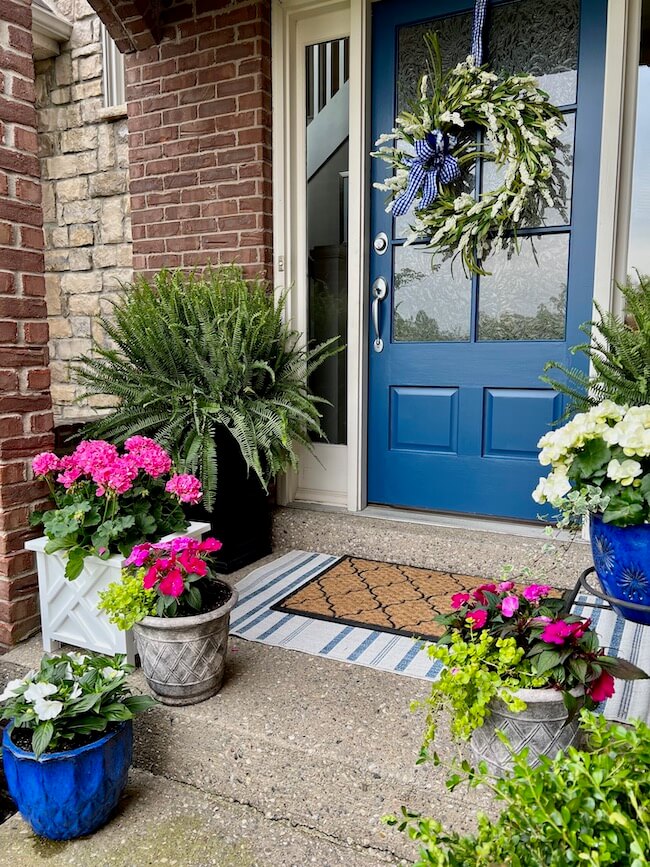 However, if your front porch is like ours, you have to maximize impact and make the most of your small front porch. This week I had so much fun creating a welcoming and inviting front porch, and I'm excited to share it with you today, along with some of my best tips for creating the look of a large, inviting southern front porch when your front porch space is limited.
(This post contains affiliate links, so I may earn a small commission when you make a purchase through links on my site at no additional cost to you. As an Amazon Associate I earn from qualifying purchases.)
Tip and Ideas for Small Porch Decor for Summer:
1. Make a statement with your front door color!
Since space is limited on a small porch, make the front door the center attraction. I have to confess, I love to paint our front door to change up our look!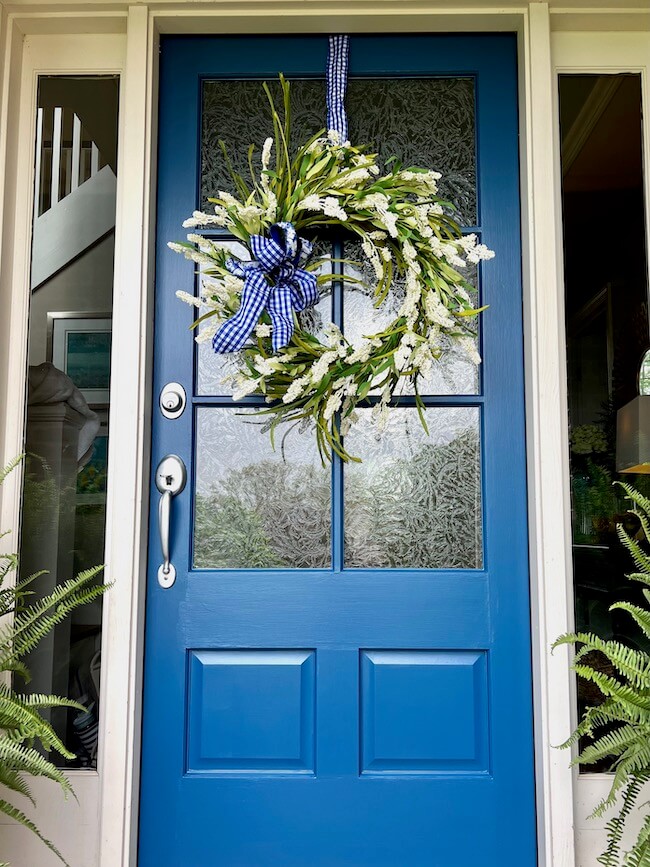 This week I painted it Sherwin-Williams Endless Sea (SW 9150) and I am absolutely in love with it!! It's the most beautiful blue with just enough color to pop, but still subtle enough to work with our brown brick. You can see the previous door color here.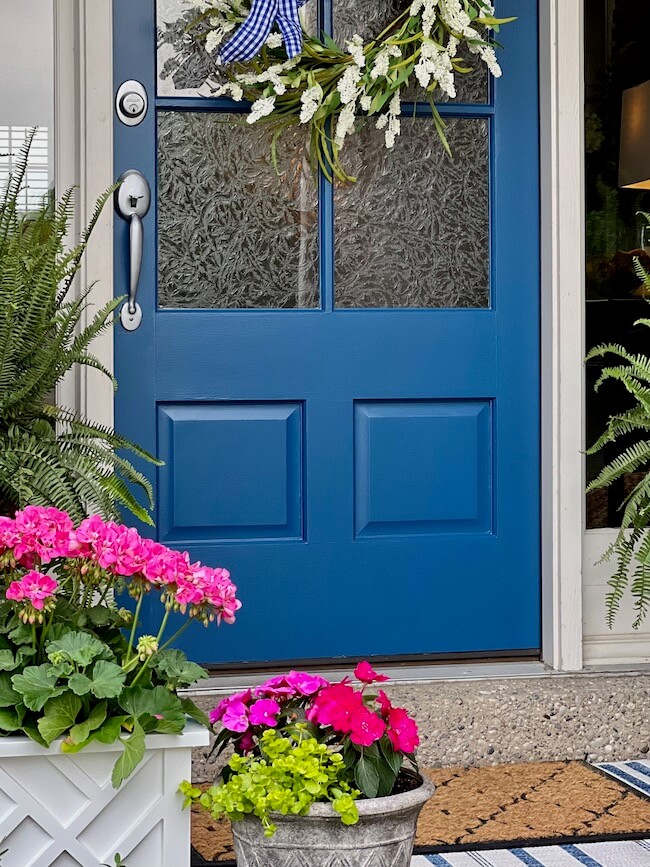 We have a north facing home, and our covered front porch can feel a little dark from late morning throughout the rest of the day. My goal with this color was to have just enough brightness to add life to the porch throughout the day, and I think I achieved just that!
2. Create a cohesive and eye popping color scheme for your small front porch.
When choosing flowers, pots, rugs, and other decorative items for your porch, stick to a cohesive color scheme to pull it all together and make a big impact.
This year, I'm using a bright pink, white, and blue color scheme on our small front porch.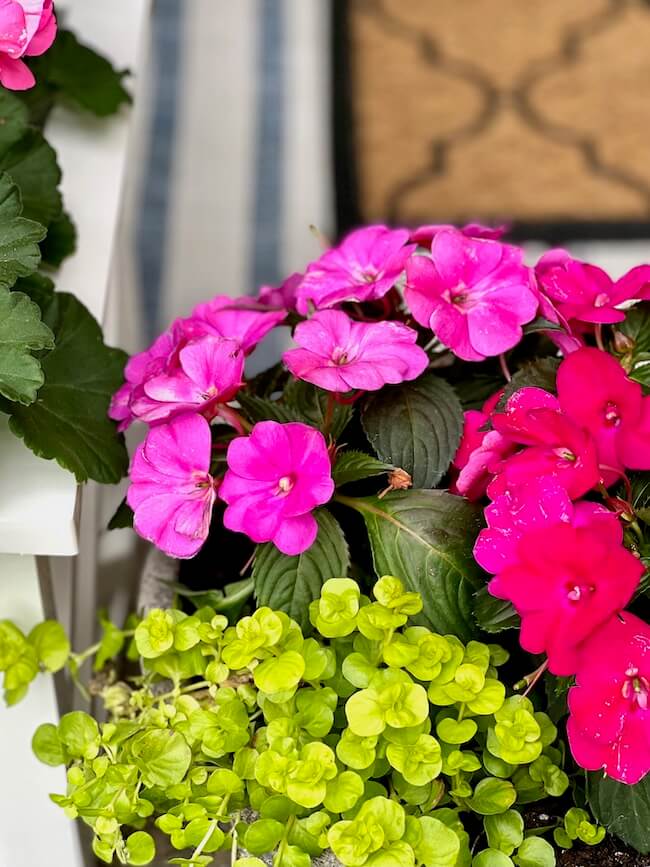 If your home is brick, it's important to choose colors that compliment the color of your brick. I love how pink and shades of bright magenta pop against our brown brick. The white in the flowers, wreath, and planter box adds a lot of brightness to our north-facing porch to keep it feeling light and airy.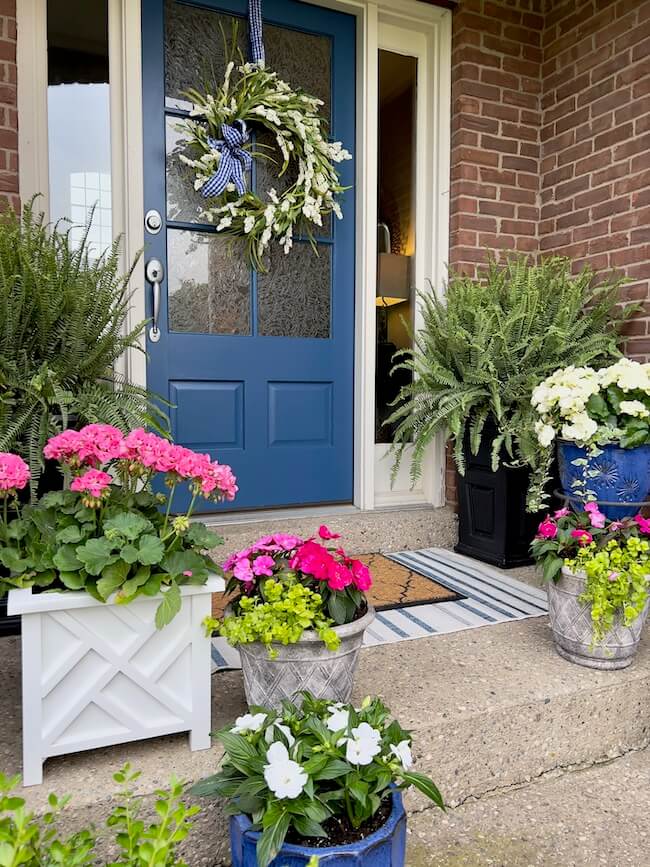 The blue pots, blue striped rug, and ribbon on the wreath repeat the color of the blue door and pull it all together.
3. Add a wreath to your front door.
This year, I think I found the perfect summer wreath!! This pretty white and green wreath is simple and airy and will coordinate with any color scheme if I need to change out any colors throughout the summer. I can change the bow to some patriotic ribbon, or add a little touch of red to it to have the perfect wreath for the patriotic summer holidays!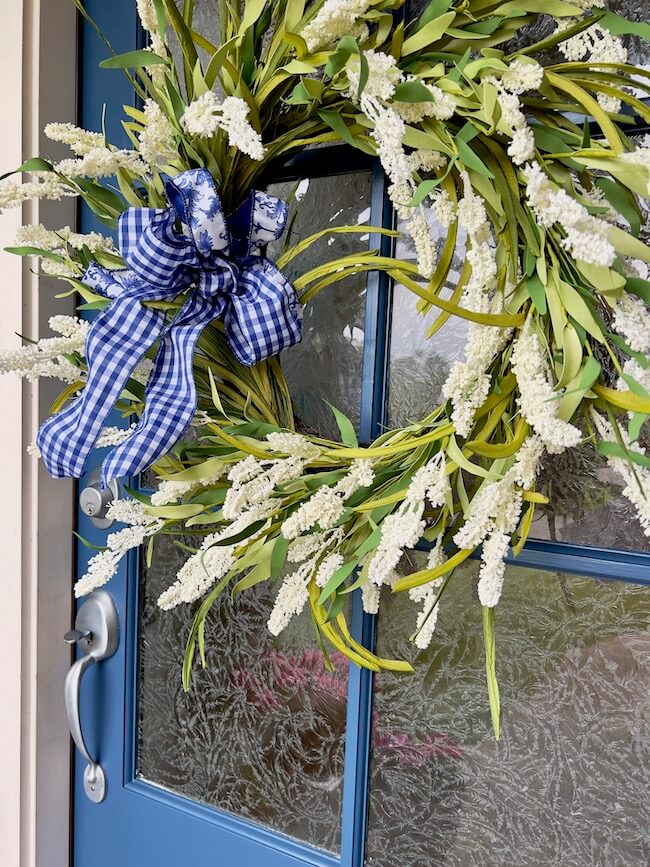 This is the wreath I purchased from Kirkland's. I also added a little of this greenery from Hobby Lobby to give it a little more fullness.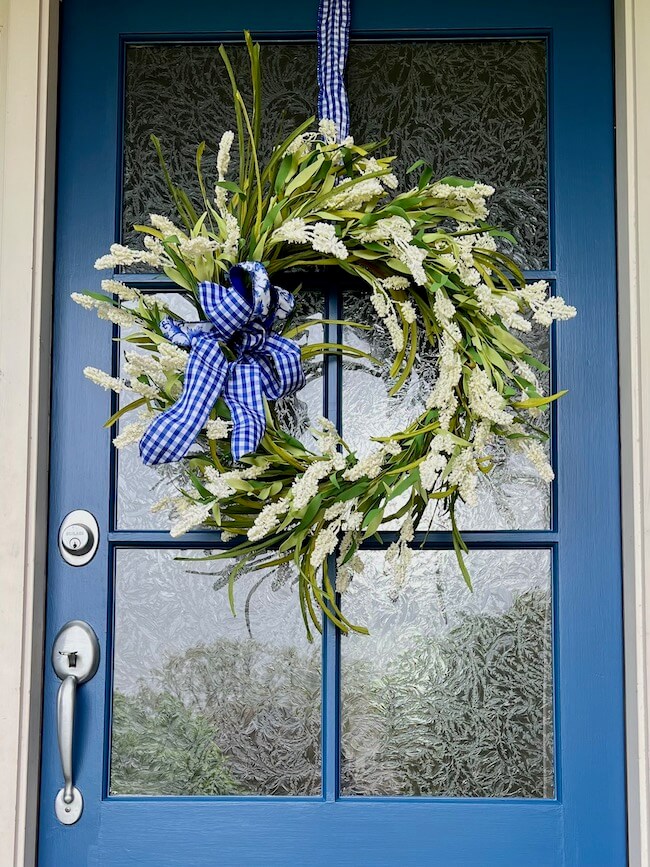 I added a bow made with this blue and white gingham ribbon.
4. Use a variety of pots and planters on your small front porch for interest.
I like to use a variety of height, color, and texture in my flower pots. The tall black planters with the Kimberly ferns add nice height and create a perfect green backdrop for the pretty pops of color.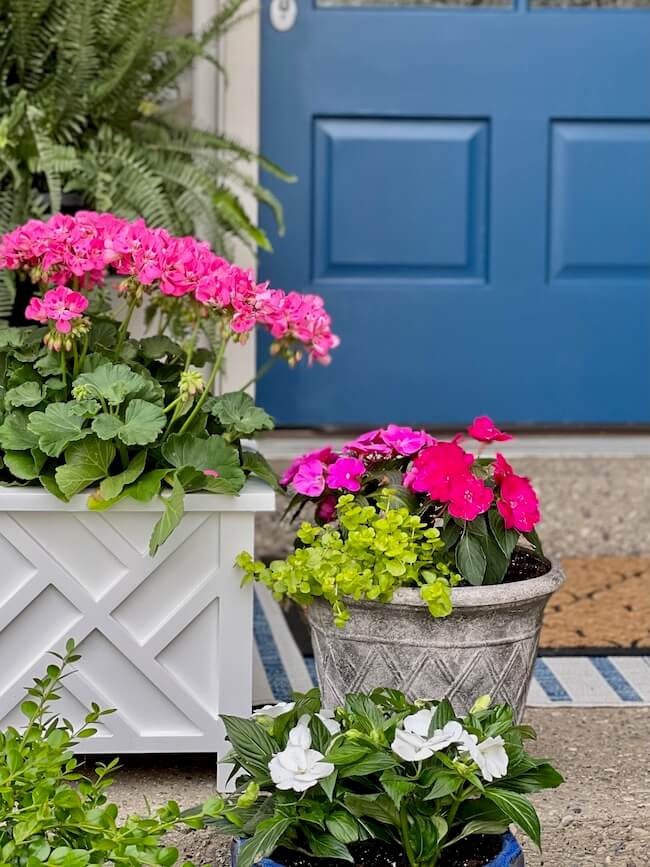 The smaller textured gray resin pots have been staples on our front porch decor for several years. They add nice neutral texture.
I'm so excited about our new white planter box! I love this look, and this one is actually plastic and just clicks together. It's such a pretty, classic look and is so easy to just pop in a new pot of flowers! I only ordered one planter, but I plan to order more to use in other areas around our landscaping.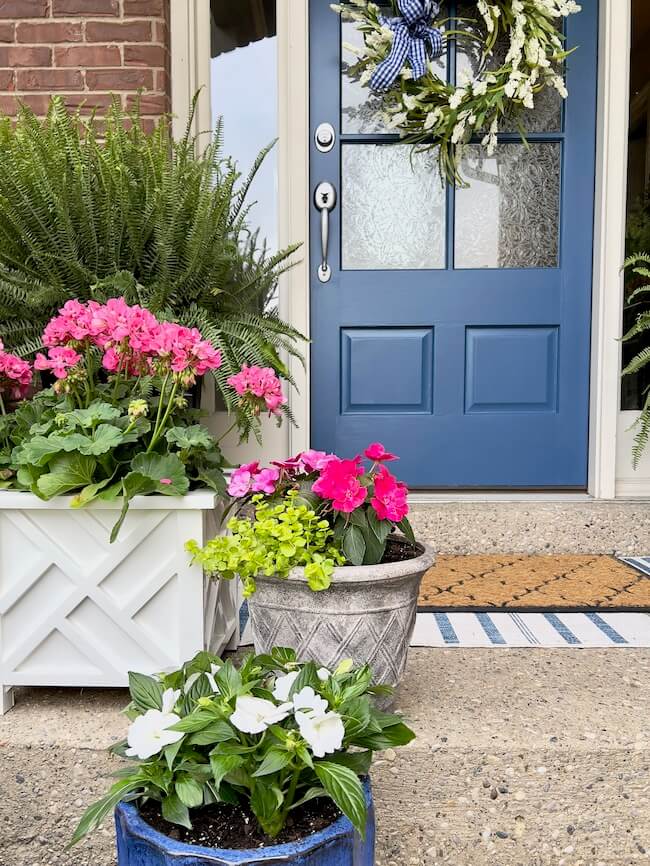 And, I have wanted blue glazed flower pots for a long time, and this year I finally bit the bullet and purchased some!! I love them so much, and they just make your flowers pop! They also are perfect with our new blue front door!! I purchase one from a local garden shop, but this blue pot is from At Home.
5. Create a wow factor on your front porch with your flowers!
Oh, how I love picking out summer flowers! If you have a covered front porch, you certainly want to consider the amount of light your flowers will get. Since our north-facing front porch only gets a little morning light, I've found great success with New Guinea impatiens and Rieger begonias, and Kimberly or Boston ferns.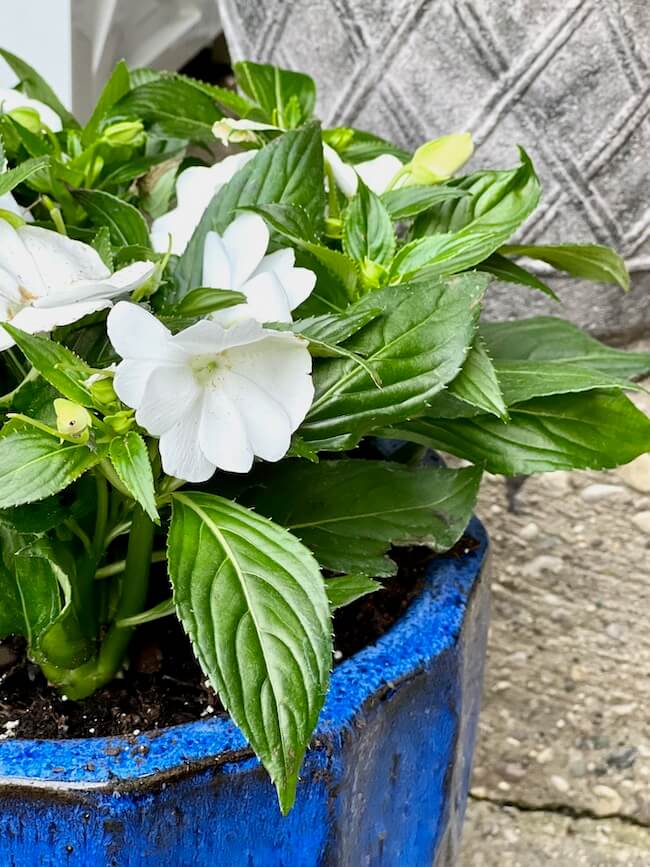 The pink geraniums currently in the white flower box will need to be moved further down our steps to a spot that receives more sunlight. Last year, I had great success with a potted Endless Summer hydrangea in this location, so I will probably end up switching out the geranium with a hydrangea variety.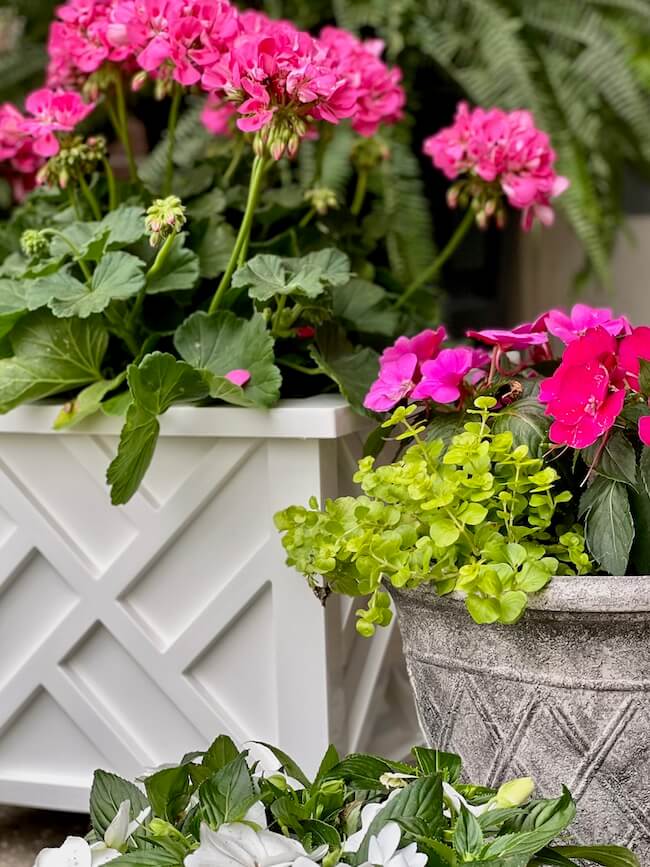 I chose bright pink  and white blooms and added pops of lime green with the Creeping Jenny — one of my favorites!! Adding splashes of lime green is another way to brighten a shady area!
6. Layer in some pretty rugs on your front porch for summer!
I wanted a blue and white striped rug for our front porch and found the perfect blue and white rug at At Home!  The 3′ x 5′ outdoor rug adds nice color to our porch. The white background adds light, and the stripes add color and pattern. The width of the rug adds visual width to the porch to create the illusion of a wider space.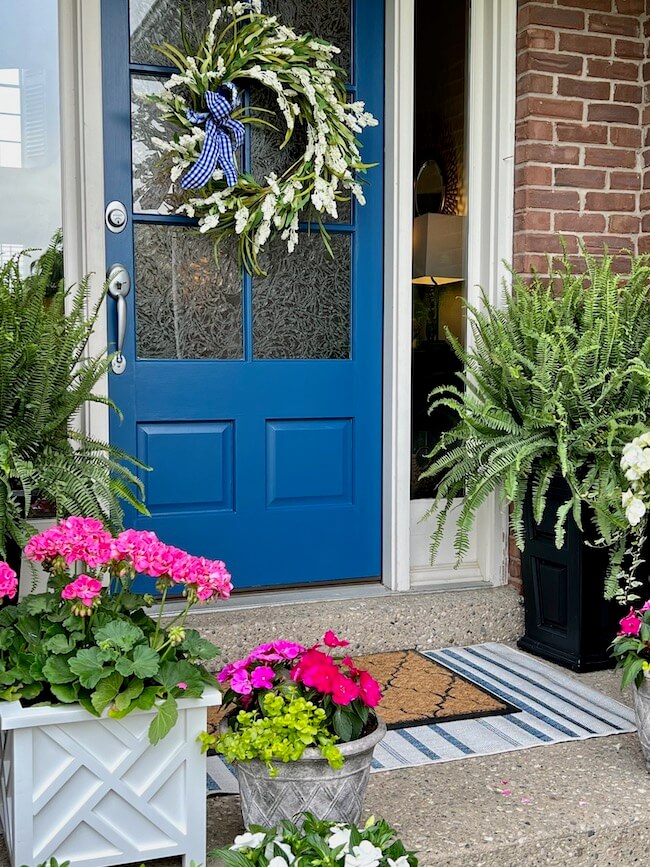 I layered a smaller decorative coir door mat over the blue and white rug to serve both a practical purpose of cleaning shoes as well as adding natural texture to the look of the porch.
Shop the Look for Your Summer Front Porch
---
---
I hope this inspires you to make a big impact on your small front porch with these ideas for small porch decor this summer!
Be sure to stop by these amazing blogs on our Summer Porch Blog Hop for more great ideas for summer porch decorating!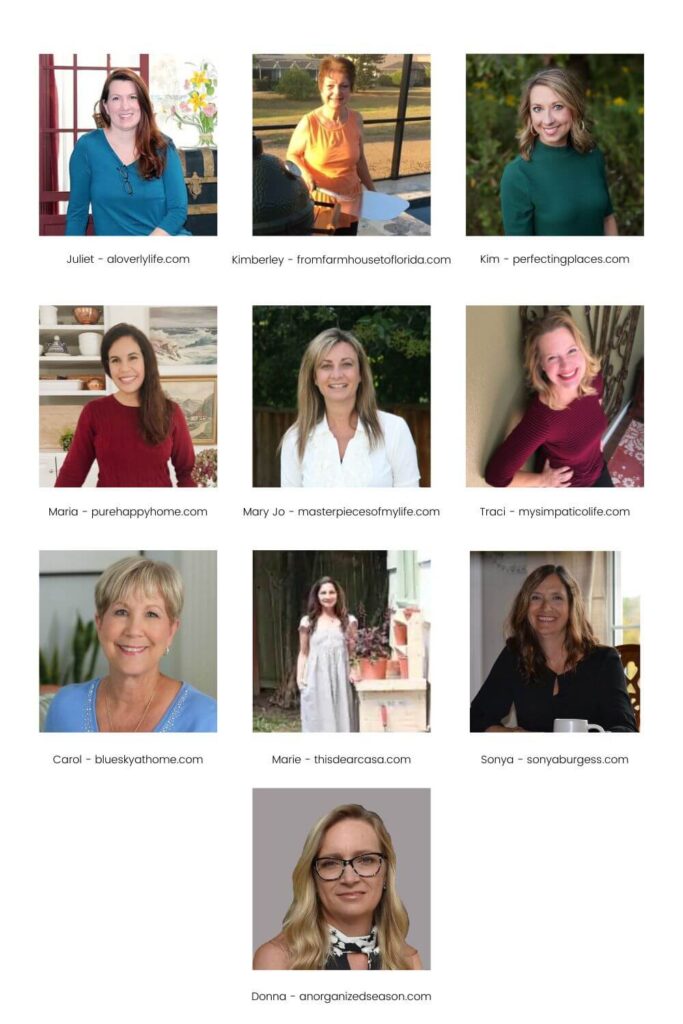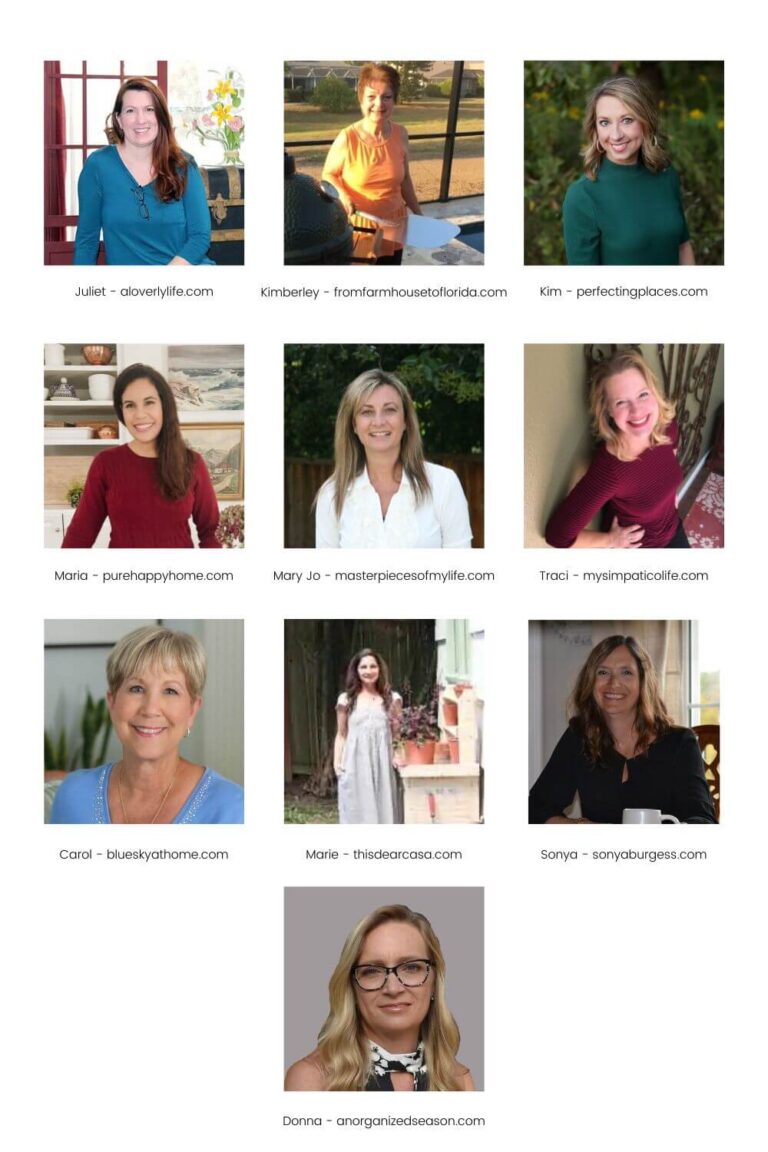 Pin this idea for later!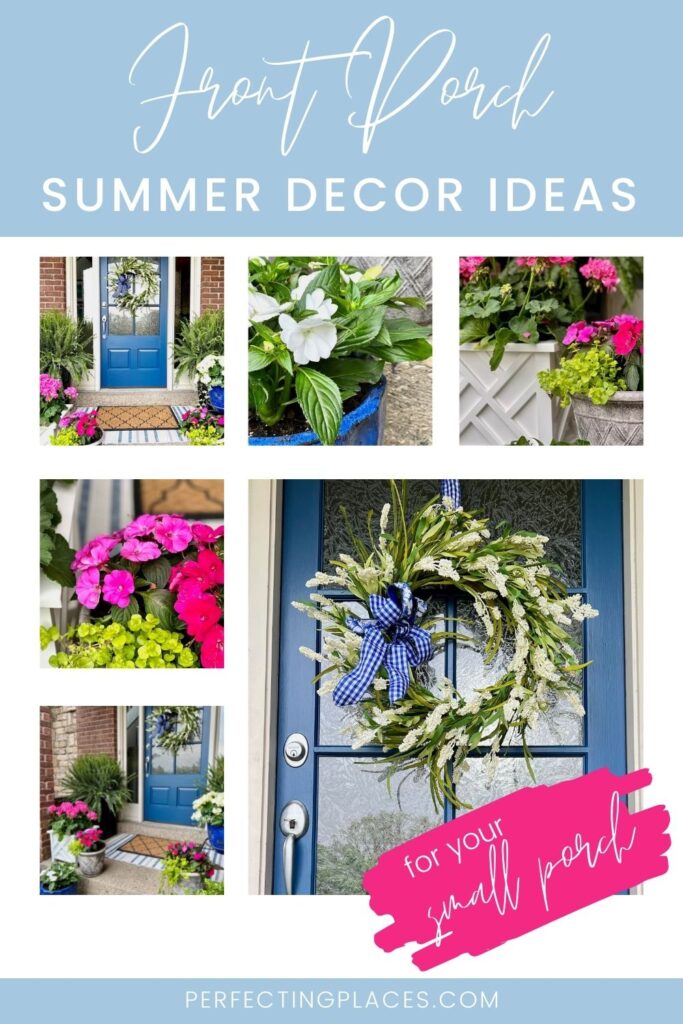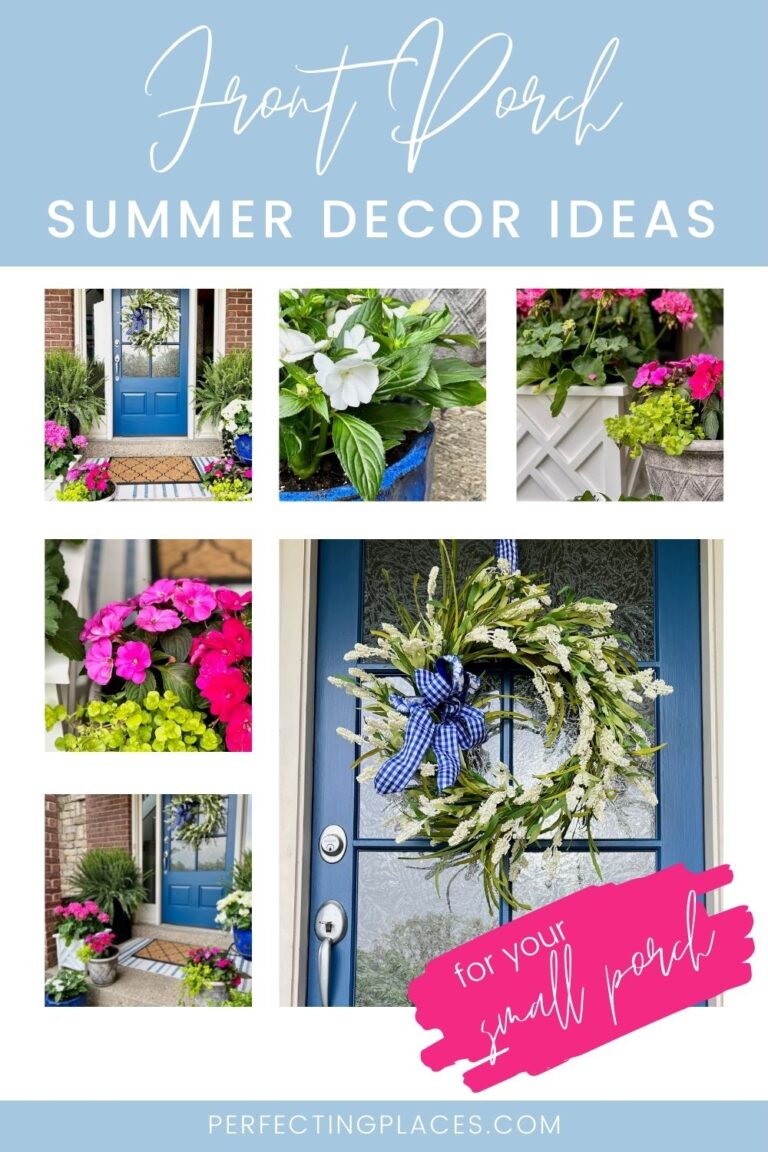 Thanks so much for stopping by!!