Gorgeous Round Table Centerpiece Ideas for Summer
Do you have a round dining table in your kitchen or dining room? Set a gorgeous summer table with these round table centerpiece ideas.
Summertime calls for easy and relaxed decorating ideas. If you have a round table in your home, follow these tips for styling a pretty summer table for your next casual dinner party.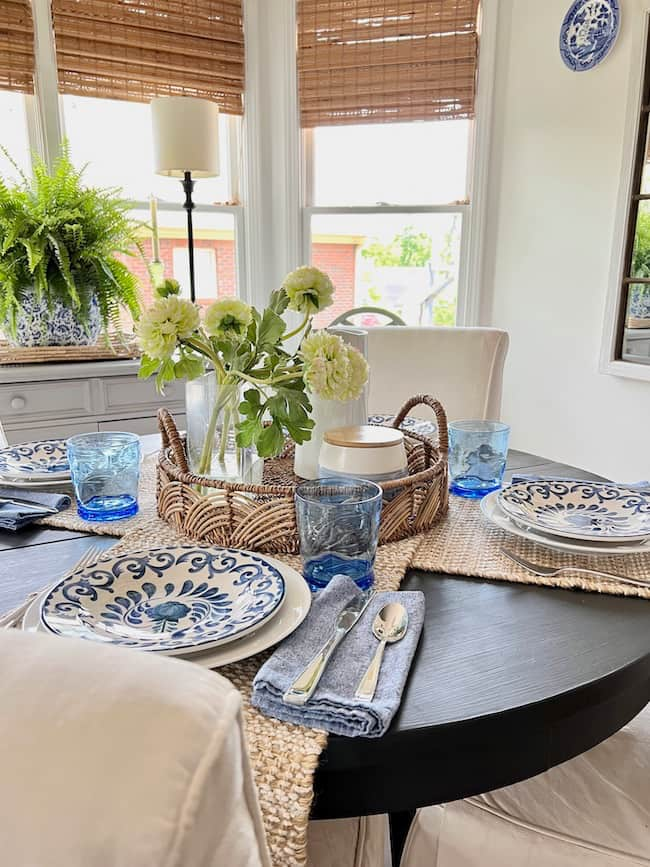 (This post contains affiliate links, so I may earn a small commission when you make a purchase through links on my site at no additional cost to you. As an Amazon Associate I earn from qualifying purchases.)
Our little kitchen table could be called "the little table that could". This friend has a long history.
It's one of the first pieces of furniture that my husband and I purchased for our first home almost 30 years ago!
Through the years, it's hosted lots of family dinners and large family gatherings, many nights of homework and school projects, family game nights, and so much more!
It's on its fourth color of paint, and it's pedestal is literally bolted together after a particularly rambunctious round of arm wrestling! Yet, it's still going strong!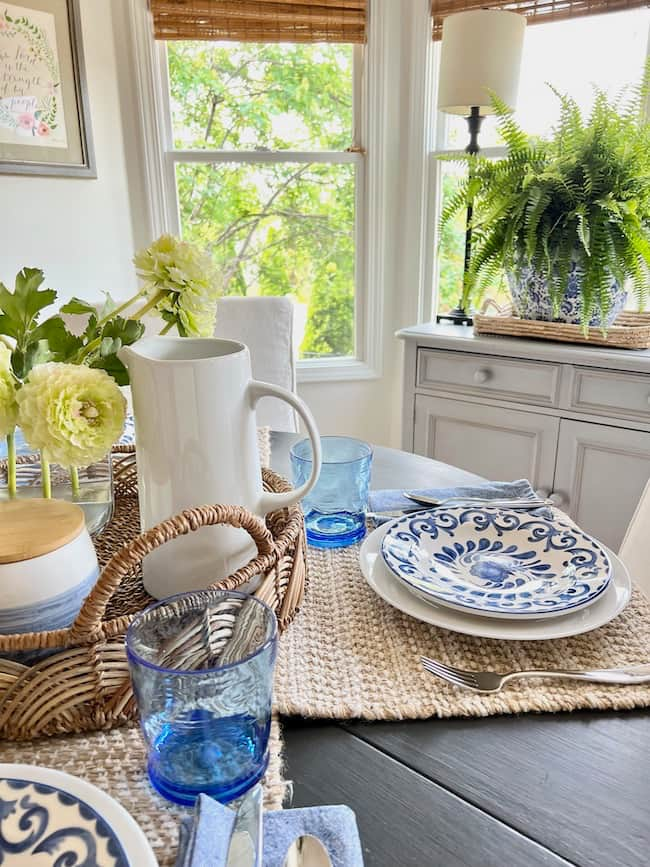 With only three of us at home now, I decided to remove the table leaf and keep the round table for the summer months. I set a pretty tablescape that's relaxed and ready for lots of summertime dining.
Today, I'm sharing some great ideas and tips for creating a beautiful centerpiece and tablescape on a small round table.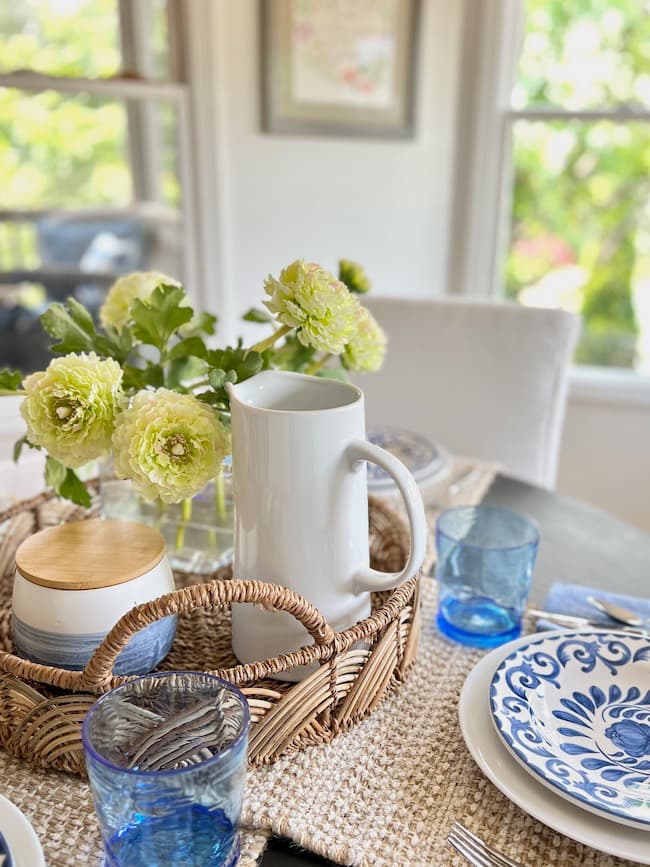 Round Table Decor and Centerpiece Ideas for Summer:
It's super easy to pull together a simple, yet pretty centerpiece for your round table for summer. Gather a few simple items from around your home to create the perfect look.
I just love the relaxed, breezy look and feel of our table set for summer! These simple dining table centerpiece ideas are easy to create!
Pick a Summer Color Scheme for Your Tablescape.
Around here, a blue and white color scheme always works for our table, but it's definitely a summer favorite. The blue and white feels fresh and reminds you of pretty blue skies and the coast! Pair these colors with natural fibers and woven textures for a breezy summer look for your table.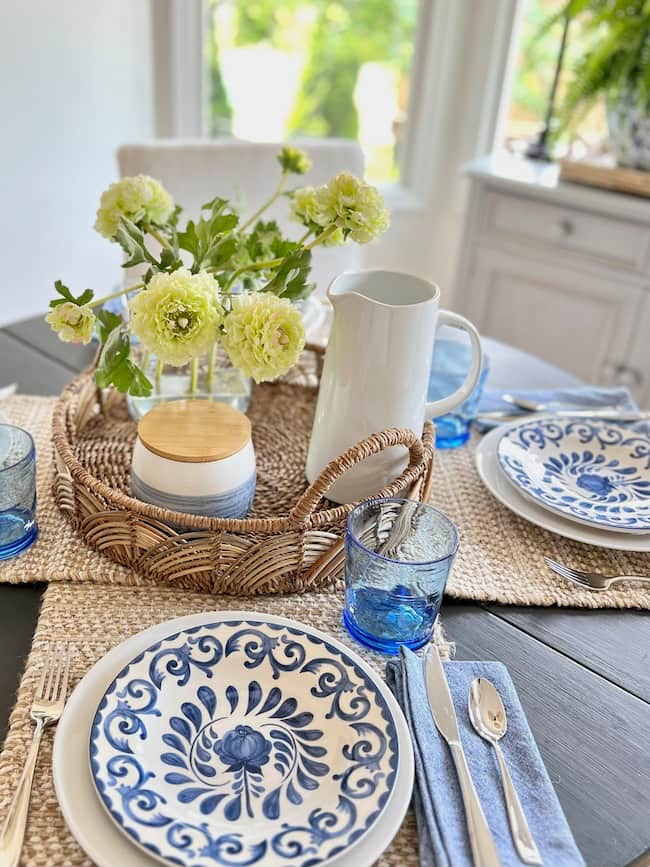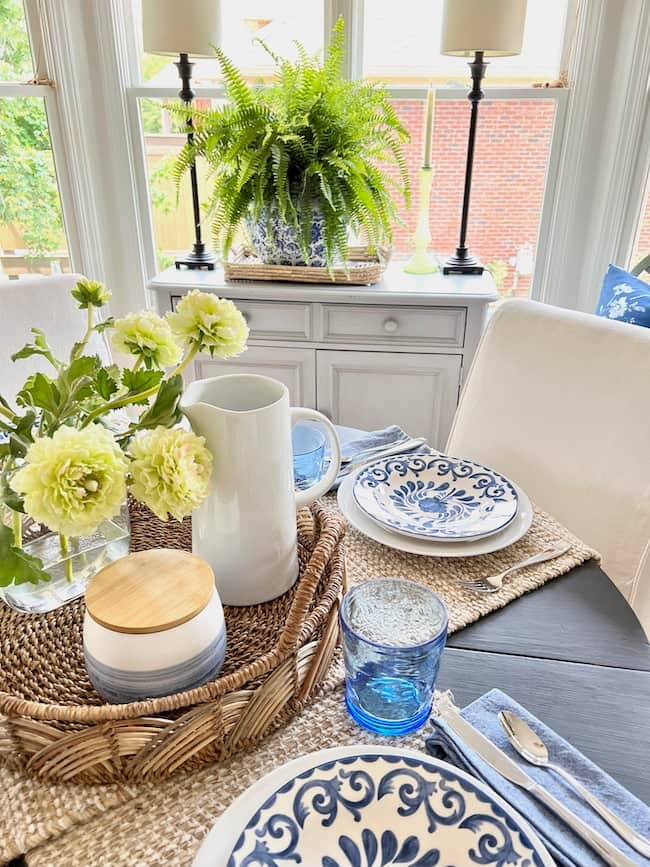 I found the prettiest blue and white melamine dishes at Homegoods for our table. They look perfect in our breakfast area with the blue and white fishbowl planter on the buffet.
Blue and white is a lovely color palette for a summer table and is so pretty with greenery and summer flowers.

Add Placemats or a Table Runner on the Round Table
Begin building the layers of your table settings by adding placemats or a runner. You can add chargers or round placemats to your place settings, or get creative with a table runner.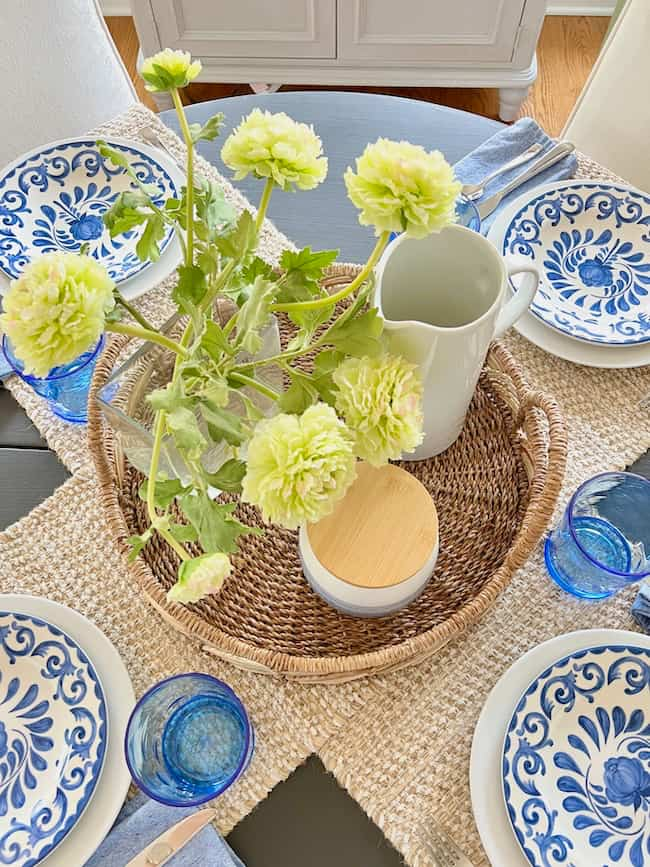 Since my table is round, I added two jute table runners to the table and criss-crossed them in the center of the table. I used the table runners as placemats for my place settings. It's a great way to add texture or color to your table as a great alternative to placemats.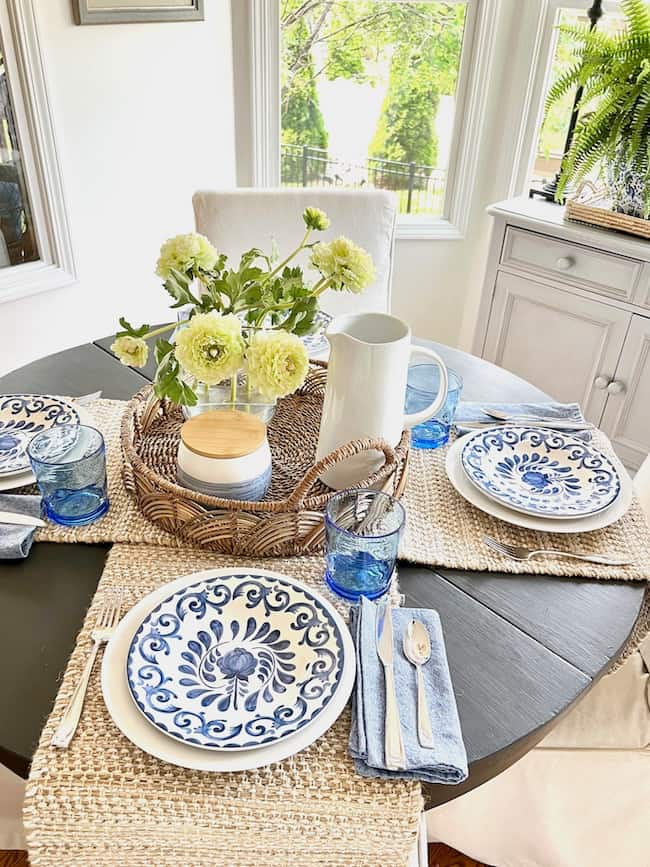 Create a Focal Point with a Beautiful Centerpiece
Whether you use faux flowers or fresh flowers, create a pretty floral arrangement for the middle of your table.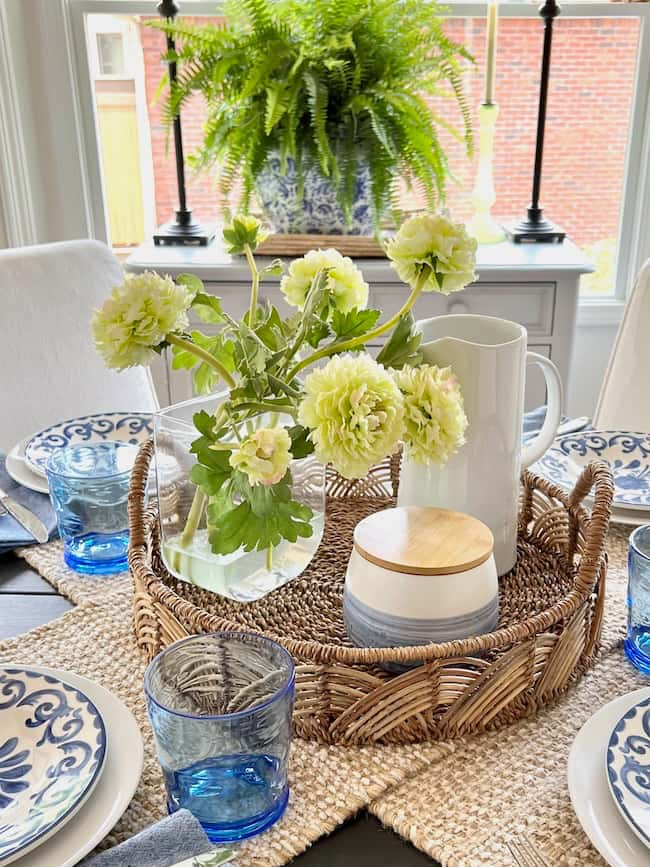 I love the look of rattan and other woven textures for summer. I added a large round rattan basket tray to the center of our round table. It's so pretty and perfect for corralling bouquets, candles, containers, and pitchers for a casual summer look.
This faux ranunculus arrangement is a favorite for our summer table. The greenish tint pairs so well with our blue and white dishes for a fresh look for summer.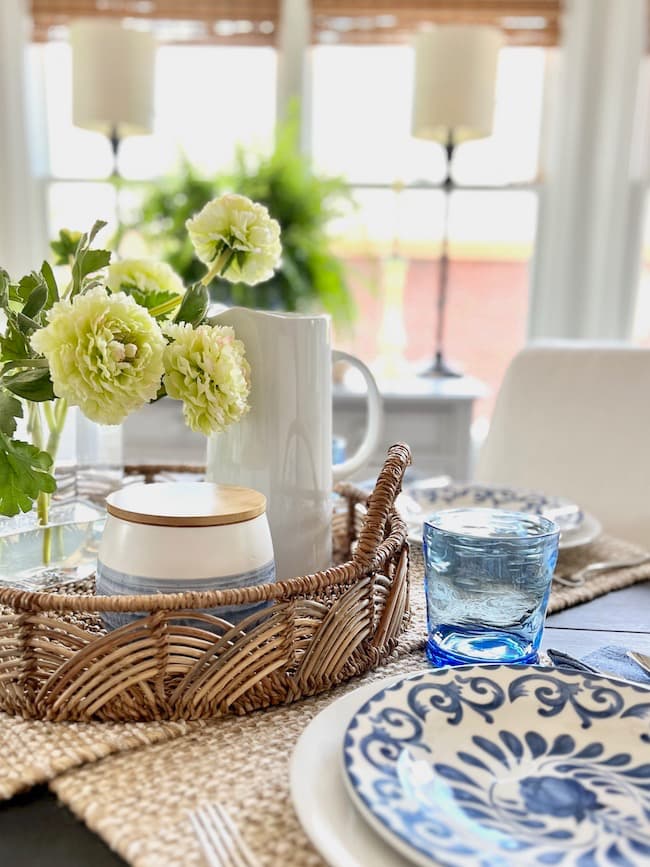 I added a small blue and white canister and a white pitcher to round out the look in this casual centerpiece.
You could also add several small vases of summer flowers to the basket tray for a pretty look.
With just a few simple touches it's easy to create a perfect centerpiece for your round table.
Design Easy Place Settings for Summer
Easy and simple is the theme of this round table decor, so our place settings are simple as well.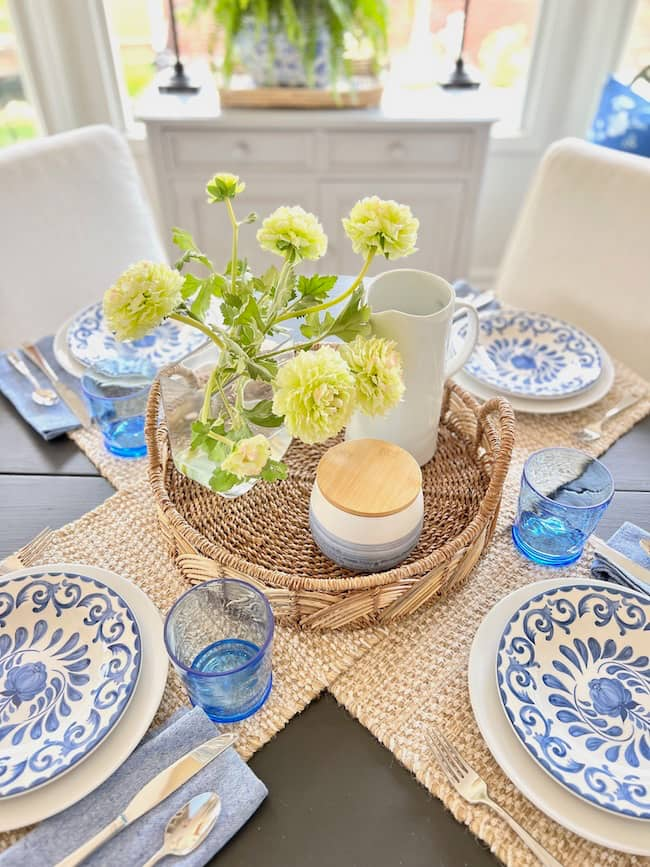 The criss-crossed jute table runners form the base of the place settings. I added simple white plates to the runners and then topped them with these blue and white acrylic salad plates.
I absolutely love these blue chambray cloth napkins, and use them all the time! They're perfect with the plates and the relaxed texture of the jute runners.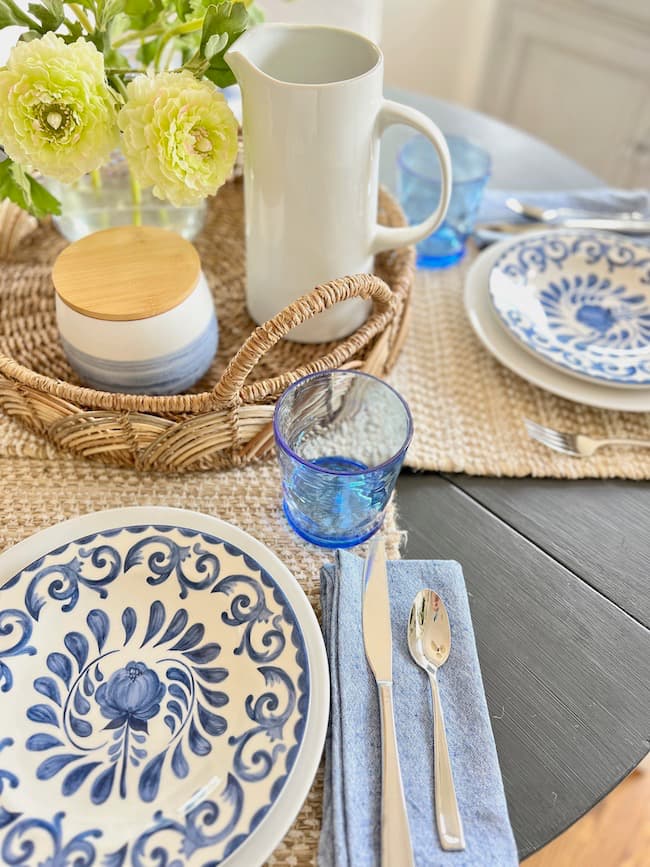 I finished off each place setting with a pretty blue acrylic tumbler.
I just love the relaxed coastal vibe of our table! It makes us feel like we're near the beach!
More Easy Ideas for Decorating Your Round Table:
Add small potted plants to a basket in the middle of the table.
Add natural decorative elements such as shells, moss balls, or dried flowers.
Add a simple collection of glass bottles to a tray for a creative centerpiece idea.
Use cane cylinder vases for a pretty look.
Add fairy lights and votive candles to mason jars for magical lighting.
Add a bowl of fresh fruit to the center of your table.
Add petite orchids to the centerpiece in your dining area.
Use a wooden lantern for a vase with white hydrangeas.
For a different look, use cheesecloth for table runners for summer dinner parties.
A large hurricane vase with a pillar candle is a great addition to your table.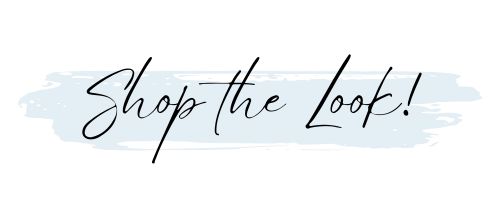 ---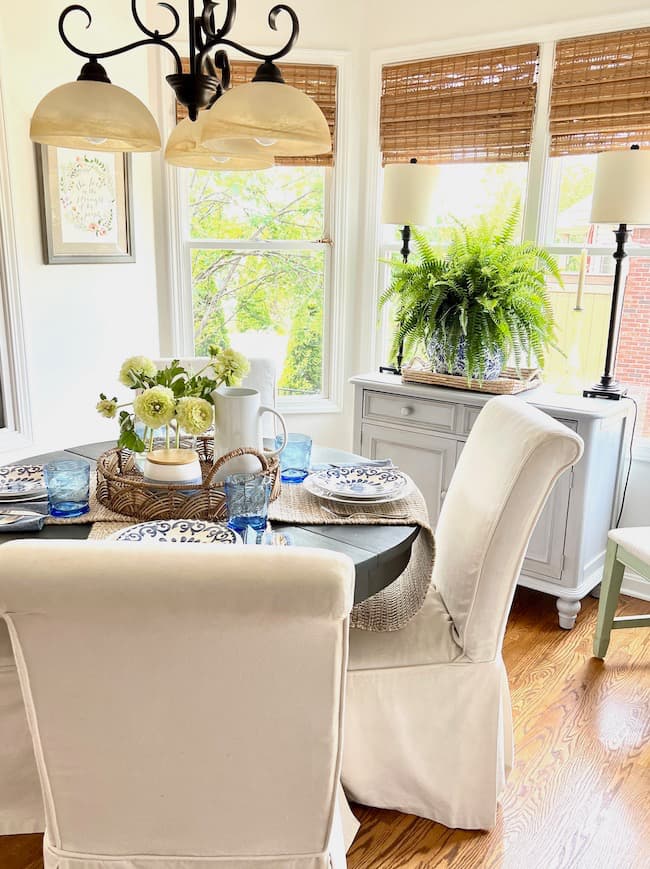 So, when it comes to creating a pretty round table centerpiece for your summer table, you can't go wrong with blue and white! Add some laid-back woven rattan textures into the mix, and you've got table that's ready for all of your casual summer entertaining and quiet summer meals at home.
Create memories with your favorite people in a setting that feels breezy, casual and carefree, just like summer!
Thanks so much for stopping by!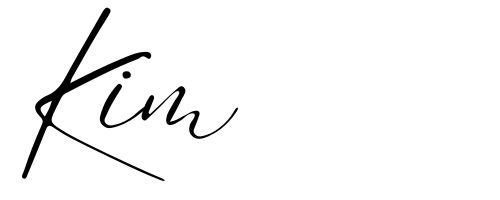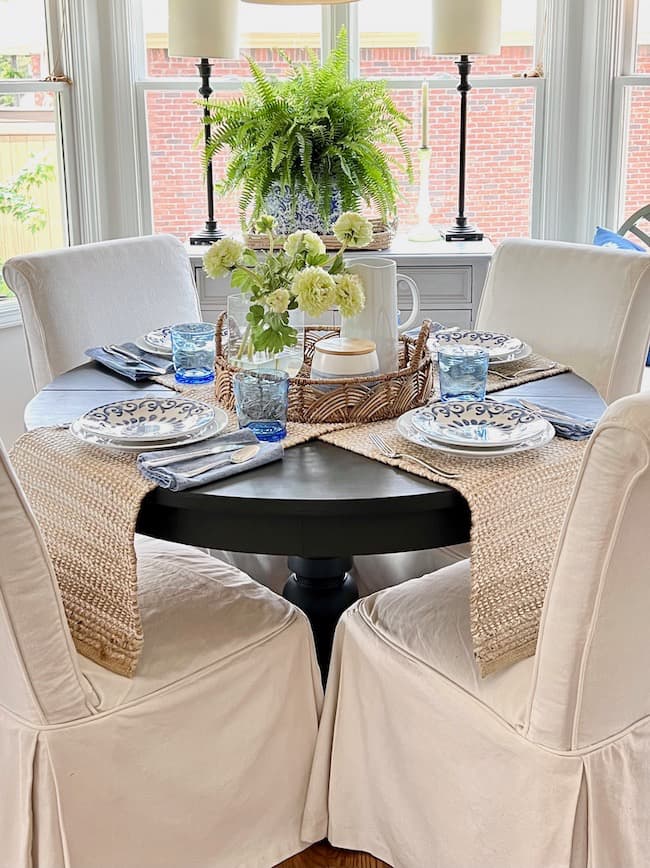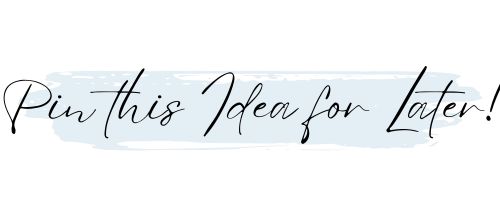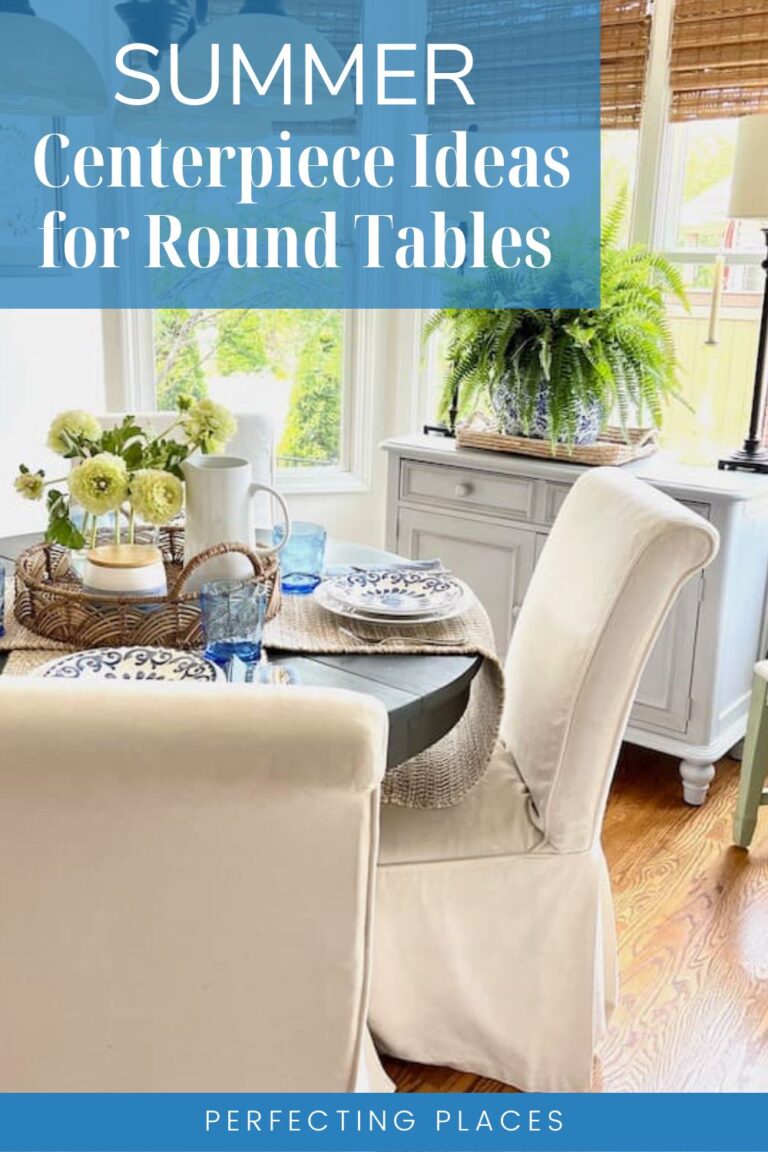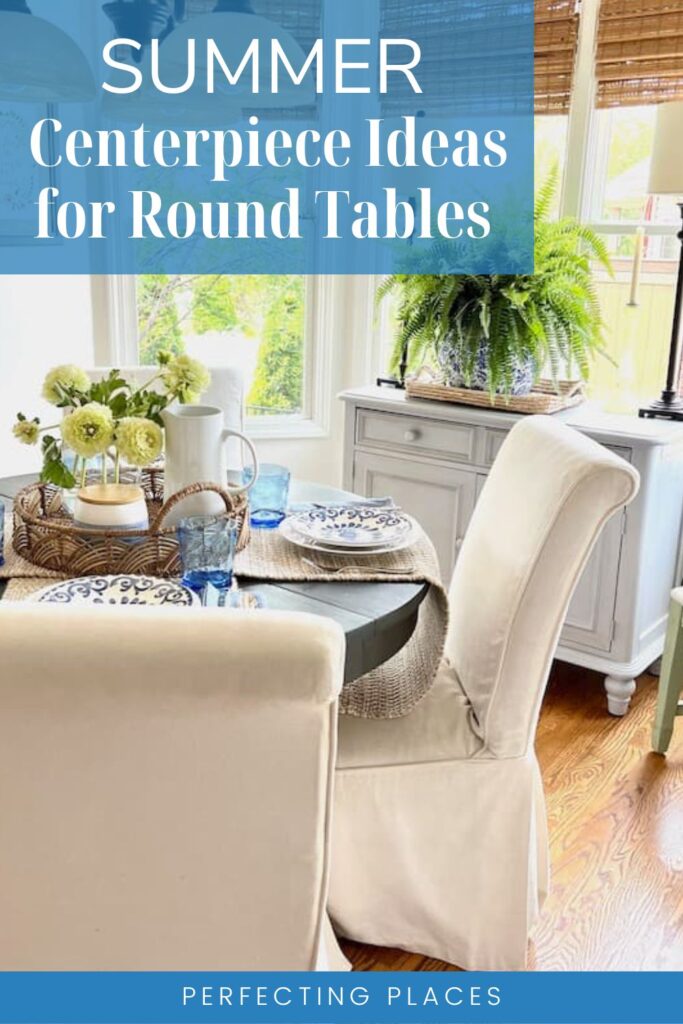 By the way, do you follow me on all the socials? If not, check out my Pinterest, Instagram, and Facebook and be sure to follow along so you don't miss out on any of my decorating and DIY ideas.
You might also enjoy these summer decor posts:
Outdoor Summer Table Centerpiece Ideas
13 Simple Decorating Ideas for Summer – A Summer Home Tour