Outdoor Summer Table Centerpiece Ideas
It's still peak season for outdoor dining. Set a gorgeous outdoor table with these summer table centerpiece ideas.
And summer evenings are the best spent outside gathered around a pretty dinner table with friends and family. I love creating a gorgeous tablescape, and it's even more fun to create one outdoors! Today I'm sharing how to create a pretty outdoor summer tablescape.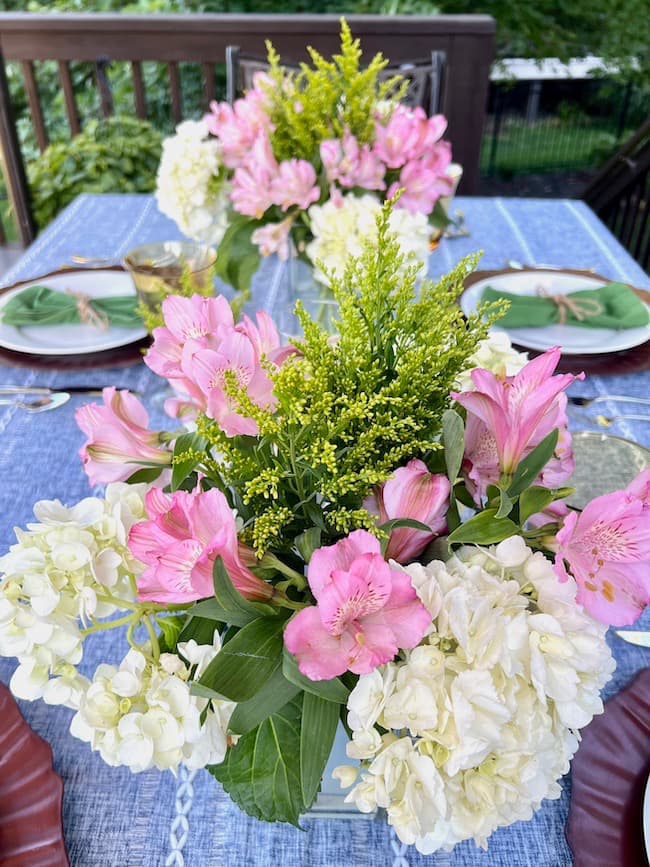 (This post contains affiliate links, so I may earn a small commission when you make a purchase through links on my site at no additional cost to you. As an Amazon Associate I earn from qualifying purchases.)
Summer breeze – it makes me feel fine! 
At least we hope the summer breeze blows to keep us nice and cool when we host an outdoor dinner — but not too much, right? We don't want anyone's napkin or dinner roll blowing away in the breeze.
I love eating outside whenever I have the opportunity, don't you? Our weather in Kentucky can be a little muggy in the summer, but when the perfect evening rolls around with pleasant temps and a gentle breeze, it's time to roll out the outdoor dinnerware and set a pretty summer table!
What are the advantages of eating outside?
The fresh air and open feeling just makes us feel better. Stress starts to decrease as we relax into a delicious summer meal in the open air.
I think food just tastes better outdoors – maybe it's a subconscious idea that our food tastes fresher closer to nature. Maybe it's just more fun!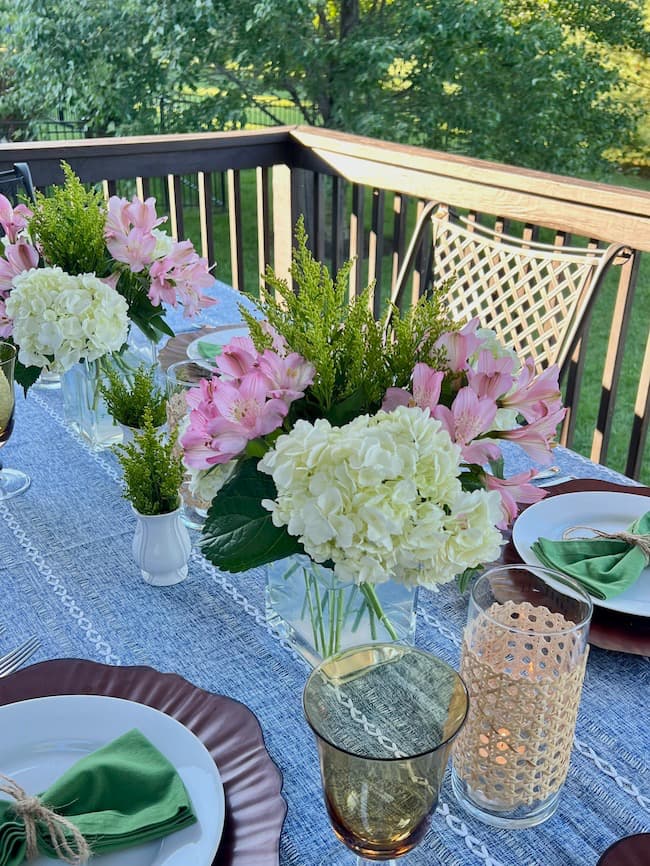 How to create a pretty outdoor summer centerpiece for your patio table:
Setting a pretty patio table is just easier when you're surrounded by the beauty of nature – blue skies, green grass and trees, and gorgeous flowers create the perfect backdrop to a lovely summer dinner.
Decide on your color scheme.
Sometimes this can be the hardest part when you love so many different options!! Sometimes I have a general idea of what I want to use and other times I'm open to what I'm inspired by. 
You can make a simple trip to your grocery store, or to my favorite – Trader Joe's – and let what flowers they have in stock set your color scheme. Think about the table linens you want to use and select flowers that work well with those colors.
Or, decide on pretty pattern napkins and let them dictate the color scheme for your table.
The fun thing about outdoor dining is the sky's (literally) the limit when deciding on your color scheme. You aren't limited by paint colors or colors of your indoor furnishings when selecting colors for your table.
I love blues, pinks, and greens and decided to incorporate all of these colors into my simple summer tablescape.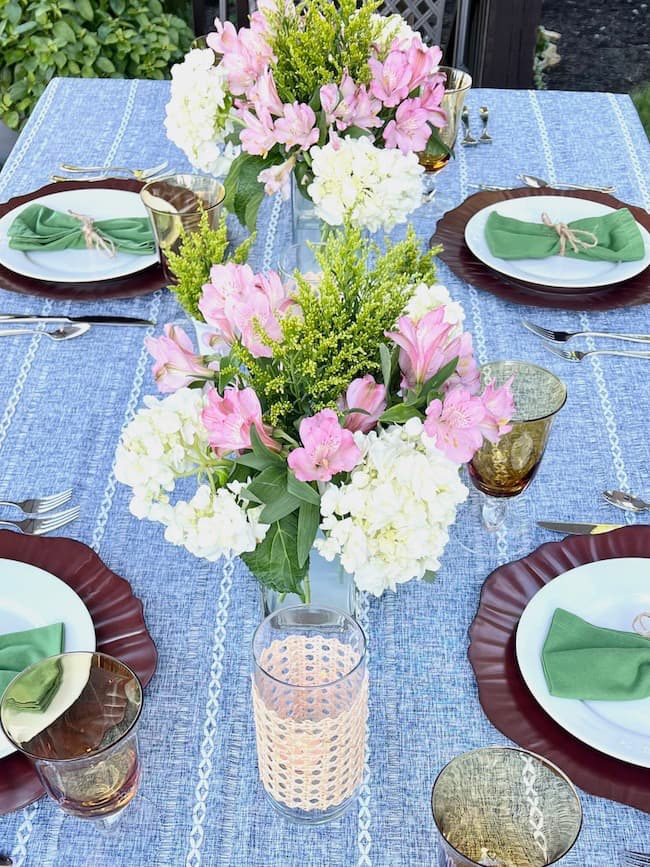 Start with a tablecloth or runner.
A lot of times, when dining outdoors, I go "sans tablecloth" and let the texture of the patio table show.  I'll  just add a runner and placemats. 
I did a patio table makeover on our deck table earlier in the summer and painted our tile covered table Sherwin Williams Agreeable Gray. The painted tile makes a pretty backdrop to an outdoor tablescape.
However, for this summer tablescape I wanted to use this pretty textured blue tablecloth. I like the soft texture, subtle blue color, and white stitching which creates a pretty, casual blue backdrop for our table.
---

---
Select your flowers.
Whenever I use fresh flowers, I like to choose varieties that are long-lasting. I chose white hydrangeas because it's really easy to rehydrate the hydrangea blooms if they start to wilt. This little trick can really lengthen the time the hydrangeas last. I've had blooms stay pretty for weeks!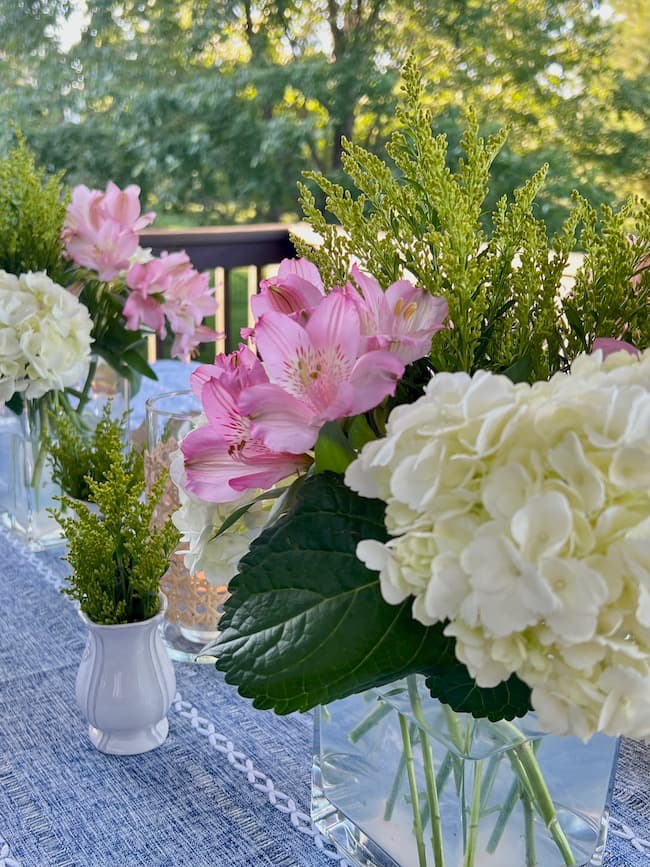 If you have hydrangeas growing in your landscape or garden, it's the perfect time to cut some to add to your arrangement.
I also chose pink alstroemeria for this centerpiece. Alstroemeria, also called Peruvian Lily, is usually a staple in your grocery store floral department. They are available in so many colors, so it's easy to find a color that works well with your tablescape color scheme.
Like hydrangeas, they last several days, so you can get a lot of use out of your centerpiece.
Don't forget the greenery. Add fresh greenery to your arrangement to really brighten it up. I added this yellowy green filler to add a bright chartreuse color to my arrangement.
Creating the Summer Flower Arrangements:
Create these easy matching flower arrangements in pretty rectangular vases.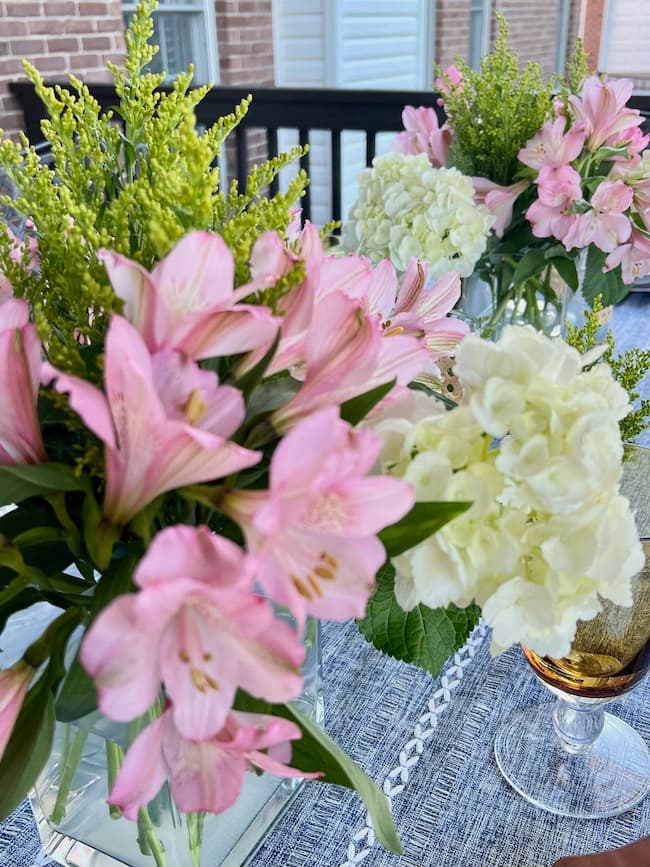 I started by making a flower "frog" with scotch tape to secure the flowers into place. 
Next, I added the green filler for created height in the arrangements.
I used three white hydrangeas in each vase and added these next.
Finish by adding the pink alstroemeria to fill in any gaps in the arrangement, and you have a simple, but elegant summer arrangement for your table.
---
---
Add cane candle holders.
I always add candles to my centerpieces, even when dining outdoors. I created these DIY rattan cane candle holders using Dollar Tree cylinder candle holders and a roll of 4 inch rattan webbing.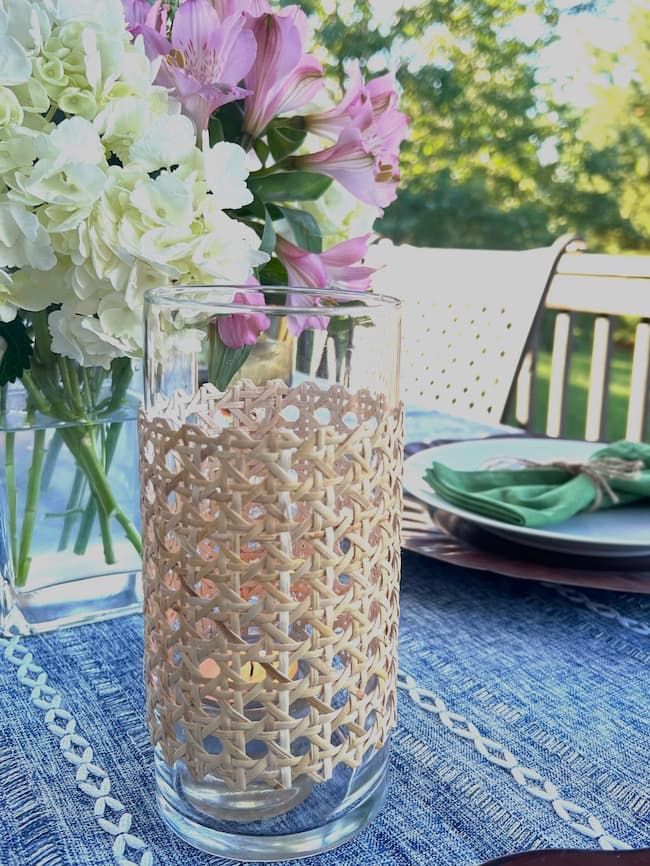 It was super easy to cut the cane webbing to fit the candle holder and simply hot glue into place!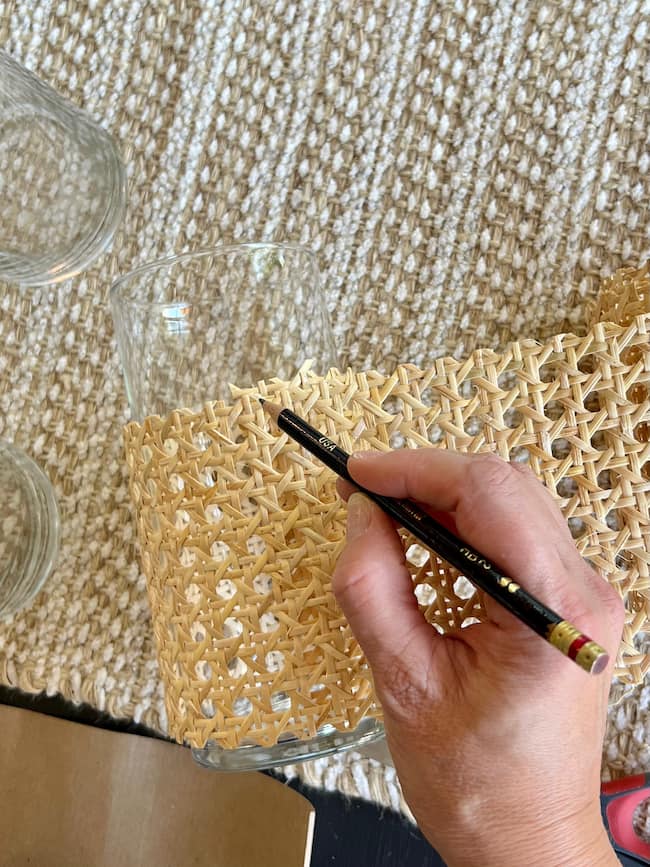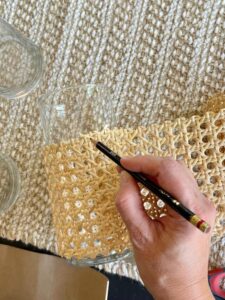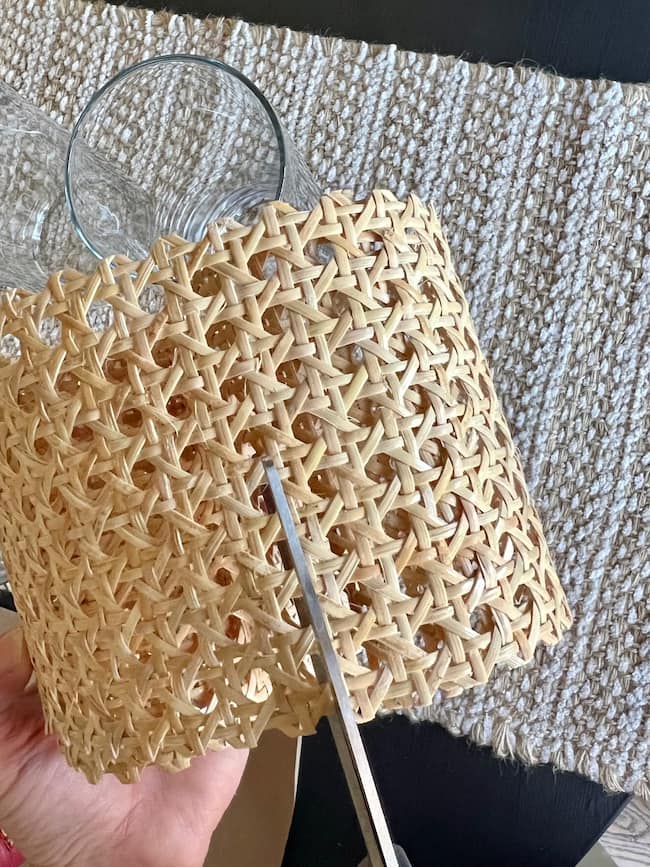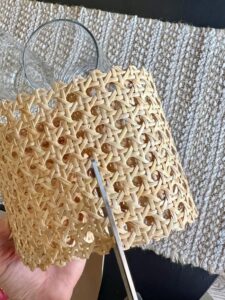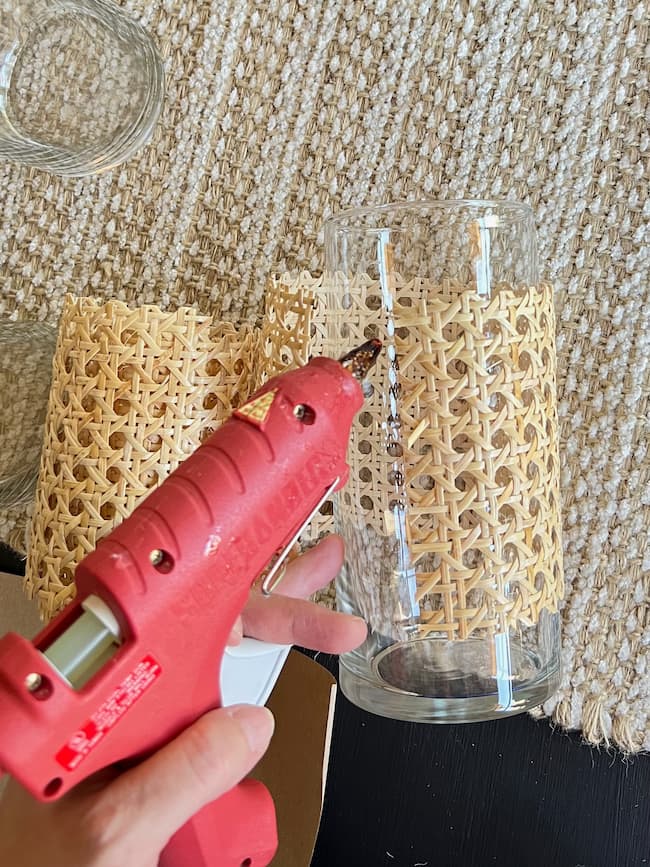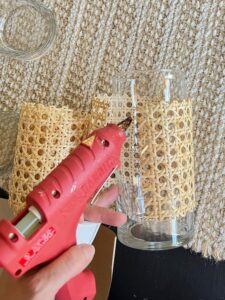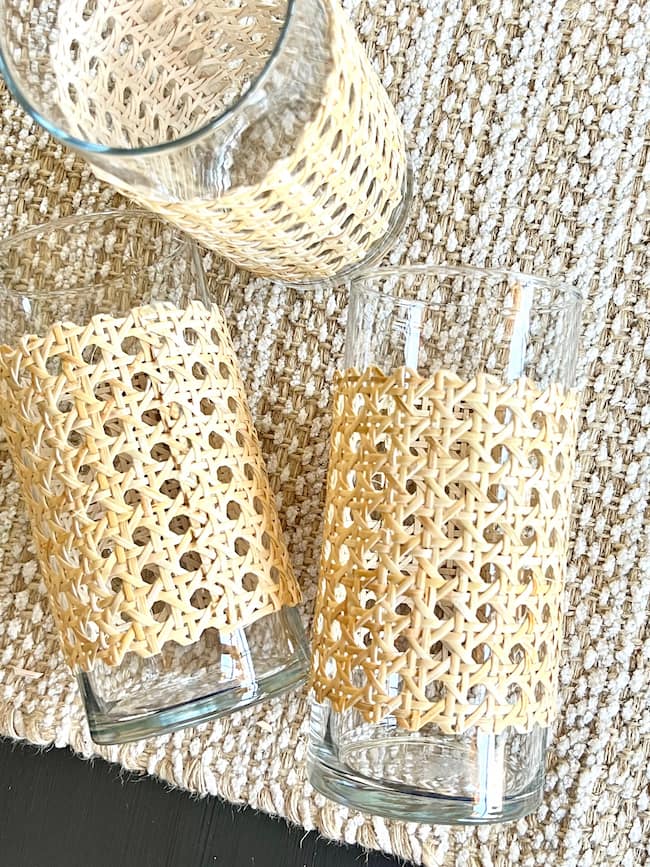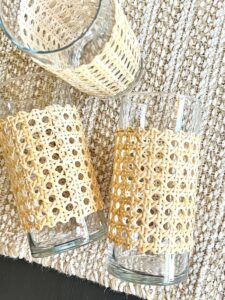 I then added small votives to the candle holders.
The rattan candle holders add pretty natural texture to the tablescape.
---
---
Create your place settings.
Layered place settings showcasing pretty plates, chargers, and napkins are so pretty. It's such a great way to add color, pattern, and texture to your table.
I wanted to keep our outdoor table fairly simple.
Brown chargers paired with our white porcelain dinner plates create the base of our placesettings.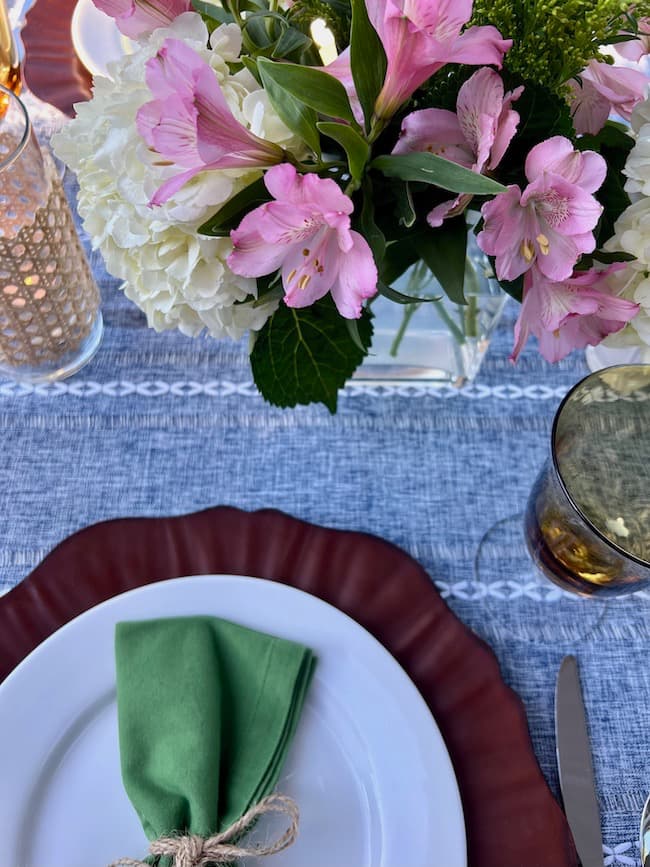 I used napkins in this rich green color to complement the green outdoors, and then tied them with jute string for a casual look that also adds more fun, natural texture.
---

---
Add your stemware.
I finished out our place settings by adding these pretty amber colored stemware. I think the amber stemware paired with the brown charger plates grounds the color scheme and gives a nod to fall, which is just around the corner.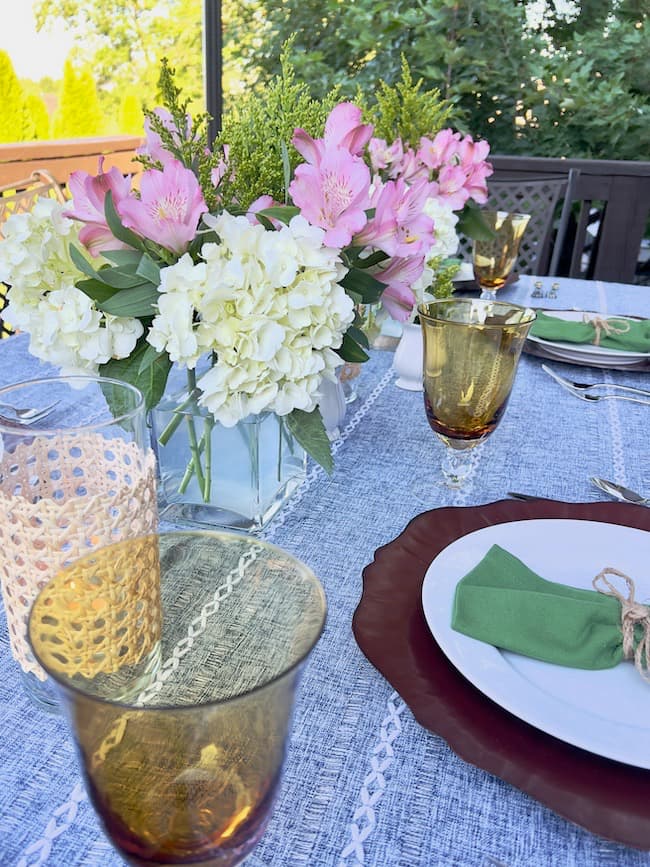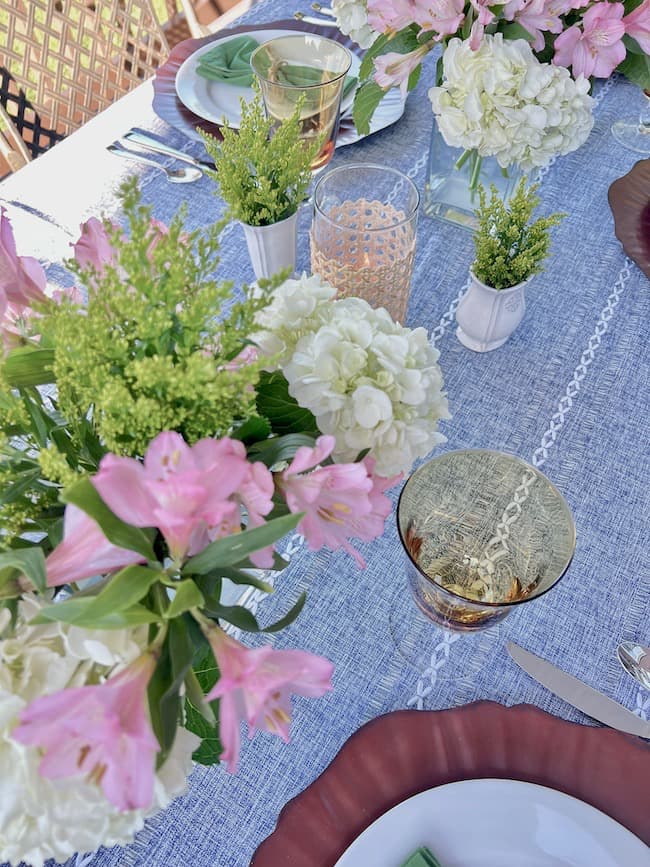 ---
---
I hope this inspires you to enjoy a summer meal outdoors! Get creative and gather your family and friends together for a lovely al fresco dining experience around a pretty summer table.
Thanks so much for stopping by!

Pin It for Later!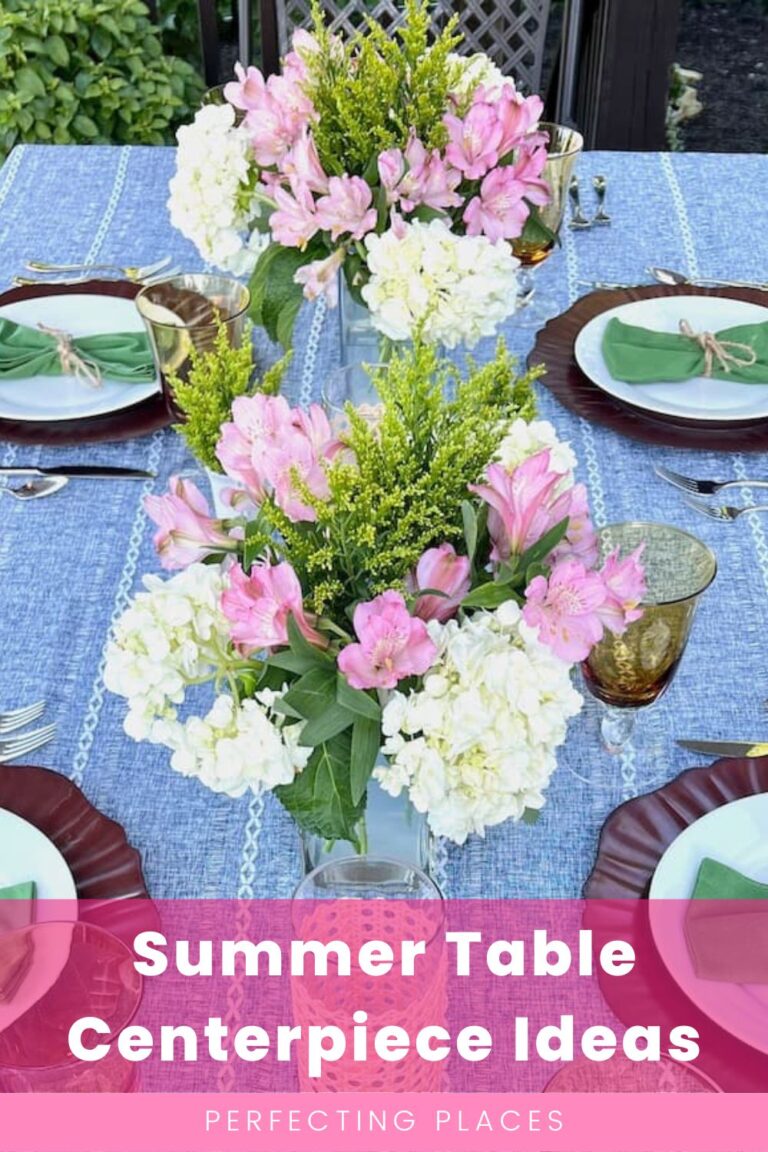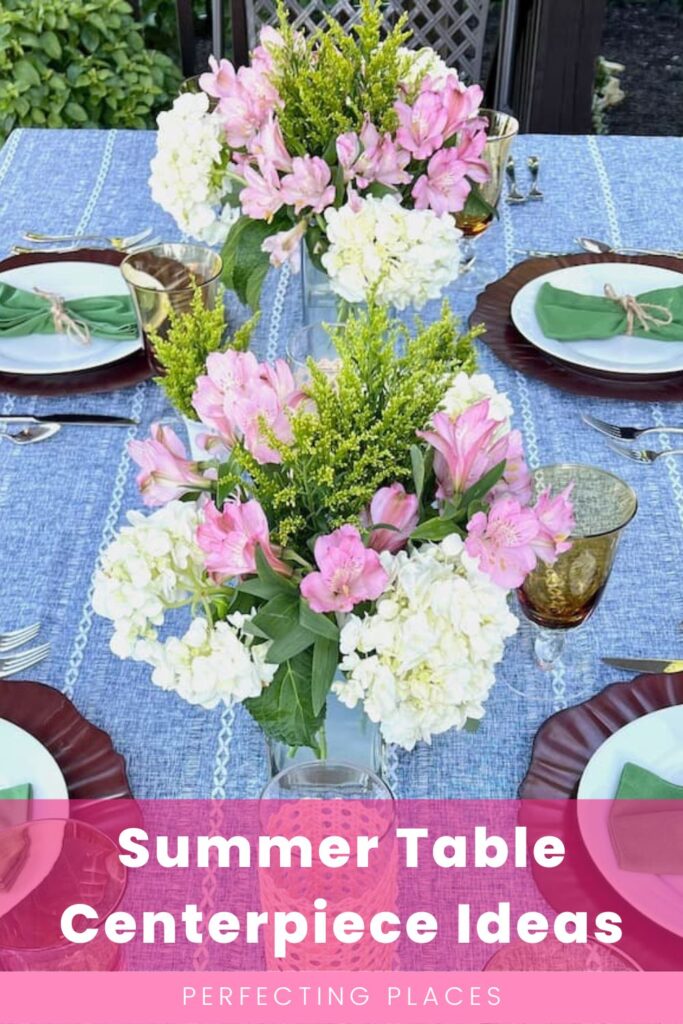 You might also enjoy these tablescape and outdoor entertaining ideas:
A Simple Patio Table Makeover for Summer
Simple Summer Centerpieces for Tables
Great Ideas for Outdoor Entertaining and Outdoor Living