Easy Ideas for Patriotic Flower Pots for Summer
Summer is the perfect time to deck out your porch or patio with patriotic outdoor decor. These tips and tricks for creating patriotic flower pots will have your front porch showing off your patriotic spirit!
One of my favorite things to do in May is create pots of beautiful flowers for our porches and landscape. With a couple of patriotic holidays during the summer time, I love creating pots that allow me to easily incorporate a festive patriotic color scheme. It makes it super easy to show your patriotic spirit for Memorial Day picnics and Fourth of July barbeques!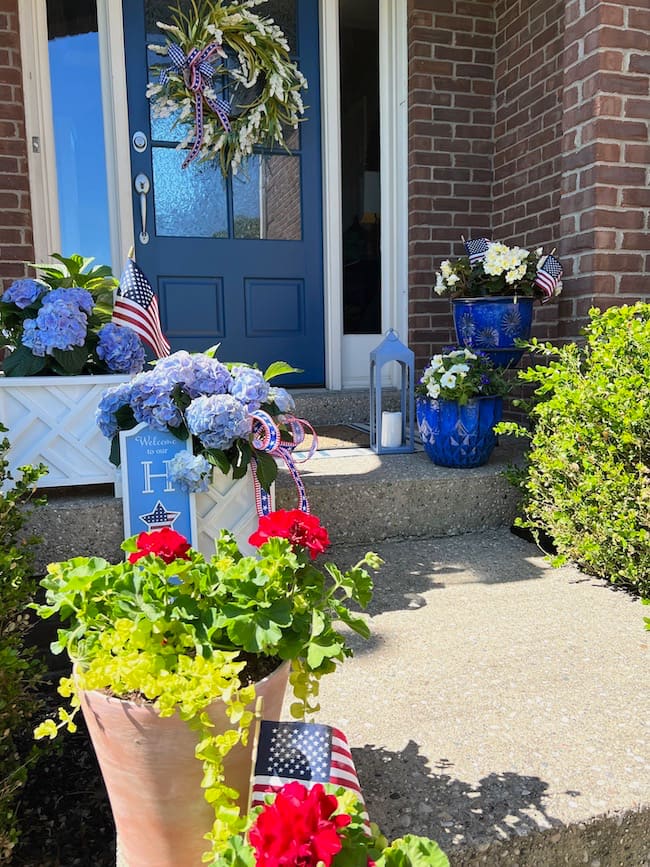 (This post contains affiliate links, so I may earn a small commission when you make a purchase through links on my site at no additional cost to you. As an Amazon Associate I earn from qualifying purchases.)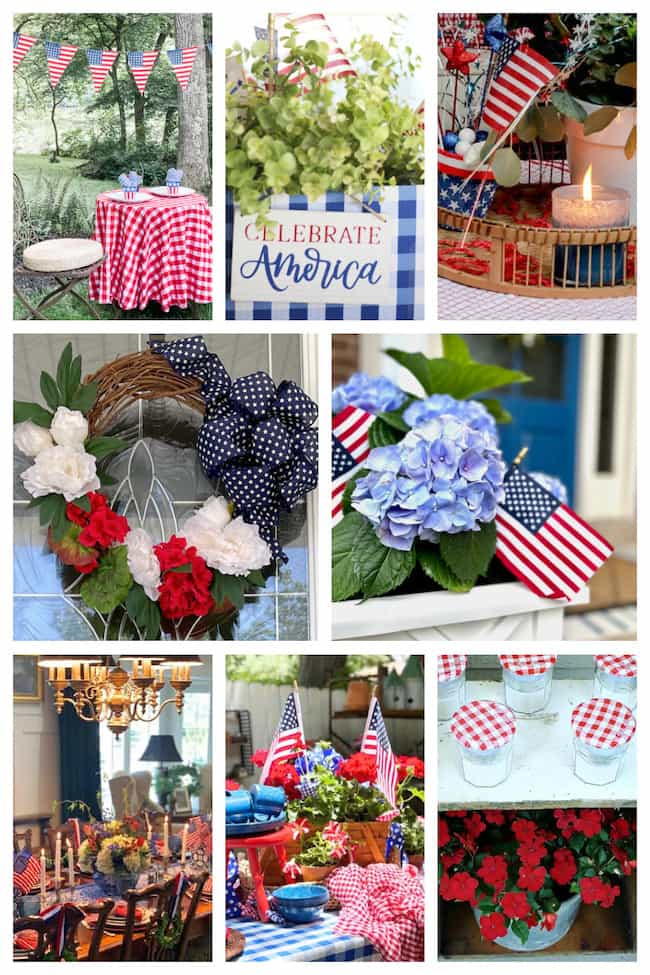 Today, I'm joining seven other blogger friends sharing lots of great patriotic ideas for the Celebrate the Holiday Memorial Day Blog Hop! A very special thanks to Carol at Bluesky at Home for hosting our blog hop!
If you're coming from Peacock Ridge Farm, isn't Renae's patriotic tablescape just gorgeous!
If this is your first time to Perfecting Places, welcome! I'm so glad you stopped by! I'm Kim, and I blog about all things home decor! I love to share easy DIYs for your home as well as paint colors, design sources, and favorite decorating tips and tricks to help you make your house a home!
This summer I've decided to use a predominately blue and white color scheme for my front porch flowers and pots. I just love all shades of blue for summer, and the white flowers and containers are the perfect pop on our shadowing front porch.
My blue and white color scheme forms the perfect base for a patriotic color scheme for Memorial Day and Independence Day!
To create beautiful patriotic pots for these special summer holidays, I'm combining flowers in shades of red, white, and blue into some of my favorite containers and pots.
Blue flowers that are perfect in patriotic pots:
Have you ever used potted hydrangeas for your porch flower pots?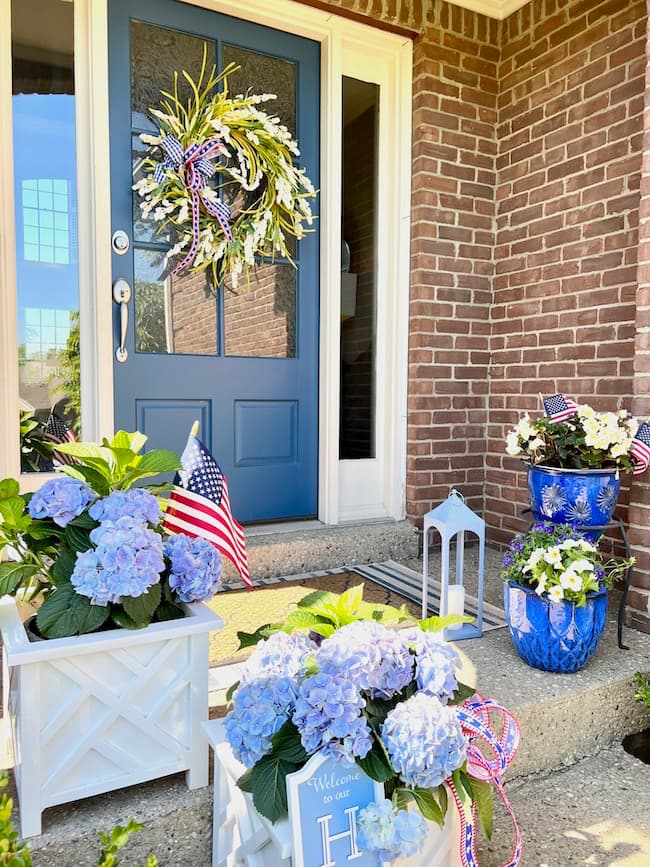 The front of our home faces north, so our front porch gets some morning sun, but after noon it's shaded the rest of the day. Over the years I've played around with different varieties of flowers to determine what grows best in this area, and still yield beautiful color for lovely curb appeal.
I've typically relied on New Guinea Impatiens and rose begonias to provide beautiful color; however, a couple of years ago I spotted some gorgeous blue Endless Summer hydrangeas that had been newly delivered to our local grocery store.
On a whim, I decided to try planting one in a large planter on our front porch! It was the perfect spot for this pretty flowering bush and gave us beautiful blooms all summer long! The hydrangea thrived in the combination of early morning sun and afternoon shade.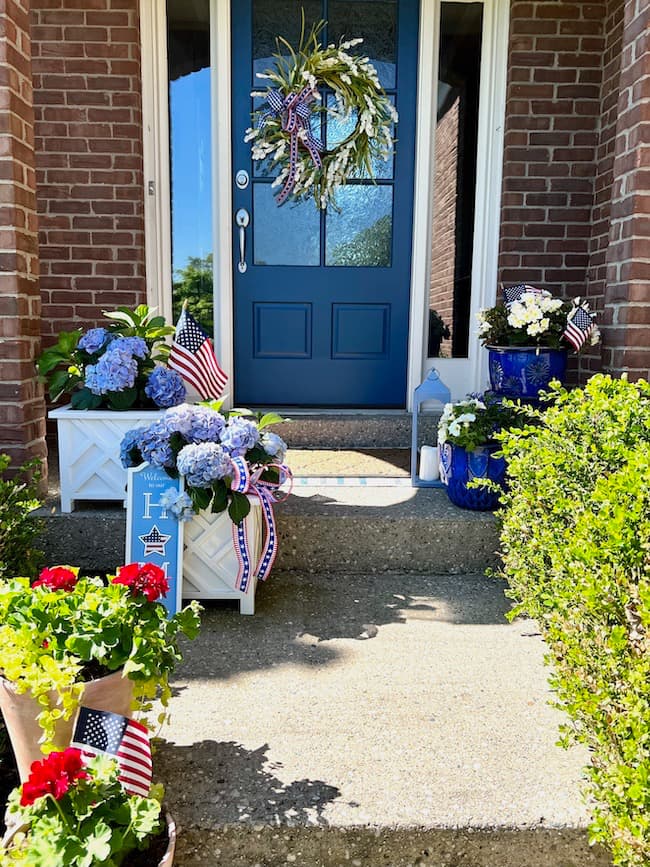 Blue Hydrangeas provide perfect blue color for your patriotic flower pots.
Hydrangeas display gorgeous blue flowers throughout the summer, and they pair very well with red blooms and white flowers for the summer holidays. I love using these showy blue blooms in my porch pots. You can add a small American flag to the the potted hydrangeas for super simple holiday decor.
How to maintain the blue hydrangea color:
A blue hydrangea needs acidic soil to maintain its beautiful blue color. A pH level between 5.2 and 5.5 is ideal for maintaining the blue color of the blooms. You can add a soil acidifier to the soil to keep your blue blooms from turning pink.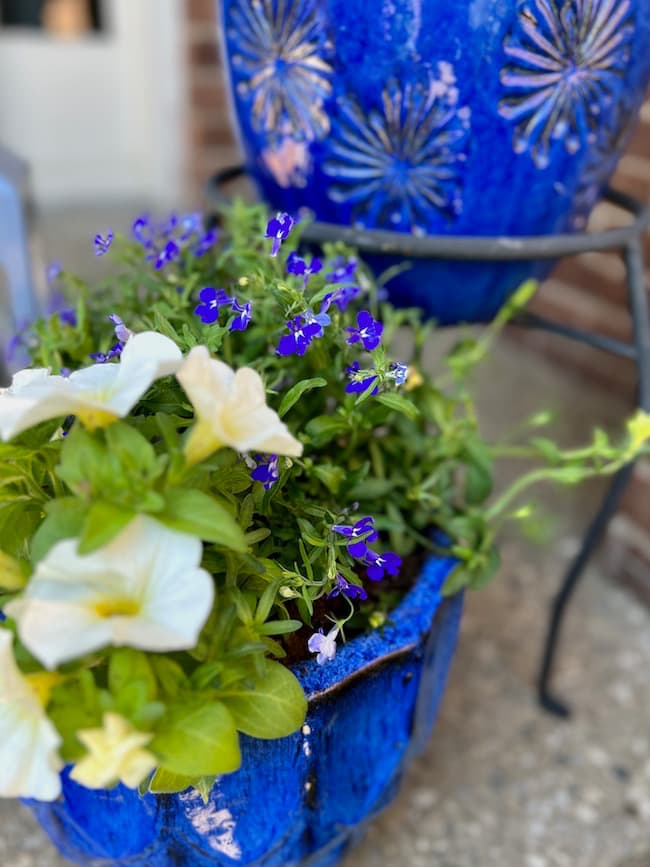 Blue lobelia is another pretty blue flower to use in your patriotic themed flower pots. Potted lobelia does better in a sunny spot, but make sure to keep the soil moist at all times particularly as the weather heats up.
Favorite potted red flowers for patriotic holiday looks:
​I think red geraniums are the quintessential flower for celebrating summer holidays. I love geraniums in beautifully aged terracotta pots.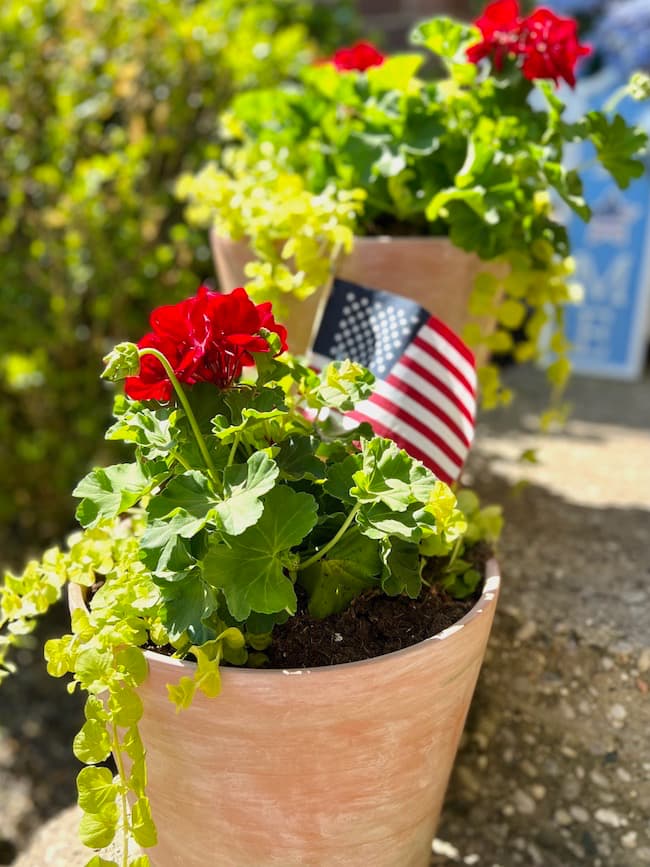 A grouping of red geraniums is so beautiful paired with the blue hydrangeas. Geraniums do not thrive quite as well on our north facing front porch, but if I place them on the steps leading up to the front of our home, they get plenty of sunshine.
Pots of red impatiens and New Guniea Impatiens are perfect for shady areas, so I often used them on our front porch. The red varieties are perfect in a patriotic display.
Red petunias are another popular red flower that love full sunlight.
Pretty white flowers for summer flower pots:
From white impatiens and New Guinea impatiens, to white petunias, begonias, and geraniums, you can find an abundance of white flower options to compliment your red and blue blooms for the holidays.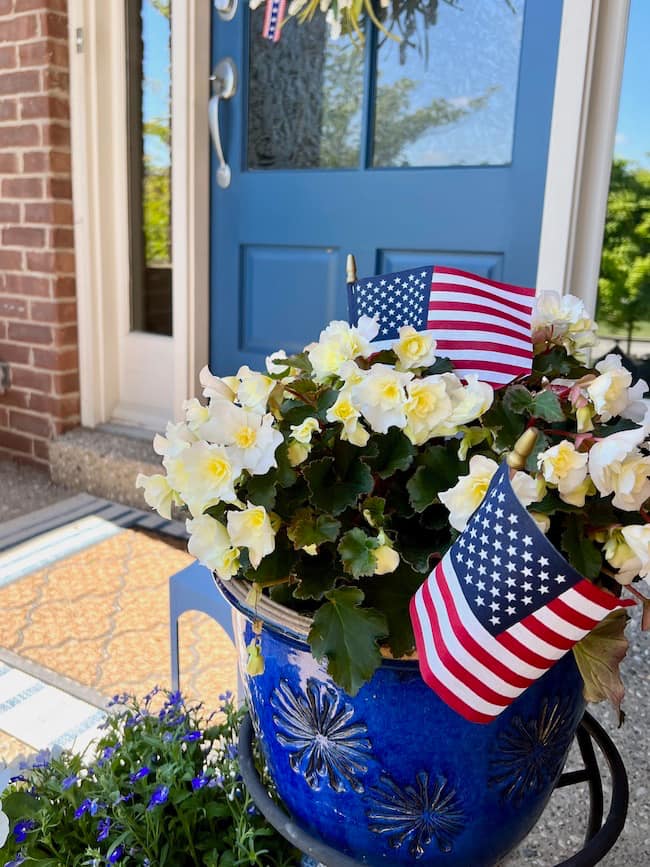 White browalia is an annual plant that thrives in shady areas and make great additions to porch pots and your red, white and blue patriotic planters.
My favorite flower planters for a red, white, and blue color scheme: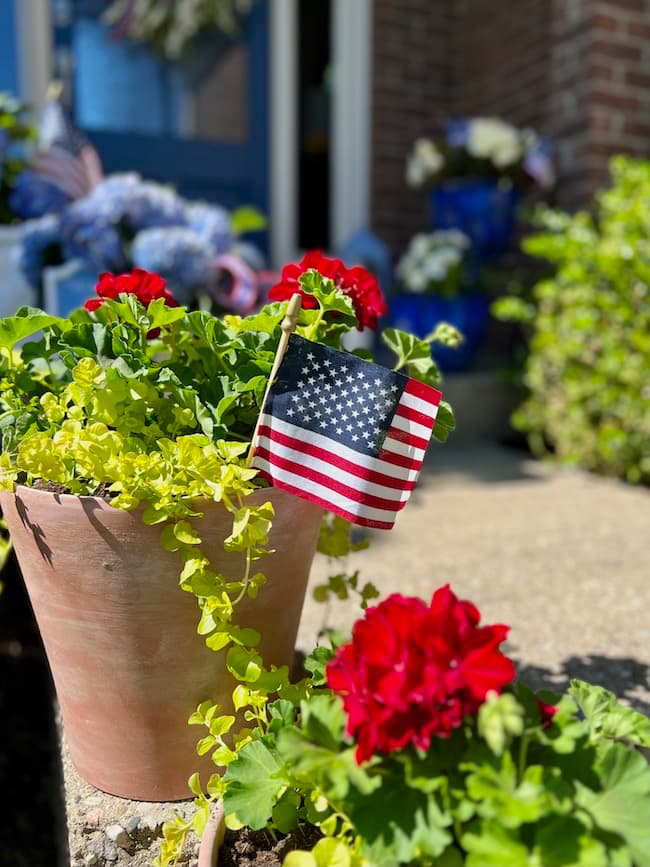 You can never go wrong with timeless terracotta pots for a classic look for Memorial Day or the 4th of July.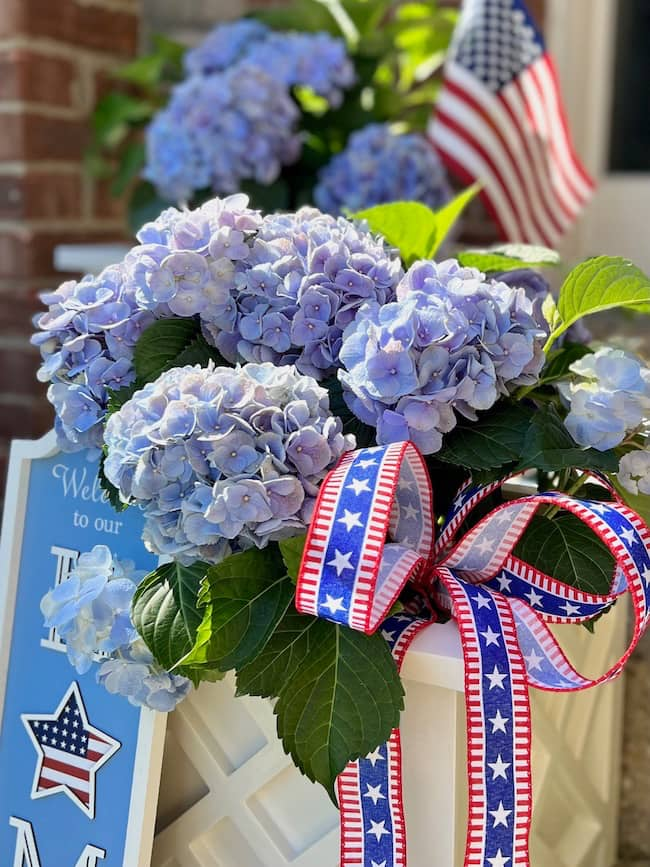 I also absolutely love these super inexpensive classic white planter boxes! They are such a good price, and so easy to assemble. Our blue hydrangea look spectacular in these crisp white flower planters. They're so versatile because you simply place your potted plants inside the flower planter which makes it very easy to change out your pots and move your flowers around as needed.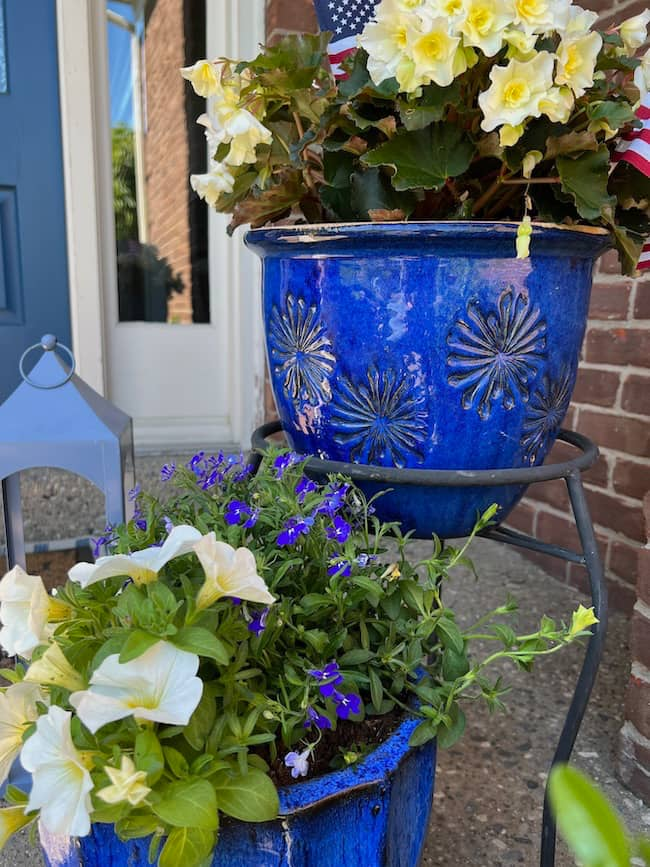 These cobalt blue planters are another favorite planter option for showing our American pride for the holidays. I love using snowy white blooms in them, and love the blue and white pairings with our hydrangeas on our front porch.
A blue planter adds rich blue color to the porch and is a great choice with our blue front door painted Sherwin-Williams Endless Sea (SW 9150). They also coordinate perfectly with our blue and white striped rug for a breezy summer vibe all season long on our porch.
By sticking with a predominately classic blue and white color palette in the large pots on our front porch, it makes it super easy to add other pots of flowers in vibrant pinks and corals if I don't want a red, white, and blue color scheme on our porch all summer long.
More patriotic decor ideas for your flower pots:
You can get creative and add some fun elements to your flower pots for the summer holidays. Adding small flags, wooden signs or stars, and colorful patriotic-themed ribbon can add a great punch of patriotic fun!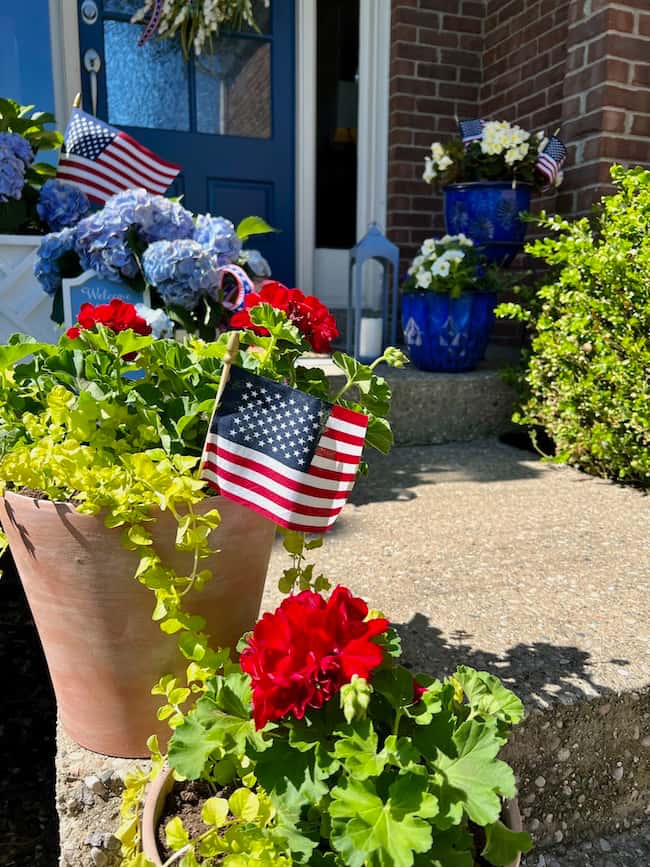 As you can see, it's super easy to add patriotic touches to your summer porch with gorgeous flower pots full of red, white, and blue blooms!
Shop the Look

Pin It for Later!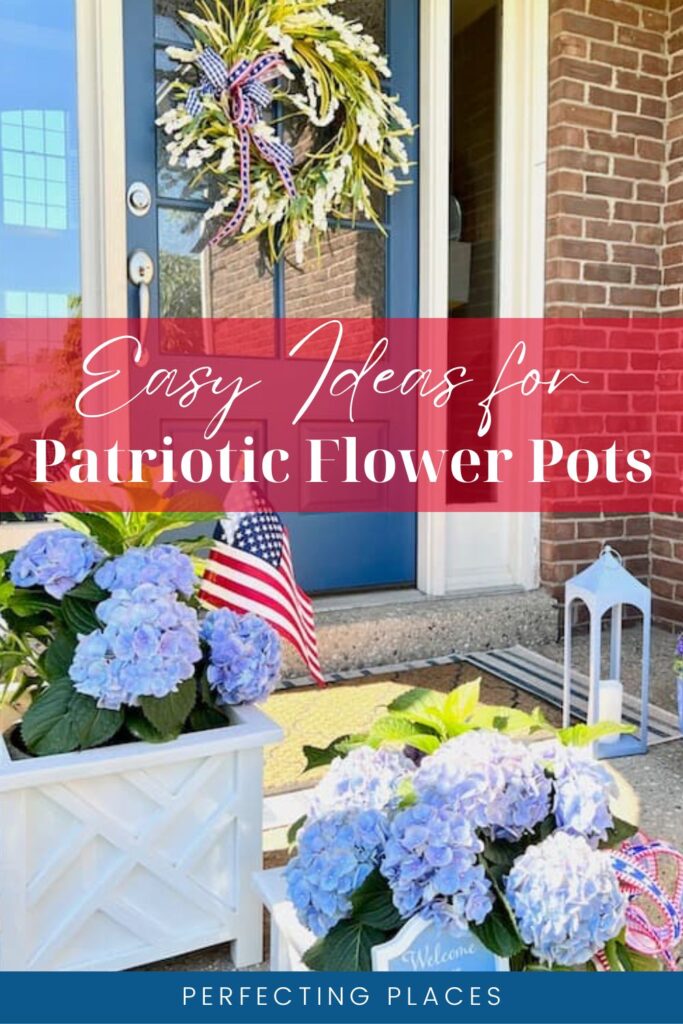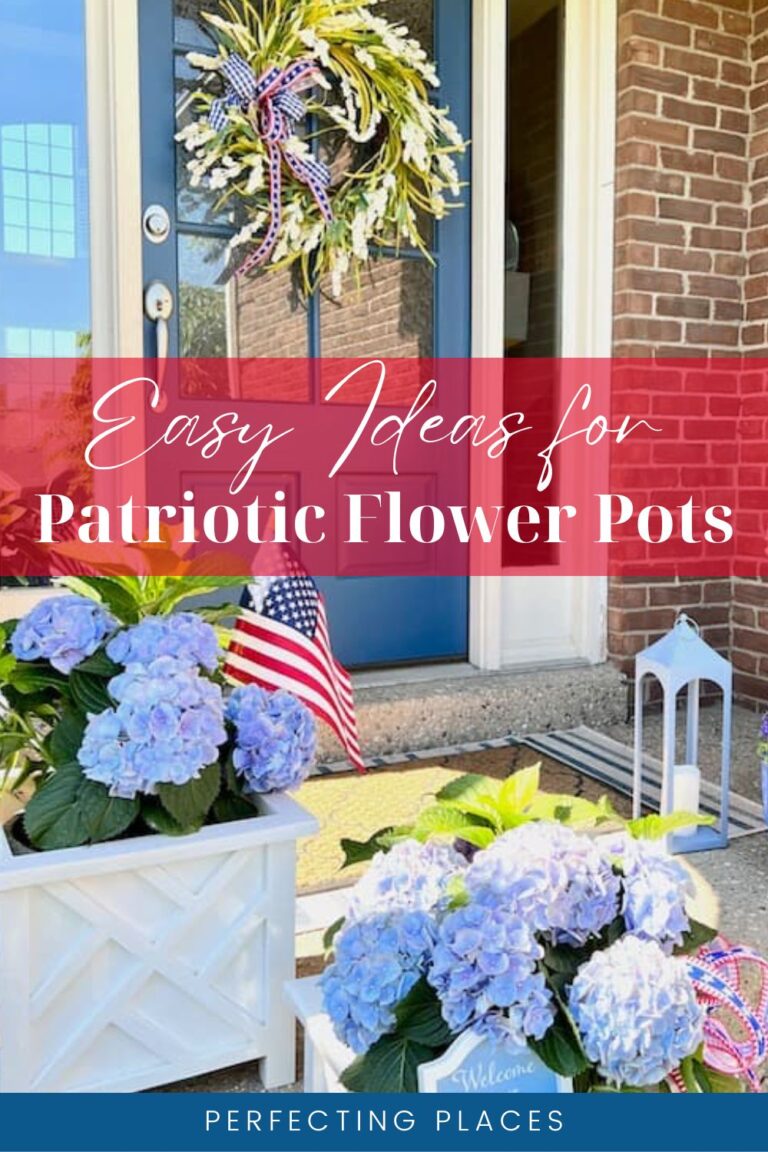 By the way, do you follow me on all the socials? If not, check out my Pinterest, Instagram, and Facebook and be sure to follow along so you don't miss out on any of my decorating and DIY ideas.
Thanks so much for stopping by!
Now hop on over to The Tattered Pew to see Kelly's adorable jelly jar votives!
And be sure to check out all of the creative Memorial Day ideas by my talented friends below!