Happy Saturday, Happy Derby Day, and Happy Coronation Day! It's quite a busy day loaded with lots of celebrations and festivities.
I'm currently watching the coronation of King Charles III as I sit in my son's living room in Knoxville waiting for our sweet Eden to wake up! We'll head to Nashville later today to visit our other son.
We decided to squeeze in a visit to see our Tennessee kids this weekend instead of joining in with the all of the Kentucky Derby festivities back home in Louisville.
This week I started adding summer flowers to our front porch, and my favorites are our blue hydrangeas in these beautiful, classic white planter boxes.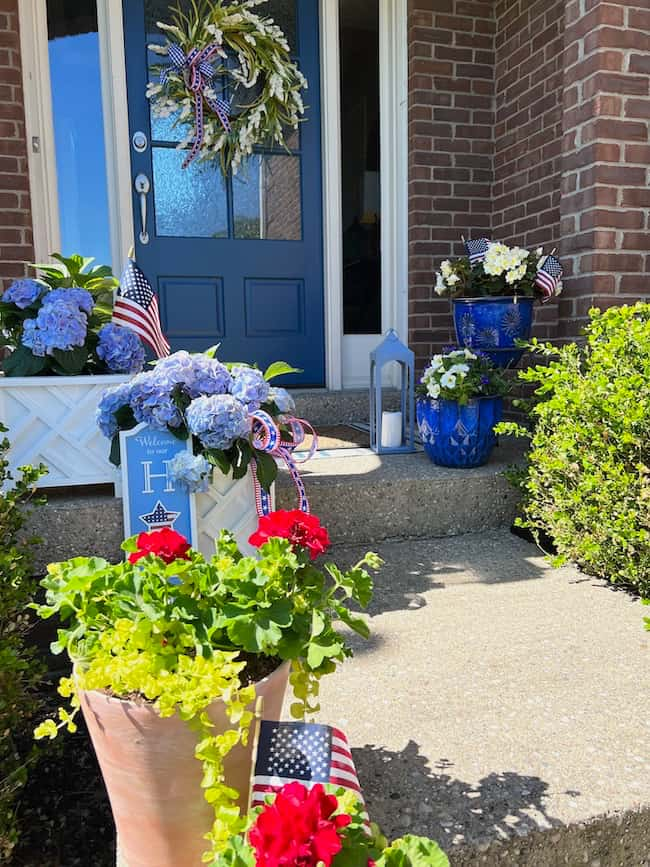 I also joined 7 blogger friends in a Celebrate the Season Memorial Day blog hop and featured these potted hydrangeas in my post about patriotic flower pot ideas for the summer patriotic holidays. You can read all about it here.
Now, for all the lovely things I've discovered this week:
1. Gorgeous open cupboard ideas for your kitchen!
2. Create a pretty pressed flower vase!
3. The cutest DIY from recycled cans!
4. Decorate for Mom with a pretty sweet pea arrangement!
5. I love this serene and classic coastal style home.
6. An adorable idea for labeling your herb garden!
7. Beautiful DIY ideas for raised garden beds!
Thanks so much for stopping by today, and have an amazing weekend!!