Easy Backyard Container Garden Ideas for Under a Tree
Do you have shade trees and shady areas in your backyard? Create a lovely shade garden with these easy backyard container garden ideas.
If you've considered planting a shade garden under an established tree in your yard, I have good news! Containers make gardening a breeze under a shade tree! Fill them with gorgeous plants and flowers suited for shade to create a perfect garden oasis and focal point for your backyard garden.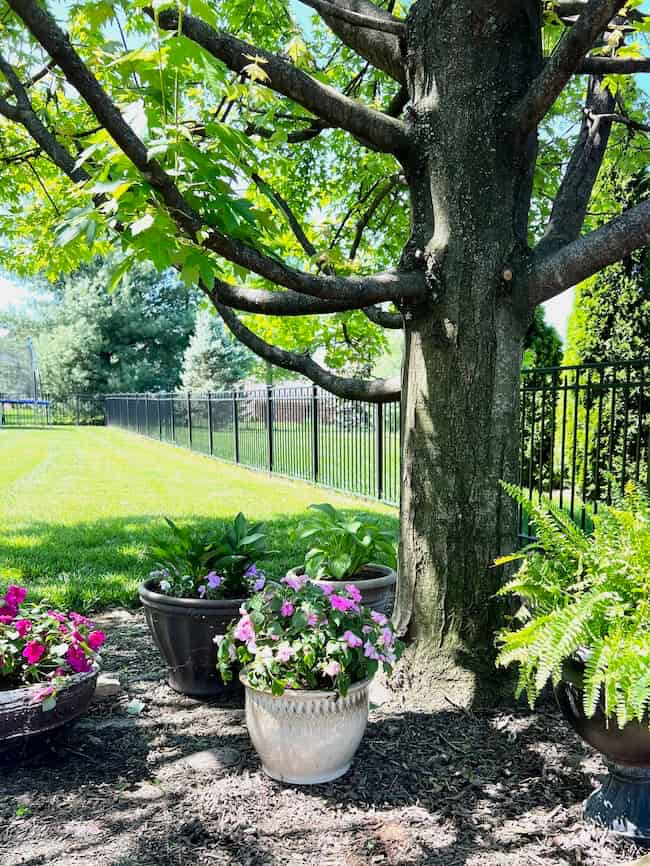 (This post contains affiliate links, so I may earn a small commission when you make a purchase through links on my site at no additional cost to you. As an Amazon Associate I earn from qualifying purchases.)
While I can't necessarily say that I have a green thumb, I do love to create spaces outside for our family to enjoy the beauty of summer. As a decorator, my love for creating beautiful spaces doesn't stop inside our home. Warm weather inspires me to design lovely outdoor spaces as well that incorporate the beauty of nature.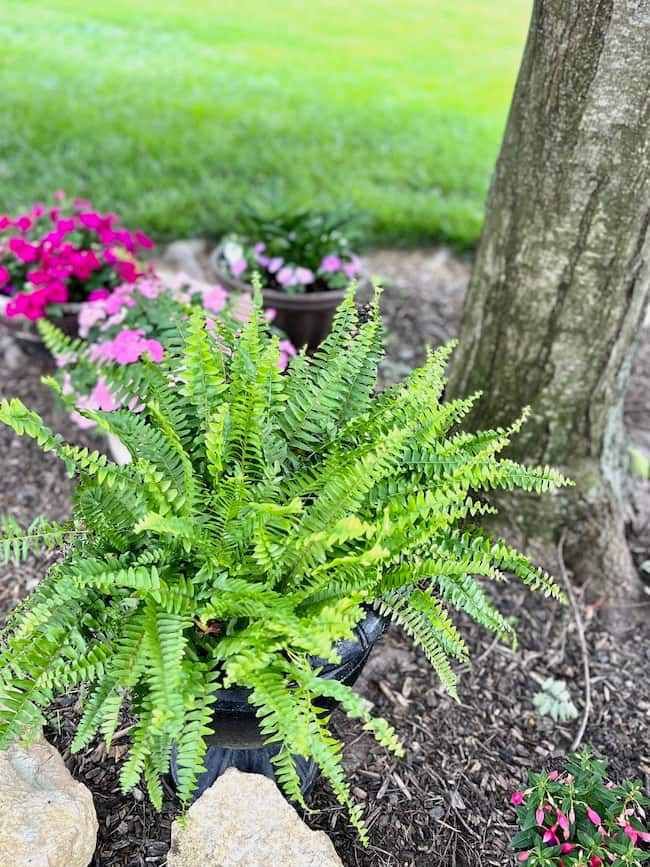 We have a large maple tree outside of our screened-in porch, and I wanted to create a small shade garden under the tree. Our screened porch is our favorite place during the summer time, and we love the shade this large maple provides.
The tree sits in a little corner of our backyard, and the space just begs for a small garden.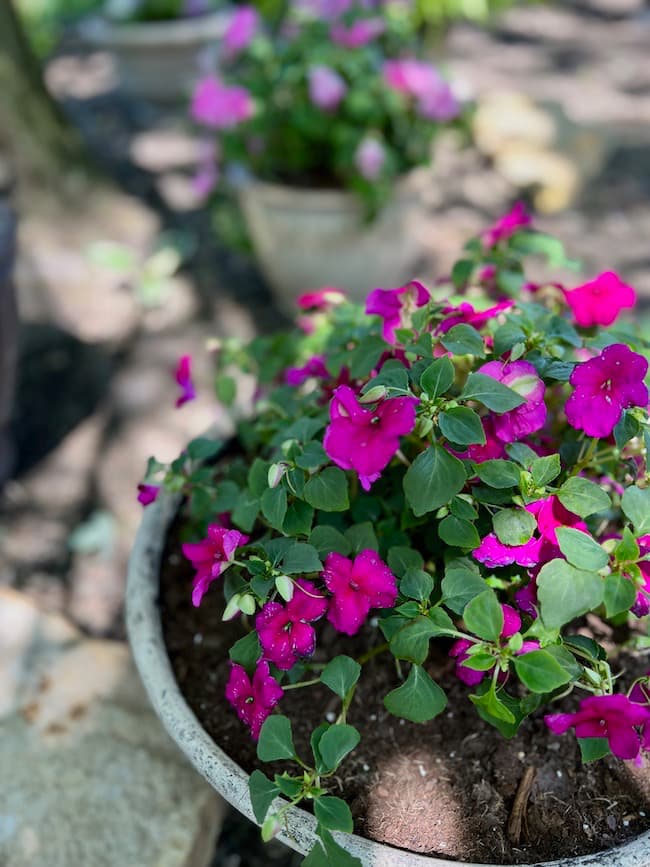 A couple of years ago we pulled up the sod around the base of the tree and prepared a bed for a shade garden. I planted a few hostas at the base of the tree in hopes that they would grow into a lush garden below the tree. I also added a few hydrangeas and rhododendrons in this same area near our fence.
An established maple tree has an extensive root system, and I wanted to do as little as possible to disturb the roots of the tree. I decided to select small hosta plants to plant near the base of the tree, and even divided those so I wouldn't need to dig a very large hole for them. The larger plants were planted further away from the trunk of the tree near the outer border of the garden area.
After a couple of years, the hostas, while continuing to come back each year, just haven't grown into large lush plants.
My dream of a shade garden under this tree, however, hasn't died (even though some of my previous plants did).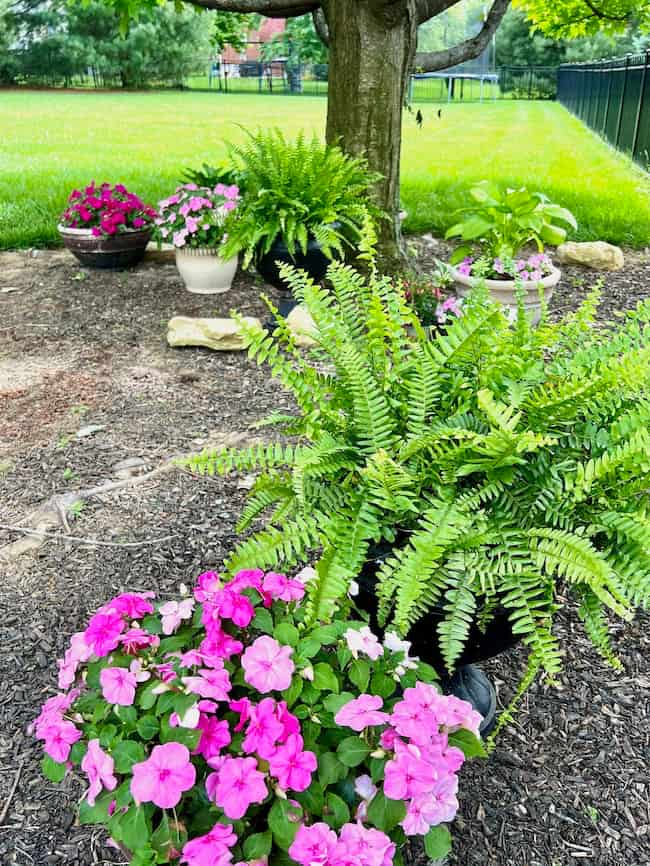 This year I decided to try my hand at creating a container shade garden under the tree by adding lots of shade-loving plants in various size pots to create a lovely garden space under the tree, and today I'm sharing some of my best backyard container garden ideas for a garden under a shade tree.
What are the benefits of creating a container shade garden?
There are several benefits to using containers to create a garden space under a tree.
One of the most important reasons I chose to create this container garden is to protect the tree itself. Planting in containers rather than directly in the ground around the tree helps to protect the tree's root system. When you plant directly in the ground under an established tree it can disturb the roots of the tree as well as introducing more plants that will now compete with the tree for nutrients from the soil. I was able to add more mature plants to this garden space in the planters.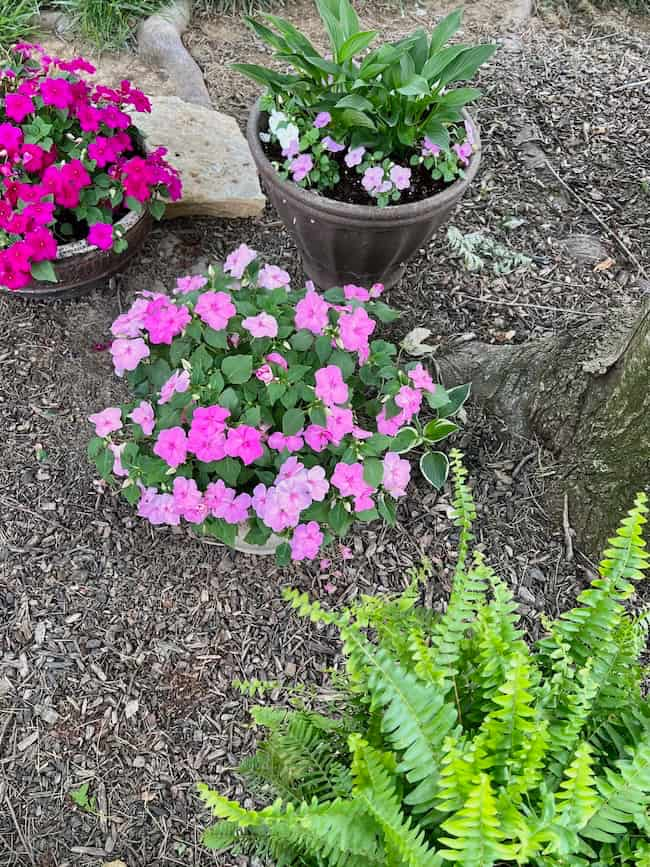 Planting in containers rather than directly in the soil also allows you to provide the type of soil and drainage that is best for the plants. Our soil tends to have a lot of clay in it which doesn't drain as easily. The plants thrive better in this space when planted in containers so they can drain properly.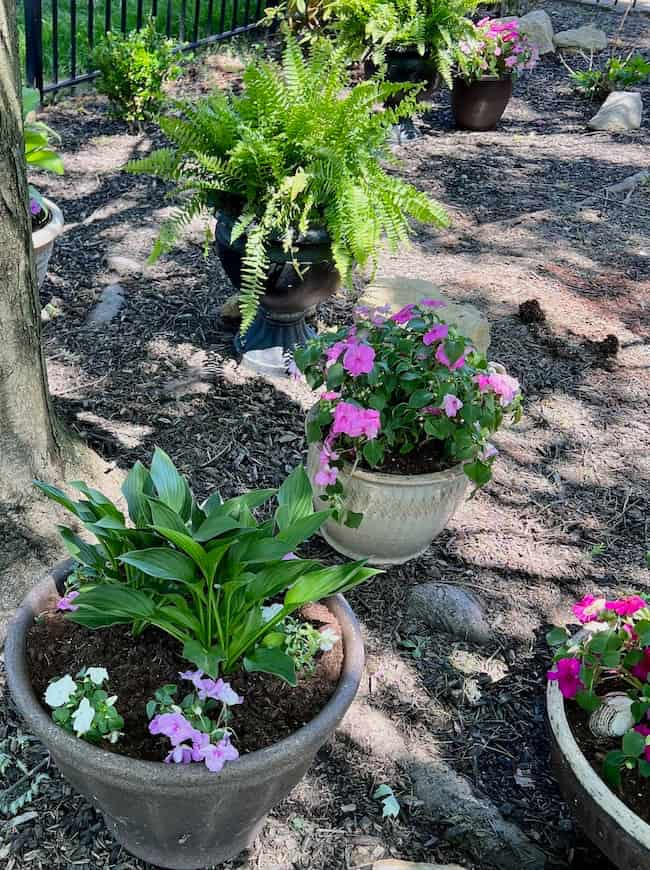 Container gardening allows for greater flexibility in your garden since you can move your plants around as needed to achieve the look you want for your garden. Of course this particular benefit of container gardening appeals to me because I love to change things up a bit! More importantly, the ability to move your potted plants also helps you achieve the best location and growing conditions for them.
Overall, planting in containers under our tree allows me to create a beautiful and manageable garden that can thrive even in this shady area.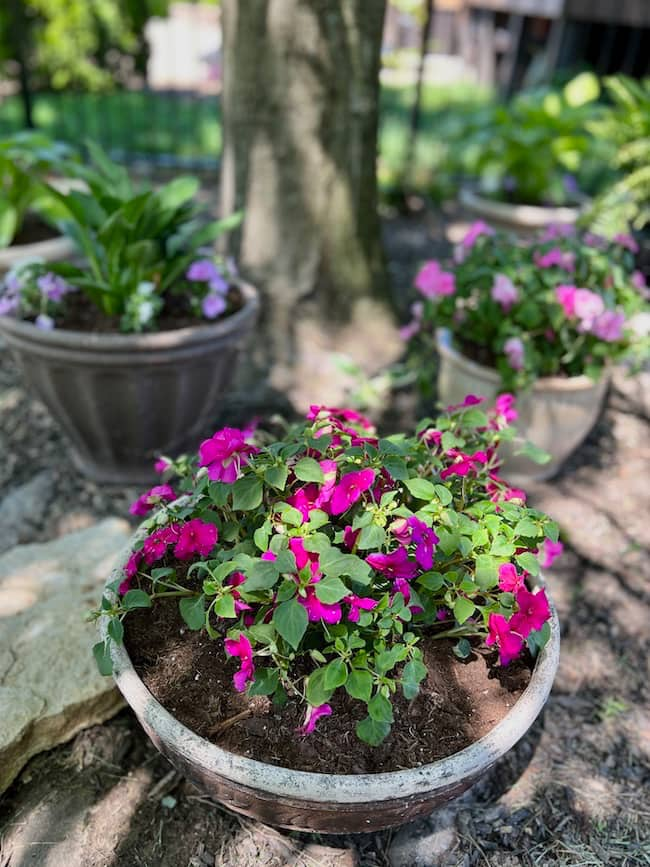 What are the best containers to use for a shade garden?
You can be quite creative when choosing containers for your shade garden. There are many traditional container options to choose from.
Terracotta or clay pots create a classic look for your container shade garden. I would recommend you reserve terracotta pots for shade-loving annual flowers or plants that you don't plan to over-winter outdoors. Terracotta is prone to freeze and crack during the cold winter months, so they are best stored indoors over the winter months.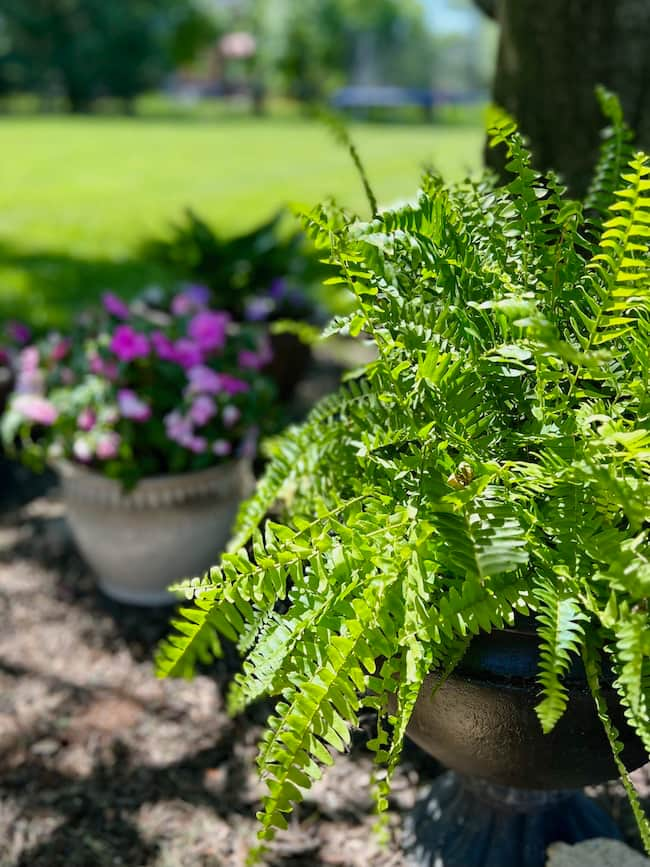 Ceramic pots are another beautiful option for your shade garden with so many rich gorgeous colors to choose from. As with terracotta pots, ceramic pots shouldn't be kept outdoors over winter in cold climates because they are prone to cracking. Use ceramic pots for your annual plants. I've planted some beautiful lilac/pink impatiens in a pretty ceramic pot in our garden.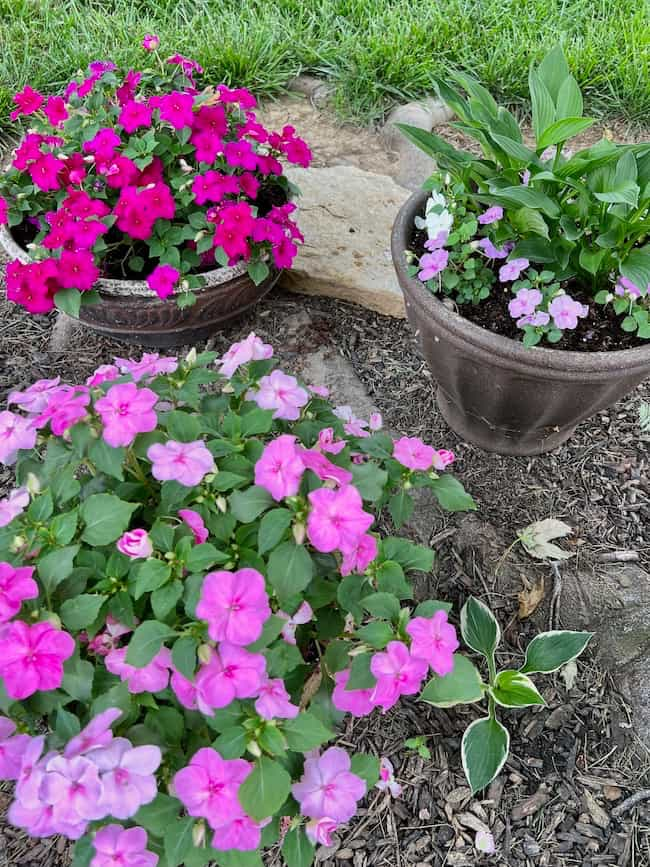 Resin pots are a great choice for your container garden.You can find a variety of resin containers that look like ceramic or clay materials. In our container garden, I chose resin containers for planting our hostas and other perennial plants and shrubs that I hope to return year after year. The resin pots are lighter weight than heavy ceramic options which are perfect for transferring hosta plants and other perennials that I want to overwinter in our garage. Resin pots also hold up better outdoors over the cold winter months because they aren't porous and won't freeze and break in harsh winter conditions.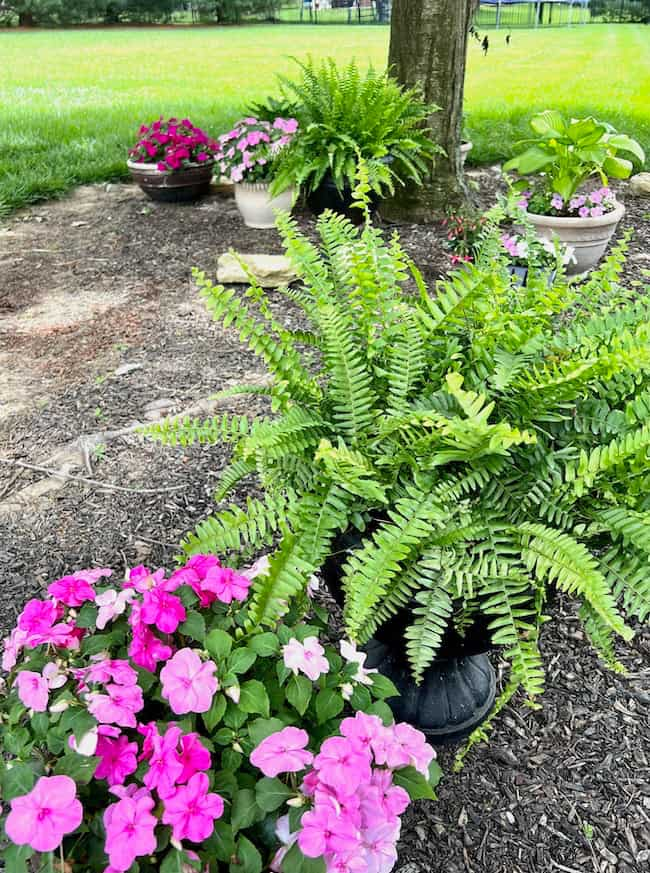 Metal containers are another great option for container plants in your shade garden. Galvanized steel or copper containers are sturdy and rust-resistant and are a great option for long-term use.
Concrete planters can add a nice classic look to your garden. They are sturdy and durable and holdup well over time. They are great options for shady annual plants under your tree.
Make sure all of the containers you choose have drainage holes. Good drainage is important for maintaining the health of your plants.
What are the best container garden plants to choose for a shade garden?
A beautiful shade garden can be achieved by adding a variety of plants and shade-loving colorful flowers to your pots. All of the items in the plant list below can be found readily available in your local garden center.
Hostas — Hostas are very popular plants for shade gardens for very good reasons. They are very easy to grow, and they come in a wide variety of colors, shapes, and sizes. Hostas are perennials and can be overwintered in a garage if you live in climates with cold winters. You can even plant a large container with hostas and add flowering annuals around it for a beautiful look.
Ferns — Ferns are perfect shade garden plants. Their lush green foliage adds a cozy and inviting look to any garden or patio area. Ferns are very easy to grow and come in several varieties, including Boston ferns, Kimberly Queen, and Ostrich ferns. Add a fern to a lovely pedestal container in your garden for a pretty look.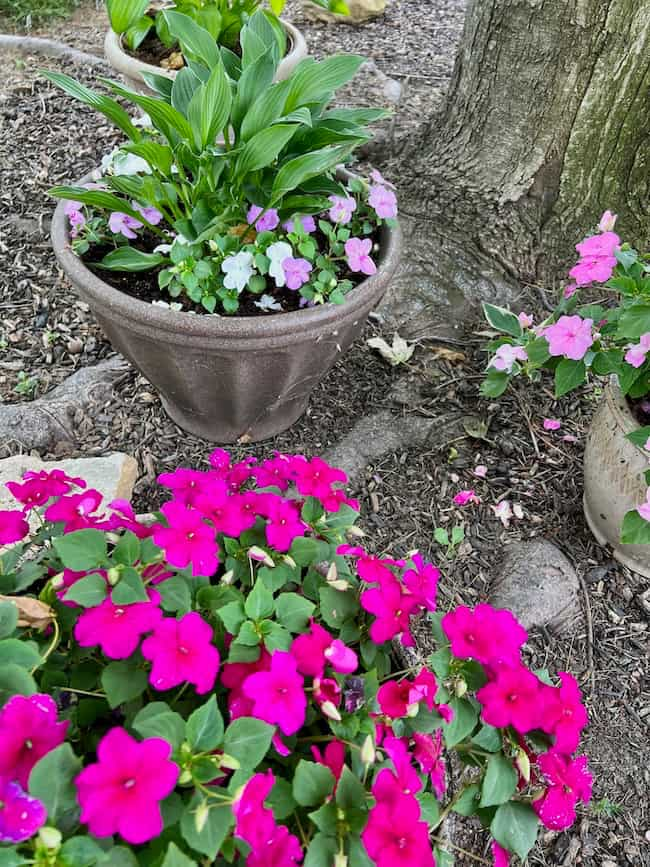 Impatiens — Adding impatiens to your shady container garden is a great way to add gorgeous summer color. Impatiens are beautiful shading-loving annual flowers that come in a variety of colors including pinks, magentas, purples, reds, oranges, white, and coral. They are very easy to grow, and provide a show of color in your garden.
Begonias — Begonias are annuals that also add pretty color and texture to your garden area. New tuberous begonias and dragon leaf begonias are some of my favorite shade-loving flowers that proliferate during the summer months. You can add so much vibrant color in shades of coral, pink, red, yellow, and white with these plants.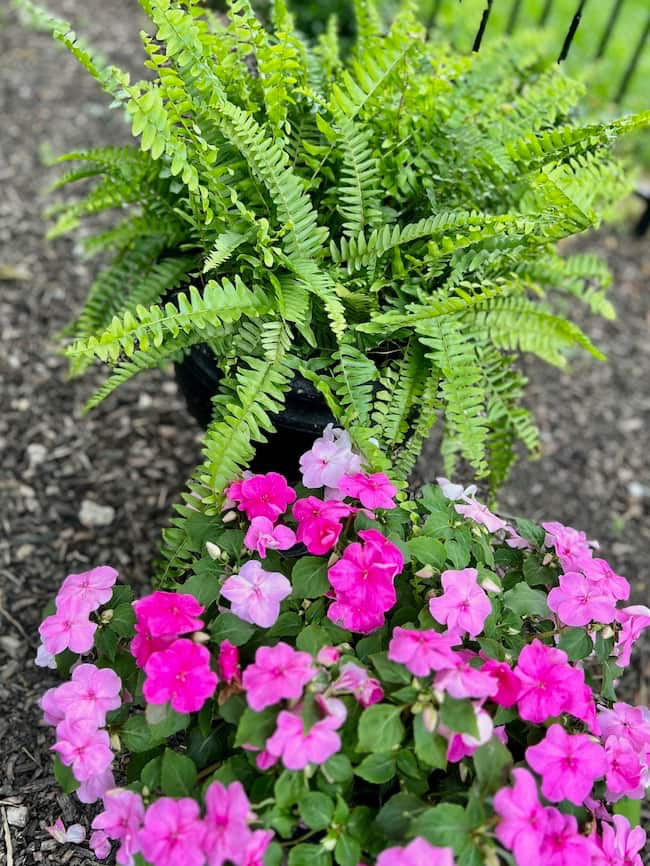 Bleeding heart — A bleeding heart plant adds delicate but rich color to your shade garden. These lovely plants cascade over pots, and also make pretty hanging baskets. Consider hanging a basket of bleeding heart from one of the lower tree branches in your garden.
Astilbe — Another good choice of plants for your shade garden is Astilbe. These shade-loving perennial plants prudence feathery plume-like flowers in shades of pink, white, a red.
Coleus — The variety and colorful foliage of coleus plants makes them a great addition to a container shade garden. Plant different varieties in large pots in under your tree for lots of visual interest.
More flower pot and container ideas:
For some fabulous patriotic themed summer flower pot ideas check out this post!
Summer Ideas for Small Porch Decor
Colorful Fall Front Porch Decor Ideas
---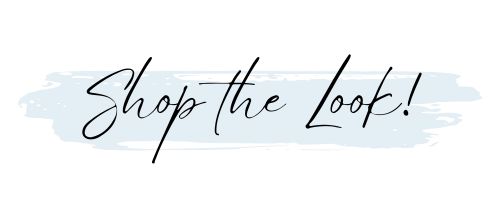 ---
How to Design a Container Shade Garden:
There is really no limit to how creative you can be with your garden design for your under-the-tree shade container garden. Plan out the look you want to achieve and design your space to evoke the look and feel you would like. The beauty of a container garden is its flexibility. You can move your pots around to achieve the look you want and to accommodate the varying needs of your plants.
Select garden pots in colors, shapes, sizes, and textures that complement your garden's design. You can keep to a consistent color scheme or add variety based on the look you want. I like to let my flowers and the foliage of my plants be the stars of the show, so I like to stick with more neutral colors and textures for my containers.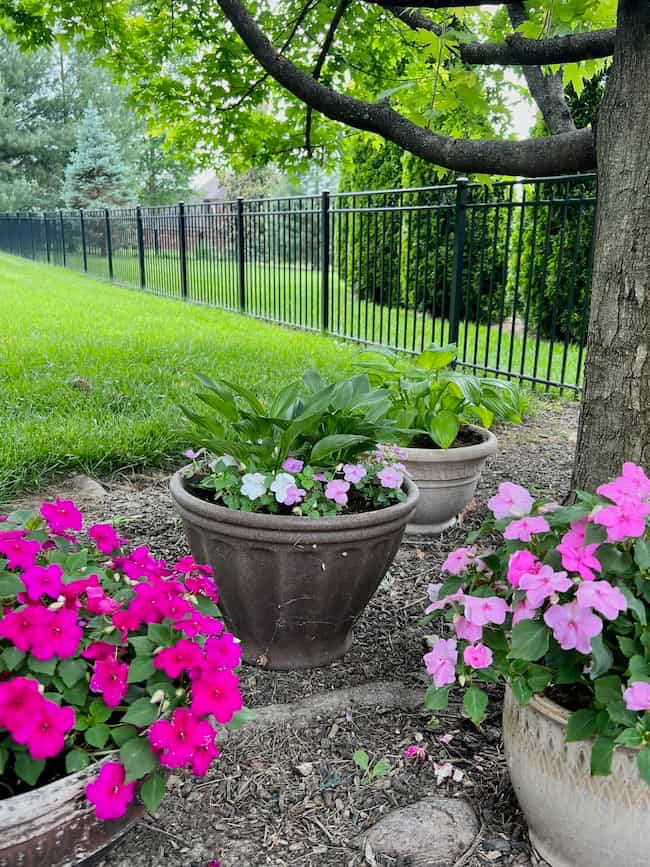 Consider where you want to place your container plants in the shade garden. Keep larger pots and plants near the back of your garden area or near the base of the tree. Small pots can be placed at the front of your bed. Arrange your pots so that the colors of the flowers and foliage complement each other.
Add decorative elements to your small garden space for added interest. Add mulch, rocks or gravel, stepping stones, and other decorative elements to add interest and personality as well as different textures to your space.
Add a garden bench to rest and enjoy your beautiful shade garden.
There are so many creative ways you can design a beautiful and thriving shade container garden that will provide a unique and charming addition to your outdoor space.
Maintaining and Overwintering a Shade Container Garden:
Give your shade container garden proper care and careful attention to keep your plants and flowers blooming, growing, and thriving all summer long.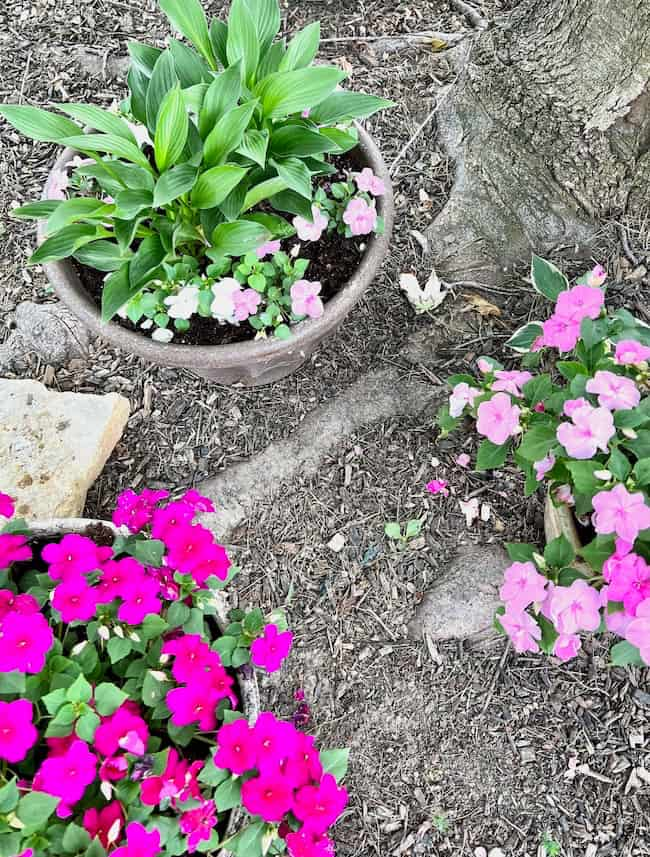 Your container garden will require more monitoring for water needs than an in-ground garden. Water your containers regularly, particularly as the weather heats up and on hot, dry summer days. Shade-loving annuals such as impatiens need plenty of water, so water daily. The shady canopy of your tree helps to keep plants from drying out as quickly as they do in full sun; however, container plants will dry out faster than those planted in the ground, so be sure to check plants daily to determine the watering needs. You can even consider installing a simple drip irrigation system in your shade garden to make watering easier.
Be sure to feed your plants regularly. I like to fertilize with Miracle Grow every two to three weeks during my daily watering for lush and vibrant plants. It's an easy way to have gorgeous blooming plants all summer long. You can also use a slow-release fertilizer when you plant your pots in the spring or early summer.
Weed your shade garden regularly. Adding a layer of mulch is a good way to help cut down on the growth of weeds.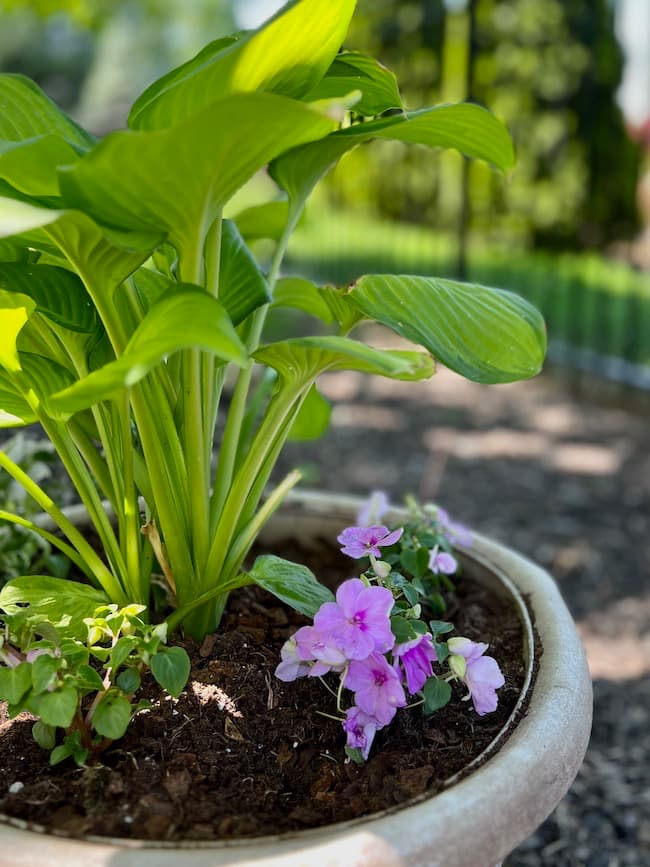 Overwintering your Hostas and other perennials in containers:
Perennial plants such as hostas planted in containers will require some extra care over the winter months. After the growing season and before the first frost, move the containers of hosta to a sheltered location, such as an unheated garage. This will help protect the hosta from freezing temperatures and harsh winds. The containers won't require frequent watering over the dormant winter months, but be sure to water monthly to make sure the soil doesn't completely dry out. In early spring, after freezing temperatures have passed, you can return your potted perennials to your garden.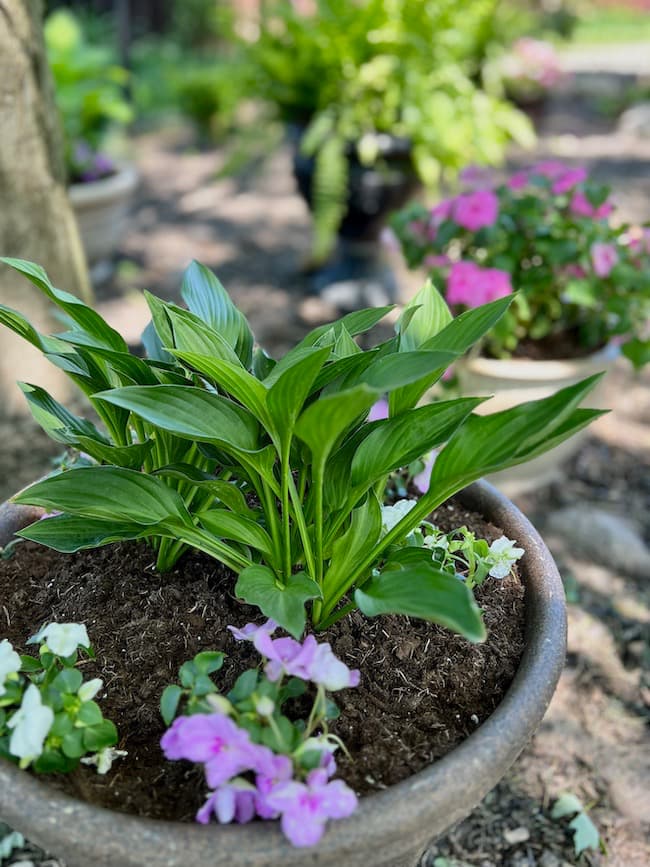 ​Planting a shade garden in containers is a great way to have a lovely garden space under an establish tree in your yard. With so many container and plant options you can create a beautiful garden area to enjoy. With the right containers, soil, and plants, you can create a beautiful and low-maintenance garden that thrives in even the shadiest of spots while still protecting the health and root system of your tree.
So go ahead, get creative, and start planning your own shade container garden today!
Thanks so much for stopping by!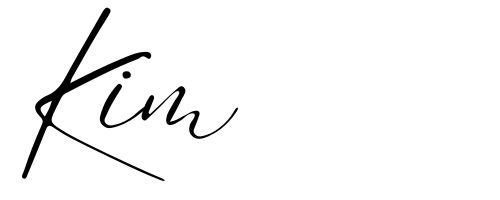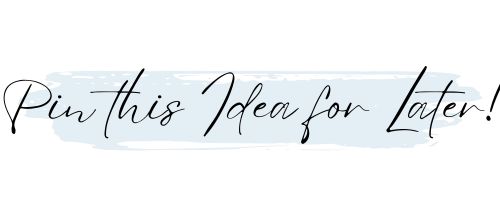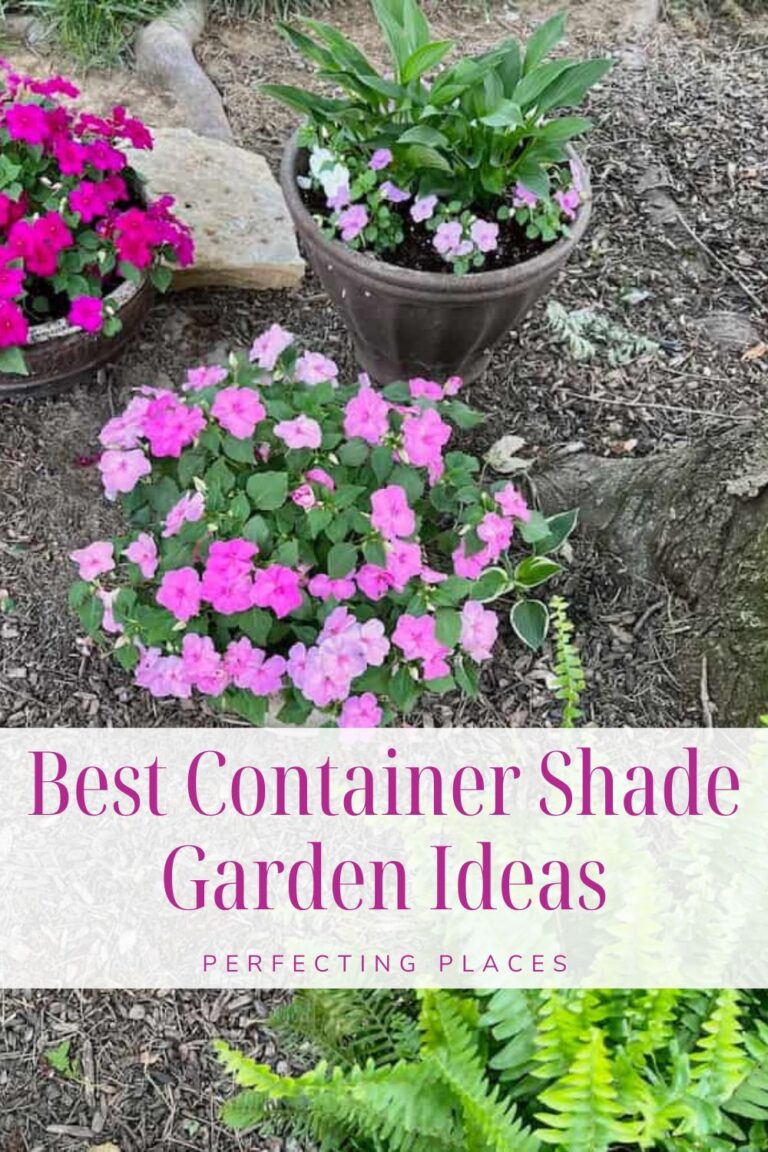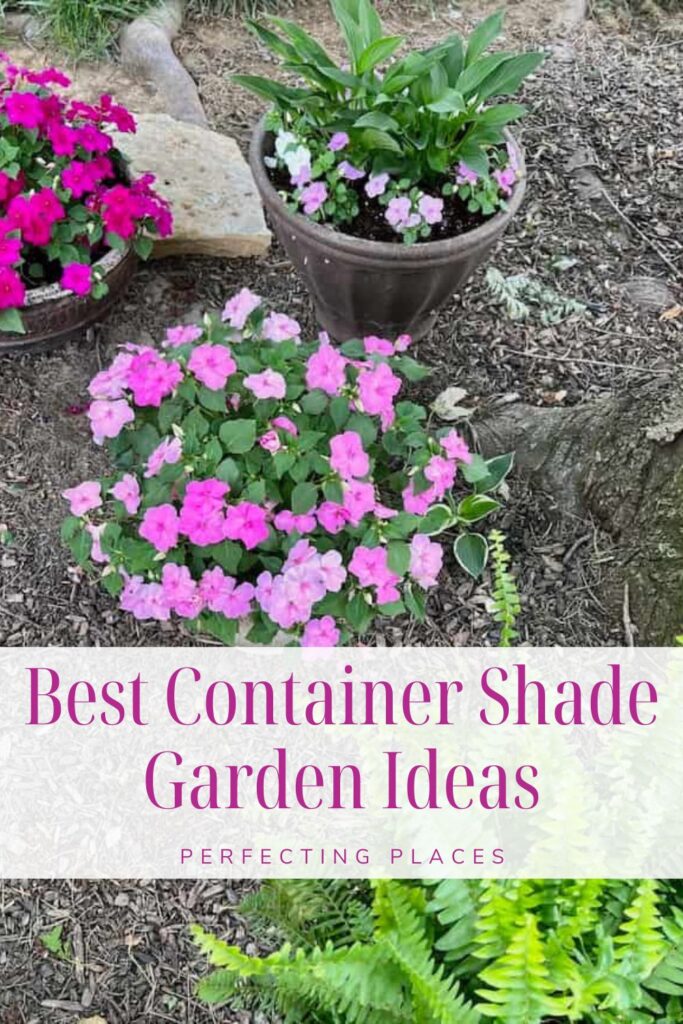 By the way, do you follow me on all the socials? If not, check out my Pinterest, Instagram, and Facebook and be sure to follow along so you don't miss out on any of my decorating and DIY ideas.