Simple Summer Centerpieces for Tables
Are you hosting a summer dinner with friends? Treat your guests to these simple summer centerpieces for tables.
Today, we're talking all about flowers — flower centerpiece arrangements to be exact.
Don't you just love the way summer flowers brighten a room? There's just something special about the way an arrangement of pretty flowers can bring life and beauty to a room.
To be honest with you, when it comes to planning a dinner party, no matter how casual or formal, one of my favorite things to do is decide how I want to decorate the table.
Yes, I know, the menu is important.
But, I just love to create a pretty table, and the floral arrangement is the centerpiece of the whole dinner party!
Today, I'm sharing some simple ideas for creating beautiful summer centerpieces for your late summer parties.
(This post contains affiliate links, so I may earn a small commission when you make a purchase through links on my site at no additional cost to you. As an Amazon Associate I earn from qualifying purchases.)
Centerpiece Ideas with Sunflowers:
First, let's start with sunflowers!  Sunflowers are the perfect late-summer centerpiece flower! Whether you pick some up from the grocery store, use faux sunflowers, or pick your own from a local farmer or your own backyard, sunflowers can really brighten up a summer table.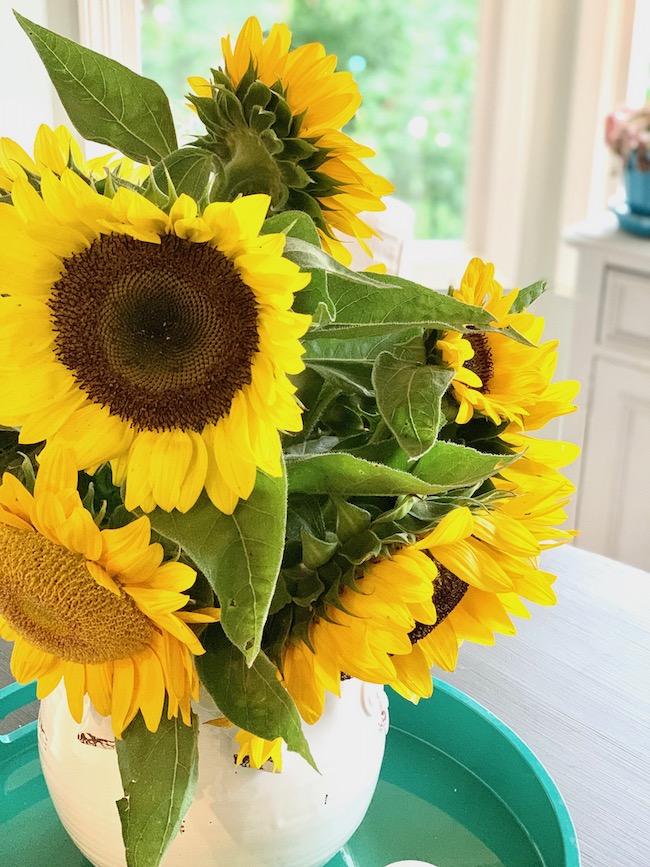 Fill a pretty white vase full of these sunny yellow flowers. Here, I've anchored the sunflower arrangement with a pretty green tray on our kitchen table. Sunflowers make such a happy arrangement!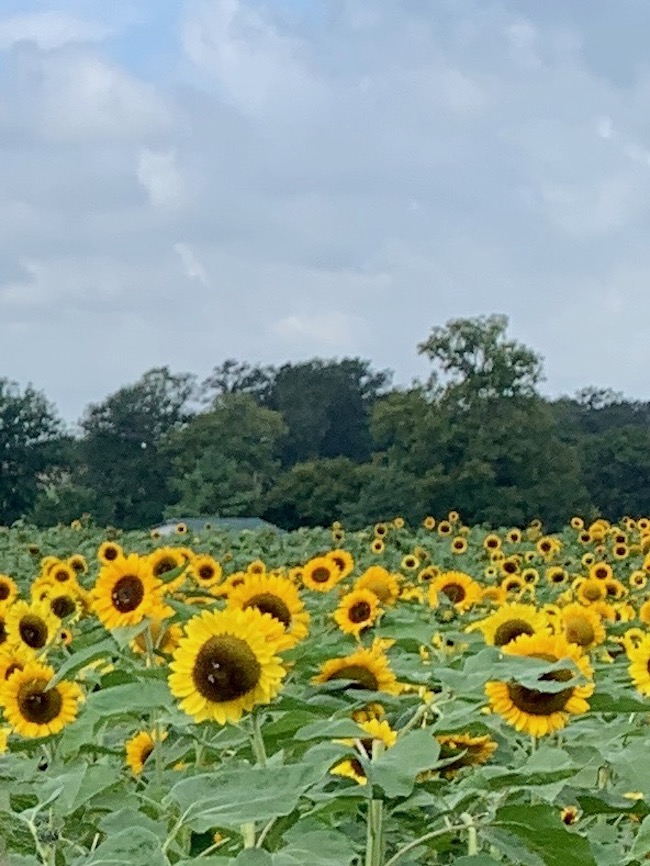 We had a late summer outing to a local sunflower farm and picked tons and tons of sunflowers to bring home! If you have access to a you-pick sunflower farm nearby, you'll get the best deals on big bunches of these gorgeous blooms! You will have to battle a few bees and insects, though.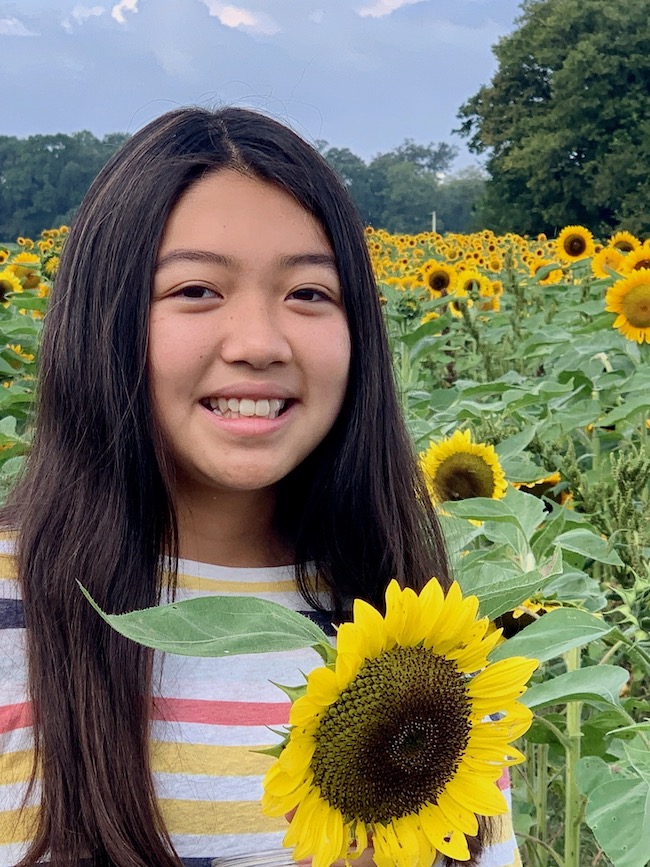 Create a Hydrangea Centerpiece:
My favorite summer flowers are hydrangeas, and they make such gorgeous summer centerpieces for your table.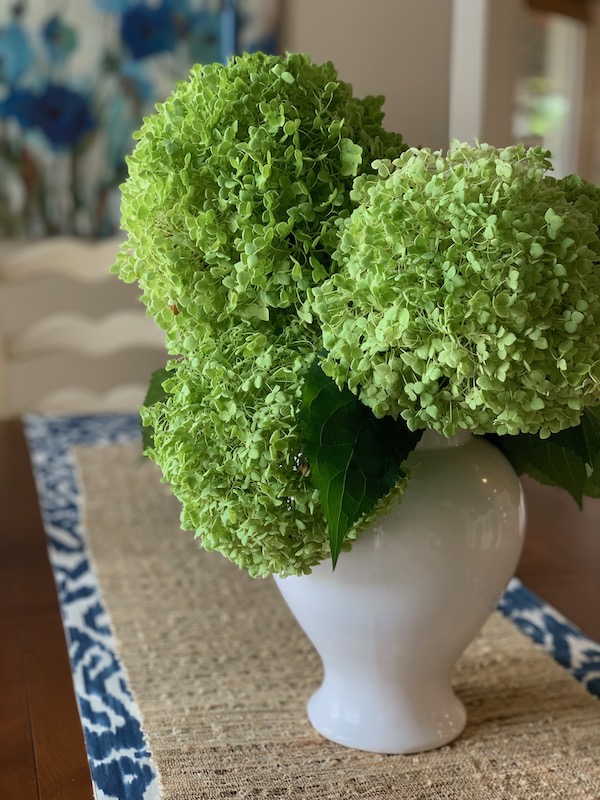 You can stick with one hydrangea color such as these late summer Annabelle hydrangea blooms which have faded from their previous snowy white color to this gorgeous shade of chartreuse.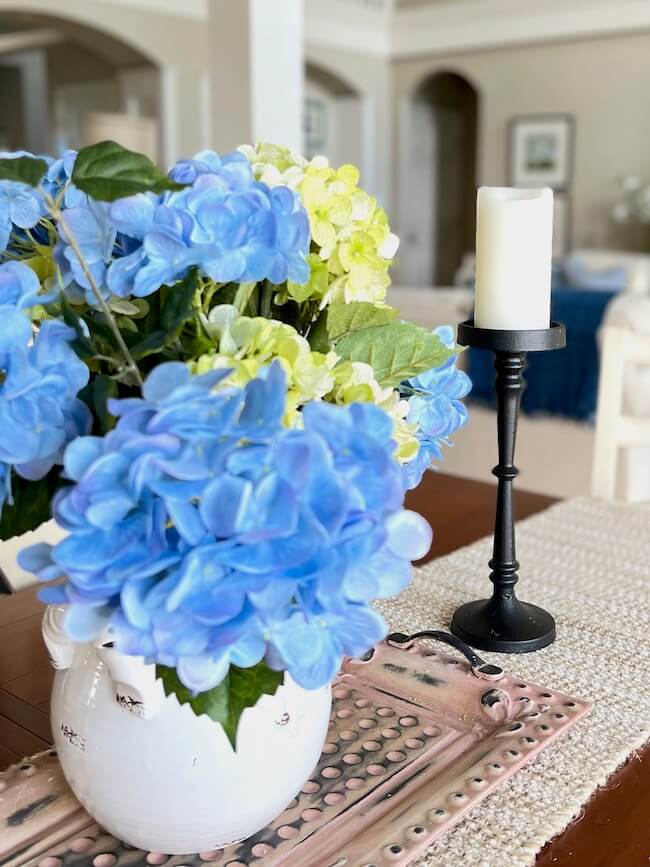 Or mix beautiful shades of hydrangeas together in an arrangement like these pretty green and blue blooms.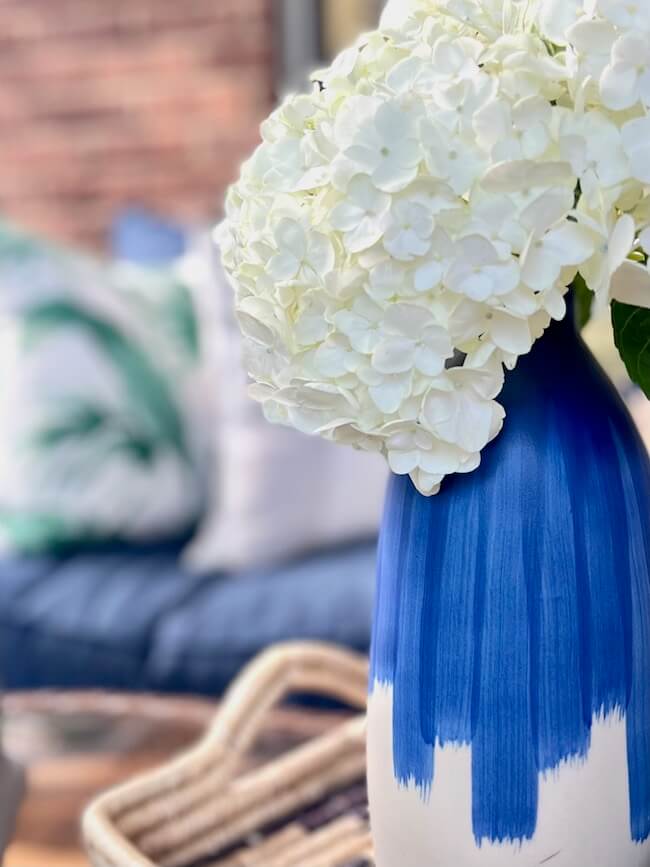 Or stick with neutrals and go with all white hydrangeas.
You can even dry them in the process. As we approach the end of summer and the hydrangea blooms become "paper-like", they can be clipped, placed in water, and then simply let the water evaporate to create beautiful dried blooms you can use throughout the fall and winter. 
You can also re-hydrate hydrangea blooms when they start to wilt. The white hydrangeas above were re-hydrated and lasted for over two weeks! You just can't beat hydrangeas for gorgeous summer centerpieces!
Fill a Bowl with Peaches other Fruits:
You don't have to just stick with flowers when creating a simple summer centerpiece. Fill a bowl with fruit to create a pretty centerpiece if you don't have flowers on hand.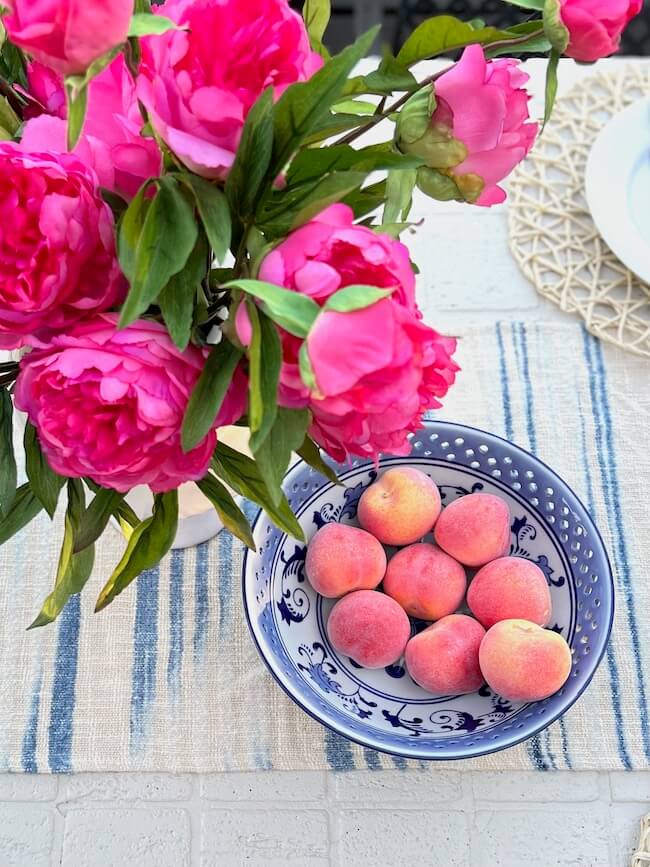 These pretty peaches add a perfect touch of summer to your table. They pair beautifully with flowers in a vase, or can stand completely on their own as a summer centerpiece filling a pretty bowl.
Green apples, lemons, and limes are other fruits that make pretty centerpiece bowl arrangements.
Decorate with Orchids and Moss:
Orchids create a beautiful and elegant centerpiece for your table year round. I like to fill a pedestal bowl with orchid plants and cover with moss.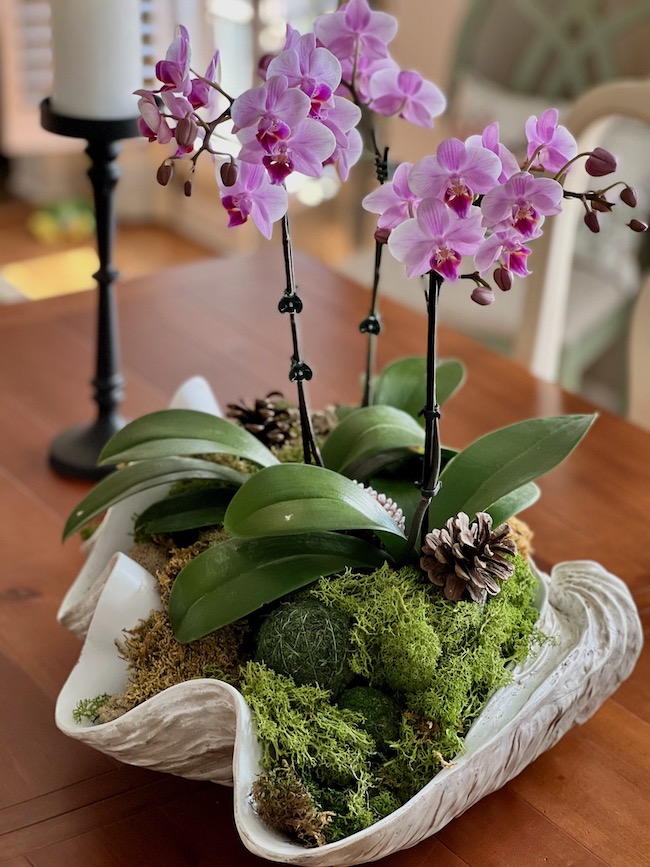 I've even used them in a giant clam shell bowl for a pretty centerpiece idea for your dining table.
Use potted flowers from the market:
Another easy way to create a pretty summer centerpiece is simply to purchase potted flowers from your super market. They come in so many varieties and colors, and last a really long time since they are still growing.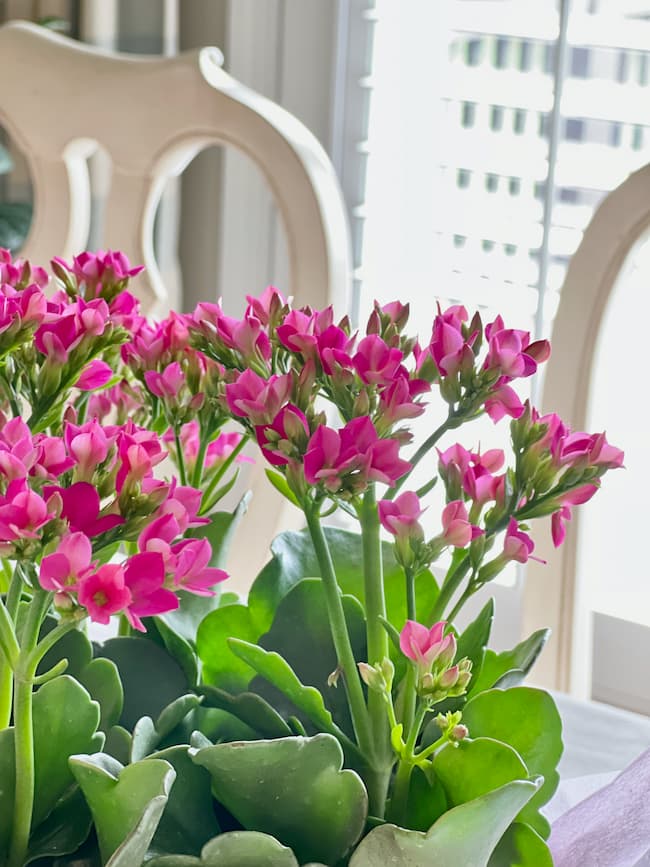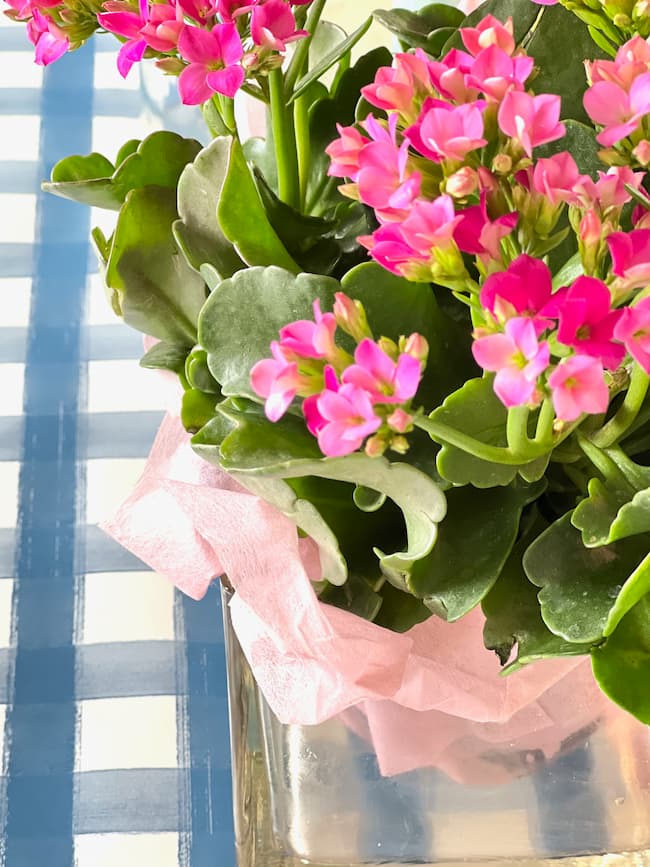 This pink Kalancho potted flower is one of my favorite grocery store flower varieties that added lots of long-lasting color!
What's the best vase to use for summer table centerpieces?
You could use a trio of vases similar to this modern farmhouse ceramic vase set.
This elegant soft blue bubble glass vase would make a lovely arrangement for summer flowers.
A metal pitcher makes a pretty alternative to a traditional vase for holding flowers.
Some pretty faux flowers to create the look:
You can create pretty arrangements with faux stems as well. I like to keep a variety of realistic seasonal stems on hand to create pretty centerpieces throughout the year. So, if you can't get to the store, or just want to reuse what you have, you can create a pretty look with some faux options. Or better yet, combine faux with real to really stretch your decorating dollar.
These faux sunflowers and hydrangea blooms are nice options to keep on hand from year to year:

So, you can see it's pretty simple to create a pretty flower arrangement for your summer gathering. I hope these simple summer centerpieces for tables inspire you to create a beautiful arrangement for your guests!
Happy Summer!
Pin It for Later!