Festive and Easy 4th of July Home Decorating Ideas
Are you hosting a 4th of July get-together this year? Try these festive and easy 4th of July home decorating ideas for your celebration.
Fourth of July decorations don't have to be difficult! I'm sharing so many fun ways to display your American pride and patriotic colors around your home to creative a festive look this summer.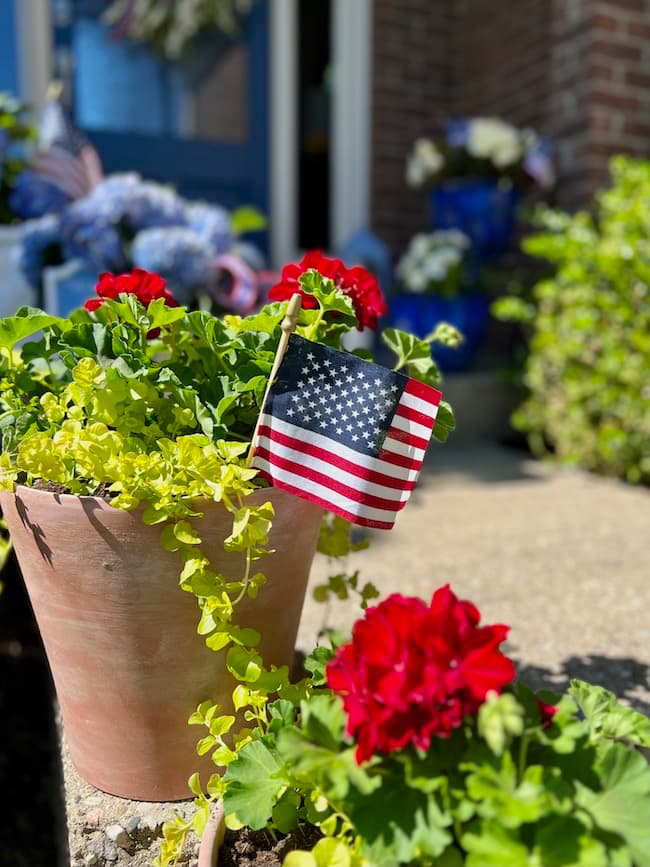 As an added bonus, today I'm joining 4 other blogger friends in the Celebrate the Holiday July 4th Blog Hop! A special thanks to Carol from Bluesky at Home for organizing this blog hop full of so many Fourth of July celebration and decor ideas!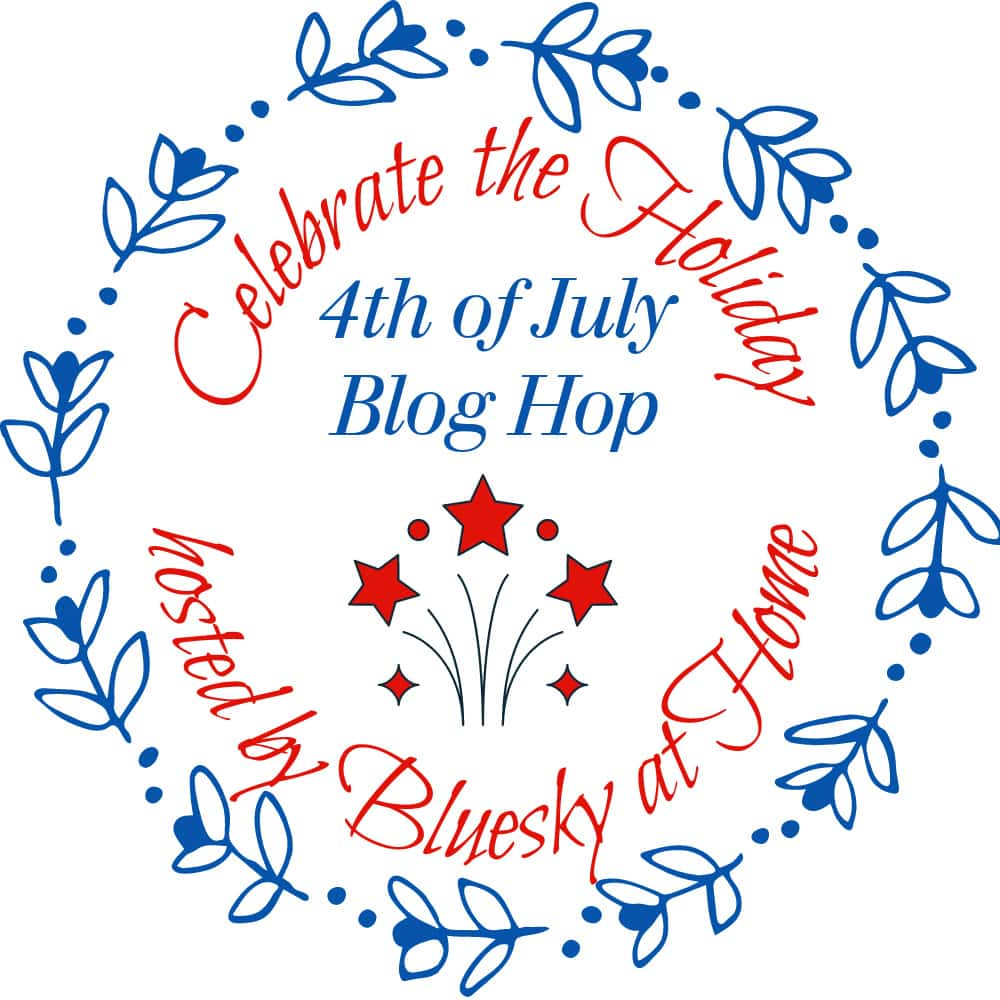 If you're stopping by from Bluesky at Home, didn't you just love Carol's Fourth of July decorations? Be sure to check out all of the wonderful decorating ideas, recipes, and patriotic crafts by my talented blogging friends at the end of this post!
If this is your first time to Perfecting Places, welcome! I'm so glad you stopped by! I'm Kim, and I blog about all things home decor! I love to share easy DIYs for your home as well as paint colors, design sources, and favorite decorating tips and tricks to help you make your house a home!
(This post contains affiliate links, so I may earn a small commission when you make a purchase through links on my site at no additional cost to you. As an Amazon Associate I earn from qualifying purchases.)
I'll let you in on a little secret.
I really love easy decorating! I love it when I can throw things together and whip something up without having to run out and buy a lot of dedicated holiday decor.
If I let you peek into my home decor storage closets and containers you would find the most random selection of ribbons, and flower stems, and vases and such that I can pull out and add a touch here and there, and voila … we're all decorated for the holidays!
And here's another little secret of mine — I get kind of lazy during the summertime.
I get lazy with cooking.
And, I get lazy with decorating!
So, when July 4th rolls around, I like to go all easy-peasy with my holiday decor! The easier, the better!!
One thing I've found that is super helpful when decorating for the holidays, is starting with a great base of color that's easy to build on. For me, it's all about blue and white (as you probably could have guessed if you've been around here a minute.)
And starting with blue and white decor in our home makes it super, super easy to decorate for the 4th of July!
Just add a little red to the white and blue decor mix, and your July home decor is all ready to go!!
My Best Tips for Fast and Easy July 4th Decorating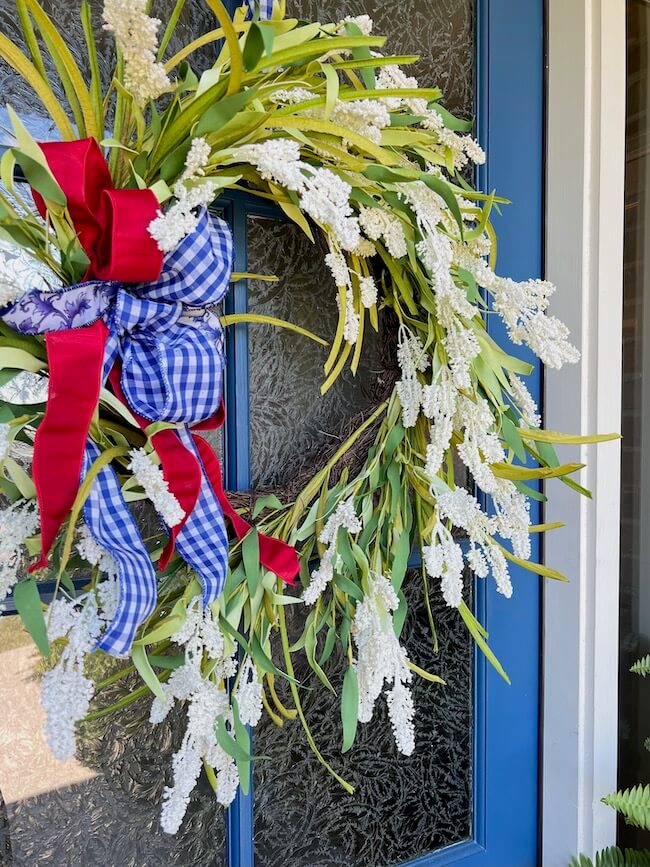 1. Make patriotic bows by adding some red, white, and blue ribbon to a front door wreath.
This summer I found the prettiest white floral wreath from Kirklands for my front door. At the beginning of the summer, I added a simple blue and white gingham ribbon. I loved how it this festive red, white, and blue wreath looks with my freshly painted blue door in Sherwin-Williams Endless Sea (SW 9150).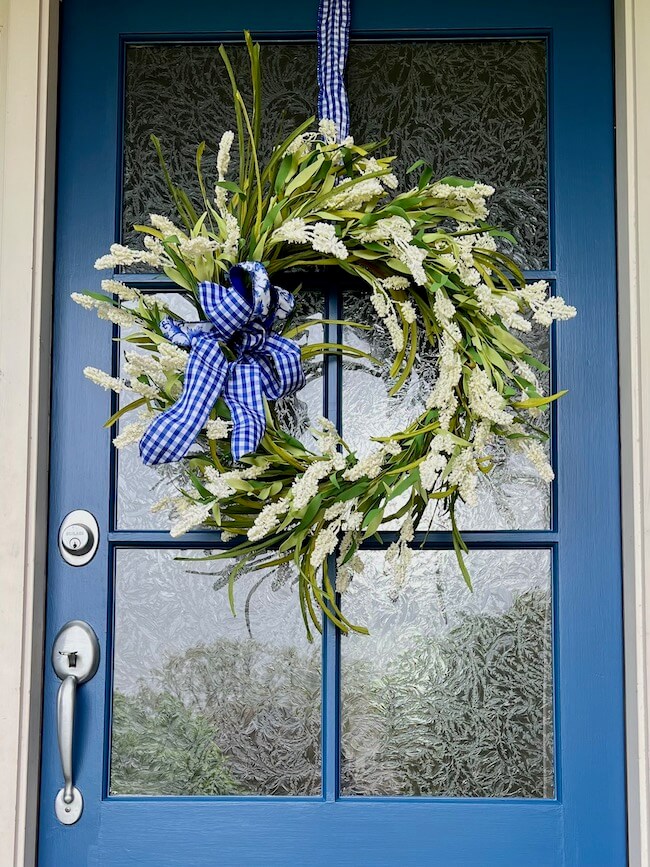 When I added the wreath to the front door, I knew it would be super easy to turn it into a great patriotic wreath for the 4th of July by simply adding a splash of red ribbon to it!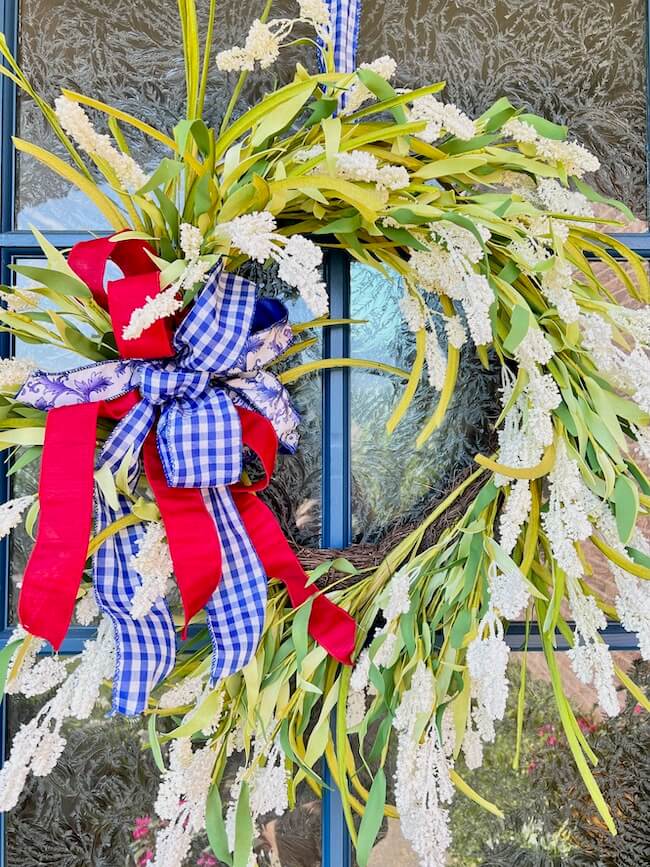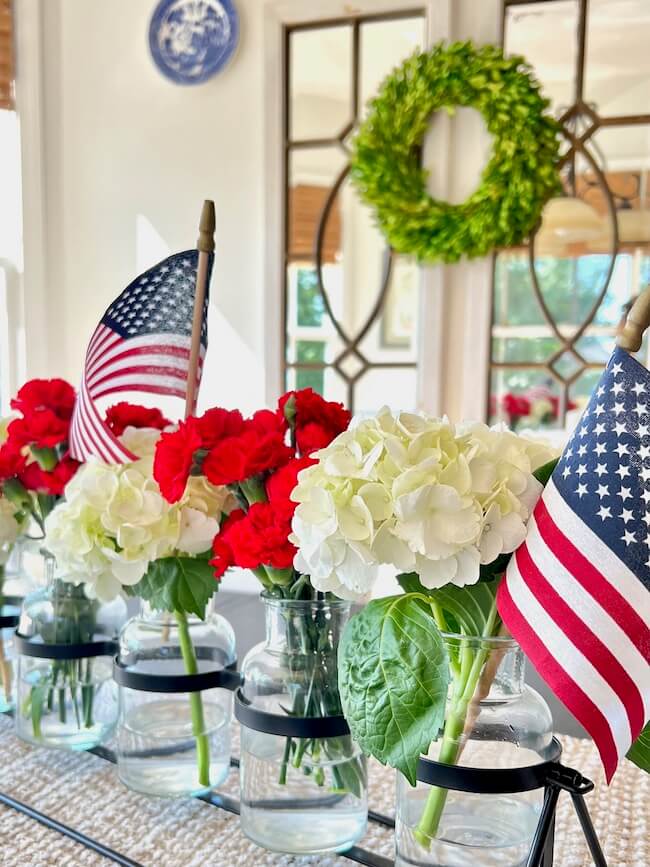 2. Alternate red carnations and white hydrangeas in bud vases.
This bud vase holder was the best purchase last year! It makes it so easy to create simple, but beautiful centerpieces for your table for every season! To create the perfect July 4th centerpiece, I simply added white hydrangeas and red carnations. It's super easy, and the flowers last for days!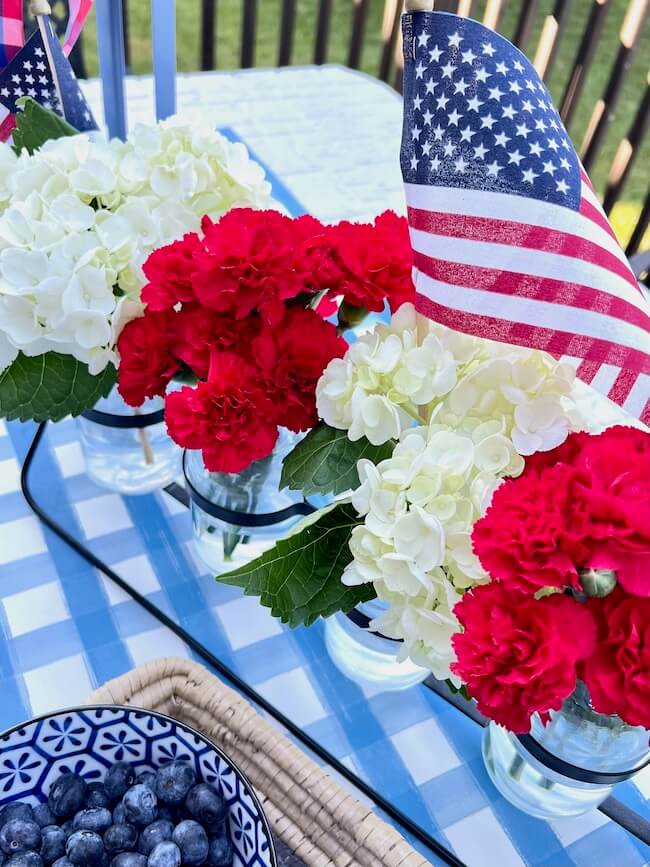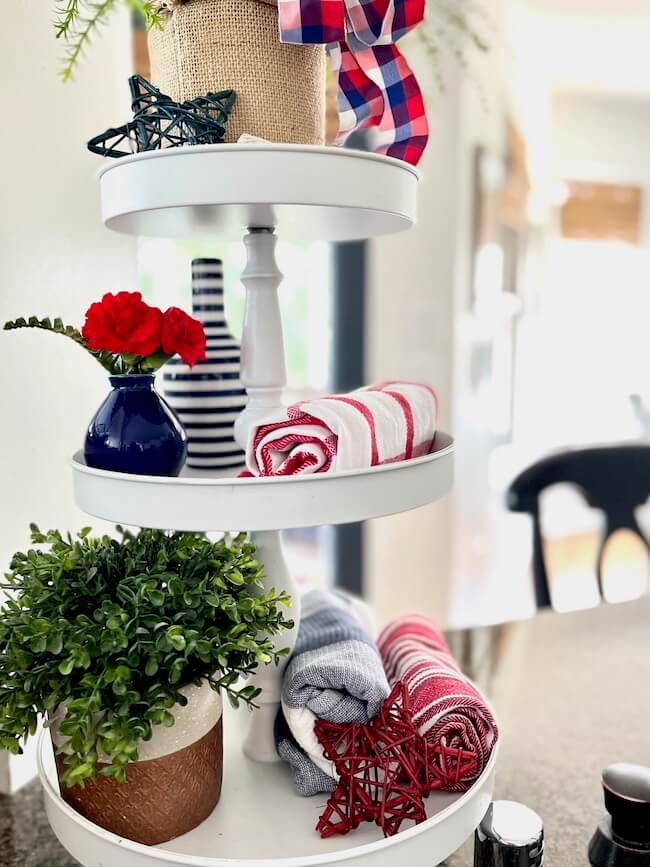 3. Decorate with red, white, and blue dish towels in your kitchen.
And yes, they can be the same red and white towels you pulled out for Christmas and Valentine's Day! I know it's kind of silly, but I love new dish towels for the kitchen. The beauty of red and white dish towels is their versatility! Just think of all the holidays you can use them — Christmas, Valentine's Day, Memorial Day, and of course Independence Day! Throw in a few navy or blue and white dish towels, and you're all set!
I like to roll them and add them to my three-tiered stand for a great patriotic display!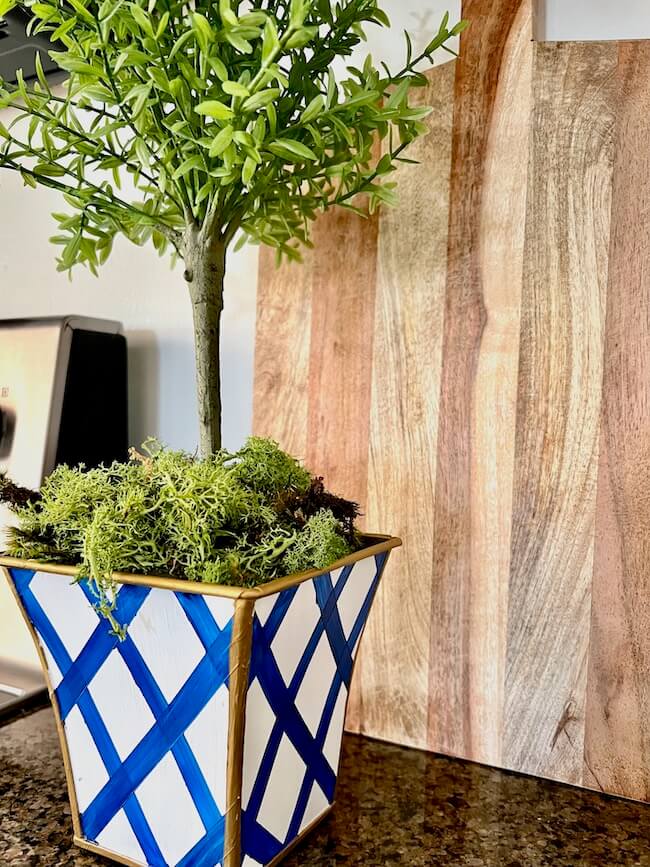 4. Place your kitchen topiary in a blue and white cachepot.
This little blue and white hand-painted cachepot DIY project has certainly come in handy! I've used them in tablescapes, as mantel decor, and here on our kitchen countertops with a cute little topiary. It's certainly easy to incorporate all of your blue and white decor pieces into your July 4th decorations!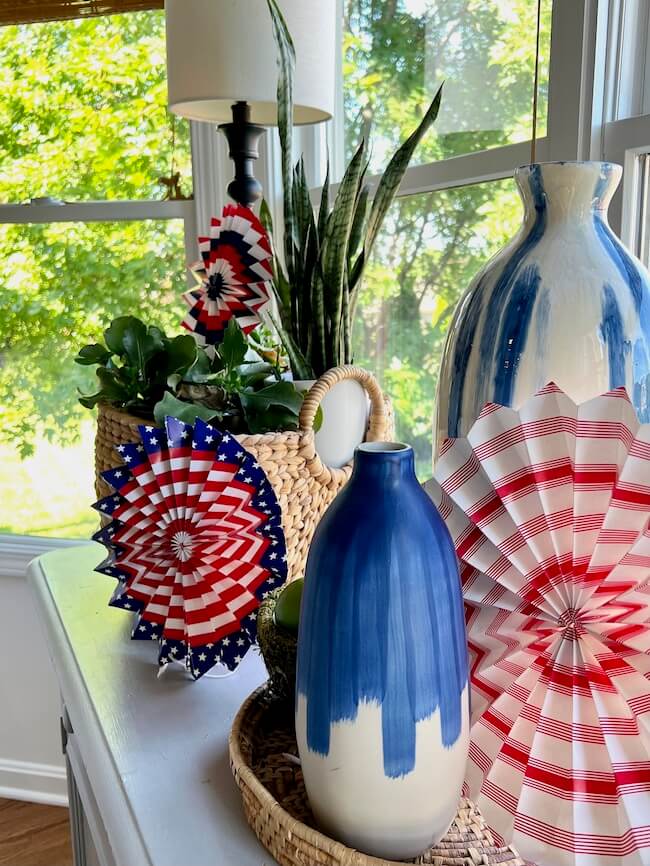 5. Add some red, white, and blue paper fan decorations to your potted plants or kitchen buffet. (I use these year-after-year.)
Pick up some inexpensive red, white, and blue paper fans to decorate for the 4th! I've had these for years, and they are so easy to add around your house for the holiday. I've added them to our kitchen buffet here, but I've also hung them from chandeliers, or tree branches outdoors to add fun splashes of patriotic color!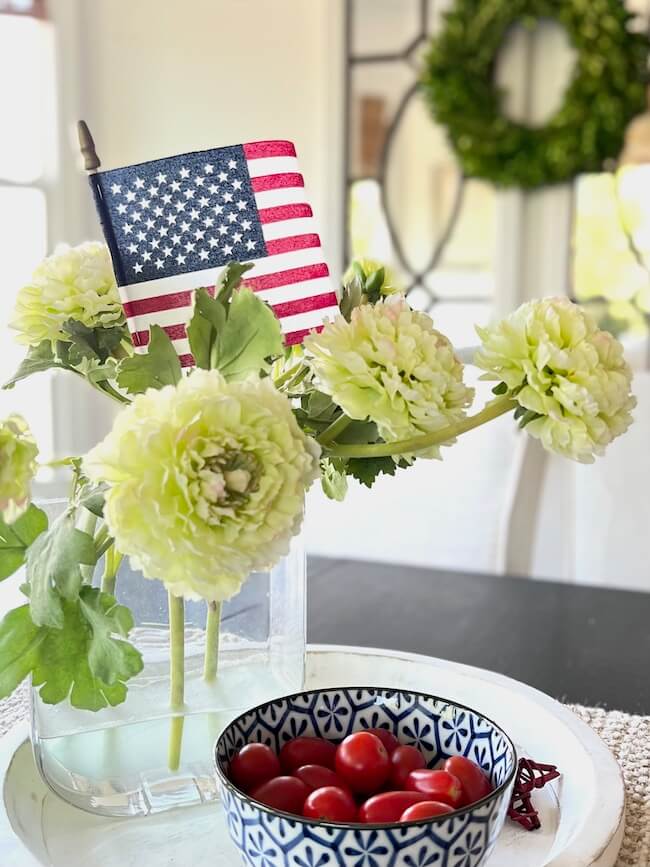 6. Add small American flags to your plants and arrangements.
Of course, no July 4th decorations would be complete without Old Glory! Add small flags to arrangements, centerpieces, and potted plants to celebrate the holiday.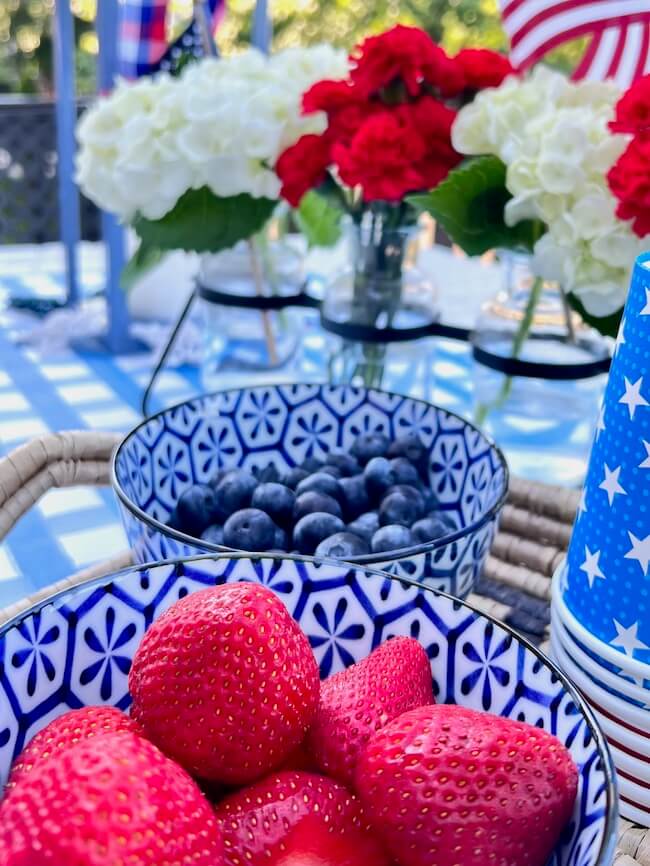 7. Add all the blue and red foods!
Nothing is better than fresh berries in the summertime! How perfect that blue and red berries are in season at this time of year. Fill bowls with gorgeous ripe blueberries, blackberries, strawberries, or raspberries for a fresh pop of color. Or, whip up a yummy dessert with these beautiful berries!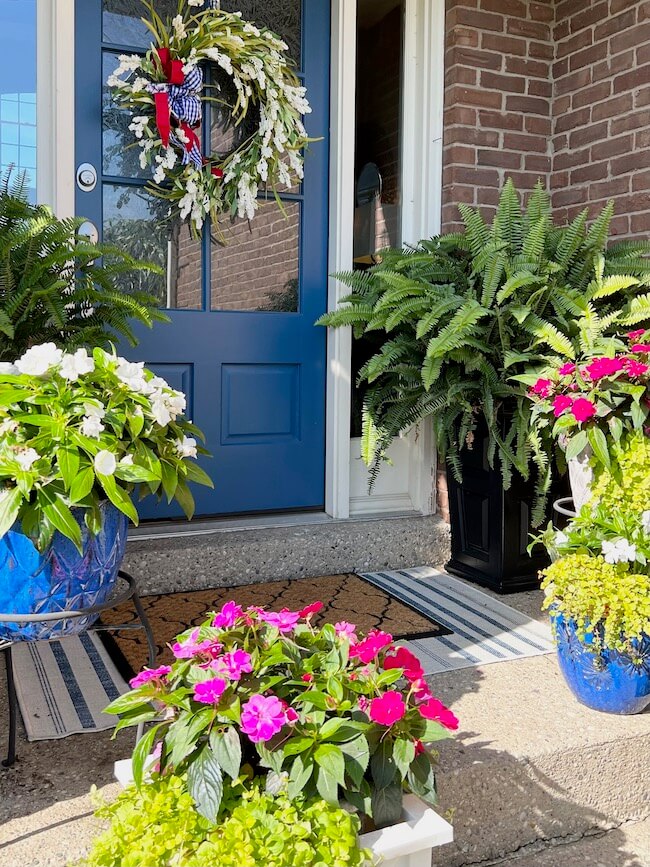 8. Plant some red and white flowers in blue pots. (Bonus points if you thought ahead and chose this color scheme back in May when you planted your summer flowers!)
I love blue glazed flower pots, and they look so pretty for the 4th of July full of beautiful red or white blooms. I especially love to use New Guinea Impatiens in my blue pots on my front porch which is shaded from mid-morning on. Red and white geraniums would be lovely in the blue pots in sunny spots! Or, add some white petunias and blue lobelias. You can read more ideas for planting patriotic flower pots in this post.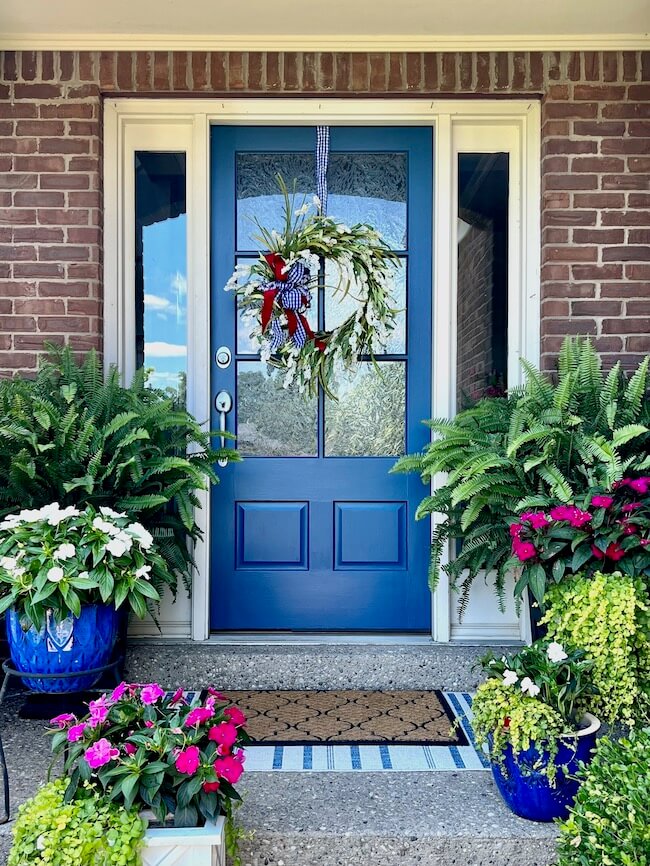 9. Add a blue and white plaid paper runner. (I keep a roll of this.)
I love this roll of blue and white gingham paper! It's perfect for a 4th of July tablescape!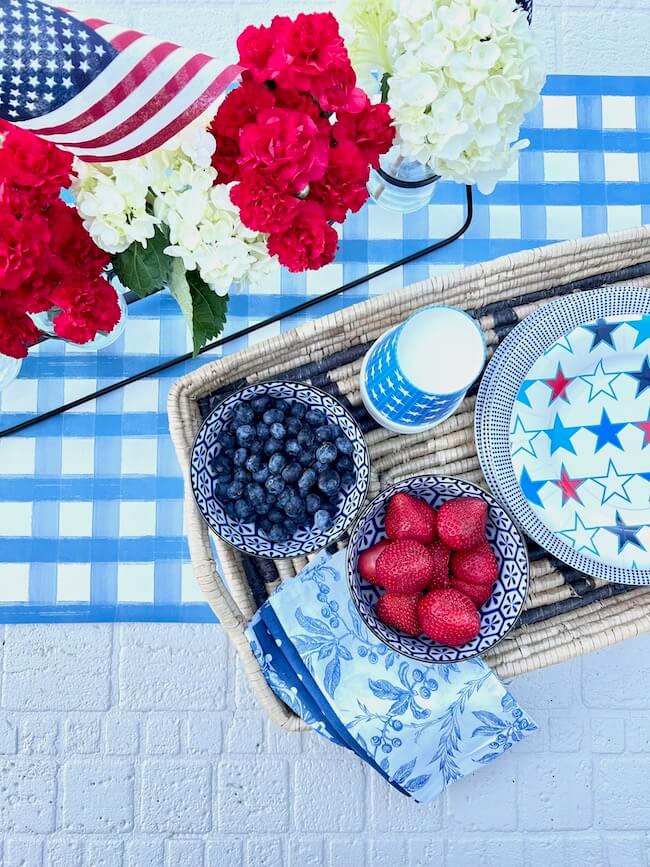 Of course, it doesn't have to be paper. You could certainly achieve this look with a cloth table runner or tablecloth. The beauty of the paper runner is easy cleanup after backyard bashes!!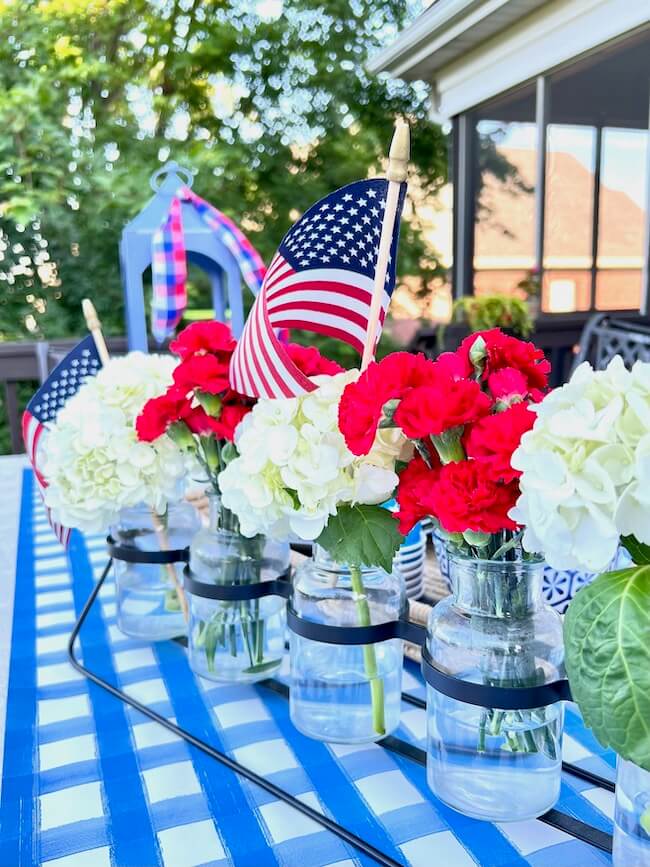 10. Fill your blue and white vases with hydrangeas.
Blue and white ginger jars and vases are perfect for any holiday, and are beautiful filled with white hydrangeas!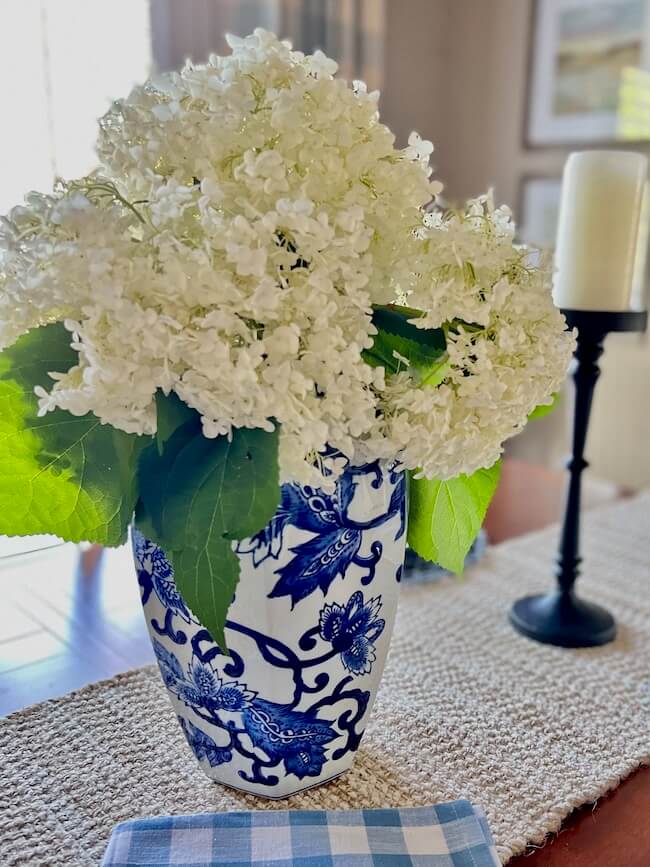 Our Annabelle hydrangeas are snowy white and plentiful this time of year, so they're the perfect July 4th addition to a blue and white vase! What a great way to elevate the look of your July 4th decor!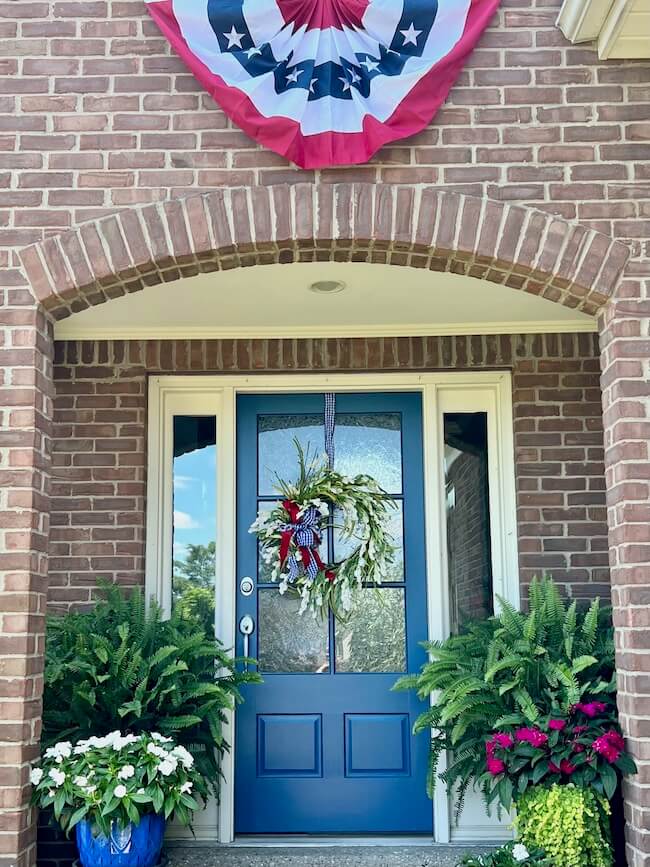 11. Add flags or bunting to the front of your house.
I think bunting is the perfect addition to your home's exterior for the 4th of July. I hang ours from our windows, but I love it hung from front porch railing. I purchased this larger 2 x 4 foot bunting this year to hang from the window over our front door. It's excellent quality! They're the perfect outdoor 4th of July decorations!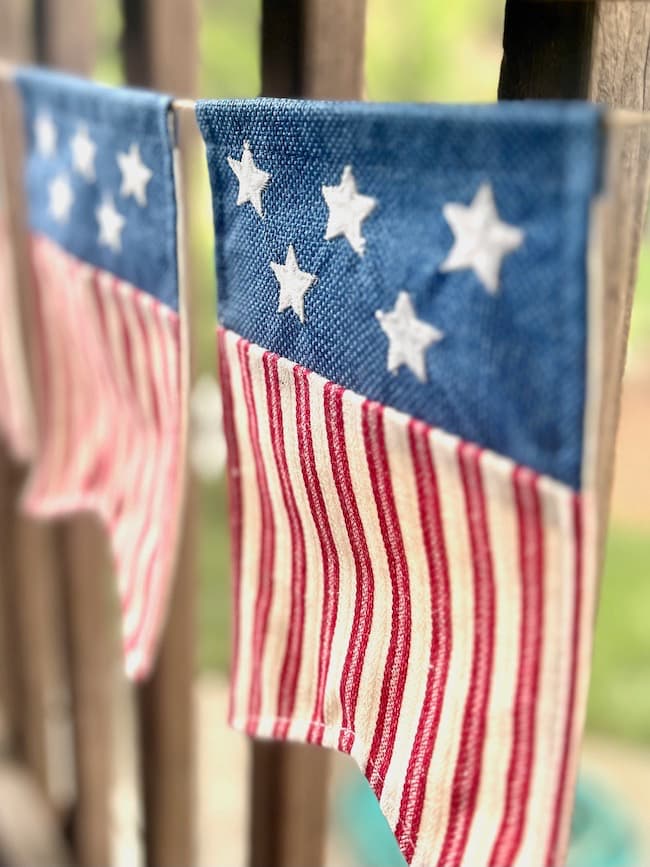 12. Add a flag garland to your porch.
This flag garland adds the perfect star-spangled treatment to our screened porch railing.
13. Wrap mason jars in pretty blue and white cloth napkins for a cute centerpiece!
It doesn't get much easier than this simple mason jar centerpiece DIY!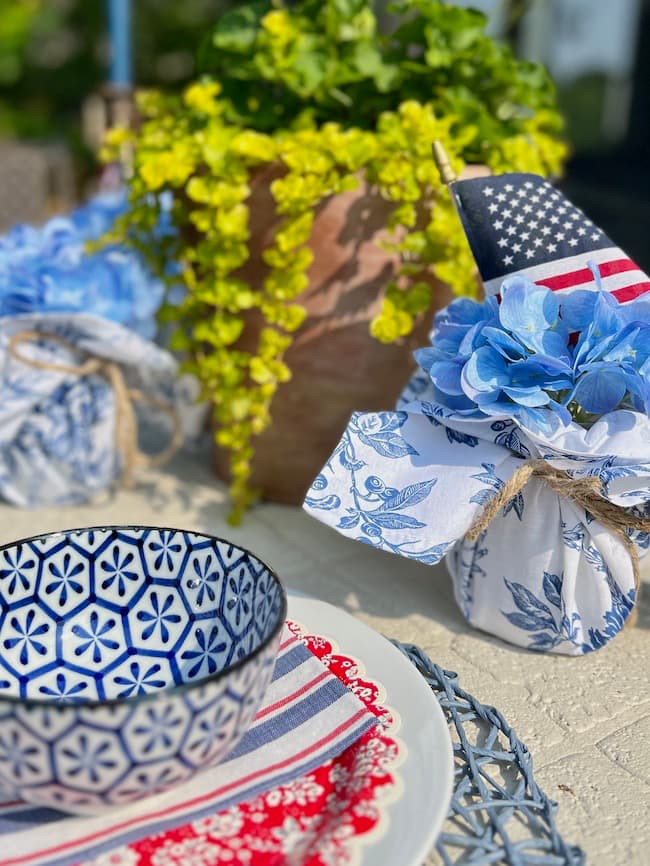 Just wrap blue and white printed cloth napkins around glass jars and tie them with jute twine. Make a trio of these for a cute centerpiece for your patio or dining table. You could even use red, white, and blue ribbons to tie the napkins. Add a pretty blue hydrangeas or red geraniums to your DIY vases. These vases also make fun patriotic silverware holders for your fourth of July party.
14. Mix and match your blue and white everyday dishes with beautiful patriotic themed paper plates and napkins.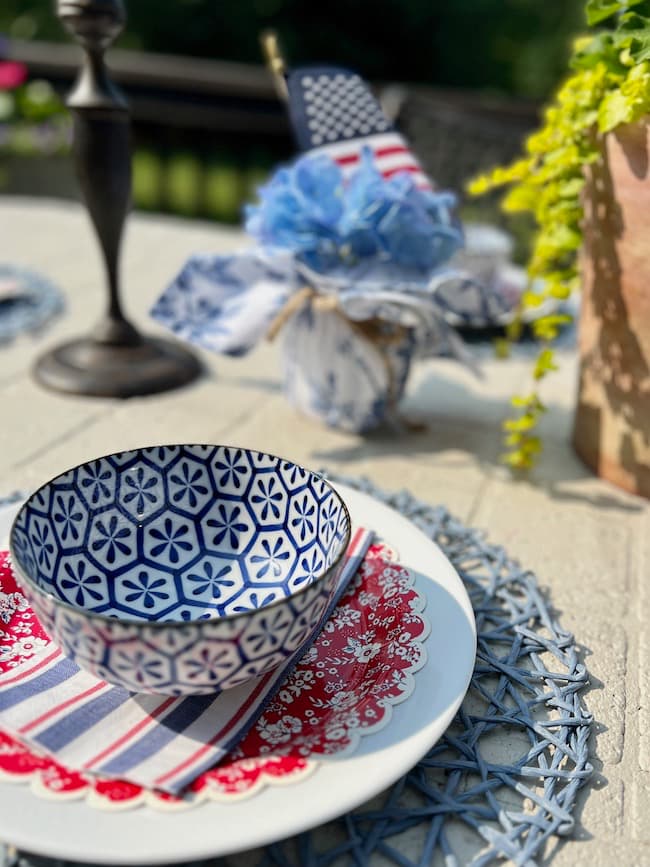 Create a pretty table for your Independence Day parties by mixing and matching your dishes with pretty patriotic themed paper products. I absolutely love these adorable patriotic prints and designs, and it's fun to layer them with our white everyday plates and blue and white bowls. You can see how I created this patriotic themed patio table in this post.
Red, White, and Blue Decor Favorites!
Shop these favorite home accessories and decor items in patriotic colors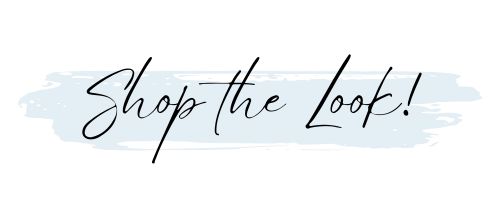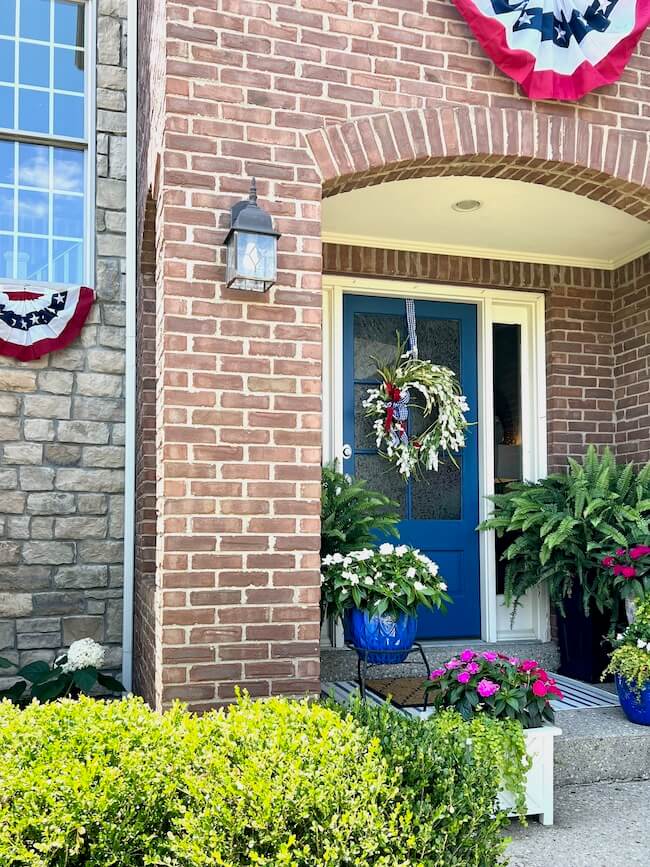 No matter the season, holiday decorating is always easier when you start with a great home color palette and staple decor accessories to which you can make simple changes to bring in touches of the new season or holiday.
You can find some of my favorite staple decor pieces that make decorating your home easier on my Shop My Favorites page.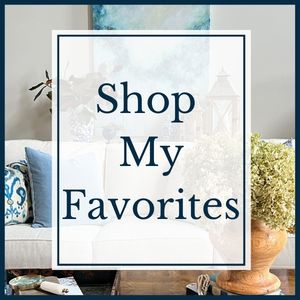 I hope this post provides you with some simple ideas for last minute 4th of July decorating to add a little red, white, and blue patriotic spirit to your home!
Will you be hosting any Independence Day festivities? Let me know in the comments!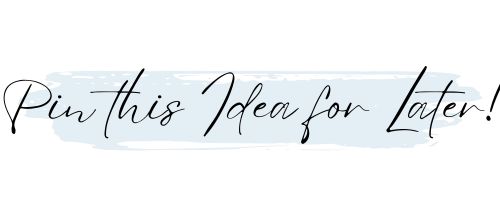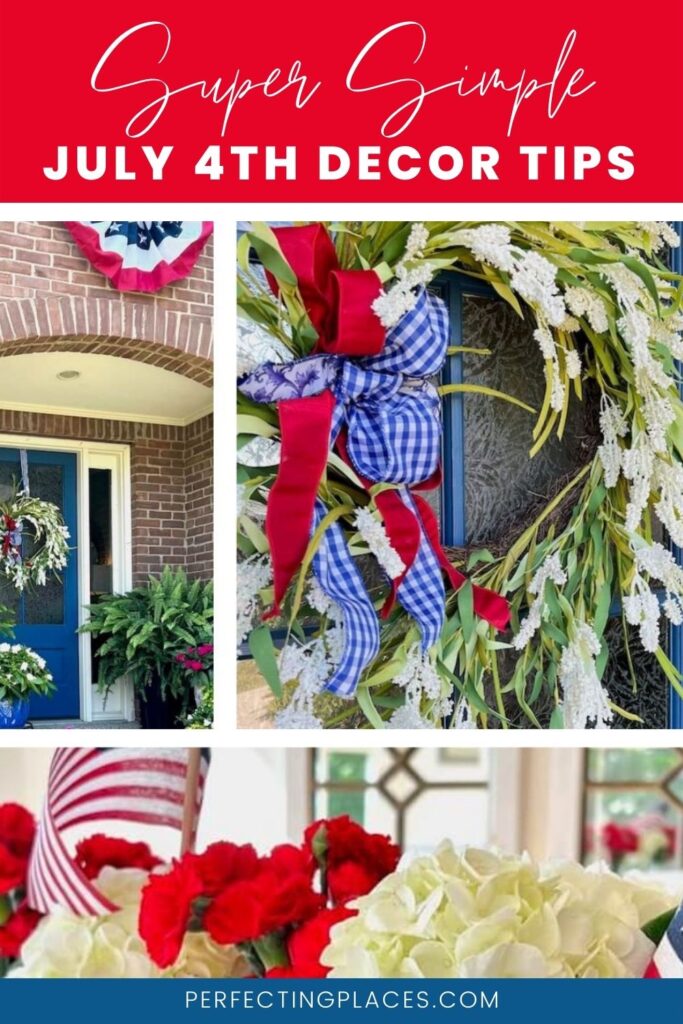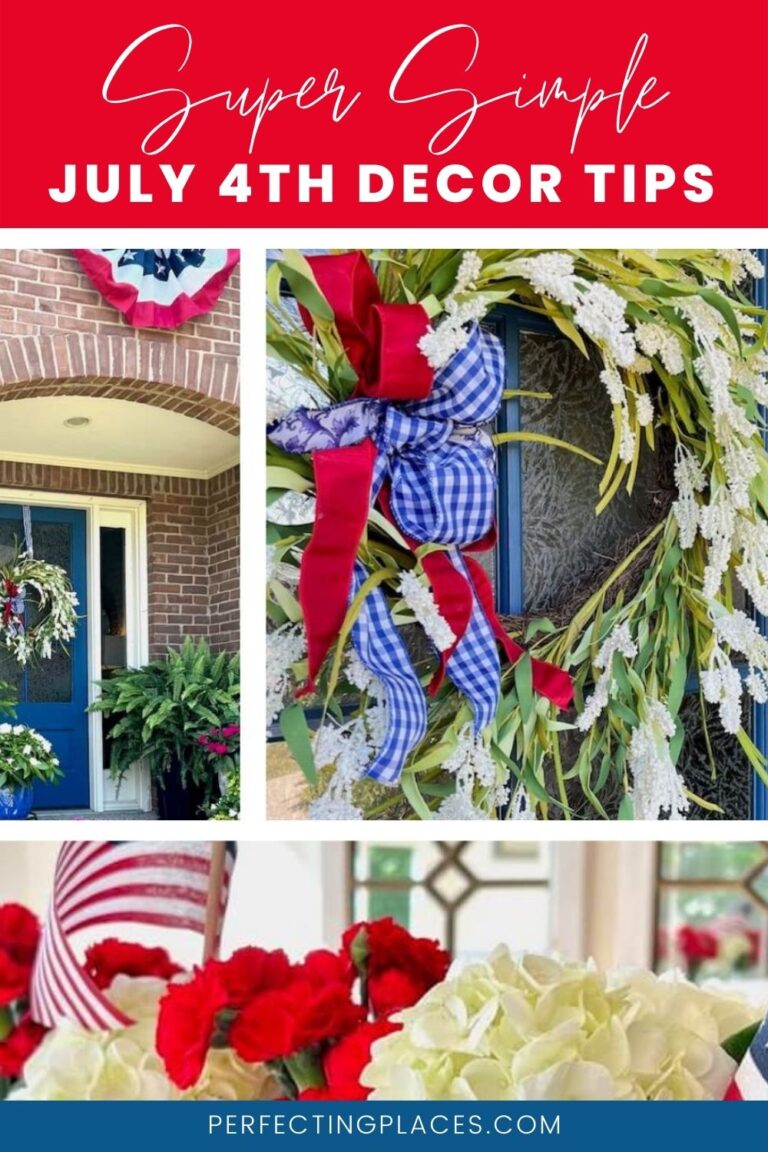 By the way, do you follow me on all the socials? If not, check out my Pinterest, Instagram, and Facebook and be sure to follow along so you don't miss out on any of my decorating and DIY ideas.
Next up on our July 4th blog hop is Laura at Everyday Edits. Be sure to hop over and see her delicious Red, White, and Blue Dump Cake, and check out all of the amazing bloggers below for great ideas for celebrating Independence Day!
Thanks so much for stopping by, and Happy Celebrating!!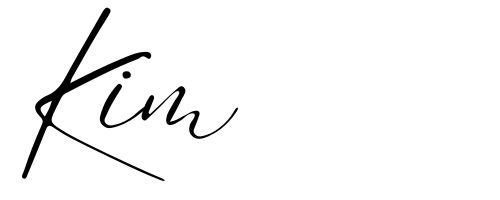 Bluesky at Home – New and Old 4th of July Decorations