13 Simple Decorating Ideas for Summer – A Summer Home Tour
Need some fresh summer decor ideas? Add a casual summer vibe to your home with these simple decorating ideas for summer.
Today, I'm sharing a summer home tour of our home with some great ideas and tips for creating a relaxed, but beautiful look in your home.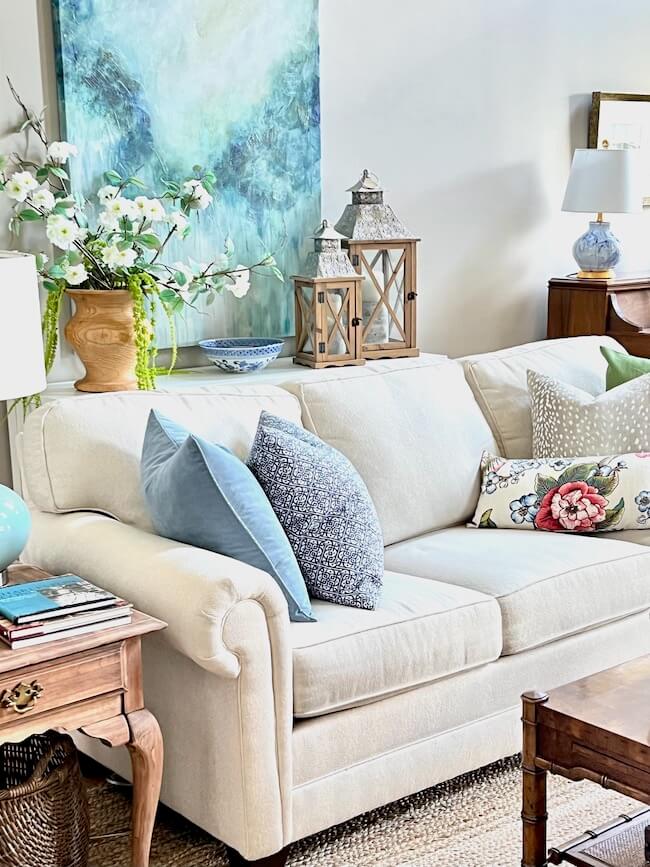 (This post contains affiliate links, so I may earn a small commission when you make a purchase through links on my site at no additional cost to you. As an Amazon Associate I earn from qualifying purchases.)
It's summertime and the living is easy – or so it should be. 
Oh, how I love the summer months! I love long summer days and late summer nights when it seems to stay light forever.
Summer just seems casual. Maybe it's the former school teacher in me. Summertime just feels like the time to let your hair down (or rather, pull it back in a lazy ponytail.) and relax a little more, move a little slower, and take time to just breathe.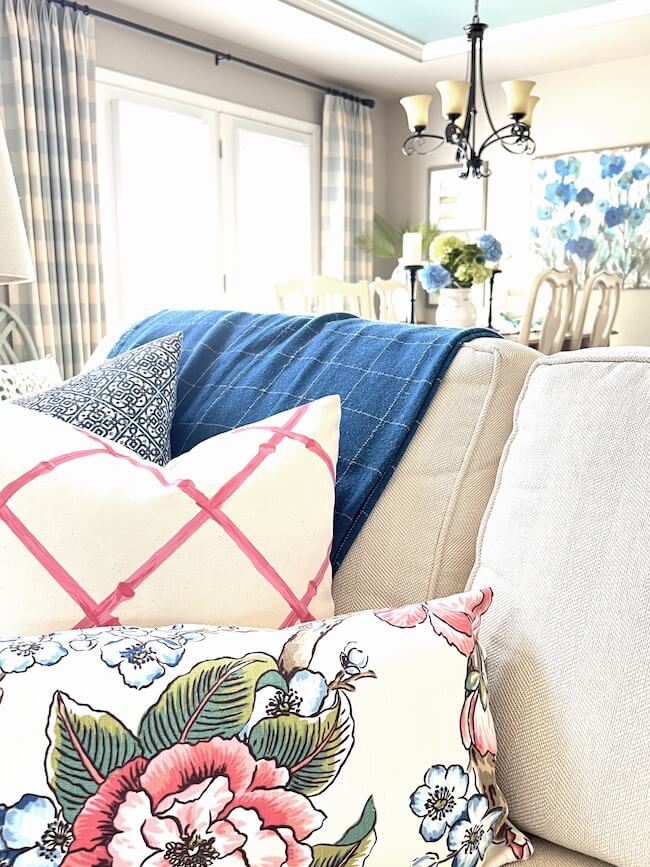 And I think our homes should reflect that!
I like to clear out some of the visual "clutter" that some seasons just seem to generate and "cleanse the palate" so to speak by editing down and simplifying. Summertime is the perfect time for that.
So today, I'm taking you on a little mid-summer tour of our home to show you some simple summer decorating ideas I'm doing this summer.
Tips for Summer Decorating:
1. Let the light in!
I need all the light I can get, and during the summer months our plantation shutters are opened wide to let the light pour in. The natural beauty of the green lawn and trees as well as the bright blue sky just enhance our summer living room color scheme.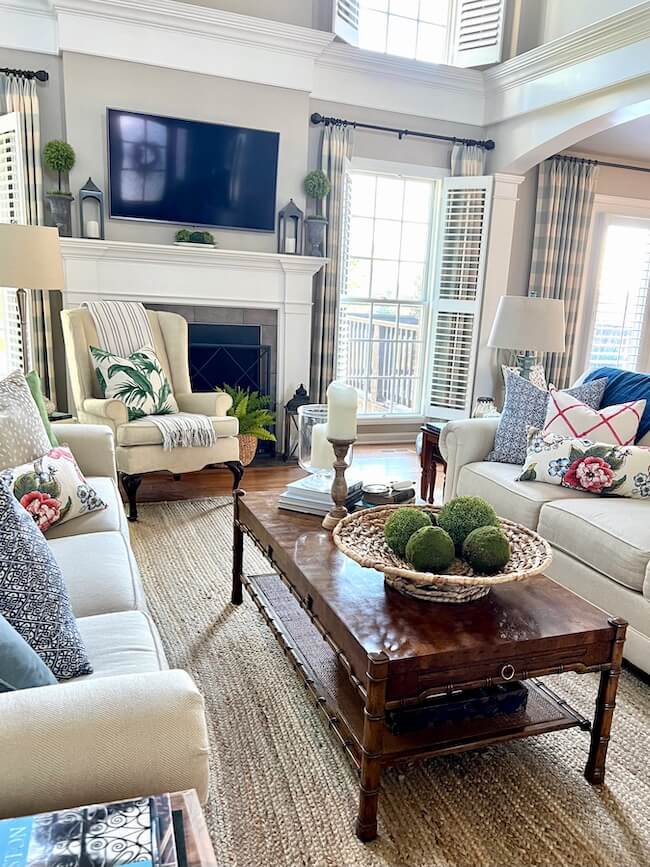 2. Add the colors of summer with pretty throw pillows.
Changing up the throw pillows on your sofa is the easiest way to add fresh summer color. I wanted to add a little pink and green to our blue and white mix. I created these pink bamboo trellis pillows in this easy DIY. The hand-painted green spotted pillows mimic the design in these Brunschwig Fils Les Touches pillows.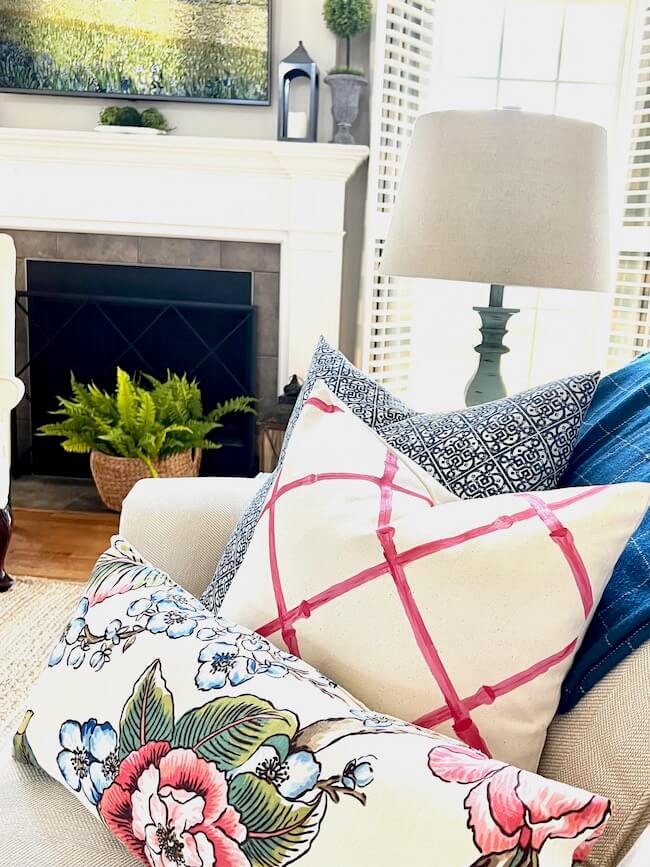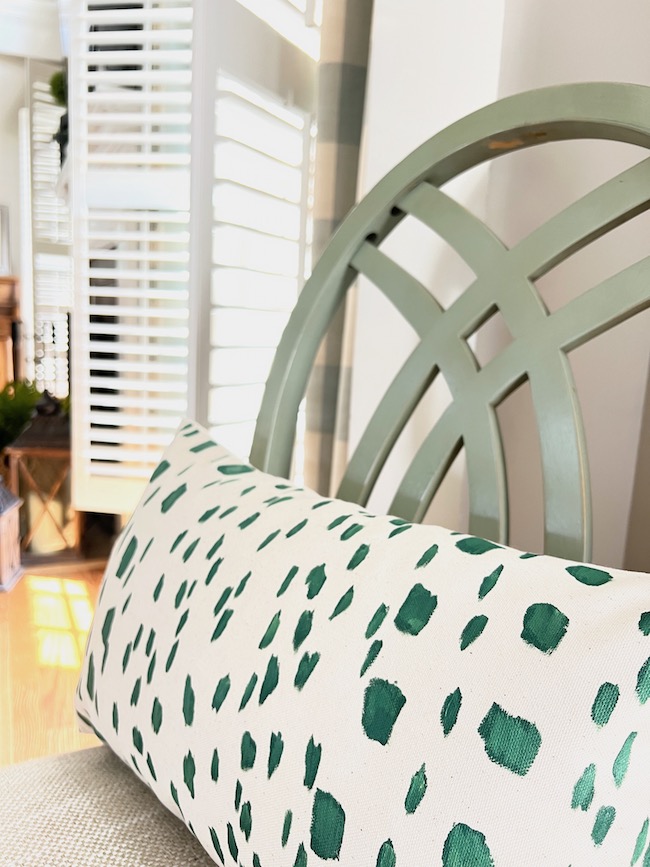 I also made these pretty lumbar pillows with this gorgeous print that I've been saving for the perfect occasion. I make lots of throw pillows, but have never put a zipper in. For some reason I've always felt intimidated by the thought ot the process. Friends, it's really quite simple, and from now on, I will always add them to the throw pillows I make!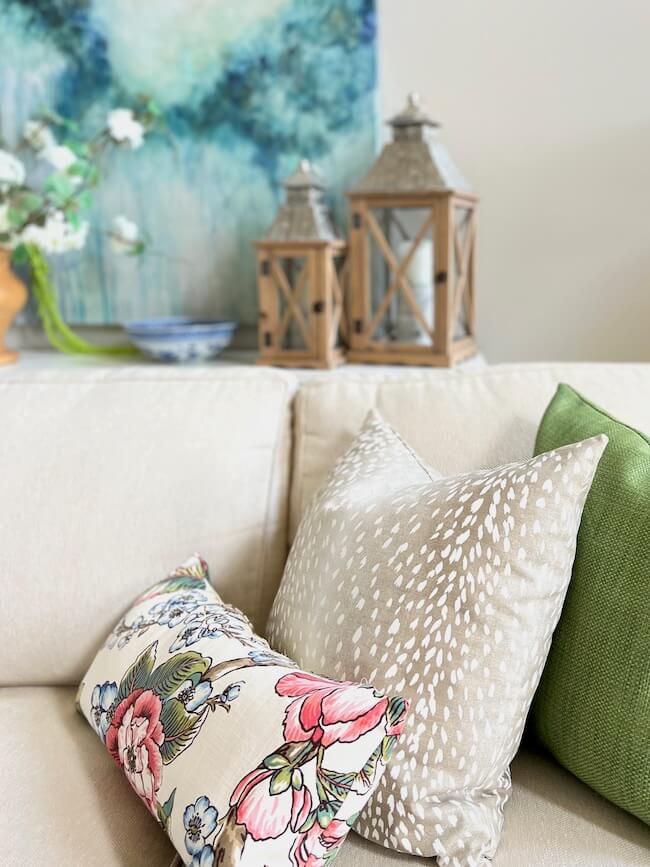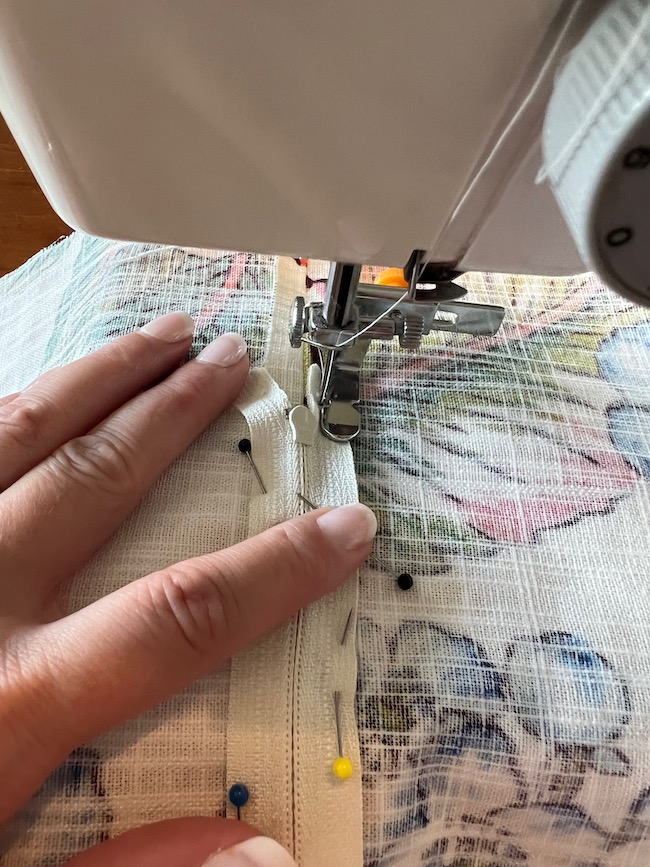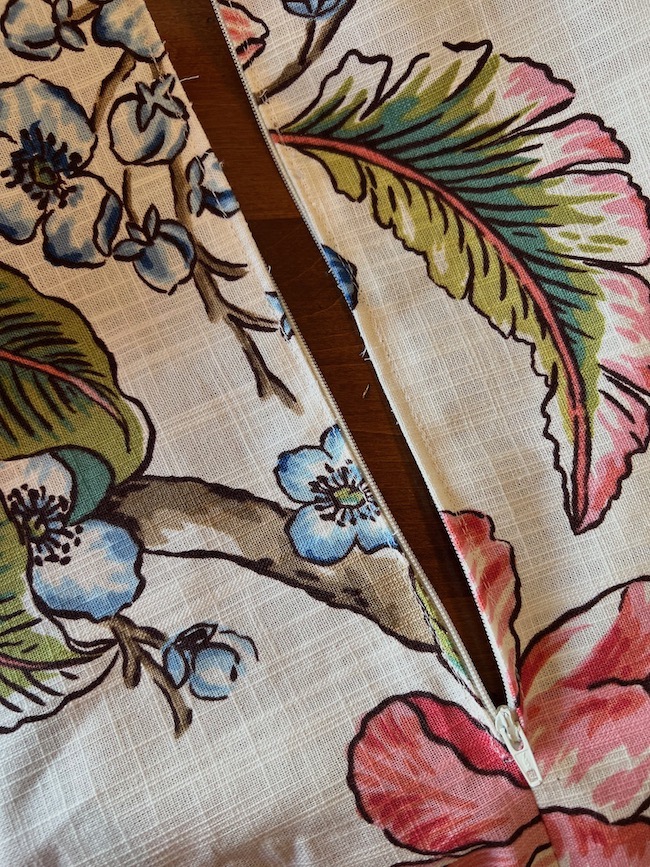 I also made this green pillow and kept the neutral antelope prints. The antelope prints are some of my favorites, and they are perfect all year long! You can see the antelope print pillow DIY here.
3. Use lots of woven textures.
Use lots of baskets and woven trays in a variety of sizes around our home during the summer for a nice casual vibe.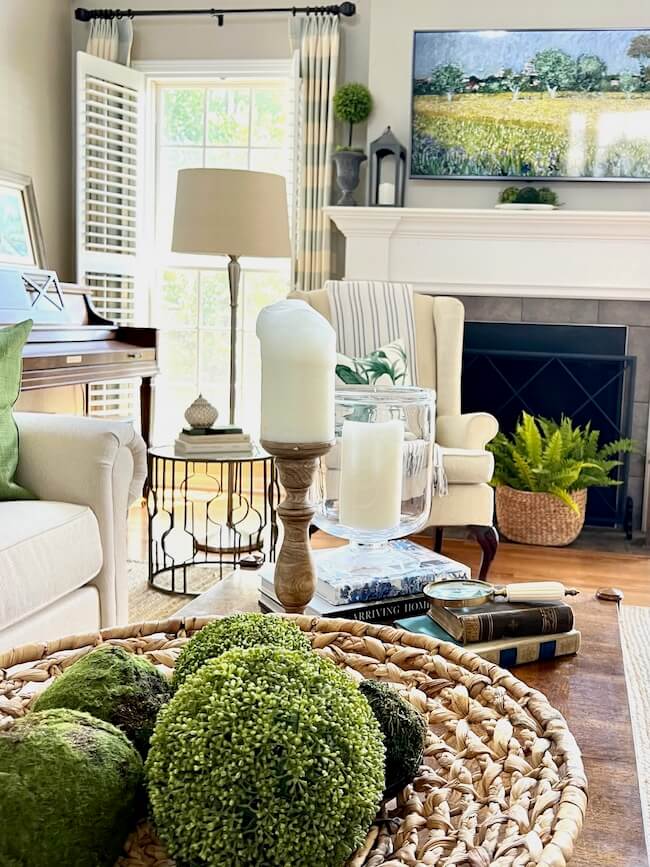 I love this huge basket bowl, so I decided to place it on our coffee table for a relaxed, casual look and filled it with some moss balls.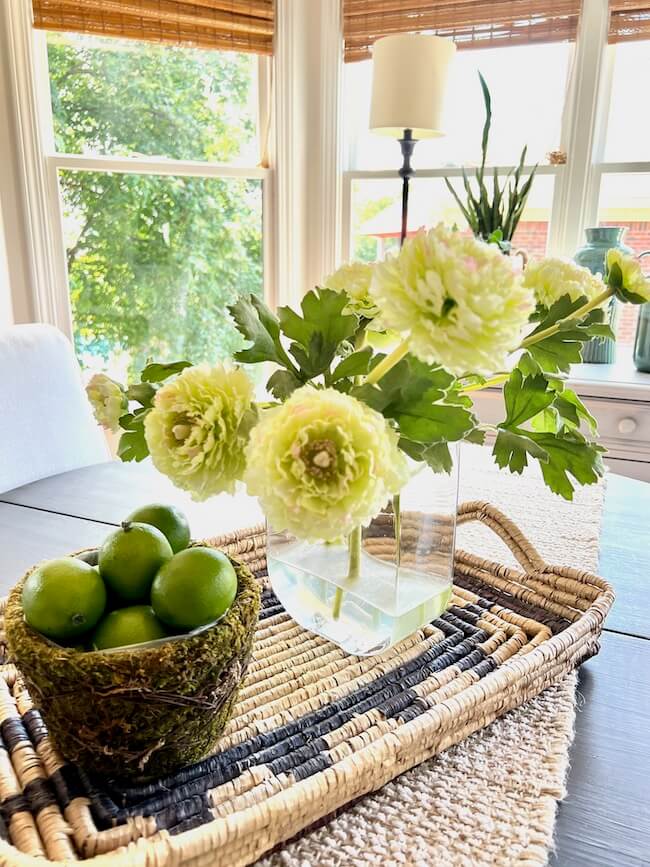 This pretty blue and beige basket tray on the kitchen table helps to anchor the centerpiece.
Our living room jute rug add perfect summertime texture to our living room! It's the perfect flooring for summer!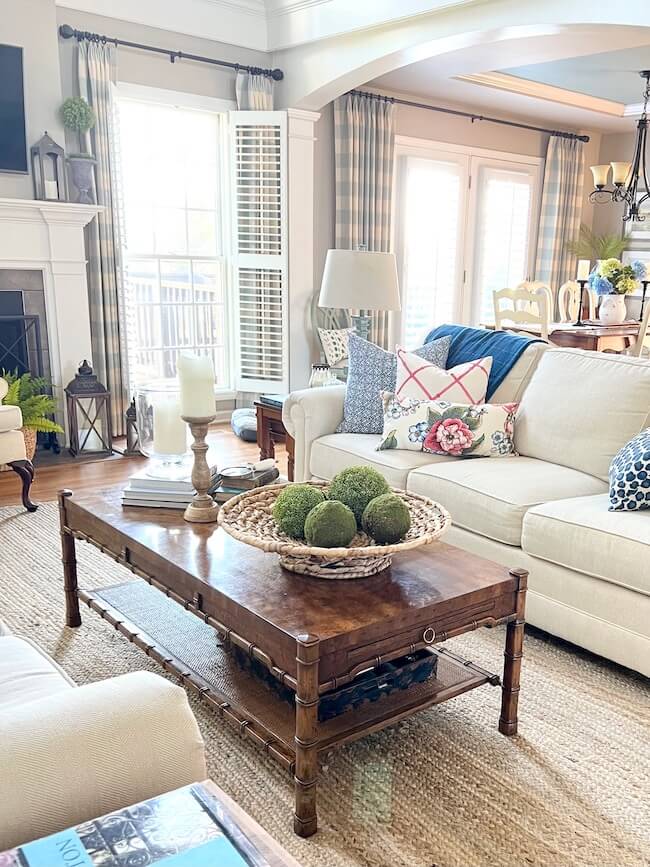 4. Add some greenery and natural elements to your summer decor.
The simple topiaries and platter of moss balls on the mantel repeat the green of the fern.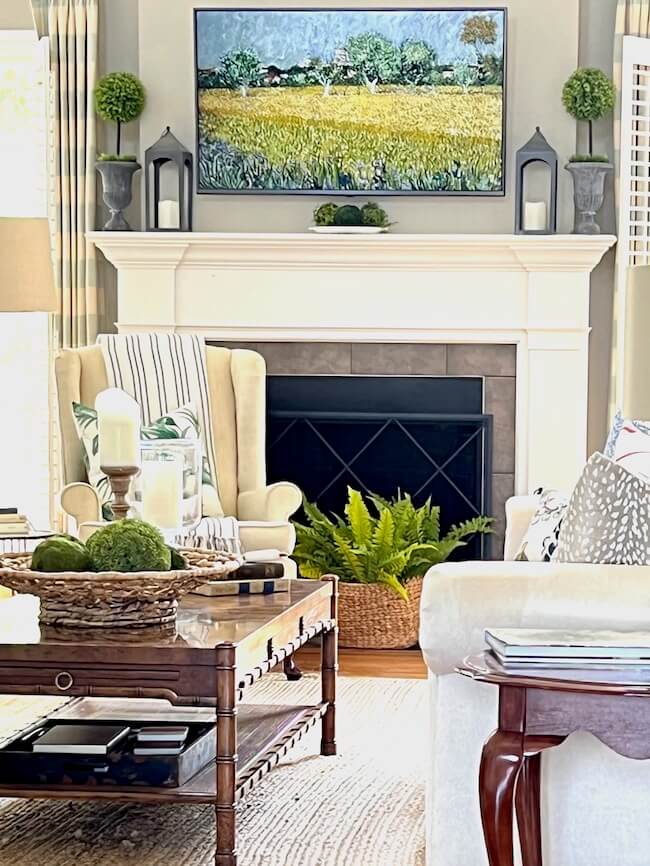 I like to add lots of green moss balls to bowls and trays to add a little green to a room. You'll find them on our mantel, our coffee table, and on our foyer table! It's an easy way to splash a little green natural texture around.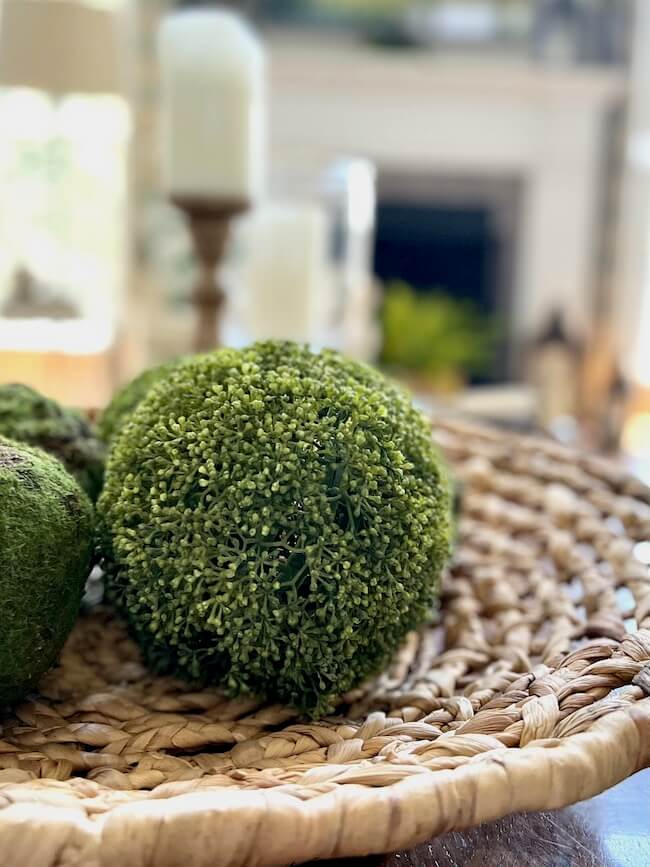 5. Declutter your kitchen countertops and add some pretty summer hand towels.
When everyone is home during the days of summer, it can be a struggle to keep the countertops free of clutter, but I give it a good try!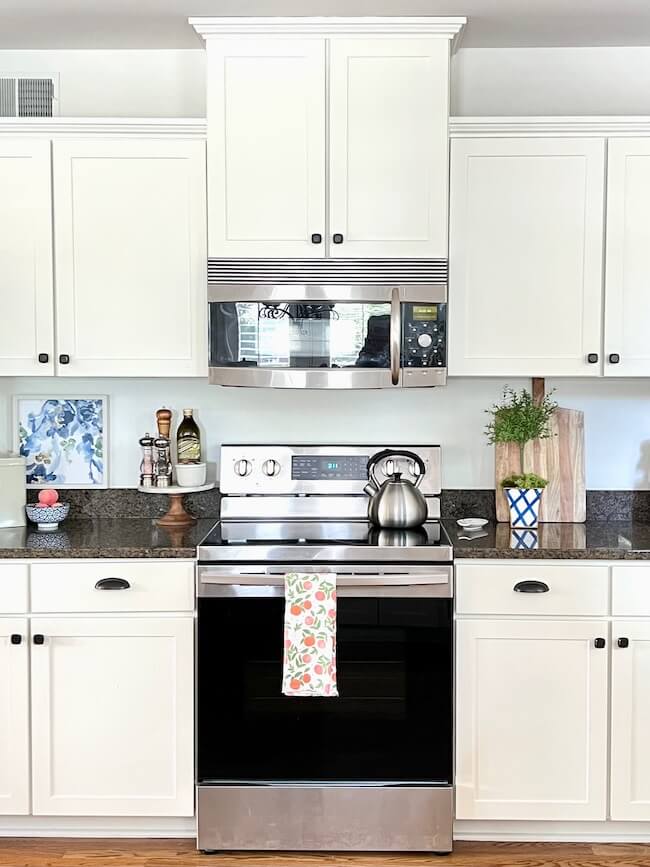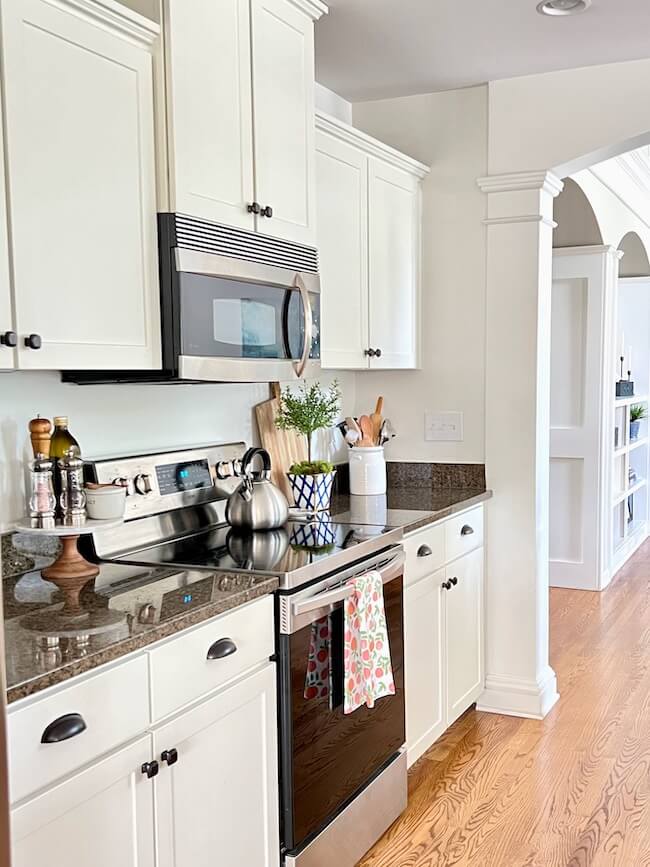 I love to add pretty seasonal dish towels to the kitchen, and I love these pretty peach towels!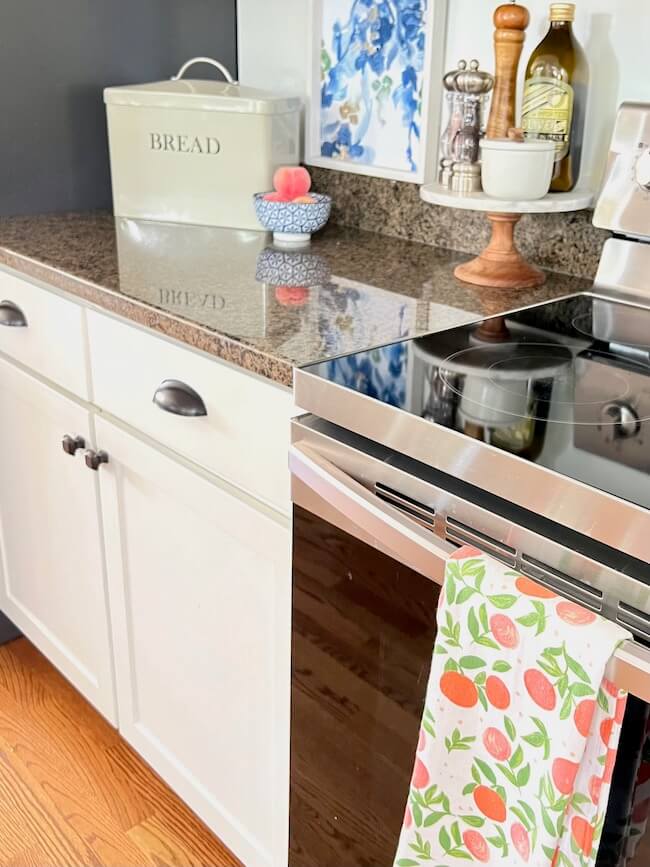 6. Simplify the mantel.
I kept things pretty simple on the mantel this summer. These simple lanterns paired with the topiaries add just enough color and interest around the tv.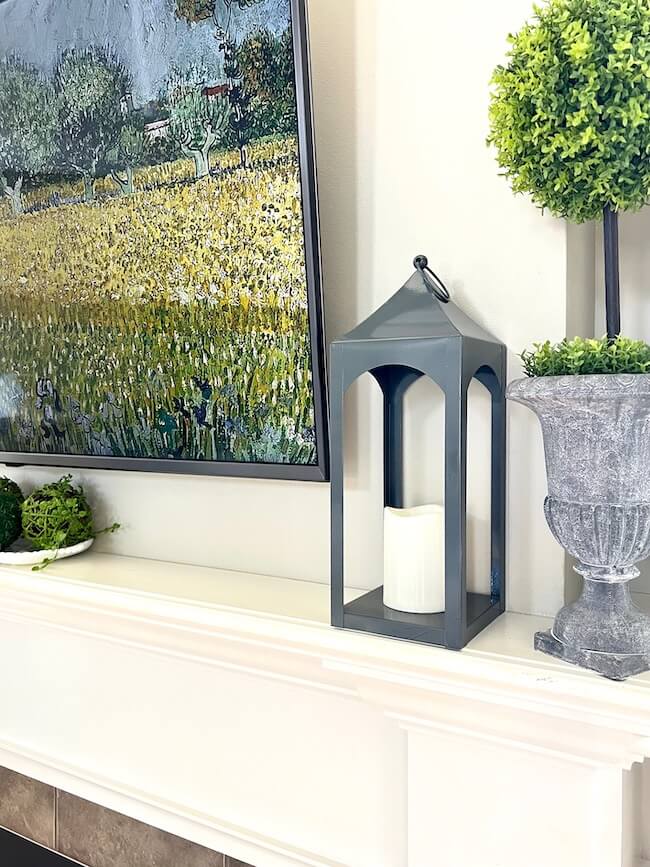 7. Add a fern to your fireplace.
A summer fern filling a basket helps to soften the look of the fireplace and fill the big black whole during the summer months.. My fern is actually faux, which is important for us since our petite Goldendoodle likes to eat all the plants!! I think this one actually looks quite realistic. It's actually three smaller fern plants combined together. I've used a stack of magazines in the bottom of the basket to prop them up and add height to them.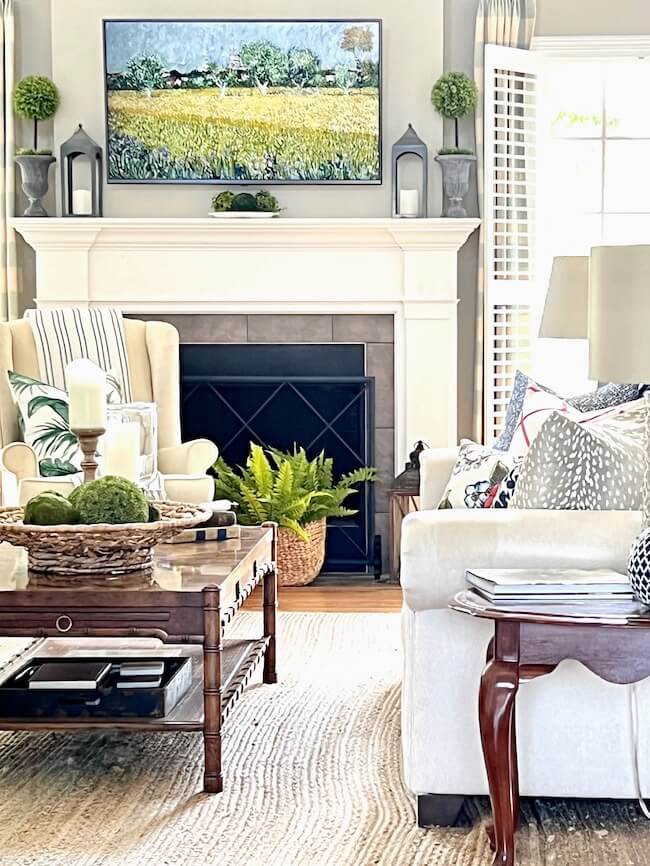 8. A pretty summer scene on your TV.
Does your big black box of a TV over your mantel leave something to be desired? This pretty screensaver art really softens the harsh look of the TV. You can find lots of free art for your smart TV on YouTube.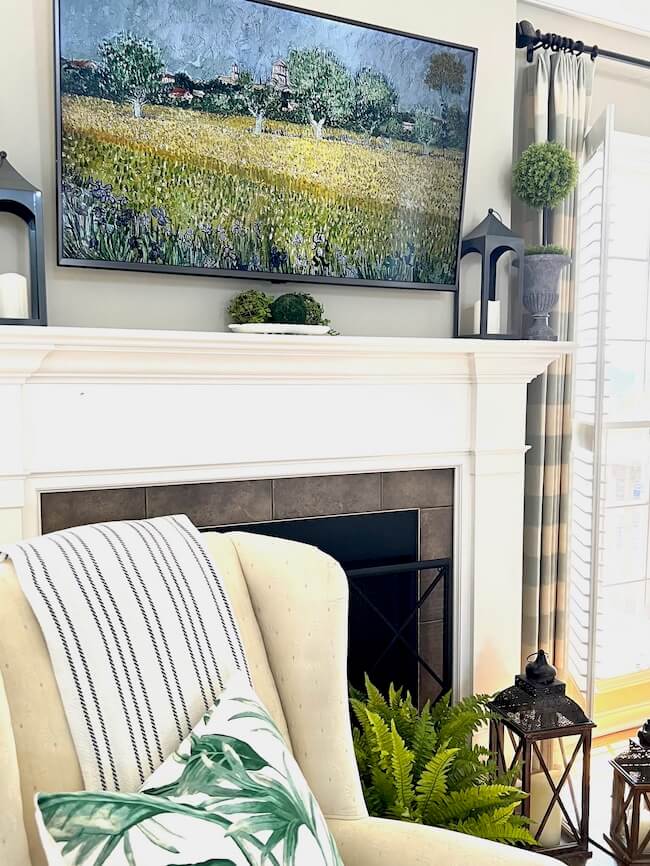 And – it's fun (and free) to switch out your artwork if you want a change!
9. Add simple summer centerpieces to your tables.
As I mentioned, summer is for simple ideas, so sticking with simple summer centerpieces is the way to go!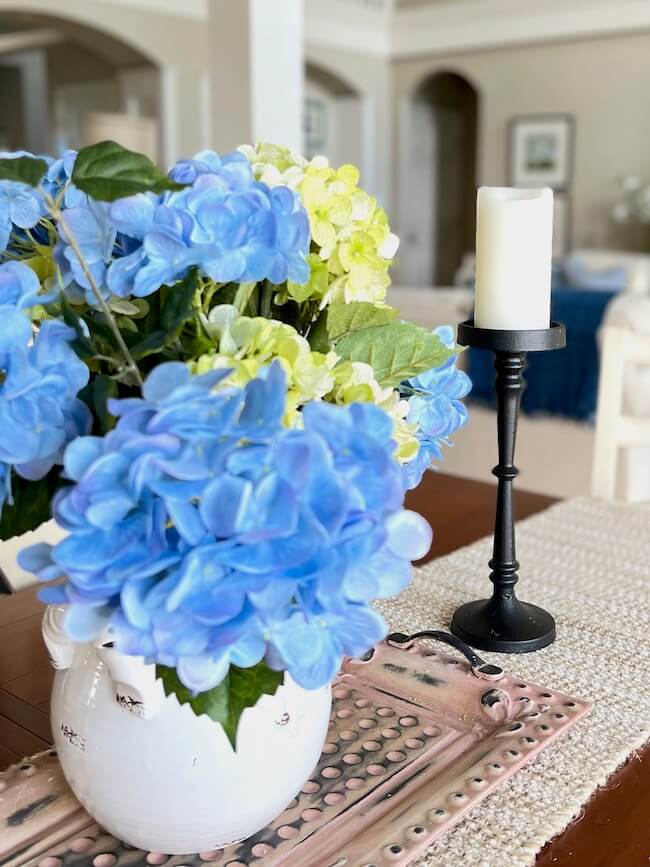 I found these pretty faux limelight and blue hydrangeas at Hobby Lobby and paired them together in a vase on the dining table for a simple summer look.
Keep summer flower arrangements simple and anchor them on a tray to add impact.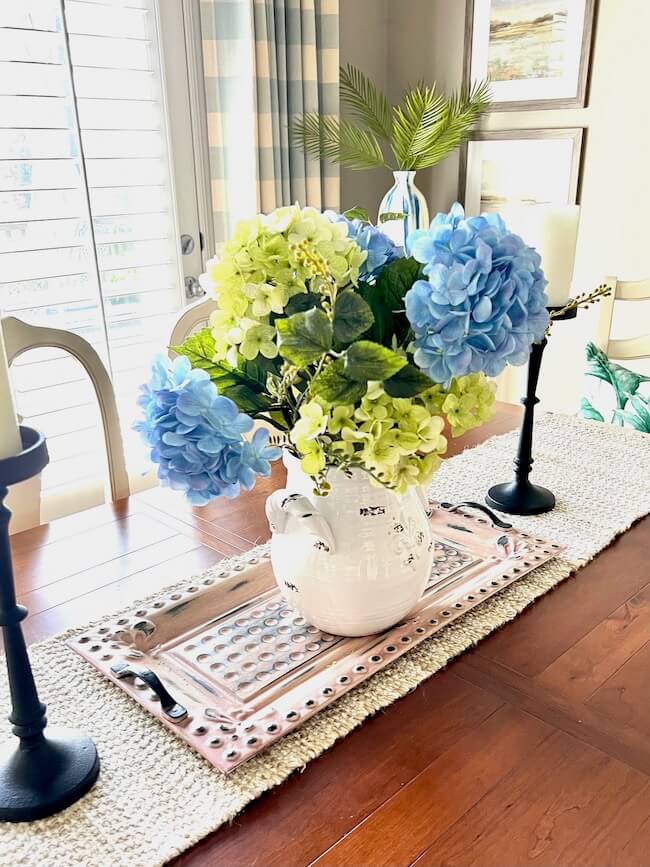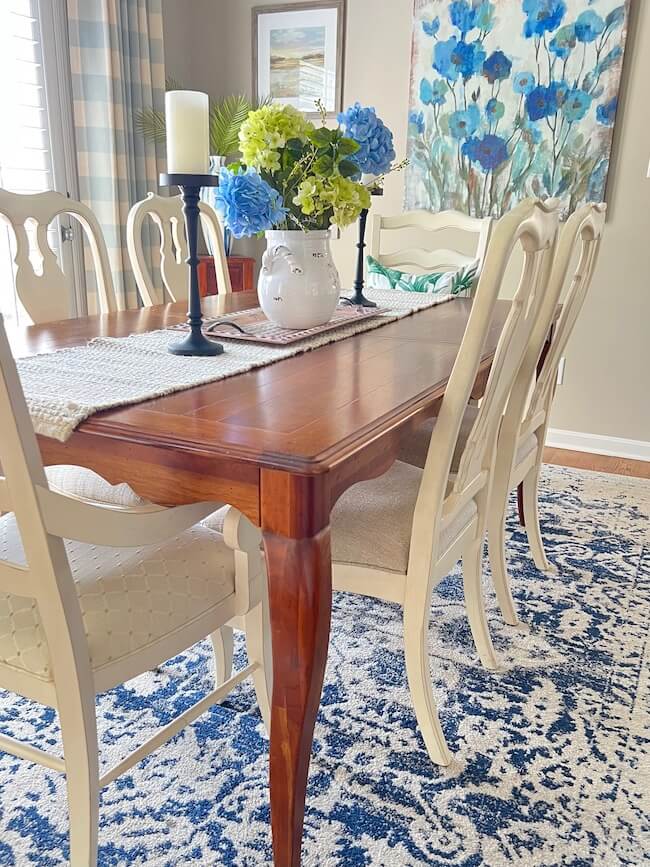 Fresh flowers are gorgeous, especially if you can clip them from your yard. However, it's not always possible to have fresh blooms, so some pretty and realistic faux options can be great to keep you in pretty summer color all season long!
10. Create a welcoming entryway with pretty summer flowers and fresh colors.
The pink peonies in a white vase paired with the green lantern add pretty pops of summer color in the foyer. I also added more green moss balls to the wooden bowl.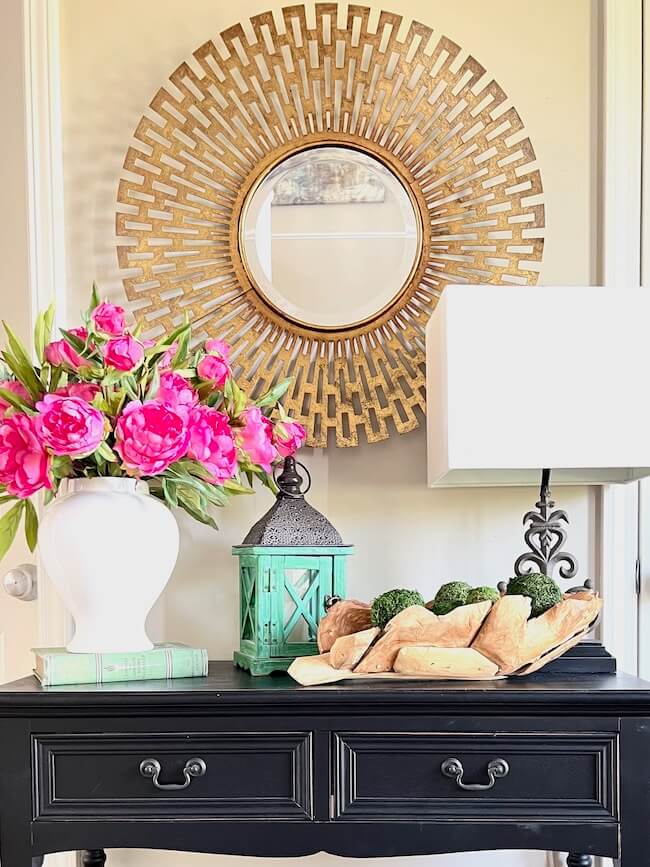 11. Add fresh summer colors to a tiered tray.
Decorate a tiered tray with summer colors. I added some rolled dish towels in fresh green and navy. Add some simple fern clippings to a tiny blue vase for a little  fresh greenery in the kitchen.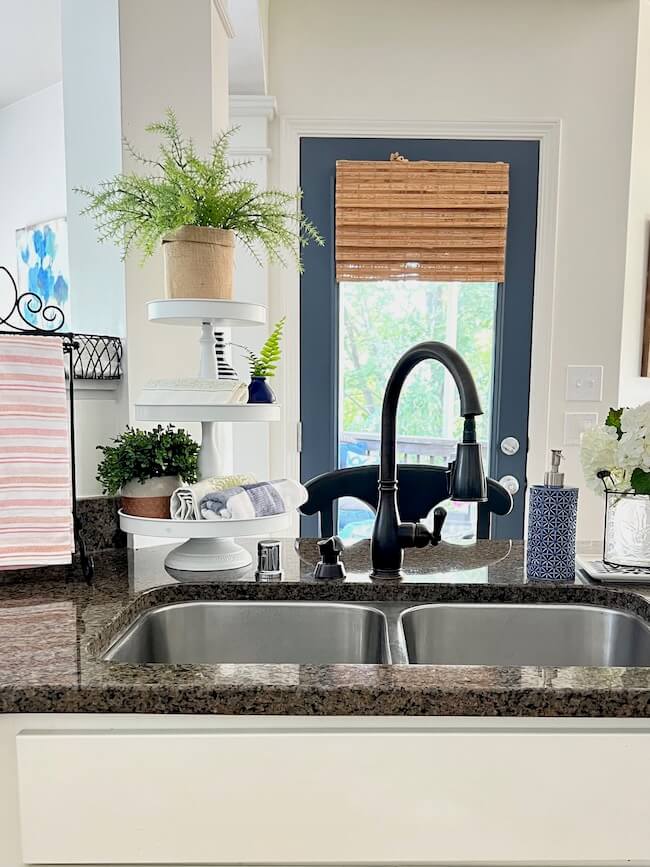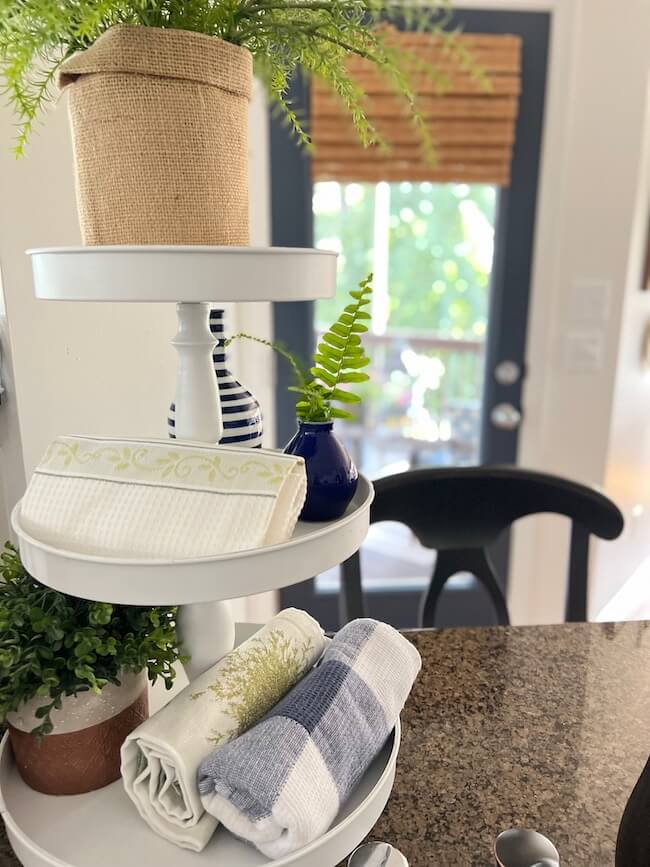 12. Create a cozy outdoor space to relax and enjoy.
Our screened porch is one of my favorite areas at our home. I love to add colorful pillows and flowers to cozy it up for the summer months. I shared more about our screened porch here with other great tips for outdoor living.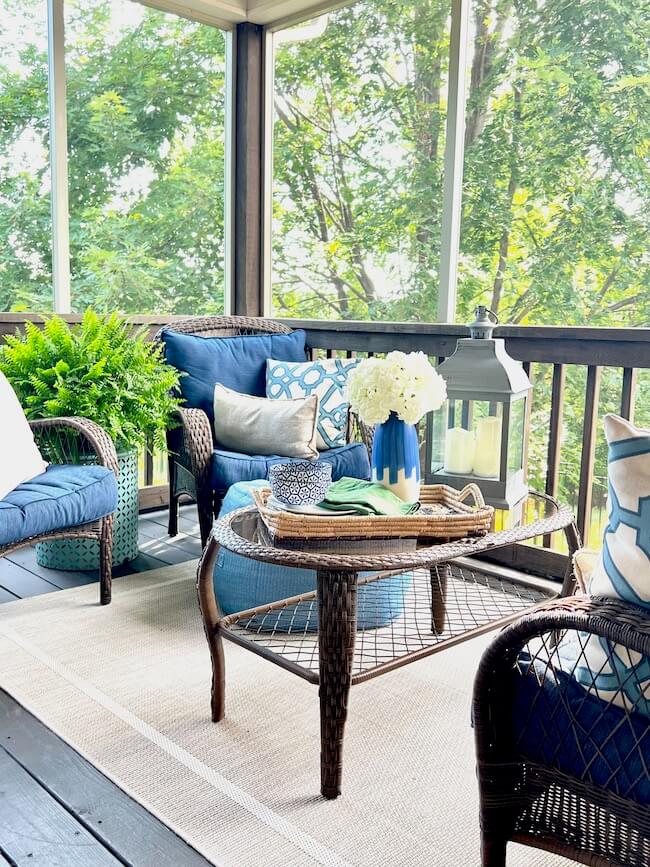 You can read this post for great sources for outdoor decor.
13. Add white slipcovers for a relaxed summer vibe.
White slipcovered furniture is just the epitome of relaxed summer decor! Create a fresh relaxed coastal vibe with slipcovered dining chairs. I covered our old kitchen dining chairs with DIY drop cloth slipcovers to freshen up our space.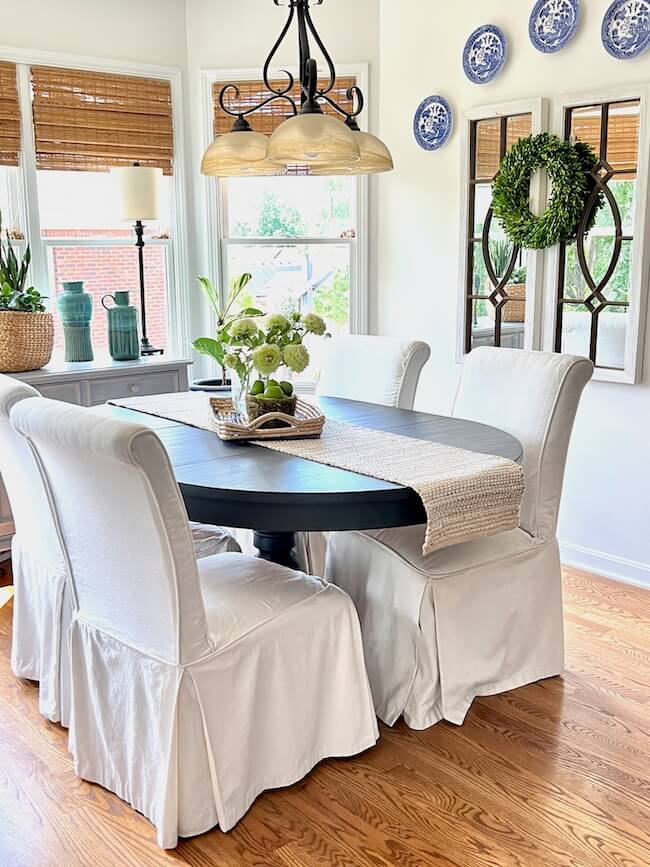 Create the Look!
---
---
Decorating your home should be fun and easy, and I hope these decorating ideas for summer inspire you to create a relaxed, but pretty summer vibe in your home!
Happy Summer!
For more of my home decor favorites, be sure to visit my Shop my Favorites page!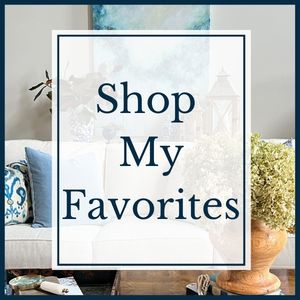 By the way, do you follow me on all of my socials? I'd love for you to follow along on my Instagram here and Facebook here!

Pin It for Later!!
---