Tips for Creating Simple Fall Flower Arrangements
Do you love to create your own arrangements for fall? These tips for creating simple fall flower arrangements are for you!
Whether you use dried flowers from your garden, blooms from a grocery story fall bouquet, or realistic faux stems, you can create gorgeous arrangements with these easy fall centerpiece ideas.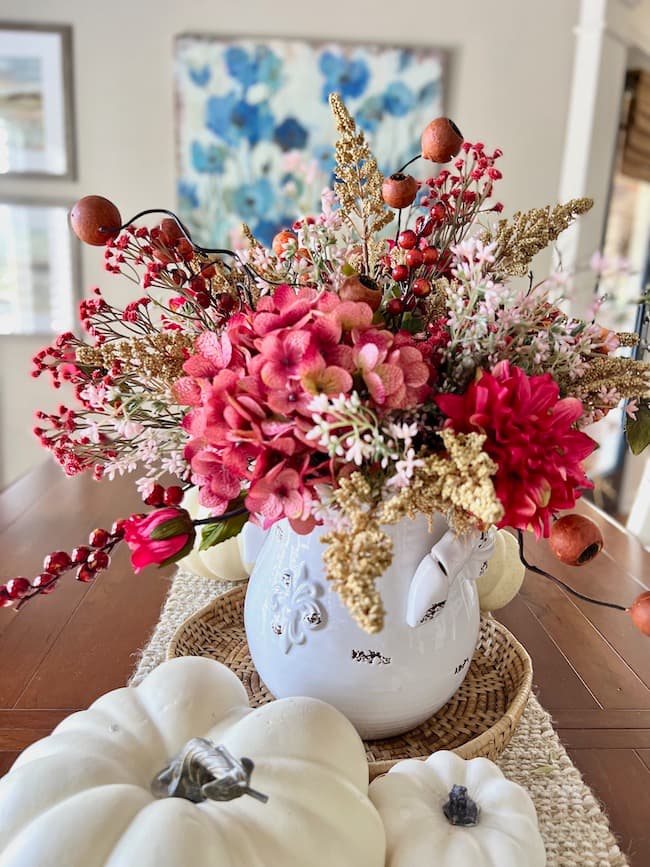 (This post contains affiliate links, so I may earn a small commission when you make a purchase through links on my site at no additional cost to you. As an Amazon Associate I earn from qualifying purchases.)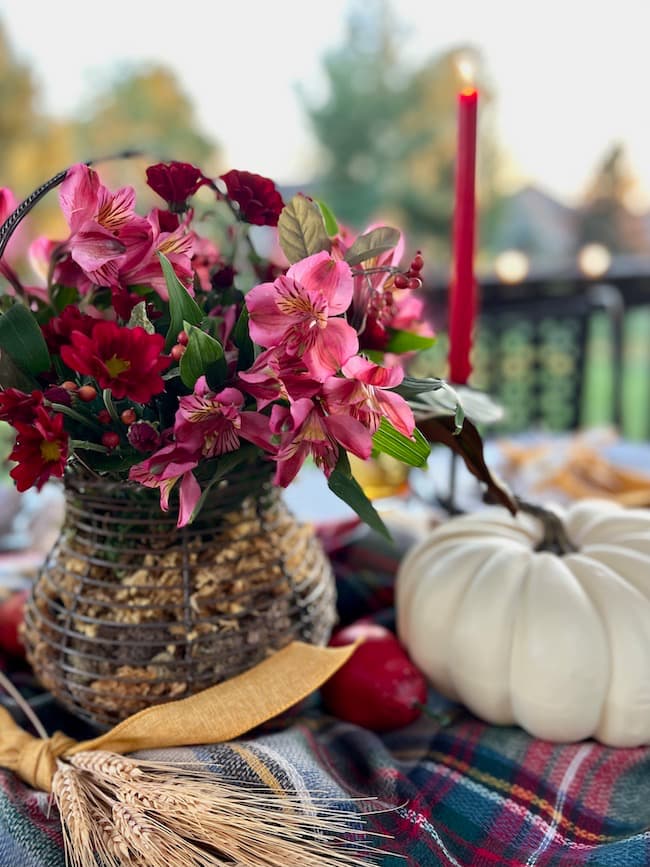 Hello fall! (or at least almost fall!)
It's time to welcome you into our home for the season!
If you're like me, and itching to start creating some beautiful fall arrangements this post is for you!
I love to pull out my supply of fall flowers, stems, berries, and foliage and make new creations for our dining tables, foyer, coffee table, and mantel.
But, I love simple decorating ideas, and the best fall arrangements are the ones that some together in no time — that look like you've gathered the blooms and branches from your yard and plopped them in a vase for all to enjoy.
So, today I'm sharing some of my best tips to help you create some beautiful fall arrangements for your family to enjoy.
Tips for Simple Fall Arrangements:
There are so many ways to create beautiful centerpieces and floral arrangements for fall.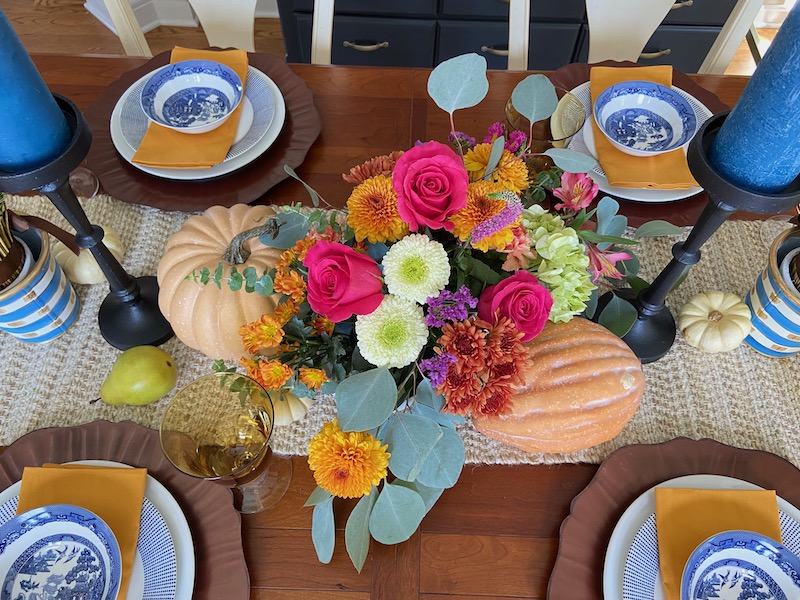 1. Choose Your Color Palette for Your Arrangement.
When crafting a fall floral arrangement, the first thing to do is settle on a color palette. Autumn is bursting with warm colors that can transform your dining room or coffee table. Burnt oranges, golden yellows and deep reds are perfect for a traditional look for the fall season. But don't feel constrained by a traditional fall color palette. Try adding blues, greens, purple, and even pinks for a fun twist on a classic look.
2. Rely on Seasonal Blooms for More Affordable Fresh Flowers.
When looking for fresh flowers, purchasing flowers that are in season this time of year will be more cost effective.
Look for These In-Season Blooms:
Chrysanthemums (Mums): These iconic fall flowers and come in a variety of colors including orange, yellow, red, white, and purple.
Asters: These star-shaped flowers are perfect for adding a pop of color in the cooler months, with colors ranging from white and pink to purple and blue.
Dahlias: These flowers are loved for their intricate petals and variety of sizes and colors. They thrive in early fall and can be a showstopper in any bouquet.
Sunflowers: While they start blooming in the summer, sunflowers can last into the fall, bringing a sunny and warm feeling to autumn arrangements with their tall stems and bright yellow petals.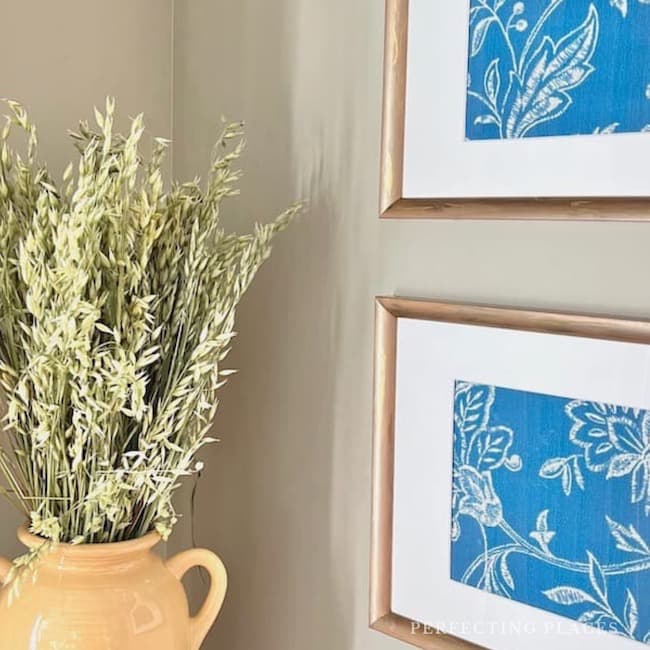 3. Use Lots of Texture in Your Fall Centerpiece.
Adding texture to your fall floral centerpieces is one of my favorite things. Dried wheat and ornamental grasses can make your fall table stand out during a fall dinner party.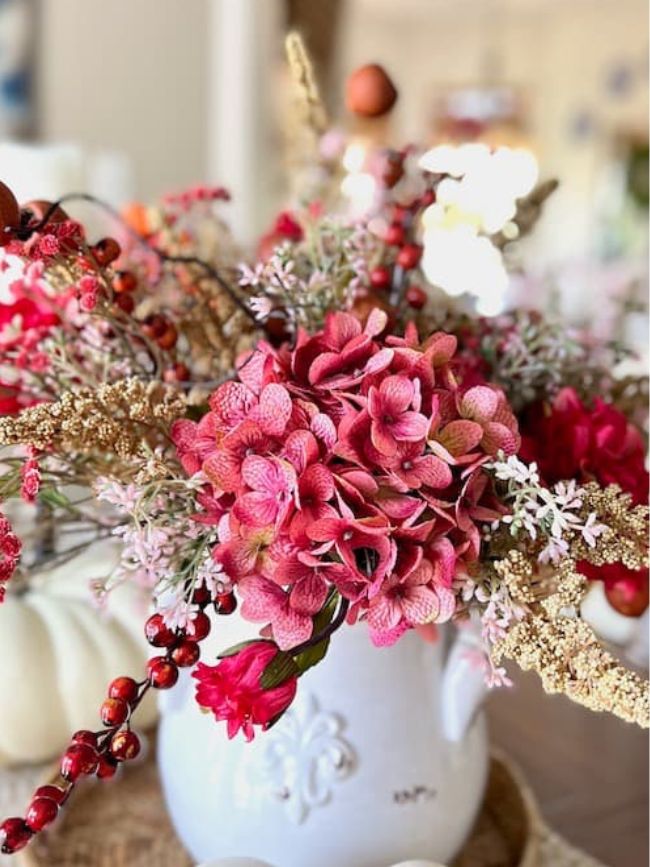 4. Incorporate Berry Accents and Stems with Your Flowers.

Berries can be the perfect addition to any beautiful fall flower arrangement. Berry stems such as rose hips and bittersweet (my personal favorite) add a lovely rambling quality to your arrangements! I love to have plenty of faux bittersweet on hand to add to fall displays and centerpieces.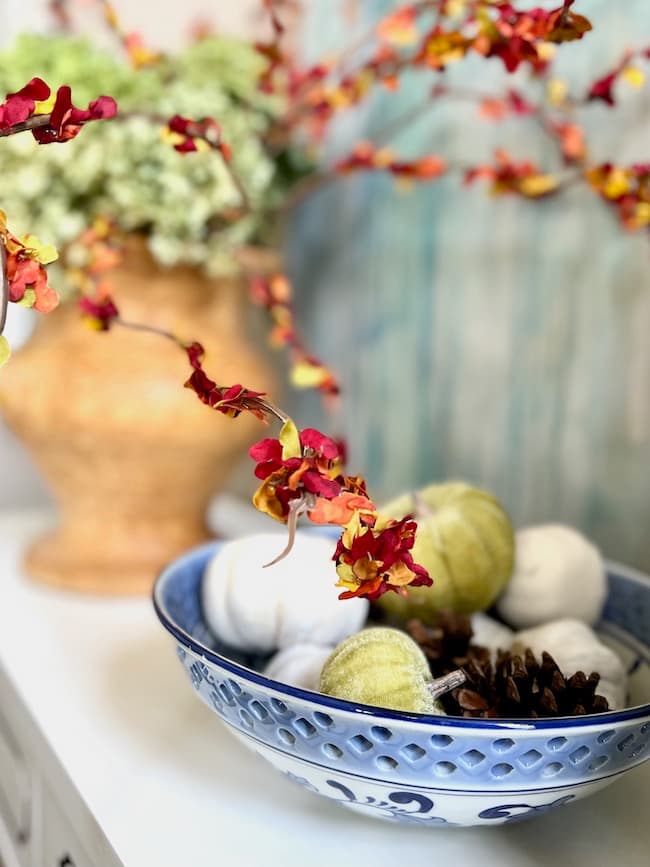 5. Add Natural Elements for a Rustic Fall Feel.

For a touch of rustic charm, throw in pinecones, seed pods, or acorns. These little natural elements are a great way to nod to the fall season and complement your fall blooms.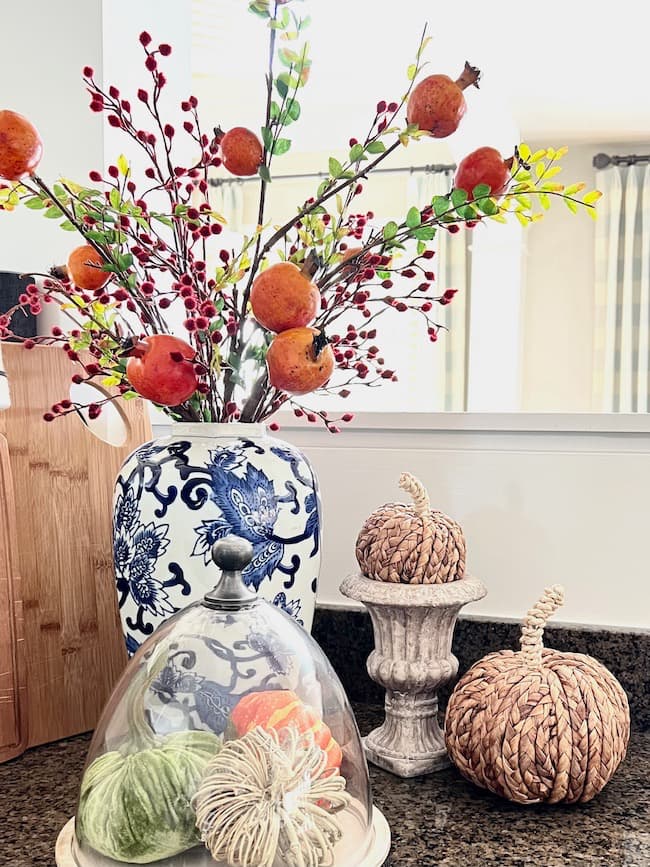 6. Mix and Match Your Vases in Your Arrangement.
Combining a mix of your favorite vases is a lovely way to add interest to a fall arrangement. Whether you use simple vases or ornate ones, classic blue and white or subtle neutral textures, mixing them up can transform your fall table. It's the perfect way to showcase your beautiful floral arrangement.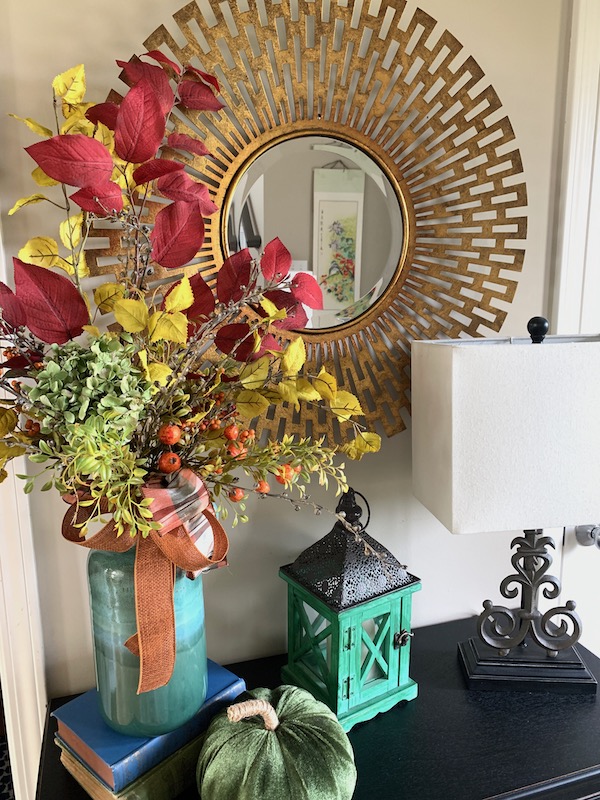 7. Use Fall Foliage with Your Fall Blooms.

Fall foliage is full of vibrant color, and makes a beautiful centerpiece all on its own! Integrating fall foliage with your favorite blooms is like capturing the essence of the fall season in a vase. From oak to maple, they make a beautiful arrangement every time.
There are so many realistic faux stems that look fabulous on their own or mixed with your favorite fall flowers.
8. Create Relaxed Rambling Arrangements.

For a casual vibe this autumn, opt for more relaxed arrangements rather than more formal centerpieces. Style your coffee table or mantel with a casual rambling assymetrical arrangement, adding a whimsical touch to the room.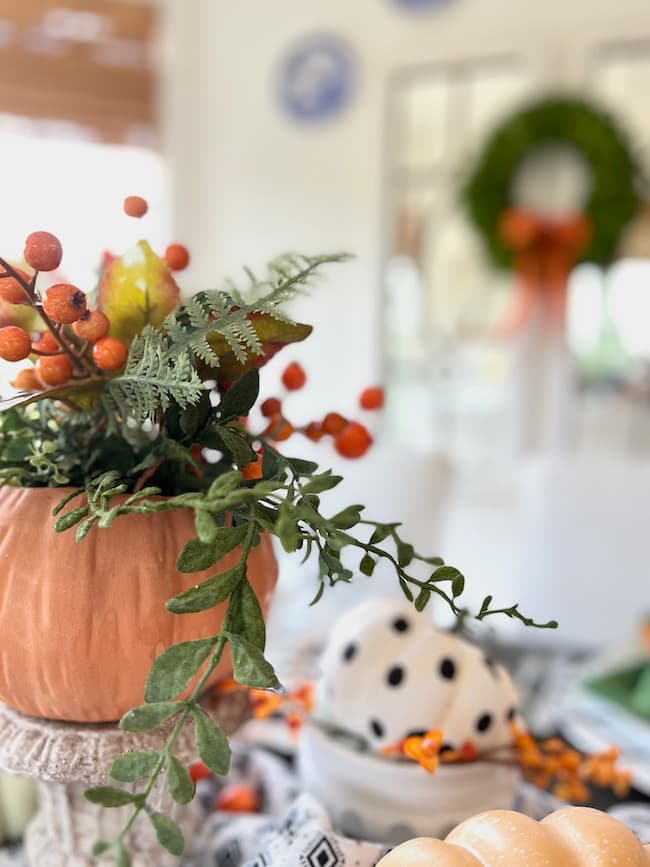 9. Turn a Pumpkin into a Vase.

Here's an easy fall flower arrangement idea — a pumpkin vase! It's a fun way to display your favorite fall blooms. Create a fun Halloween centerpiece from a terracotta pumpkin or carve a fresh pumpkin and fill it with your favorite fresh fall flowers for your Thanksgiving table.
10. Incorporate Fall Scents into Your Centerpiece.

Appeal to your sense of smell when styling your fall decor by adding the scents of autumn to your centerpiece. Combine cinnamon sticks, dried oranges, and even rosemary sprigs with your floral stems for a lovely scented arrangement.
11. Use Metallic Vases for a Warm Fall Glow.

Fall is the perfect time to showcase your flowers in a pretty metallic bowl. Vases and bowls in hammered gold, brass, or copper finishes make your autumn arrangements shine.
I love this gold hammered bowl for fall arrangments.
12. Incorporate Candles for a Cozy Look.
Candles make any centerpiece look more beautiful. Whether you use real candles or faux moving wick candles they create a cozy fall dinner table.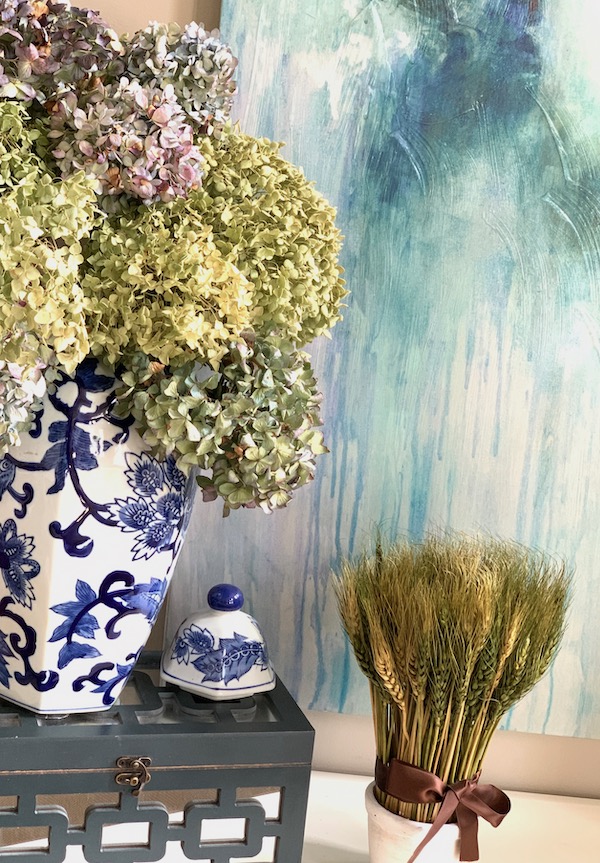 13. Use Dried Flowers from Your Garden.
Dried flowers, especially from your own garden, make a beautiful arrangement. I love to use the gorgeous dried hydrangeas in shades of green, blue, and rose from our garden in fall arrangements.
14. Combine Both Fresh Flowers and Faux Stems.
I love a great faux flower! They last season after season, are readily available and so many look so realistic that you can hardly tell the difference between real ones. There's no mess, and they don't fade. You can even combine them in arrangements with real flowers. This is a great idea for stretching your decorating dollar, or for times when a particular fresh flower or flower color is unavailable.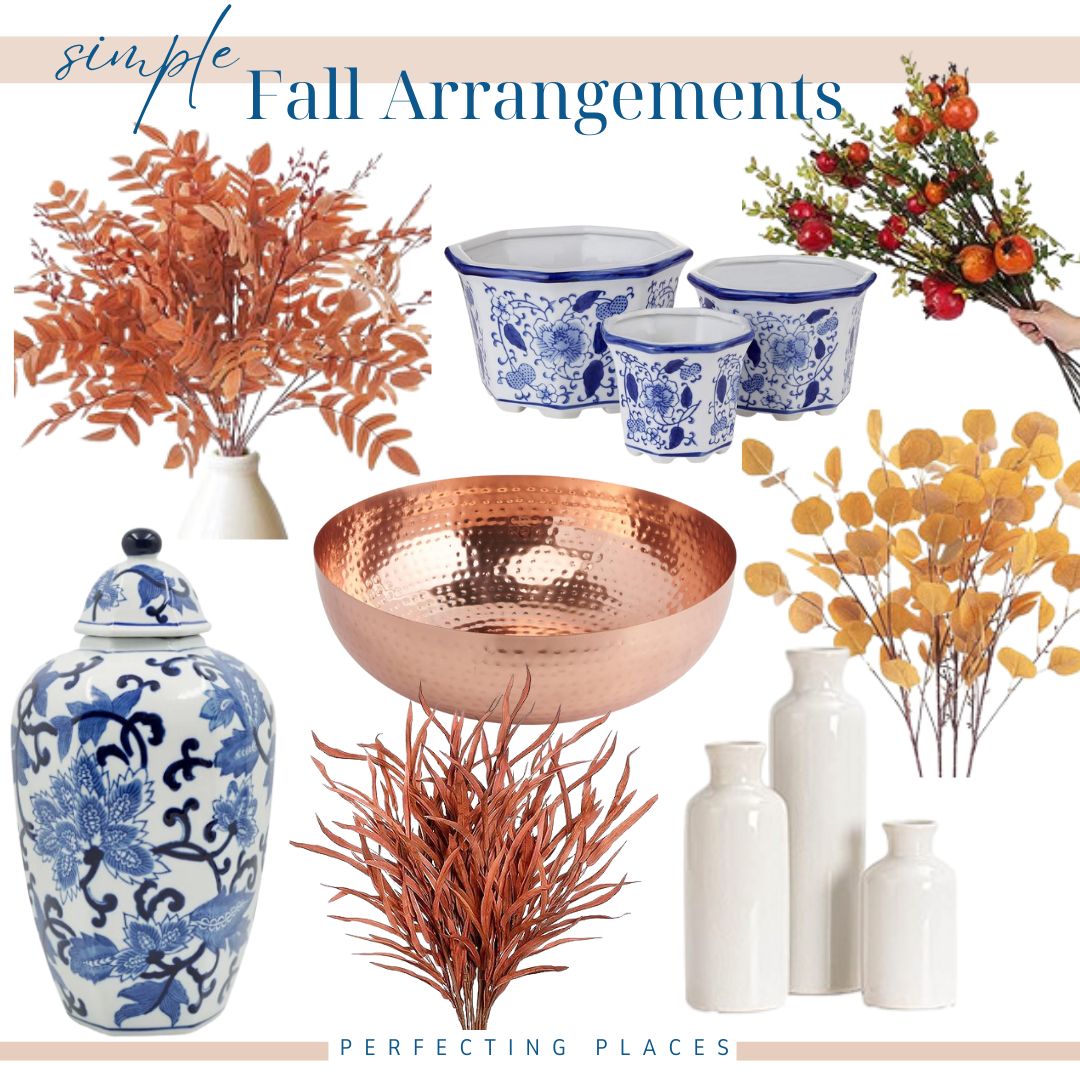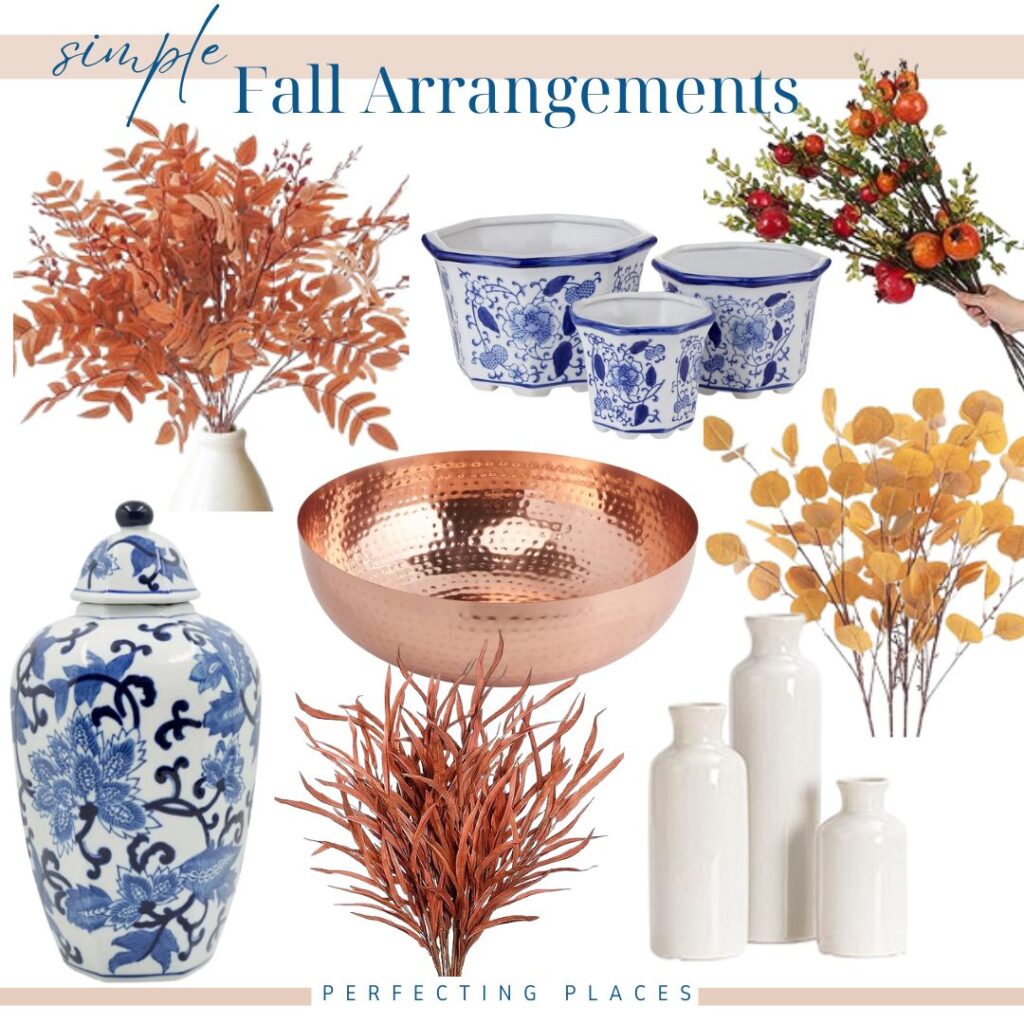 Are you ready to craft a beautiful centerpiece for your table? I hope these simple tips and ideas help you create gorgeous arrangements that showcase the beauty of fall!
Happy Decorating!