A Cheerful Table Decoration for Halloween
Are you hosting a Halloween dinner party? Gather items from around your home to create this easy and fun table decoration for Halloween.
Search your home for items you can incorporate or repurpose to create a colorful Halloween tablescape for your family and friends! Get your creative juices flowing and just see what Halloween fun you can put together for your table!
Halloween will be here before you know it, and today I'm excited to join 8 other talented bloggers on our "Celebrate the Holiday" Halloween Blog Hop! Thanks so much to Carol from BlueSky at Home for hosting our blog hop full of fun and creative Halloween ideas!!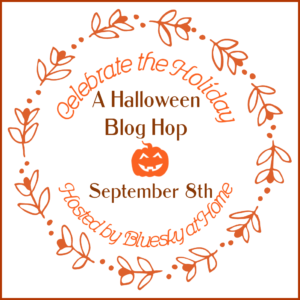 If you're visiting from BlueSky at Home, welcome!!  I'm so happy to have you here! Thanks for following along on our fun little blog hop journey, and be sure to check out my other talented blogger friends at the end of the post!!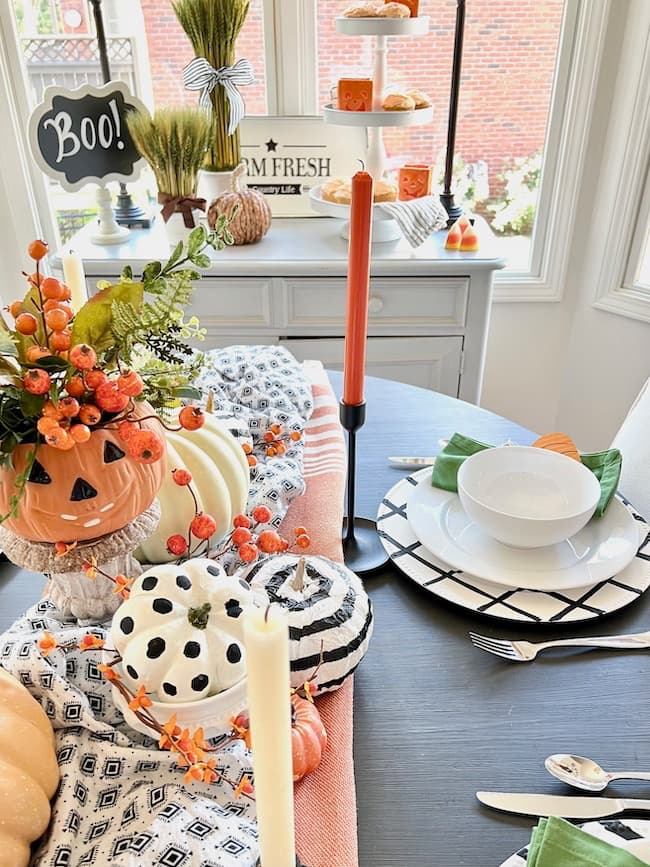 (This post contains affiliate links, so I may earn a small commission when you make a purchase through links on my site at no additional cost to you. As an Amazon Associate I earn from qualifying purchases.)
Pumpkins and friends and costumes and candy, oh my! 
We have so many sweet memories of Halloween fun with our kids growing up.
One of my favorite things about Halloween is all of the sweet kiddos dressing up in sweet costumes, using their imaginations and playing pretend! Sweet parents standing nearby to make sure their little ones give a proper "thank you" for treats handed out. 
I even enjoy the "big kids" in the neighborhood – the ones who can't quite let go of that piece of childhood fun (and of course all the candy). I remember watching my children as they reached the age just beyond the "acceptable" age for trick-or-treating, waivering back and forth, deciding if they should go out or if they were too old, or too cool.
Many times the final decision resulted in a mad dash around the house to put together a last minute costume to join in on the fun!
It's just so hard to resist the fun of dressing up!
It's fun to share in the excitement and create excitement for this special night!
So today, I'm sharing a fun Halloween tablescape idea that's perfect whether you're having friends over to share in the trick-or-treating fun, or hosting a Halloween party or dinner.
And the best thing – I gathered all of these items from around our house to put this together! 
How do you make an easy and inexpensive table decoration for Halloween?
Start with what you already have!  It really is that simple.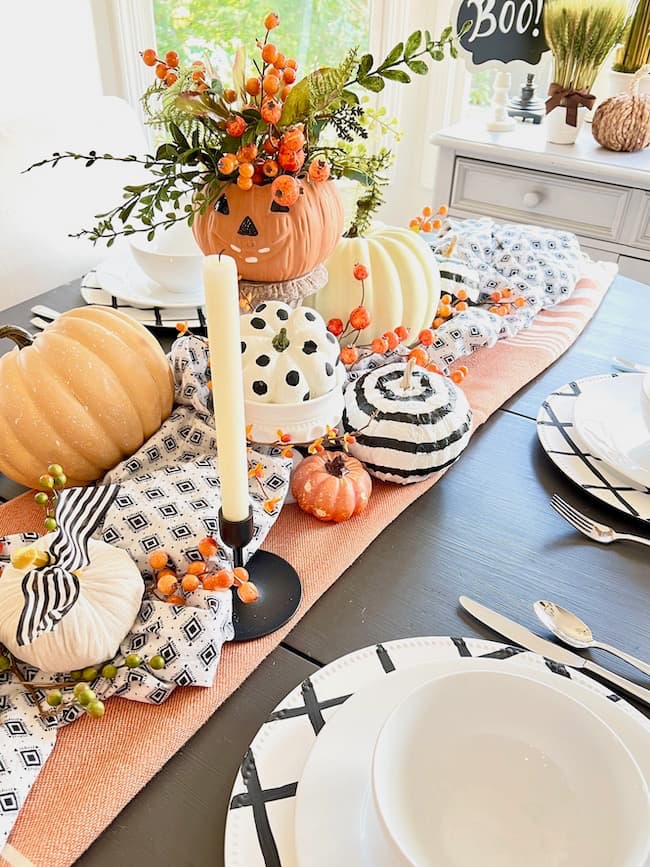 I started my Halloween centerpiece adventure by hunting and gathering items around my house that I thought might work. My goal was to not buy anything! I've always been more of a fall decor kind of girl rather than a Halloween decor fan. So, I don't have a lot of dedicated "Halloween" decor. So, I had to get creative.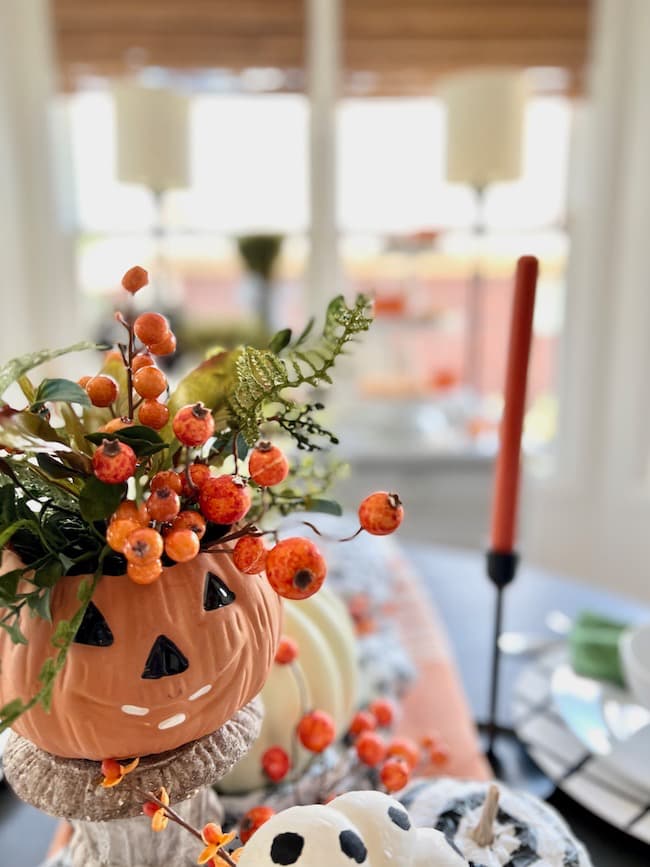 I also wanted to keep the centerpiece cheerful and fun, but still have a Halloween feel to it.
I used the traditional colors of orange and black, with some white thrown in to brighten the table.  Fortunately for me, our kitchen table is black, so it's the perfect table for this table decoration for Halloween!
I started by adding a table runner.
Creative Ideas for Halloween Table Runners:
As I mentioned, I don't have a lot of dedicated Halloween decor, so I had to get creative for our table runner.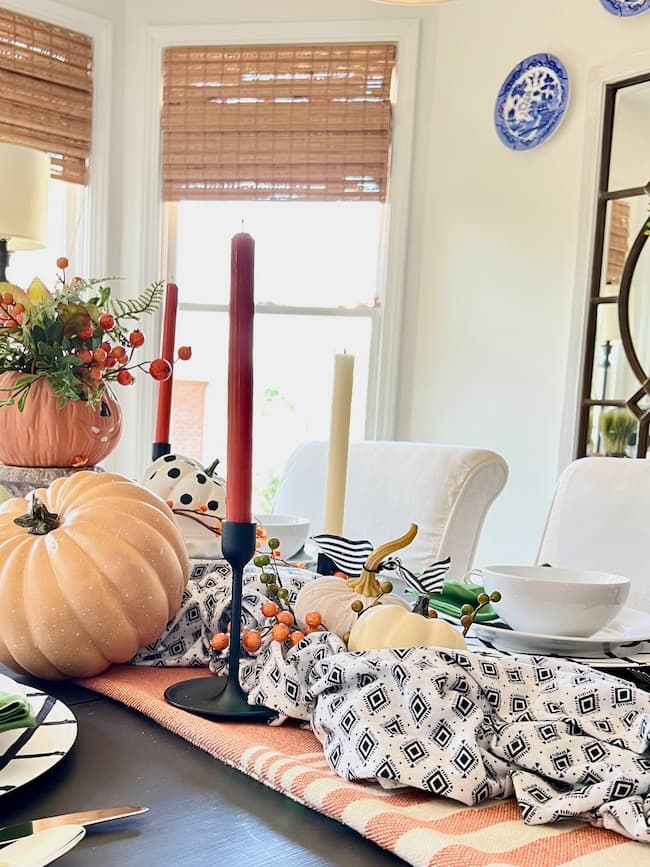 I used a folded pale orange throw blanket down the middle of the table to serve as a base for the centerpiece. You could also use a throw blanket or large scarf as a table cloth.
Next, I gathered up a piece of black and white flannel fabric that I purchased once upon a time to create a tent for our daughter's room, but never got around to. I layered the black and white flannel piece on top of the orange blanket to create a fun table runner.
Create the Halloween Centerpiece
As far as I'm concerned, you can't have a Halloween table without pumpkins!!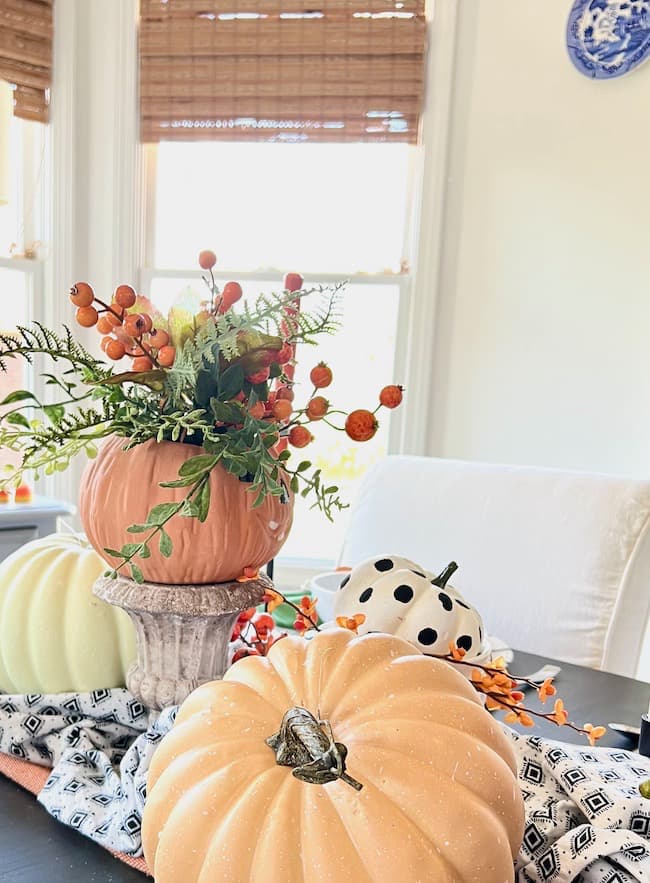 I used a variety of pumpkins – some medium size faux white and peach colored pumpkins and some white miniature velvet and painted pumpkins. I love how the soft shade of the peach pumpkins blends with the light orange blanket to add subtle Halloween color to the table.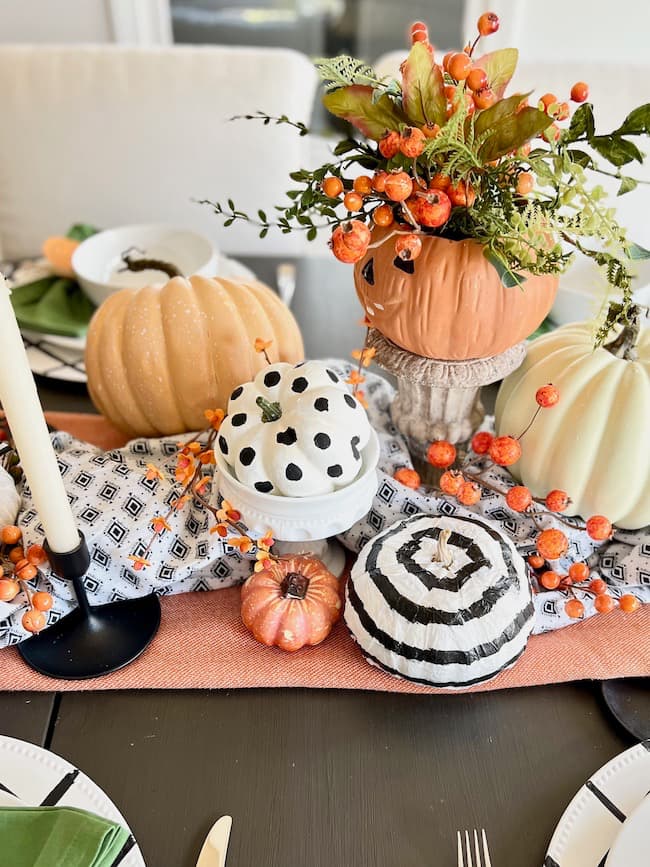 But my favorite pumpkins in the tablescape are the black and white pumpkins that I made!! Don't you just love decorating pumpkins?
How I made the black and white pumpkins:
I used two techniques to decorate the black and white pumpkins.

Black and White Striped Decoupage Pumpkins:
In the spirit of this budget-friendly Halloween project, I found some old Valentine napkins in our pantry and cut away the red hearts and lettering. I was left with fun black and white stripes to add to the pumpkins.
You never know what you might find around your home to use, so search with an open mind!!
I covered the pumpkin with Mod Podge and then cut the napkins in to smaller pieces to apply to the pumpkin.  I used larger pieces on the first pumpkin, but then found that it was easy to work with the stripes if I cut the napkins into even smaller sections.
The end result was these adorable little black and white striped pumpkins for our tablescape!
Black and White Polka Dot Painted Pumpkins:
I also added little black polka dots to one of the small white pumpkins and propped it up on this little milk glass pedestal bowl.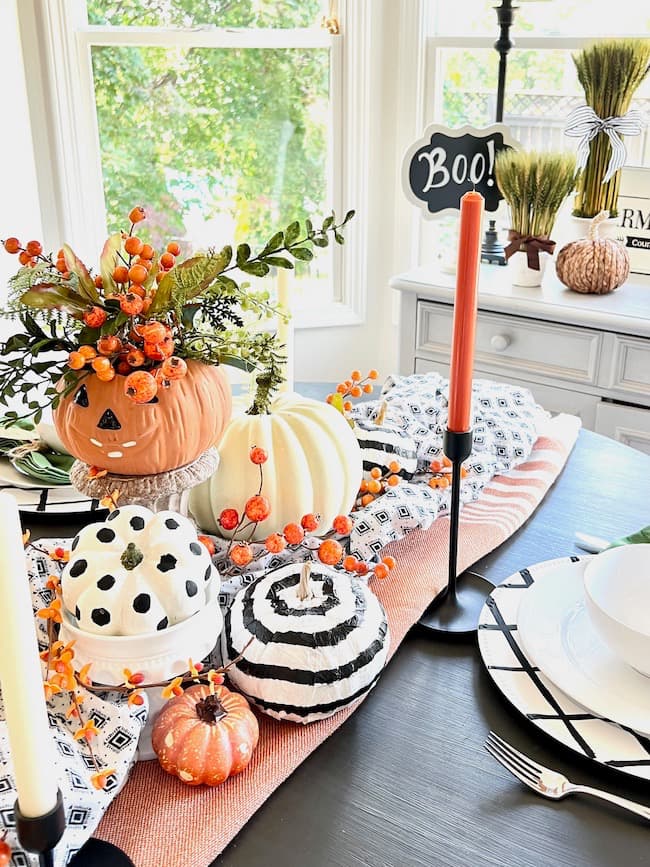 Finishing Touches for the Halloween Table Decor:
Our tablescape needed a little focal centerpiece.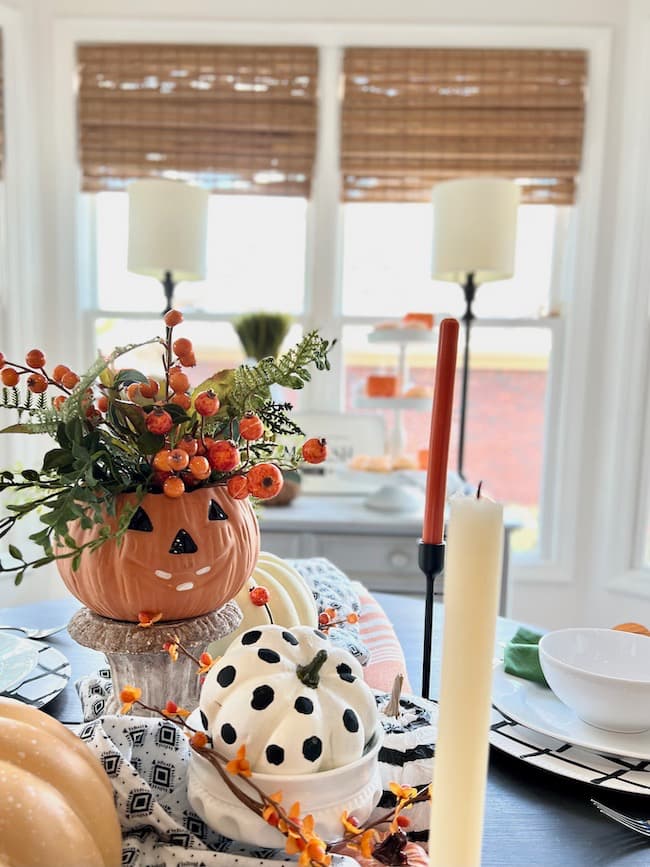 The focal centerpiece of our table was this cute little pumpkin centerpiece arrangement that I made from an adorable happy little pumpkin container that was gifted to me years ago by a sweet neighbor. 
Doesn't he have the happiest little smile? No scary Halloween faces here!!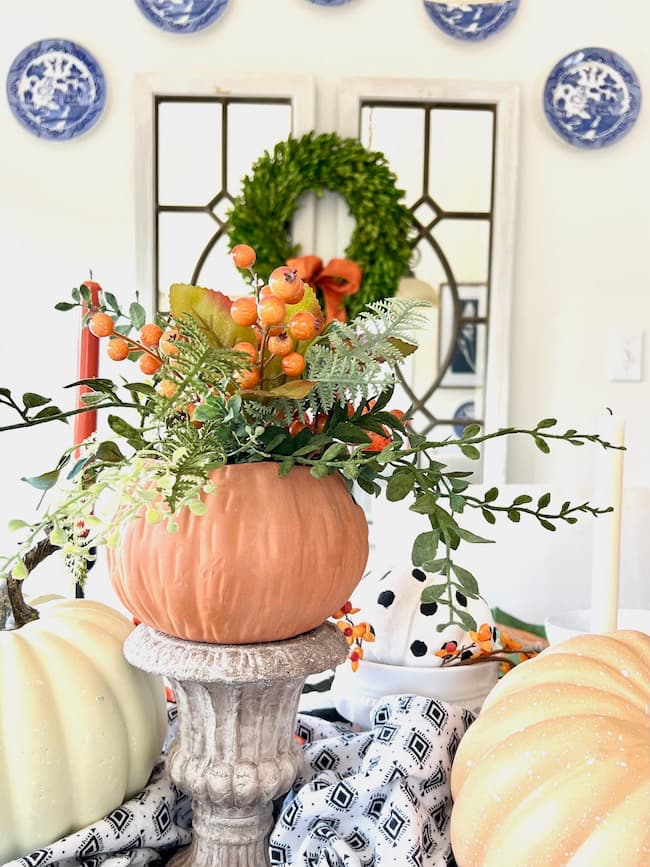 I simply added a little faux greenery spray and some orange berries to this happy little guy, and popped him on a little concrete urn to be the star of the show! I think he likes his starring role!
Add Orange and White Candles:
While I tend to favor the subtlety of off-white candles in our decor, I've been loving using candles in pretty fall colors this season.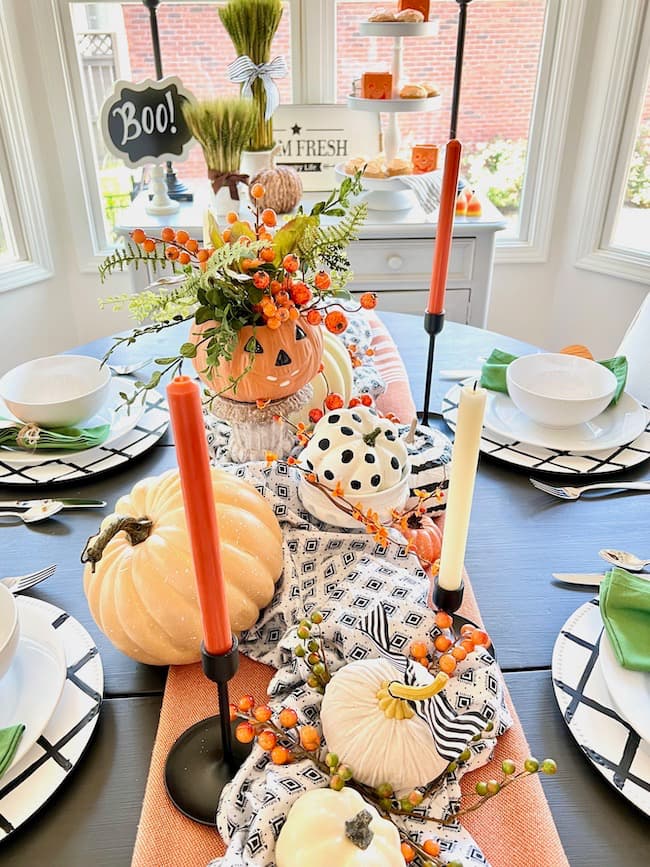 I added our black candle holders to the tablescape with burnt orange and off-white candles to finish off this fun little table decoration for Halloween.
Painting Black and White Dollar Tree Chargers for the Table Settings:
Did you know that the cheapest place on the planet to buy chargers is the Dollar Tree? (Or should I now say the $1.25 Tree?)
When our son and daughter-in-law got married 4 years ago, I purchase LOTS of gold Dollar Tree chargers to use for bridal showers and the rehearsal dinner.  So, I have an abundance of gold chargers just waiting to be used in some creative way!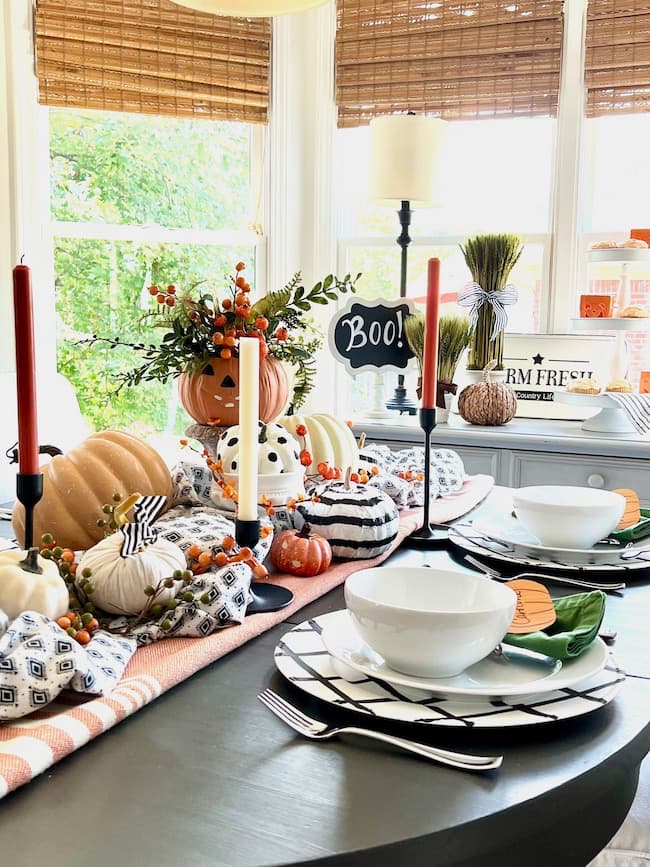 I gave four of them a fun little black and white Halloween makeover, painting a simple plaid design on them. Our white porcelain plates and bowls are perfect for this color scheme – and for holding the perfect chili recipe for a hearty meal before the festivities begin.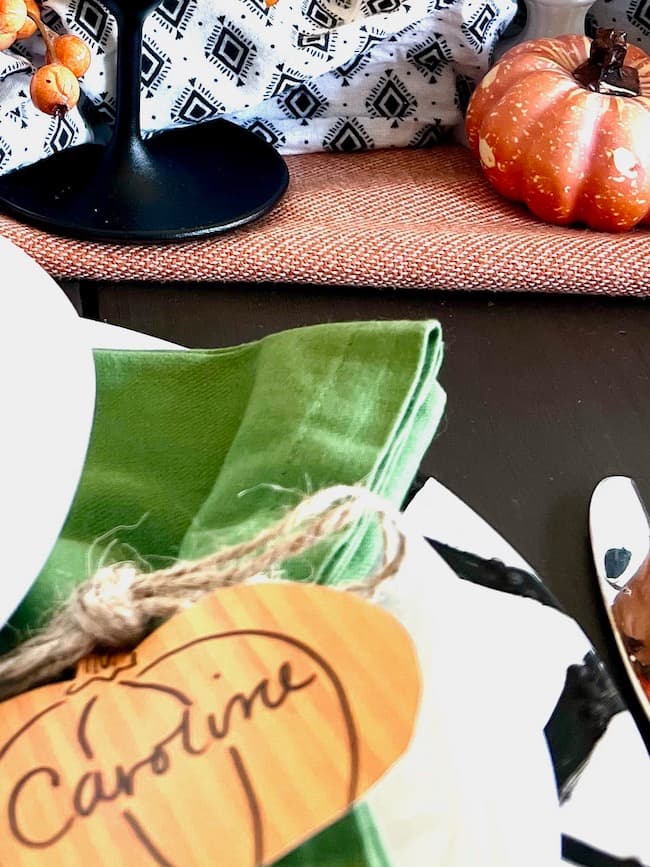 I finished off the place settings with some green napkins and pumpkin place cards I make from card stock.
It's a happy little Halloween table ready for your family or dear friends to gather and celebrate together!
For more fall tablescape and decor ideas you might enjoy:
Colorful Thanksgiving Table Decor Ideas
How to Create a Fall Centerpiece
Don't forget the Halloween dessert table!
Keep the dessert table simple by adding cupcakes to a three-tiered tray.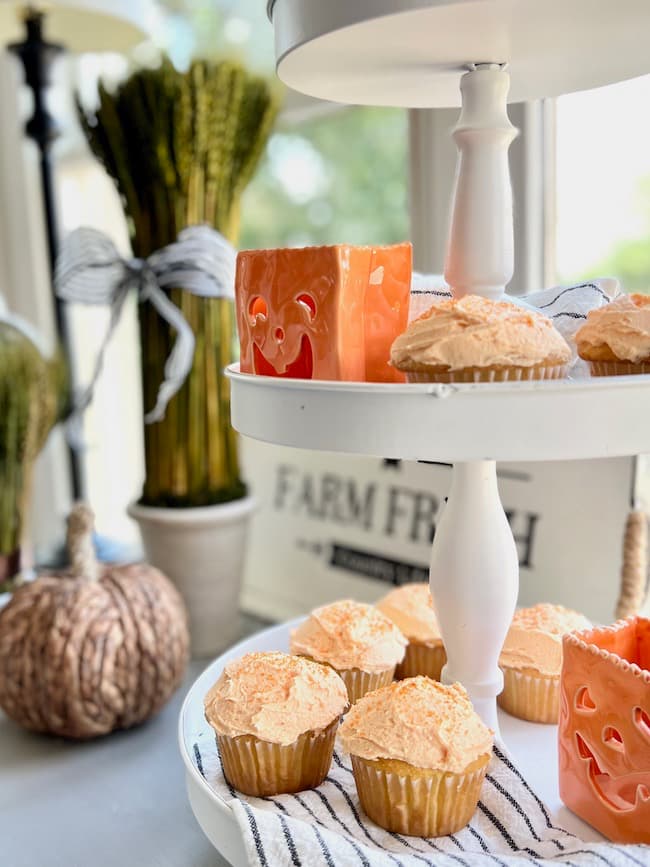 Add some wheat topiaries and woven pumpkins for fun fall touches!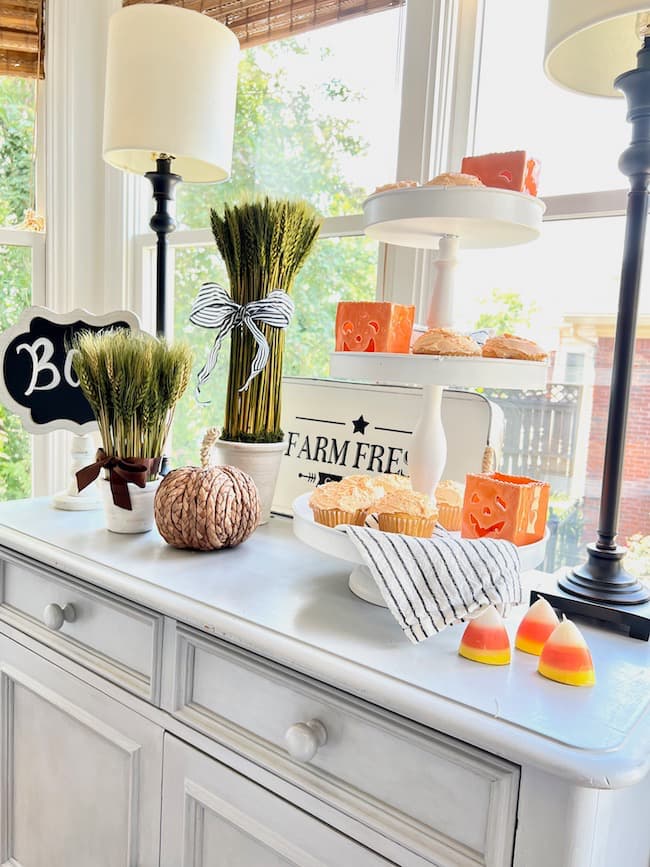 And add a chalkboard "Boo" sign to get in the Halloween spirit!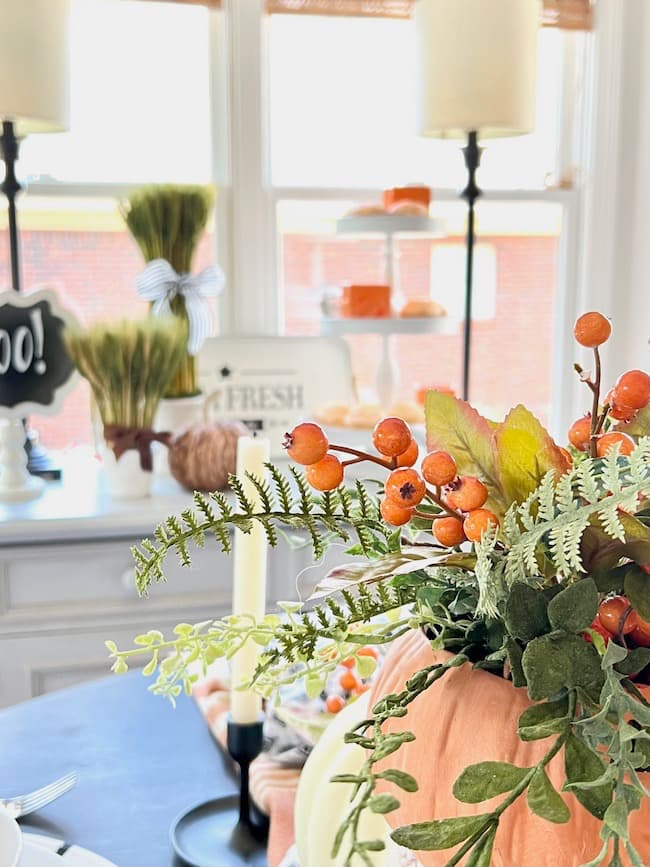 So you see, you don't have to spend a lot of money to celebrate Halloween if you don't want to! Just get creative and pull together what you have around the house, and before you know it you'll have a cheerful Halloween tablescape for everyone to enjoy!!
If you'd rather shop to pull together a similar look, I've gathered a few links together for you below! Be sure to check them out!
---
Shop the Look
Black and White Plaid Tablecloth
White and Black Woven Placemats
Black and White Striped Pumpkin
Black and White Polka Dot Napkins
---
For your next stop along our blog hop, be sure to stop by and visit Angie at Postcards from the Ridge to see her fabulous Halloween Hutch Decorating Ideas!!
And check out the other amazing bloggers on our Halloween blog hop below!! Thanks so much for stopping by!
Happy Halloween Decorating!!
If you like this idea, be sure to Pin It for Later!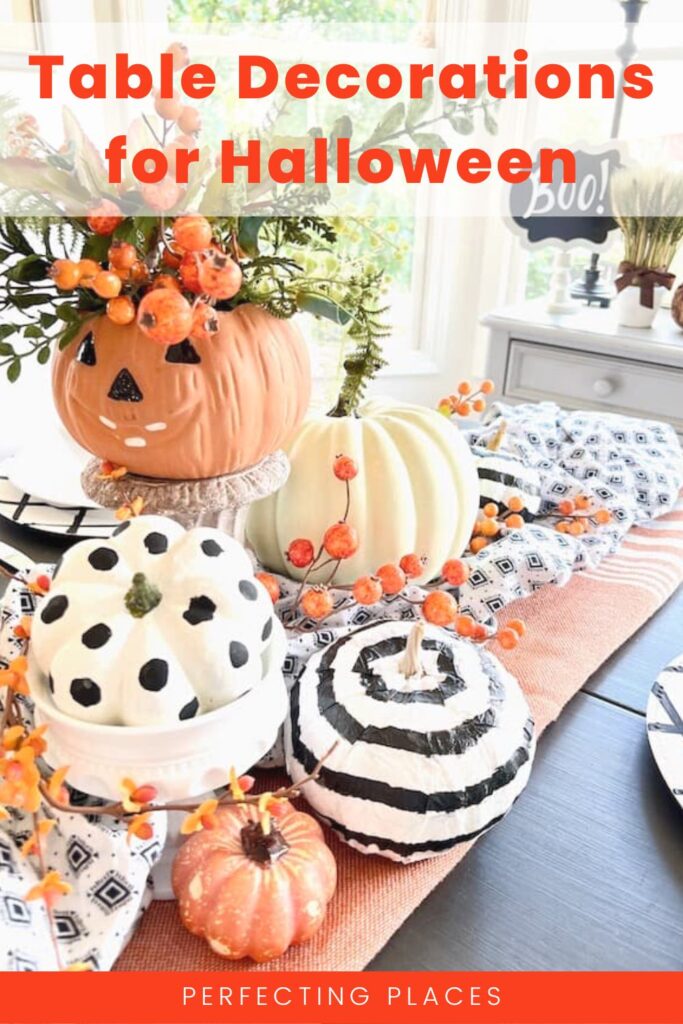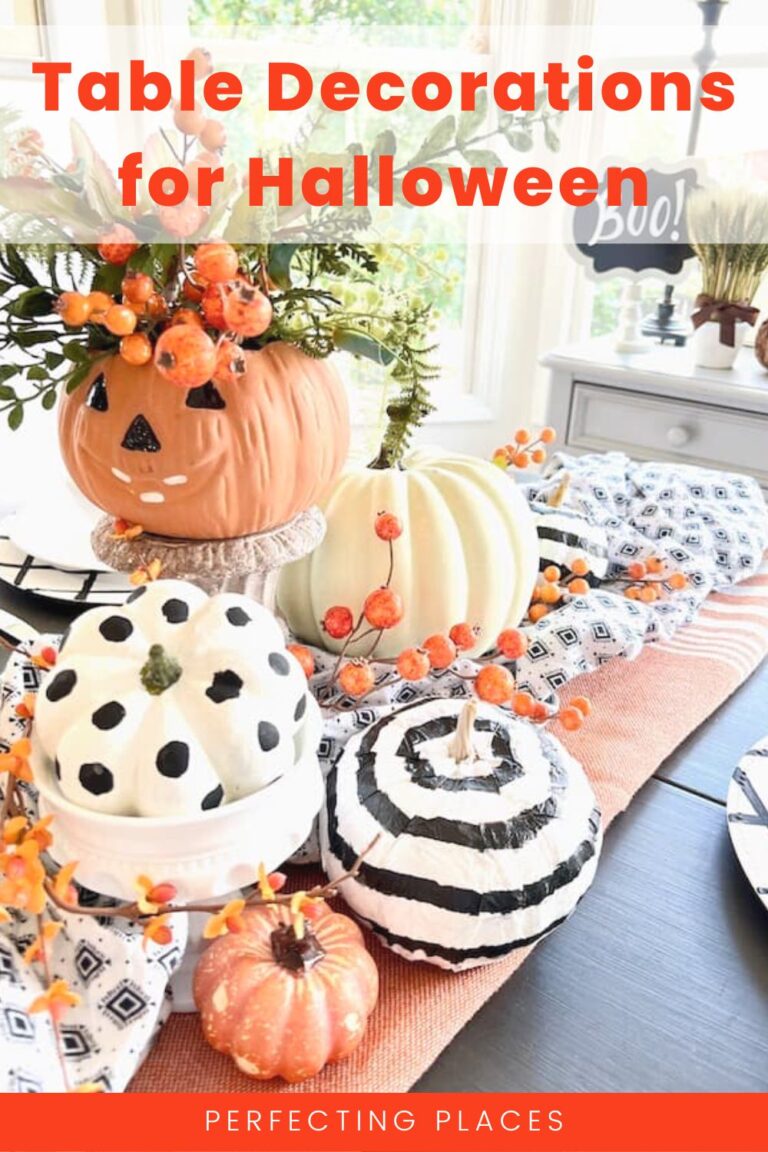 By the way, do you follow me on all the socials?? If not, check out my Pinterest, Instagram, and Facebook and be sure to follow me on all the socials so you don't miss out on any of my fall and holiday decorating ideas!!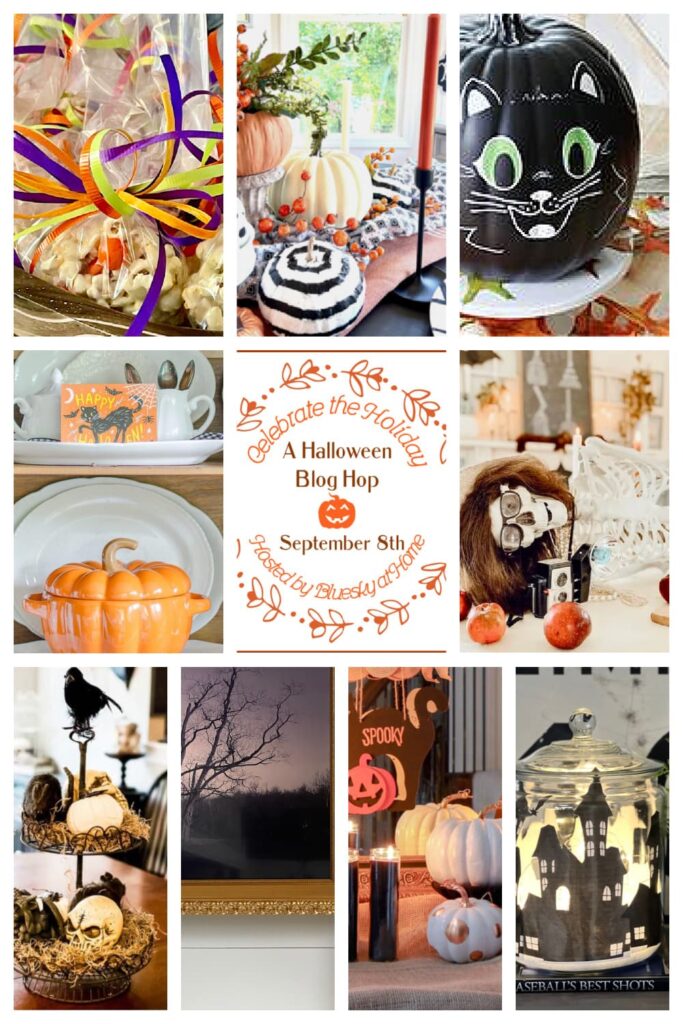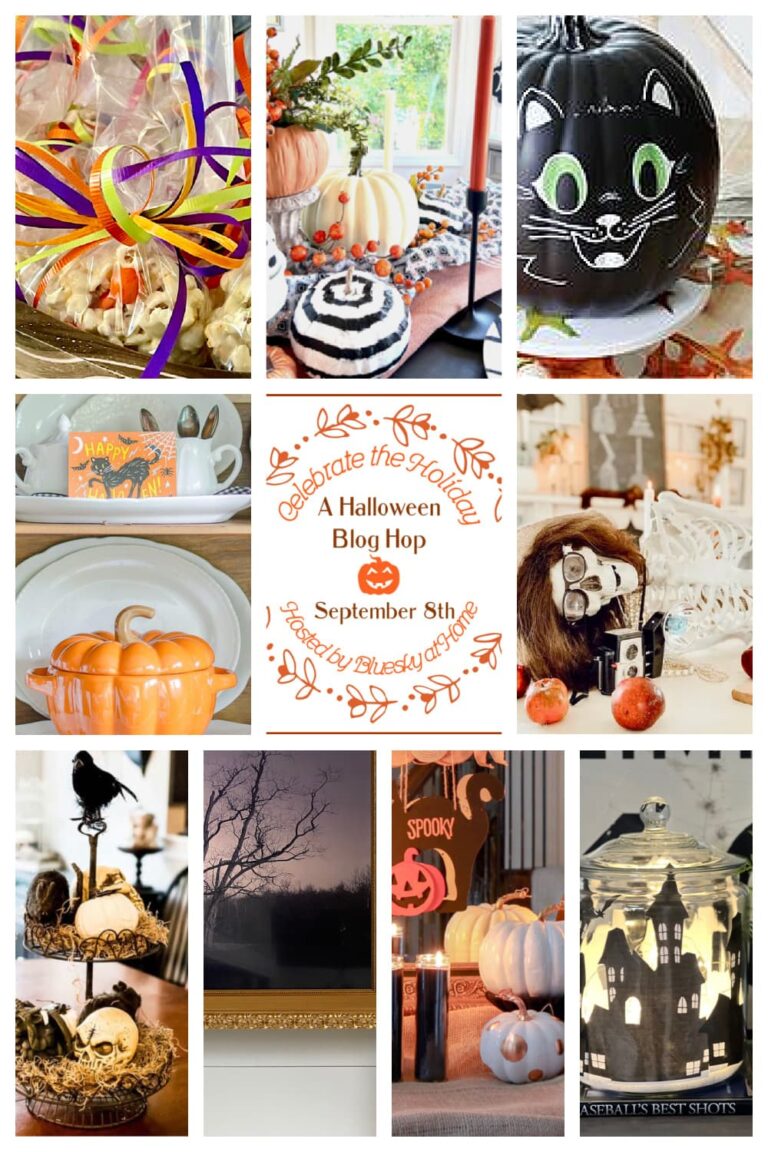 Now be sure to visit these other amazing blogger friends for their creative Halloween ideas!!