21 Affordable Small Front Porch Decor Ideas for Fall
Do you have a small front porch? Create a cozy entrance to your home with these affordable small front porch decor ideas for fall!
Fall is the perfect time to create a cozy and inviting entryway and outdoor space. These simple fall decorating ideas will make a great first impression on your guests this season without spending a lot of money.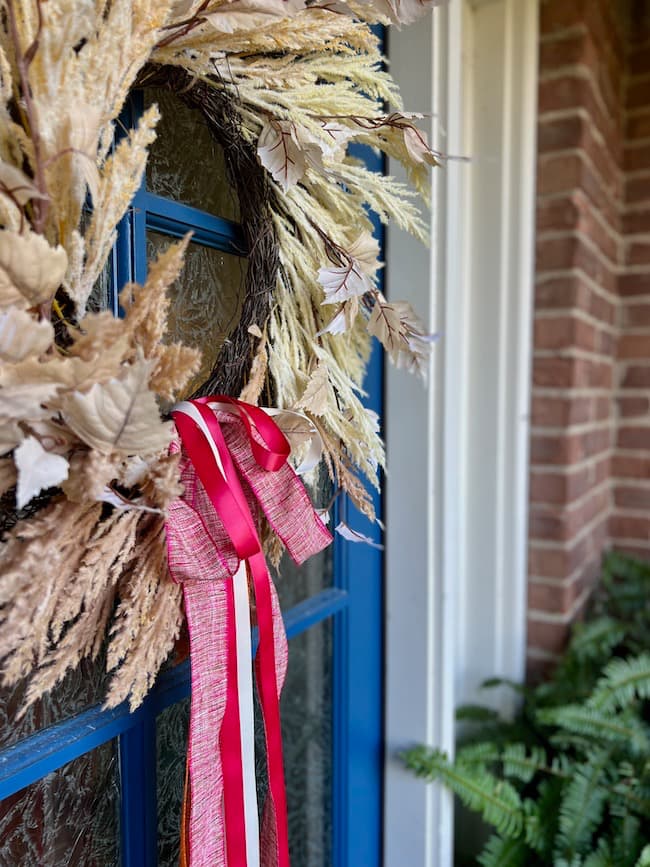 (This post contains affiliate links, so I may earn a small commission when you make a purchase through links on my site at no additional cost to you. As an Amazon Associate I earn from qualifying purchases.)
August is definitely making itself known here this week! Temperatures are soaring to some of the highest of the summer, but that isn't keeping me from dreaming and planning for fall!
Our front porch is one of my favorite things to decorate for fall. Our little covered porch is small, but I like to pack it full of gorgeous fall color. Today, I'm sharing lots of ways to add big fall style to a tiny space.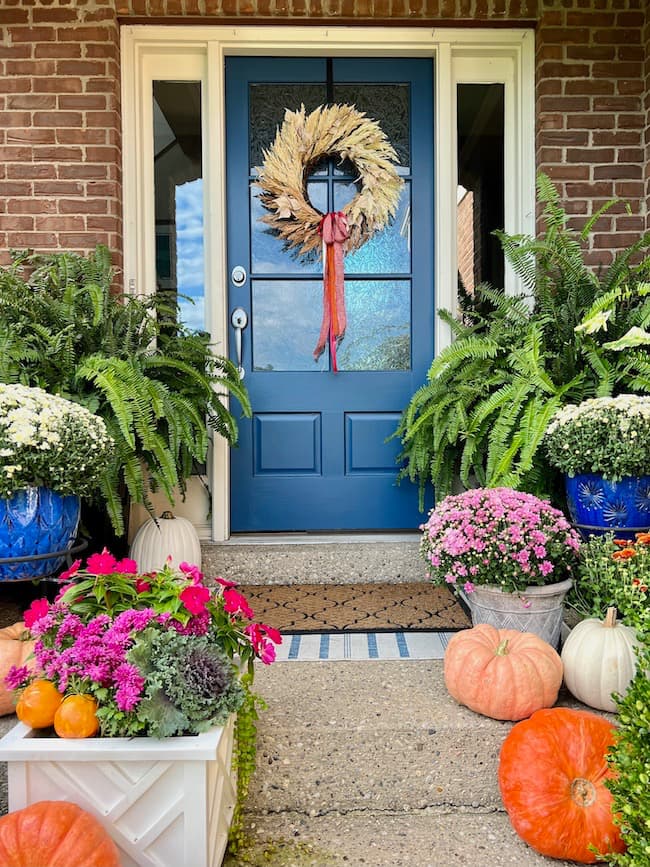 How to Decorate Your Small Front Porch for Fall:
1. Make a Big Impact with a Colorful Porch for the Fall Season
Colorful seasonal decorations can create a welcoming atmosphere on even the coziest of front porches — like our petite little covered porch! Don't be afraid to add lots of gorgeous fall color to your porch! Surround your entrance with an arrangement of colorful mums and pumpkins that echo the rich autumn colors that define this time of year.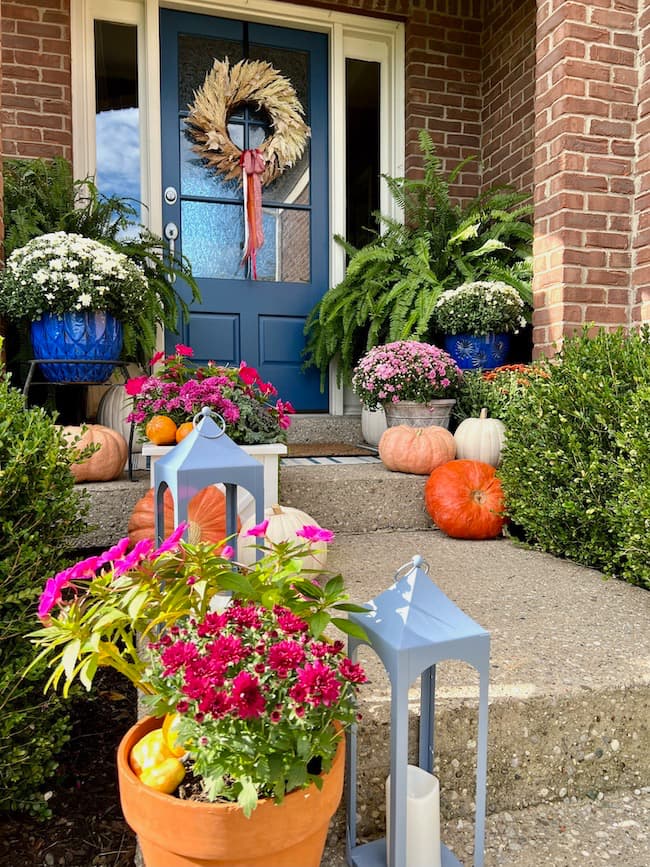 2. Decorate with Lanterns
Illuminate your fall porch decor with the warm glow of lanterns. Hang them from your covered porch or place them on the front steps like I did. Whether you love more refined looks or more rustic lanterns, they add a touch of magic to the small space on your front porch.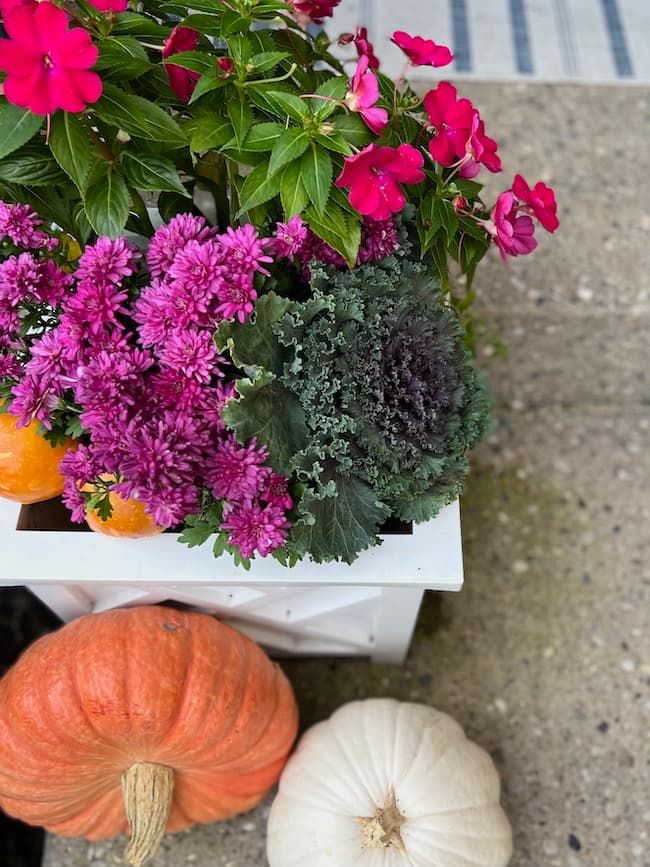 3. Add Ornamental Kale to Fall Pots
Incorporate the beauty of ornamental kale in your front porch pots. It's a beautiful cool weather plant for your fall outdoor decor. When nestled within fall pots alongside fall mums and mini pumpkins, ornamental kale adds a touch of nature, texture, and rich green and purple color into your seasonal arrangements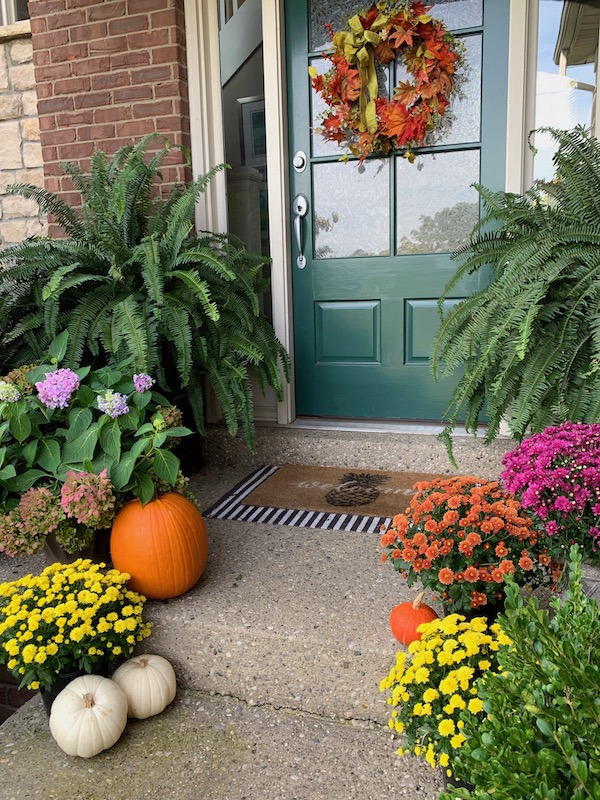 4. Don't Be Afraid to Fill the Porch
Your porch may be small, but you can still fill it full of lovely fall pots and blooms. Don't shy away from adding layers of fall decorations and a bountiful assortment of pumpkins and gourds in various sizes. The mix of textures, heights, and colors adds depth to your front porch, creating an inviting space that exudes the warmth and magic of the fall season.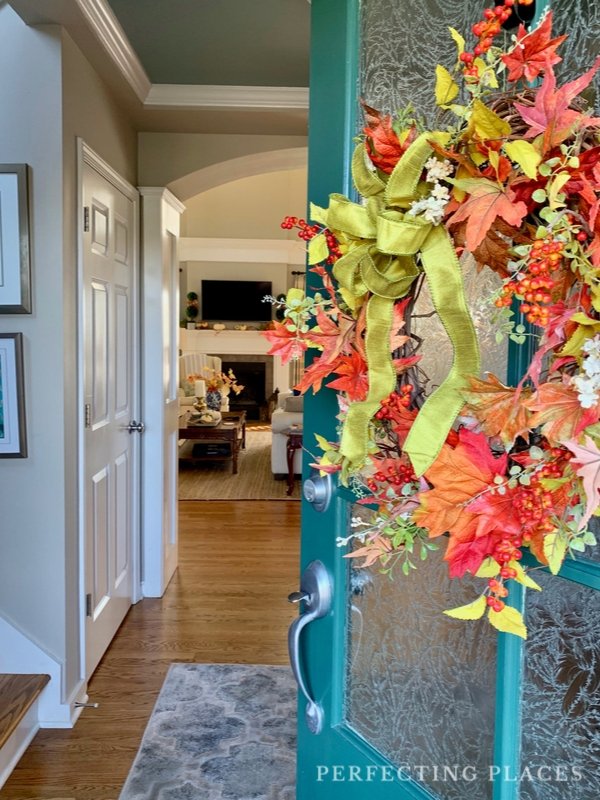 5. Add a Pretty Wreath
Celebrate the changing season with a beautiful fall wreath full of fall color on your front door. Opt for wreaths that showcase fall foliage, berries, and a lovely palette of autumn hues. There are so many options available to purchase, or be adventurous and make your own!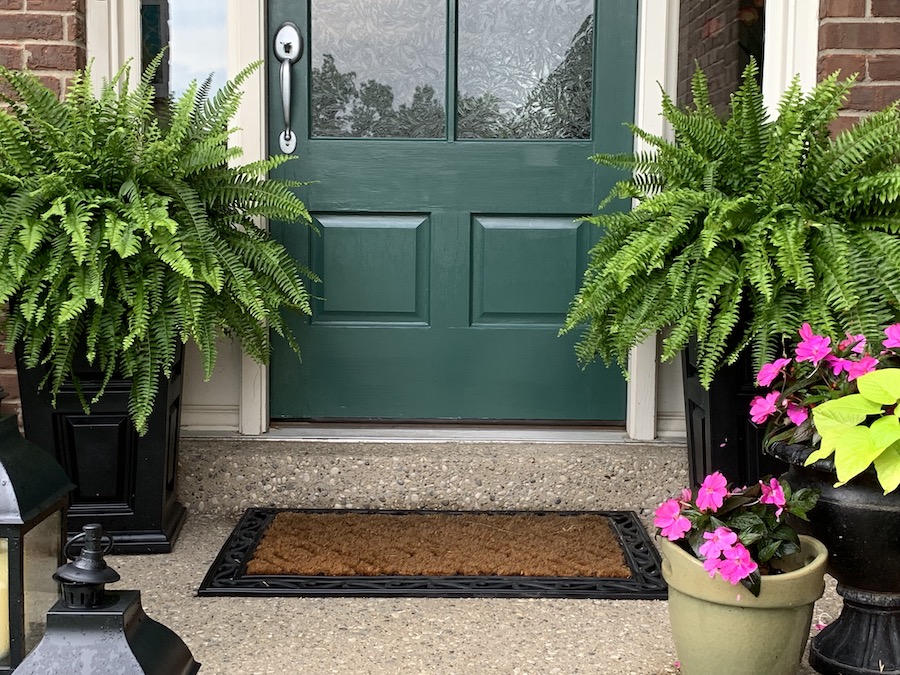 6. Paint the Door a Fall Color
As the hot humid weather of summer begins to cool, it's the perfect time to refresh your door with a new paint color! Consider painting it in a fall-inspired hue such as a deep green, rich red, deep terracotta, or warm honey to evoke the essence of autumn. Of course, make sure it's a color that complements your home's exterior, and works well throughout all the seasons of the year. This door is painted Sherwin-Williams Billiard Green (SW 0016).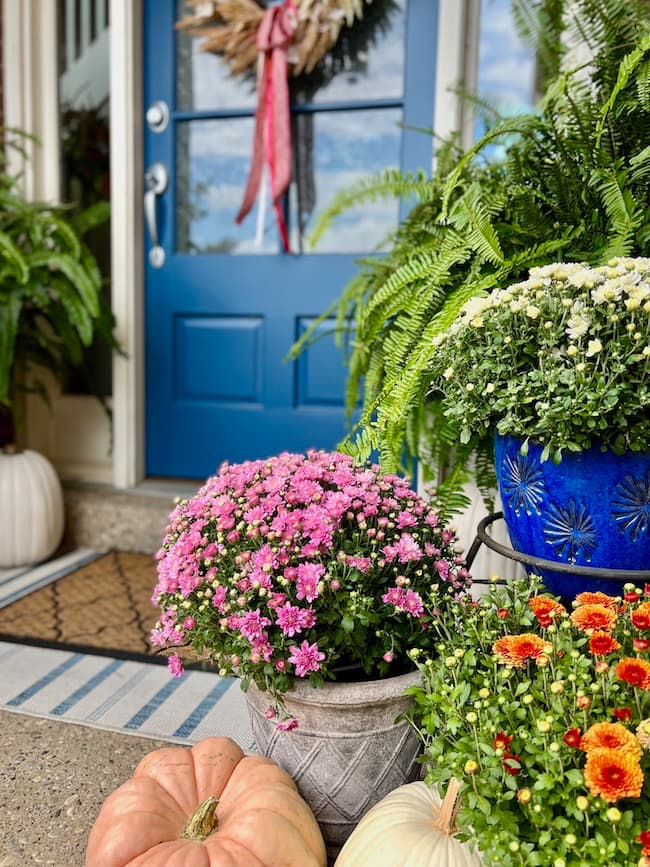 7. Use a Colorful Welcome Mat
Greet your guests with a colorful welcome mat. Layering rugs on your front porch is a great way to add texture and fall color. I love to use a larger colorful rug as a base, then top it with a natural coir mat.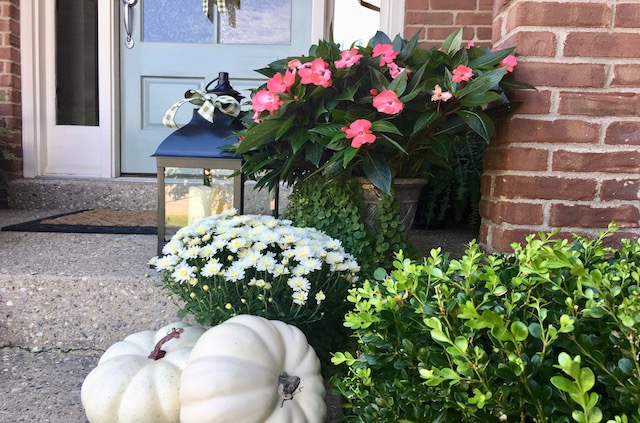 8. Combine Fall Mums with Late Summer Flowers
Embrace the transition from summer to fall by combining new fall mums with your late summer flowers. Pairing vibrant mums with the lingering blooms of late summer creates a pretty blend of colors and textures. Many summer flowers get a little pick-me-up as the heat of summer cools a bit, and these floral combinations mirror the changing colors of the landscape as summer gives way to fall.
9. Hang a Fall Garland
Welcome guests to your front porch by hanging a fall garland. Combine a mix of different textures, fall elements, and colors to create a welcoming and festive entrance to your home.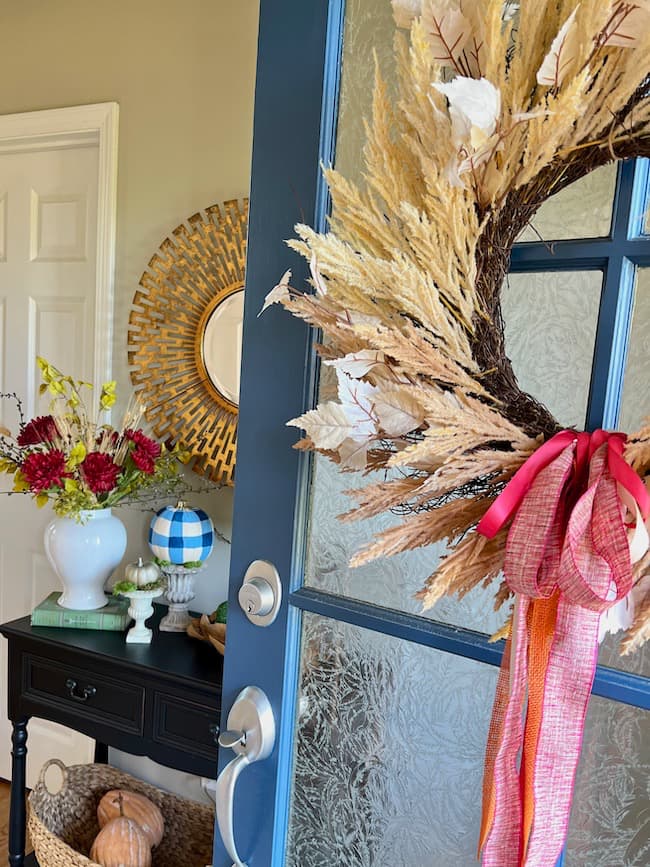 10. Decorate with Fall Ribbon
Adding fall ribbon to your porch decor is an inexpensive way to add fall color and establish a theme to your fall porch decor. Whether you tie bows around the stems of pumpkins, create a ribbon-adorned wreath, or fashion simple bows for your lanterns, the addition of fall ribbon adds a pop of color and style to your porch.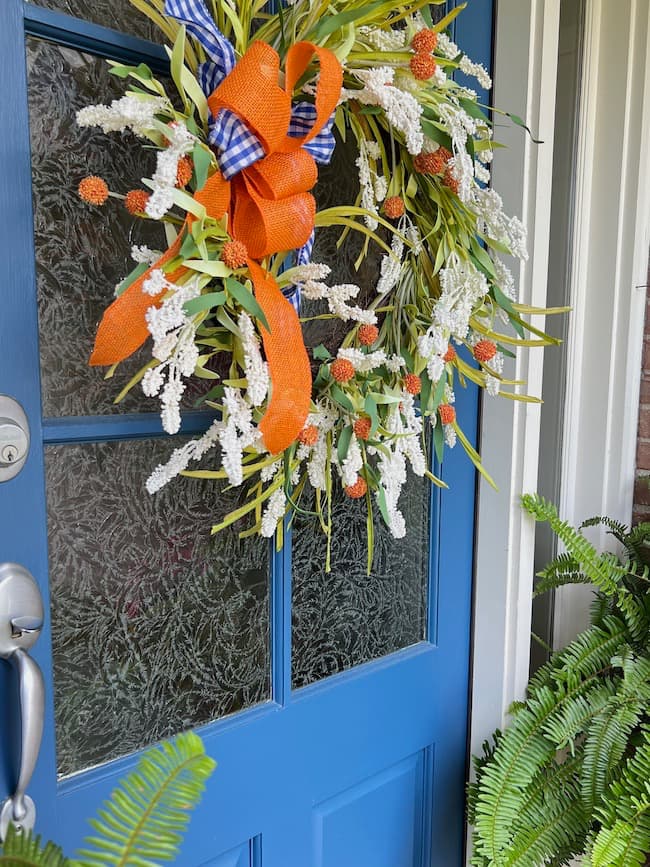 11. Update a Summer Wreath for Fall
Update your existing summer wreath for the new season. A simple way to achieve this is by introducing fall elements like dried leaves, mini pumpkins, and touches of burlap or plaid ribbon. This creative twist lets you transition seamlessly from one season to another without breaking the bank.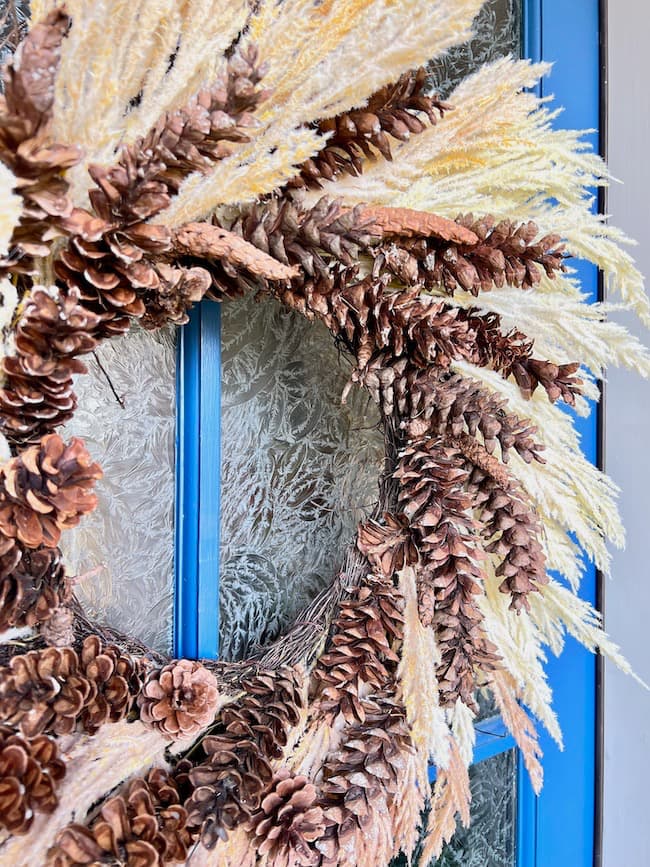 12. Make a Pinecone Wreath
Gather pinecones from your yard or purchase a bag from a craft store to create a DIY pinecone wreath that exudes natural elegance. Crafted using real or faux pinecones, this wreath adds a touch of texture and warmth to your front porch.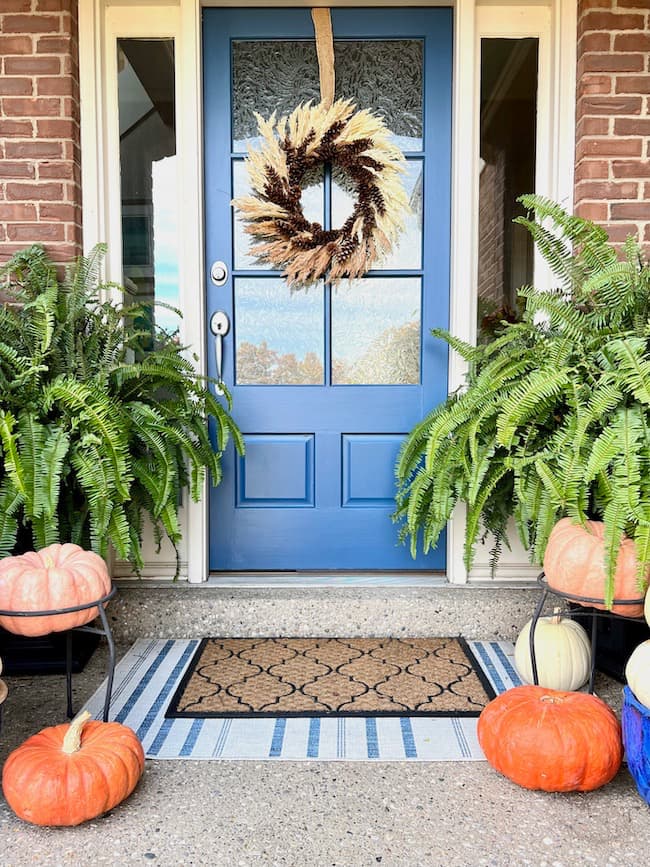 13. Keep Your Summer Ferns in the Mix
Blend the beauty of two seasons by incorporating your summer ferns into your fall porch decor. The pretty green foliage of the ferns complements the traditional fall colors and textures. Paired with white pumpkins and decorative lanterns, this mix adds depth and visual interest to your small porch.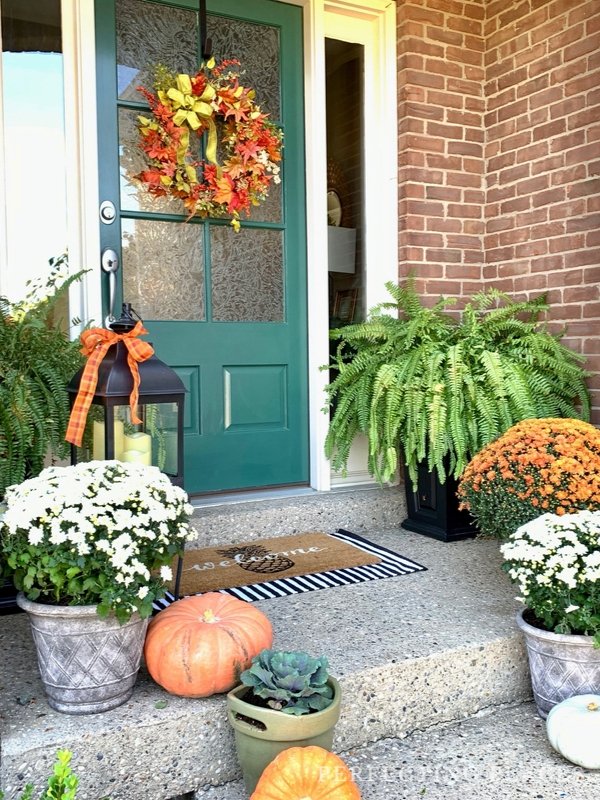 14. Select a Color Scheme That Complements Your Curb Appeal
Enhance your home's curb appeal by selecting a fall color scheme that harmonizes with your exterior. By integrating seasonal colors that resonate with your home's design, you create a seamless transition from outdoor to indoor spaces.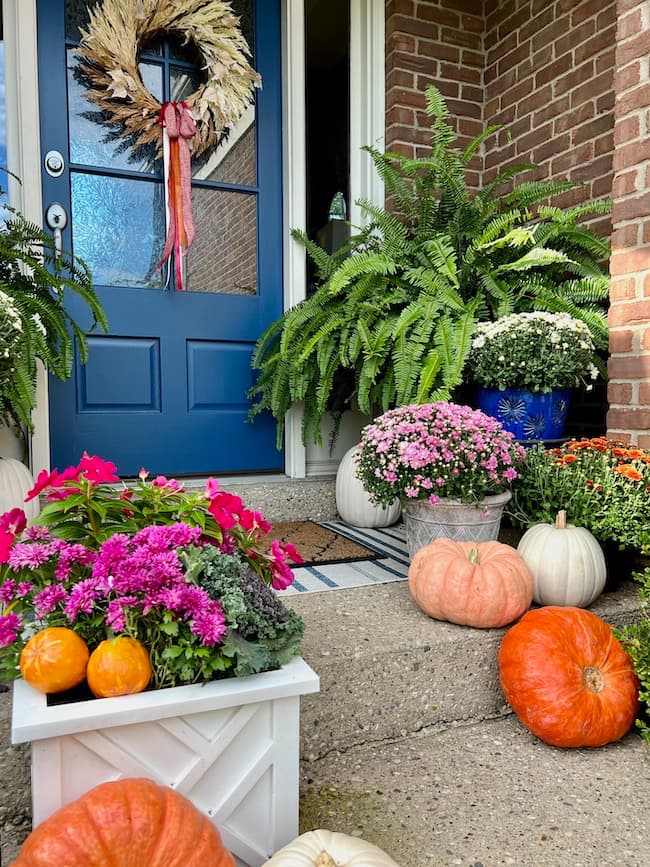 15. Make a Statement with Containers
Elevate your fall porch decor with eye-catching containers that make a statement. The containers' unique shapes and textures enhance the overall fall aesthetic and really showcase you fall blooms.
These gorgeous white Chinoiserie-style planter boxes add a touch of sophistication to our fall plantings.
16. Repurpose Vintage Items
Add character to your fall front porch by repurposing vintage items like wooden crates, old ladders, or metal buckets. Use them as unique plant stands or display surfaces for your fall decorations, adding a touch of nostalgia and creativity to your seasonal decor.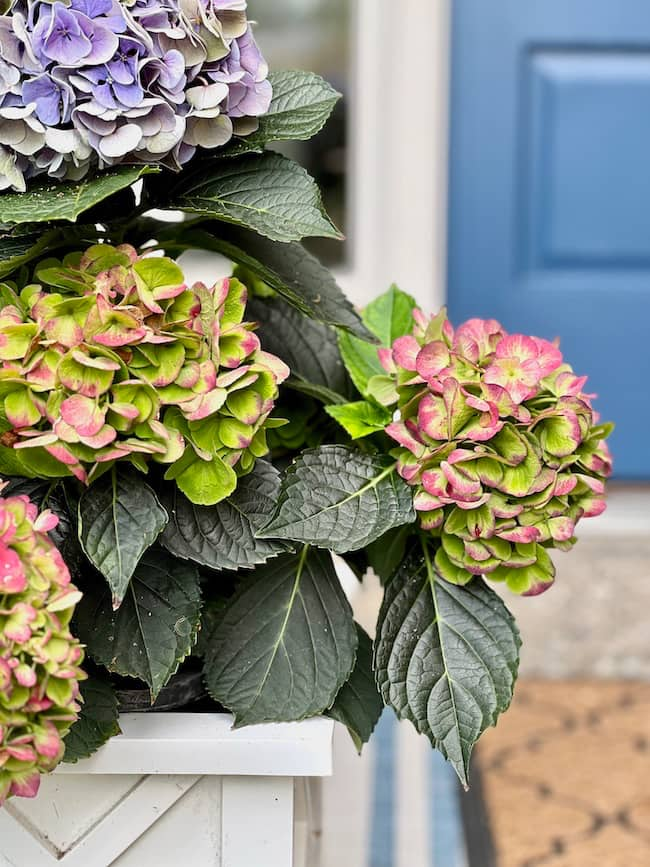 17. Use Summer Hydrangeas in Pots
I love planting hydrangeas in pots for our front porch flowers thoughout the summer. As the summer progresses, the blooms change colors, and give way to a lovely rusty color for fall. I have ours in these white Chinoiserie style planters, and love them!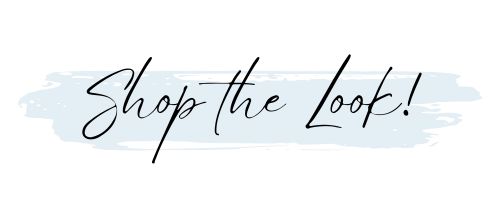 18. Add String Lights
Transform your porch into an inviting oasis by adding string lights. These twinkling lights create a cozy ambiance, making your porch an ideal spot to to welcome friends and loved ones.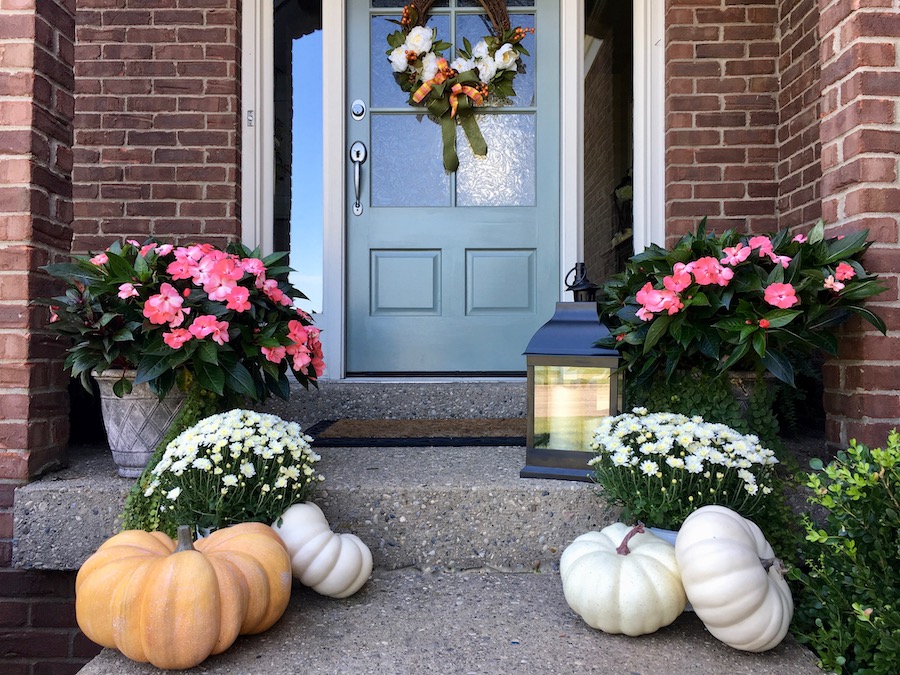 19. Mix Faux and Real Pumpkins
One of the best ways to stretch your front porch decorating dollar is combining faux pumpkins with real. Buying real pumpkins every year can get expensive, so having a few faux pumpkins on hand to throw into the mix year-after-year can really stretch your dollar. There are lots of pretty and very realistic styles to choose from. Of course, you need to throw in some lovely real varieties as well!
20. Add a Cozy Plaid Blanket or Throw
Create a cozy look on your porch by draping a cozy plaid blanket or throw over a chair or small bench. Allow one to spill over a pretty textured basket for a pretty fall look to warm up your space.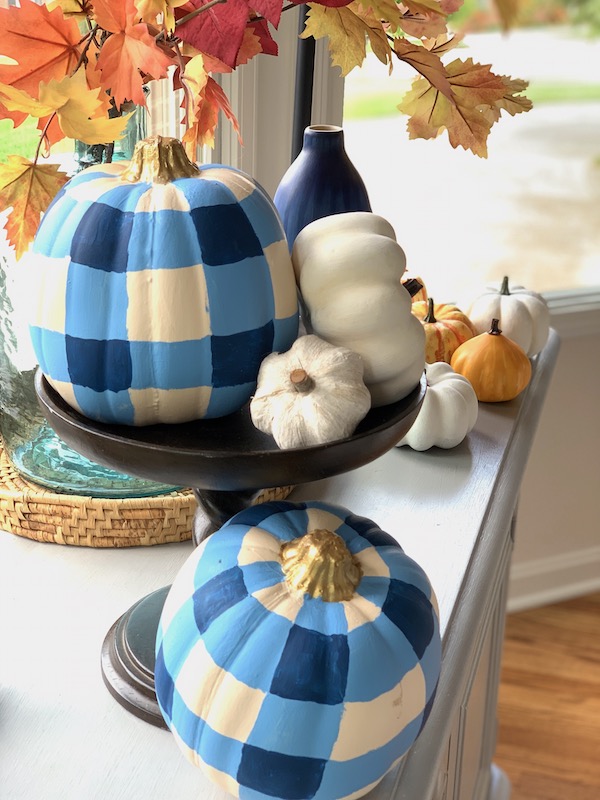 21. Be Creative with a Plaid Pumpkin
Add personality to your fall porch by getting creative with painted pumpkins. Placed alongside other fall decorations, these plaid pumpkins provide the perfect finishing touch that can bring your porch decor to life. The color possibilities are endless!
With these affordable fall porch decor ideas, you're all set to deck out your front porch, whether it's a tiny space or a grand expanse, with the spirit of the season. So go ahead and create a warm welcome for friends and family, turning your front porch into a lovely retreat that captures the essence of this season, regardless of the size of your space.
Happy Fall Decorating!