Fall Front Porch Ideas to Transition from Summer to Fall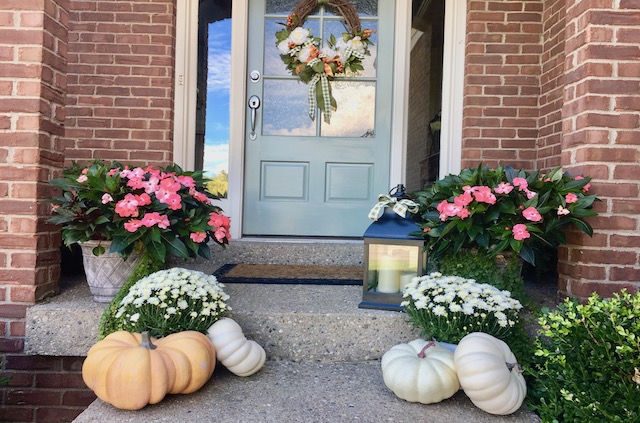 The calendar says it's time to transition from summer to fall decor; however,  if your weather is still hot like mine, you might need some creative fall front porch ideas to transition from summer to fall!
Fall has ALWAYS been one of my favorite seasons. The kids return to school and football season arrives (Go Cats!). The pumpkins, mums, yummy coffee drinks, vibrant blue skies, cider, fire pits, and caramel apples all elicit warm fuzzy feelings for me.
However, this year…
For some reason, I've been a little slow to get excited about fall decorating. Maybe summer just wasn't long enough this year. Maybe I'm getting older and dreading the cold around the corner (I did just hit the 5-0 mark this summer).  Or, maybe I'm still enjoying my beautiful summer blooms outside and not ready to let them go!
This year, I had the luxury of a sweet Garden Fairy (aka, my mother) who took care of my front porch flowers. They are still looking so beautiful!! Turns out, flowers like to be watered ALL summer long;)  Just look how vibrant and luscious these blooms are!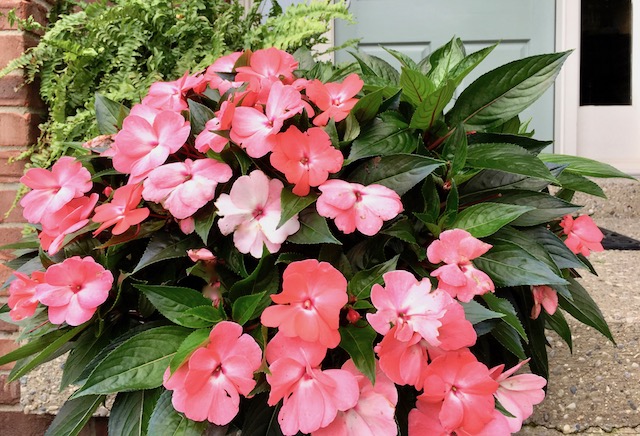 I'm usually REALLY ready to toss out my tired summer flowers and go ALL FALL with pretty mums in fall colors once September arrives. I love to create a beautiful fall front porch, however this year my summer pots survived the summer heat, and are still going strong as we turn the calendar to September.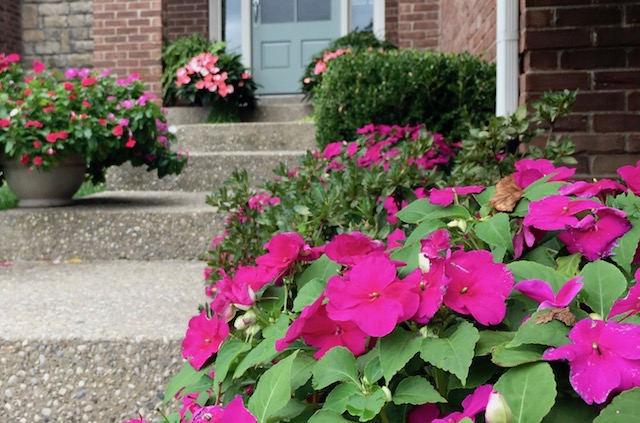 Fall Front Porch Ideas for Using Summer Flowers:
My summer flowers were vibrant corals, deep pinks, and magentas. The purple impatiens grew into bushes, and the vinca pot looks like it could swallow you up as you pass by. Since they are still going strong, I'd like to use these vibrant colors as we head into early fall, for at least as long as the weather allows. Today, I'm sharing a few simple ideas help transition from your vibrant summer flowers into fall hues as the season progresses.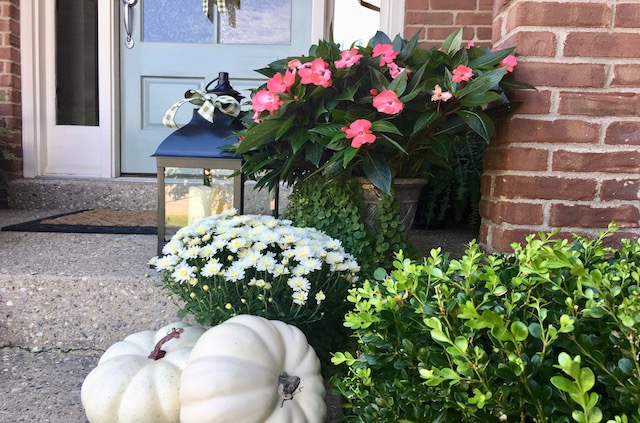 1. Use white mums and white pumpkins on your front porch as you transition from summer into fall.
White mums and white pumpkins are perfect for transitioning into fall with your summer flowers. They add a subtle hint of fall without overpowering or clashing with the bright summer flower colors.  The white fall accents pair well with the vibrant summer colors, and create a unifying effect as you transition into fall.  I also love using pretty peach-colored heirloom pumpkins as a subtle alternative to bright orange.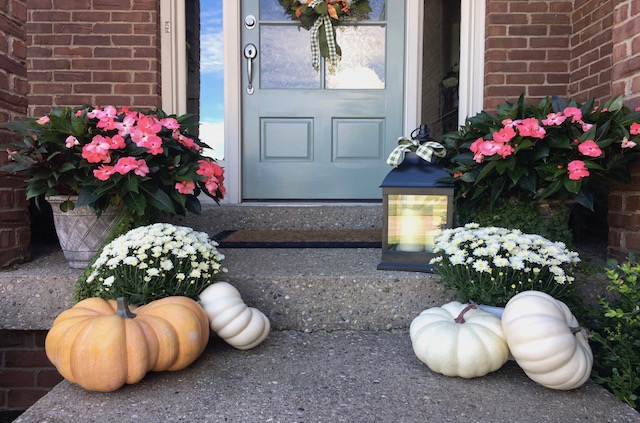 2. Repeat the colors in your fall front porch decor.
Repeating colors is what makes any unusual color combination work together and look intentional and coordinated. Here, I'm working with coral, peachy-orange, white, and green. The coral is repeated in the wreath ribbon.The white is repeated in the mums, pumpkins, and peonies in the wreath. The peach is repeated in the pumpkin and the berries, and the green is repeated in the foliage and ribbon.
3. Use colorful ribbon in your front door wreath to combine your summer and fall colors.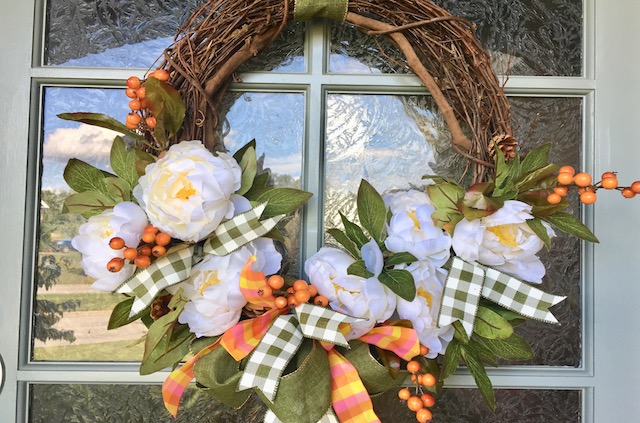 I added touches of coral ribbon and orange berries to my neutral wreath of mostly whites and greens to pull the unusual fall color scheme together. Any neutral-colored wreath would work great for this. As the season progresses and the weather gets colder, I'll replace the potted coral New Guinea impatiens with mums. I can easily switch out the coral ribbon on the wreath with a color that coordinates with new mum colors or ornamental cabbages. 
I made short ribbon cuts like pictured below and twisted them into various places in the wreath to add punches of accent color. It's an easy way to change your wreath to coordinate with your potted flowers. I can easily remove them or switch them out with another color when I change out the flower pots.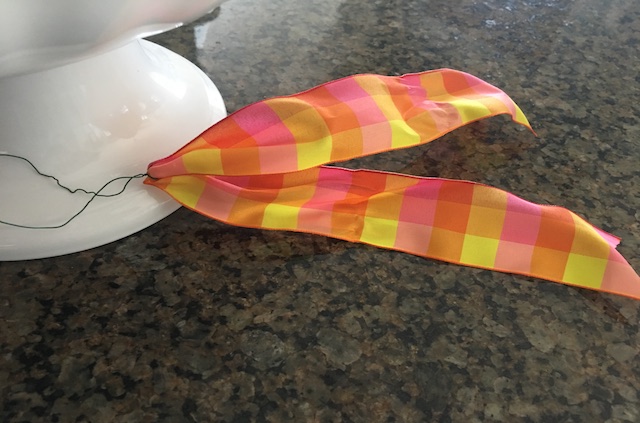 4. Change your front door color.
Ok, this really doesn't have anything to do with transitioning into fall decor using your summer flowers; however, we are talking about front porches, and I'm itching to paint my front door again. Our current door color is Sherwin Williams Acacia Haze, but I'm really loving green, and I think a beautiful leafy green color like SW Kale Green would be a fresh update.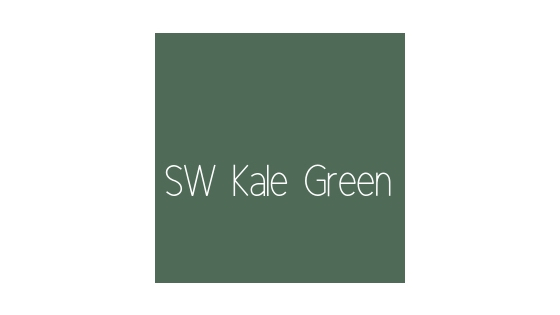 SW Kale Green reminds me of the rich green foliage of the New Guinea impatiens, boxwoods, and ferns, and I think it will add a little life to the front porch as the vibrant colors of summer and fall fade into winter. Early fall is a great time to paint your front door as the weather cools just a bit, before it gets too cold. (More on the new door color to come …)
How do you transition from summer to fall in your front porch decorating? Do you like to keep your summer blooms as long as you can and incorporate them into your fall front porch, or are you ready to pitch them and replace with mums as soon as September arrives?
I'd love to hear from you in the comments!! Happy fall front porch decorating!