Fabulous Fall Decorating Ideas (Our Fall Home Tour 2022)
Decorating our home for fall is one of my favorite things! Today, I'm sharing the best fall decorating ideas in our Fall Home Tour.
I love decorating for fall inside and outside our home! From fall pumpkins and florals, to wreaths and fall pillows — I just love decking out our home in gracious fall style!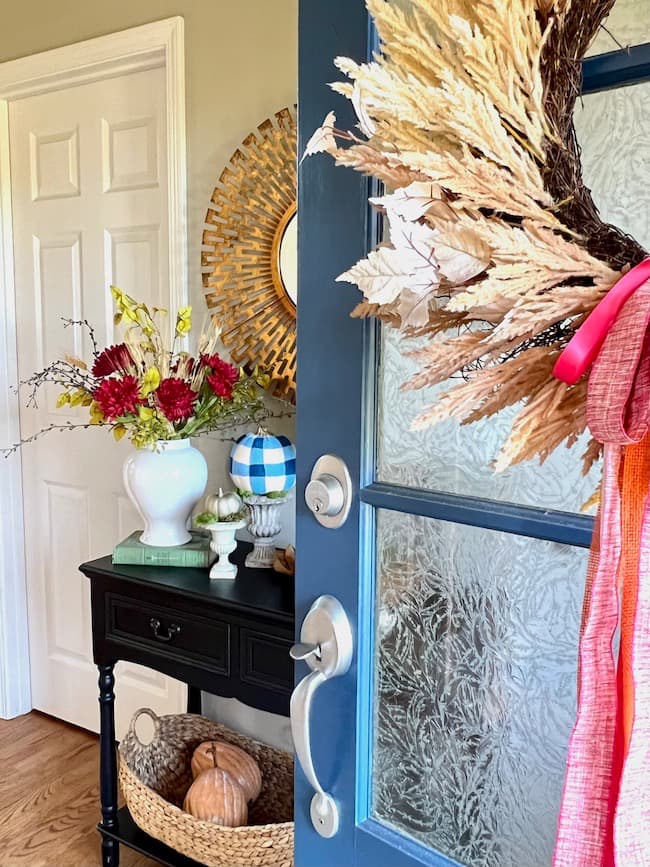 (This post contains affiliate links, so I may earn a small commission when you make a purchase through links on my site at no additional cost to you. As an Amazon Associate I earn from qualifying purchases.)
Fall arrived in all it's glory this week in Kentucky! The skies are bluer, the leaves are just starting to show a hint of color, and I've even donned a sweater a couple of days!
Our home is all dressed up for fall now!
I've been busy adding pumpkins to mantels, and fall flowers to tables.
Our front porch, all decked out in pumpkins and mums, even greeted our first guests of fall this week then we hosted friends in our home for a Bible study.
It's time to soak it all in and enjoy all this glorious season has to offer.
Today I'm sharing a little fall home tour of all the fall decor around our home, and I'm so glad to have you here!
Come on inside, and make yourself at home!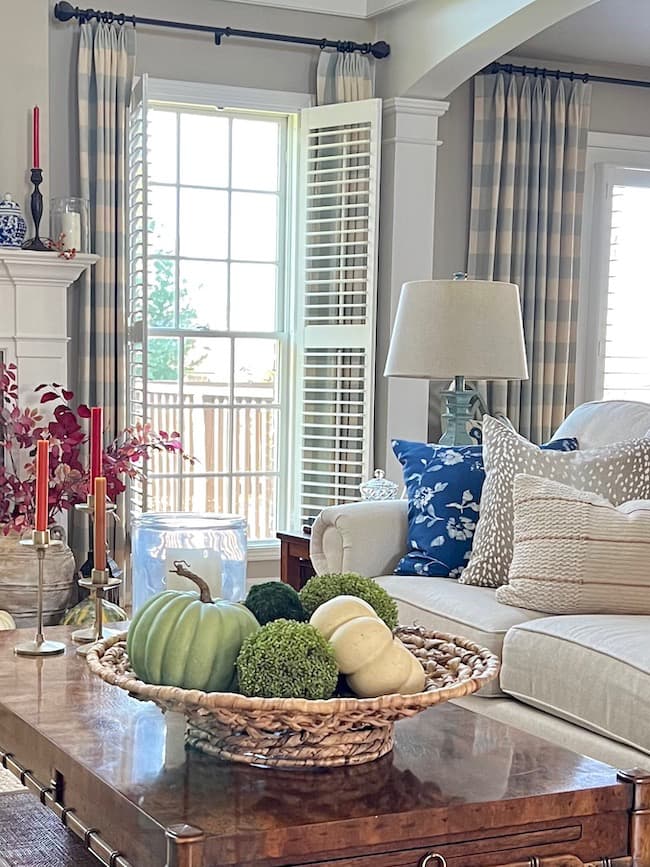 Our home gets a fresh look with the changing of the seasons. Our neutral walls and larger neutral furnishings in our rooms make it super easy to change up the the accessories and decor with each new season.
I love all the fall colors — the burnt oranges, the golds, the cranberry reds, plums, and greens.
Adding in natural elements like pumpkins and gourds, wheat bundles, and fall foliage create such a cozy fall feeling in our home.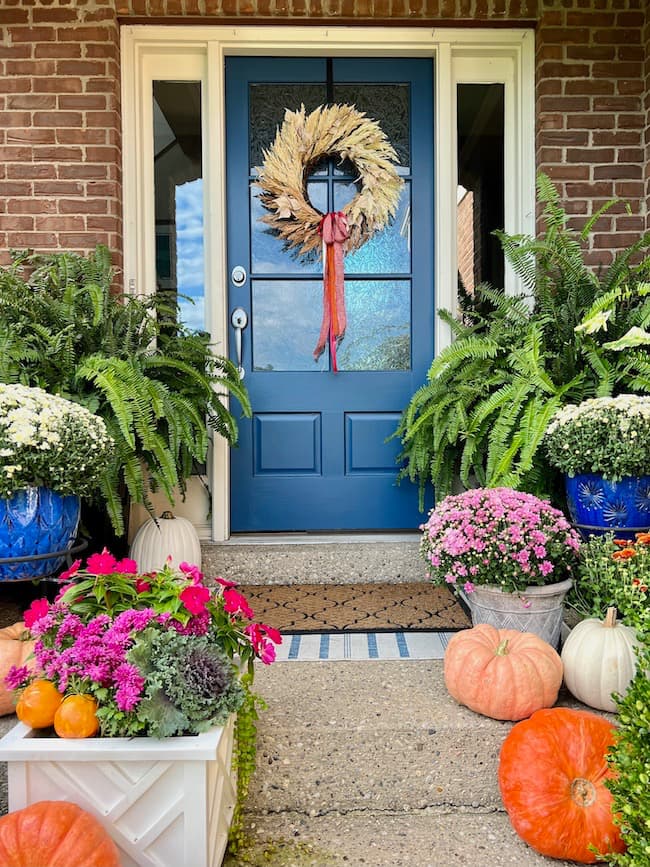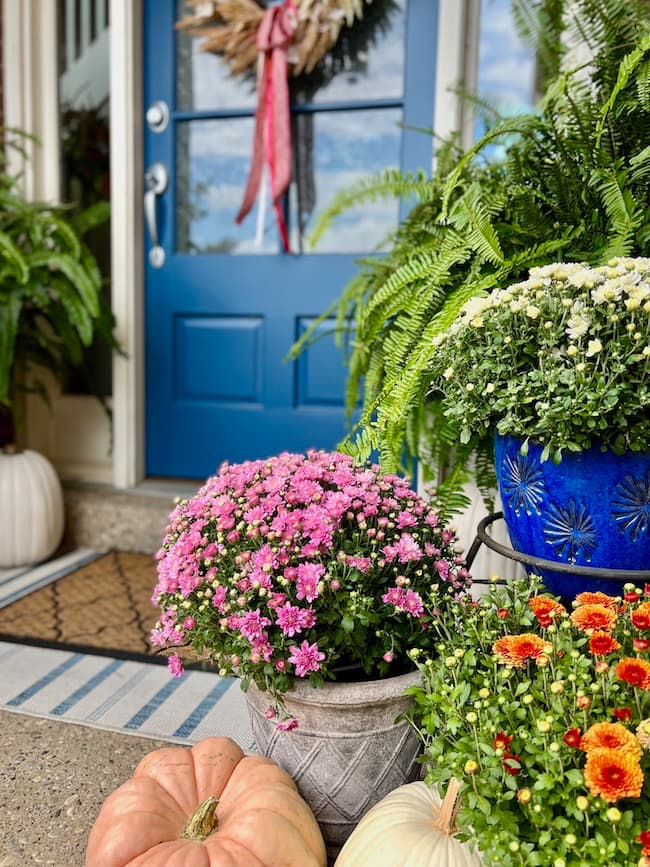 When you arrive at our home, you're greeted with an abundance of vibrant colors! Inspired by our blue front door, I went a little crazy this year with all the bright pinks, purples, and oranges! The white pumpkins and peachy orange pumpkins create a fresh autumn vibe to our porch!
I think it's a very happy front porch!
You can shop our front porch here in my Amazon shop!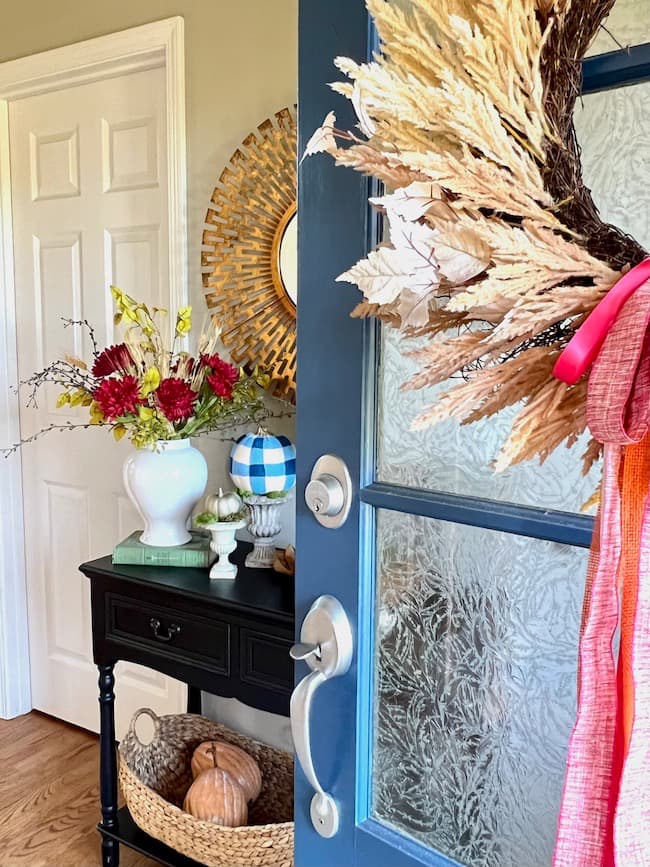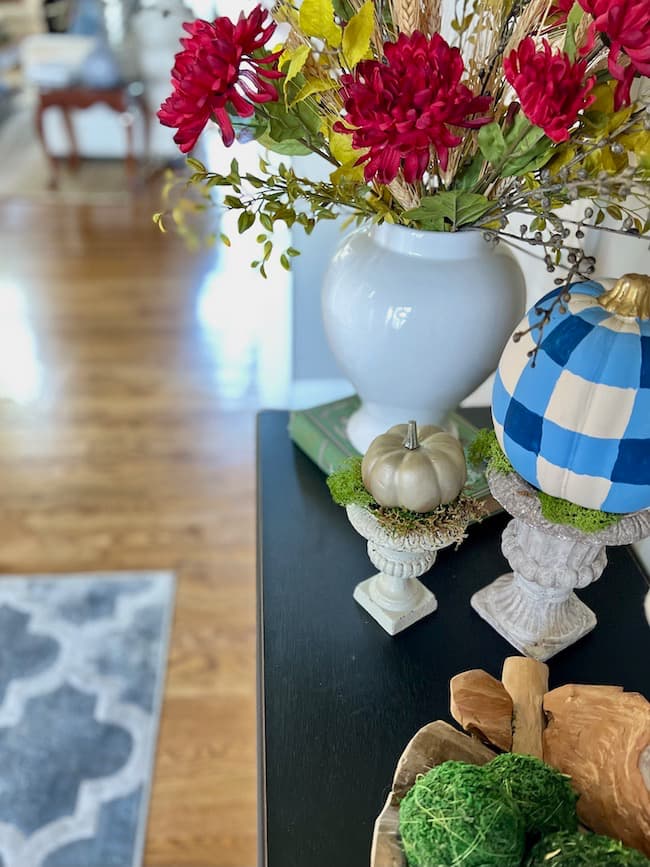 And our foyer greets our guests with fall florals and colorful pumpkins!
Decorating the Living Room for Fall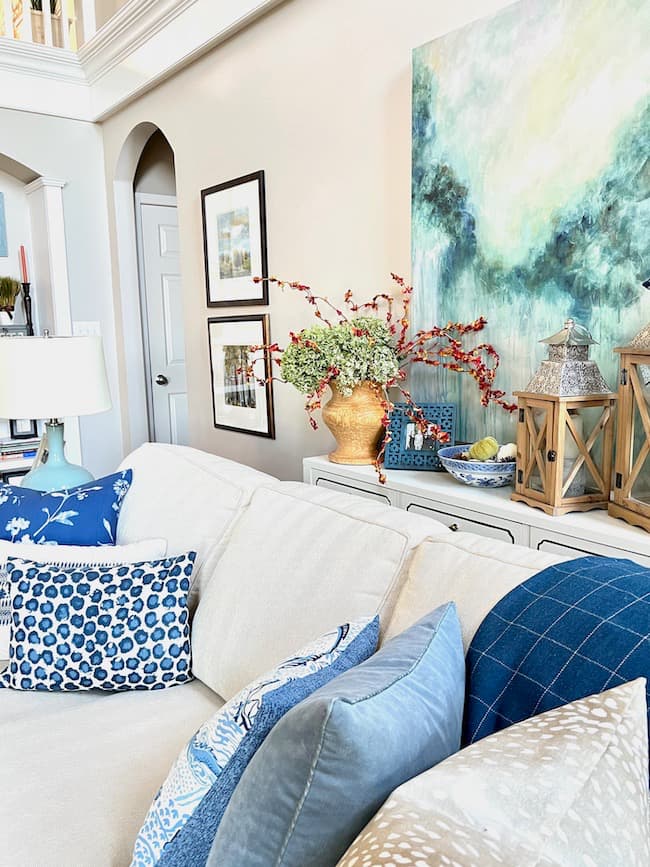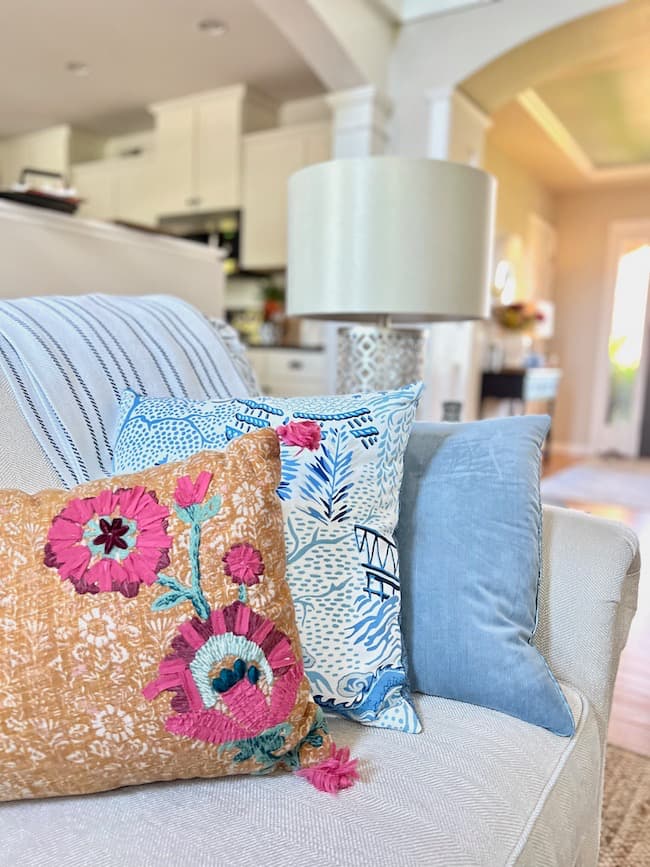 Blue is a color theme that runs throughout our home, and I've added new blue and white throw pillows to our sofas to pop with all of the bright seasonal accents!
I've added lots of fall stems and florals, and one of my favorite fall accents is orange bittersweet! It's so pretty and airy and just elevates any fall arrangement!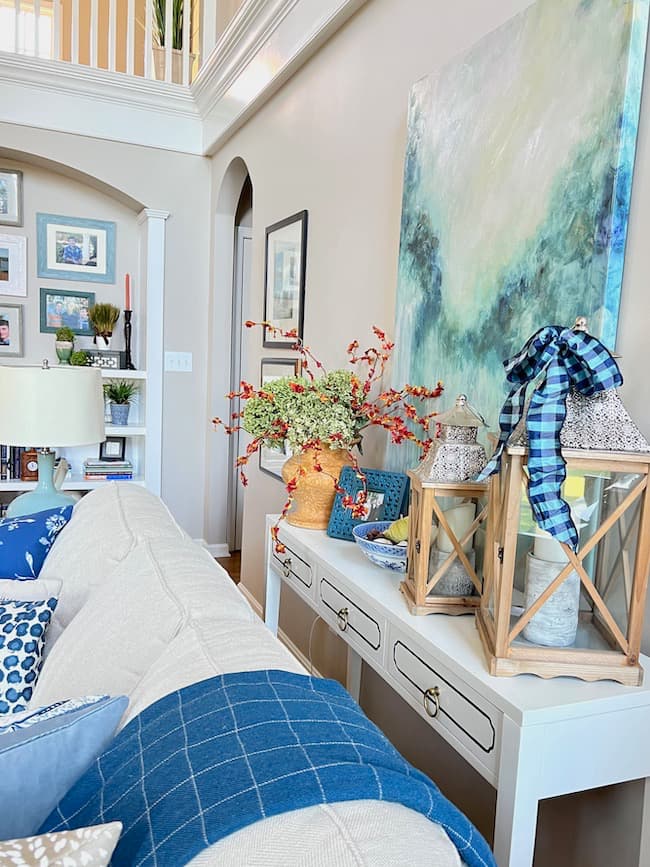 This wooden vase in our living room is full of dried hydrangeas and bittersweet. It's a perfect example of combining real and faux flowers in your decor.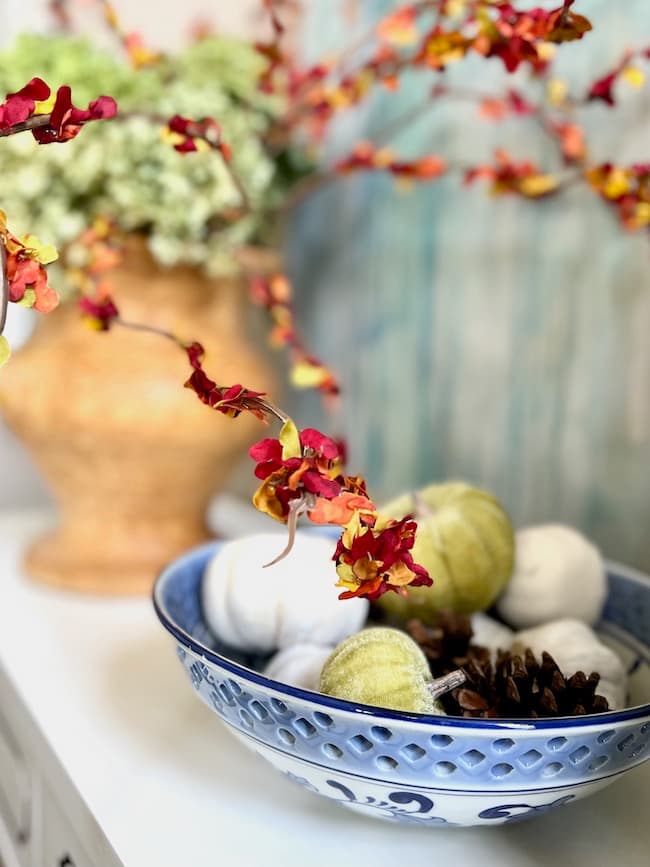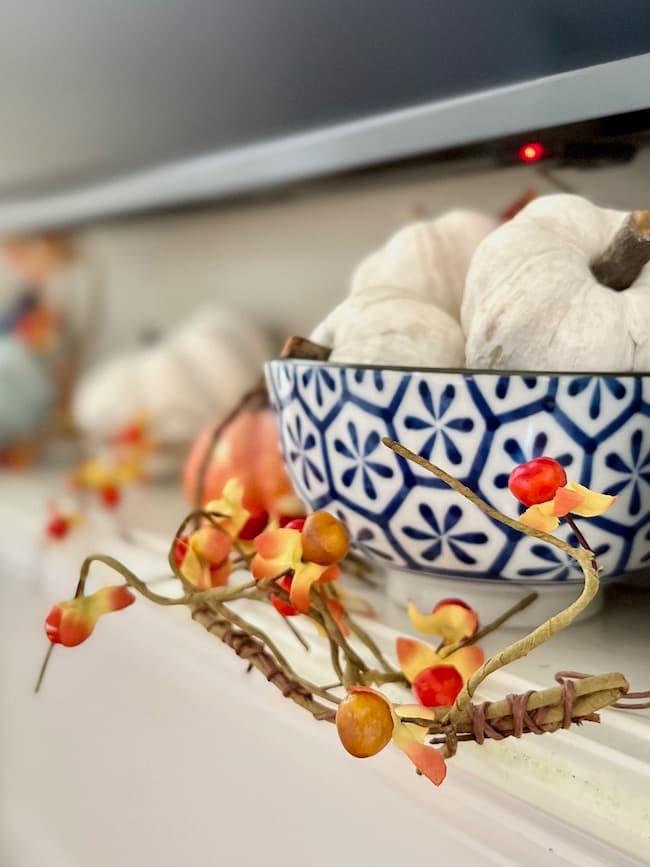 I also added some to our mantel. It's so pretty as it weaves in and out of the scattered pumpkins.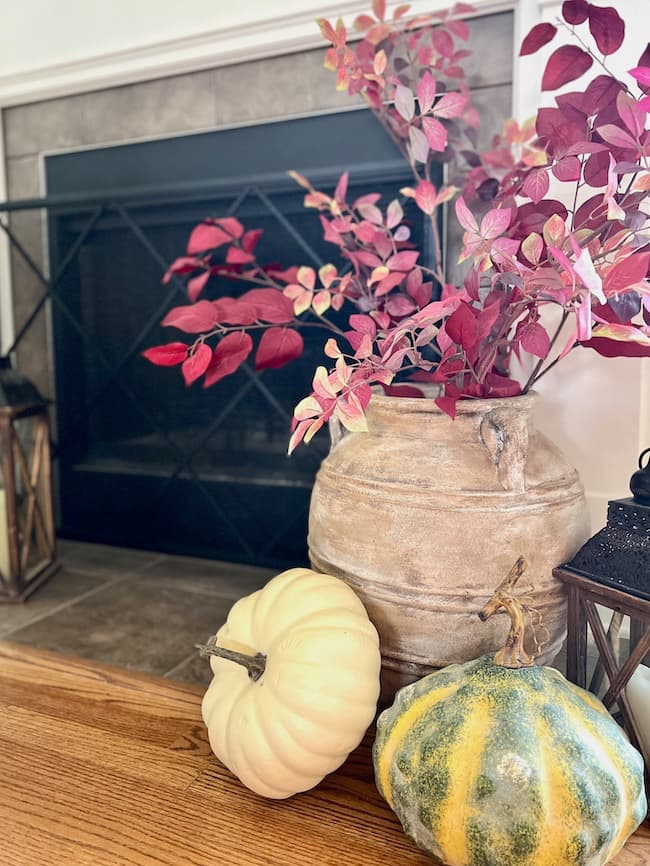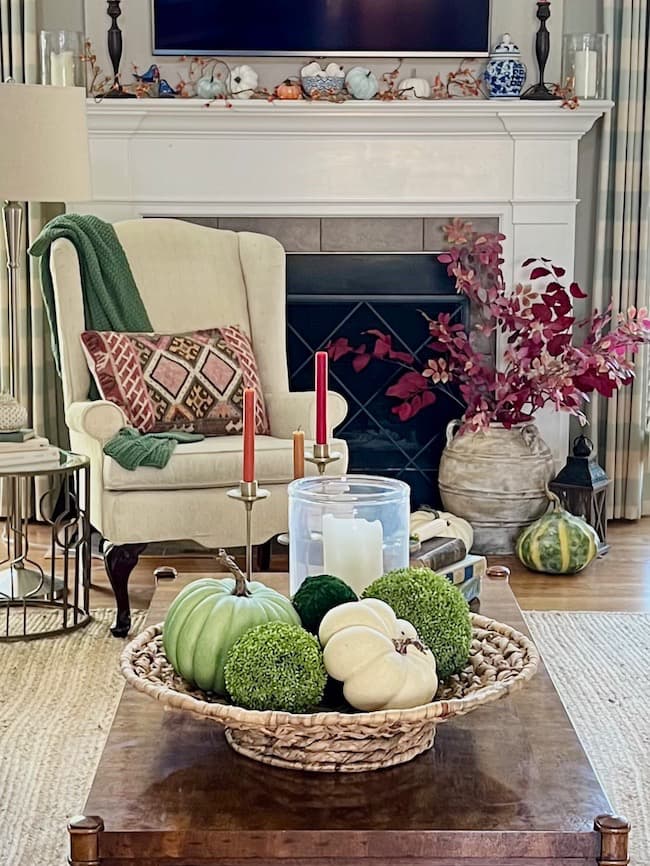 Faux fall foliage fills a large urn that received a whole new look for fall this year. See the DIY urn makeover here!
Our fireplace is all ready for a cozy fall fire.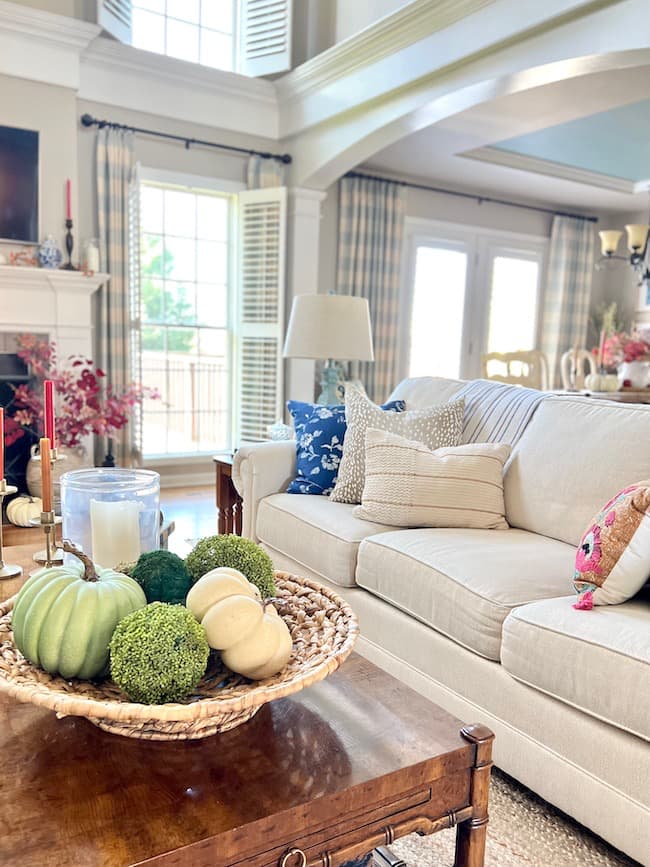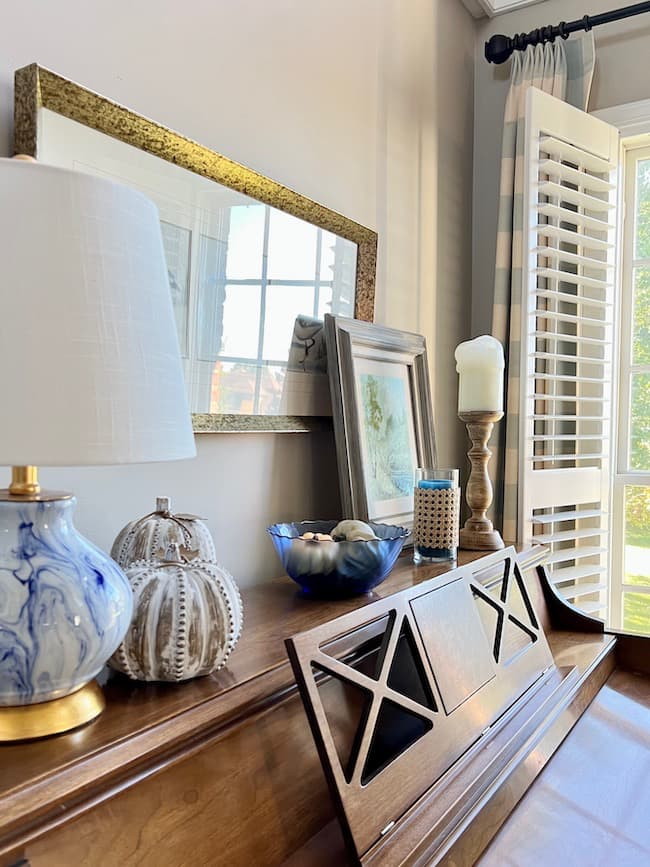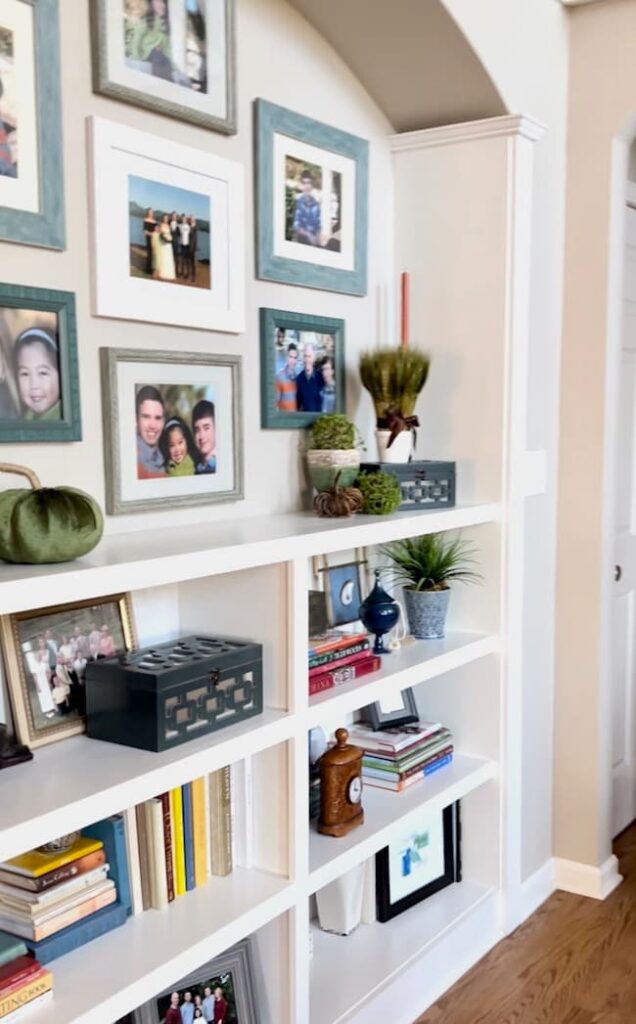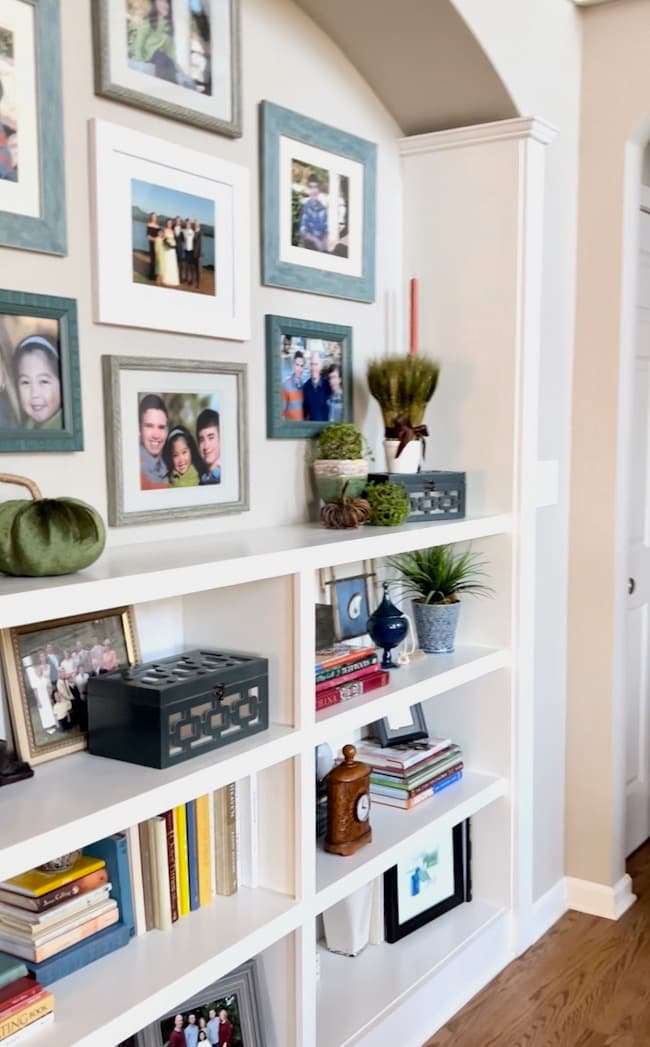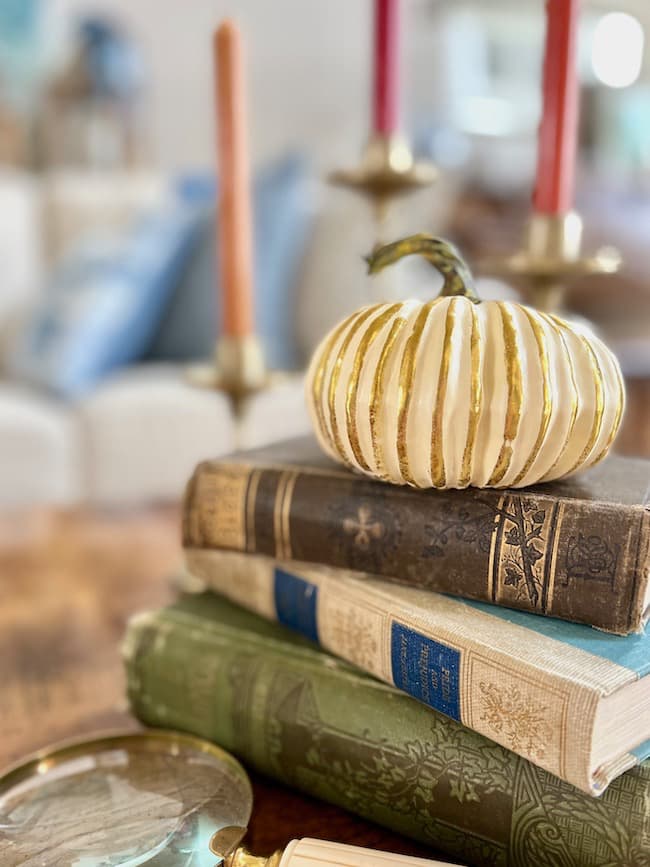 I'm loving these pretty fall taper candles this year, and I'm using them everywhere! They're perfect in these gold candle holders on the coffee table.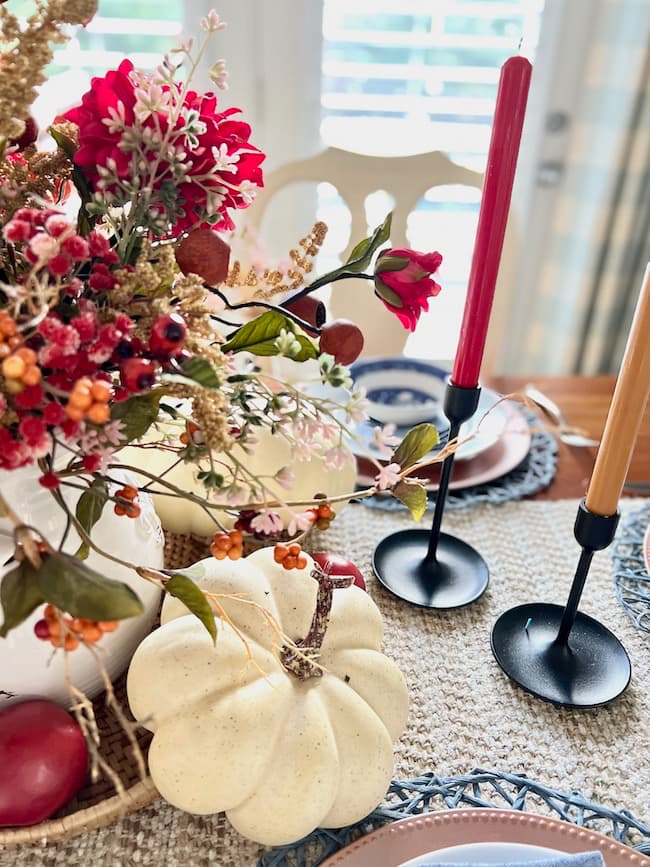 Fall Decor in the Dining Room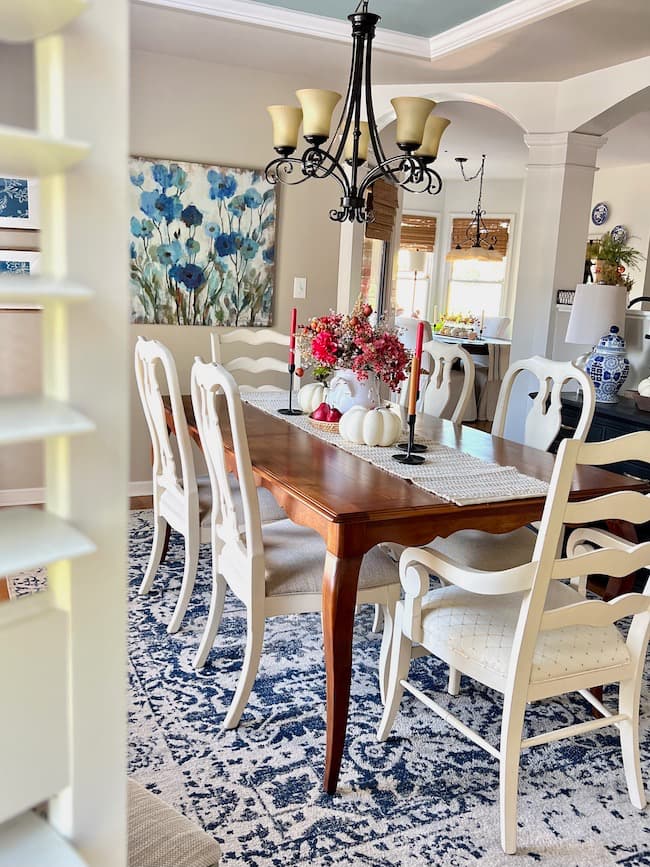 In the dining room, faux pumpkins and florals create a colorful centerpiece that's so pretty with the blue and white decor. I love real pumpkins and fresh flowers, but I always love to create a faux centerpiece that can be used throughout the season. On special occasions I change them out for fresh.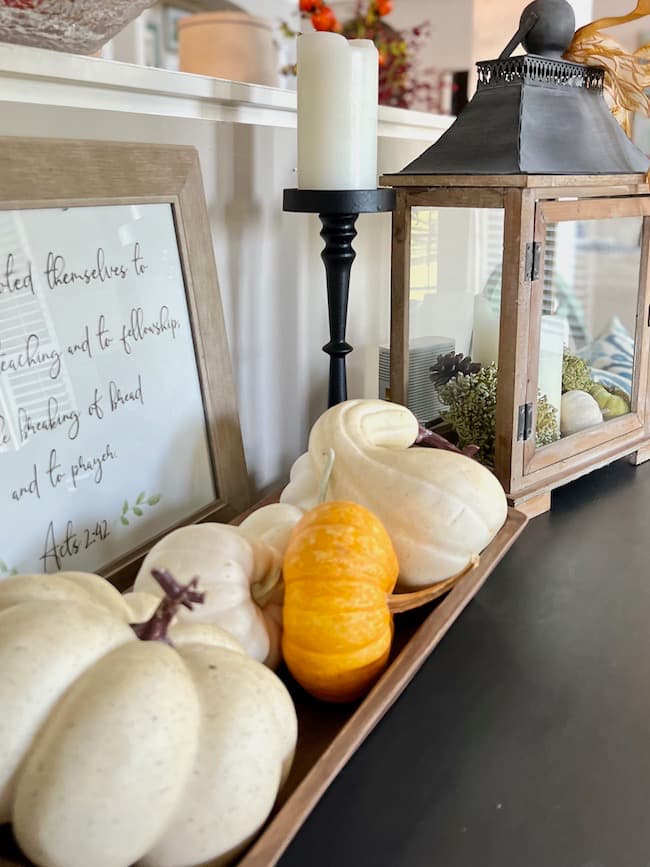 I love this sweet little wall art my daughter-in-law painted for me a few years ago, that's a perfect reminder to gather together and use our homes to encourage and nurture relationships. It has a prominent place on our dining room buffet.
Shop the Look

Fall in the Kitchen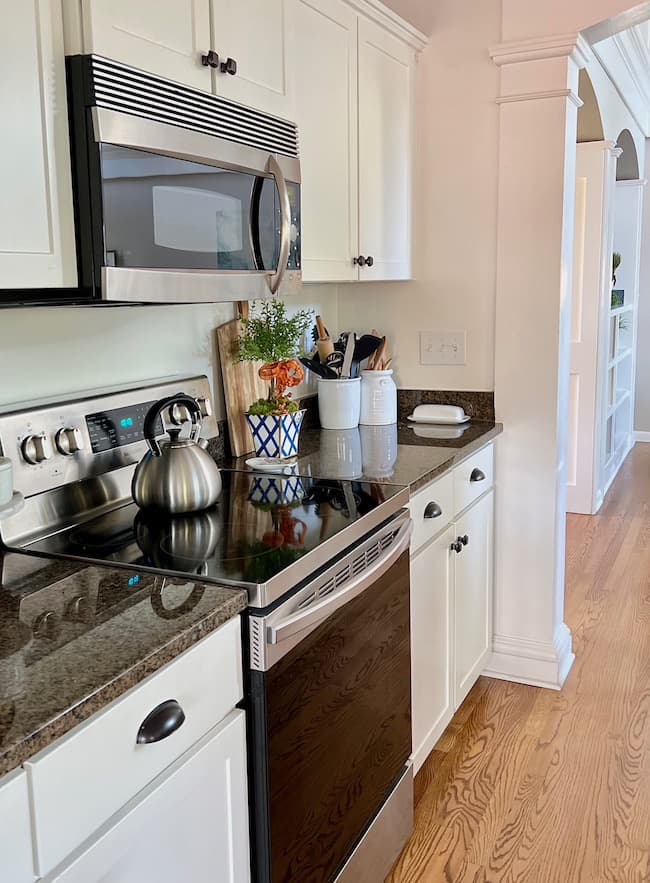 The kitchen is the heart of the home, and that's true during fall as well.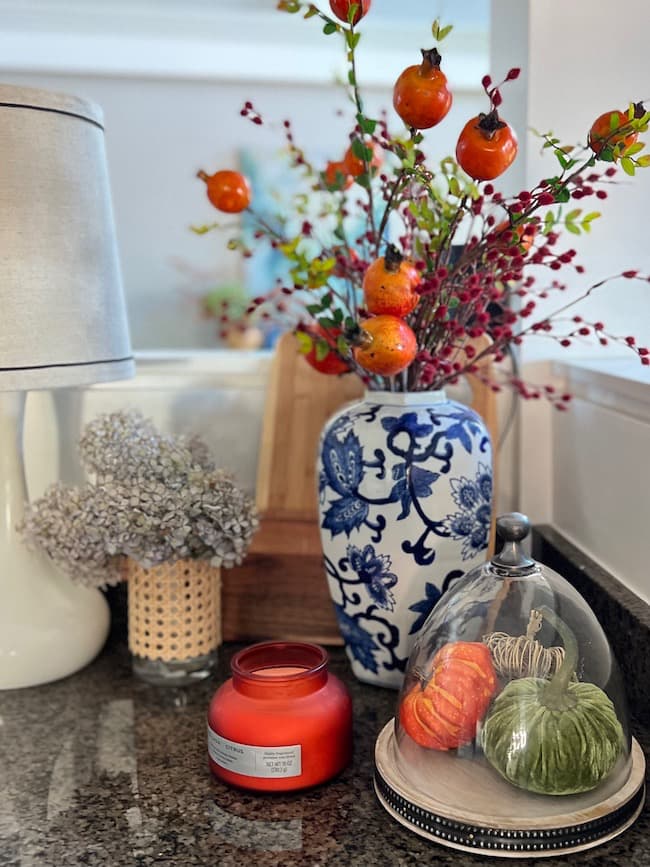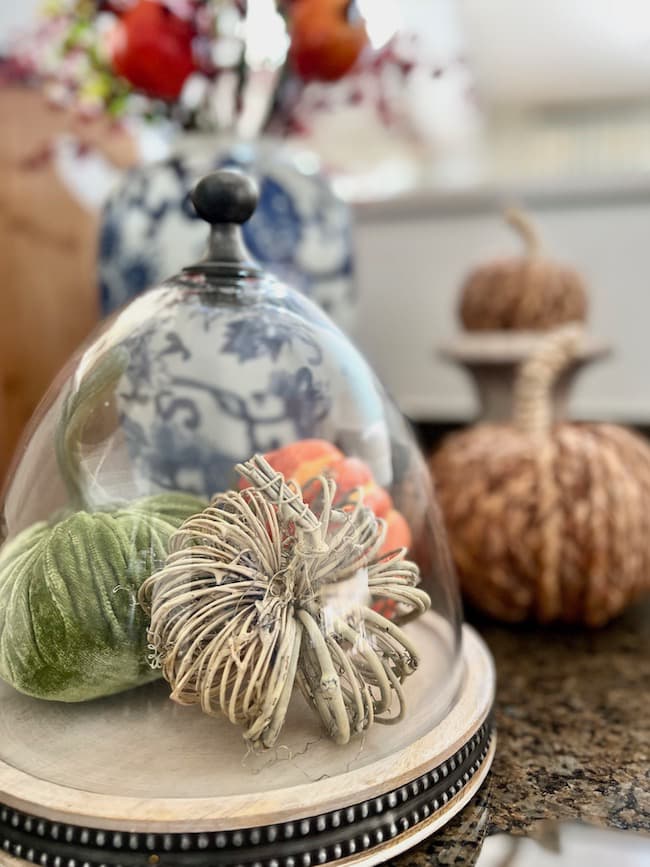 I filled our kitchen corner with a blue and white ginger jar overflowing for faux berries and pomegranate stems! The velvet pumpkins in the glass cloche and my favorite fall candle (it's smells just like a Volcano candle, but at a fraction of the cost!) create a cozy little corner in our kitchen!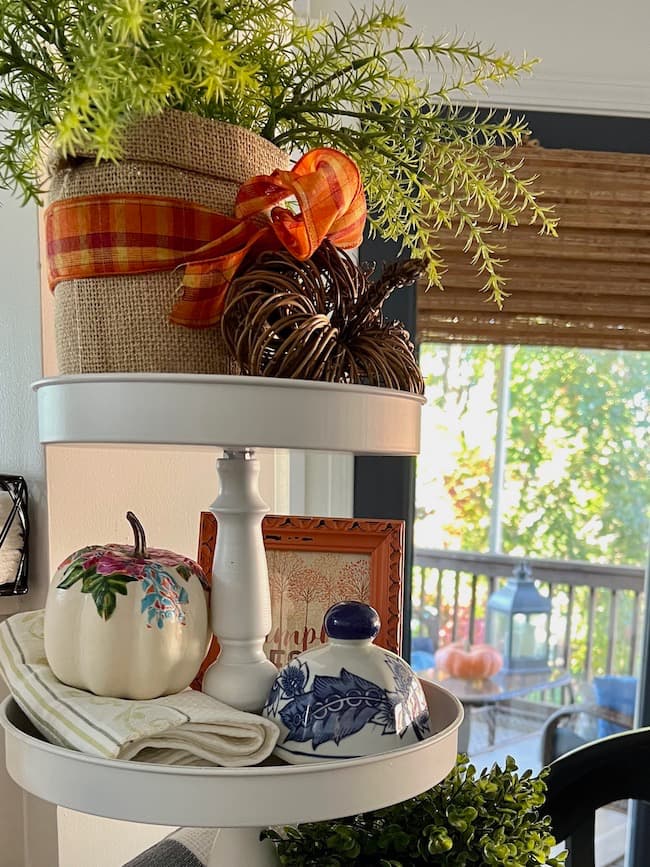 More fall accents, like this three-tiered tray and topiary add pretty fall color to the countertops.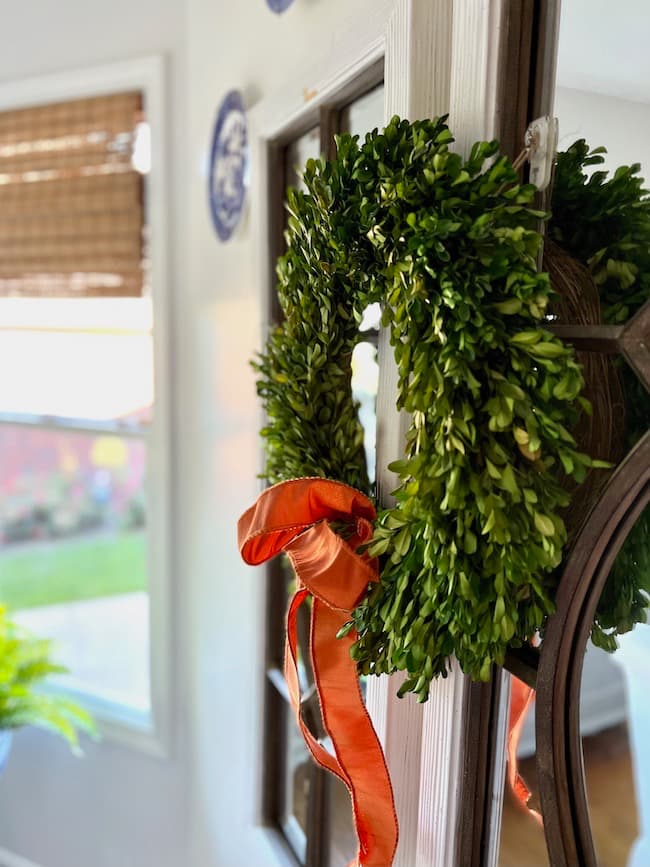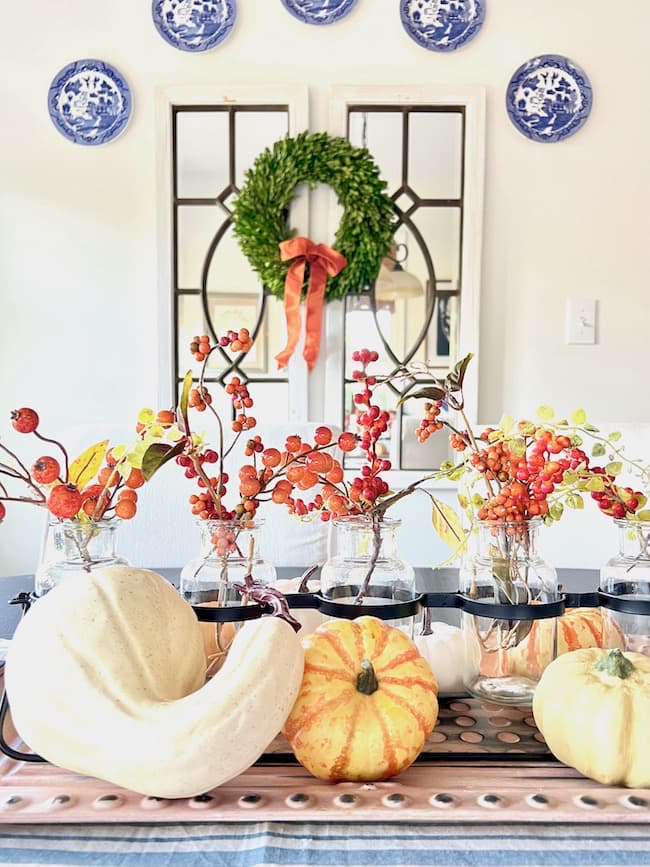 I added some cute fall wreaths in our kitchen. Simple touches, like adding an orange bow to a boxwood wreath and hanging on a mirror, and adding a small fall wreath to a window are creative ways to bring the fall season to your home decor.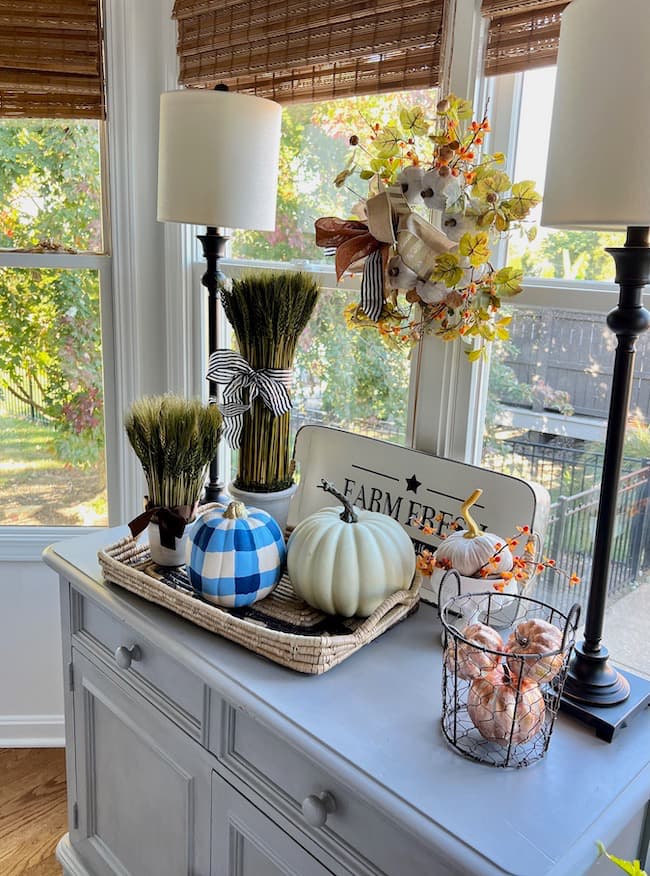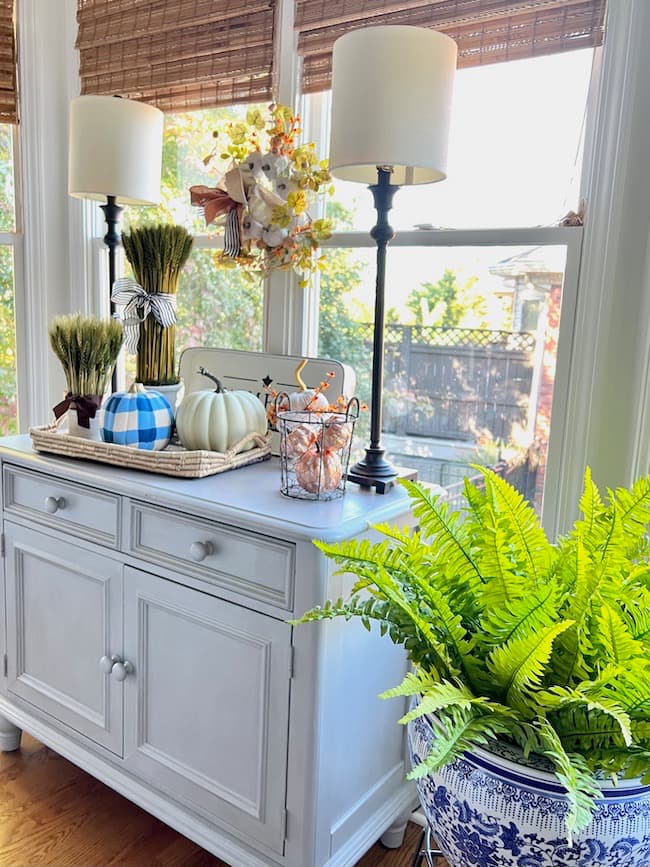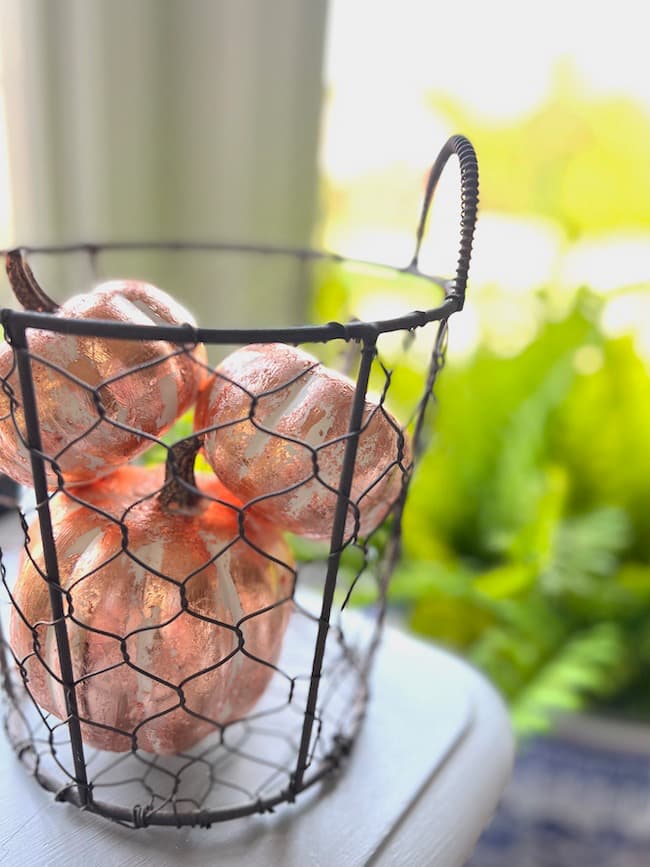 These rose gold leaf pumpkins were fun to make and I love how they look on our kitchen buffet. They complement the little rose gold votives on the table.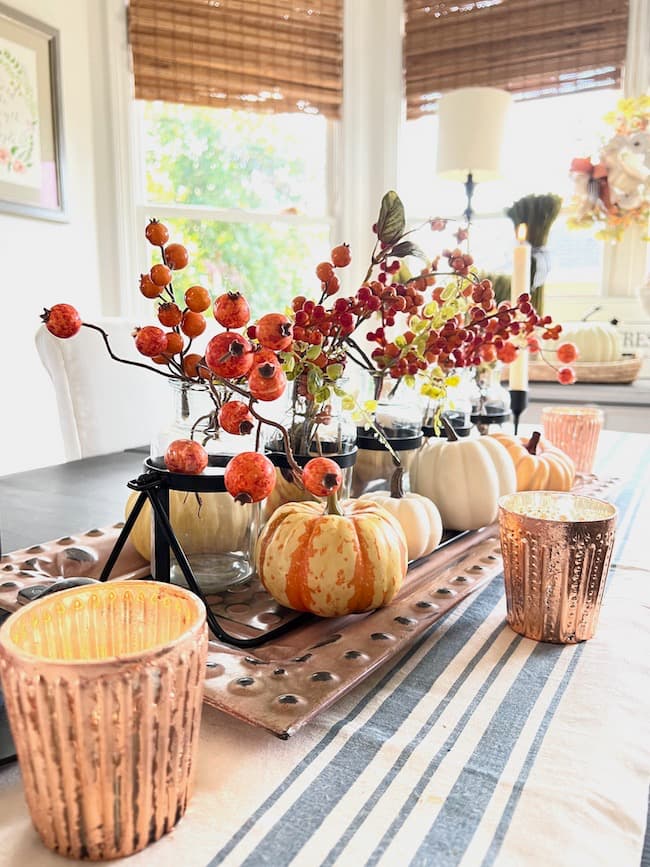 I carried our colorful fall decorations out to our screened porch with a pretty fall wreath and more faux and real pumpkins.
Shop the Look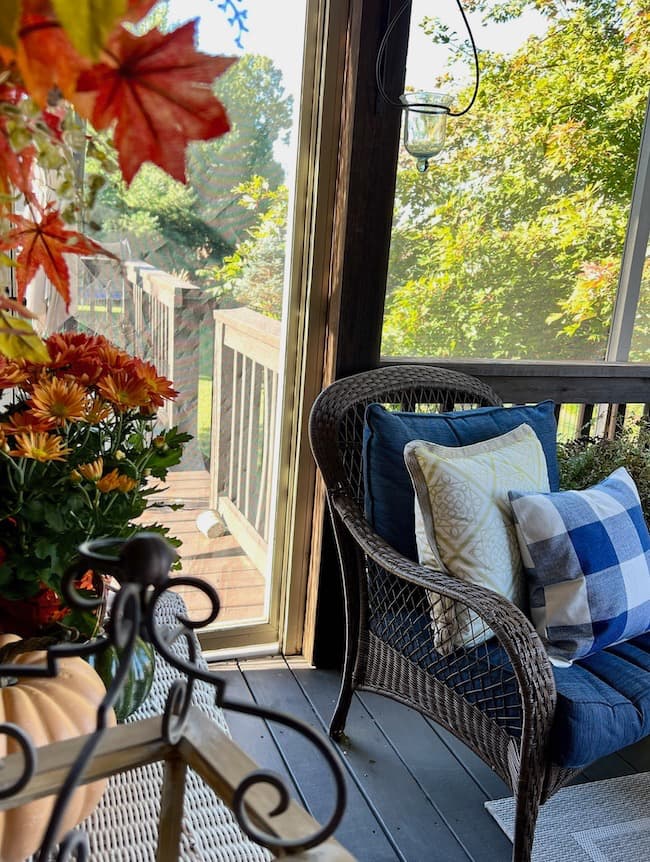 Adding fall pillows and a cozy plaid throw to the porch creates a cozy place for a warm cup of coffee!
I hope you've enjoyed this little fall home tour and feel inspired with lots of fall decorating ideas for your home! Fall is the best time to create a cozy home for your family and friends!
Happy fall decorating!!
Pin these ideas for later!
By the way, do you follow me on all the socials?? If not, check out my Pinterest, Instagram, and Facebook and be sure to follow me so you don't miss out on any of my decorating and DIY ideas!!