An Easy Early Fall Wreath for Front Door Decor
It's almost time for fall decorating! Make an easy transition into fall with this early fall wreath for front door decor!
Are you getting excited about fall decorating? 
The calendar says fall is coming soon, so it's time to get all of your cozy fall creative decorating juices flowing! Maybe you're like me and your brain has already been swirling with ideas!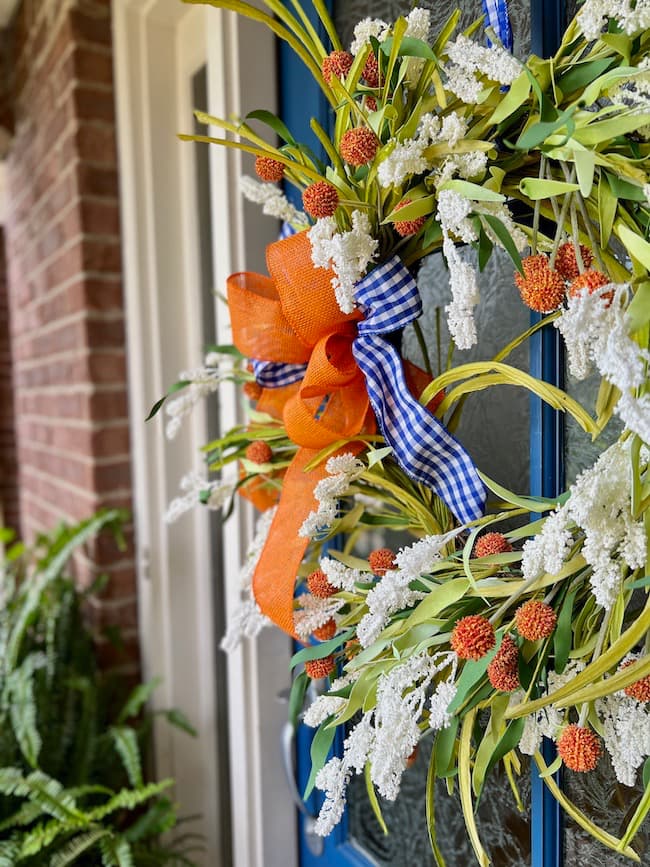 One of my favorite areas to decorate for fall is our front porch! I just love creating a welcoming entryway, and a pretty fall wreath is the perfect way to greet our fall guests!!
I also love when I find a great decor piece to use throughout the seasons! It makes it so easy to transition from one season to the next with just a quick change up, and that's exactly what I'm doing for our wreath for our front door this year!
(This post contains affiliate links, so I may earn a small commission when you make a purchase through links on my site at no additional cost to you. As an Amazon Associate I earn from qualifying purchases.)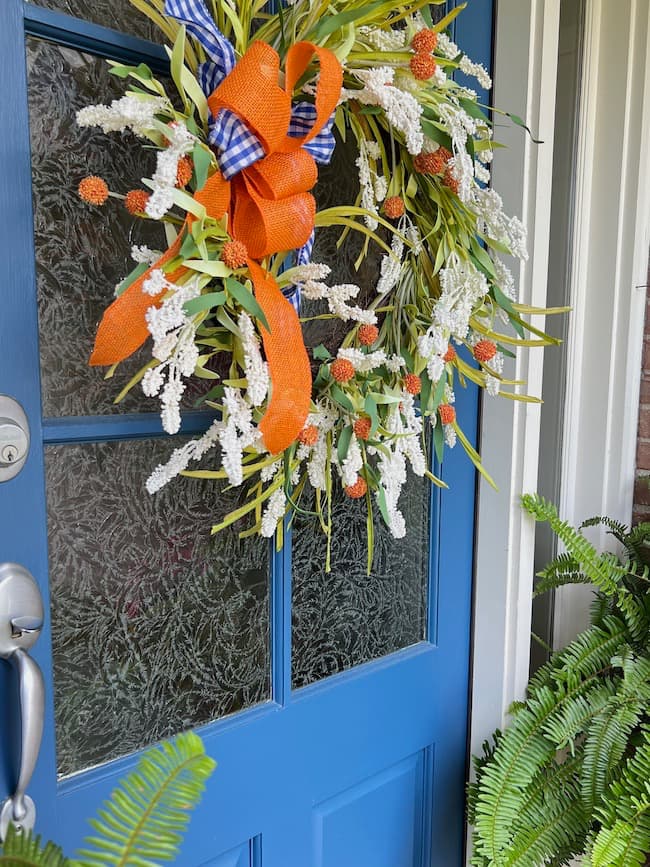 This year it's especially fun to transition through the seasons because we have a new front door color to try out with all of the fun seasonal colors! At the beginning of the summer I painted our front door Sherwin-Williams Endless Sea (SW 9150). Oh my goodness! I can't tell you just how much I love this color!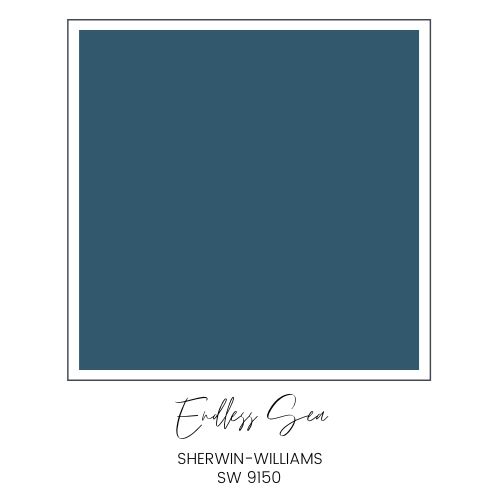 The front of our house is north facing, so our front porch is shaded much of the day, but SW Endless Sea brightens up our front porch without being overbearing – because no one wants an overbearing front door!!
How I Transitioned Our Summer Wreath into Fall:
Having a versatile decor piece makes transitions between seasons a lot easier!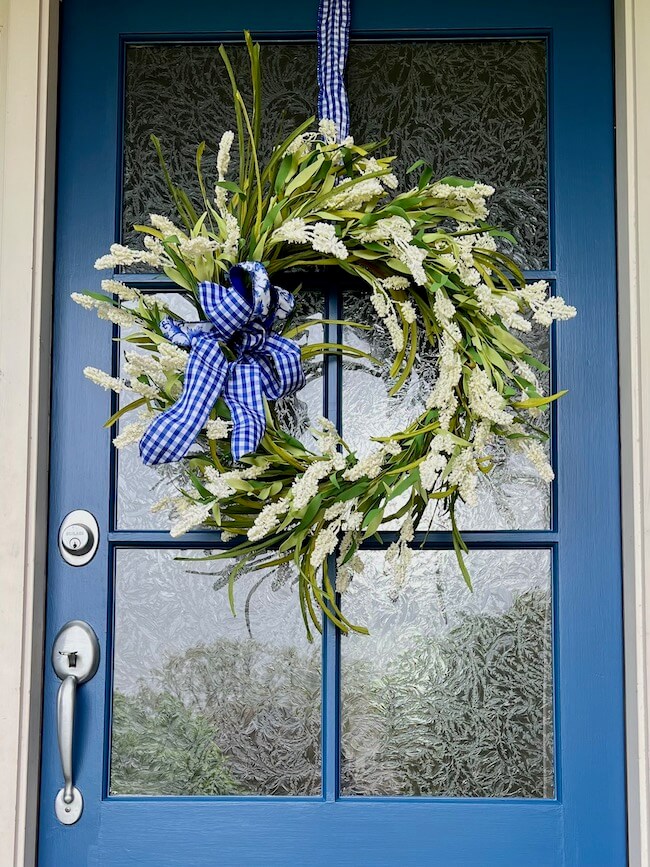 I purchased this white wreath from Kirklands back at the beginning of summer. I love the wispy, open nature of the wreath. The white stems really brighten up our shady front porch. I also added some willowy greenery stems to give the wreath a little more substance.
These stems from Hobby Lobby added the perfect touch to the wreath.
I've enjoyed this wreath so much all summer long and decided to continue using it into the fall – at least through the early part of fall.
How I Created a New Fall Wreath with Our Summer Wreath:
The white summer wreath was easy to transition into fall by adding some touches of fall color. With our front door being blue, I thought orange would be a nice compliment to the color.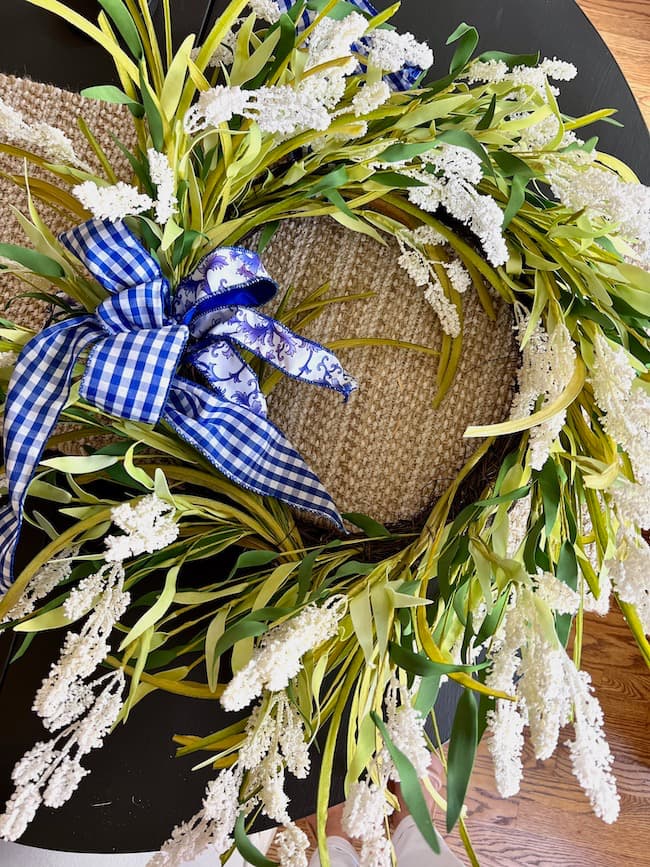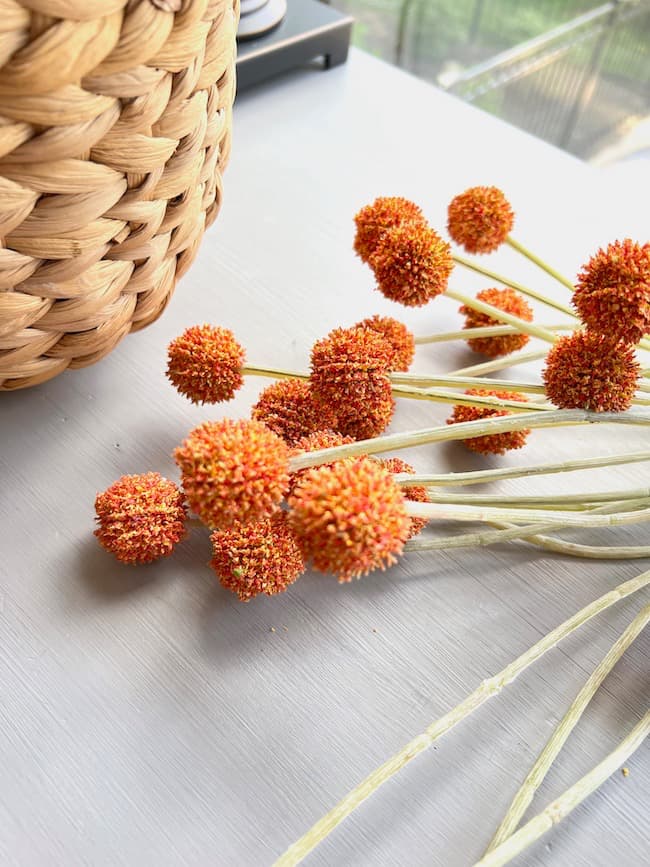 I added some cute orange stems to the white wreath for some pops of orange color. I used 5 bunches of these orange Billy Button ball stems from Hobby Lobby and spaced them out around the white wreath.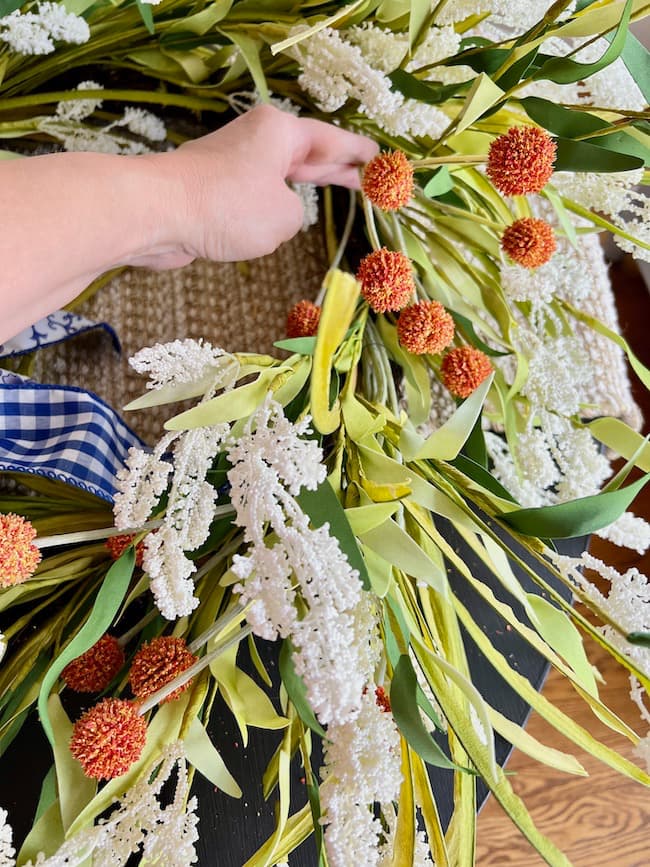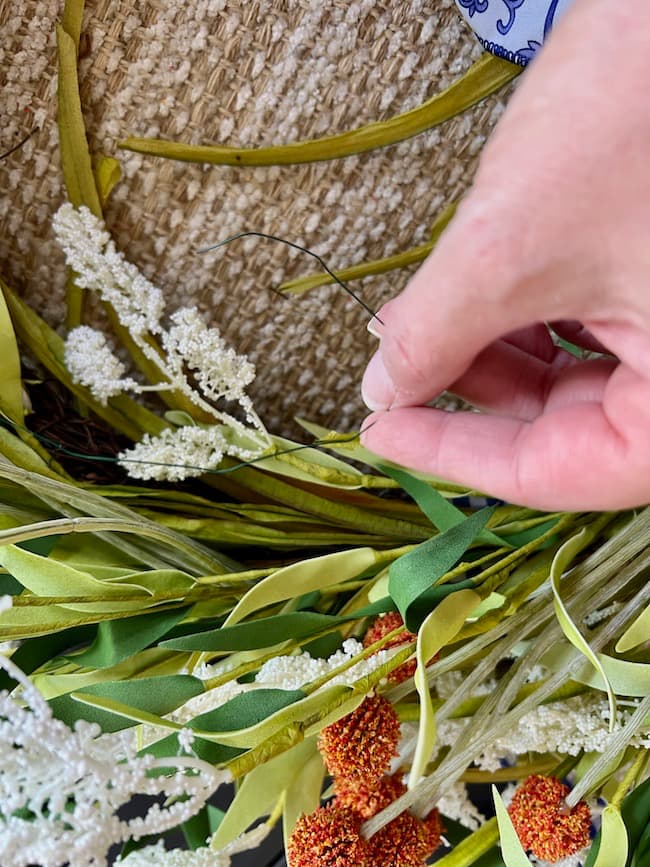 I secured the orange stems to the wreath with floral wire rather than hot glue. Using floral wire allows you to easily change up the wreath if I want to add different colors.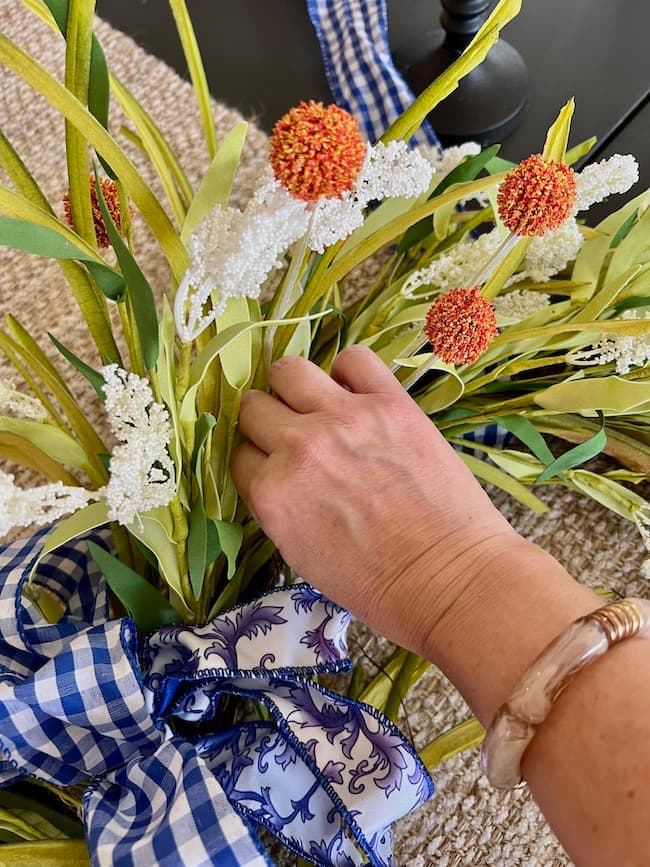 I spaced the orange stems evenly around the wreath, and then removed the blue and white bow so I could combine the gingham with the orange burlap to create a new fall bow.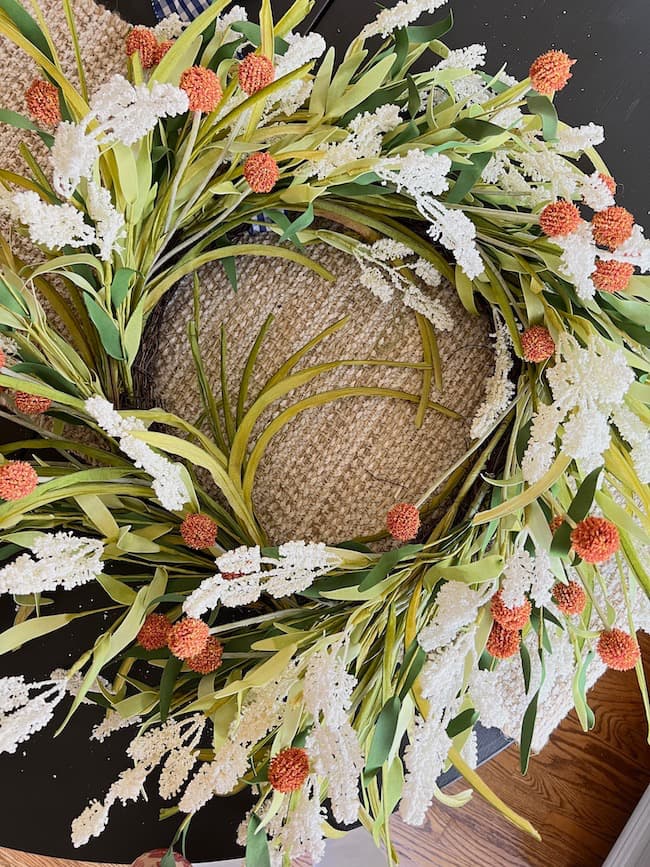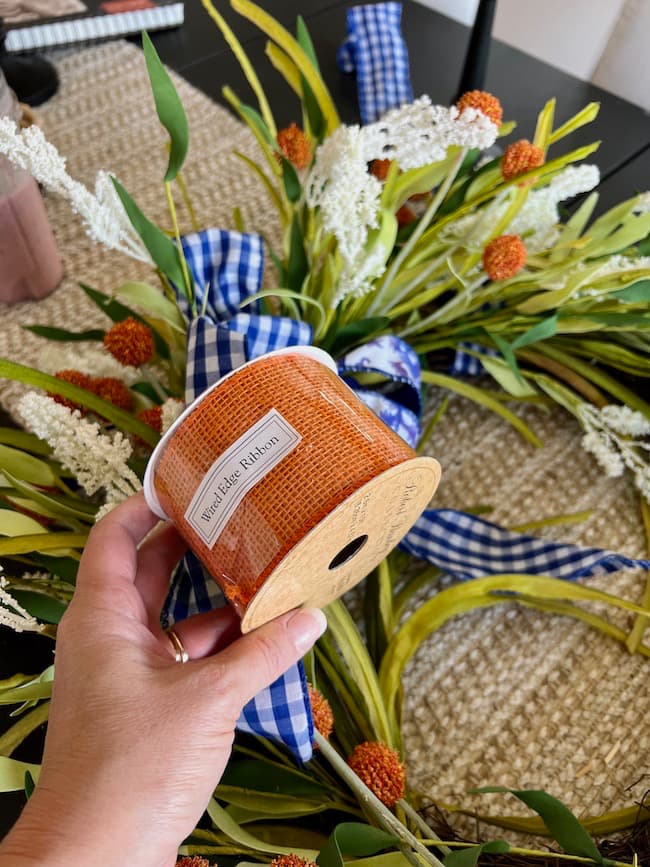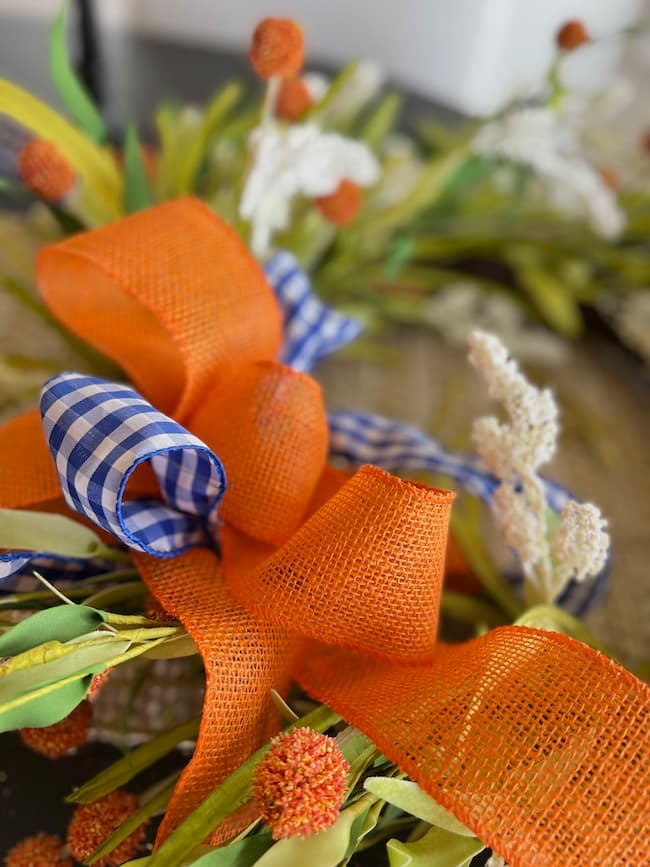 A bow made from orange burlap ribbon adds even more pops of fall color to the read. I removed the blue and white Chinoiserie ribbon, but kept the blue and white gingham ribbon and added it to the bow to complement the blue front door. 
The orange is a nice compliment to the blue door. In September, when I add mums and pumpkins, I plan to go with white and orange mums and pumpkins. 
I think the end result is such a pretty wreath that's perfect for transitioning our front door from summer into fall, and it will be perfect when I add all the fun fall decor to the rest of the front porch!
How to create early fall front porch decor:
Sometimes it's just hard to let go of summer — especially when your summer flowers are still looking good.
If we've been diligent with our flower watering all summer long, then our summer pots are often still going strong at the end of August into September. (Especially when you have the sweetest daughter with a green thumb who does your watering!) And sometimes it seems like flowers get a new life as the temperatures begin to cool a bit.
If your summer flower colors work with your fall color scheme, you can transition your porch from summer into fall by incorporating your summer flowers into your fall front porch decor. I often accomplish this by adding ribbon or stems into a wreath that includes the colors of your flowers.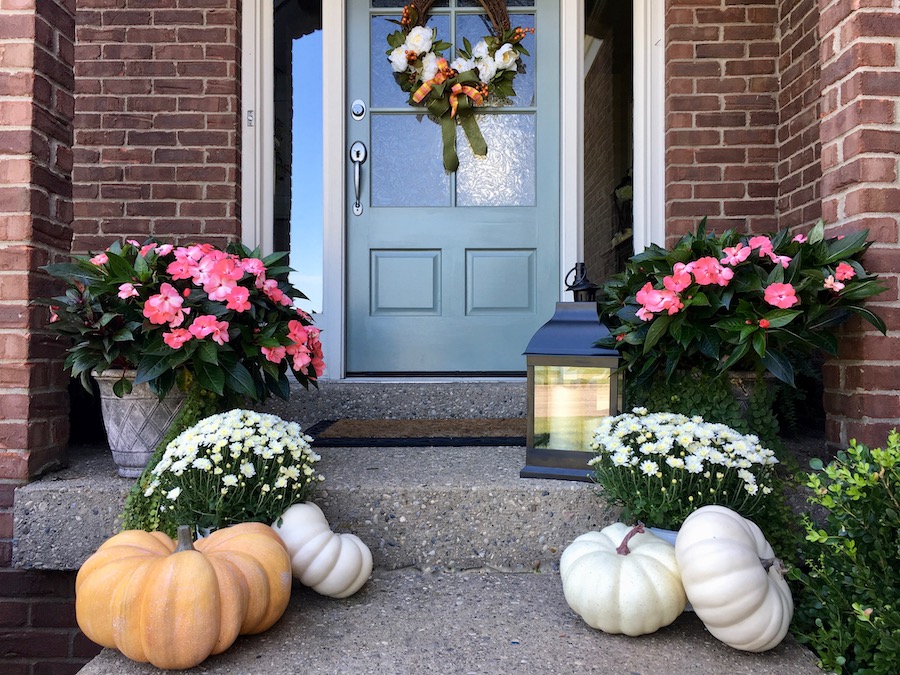 This fall front porch color scheme incorporated the color of our coral summer impatiens into the wreath. I added a plaid ribbon that included corals, oranges, and yellows to a white peony wreath so the summer flowers would work with our fall decor.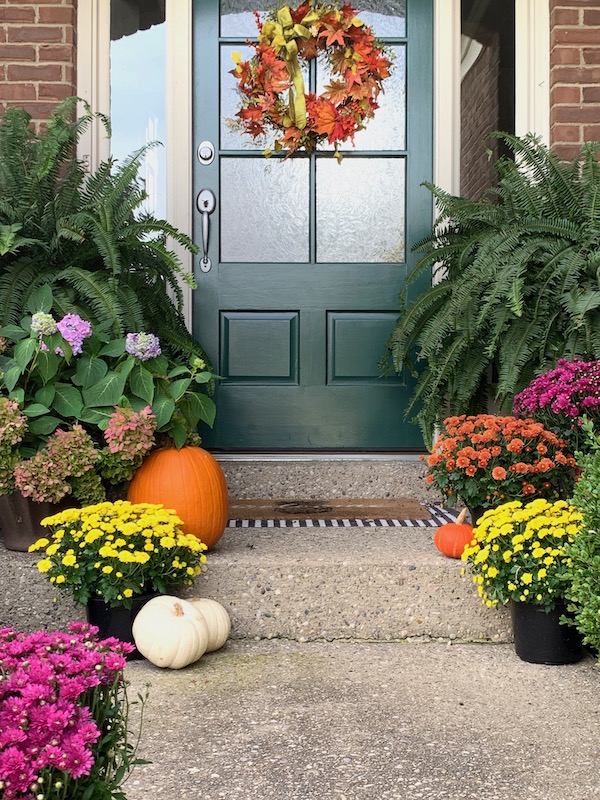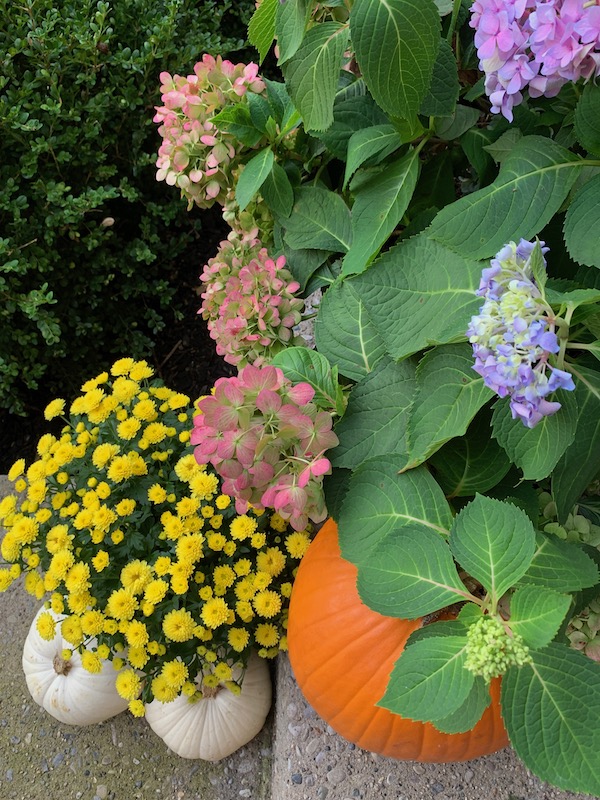 In last year's fall front porch, I wanted to work with the purples and pinks in our potted hydrangeas on the front porch. I decided to go colorful with the purple, yellow and orange mums to create a happy, colorful fall color scheme that incorporated the potted summer hydrangeas.
You can see the progression of our front door colors in these photos.  We started with Sherwin-Williams Acacia Haze (SW 9132).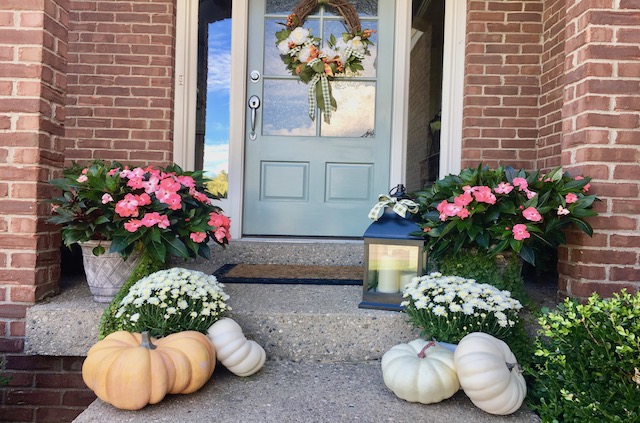 Then changed to SW Billiard Green (SW 0016) …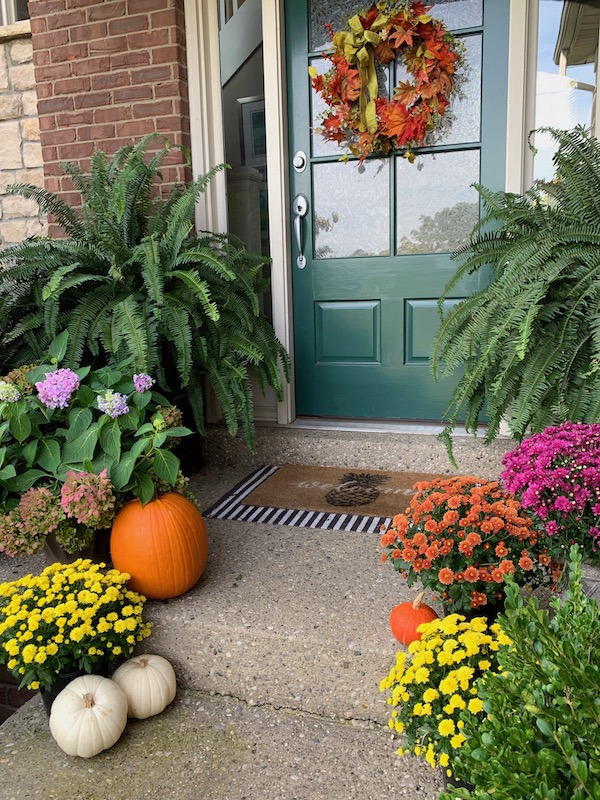 and now to my current favorite Sherwin-Williams Endless Sea (SW 9150)!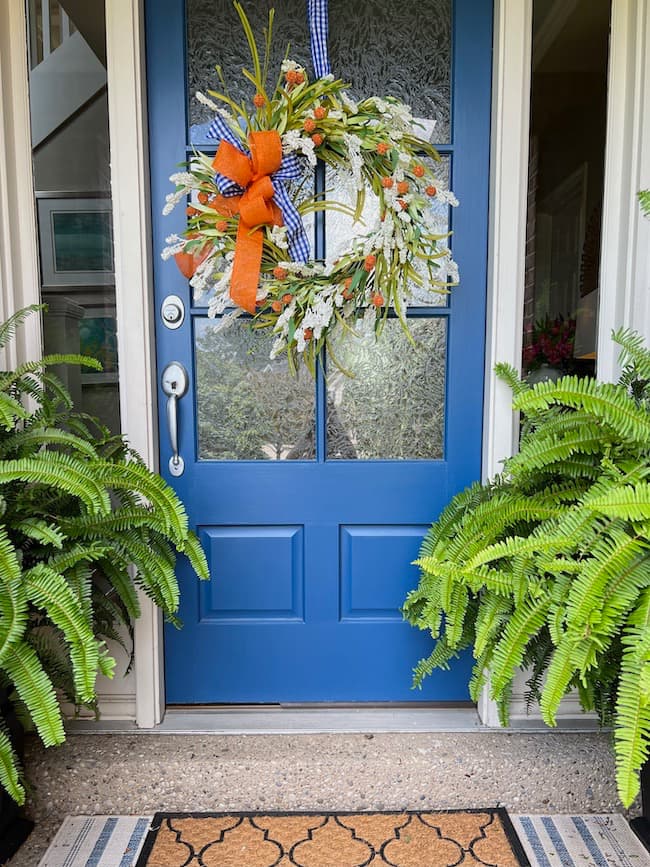 Great Fall Wreath and Decor Options for Your Front Porch:
If your decorating time is short and you'd rather purchase a new fall wreath for your front door this season, these fall wreath options are super pretty!
Fall Wreaths!
The wreaths are pretty on their own, but if you like adding ribbon to your wreaths, these choices are perfect for fall!
Fall Ribbon!
These fall stems are great additions to a wreath to transition it into fall!
Fall Stems!
I purchased these white planters this summer and they'll be pretty to use with our fall mums!
I hope you're feeling inspired to decorate your front door for fall! Creating or updating a fall wreath for front door decor is a great way to start your fall decorating as the seasons turn from summer into fall.
Whether you purchase something new or repurpose a wreath you already own, I hope these ideas will help you create a welcoming and festive front door for your guests this fall!
You might also enjoy these fall and front porch idea posts:
The Best Tips for Getting Organized this August!
Fall Front Porch Ideas to Transition from Summer to Fall
Fall Decorating Ideas in My Fall Home Tour
Our Colorful Fall Decor Home Tour
If you'd like to save these ideas, be sure to pin this to your fall Pinterest board! And, while you're there, be sure to follow me on Pinterest for tons and tons of great decorating ideas for your home!
Pin It for Later!
Thanks so much for stopping by!
Happy Decorating!