Start Decorating for Fall with These Easy Decor Tips
Want to easily transition your home from summer into fall? Discover 11 easy ways to start decorating for fall this month and slowly fill your space with cozy fall charm.
Get a head start on the fall season with these simple tips to transform your home from summer into fall.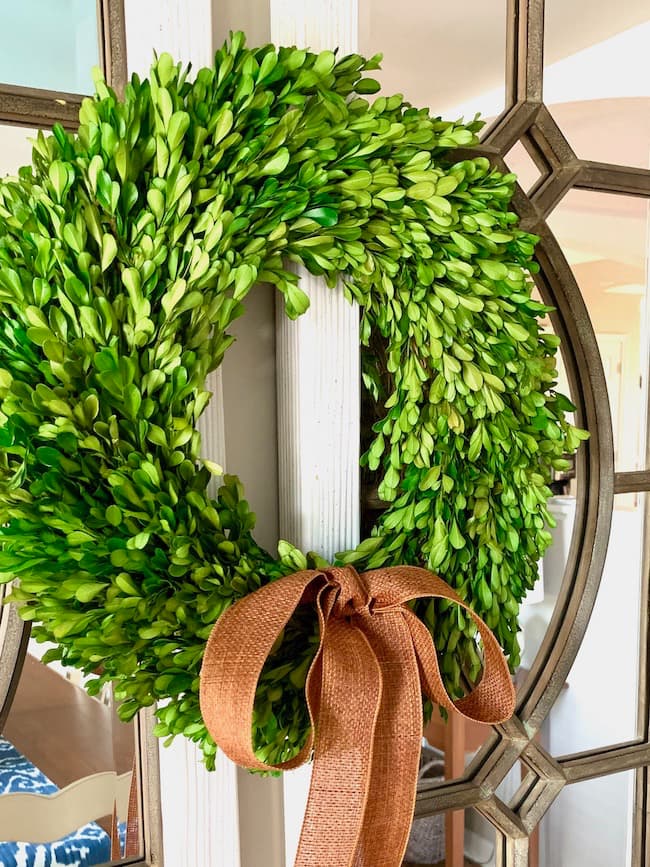 (This post contains affiliate links, so I may earn a small commission when you make a purchase through links on my site at no additional cost to you. As an Amazon Associate I earn from qualifying purchases.)
Ah, August! You're such a crazy time of year when the hot, humid days of summer linger. The kids head back to school, and new routines are established.
Even though the warmth of summer continues in late August, my mind begins to run ahead to thoughts of pumpkins, and leaves, and warm colors in our home.
In just a few weeks, the warmth of summer will give way to the crisp air of autumn, so now's the perfect time to begin thinking about a shift to fall decorations in your home. No need to drag out all of the pumpkins just yet, but if you're eager to welcome the essence of fall into your home, these simple ideas will help you gently transition your home decor as we head into a new season.
Easy Decor Tips to Start Decorating for Fall:
From updating your front door to adding warmer colors and natural elements around the house, there are a few simple changes you can make to your decor this month to herald the fall season.
1. Change your front door wreath for fall.
A new or updated front door wreath is a great way to welcome a new season on your front porch. You can switch your summer wreath to a new fall one, or simply update your existing summer wreath adding touches of fall.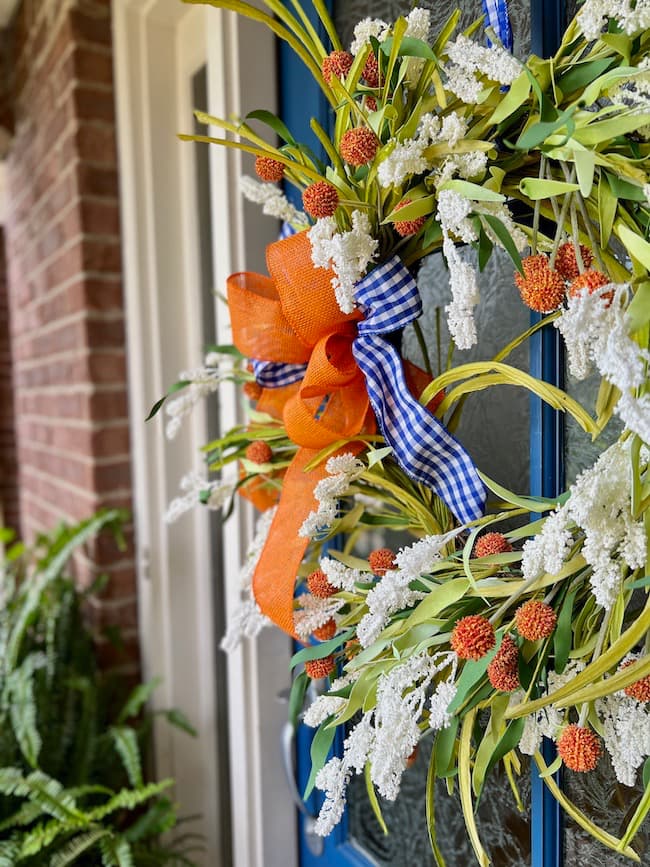 This green and white summer wreath gets a quick fall makeover with the addition of a few fall button picks and an orange burlap ribbon. You can read about it in this post.
The colorful mums and orange pumpkins can follow in a few weeks, but for now the wreath hints at the new season just around the corner.
2. Add dried hydrangeas to a vase.
Utilize natural items like dried hydrangeas to bring the beauty of the changing season indoors.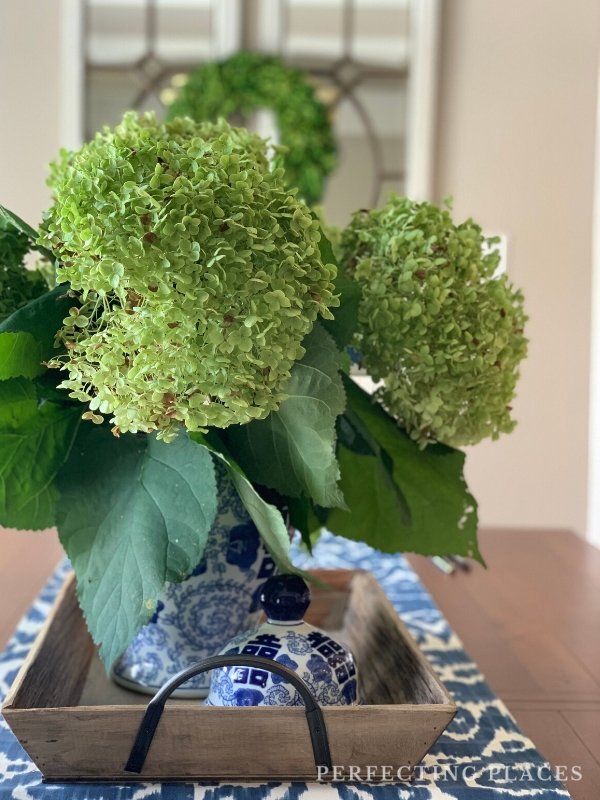 If you have an abundance of hydrangeas in your yard, now is the perfect time for drying some for fall and winter arrangements! Drying hydrangeas is such a simple process. Simply wait for the blooms to begin to feel "papery" then cut and bring indoors. You don't even need to add water. Just simply arrange the blooms in your vase, and let the hydrangea blooms dry out on their own. As an alternative, you can add a couple inches of water to a glass vase and let the water evaporate slowly. Some feel this may preserve the color of the bloom a little longer.
Placing them in vases around your home is such an easy way to add a touch of elegance that echoes the transitioning season.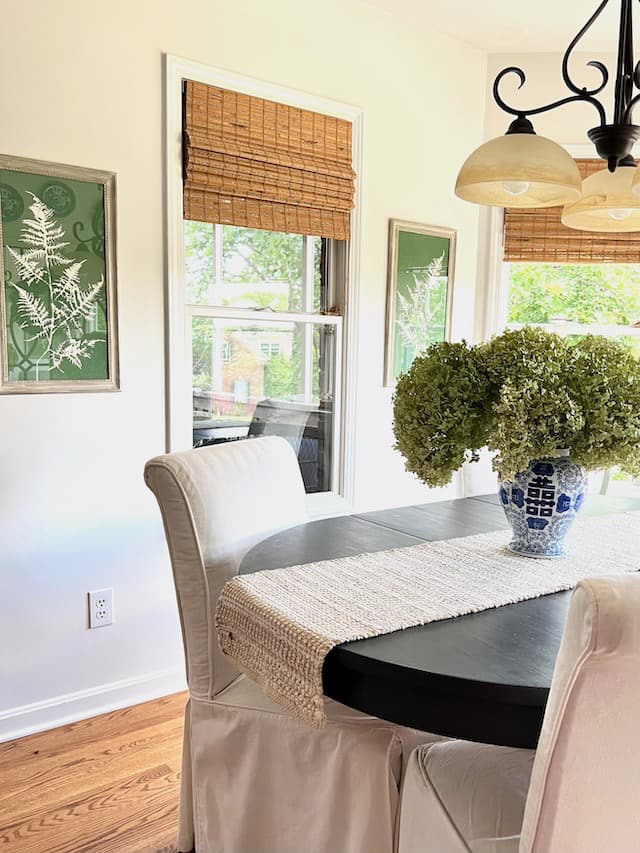 I like to add my dried hydrangeas to a thrifted wooden vase placed on the table behind our sofa. Dried hydrangeas make the perfect arrangements for transitioning from summer into fall!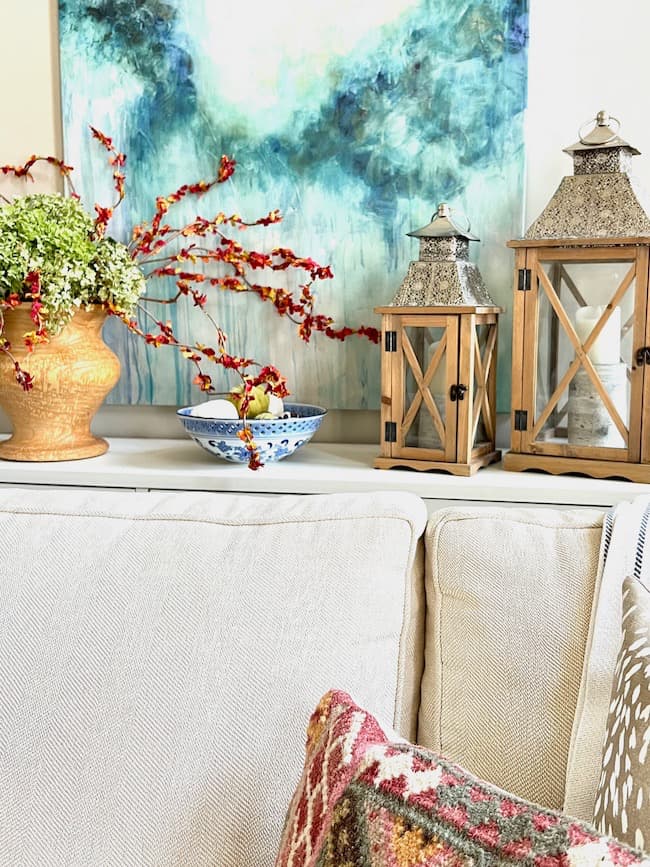 3. Add new throw pillows to your sofa in pretty fall colors.
Inject fall colors and patterns into your living space by swapping out your summer throw pillows for ones that feature warm tones and cozy designs. This simple switch can instantly transform your room and ready it for a new season.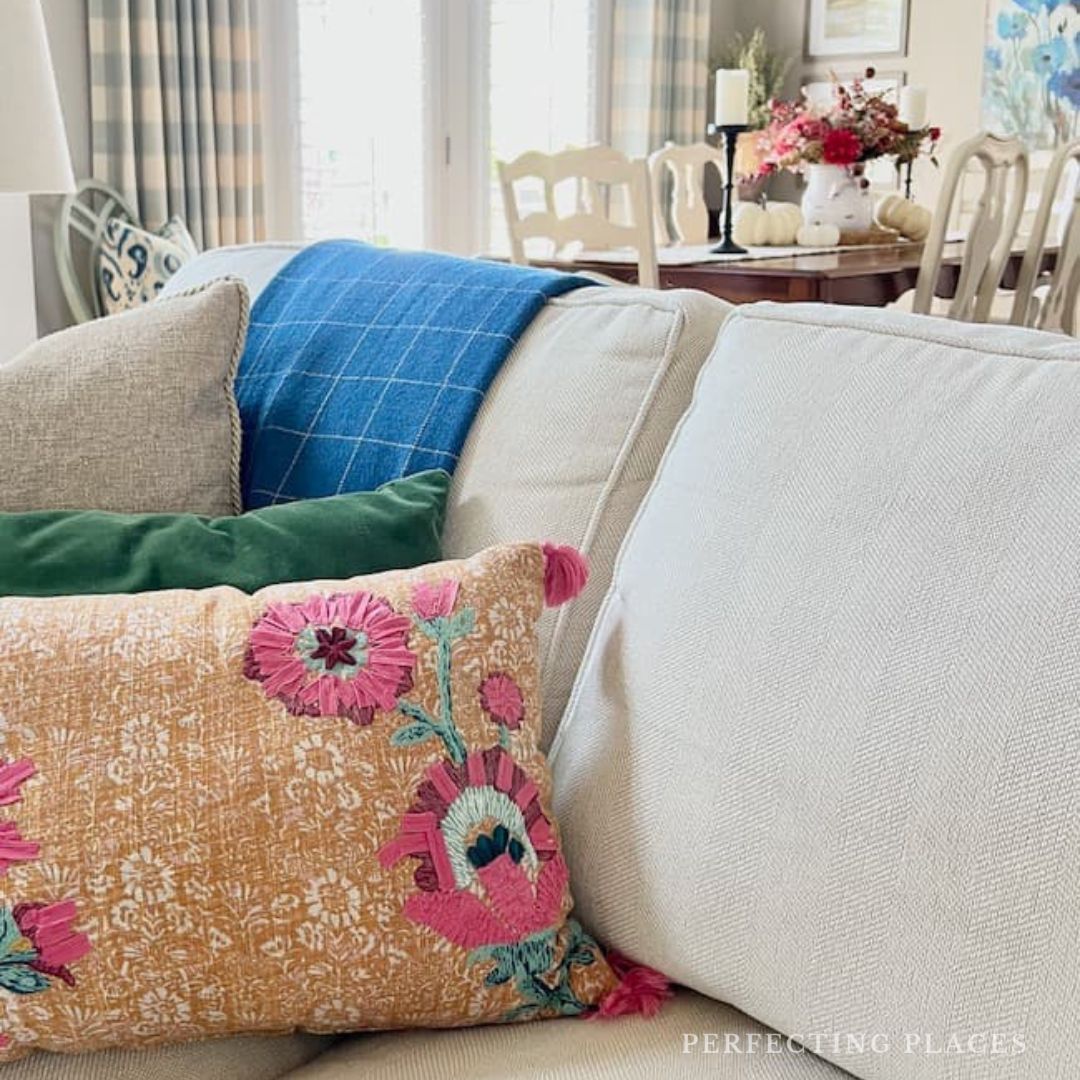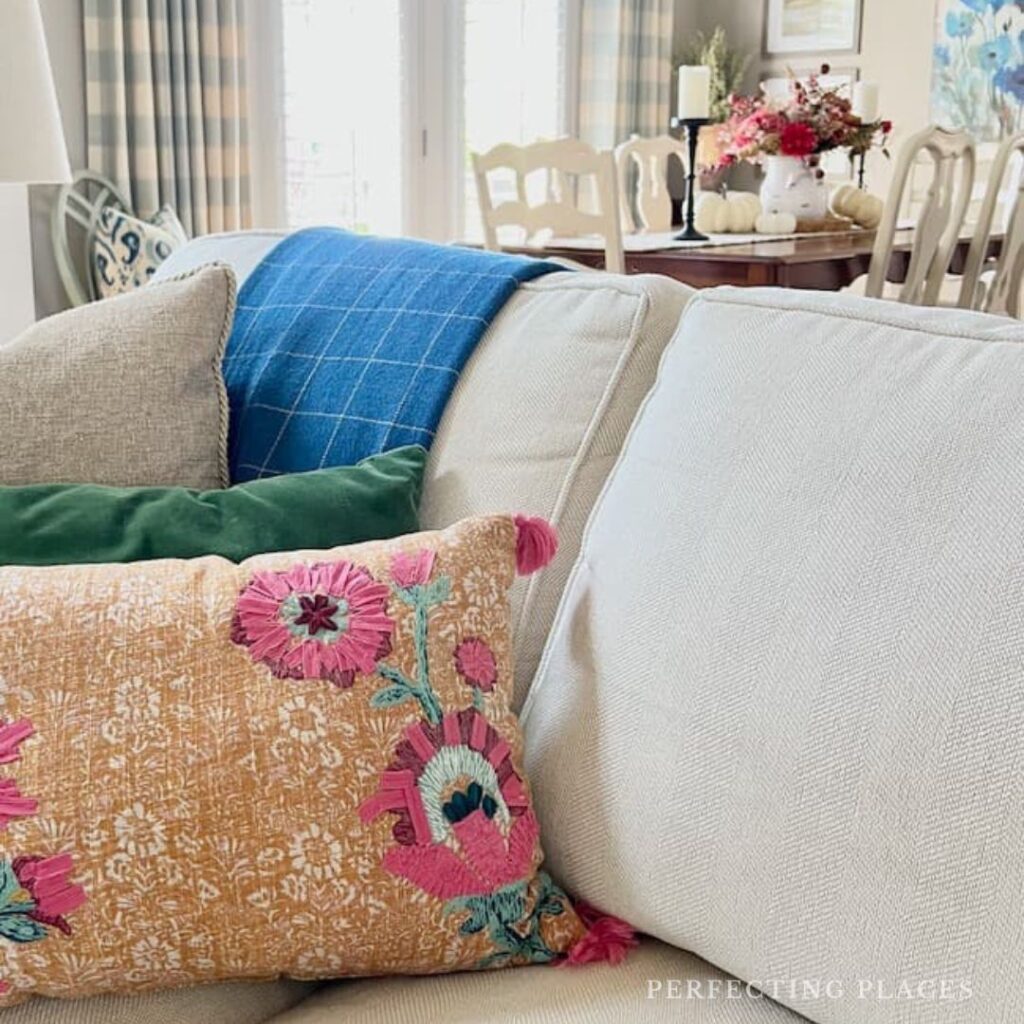 4. Welcome guests with a new welcome mat at your front door.
Create a charming first impression by replacing your summer welcome mat with one that features autumnal elements. If you wish, you can incorporate fall leaves and pumpkins on your mat, or simply use a neutral mat over a small area rug full of warm fall color.
5. Refresh your kitchen or dining table for fall with a new tablecloth and table linens.
Give your dining room table a seasonal update with a new tablecloth in fall hues. Complement it with coordinating table linens like napkins and placemats to set the scene for cozy gatherings.
Simple florals with hints of warm fall colors are the perfect transition from summer into fall for your table. Again, it doesn't need to be all pumpkins and gourds! Subtle floral prints in a pretty fall color scheme set the tone for a fall table.
6. Replace your summer florals and ferns with simple fall stems.
Bring the outdoors in by adding fall leafy stems and berries to your vases and urns. Whether you choose maple leaves, eucalyptus, or branches with berries, these natural elements reflect the change of seasons.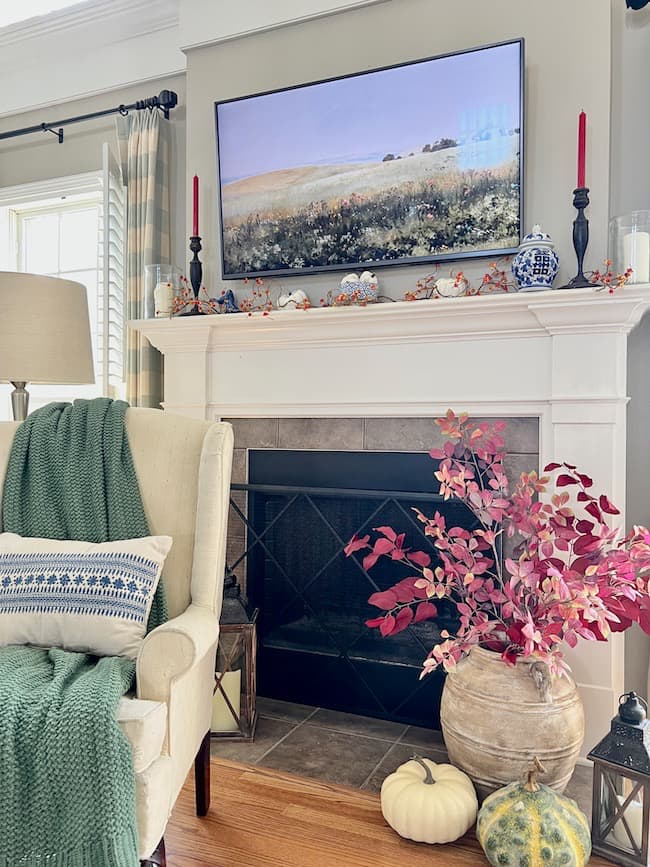 7. Add candles in a pretty fall color palette to candlesticks and holders.
Whether you use them on your mantel, your coffee table, or dining table, scattered candles in rich fall colors throughout your home will add a soft glow in pretty fall hues.
8. Add a textured throw blanket to your sofa or chair.
Cozy blankets add texture, warmth and color to your living space.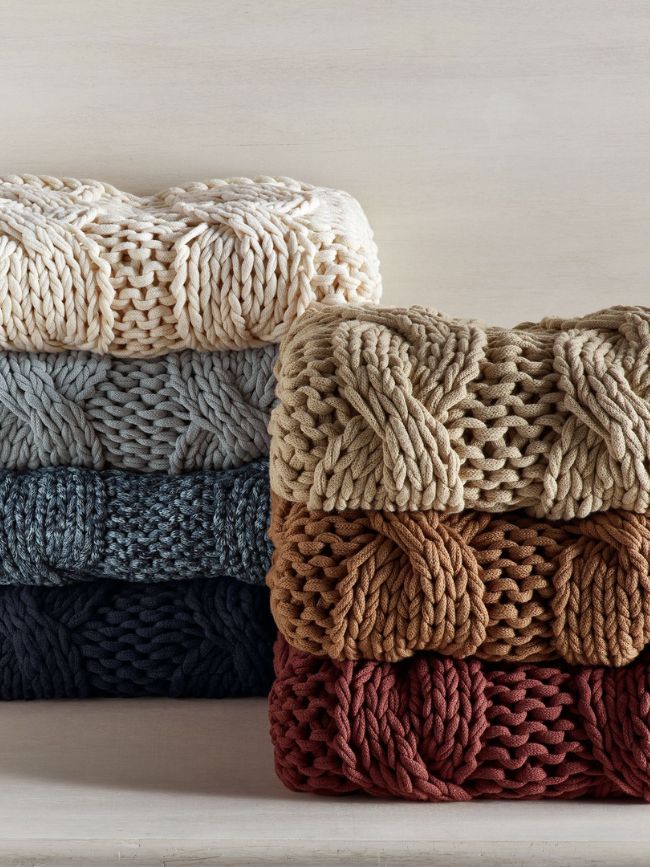 ​9. Add warm metallic touches to your decor.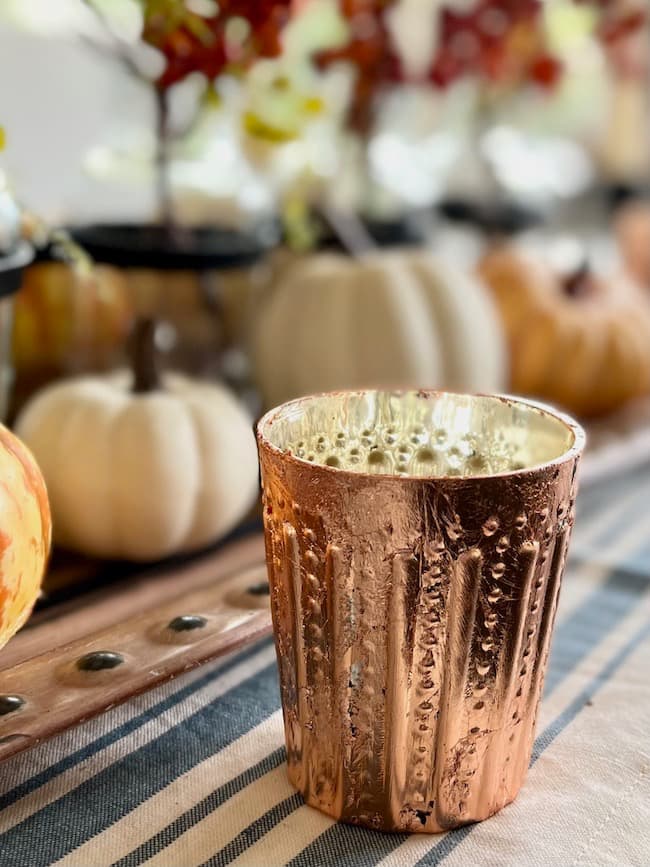 I added rose gold metal leaf to these mercury glass votive holders for a subtle and warm touch for fall. You can update any piece of decor and add a little warmth by applying gold metal leaf.
10. Create beautiful late summer and early fall floral arrangements.
Whether using fresh or faux stems, embrace fall flowers like sunflowers, dahlias, and chrysanthemums to create stunning floral arrangements.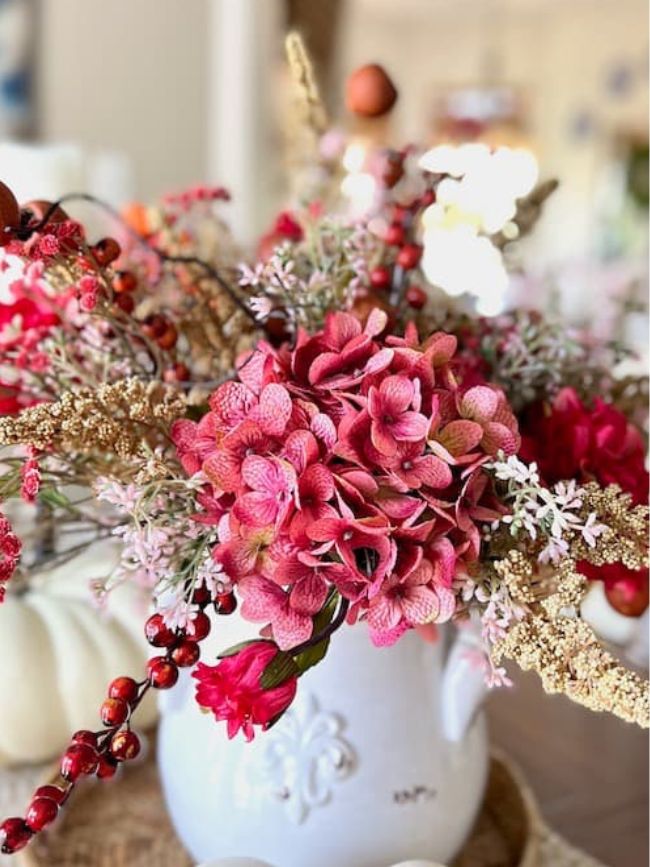 Place them in vases or as a striking centerpiece on your dining room table for subtle seasonal decor.
11. Use vintage books as decor.
Incorporate the timeless charm of vintage books into your fall decor. Stack them as decorative accents on coffee tables or mantels, adding character and a touch of nostalgia to your seasonal setup. It's a great reminder that the season to curl up with a good book next to a cozy fire is just around the corner.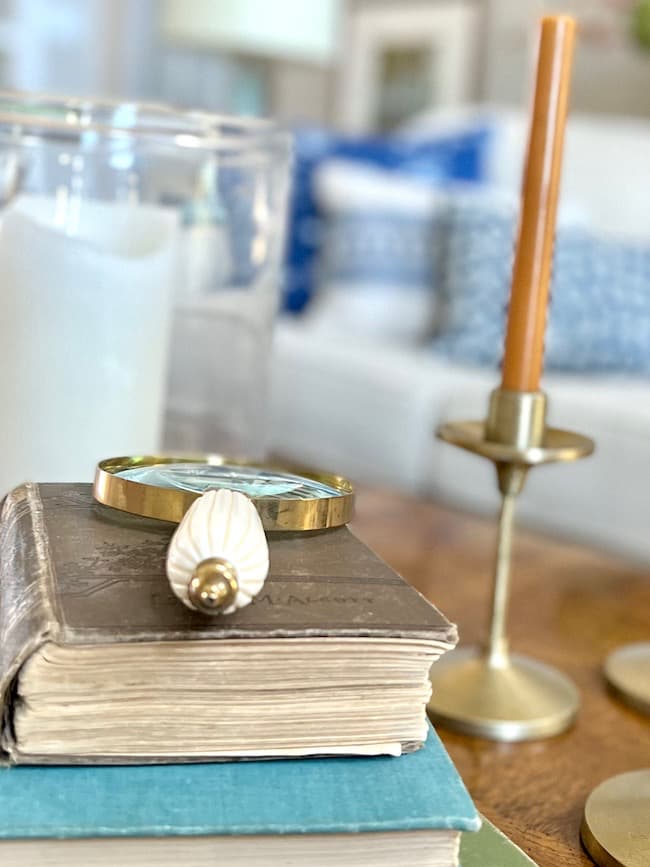 Transitioning your home decor from late summer to early fall should be a simple process that brings joy! Think about what you love most about the two seasons, and capture the essence as one season changes into the next.
By incorporating these simple ways to start decorating for fall, you'll strike the perfect balance between your existing summer decor and the upcoming beauty of autumn. The key lies in utilizing warm fall colors, natural elements, and seasonal cues to guide your decorating decisions.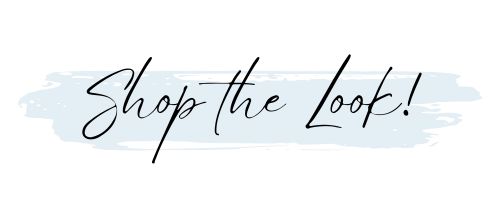 Shop the Look for Favorite Summer-into-Fall Decor Pieces:

As the end of August approaches, take advantage of this ideal moment to slowly begin preparing your home for fall. By making thoughtful updates to your living space, you'll seamlessly embrace the changing season without overwhelming your decor.

So, gather your natural items, warm colors, and creative spirit to usher in the beauty of autumn into your home. As September rolls around you're home will be ready for the season change.
Happy Decorating!