Our Colorful Fall Decor Home Tour
It's fall decor home tour time! Since it's already mid October, I'm a little slow on the draw getting our home ready for fall this year, but I think I finally have it together! It's been an extra warm fall here in Kentucky, so that, coupled with a busy start to the school year and a trip out of town for fall break, delayed me a bit.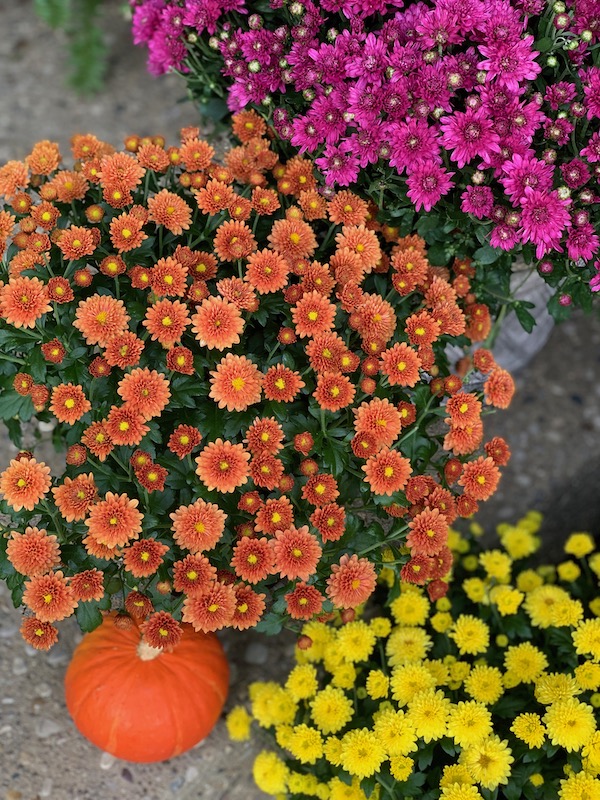 This year, I wanted to add more color to my fall decor, and I've really been loving fall reds. I don't like to go too overboard on fall decor, but I do enjoy some fun touches around the house.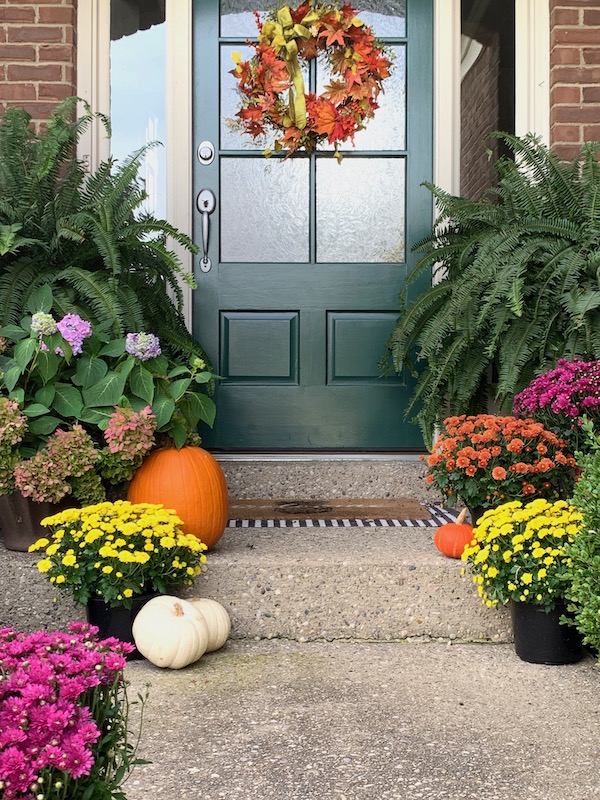 I added lots of color to my front porch with mums and pumpkins. I normally only do a couple of mum colors at most, but this year I felt a little froggy and wanted to play with color. The Kimberly ferns and potted hydrangea are still going strong and are pretty complements to the mums.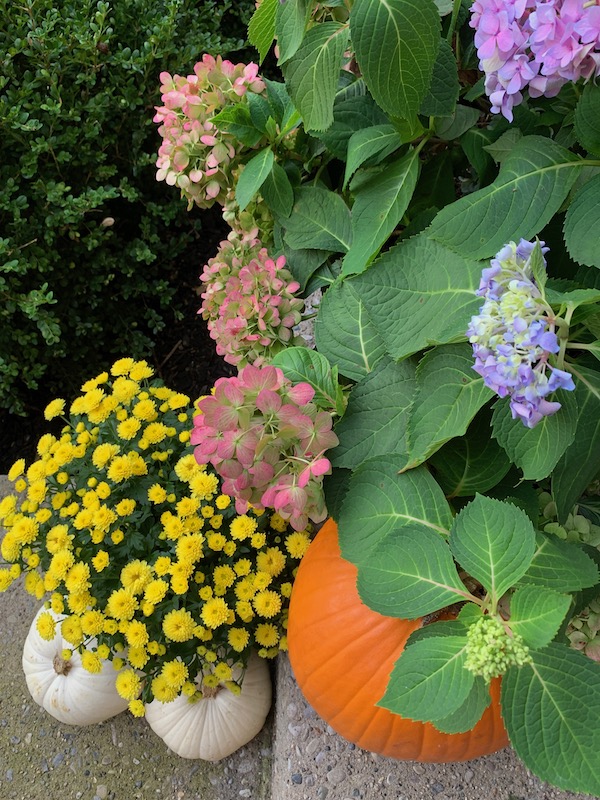 My foyer table decor has a few red touches. I've loved the abundance of hydrangea blooms from our landscape! This year we planted several hydrangeas, and I've so enjoyed bringing them in this fall to decorate with. These green blooms start out as large fluffy white snowballs, but turn green on the bush. The pretty dried green blooms are versatile and look great throughout fall and winter.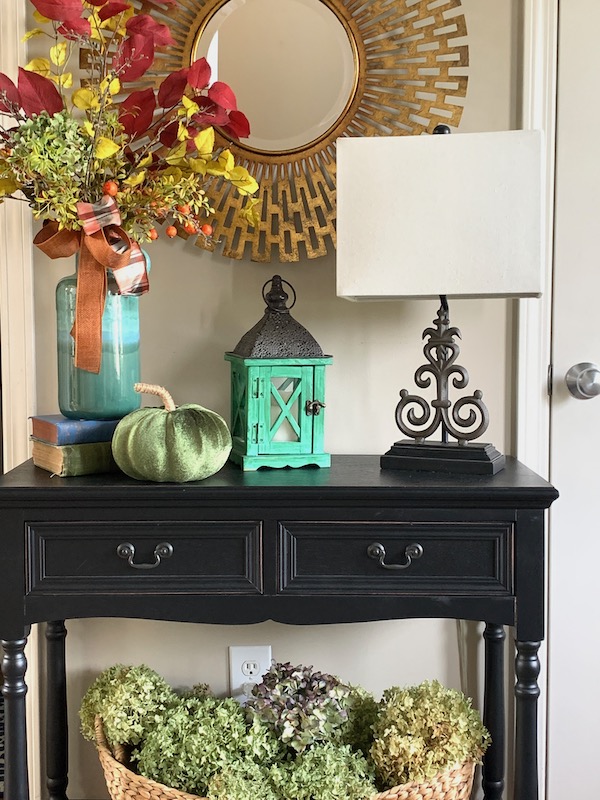 Our living room is pretty simple with a few touches of fall on the mantel. I also filled a blue and white vase with a beautiful variety of shades of dried Endless Summer hydrangeas. I love all the shades of blue together!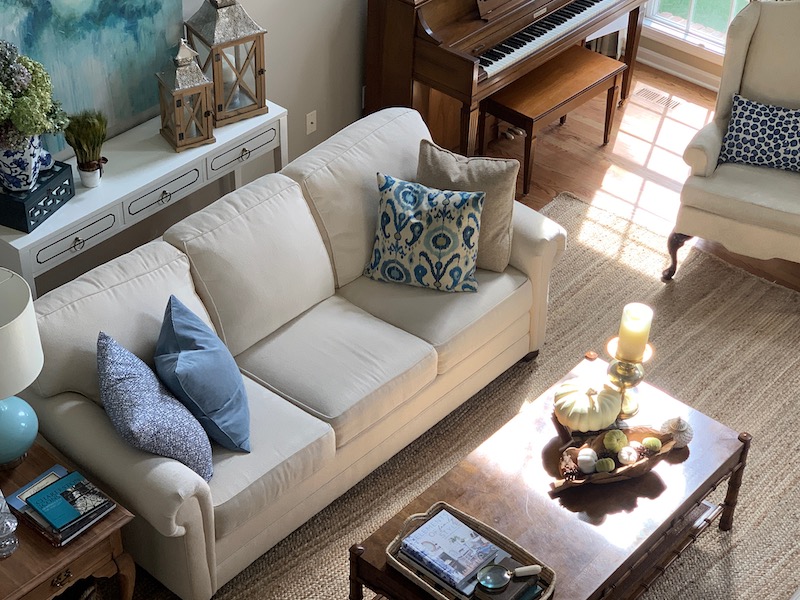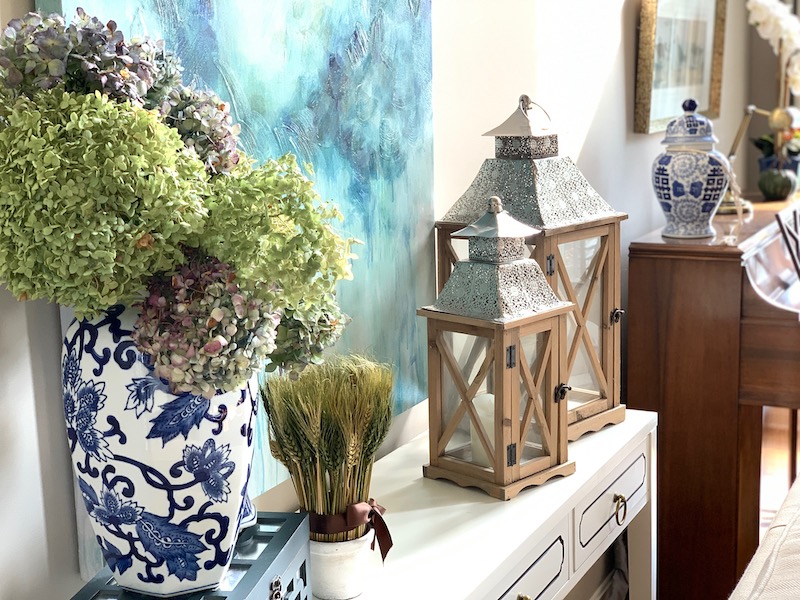 I scattered pumpkins and dried hydrangeas for a pretty fall mantel. Our mantel is very shallow, so it limits what I can add. These small to mid-size pumpkins were just the right size.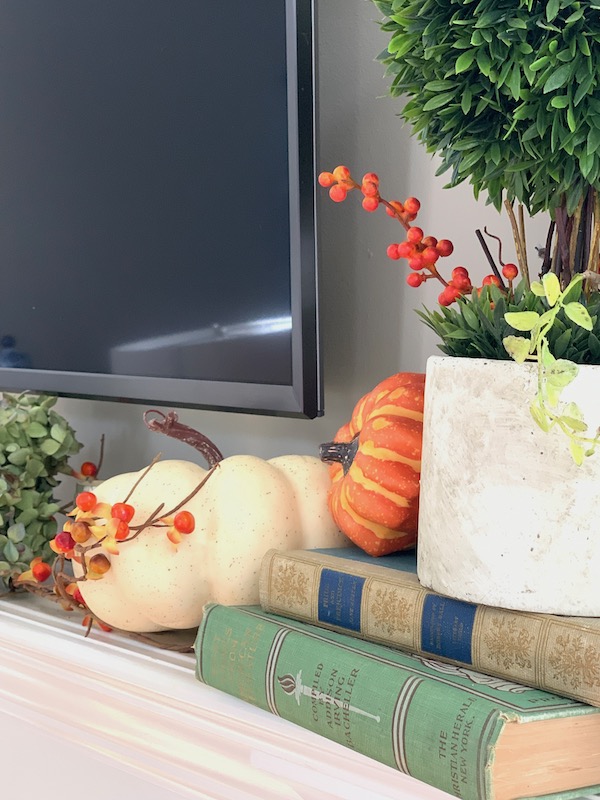 I really wanted to bring in lots of fall color in our dining room. This giant round basket was a fun TJ Maxx purchase this year. I added lots of pretty shades of pumpkins, gourds, and fall fruits. Several of the large pumpkins were from Michael's. I hit it just right this week with over 50% off the large faux pumpkins and gourds! I just love all the warm fall color!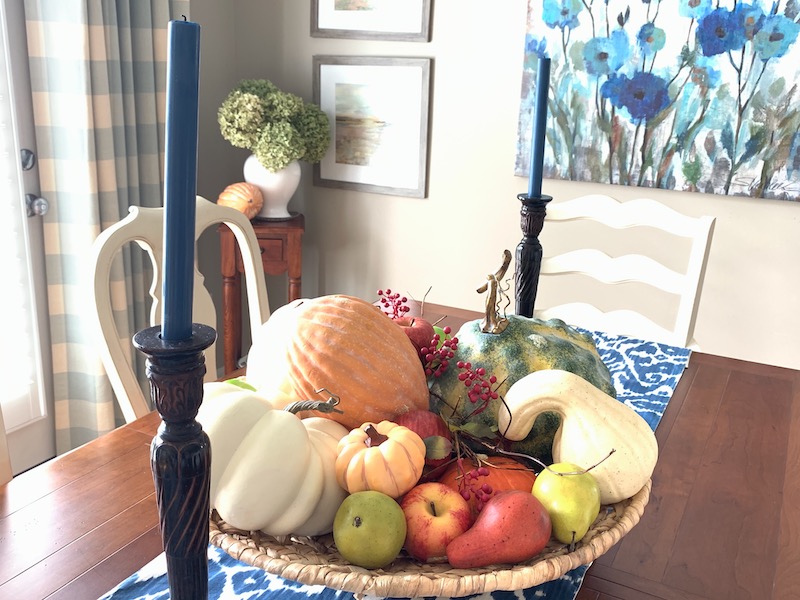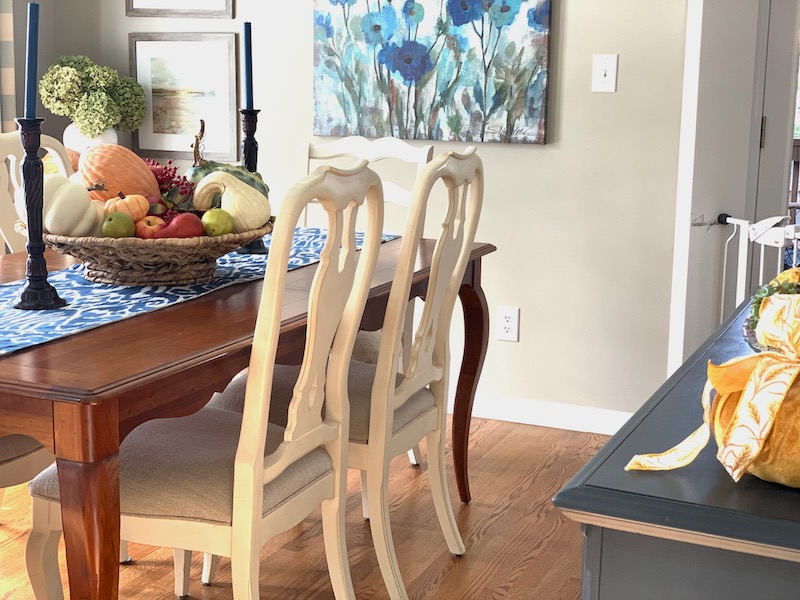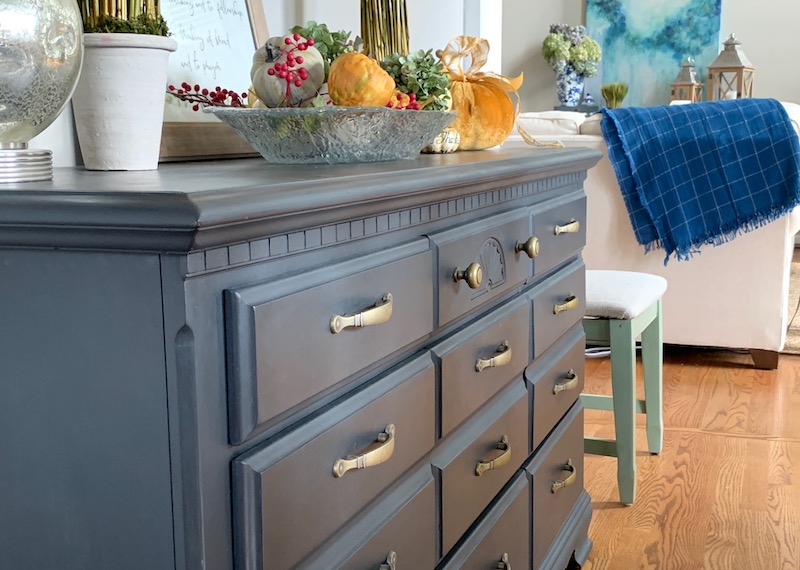 We moved our dresser, painted Annie Sloan Graphite, into the dining room recently to serve as a sideboard, Dressers are such versatile pieces of furniture and can be used in a variety of ways around your home. I added more faux pumpkins, as well as velvet ones.
The sweet Scripture art was a lovely gift made by my talented daughter-in-law last Christmas. The verse is a wonderful reminder to use our home as a place of fellowship and encouragement, and has wonderful sentimental value to our family as a reminder of very special friends in our lives.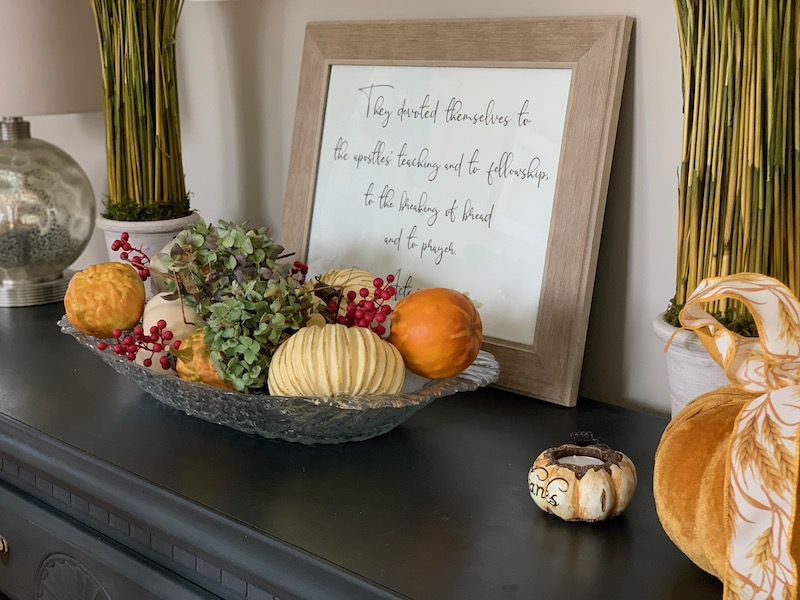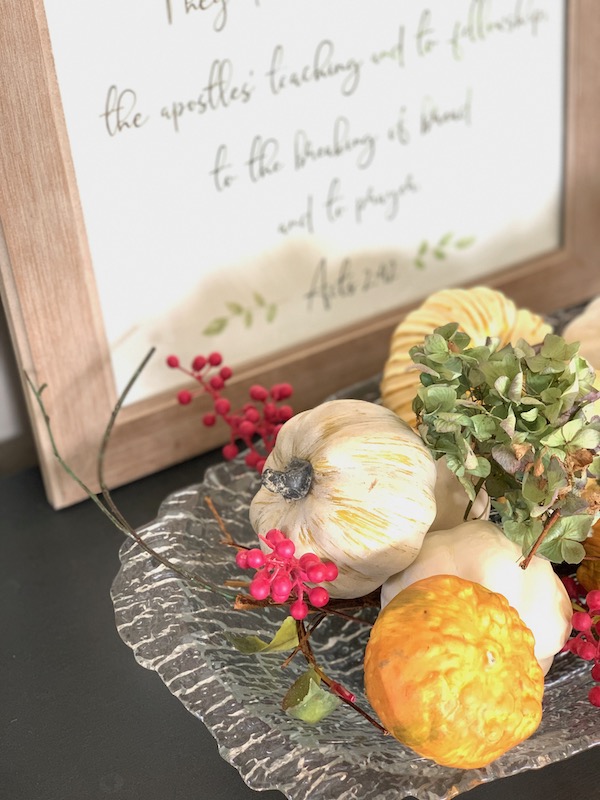 We painted our kitchen a couple weeks ago Sherwin Williams Alabaster, and even though we've yet to hang any artwork, I love how the warm white sets off the vibrant fall colors. I tried my hand at painting plaid pumpkins, and I think they turned out ok. They add a whimsical, colorful touch! You may also notice that I recently repainted the kitchen table Annie Sloan Graphite. This table just keeps hanging in there. It's experienced a lot of life, but as soon as the little furry family member who lives in our home stops her chewing frenzy we will replace this old friend.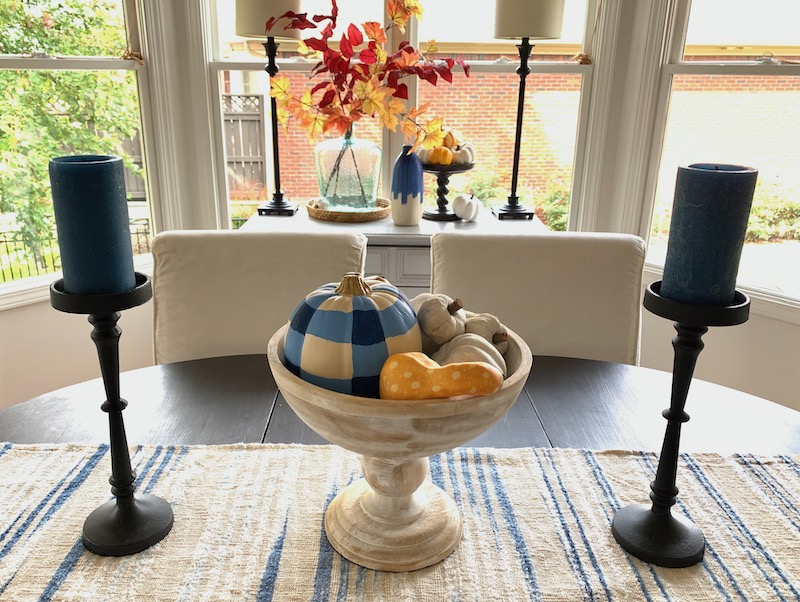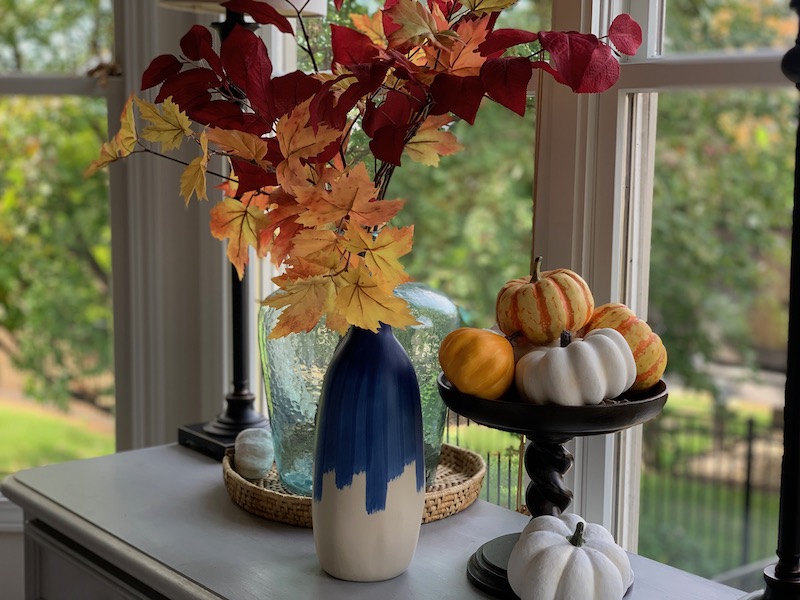 And of course, nothing says fall quite like a yummy pumpkin dessert! This delicious Pumpkin Cake with Brown Sugar Icing and Candied Pecans was so yummy, and makes such a pretty fall dessert to share with family and friends! We hosted our weekly Bible study this week, and I served it with coffee.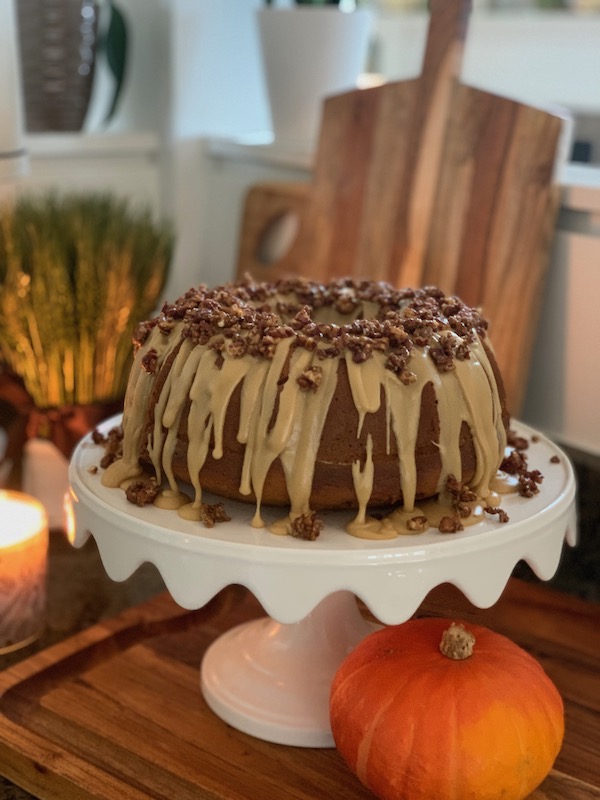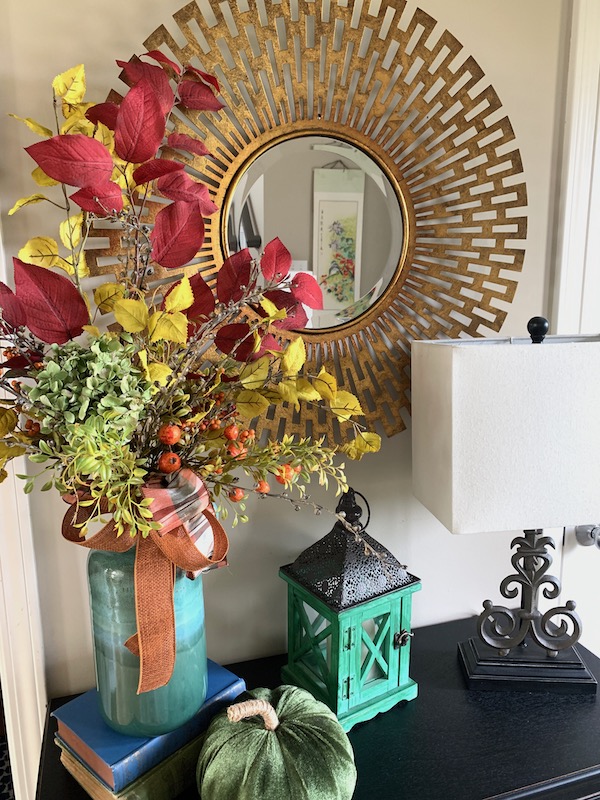 Thanks so much for stopping by for our fall decor home tour! You can find more great fall decorating ideas here and here.
Happy Fall decorating!