Make an Elegant Decoupage Pumpkin with Chinoiserie Printed Napkins
I'm using some of my favorite printed Chinoiserie napkins to create a beautiful decoupage pumpkin vignette in our foyer.
Decorating pumpkins is one of my favorite fall projects! There are so many creative ways to decorate pumpkins during the fall, and decoupage napkins are a great way to add lots of color and pattern. The traditional Chinoiserie-style prints in these napkins elevate the look for fall.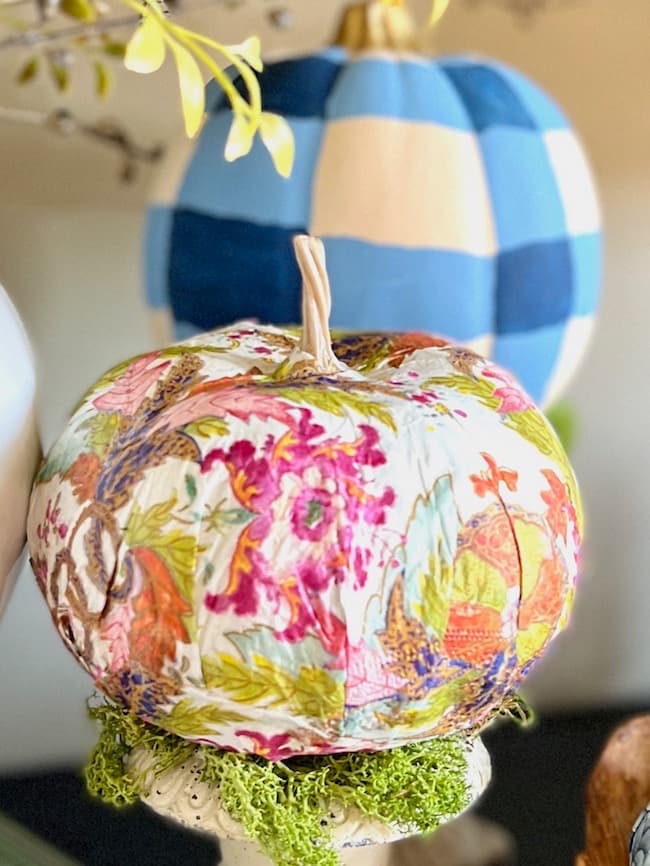 (This post contains affiliate links, so I may earn a small commission when you make a purchase through links on my site at no additional cost to you. As an Amazon Associate I earn from qualifying purchases.)
I can't seem to stop decorating for fall!
I think I'm finished, and then I get another idea or inspiration and I just have to add a little more.
Does that ever happen to you?
And I just love decorating pumpkins. The possibilities are endless when it comes to decorating those traditional fall decor staples!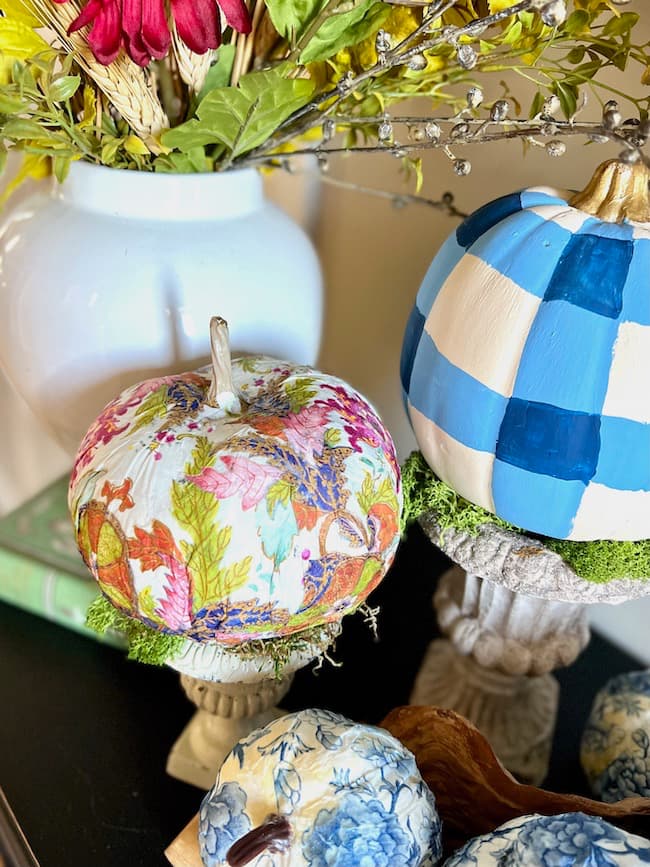 Today it's all about decoupage!
I found the prettiest napkins on Amazon, and decided to do a little decoupage pumpkin craft for our foyer table.
Earlier this fall, I used this orange printed napkin to decoupage some pumpkins.
I love this tobacco leaf printed napkin. The pretty pinks and oranges, greens and plums are just perfect for fall.
This blue and white printed napkin is another iconic Chinoiserie look, and makes such pretty blue and white pumpkins.
What craft supplies do you need to decoupage pumpkins?
It's actually quite simple to decoupage a pumpkin, and it doesn't require a lot of supplies.
All you need are:
faux pumpkins in the sizes you prefer. Mine are old mini pumpkins and inexpensive dollar store pumpkins. A faux white pumpkin is best so that other colors don't bleed through the napkins when wet.
pretty printed paper napkins in your colors and prints of choice. I'm using these orange prints, this tobacco leaf napkin, and this blue and white floral design to create traditional Chinoiserie looks for our pumpkins.
something to protect your surface
rubber gloves for your hands (optional)
How do you make a decoupage pumpkin with a napkin?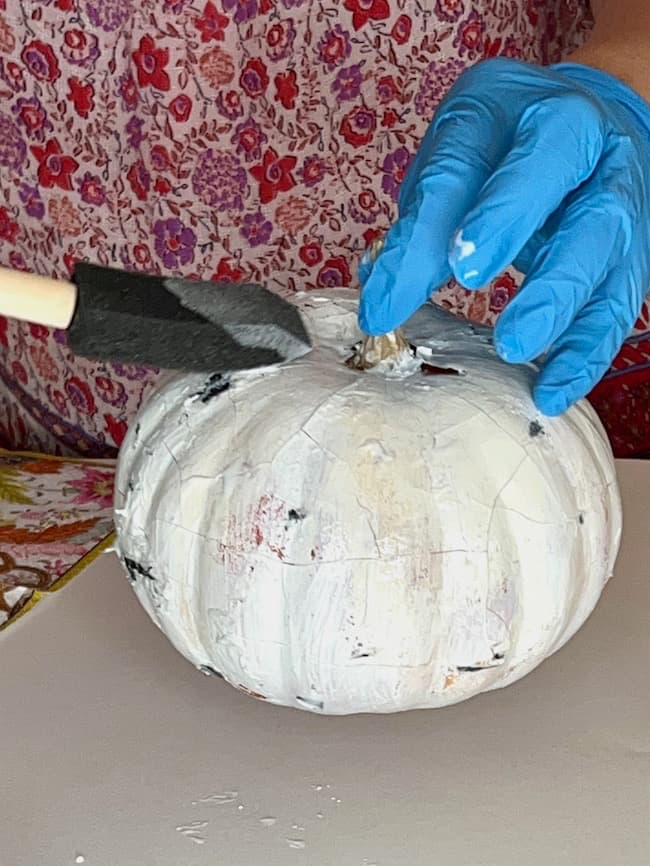 Start by applying a thin coat of Mod Podge over the surface of the entire pumpkin with the sponge brush. My pumpkin is in pretty rough shape! It's been repainted and repurposed more than once, most recently in this cheerful Halloween tablescape where I decoupaged a black and white striped napkin on it.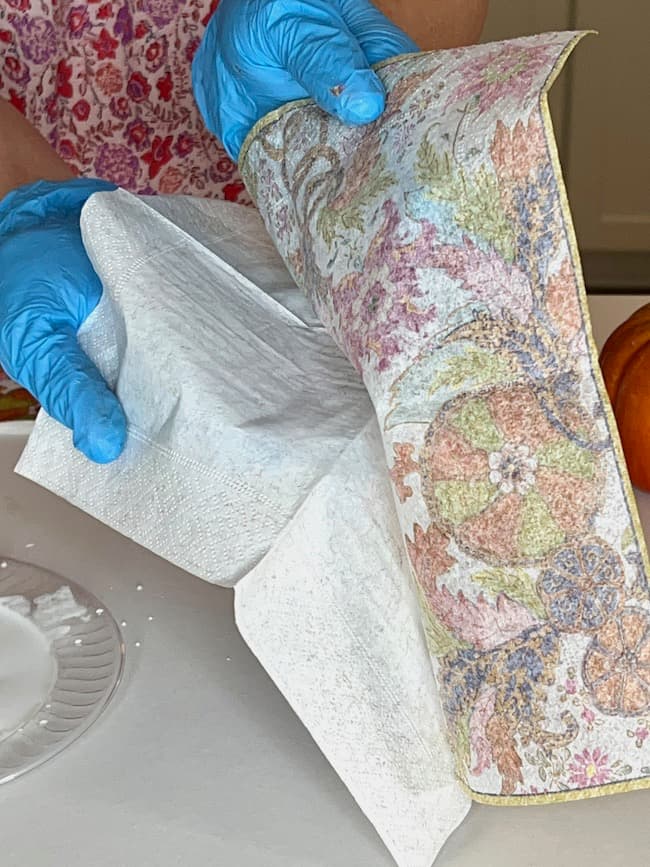 Separate the layers of your napkin. You only need the printed layer.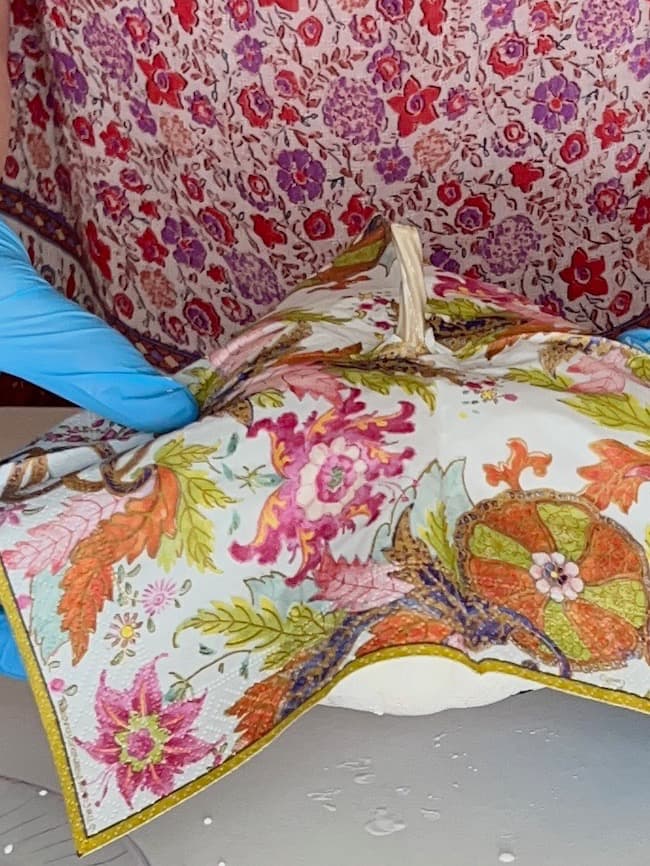 Make a small slit in the center of the napkin and place over the pumpkin stems.
For these pumpkins, I kept the napkin intact and brushed and creased into place around the pumpkin. Start at the top of your pumpkin and work your way down and around. I folded the excess napkin, tucked it in, and secured with the Mod Podge.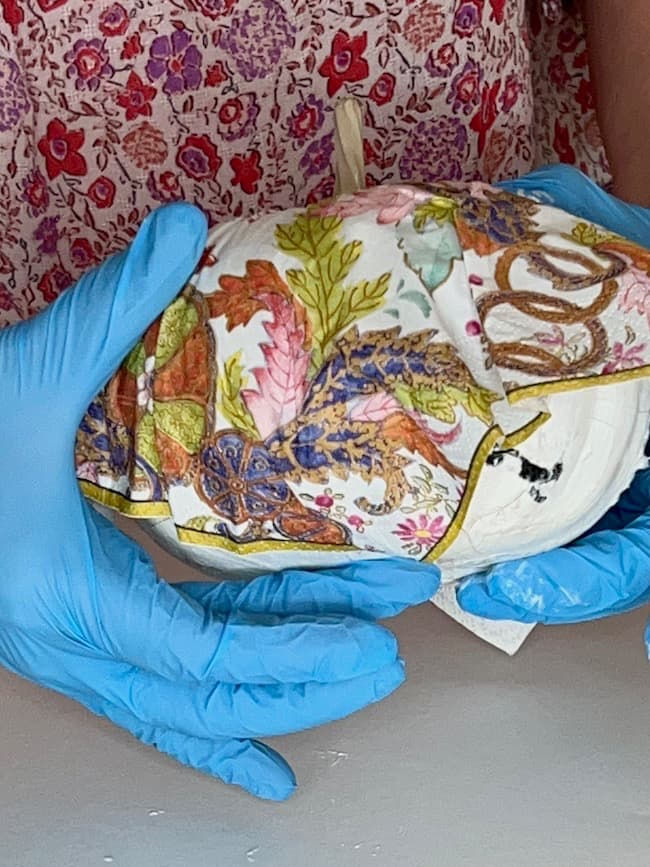 As an alternative, you can also cut your napkins into sections and piece them around the pumpkin. I used this paper piecing technique when I decoupage these orange printed pumpkins so I could carefully match the patterns.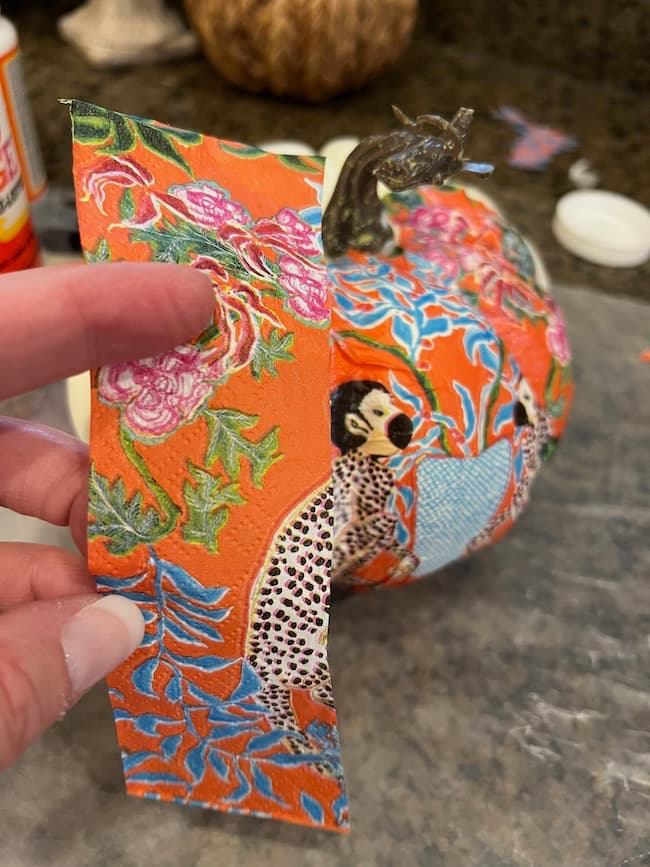 Work around the pumpkin and adhere the napkin to the pumpkin using the sponge brush until all sides are covered.
With larger pumpkins, such as this one, you'll need to piece the napkin together. The napkins I'm using are paper cocktail napkins and are a little small for the medium size pumpkin, therefore, I had to piece it together to cover the bottom of the pumpkin.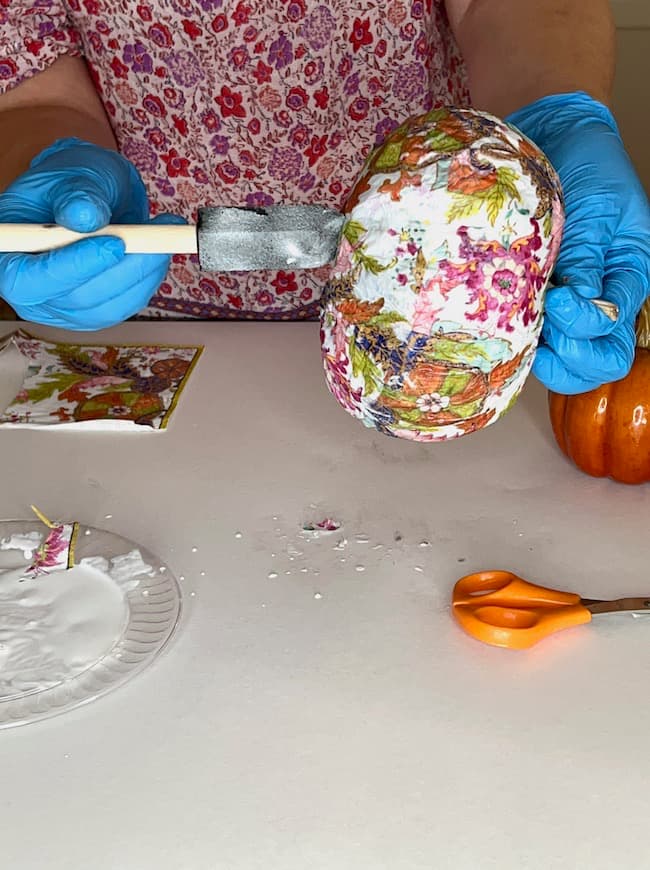 After the napkin has been applied, brush on another layer of Mod Podge to secure the napkin into place.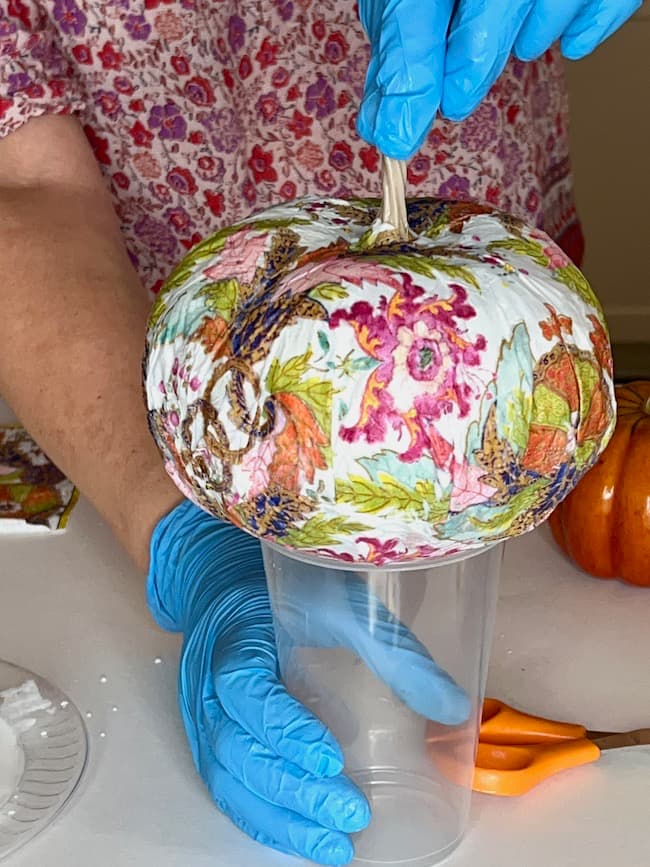 Set the pumpkin on the rim of a plastic cup to dry.
Now your ready to decorate!
Alternative Materials for Easy Decoupage Pumpkins:
If you don't have decorative napkins on hand, you can use other papers such as book pages, sheet music, tissue paper, scrapbook paper, or wrapping paper to create decoupaged pumpkins. You can even use fabric strips to decorate with. The possibilities are endless for all of the designs you can create, whether you like a more traditional look, a more rustic look, or farmhouse look.
Decoupage is the perfect way to update or disguise dated, Dollar Tree, or ugly thrift store pumpkins. Give them a fresh new look with a little paper and decoupage medium!
Fall Decorating with Decoupage Pumpkins:
You can add your new diy pumpkins to bowls, centerpieces, bookshelves, or mantels.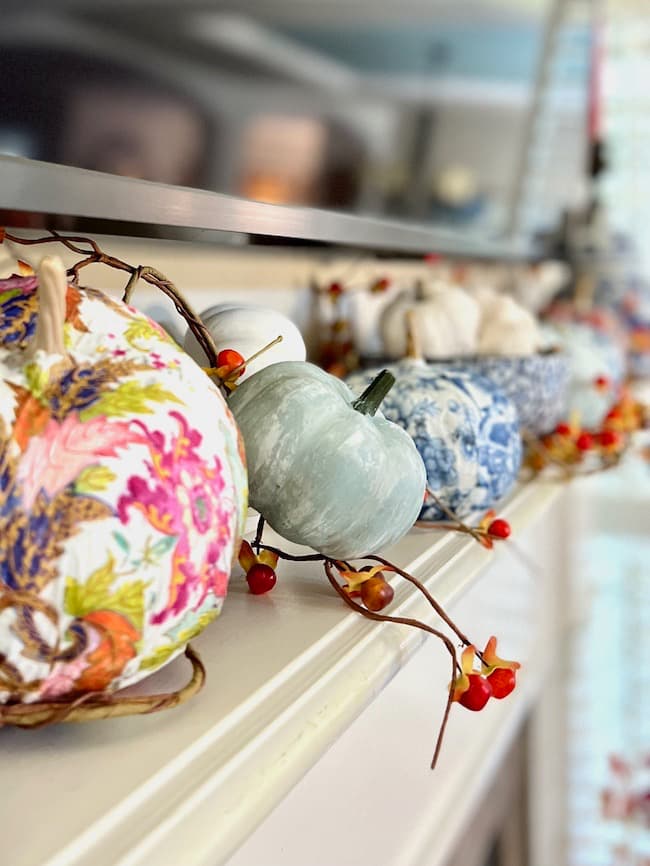 Here, I've added the decoupage pumpkins to our mantel amongst the blue and white pieces, white pumpkins, and orange bittersweet.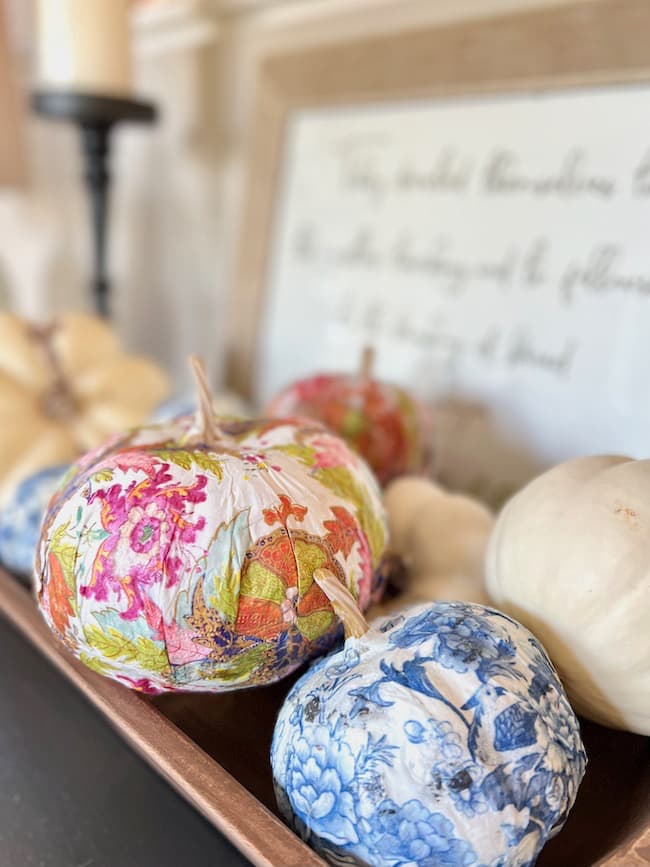 They're also pretty in a bowl on the dining room buffet.
Add a decoupaged pumpkin to a bookshelf or a sofa table.
I decided to create a pretty vignette in our foyer with the decoupage pumpkins.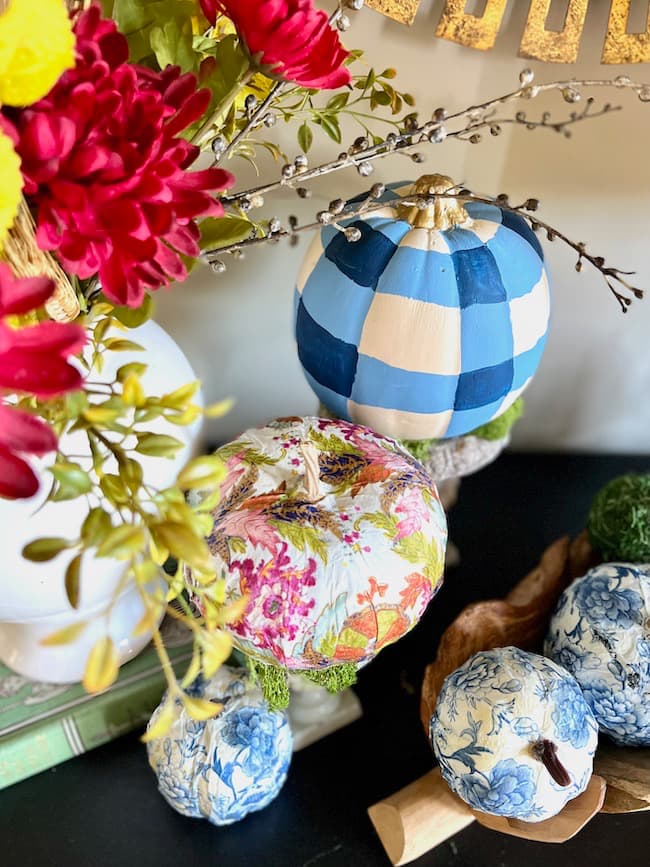 I placed the tobacco leaf print on a small pedestal and paired it with the blue and white plaid pumpkin. The other blue and white pumpkins are displayed in a decorative wooden bowl.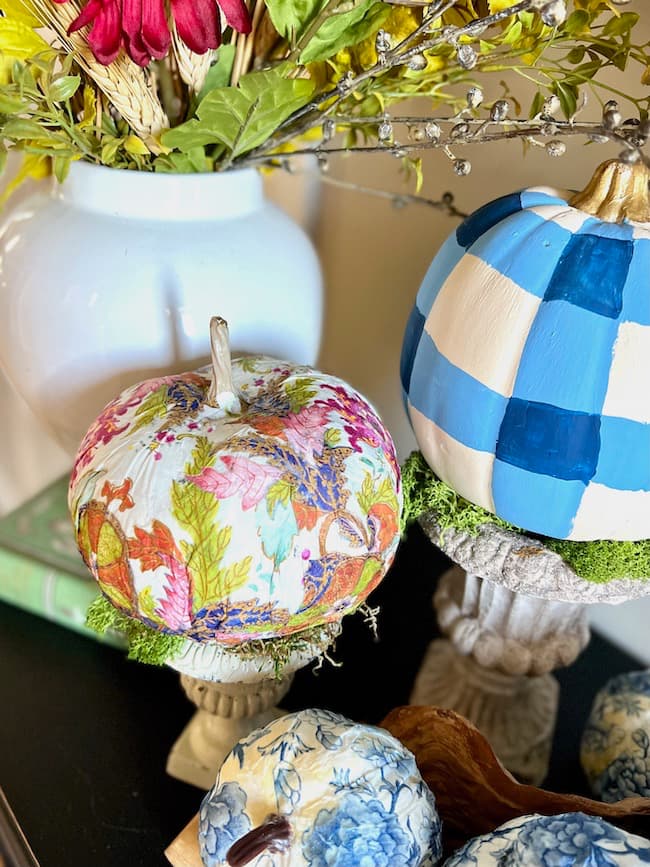 I love the look of the printed pumpkins with the fall floral arrangement and the gold mirror above the foyer table. It's just the perfect way to add a touch of fall to your holiday decor, and these traditional Chinoiserie prints create such an elevated fall look!
---
Shop the Look

---
I hope this inspires you to create some diy decoupage pumpkins of your own. It's really fun and adds such a pretty touch to your fall decor.
Happy pumpkin decorating!!
If you enjoyed this post, you might also enjoy these pumpkin and fall decorating posts:
Creative Ways for Displaying and Decorating Pumpkins for Fall
Fabulous Fall Decorating Ideas (Our Fall Home Tour 2022)
Save this post for later!!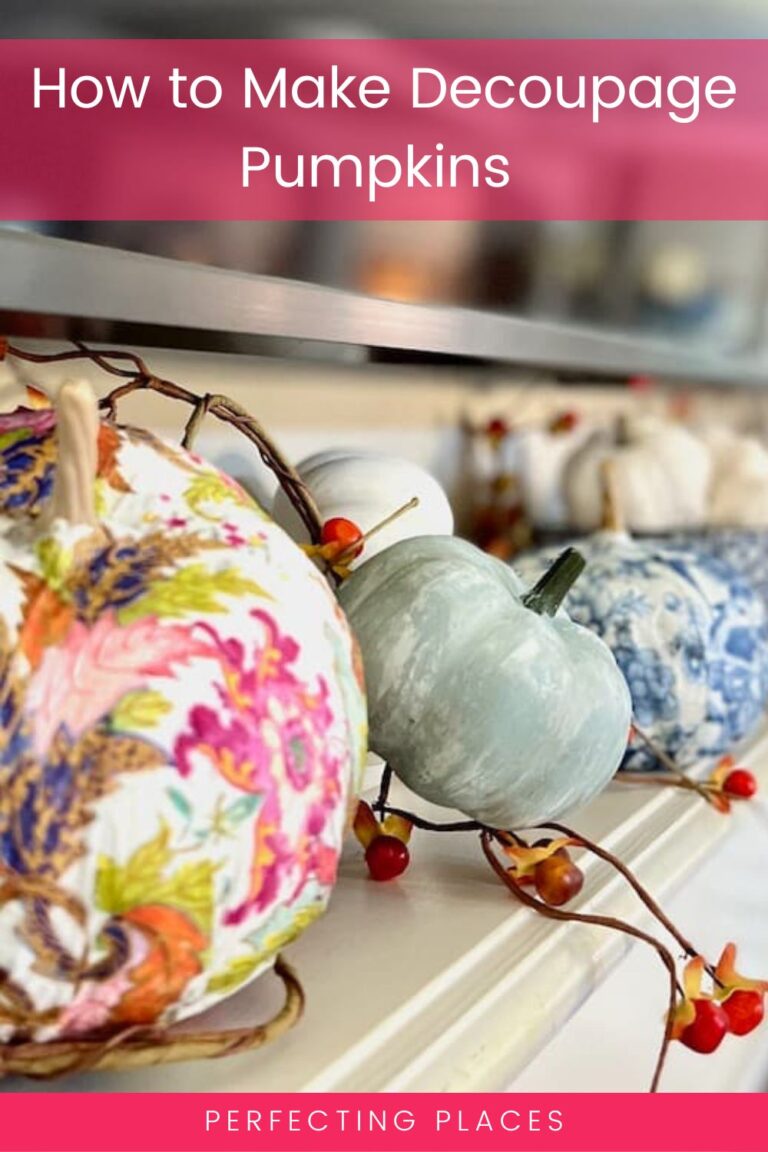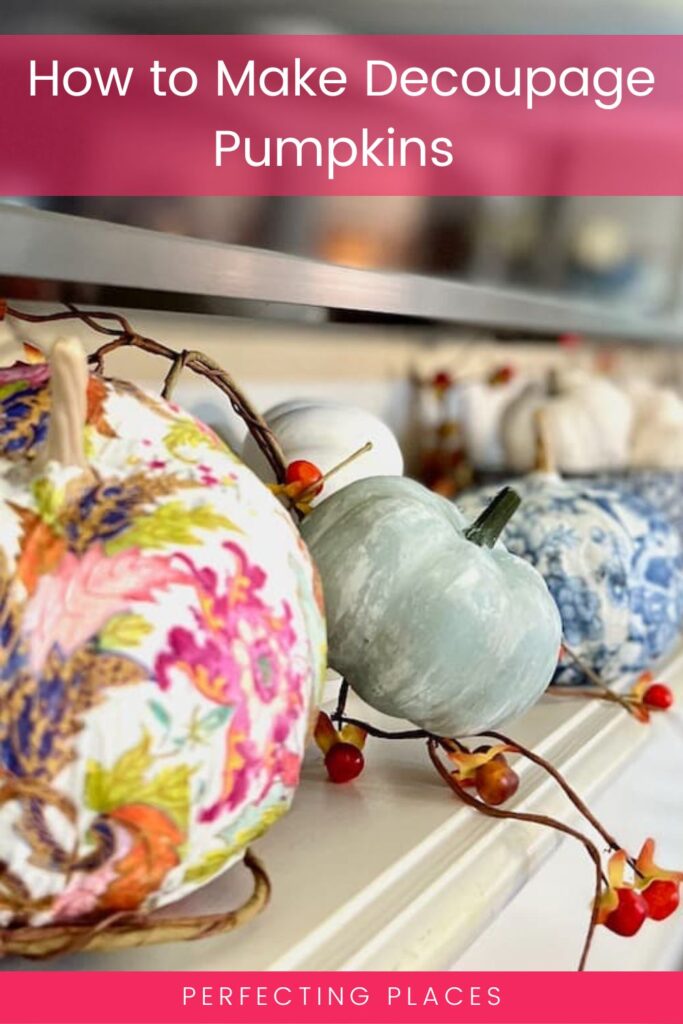 By the way, do you follow me on all the socials?? If not, check out my Pinterest, Instagram, and Facebook and be sure to follow me so you don't miss out on any of my decorating and DIY ideas!!
For more home decor and seasonal ideas, be sure to check out my Amazon store!!