Seasonal Decor: How to Create a Cozy Fall Bedroom 
Are you dreaming of a cozy autumn retreat? Create the perfect cozy fall bedroom with these seasonal ideas.
As the weather turns cooler, it's the perfect time to add a few fall touches to your room. Embrace the season's charm, and create a space where you can relax and unwind during crisp fall evenings with these 15 tips to help you turn your cozy autumn bedroom dream into a reality!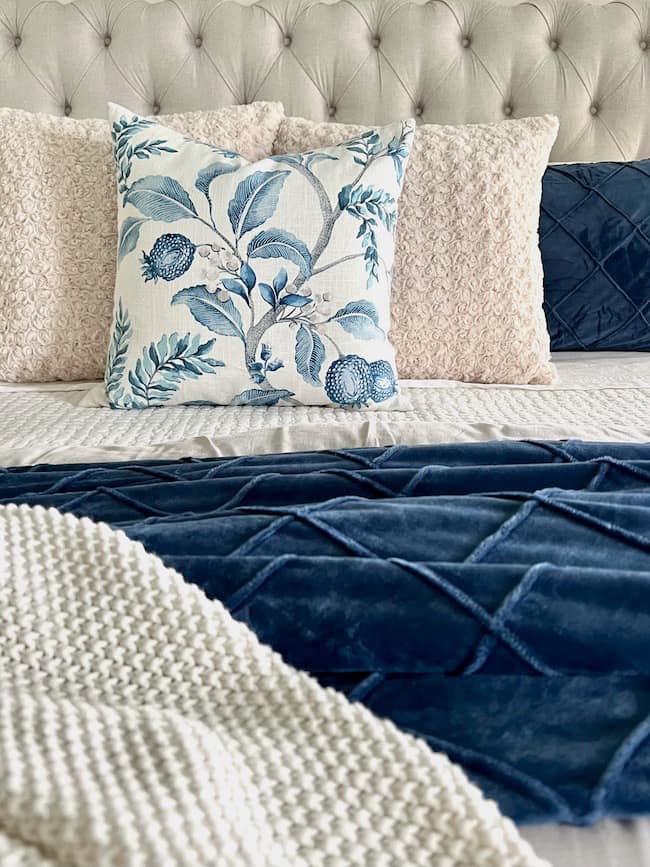 (This post contains affiliate links, so I may earn a small commission when you make a purchase through links on my site at no additional cost to you. As an Amazon Associate I earn from qualifying purchases.)
I've been up to a little sprucing up of our primary bedroom this week. I couldn't leave all of the fall decorating fun to the living room and kitchen! Our bedroom needed it's own touch of autumn, so I've been busy adding some rich velvety touches and cozy fall textures to our bed.
No, I didn't go all orange and yellow and red and brown in our room. It's still decked out in its lovely coastal palette of soft blue and alabaster white.
I did, however, inject the most gorgeous velvety navy goodness into our space, and I am in love!
How I Created Our Cozy Fall Look:
When it comes to decorating for fall in your bedroom, think luxurious softness and cozy textures. There's no need to completely change your color palette to traditional fall colors — just think deep and rich, and throw in some soft textures and you're good to go!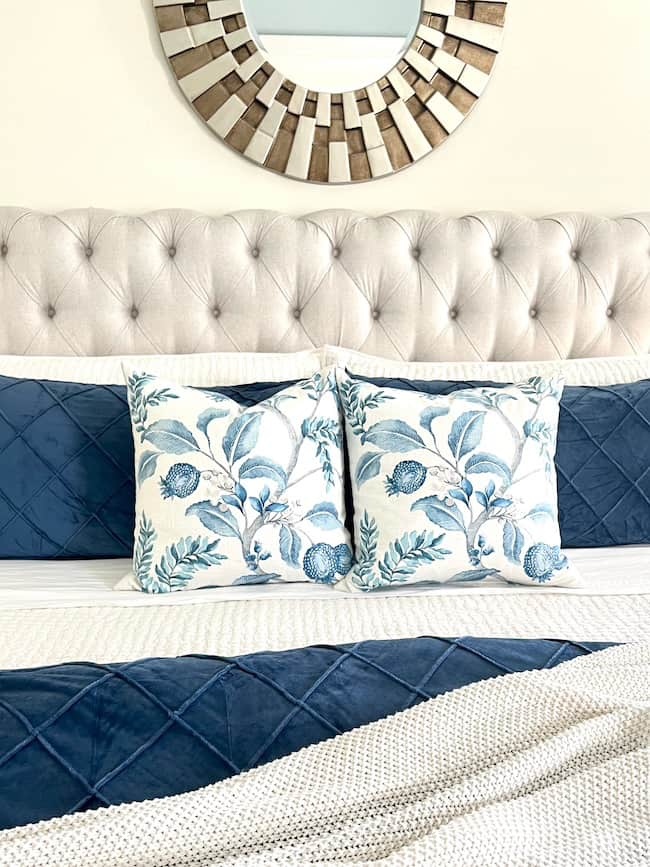 I purchased this gorgeous velvet duvet cover and sham set during Amazon Prime Big Deal Days and could not wait to add it to our bed! I played around with how I wanted to layer it with all of our bedding.
It's pretty functioning as a duvet cover over the insert folded at the end of the bed with a soft creamy knit throw tossed over it. The rich navy velvet pillows pop against the white pick-stitch quilt and shams from Pottery Barn.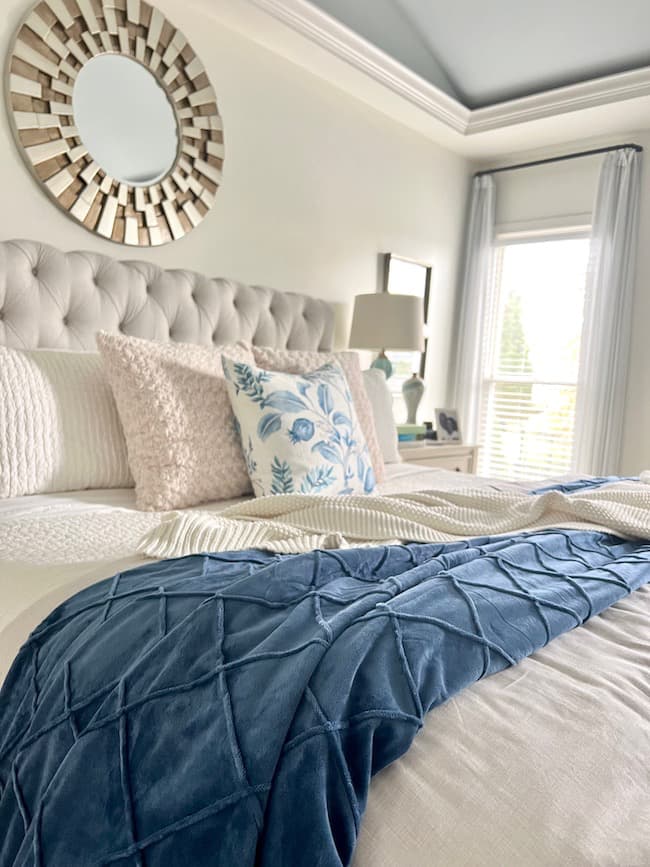 I also love draping the duvet cover (without the insert) across our bed draped over a folded duvet. There are so many lovely ways to layer your bedding for fall that I had a hard time deciding just what I wanted to settle on! Maybe I'll keep changing it up as the season progresses!
Here is another pretty option!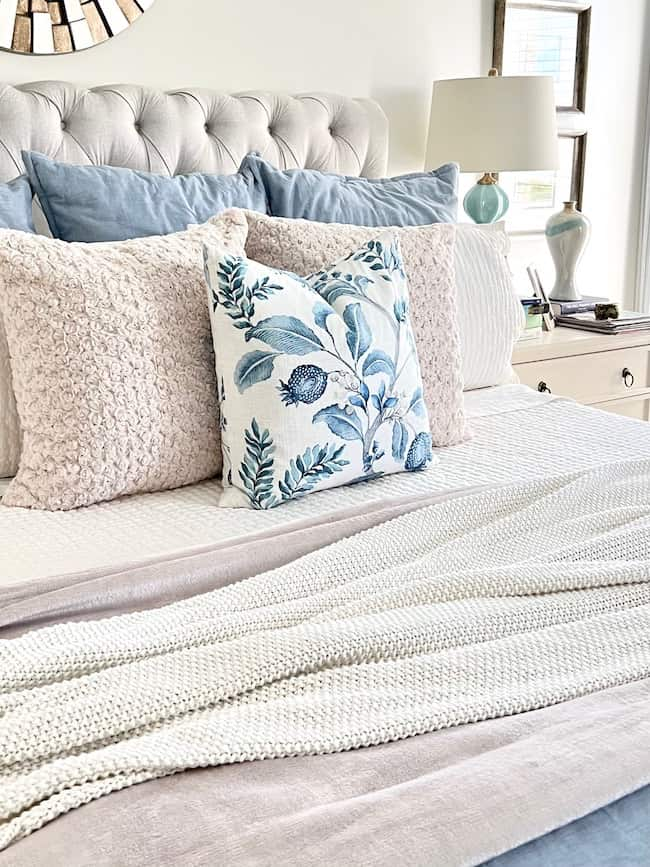 I kept it more neutral with this layered bedding look by changing our blue duvet cover to a neutral one and layering a combination of plush and knitted throw blankets. The blue Euro pillows and printed throw pillow add a touch of blue.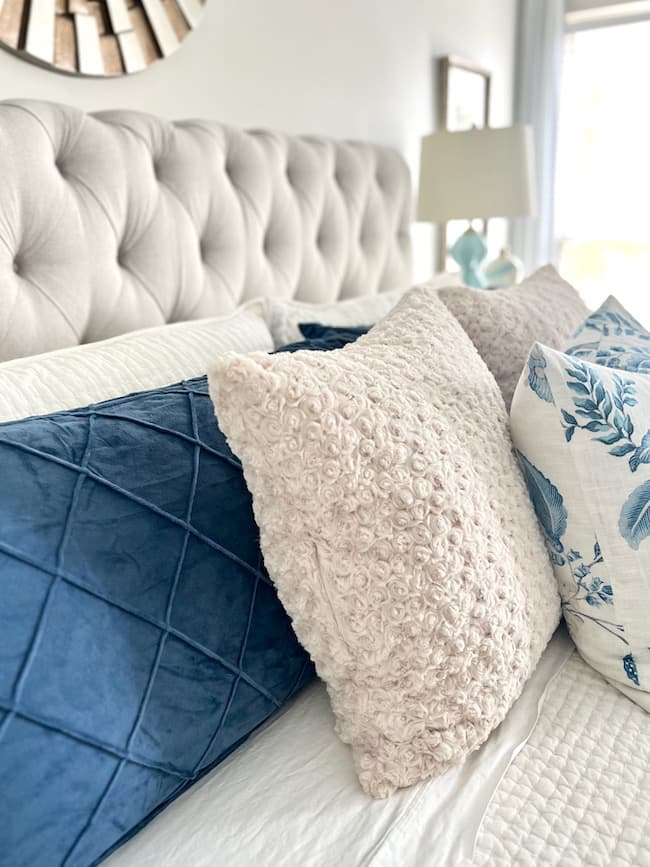 I've absolutely fallen in love with these fabulous plush rosette pillows from Walmart. They are the softest pillows ever, and you won't believe how inexpensive they are! These pillows are one of my favorite finds of the season, and I think I'm going to use them all over my house this fall and winter!!
Simple Ideas to Create a Cozy Fall Bedroom:
Your bedroom is the perfect spot to embrace the cozy season of fall. When creating a fall bedroom, surround yourself with the coziest of textures and colors, and follow these helpful fall bedroom ideas to create an inviting space to retreat to at the end of chilly fall days.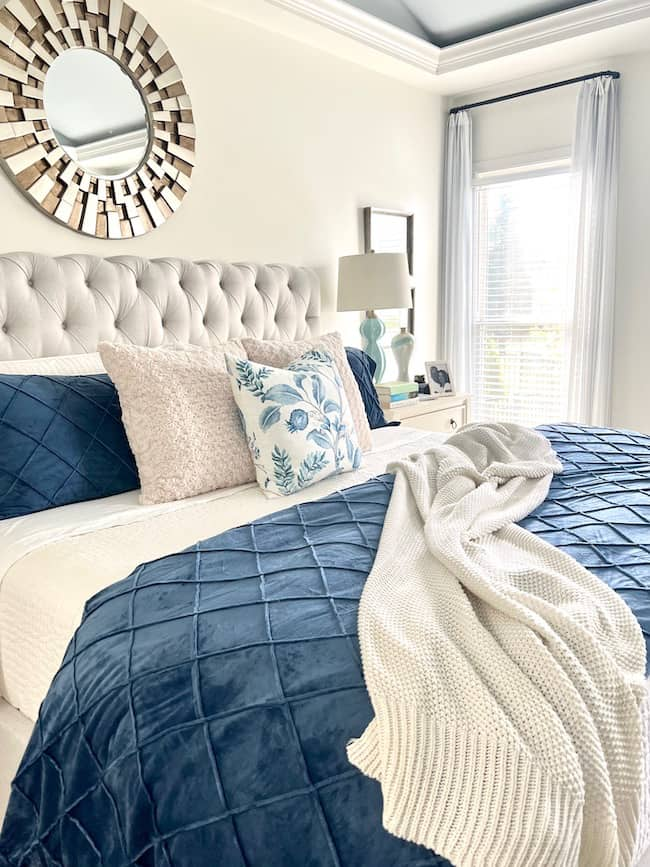 1. Choose a warm and rich color palette. You don't have to stick to warmer earthy colors like deep reds, burnt oranges, and rich browns to create a warm look in your bedroom for fall. You can stick with neutrals and even your year-round color scheme; however, try using richer colors in your color palette. Our primary bedroom is soft blue and white for most of the year, but a deep navy velvet duvet cover adds depth of color and helps to create a cozy look for the fall season.
2. Layered bedding is key to creating a cozy fall bedroom. Layer a fluffy comforter or duvet over a quilt. Add extra blankets or throws to the foot of the bed to create an inviting look. Plus, it makes it super easy to grab an extra blanket on chilly fall nights.
This pick-stitch quilt from Pottery Barn is our favorite quilt year-round, and it's the perfect foundation piece for our cozy fall bed!
We use this down alternative duvet insert on our beds. It makes it easy to switch out a new duvet cover for a fun seasonal look.
3. Switch to flannel sheets. Swap out your regular sheets for soft and warm flannel sheets as the temperatures drop. If your home gets a little chilly at night, the cozy flannel sheets help take the chill off a bit.
This flannel sheet set comes in lots of pretty colors and gets great reviews on Amazon.
4. Add plush pillows. Incorporate plush, soft textured pillows on your bed for an inviting look.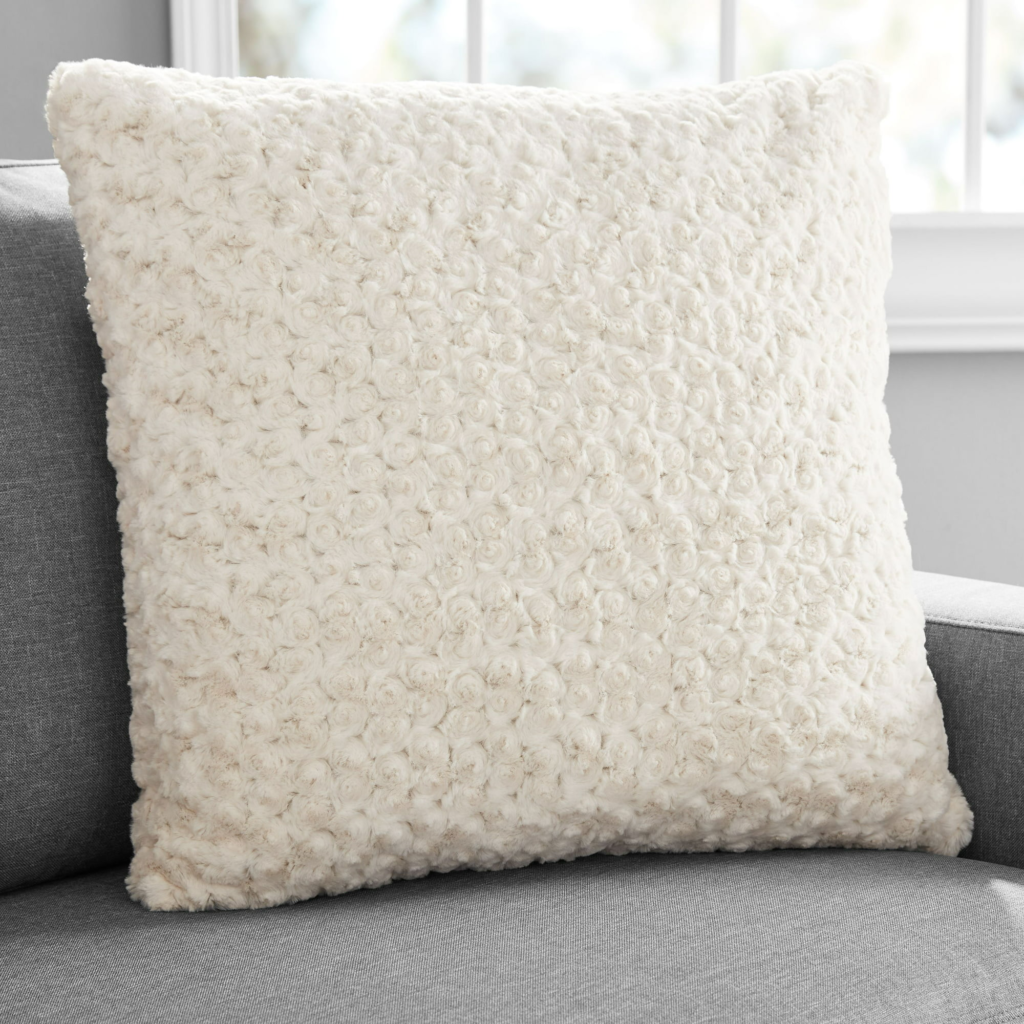 I can't tell you how much I LOVE these creamy 22″ plush rosette pillows from Walmart! I'm using them in my living room and bedroom, and just might grab a couple more! They're such a great price!!
5. Soft candlelight provides the perfect lighting for your fall bedroom retreat. Use candles in decorative holders to create a warm and romantic atmosphere. I love to use these flameless candles for a soft glow. They're remote controlled and can be set to a timer — perfect for cozy fall and winter nights.
6. Add a little fall foliage to a bedside table. Decorate with real or faux autumn leaves, pinecones, acorns, or berries. Dried flowers, such as hydrangeas, make a pretty addition to your room. You just need a touch in the bedroom. A little goes a long way.
7. A cozy rug under your bed adds color, warmth, and texture to your room. Your feet will thank you on cool mornings!
8. Drape chunky knit blankets or faux fur throws. Drape chunky knit blankets over the foot of your bed or over an armchair.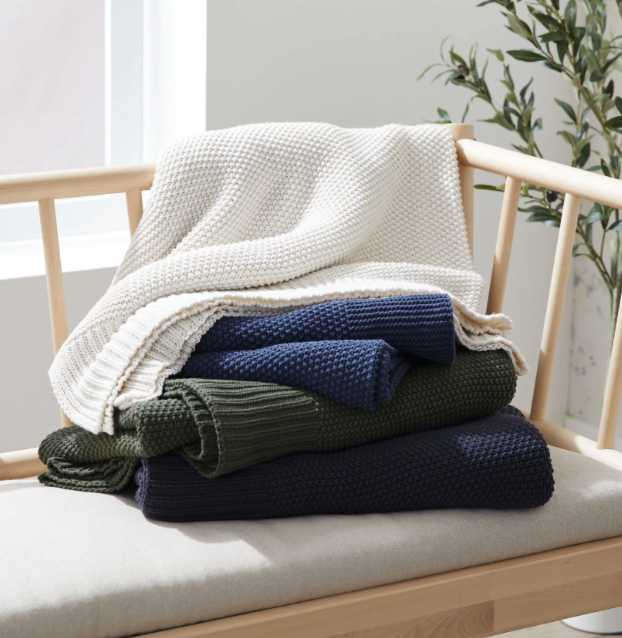 I just purchased this creamy lightweight knit throw blanket to use on our bed this fall!
9. Hang a wreath. Hang a fall-themed wreath on the bedroom door or above the bed. I love to add a simple wreath to the mirror above our headboard.
10. A small floral arrangement is a nice touch on a dresser. Arrange a centerpiece with fall flowers or a bowl of seasonal fruits.
11. Add a stack favorite old books and magazines. Cozy fall nights are perfect for crawling into bed with your favorite book!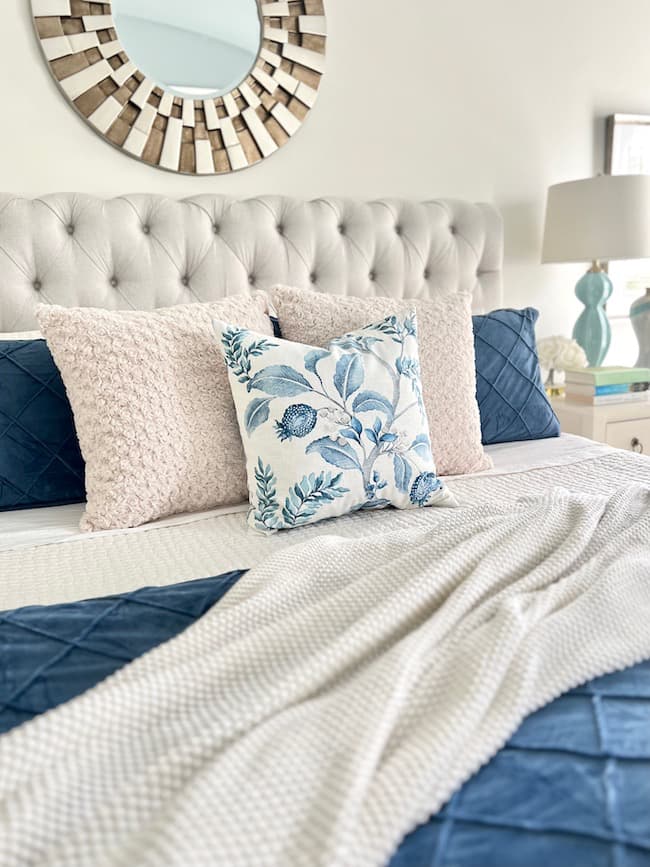 12. Velvet quilts and pillows create a luxurious feeling during the cooler months. A velvet duvet cover can be used for it's intended purpose, or draped and folded as a quilt at the foot of the bed.
13. Mix textures. There's no such thing as too much texture when creating a fall sanctuary. Mix different textures like silk, suede, linen, or knits for a layered look. A textured throw blanket creates a cozy look.
14. Incorporate nature-inspired wall art. Hang artwork or prints featuring natural landscapes or autumn scenes in moody colors.
15. Add personal touches to your room. The master bedroom is the perfect place to incorporate personal items like family photos or heirlooms to make the space uniquely yours and surround yourself with favorite memories.
I just ordered these large matted frames to create a collage of portraits from our family beach trip in our bedroom. They come in tons of sizes and colors, and are a great price for the size.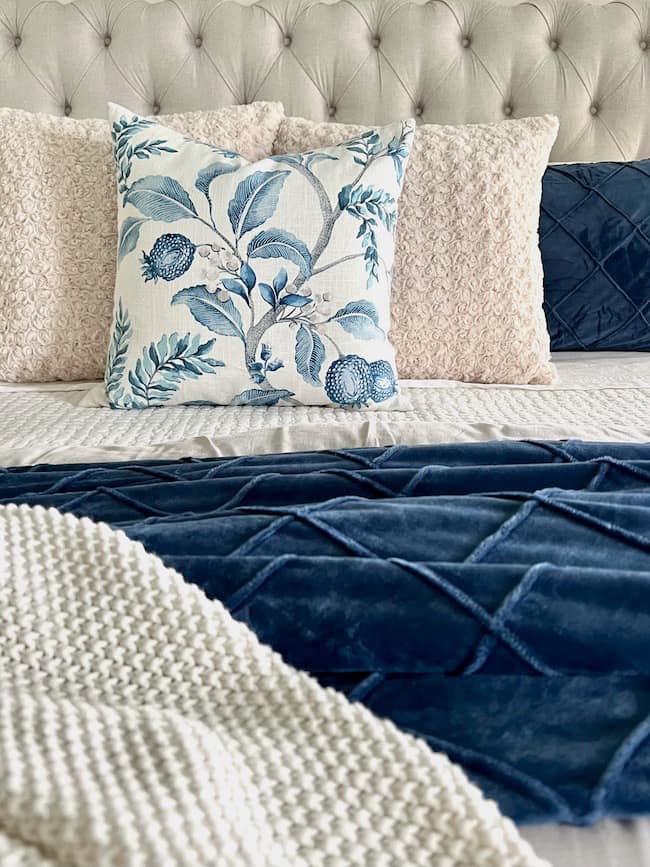 These cozy fall bedroom decor ideas are great for any bedroom in your home — your primary bedroom, kids rooms, and don't forget the guest room!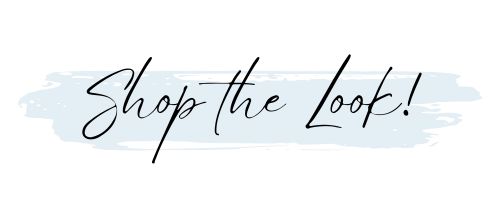 I hope this inspires you to add some simple changes and fall inspiration to your own bedroom to craft a warm and inviting retreat where you can escape the chill and embrace the comfort of autumn.
Wishing you a wonderful and cozy autumn season ahead!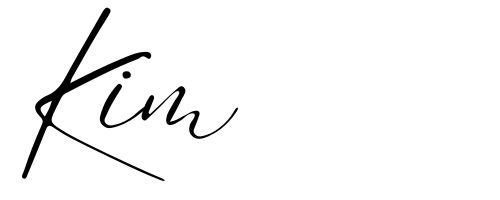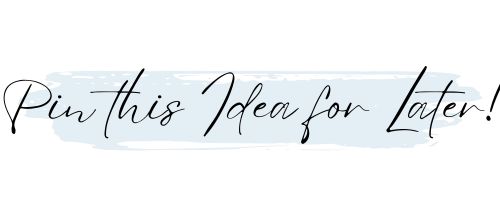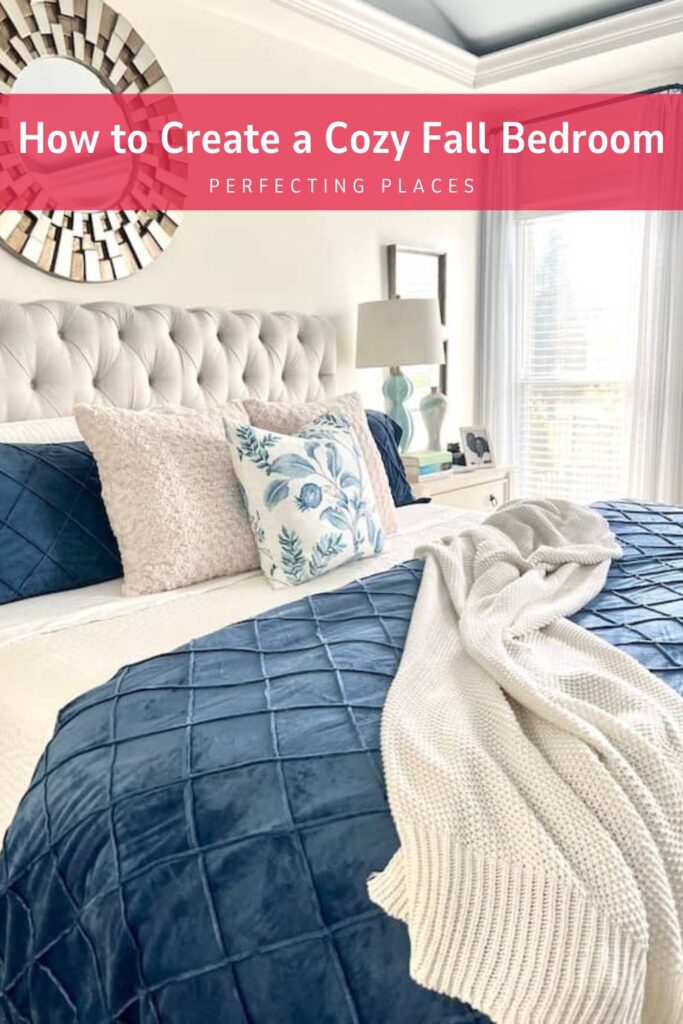 By the way, do you follow me on all the socials? If not, check out my Pinterest, Instagram, and Facebook and be sure to follow along so you don't miss out on any of my decorating and DIY ideas.