Layered Bedding Ideas (How to Create a Beautiful and Cozy Bed)
Do you want to create a beautiful bed for your bedroom? I'm sharing cozy layered bedding ideas for a cozy master bedroom.
These beautiful bedding ideas will make your master bedroom a perfect place for a good night's sleep!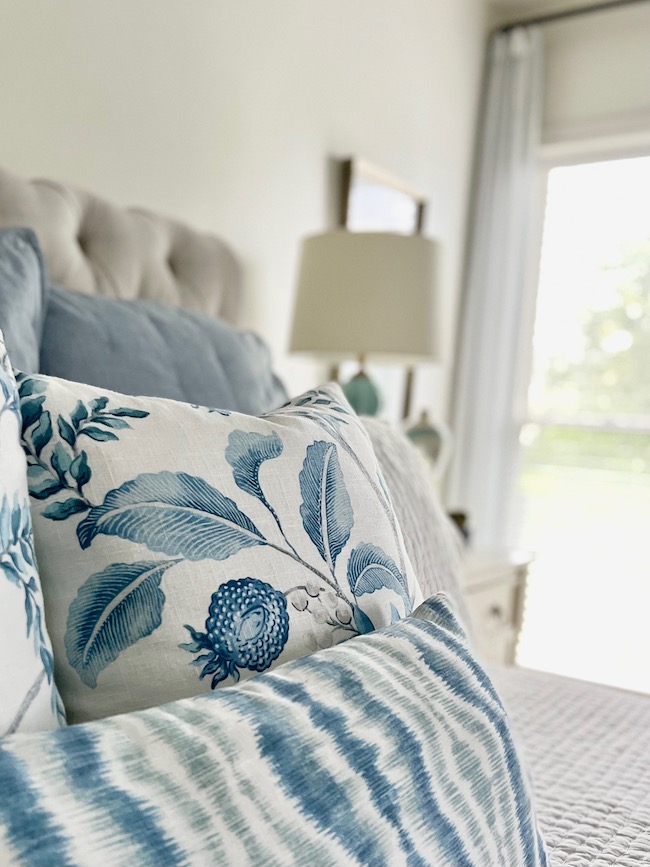 (This post contains affiliate links, so I may earn a small commission when you make a purchase through links on my site at no additional cost to you. As an Amazon Associate I earn from qualifying purchases.)
We just had the best weekend away – full of wonderful family time with our adult children.
We ate together (all 7 of us)!
We laughed! We explored!
And we played games!
It was just what the doctor ordered for this mama who doesn't get to have all of her chicks gathered together under one roof as often as she would like!!
One thing about traveling though, is no matter how wonderful the trip and the memories, it always feels so good to return home and sleep in our own bed!
Everyone needs a beautiful sanctuary in their home to retreat, to relax, and to recharge for the next day!
For me, the perfect retreat isn't just about feeling good – it has to look good too! It has to be the perfect combination of cozy and pretty!.
Our master bedroom is just that for me, and today I'm sharing the best bedding ideas for how I create a comfortable bed in our room that's both beautiful and comfortable!
Our Blue and White Bedroom Color Scheme:
For me, no matter what room I decorate, it always starts with color!
What's the mood and feeling I want to create?
I love a coastal Carolina Low Country look, and our primary bedroom color scheme was inspired by this home designed by Heather Chadduck in Amelia Beach, Florida. It was actually the 2019 Southern Living Idea House, and I love the colors Heather chose and the relaxed yet elegant Southern coastal style throughout the home.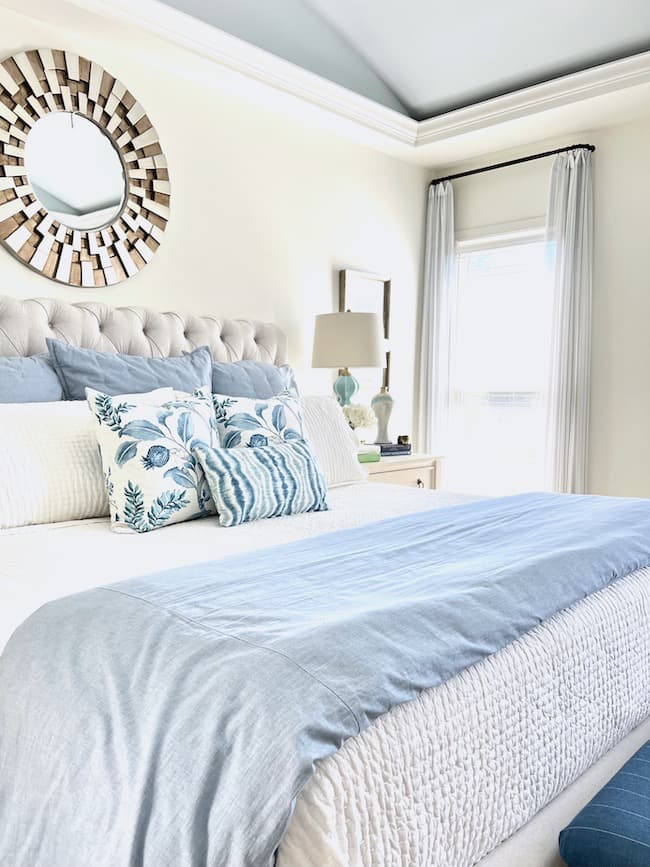 We live far from any coastal area, but I decided to create this feeling in our bedroom with a subtle blue and white color scheme.
Our walls are painted Sherwin-Williams Alabaster (SW 7008) and our barrel ceiling is painted Sherwin-Williams Lullaby (SW 9136).
See the other areas in our home where we use SW Alabaster.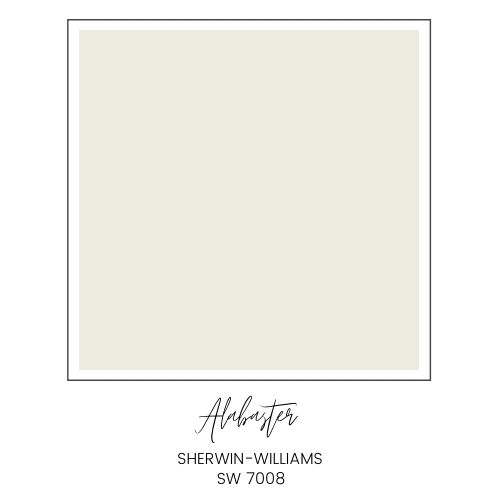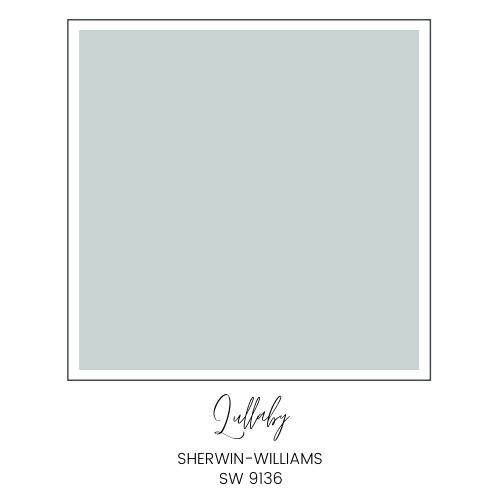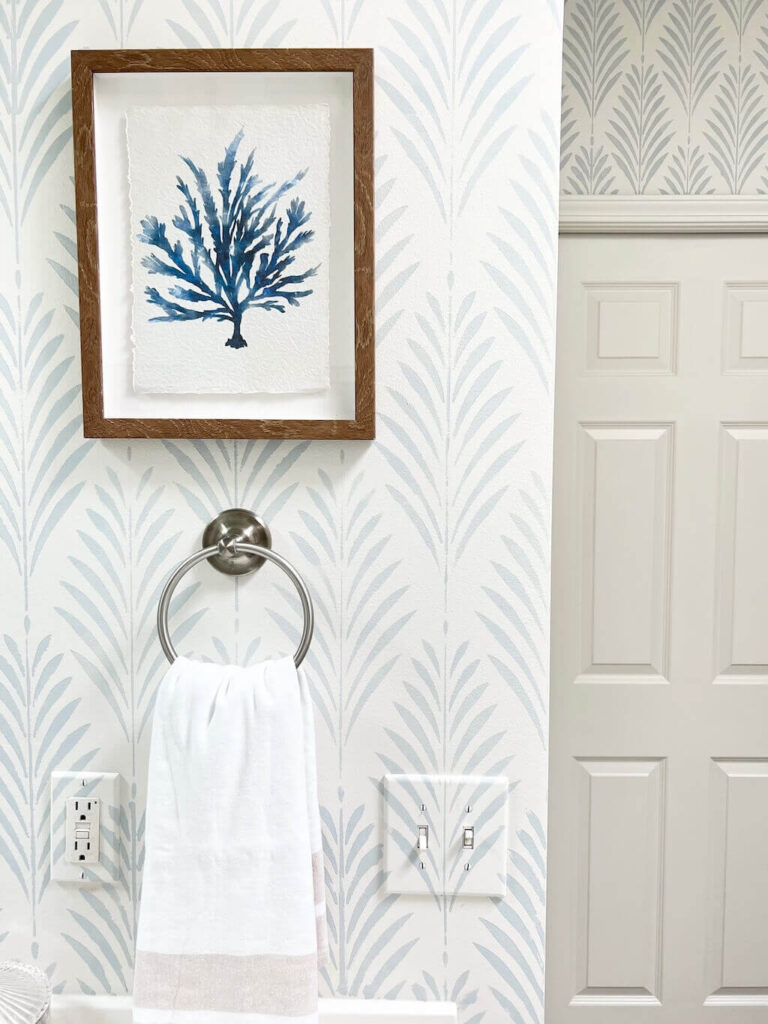 You might recall I used these two colors to create the master bathroom wall stencil in the 2022 Spring One Room Challenge. It's a soft, subtle color palette with a nod to coastal life.
Everything just feels more relaxed along the coast, so these colors remind me of one of  my favorite places to be – the beach!
You might also enjoy this post about creating a coastal feel in your home without feeling too "beach-themed".
Not only am I using these colors on our bedroom walls, but I also love the look of white bedding with blue accents for a pretty coastal look.
How do you make a beautiful layered bed?
Now that we've established a restful bedding color scheme, let's talk about how I layer the bedding on our king bed to create a comfortable and cozy bed!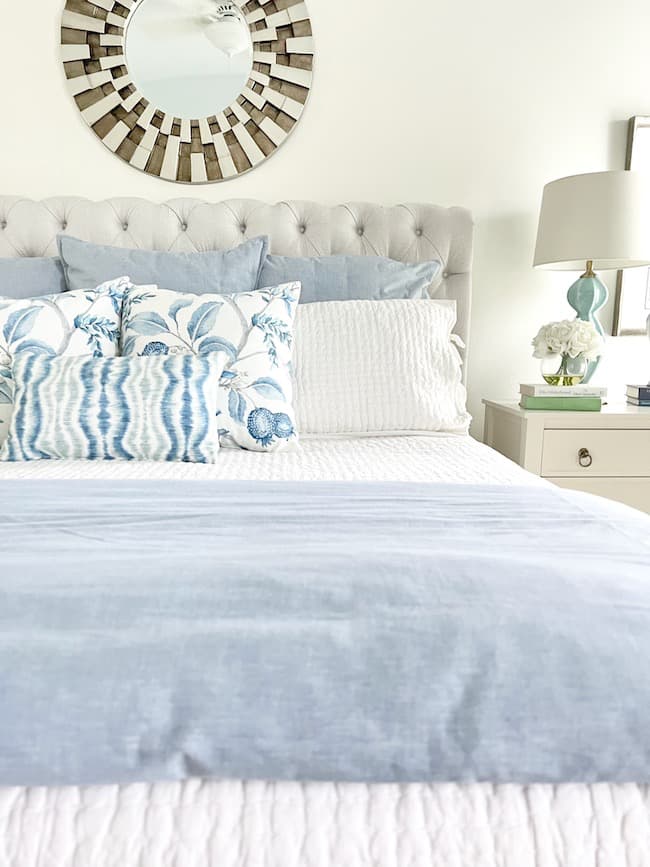 1. I start with comfortable bed sheets and pillow cases for your bed.
You can certainly find a wide price range of sheets available, but I usually purchase our bedroom sheets from Target.
I prefer cotton sheets for comfort and cooling and this 400 Thread Count Solid Performance Sheet Set from Target is just perfect for us!
They're soft and generous so they fit deep mattresses perfectly. I love white sheets for a crisp luxury hotel-look, but these sheets also come in pretty patterns.
And, while we're on the subject of sheets. I know it's a controversial topic, but I always, always, always use a fitted and a flat sheet. It's so much easier to change a set of sheets weekly than to remove and replace a duvet cover each week! And yes, if you choose to go sans flat sheet, you need to wash your duvet cover or comforter or blanket everytime you wash your fitted sheet.
That's the beauty and purpose of the flat sheet. You sleep in between the two sheets, protecting your blankets and duvets and keeping them from having to be washed so often.
If you securely tuck your flat sheet into the bottom of your bed, and make your nice neat hospital corners they'll stay nicely tucked!
These solid performance sheets from Target are nice and long enough to tuck in at the bottom of the bed and fold down over the quilt at the head of the bed.
Now, I'll climb down off my soap box.
2. I like to add a nice light blanket over the flat sheet – nothing too heavy.
I nice light cotton blanket is just right for us and adds the right amount of weight.
Layering the bed linens allows you to adjust your comfort level when you sleep. Sometimes I'm a little cold when I go to bed, and wake up on the hot side! Then I'll cool down and want a little more cover.
Layering your bedding really does give more options for the ideal sleep temperature for you.
3. Use a quilt.
My husband and I both like the weight of a quilt when we sleep. The combination of the light blanket and quilt are usually perfect for us year round.
It's all about the weight of the quilt for me, and Pottery Barn quilts are always the perfect weight! We have this white Pottery Barn pick-stitch quilt on our bed and I absolutely love it!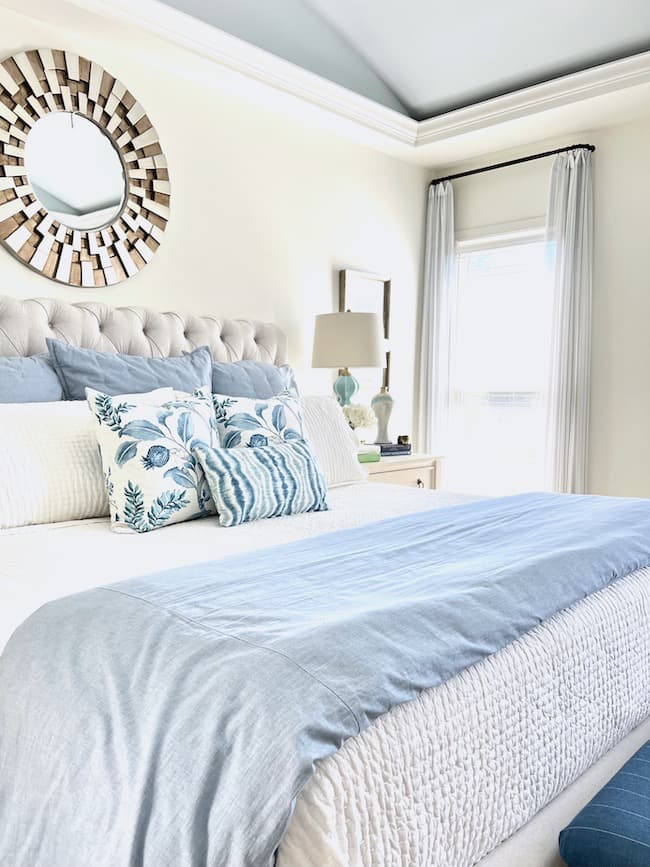 Not only does it add the perfect weight to sleep under, but the pick-stitch design is perfect for the Low Country Coastal look in our room – it's relaxed yet charming.
If you prefer a comforter or duvet, you could certainly use that instead of the quilt. We just love sleeping under the quilt.
4. Find the perfect bed pillows for you.
I have to confess that we've needed new pillows for a while, and I just ordered new ones this week!
I've ordered these Beckham pillows and will report later how well I like them. They get good reviews on Amazon, so I decided to test them out.
Opinions about pillows are so subjective, and your personal preference depends on the way you sleep. I'm a side sleeper, so I like a pillow that is nice and full and will support my head and neck well.
I have high hopes that I will like our new pillows, but will let you know once I've tried them!
5. Fold a duvet or comforter at the foot of your bed.
As I mentioned already, layering your bed linens affords you greater options when you're sleeping. While we prefer sleeping with our quilt, we keep a folded duvet at the end of the bed for nights that get a little cooler.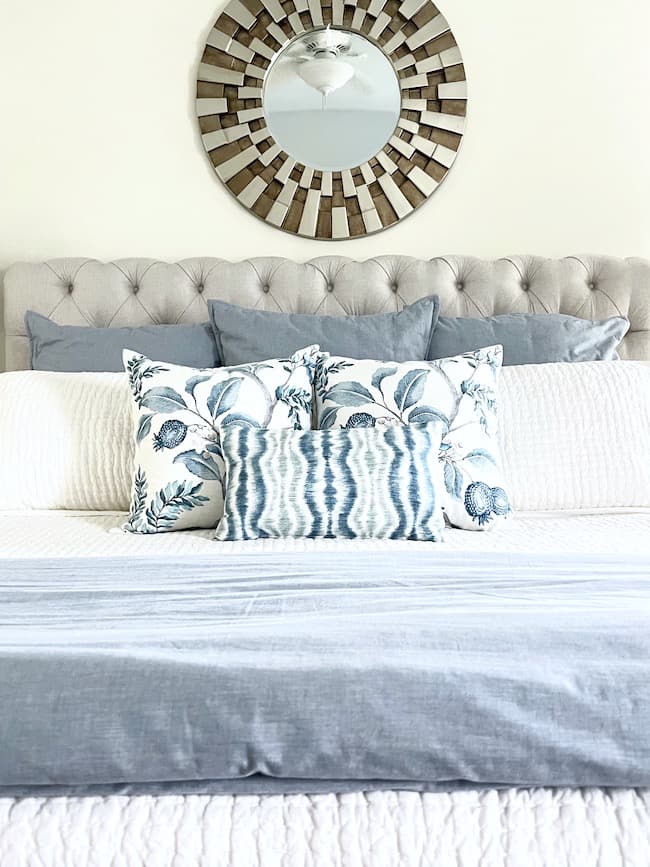 Our duvet cover is this Graydon Melange Cotton Duvet Cover in a chambray blue color. It's a subtle blue that pairs nicely with the Sherwin-Williams Lullaby (SW 9136) on our bedroom ceiling.
You could also opt for a printed comforter or duvet cover for a touch of color or pattern on your bed.
These are gorgeous duvet options for a layered look!
6. Add Euro Shams.
I love a pretty pillow scape on your bed! We use three Graydon Melange Cotton Euro shams on our bed. They are a nice contrast with our upholstered headboard and provide a nice backdrop of subtle blue color for the white quilted shams and accent pillows.

7. Decorative pillows are a beautiful way to add color and pattern.
I made our decorative throw pillows in these pretty blue and white fabrics. A couple of 20" throw pillows and a small lumbar pillow are perfect for the bed.
There are plenty of options for lovely blue and white throw pillow options. (Click on pictures for links.)
8. Toss a cozy throw blanket across the foot of the bed.
As the temperature cools down and we head into fall and winter months I like to add a little extra cozy texture to the bed.
A knit blanket, a velvety quilt, or a soft fur throw are options to add cozy texture to your bed during the cooler months. It's a nice cozy look, and another option for layering on comfort during those cold nights.
---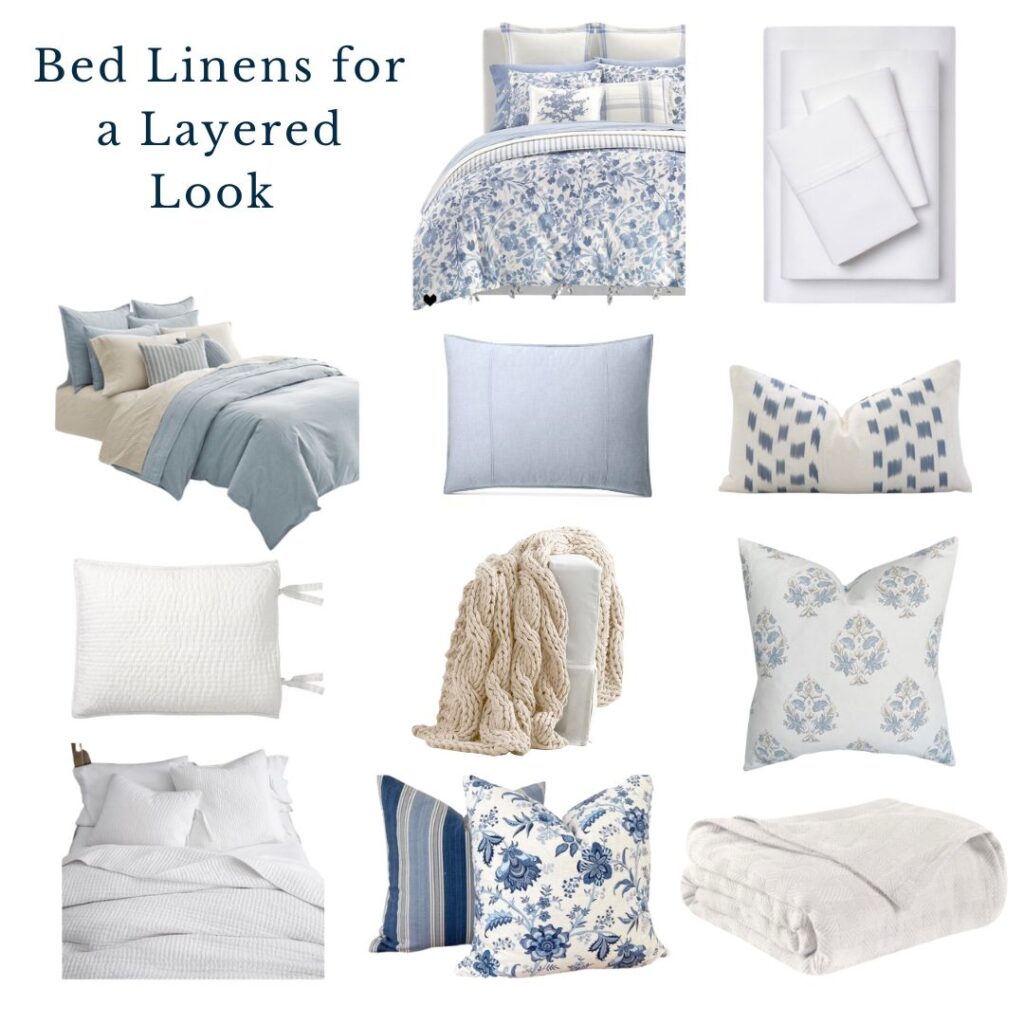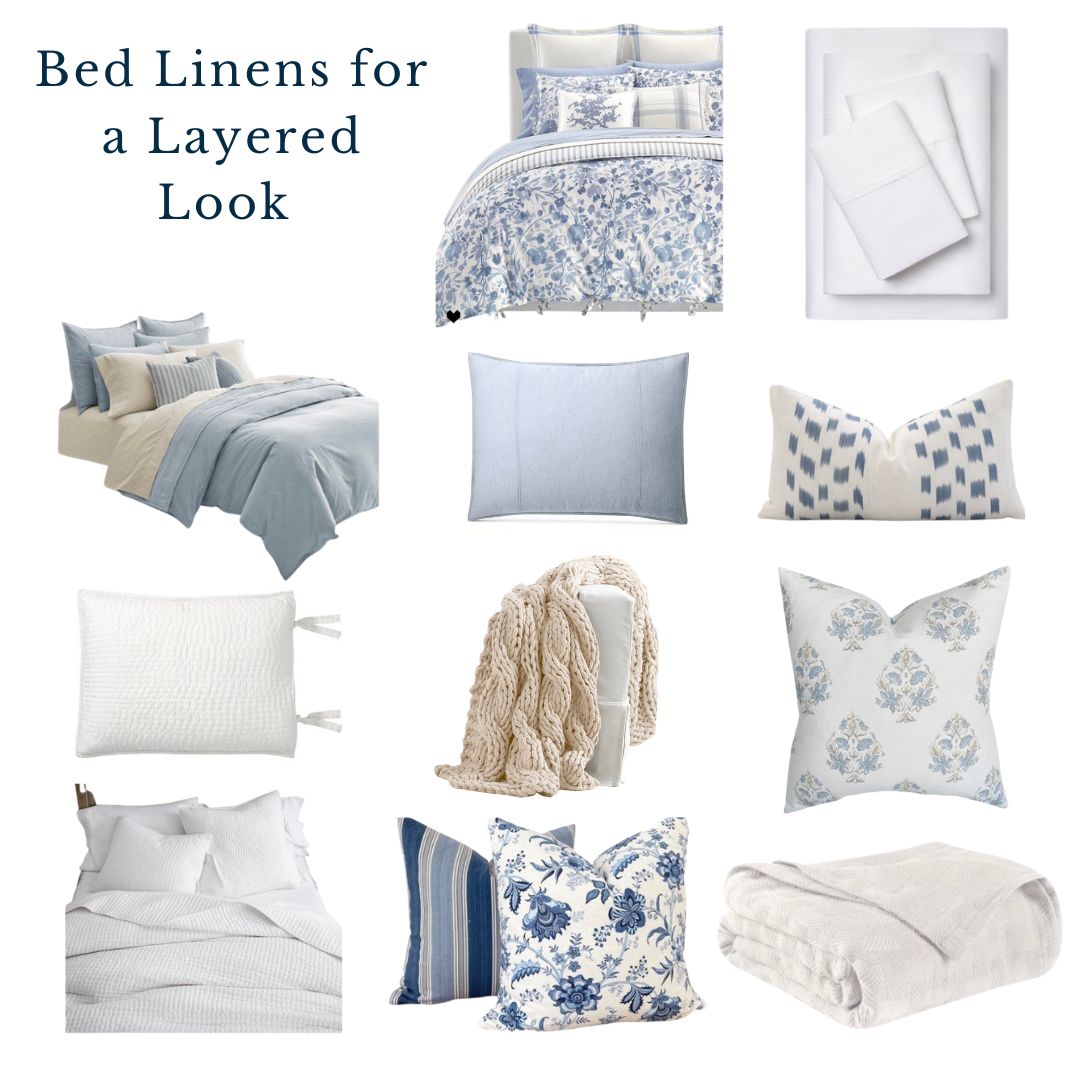 ---
So, if you're looking for some new bedding and want a cozy, layered blue and white Carolina coastal look for your bedroom, I hope these layered bedding ideas help get you started!
Whether you're going for a blue and white color scheme or not, the same principles apply for creating a cozy and comfortable bedroom for a good night's sleep!!
Be sure to Pin this Post for Later!!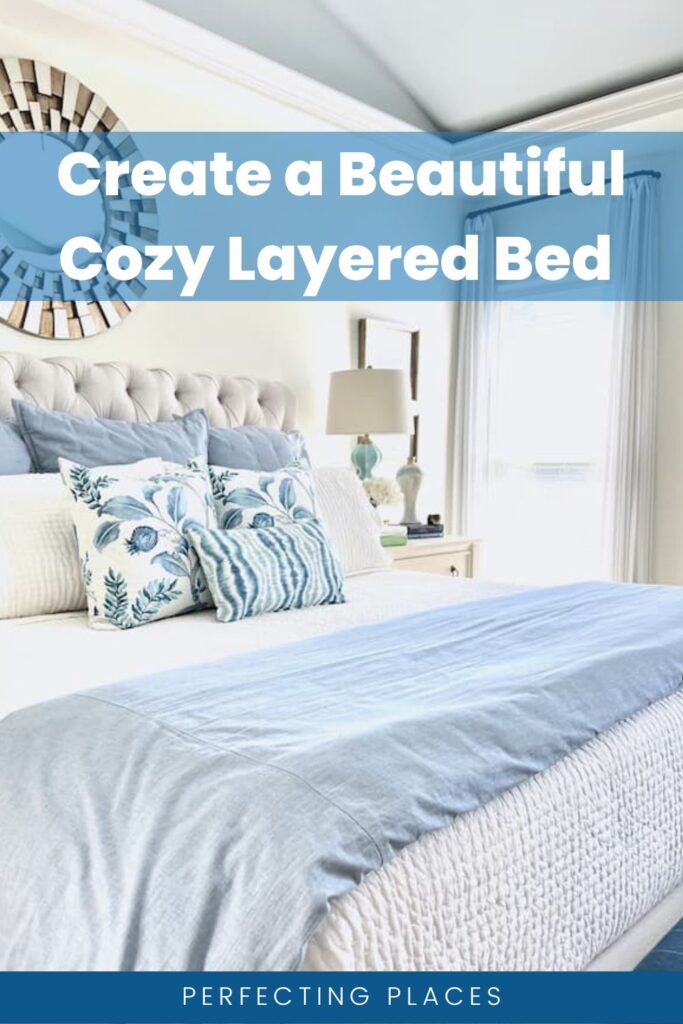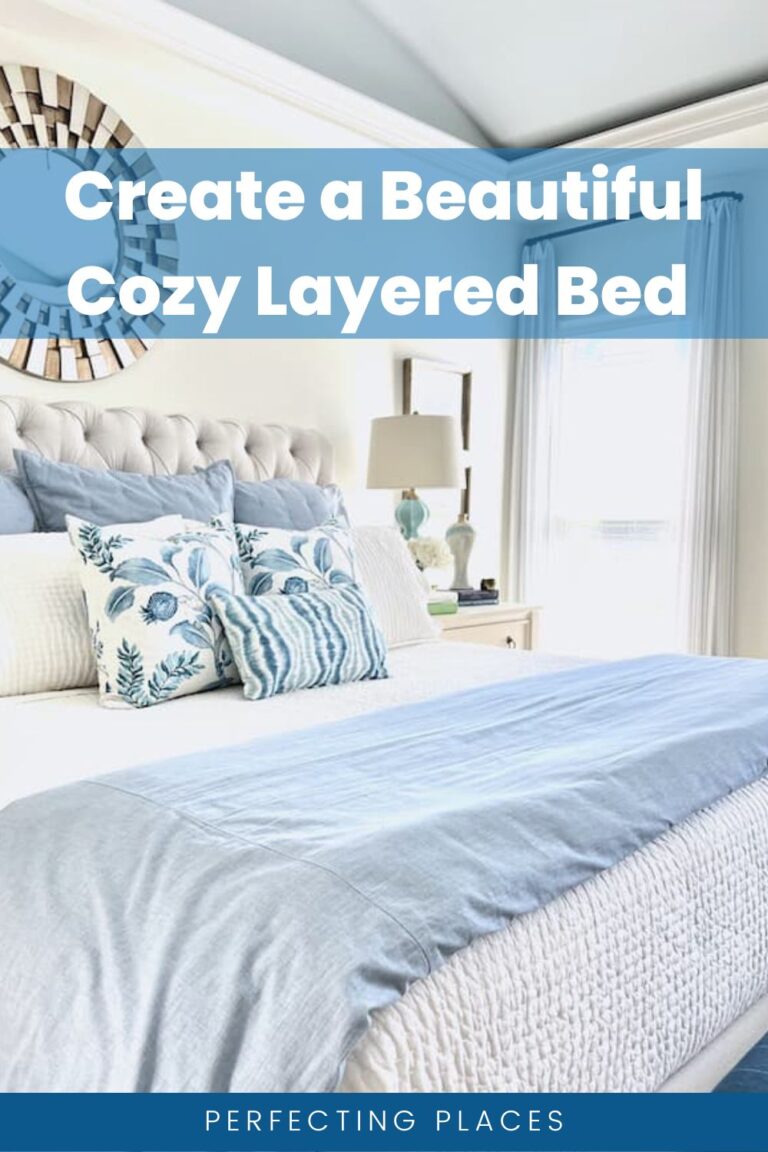 By the way, do you follow me on all the socials?? If not, check out my Pinterest, Instagram, and Facebook and be sure to follow me on all the socials so you don't miss out on any of my decorating and DIY ideas!!