My Favorite Kitchen Countertop Decor Ideas
Today I'm sharing some of my favorite kitchen countertop decor ideas!  I'm still in kitchen mode around our house this week. It all started with putting away all of the Christmas decor. Then came the big pantry clean out. I still need to work on organizing our kitchen cabinets and drawers, but today I'm focusing on the fun stuff — decorating our kitchen countertops!
(This post contains affiliate links, so I may earn a small commission when you make a purchase through links on my site at no additional cost to you. As an Amazon Associate I earn from qualifying purchases.)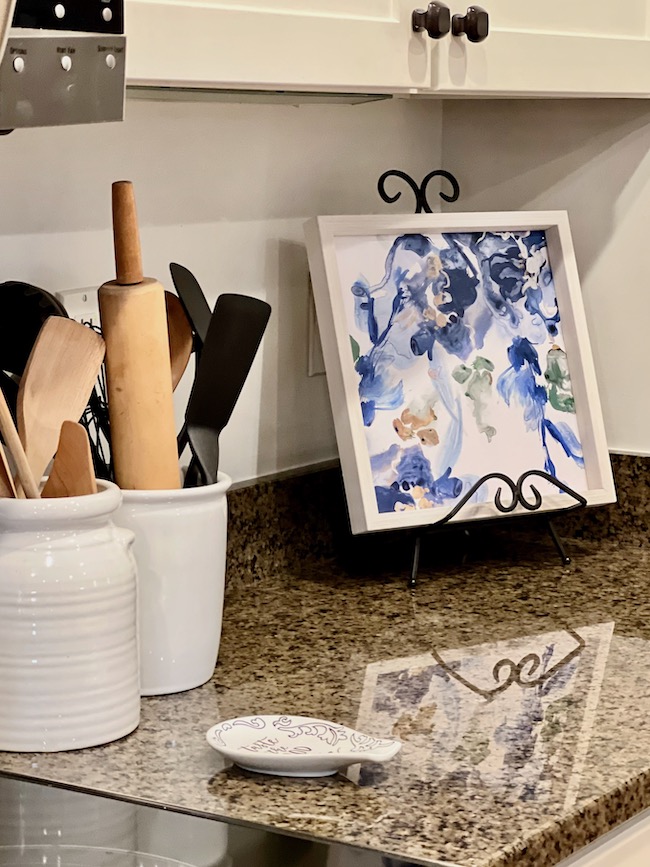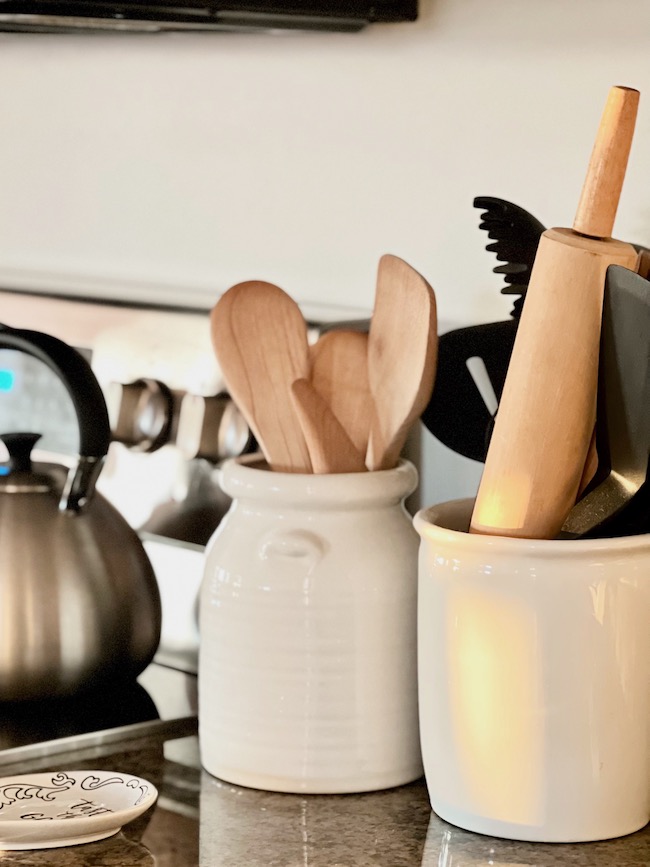 A pretty, uncluttered kitchen is just more fun to work in, but some of us can have a tendency to keep a few too many things out on our countertops. Do you struggle with knowing what to keep out, and what to store? What to decorate? What areas to keep clear for food prep? You are definitely not alone!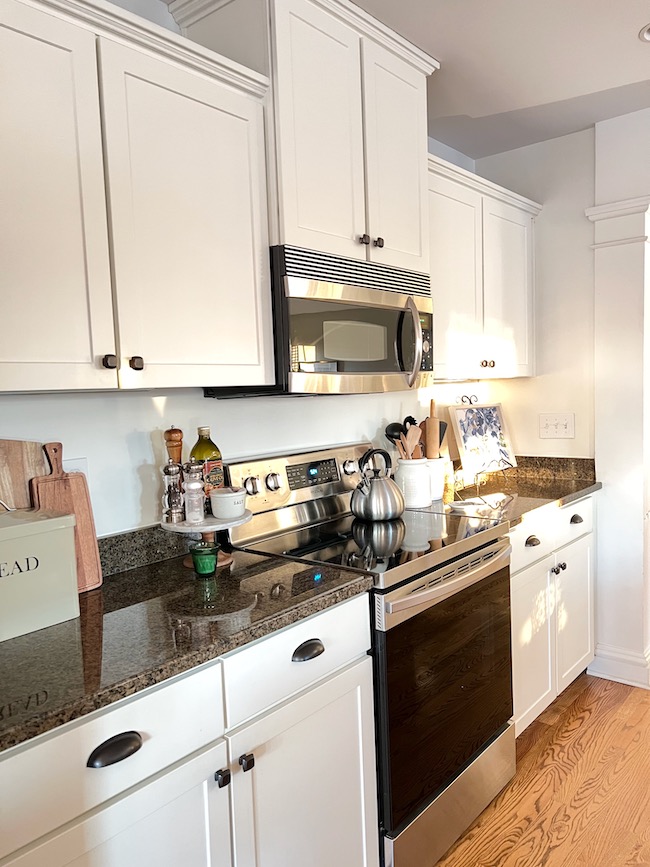 Most people tend to keep too much out on their countertops. Cleared countertops make cooking and food prep so much more enjoyable. I hate to cook in a cluttered kitchen, so you can be sure that these kitchen countertop decor ideas keep making space for food prep a top priority.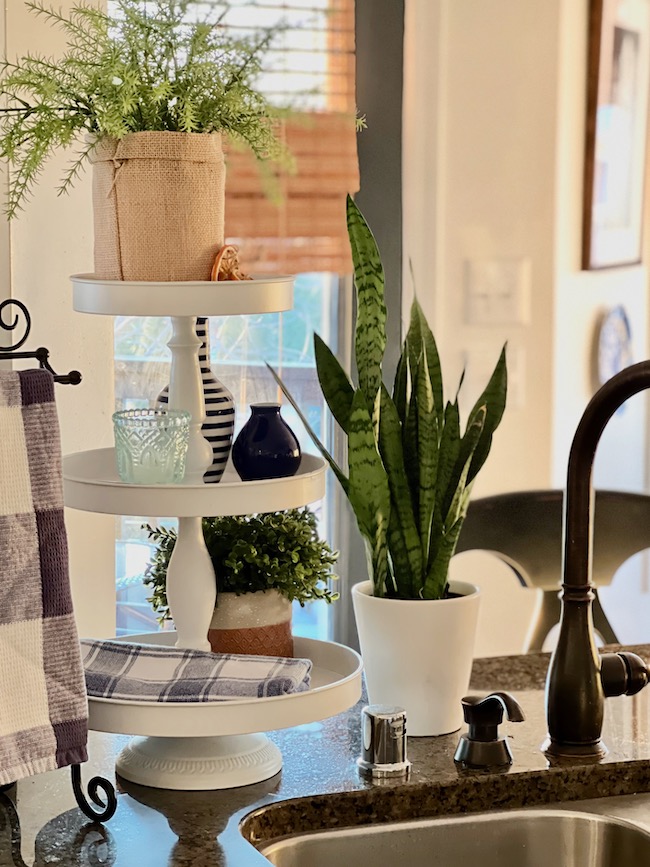 So, here are some of my best kitchen countertop decor ideas.
1. Store your small appliances.
This should come as no surprise to you since I just mentioned it above. Store those less-than-attractive small appliances. Create space in your cabinets, pantry, or drawers to keep them nearby but tucked away.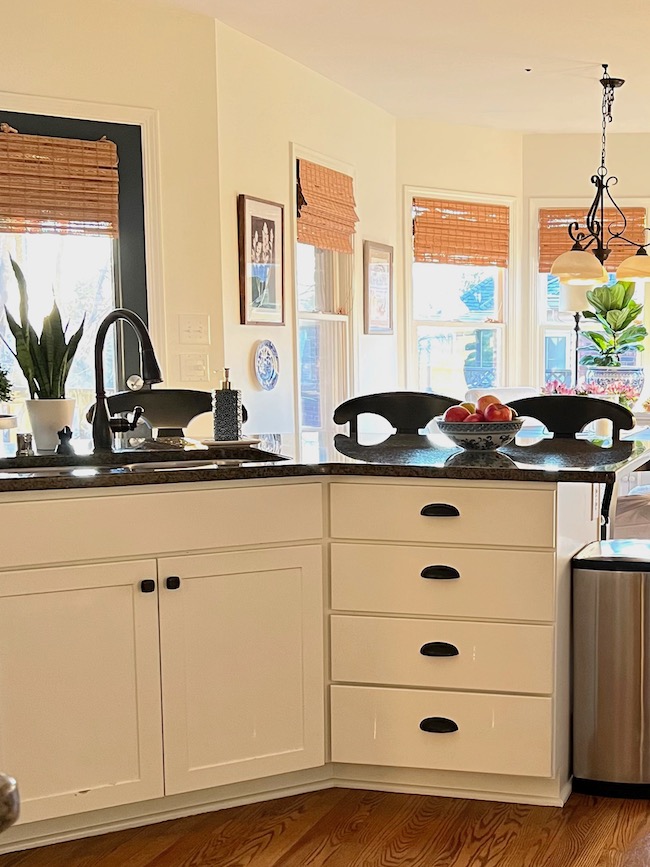 Not only does it look more appealing, but it also cuts down on countertop clutter, which in turn makes food prep so much more enjoyable.
This appliance storage cabinet is really fancy.
And so is this carousel for storing small appliances.
But, I don't have fancy built-in cabinet accessories or cabinets for storing my appliances, so I just keep my most-used appliances in a cabinet or drawer below the space where I use them. The bigger items like crockpots I store in the pantry. Our coffee pot stays out since both my husband and I work at home, and we use it throughout the day. Our toaster is currently out, but my plan is to either re-train my family to put it away in a cabinet, or get a really cute one like this one . 
2. Decide what countertop areas need a little sprucing up.
What areas do you want to highlight? I have an area in my kitchen that is always a struggle for me! It's the corner countertop on the open side of our kitchen. It's a large space with no upper cabinets above it, or wall either, for that matter. It calls for something large and attention-grabbing.
I just found this beautiful turned wood vase at a consignment shop this week, and I was so excited! It's the perfect texture and color and I love how it adds such warmth to this little corner of our kitchen.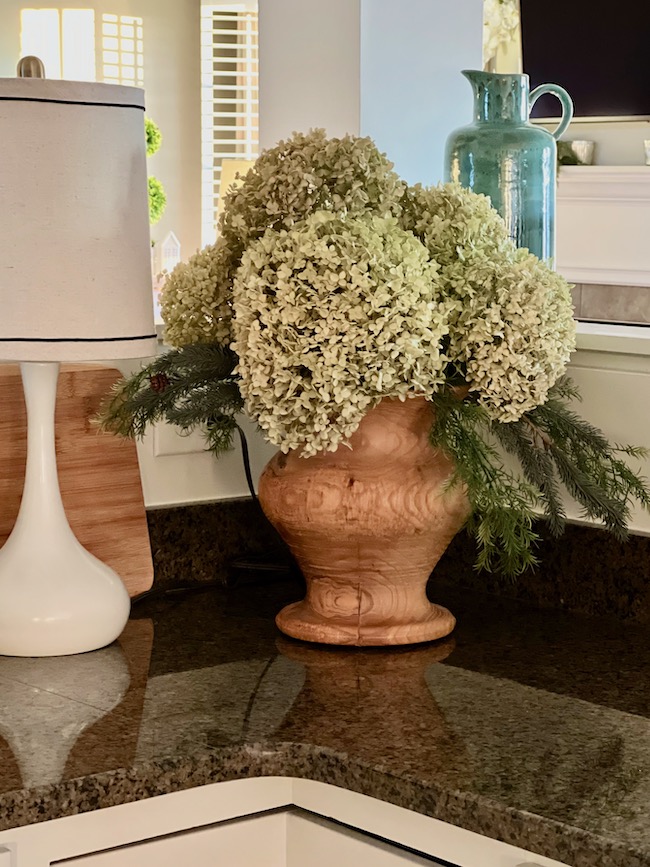 3. Use staple decor pieces that you can easily update with the seasons, or for anytime you need a change.
Pretty bowls, trays, baskets, and vases are perfect pieces to use to decorate your countertops. You can easily change out flowers and greenery and other seasonal items to update your look. I'm using our dried hydrangeas from our garden last summer in my new wood vase.
You can read about some of my favorite staple decor pieces for changing out season-to-season here.
4. Add a pretty lamp to your countertops.
Light up a dark corner of your kitchen with a small table lamp. It's an unexpected source of lighting in your kitchen. It can act as task lighting if you don't have under cabinet lights, and can also provide a soft source of light when you don't want to use the bright overhead lights of your kitchen.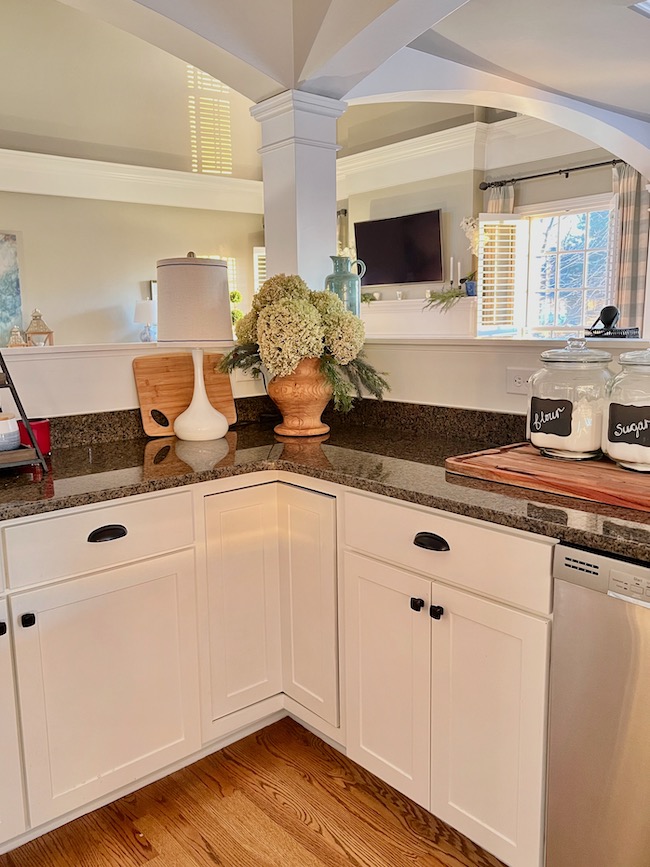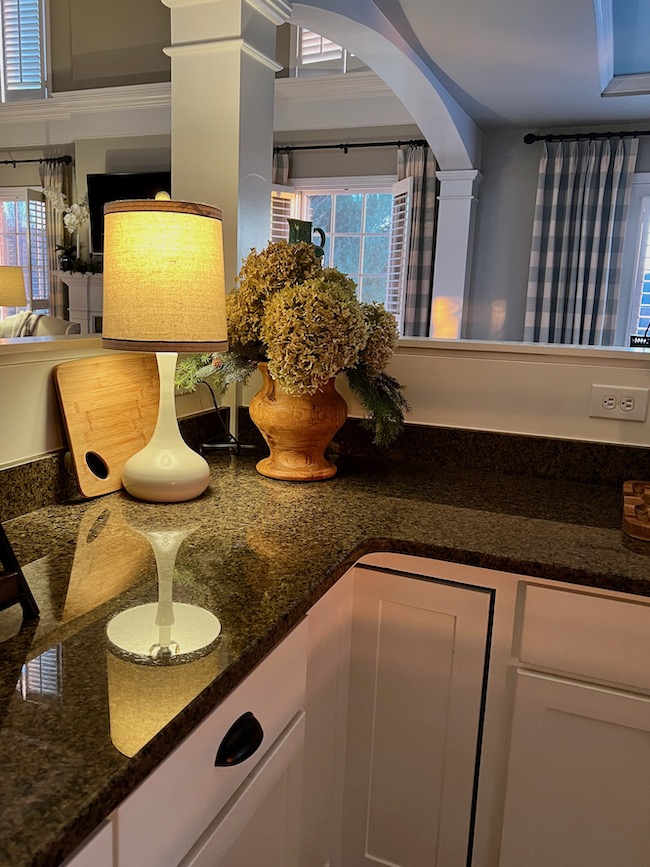 Our corner lamp is on most of the time in our home — day and night.
5. Add fresh flowers or greenery.
You can never go wrong with fresh flowers in your kitchen. A pretty vase beside the sink or in a corner can really brighten the room. I'm using our dried hydrangeas from last summer to add a natural touch to our countertops. As spring arrives, I'll switch these out for some fresh options.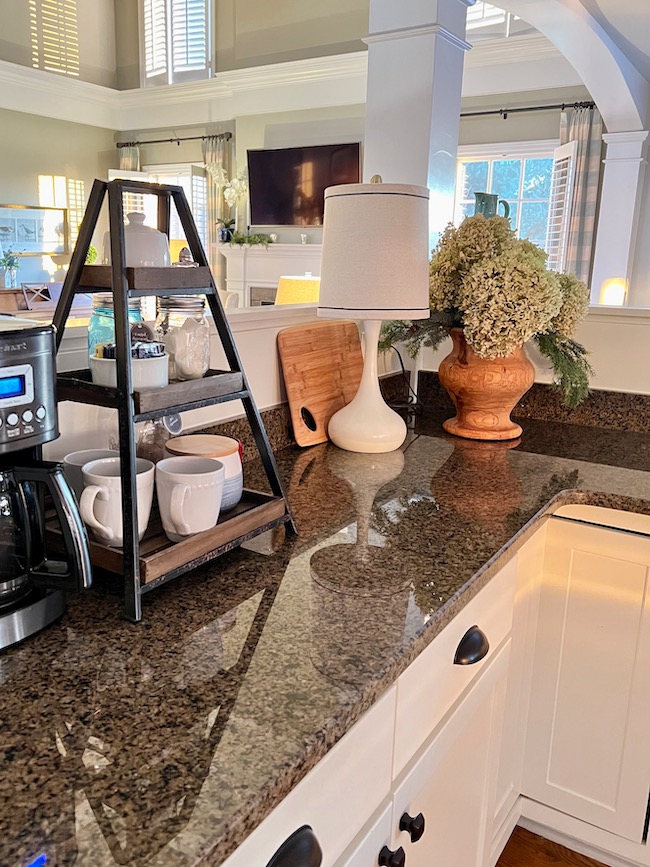 6. Corral decorative accessories or kitchen items in pretty trays or baskets.
This cuts down on countertop clutter. Try to use fewer larger decorative items on your countertops, but if you have smaller items that need to stay out, grouping them in trays and baskets minimizes the visual clutter.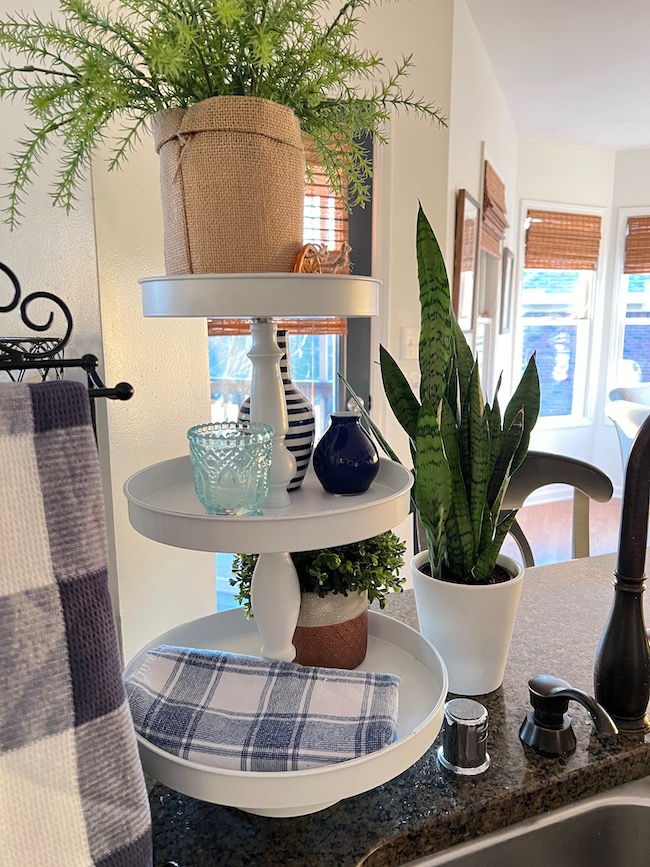 I placed a three-tiered tray next to our sink to hold small plants, pretty dish towels, soups, or other items.
Whether you use real or real-looking faux plants, they look adorable on a tiered tray next to the sink.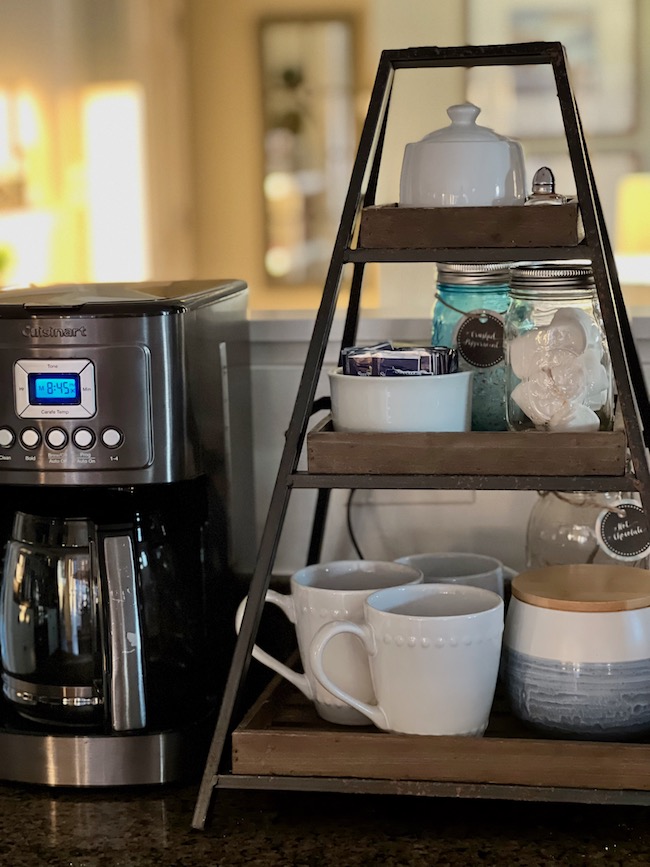 I also keep a tiered tray full of mugs, coffee, and and sweetener next to the coffee maker to serve as a coffee bar. It's a decorative piece that also adds a lot of functionality to that area of the kitchen.
7. Display seasonings, pepper mills and oils on a pedestal standing.
I keep our salt box, salt and pepper mills and olive oil next to our stove for easy access. The pedestal adds a decorative touch while keeping these items grouped together, therefore cutting down on clutter.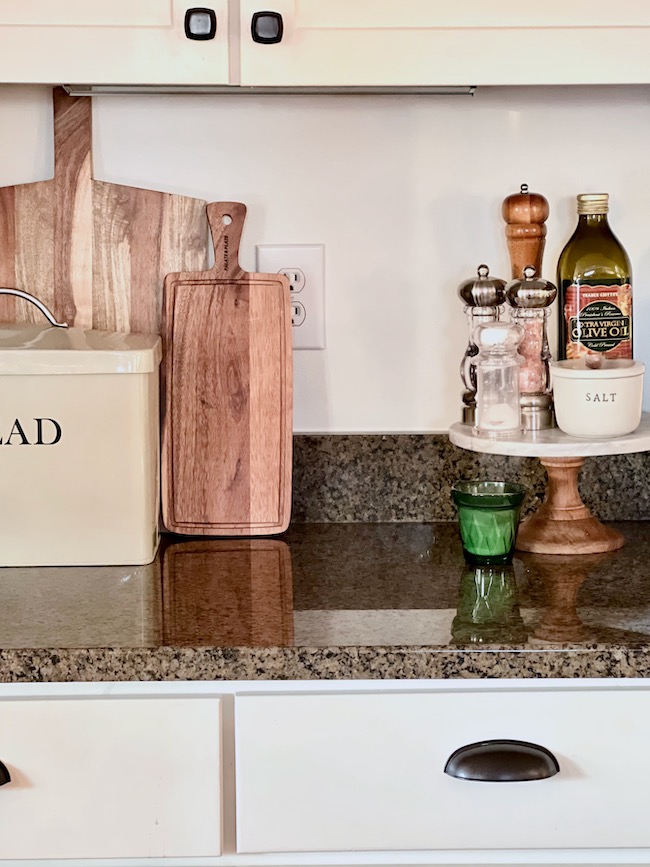 8. Keep pretty cutting boards out on your countertops to add warmth and strategically place to hide ugly electrical outlets.
Is it just me, or do all builders/electricians put plugs in the most unsightly places — like right in the center of the backsplash! You can find a wide variety of wooden cutting boards in various shapes and wood tones. The wood tones really warm up your kitchen and add texture and layers to your countertops.
Ours are currently housed with our bread box.
9. Keep fresh fruit out on your countertops in a pretty bowl.
Don't forget that fresh fruit can be just as pretty as fresh flowers. Green and red apples, bright oranges, lemon, or limes all add pretty color and natural elements to your kitchen.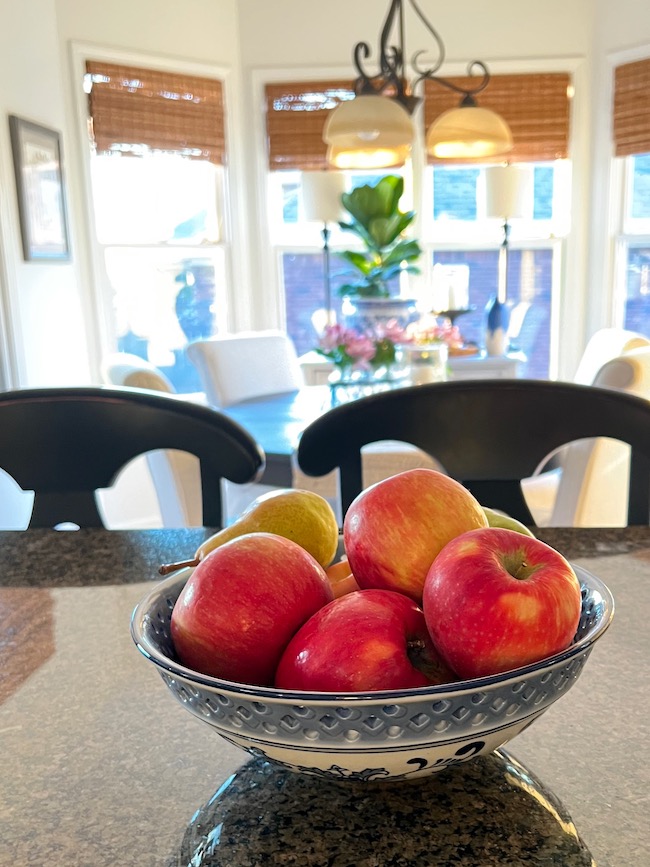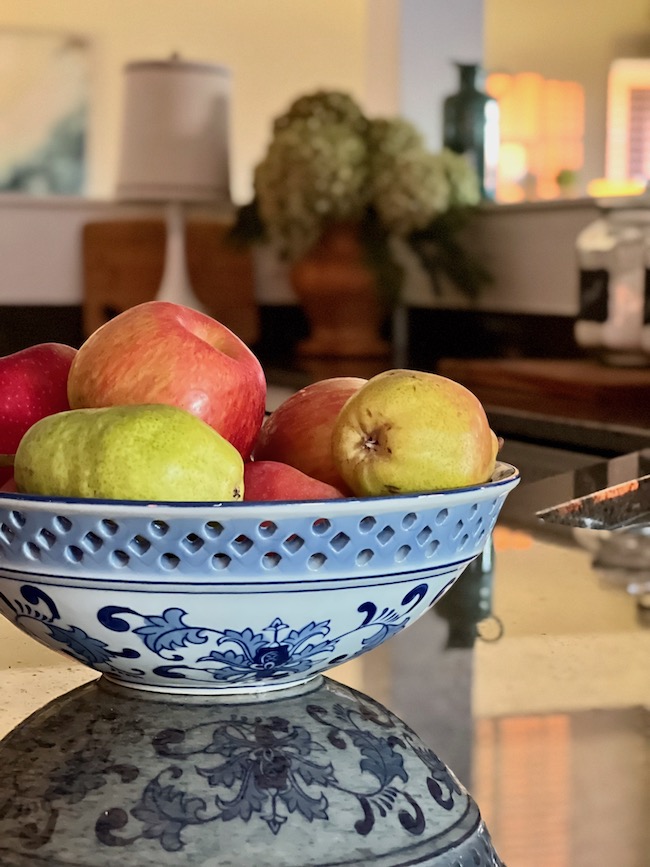 These are just a few kitchen countertop decor ideas that you can implement in your kitchen.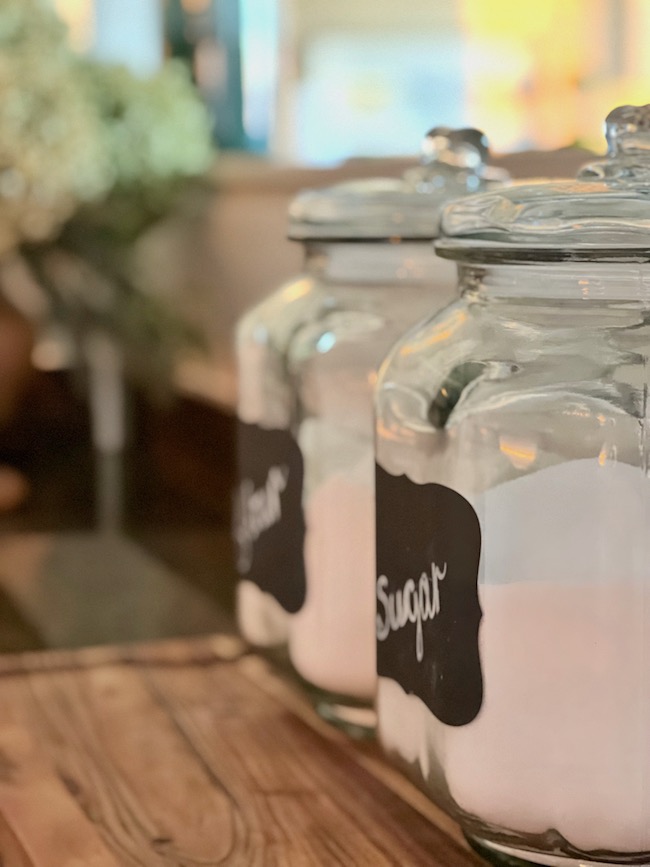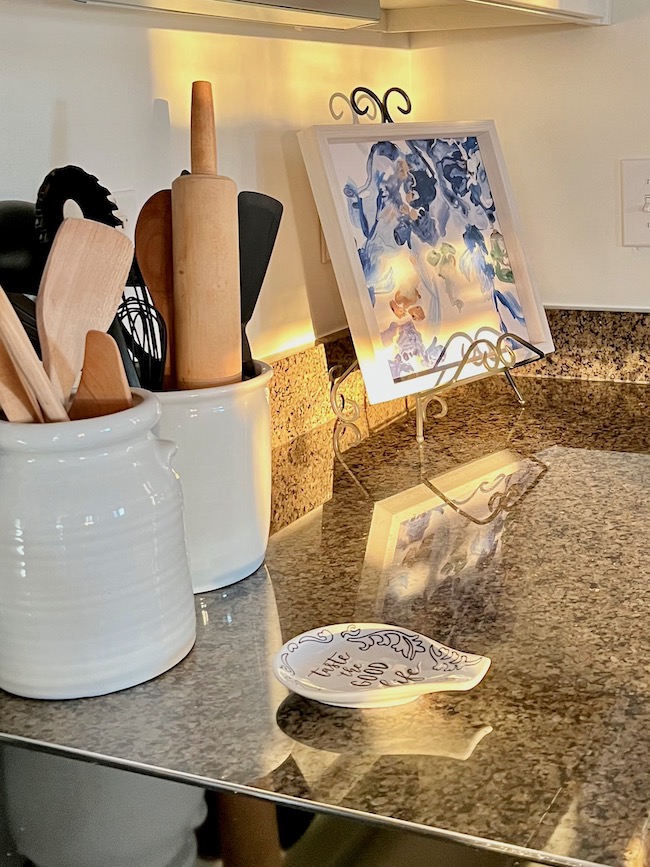 The main thing is to use items that are both beautiful and serve a practical function. Keep the items to a minimum so you have plenty of counter space to prepare all of the wonderful recipes you'll be whipping up!
Happy Decorating!
If you enjoyed this post, you might also enjoy:
20 Tips for Organizing Your Pantry
My Kitchen Paint Color Combination – SW Alabaster and BM Hale Navy