Timeless Modern Classic Living Room Style Ideas
Does your interior design style combine classic with contemporary? Get my best tips for creating a timeless modern classic living room your family will love.
A classic living room can still feel fresh and inviting! Create an elegant living space in your home that's warm and inviting and full of classic style that will stand the test of time.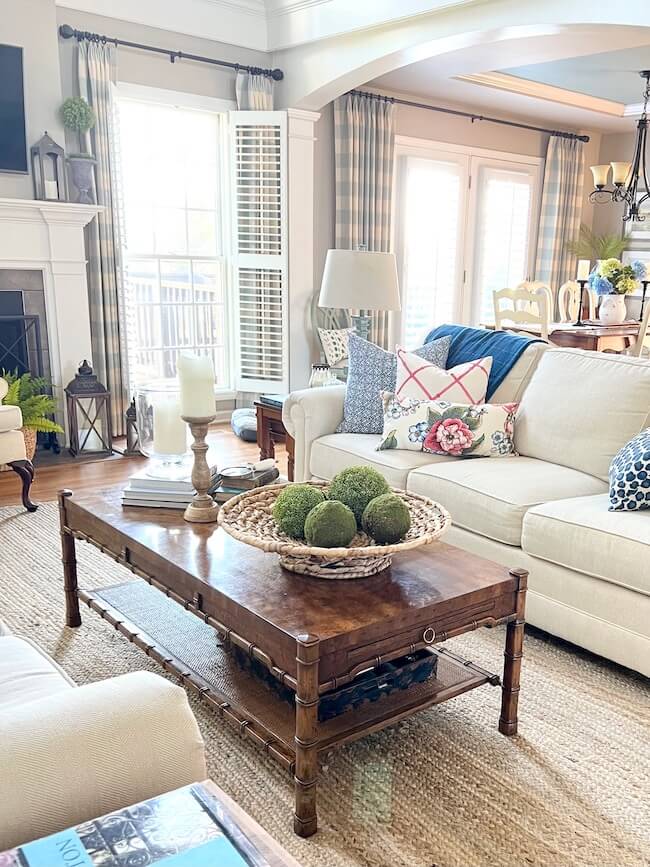 (This post contains affiliate links, so I may earn a small commission when you make a purchase through links on my site at no additional cost to you. As an Amazon Associate I earn from qualifying purchases.)
I'm a classic kind of gal. I love for our home to feel fresh and new, yet timeless and inviting. My heart also leans toward a touch of southern Low Country coastal, even though I live nowhere near the beach — maybe it's because I was born in Charleston, and it comes from somewhere deep within.
I love blues and greens, and warm neutrals because they remind me of sand and sea, the expanse of sky and lush green vegetation. As I type this, I'm looking out my office window at a gorgeous blue sky above a rich green lawn. It feels fresh and life-giving, and those are the colors I'm most drawn to.
After our kitchen, our living room is the next most-used space in our home. I love creating a cozy and inviting space, and I love for it to feel fresh and updated, without pushing toward trendy. To be honest, there really isn't much danger of that for me because I tend to lean much more toward classic and timeless design rather than a more modern design style. However, I do like for our home to feel fresh and current.
So today, I'm sharing my own take on modern classic style with tips for how I create a timeless and classic living room that feels fresh and includes a nod toward my favorite Southern coastal style!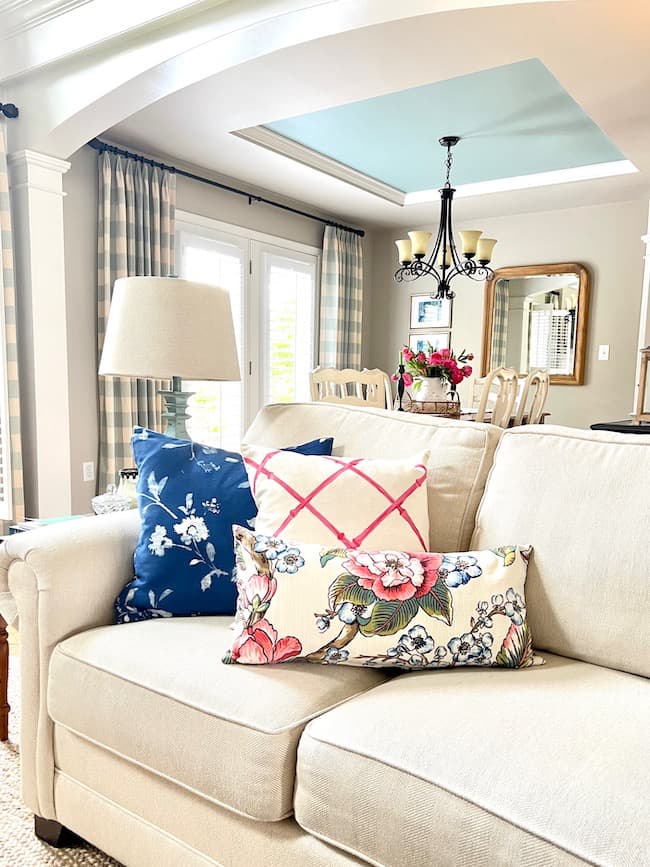 What are the main elements of classic modern style for your living room?
Modern classic style combines the best of both design worlds. It includes timeless design elements, but with a contemporary twist. It maintains a touch of elegance and tradition while incorporating modern decor touches to create a space that feels fresh and inviting.
I suppose this style exists on a design continuum, with a lot of variation from home to home depending on whether you lean more traditional or more contemporary. If we get picky and parse out the phrase I would argue that it's a predominantly classic look, but with contemporary touches — since the word modern is modifying the word classic. But that's just my interpretation which, of course, is heavily influenced by my own traditional preferences!
You can create a modern classic living room style by incorporating clean straight lines in your furnishings and using a more neutral color palette as your foundation. By selecting a neutral color scheme, such as soft whites, soothing creams, or subtle warm neutrals, you create a canvas that highlights your more classic furnishings while providing a serene backdrop in your living room.
This is a far cry from minimalism, but it's not an over-the-top cluttered look either. Carefully select the accent items and edit the furnishings that have meaning to you so they are the perfect combination of form and function that both serve and delight your family.
The most important thing is to select furnishings that stand the test of time. Larger furniture pieces such as sofas and arm chairs should have simple lines and timeless features. Select more subtle neutral pieces that work for years to come.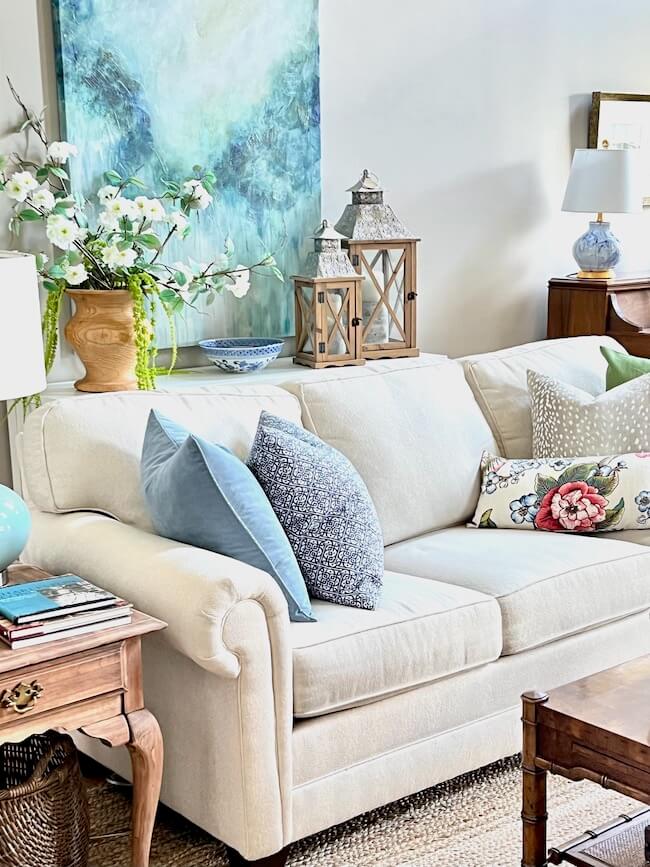 In my world, I like to add more modern touches to our room through our mix of artwork. More contemporary abstract pieces and impressionist art tends to be my favorites. I think adding these more abstract pieces keeps more traditional decor from feeling overly stuffy.
How to Create a Timeless Living Room with Low Country Coastal Charm:
As I mentioned, I love subtle Southern Low Country style. Inspired by the low country coastal regions of South Carolina and Georgia, it's relaxed and charming with plenty of reserved elegance, and it just feels like vacation to me! It combines elements of classic coastal and traditional design, with a little bit of rustic and history thrown in.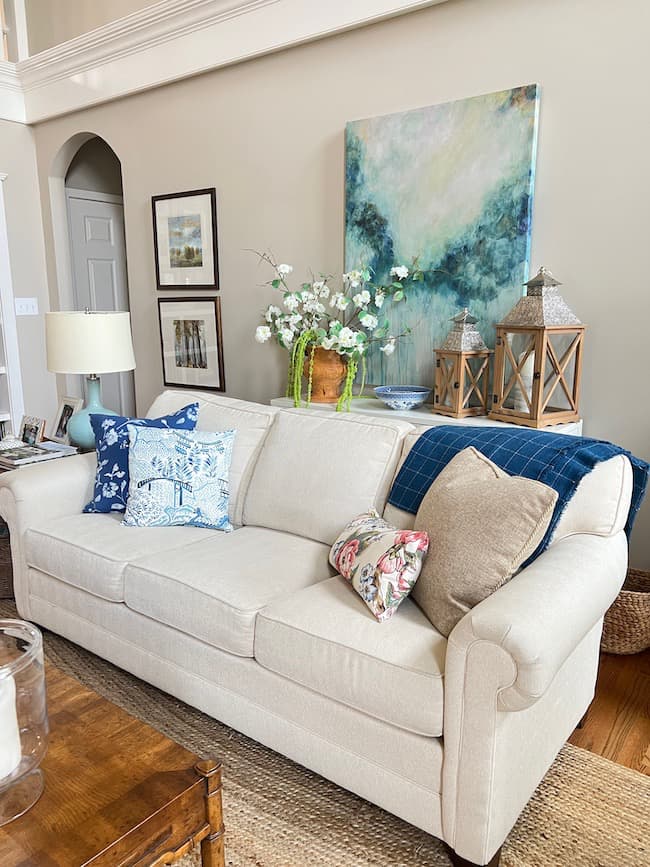 While I don't live in this region of the country, this style does inform a lot of my design choices and colors for our home. A lot of the more traditional features and furnishings in our home incorporate many elements of this style.
Some key elements of low country coastal design include:
1. A color palette that's influenced by the natural surroundings that utilizes soft neutral tones such as sandy beiges, warm whites, and shades of blues and greens to remind you of the coastal landscape and seashore.
2. The use of natural materials such as reclaimed or distressed wood. Hardwood floors provide a timeless look. Wicker and rattan furnishings are also incorporated to add texture and a relaxed, coastal feel.
3. Furniture that's casual and comfortable that often includes slipcovered pieces to create an inviting atmosphere.
4. Plenty of natural light from large windows covered with breezy linen curtains.
5. A variety of textured fabrics such as linen, cotton, and other natural fibers.
6. Rustic elements such as exposed beams, distressed finishes, and vintage or weathered furniture pieces contribute to that create a lived-in feeling.
7. Blurred lines between indoor and outdoor spaces. Covered porches and screened areas serve as additional living spaces.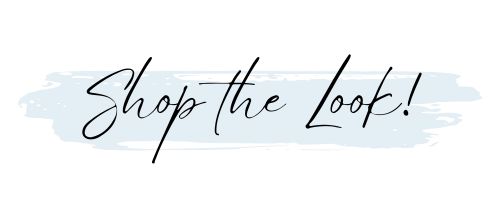 Click the photo links below to shop these modern classic coastal finds!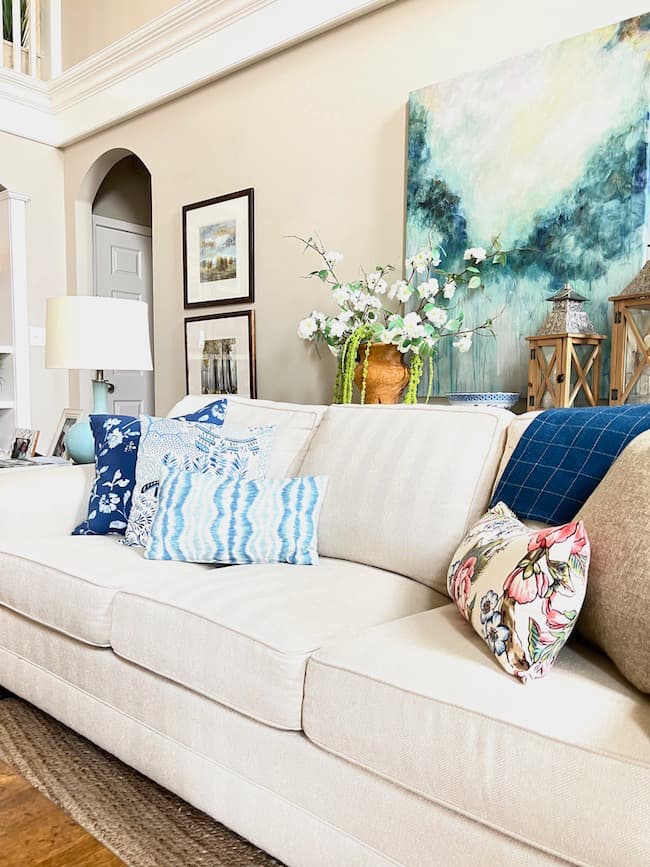 Even if you live nowhere near the coast (like me), incorporating these design elements will help you create a sense of relaxation and tranquility that's reminiscent of this style.
Use Color to Help Your Classic Home Feel Fresh and Current
Modern classic living rooms usually start with a neutral color palette as the base; however, you can bring a vibrant and refreshing touch to your space by adding touches of color. This is especially true if you love a classic southern coastal feel like I do.
I love blues and greens, and I incorporate various shades of these colors into our living room. While neutral walls and larger furniture pieces form the perfect backdrop to modern classic interiors, you can inject beautiful color in your room with throw pillows, accent chairs, area rugs, artwork, accessories and window treatments to create a lovely timeless look.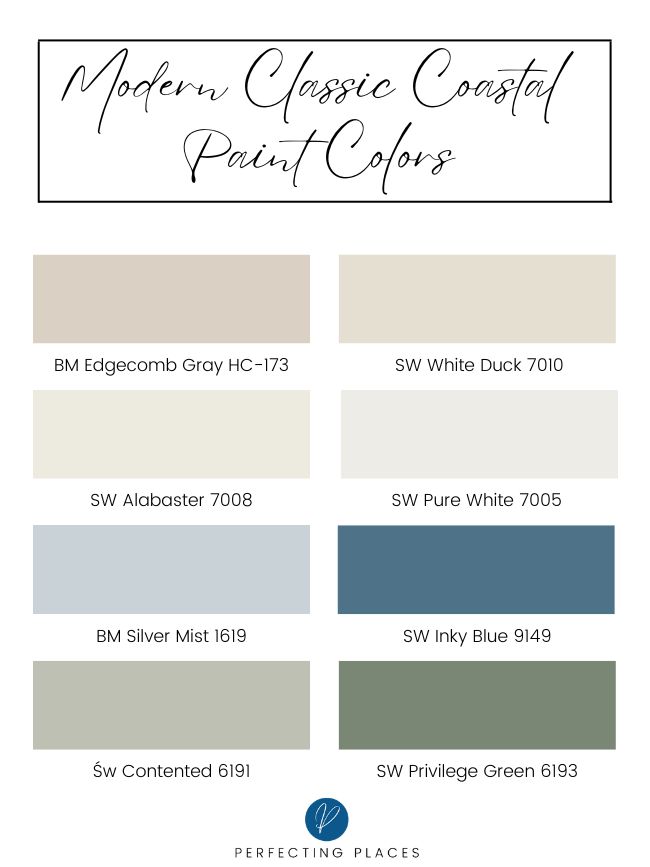 Benjamin Moore Edgecomb Gray (HC-173) is one of my all-time favorite neutrals that is light and feels fresh with a touch of warmth to it. You can see several examples of it here.
Sherwin-Williams White Duck (SW 7010) is a soft very light greige for a light airy feeling.
Sherwin-Williams Alabaster (SW 7008) is our home's favorite warm white paint color!
Sherwin-Williams Pure White (SW 7005) is a lovely fresh off-white paint color that's not too stark. There are several examples in this post including its use in a living room and on the exterior of a home.
Benjamin Moore Silver Mist (1619) is a soft, subtle watery shade of light blue.
Sherwin-Williams Inky Blue (SW 9149) is a beautiful rich shade of blue perfect for accents such as the backs of built-in shelves or painted woodwork or furniture pieces.
Sherwin-Williams Contented (SW 6191) is a beautiful sage green if you like a touch of color on your walls. It's also gorgeous on cabinetry.
Sherwin-Williams Privilege Green (SW 6193) — I love accents and trim work painted in this rich green.
Incorporating these color elements into your modern classic living room will transform it into a space that embraces a timeless and classic Low Country feel while still feeling fresh and vibrant.
For more paint color inspiration read about My Favorite Warm Neutral Paint Colors in this post!
How Artwork Can Help Your Traditional Style Feel Updated
Adding a few pieces of abstract or contemporary art is one of my favorite ways to keep a more classically styled home feeling fresh. Pairing more modern pieces with classic or impressionist art is a great way to incorporate modern classic living room design in your home. The art you choose can set the tone of your room and create a beautiful focal point.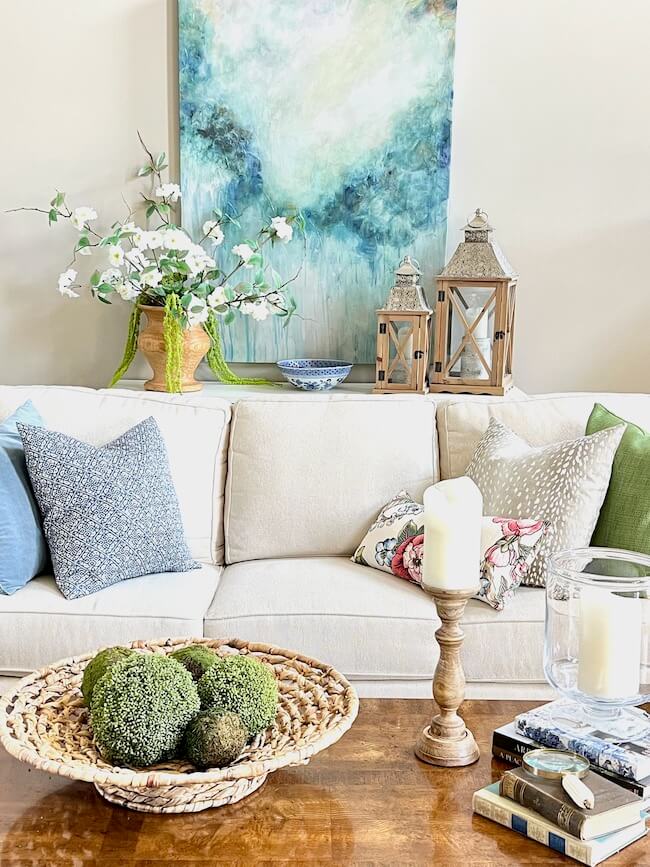 Subtle abstracts with watery lines, soft geometric patterns or shapes, or expressive brushstrokes can add a sense of subtle sophistication and creativity to your traditional space and keep it from feeling too stuffy. Art with cleaner lines also helps to rest the eye in a room that incorporates more pattern.
Keeping with our Low Country Southern look, I use a lot of abstracts with shades of blues and greens in our home. I pair these with soft impressionist landscapes and muted coastal scenes.
Don't forget that using photography is another way to bring a touch of modern into your classic home — particularly when the photographs reflect meaningful experiences or themes for your family.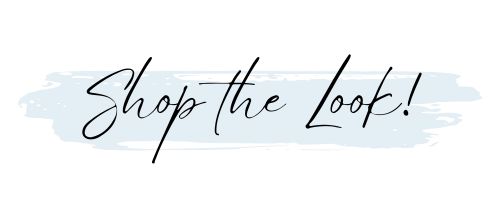 Click the photo links below to shop these modern classic coastal art pieces!

Most importantly, always choose art pieces that reflect your personal taste and interests. The art in your home should reflect your personality and showcase your personal style.
For more Sophisticated Coastal Style ideas you might enjoy this post.
By blending the elegance of modern classic style with the relaxed charm and classic details of low country design, you can create a living room that is both timeless and fresh. Most importantly, make the space feel like a reflection of your style and a comfortable retreat for your family to enjoy.
Happy Decorating!