Our Home's Favorite White Paint – Sherwin-Williams Alabaster SW 7008
Are you looking for a terrific warm off-white paint color for your home? Sherwin-Williams Alabaster SW 7008 is one of my favorites!
Sherwin-Williams picks a Color of the Month each month, and this April it happens to be one of my favorite whites! In fact, I love it so much that it's in my kitchen, my bedroom, and now my primary bathroom. It's the white of choice for our home, and I use it on walls, trim, and cabinetry throughout our home. So today, I'm taking you on a little Alabaster Tour of our home.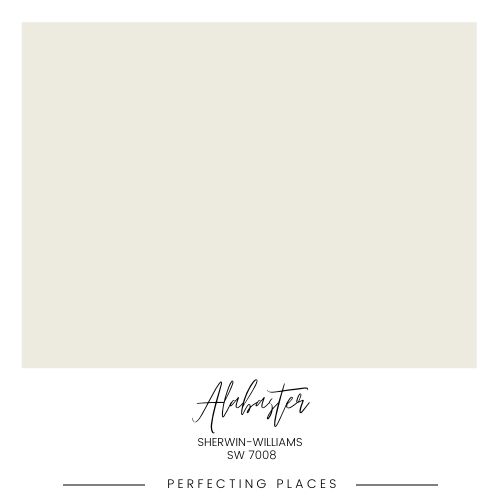 Sherwin-Williams must love Alabaster as much as I do, because it was their color of the year in 2016, and the color has continued it's popularity. It's a very balanced off-white that's a great white if you don't want a stark cool white. It's extremely liveable and easy on the eyes – not too cool and not too warm.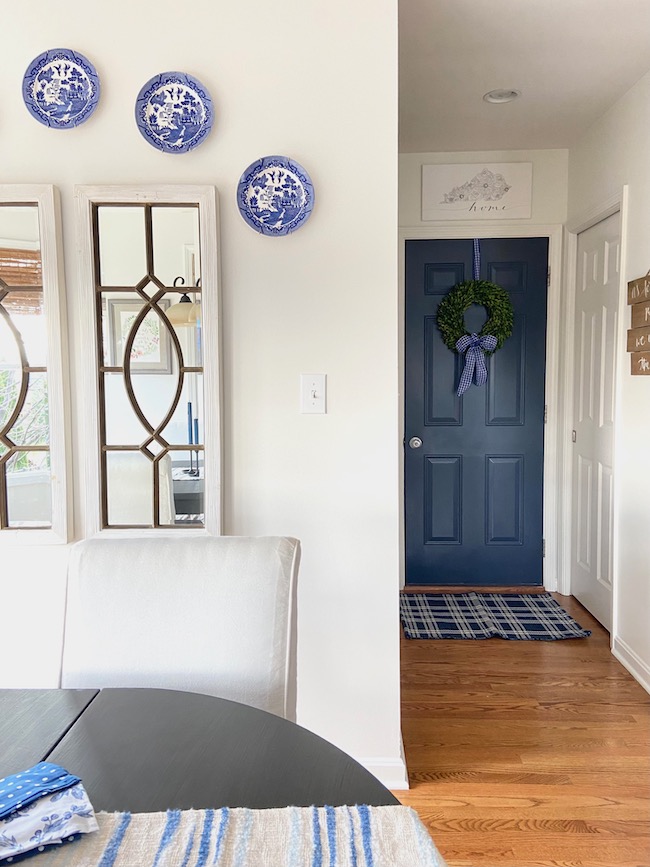 For those who love all white interiors it's a great option for your walls to keep them from feeling too cold and stark. It pairs well with a soft black if you love a black and white color palette.
Sherwin-Williams Alabaster (SW ) is fabulous paired with blue for all of you blue and white lovers!! I have it paired with BM Hale Navy in our kitchen.
Sherwin-Williams Alabaster (SW 7008) in Our Kitchen:
We painted our kitchen cabinets SW Alabaster three years ago, and what a wonderful update to our cabinets! They were formerly stained an orange-brown color, and Alabaster gave them new life. The warmer tones in this off-white work well with our Tropic Brown countertops.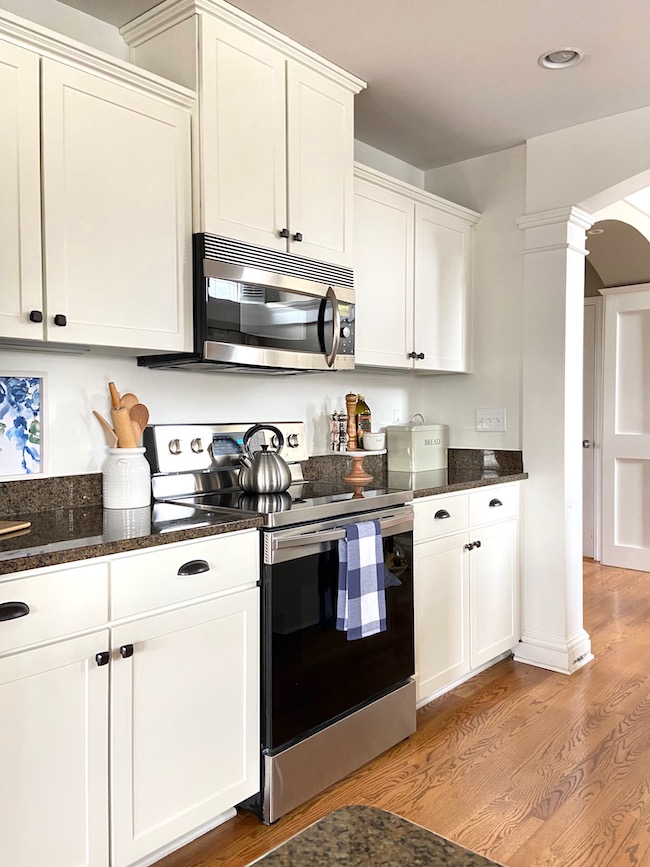 Last fall we changed our kitchen wall color (which was previously SW Comfort Gray) to Alabaster, and painted the kitchen exterior doors Benjamin Moore Hale Navy. Alabaster is perfect with the navy doors.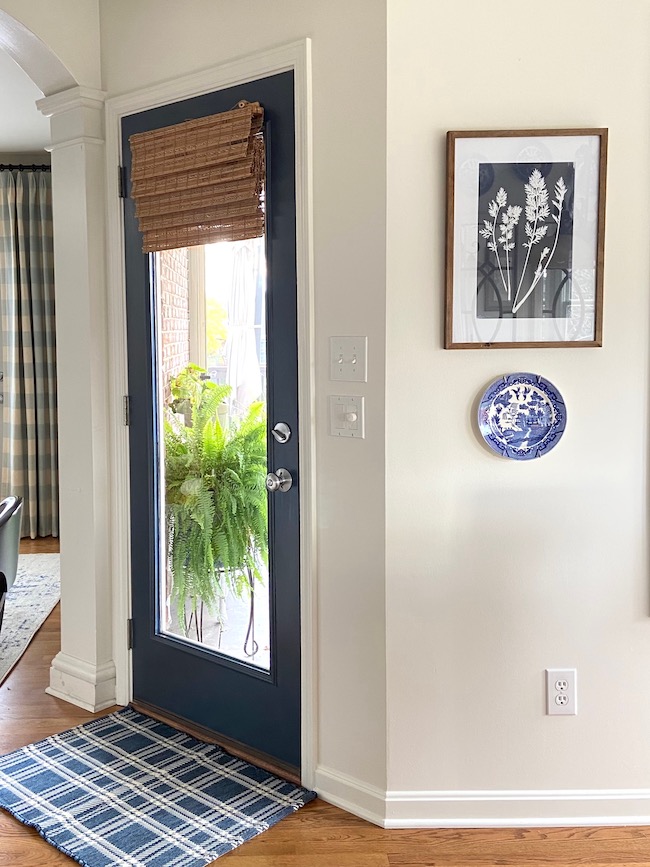 Alabaster in Our Primary Bedroom: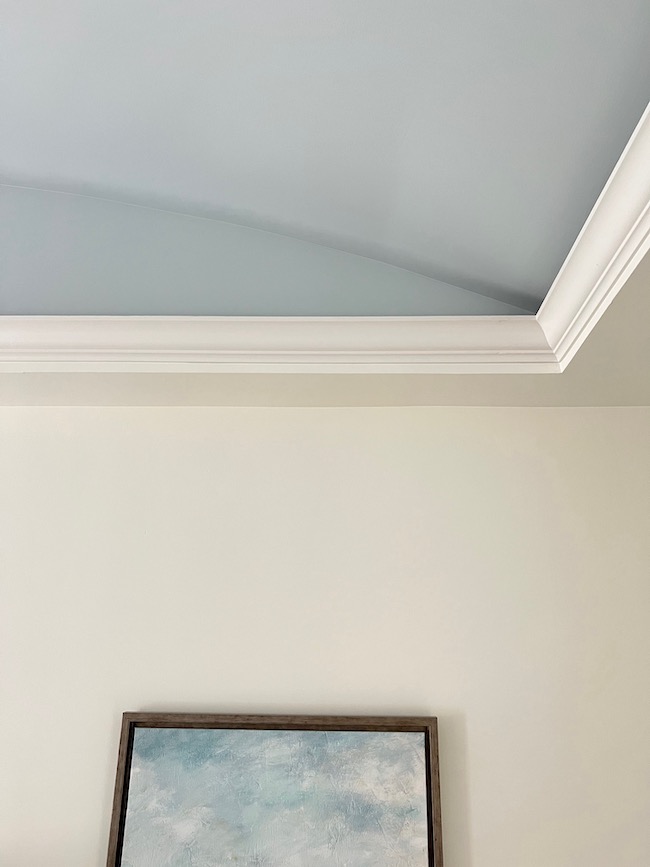 In our primary bedroom, we have SW Alabaster on the walls and trim paired with SW Lullaby on the barrel ceiling. It creates such a soft, serene feel in our bedroom.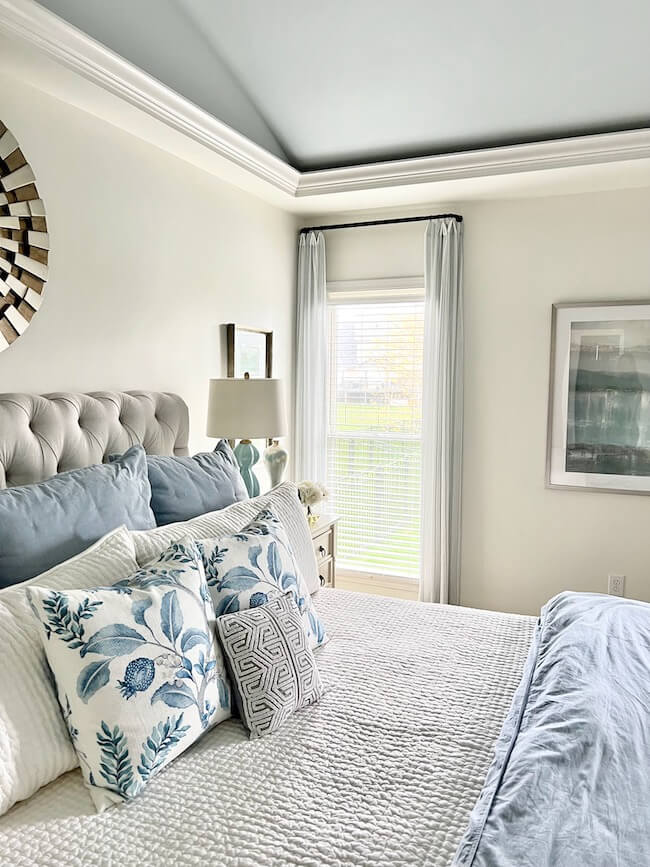 SW Alabaster in Our Bathroom:
We've recently painted our primary bathroom walls SW Alabaster for the One Room Challenge. This will form the background color of our stenciled wall pattern. The pattern color will be SW Lullaby in a palm frond pattern to coordinate with our bedroom.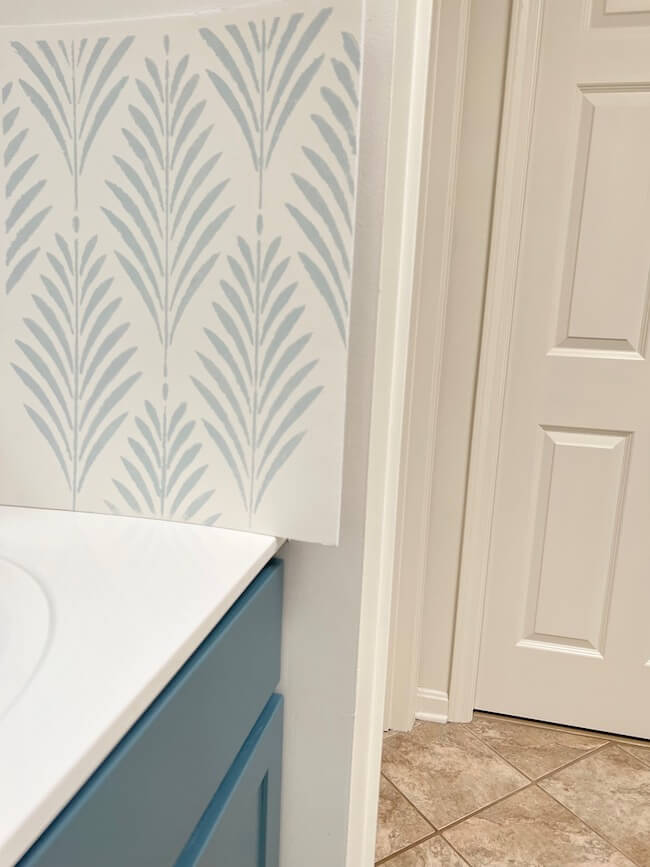 The vanity in the room is painted SW Blustery Sky (SW 9140). You'll get to see the full reveal of this primary bathroom makeover in just a few weeks, but for now you can check out our Week 1, Week 2, and Week 3 progress via these links.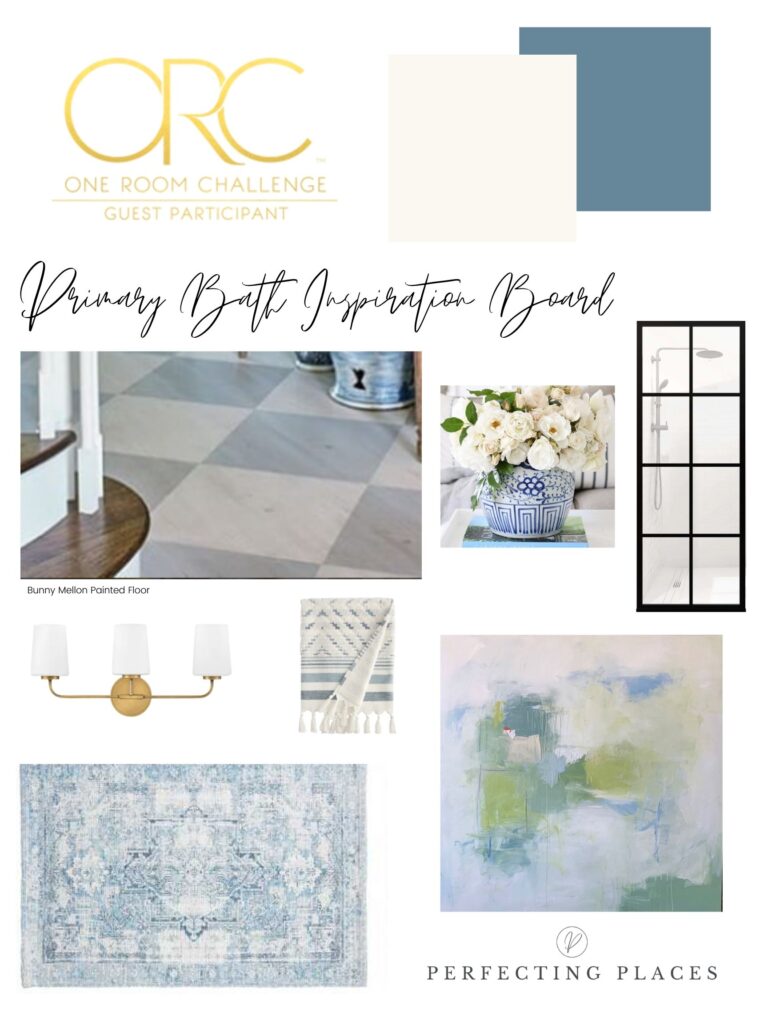 Color Schemes using SW Alabaster:
Sherwin-Williams Alabaster is the perfect backdrop for pops of color if you're a color lover like me. Add beautiful fabrics, bold patterns and solids in vibrant colors and colorful artwork to this beautiful Alabaster canvas on your walls.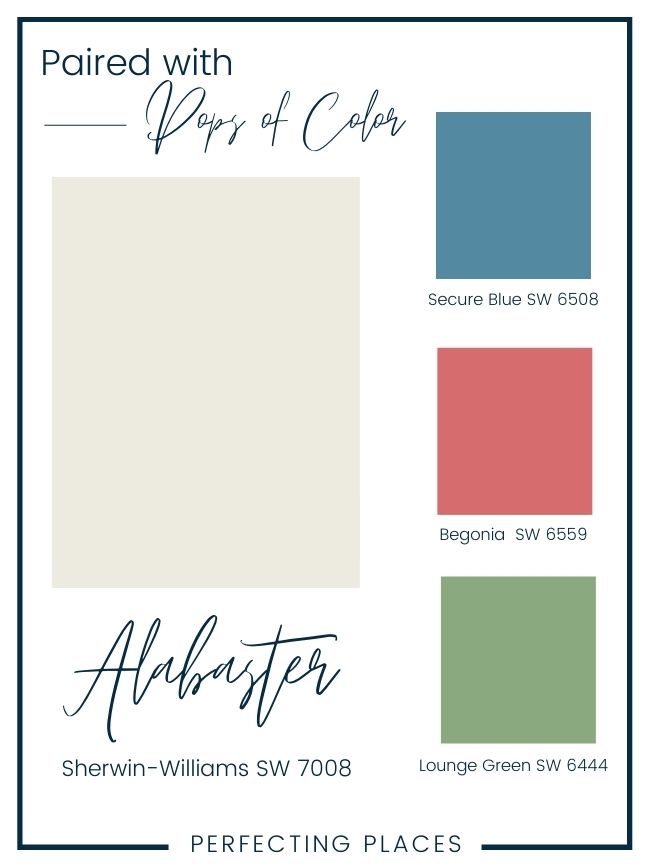 And, if you love a more neutral look, SW Alabaster is beautiful with fresh new warm neutrals and lovely earth tones such as sage green.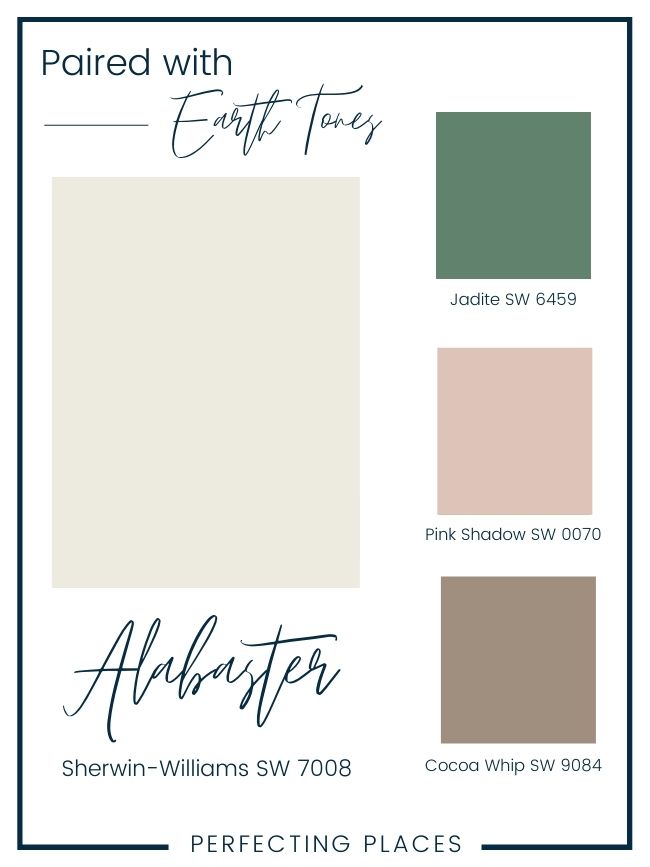 If you are looking for a pretty, warm white for your home, give Sherwin-Williams Alabaster SW 7008 a try, and as I always recommend, test your color first before committing to the whole room!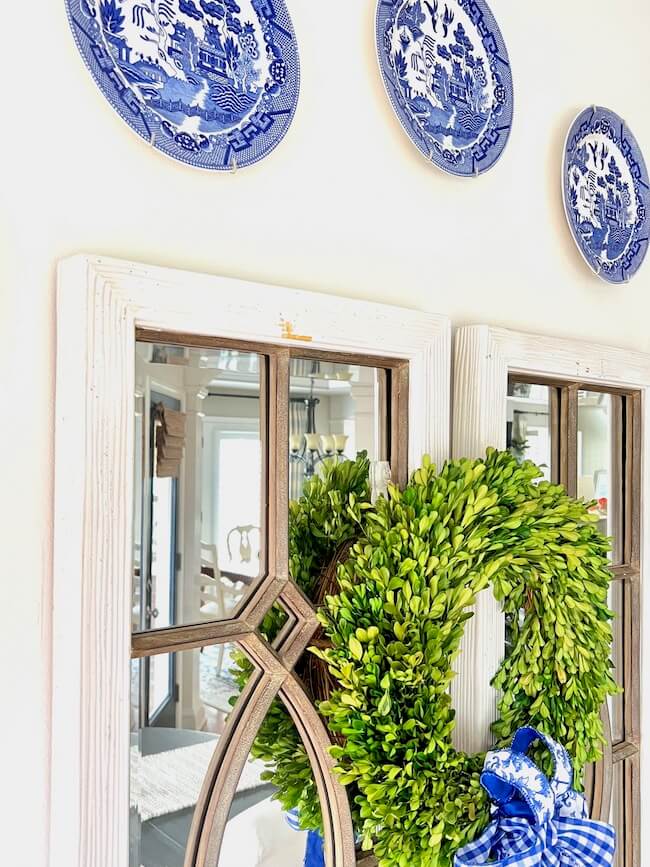 Have you used this great paint color in your home? Let me know in the comments!
Pin this for later!