The Best Fresh Warm Neutral Paint Colors for Your Home
Is an interior paint project in your plans for this spring? Today, I'm sharing the best fresh warm neutral paint colors for the perfect cozy look!
These warm neutral wall colors create the perfect backdrop to create an inviting and cozy look in your home.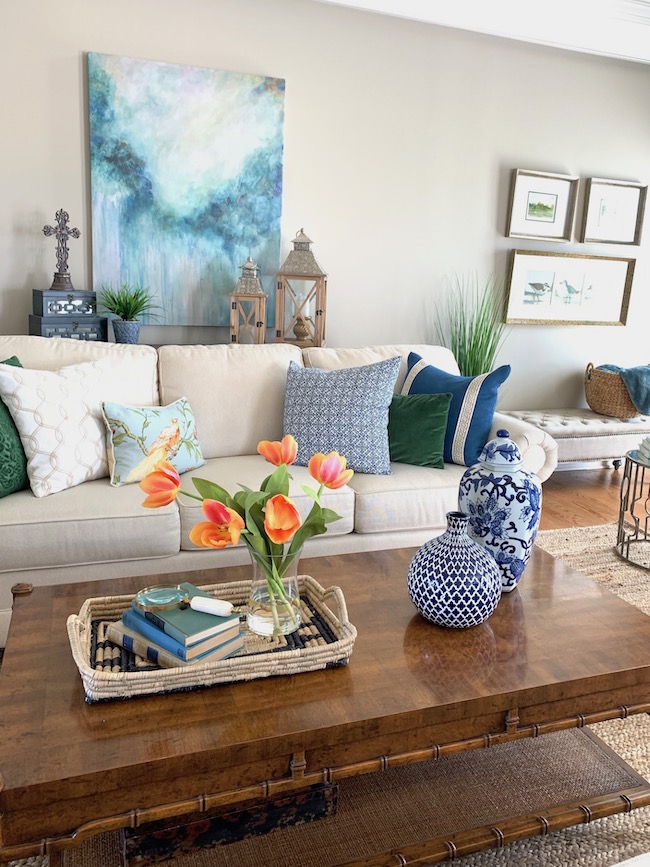 (This post contains affiliate links, so I may earn a small commission when you make a purchase through links on my site at no additional cost to you. As an Amazon Associate I earn from qualifying purchases.)
If you've paid much attention in the world of design and home decor, you've probably noticed that gray is no longer trending as the most popular color choice for homes. For years, gray interiors were all the rage, and that trend gave way to mostly white interiors. Now, the room temperature is warming up as warmer neutrals are becoming more popular.
But don't worry, these fresh warm neutrals aren't the same dark Tuscany gold beiges of the early 2000s. They're lighter and fresher and add a cozy look to your space.
One important thing to note: A neutral paint color can be one of the trickiest colors to get right in your home, and it's the most important color decision because it's often the main color for your whole house color scheme. It needs to work with all of the fixed elements and color transitions throughout your home.
The most important things to consider when choosing any neutral paint color for your home are the fixed elements that are not going to change — the countertops, carpet color, tile, or any large upholstered furniture pieces that are staying in the room. Do these fixed elements have warm or cool undertones — more grays or more browns? When selecting a neutral paint color you don't want it to fight with these other features.
If you're starting a new build or remodel, then it's a little easier to achieve this harmonious and cohesive look when selecting all of the finishes and fixed elements at the same time.
With all that in mind, if you're ready to bring some fresh new warm neutral paint colors into your home, read on for some of my favorites from Benjamin Moore and Sherwin-Williams.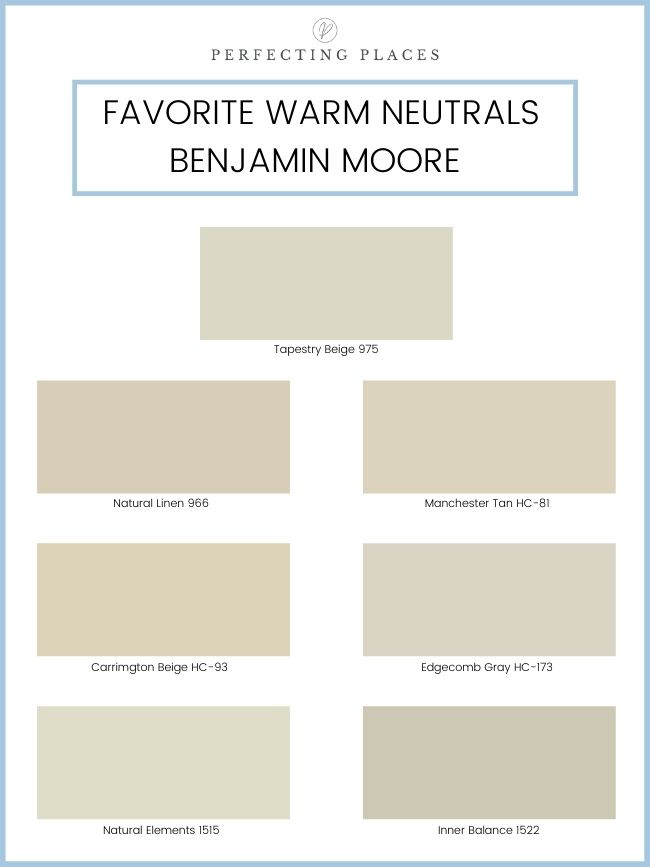 My Favorite Fresh Warm Neutral Paint Colors from Benjamin Moore:
Edgecomb Gray wins the prize for my favorite Benjamin Moore warm neutral! It's the perfect combination of beige and gray and adds just the right amount warmth to a room while still remaining fresh! As with many of these colors, the type of light influences the undertones that you see. South-facing rooms will bring out the warmer tones of this shade.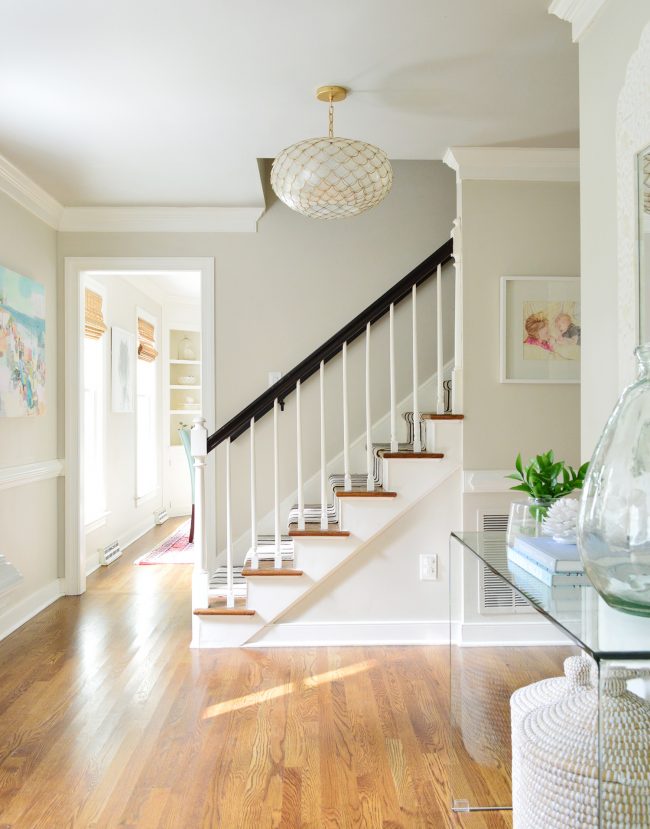 Foyer painted BM Edgecomb Gray by Young House Love
Manchester Tan is a timeless paint color that offers a touch of sophistication and warmth to any space. It's a light, neutral tan shade with a yellow undertone that creates a cozy and inviting atmosphere. It's perfect for both traditional and contemporary interiors.
Natural Linen is a beautiful soft beige that creates a sophisticated and soothing look. It's perfect for homes that just need a bit more warmth without overdoing.
Tapestry Beige is a lovely soft beige with the slightest hint of green undertone to give it some warmth. It's perfect for both classic and contemporary homes.
Carrington Beige is a rich beige with subtle yellow undertones. It brings a sense of cozy sophistication to any space. Whether you're going for a traditional, cozy look or a modern, chic feel, this shade effortlessly adds a touch of timeless elegance to your home.
Inner Balance is a soothing blend of soft gray and subtle green undertones, which create a warm and inviting look in your room.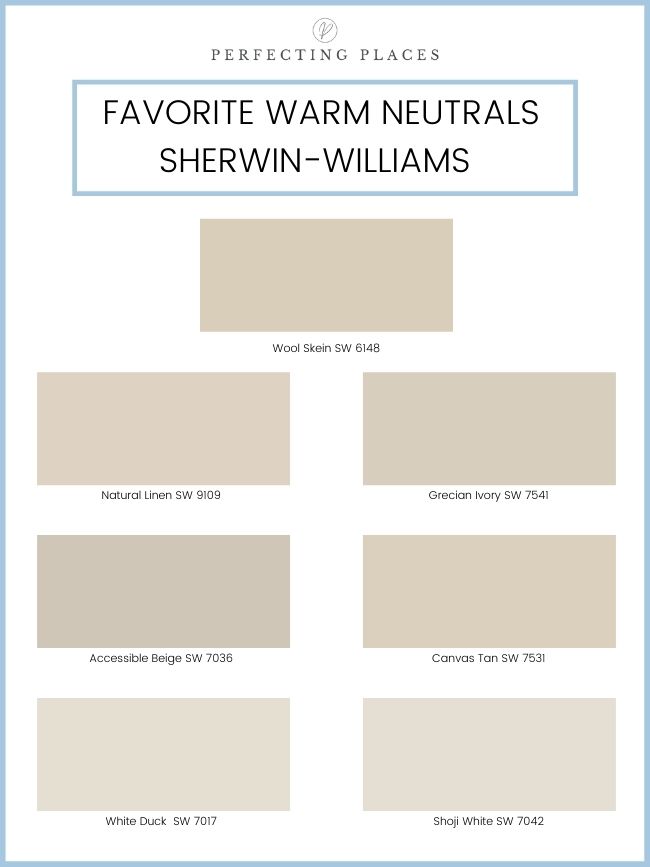 My Favorite Fresh Warm Neutral Paint Colors from Sherwin-Williams:
Wool Skein is the perfect choice if you're looking for a great neutral paint color. With its warm and inviting hint of green tones, Wool Skein creates a cozy and comfortable atmosphere in any room, no matter your design style.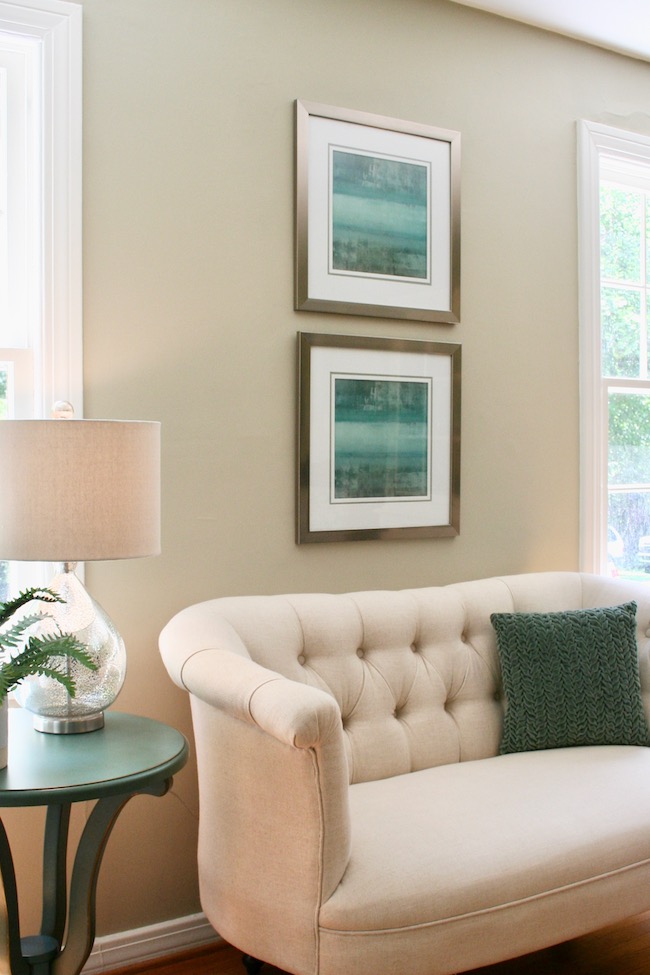 With its soft and subtle hues, Natural Linen creates a warm and inviting atmosphere. It's the ideal choice for achieving the perfect balance between a cozy and elegant look.
Grecian Ivory is a gray neutral with a soft green undertone which adds warm and freshness. It will infuse your living space with a sense of comfort and timeless elegance.
Accessible Beige is a popular choice for a good reason. As one of the fresh warm neutral colors, it works wonders in any space, especially where there's a good amount of natural light. Its versatility and ability to complement various decor styles make Accessible Beige a go-to color for creating a welcoming and inviting atmosphere.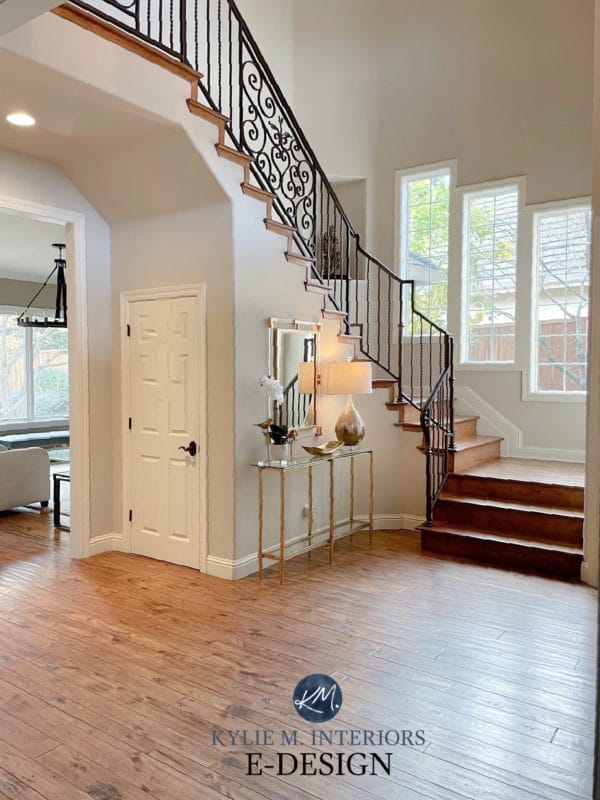 Foyer painted Sherwin-Williams Accessible Beige by Kylie M Interiors, kylieminteriors.ca
With it's yellow undertones, Canvas Tan will warm your space with a fresh wash of color, and add a touch of soft sophistication to your room.
As one of my favorite neutrals, White Duck exudes warmth and charm. It's a lovely warm off-white without going too yellow, making it a perfect choice for creating a comfortable and relaxing atmosphere.
Create a cozy feel in your room with Shoji White. This warm and inviting paint color is a light creamy greige with very subtle green undertones to warm it up.
Using Sage Green Paint Color as a Neutral:
For a fresh take on warm neutrals, you might consider using a soft sage green paint color as a neutral in a room. Varying shades of sage green are definitely seeing some renewed popularity! Using a shade of sage green as a neutral paint color is an excellent choice for your home. A light shade of sage green can also work as a beautiful neutral in your space. Sage green is really a gray with a green undertone, so it makes a great warm neutral backdrop because the green adds the warmth.
Sage green strikes the perfect balance between calming and sophisticated. It's versatile wall color that complements a wide range of decor styles.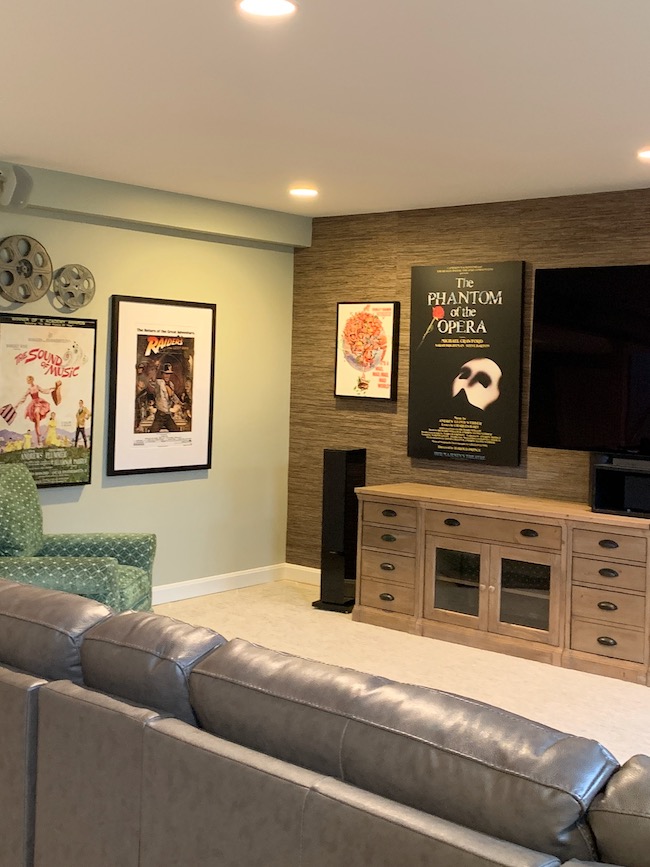 Some Pretty Sage Green Paint Colors to Use as Neutrals in Your Home:
Vale Mist is a great choice when you want a warm and soft sage green as a neutral backdrop in your home. Its gentle warm undertones make it a perfect option for a cozy and timeless look.
Paris Rain is an excellent choice for a fresh and modern neutral color in your home. As a gray with a warm undertone and subtle green hints, it offers warmth with a contemporary twist to your space.
Austere Gray is a beautiful warm gray with inviting warm tones. This cozy color makes it a perfect choice for creating an inviting, yet sophisticated, feeling in your home.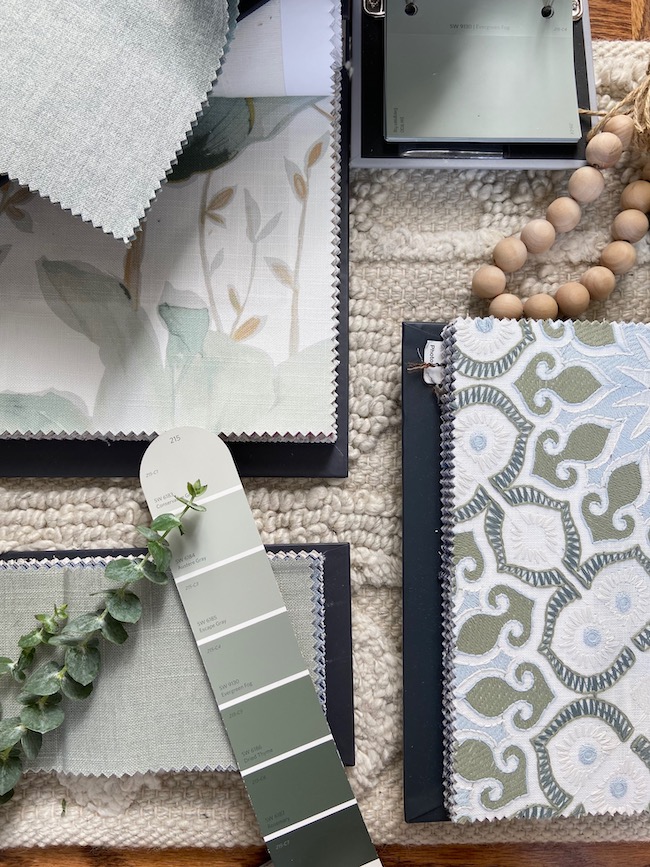 How to Choose the Perfect Neutral Paint Color:
You've heard me say it before, but it bears repeating. It is so important to test paint colors in your own room before you commit to them! Your trip to the local paint store should merely be your first step. Those small paint chips and swatches just won't give you enough information, particularly if you're select them in a paint store under artificial light.
The best way to test your paint color is to purchase 2 or 3 small sample sizes in the colors you're considering. Paint these sample colors on poster board or foam boards. This allows you to move the boards around your room at different times of day to determine how the light affects them throughout the day. Hold the boards vertically (as if they are painted on the walls) next to your countertops, sofa, floor tile, etc. — anything that you need to make sure the undertones work together.
Yes, it takes a little extra time to do this, but it's so worth it to settle in on the perfect warm neutral paint color for your room!
Vibrant Color Schemes Paired with Warm Neutrals:
Choosing a warm neutral for your walls doesn't mean your room must be a sea of neutral beige. If you're a color-lover like I am, think of your neutral wall cover as the backdrop to all the colors you love in your space!
You can certainly add gorgeous colors in combination with a warmer neutral paint color. While the neutrals featured in this post do have warmer undertones than cooler gray neutrals, they are still light and fresh and will pair well with vibrant colors.
Some of these warm neutrals, such as Sherwin-Williams White Duck and Shoji White, are light enough that they could even be considered a warm whites.
I've included some pretty color combinations below paired with my favorite light warm neutrals to demonstrate how fresh your room can feel.
Pair Warm Neutrals with a Sage Green and Coral Palette:
Pairing a fresh warm neutral paint color with a sage green and coral color palette in a room creates a delightful blend of natural and vibrant tones.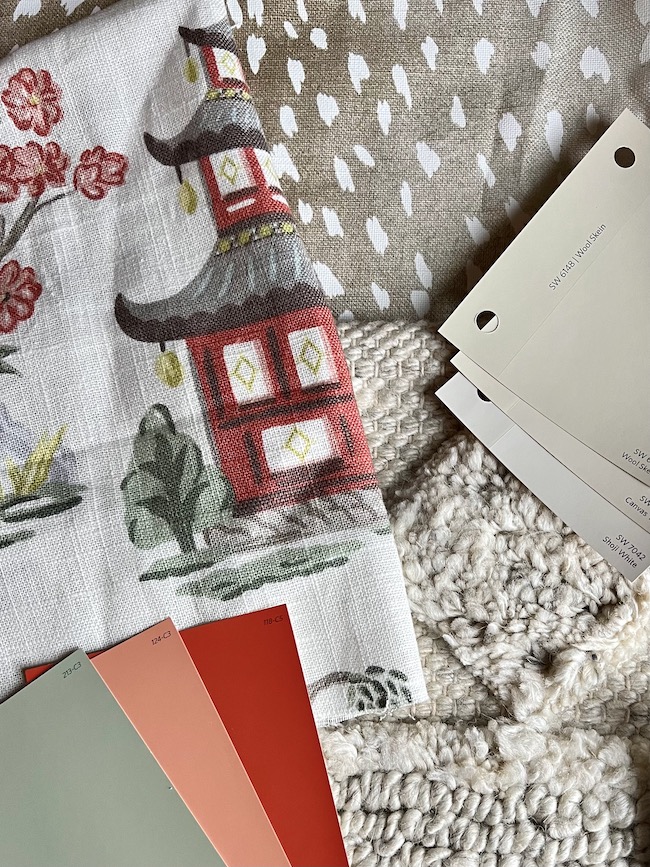 The warm neutral provides a calming backdrop for the more vibrant sage green and coral shades. These gorgeous shades add a burst of energy and freshness to a room, bringing a touch of nature indoors with the sage green and a pop of warmth and playfulness with the coral.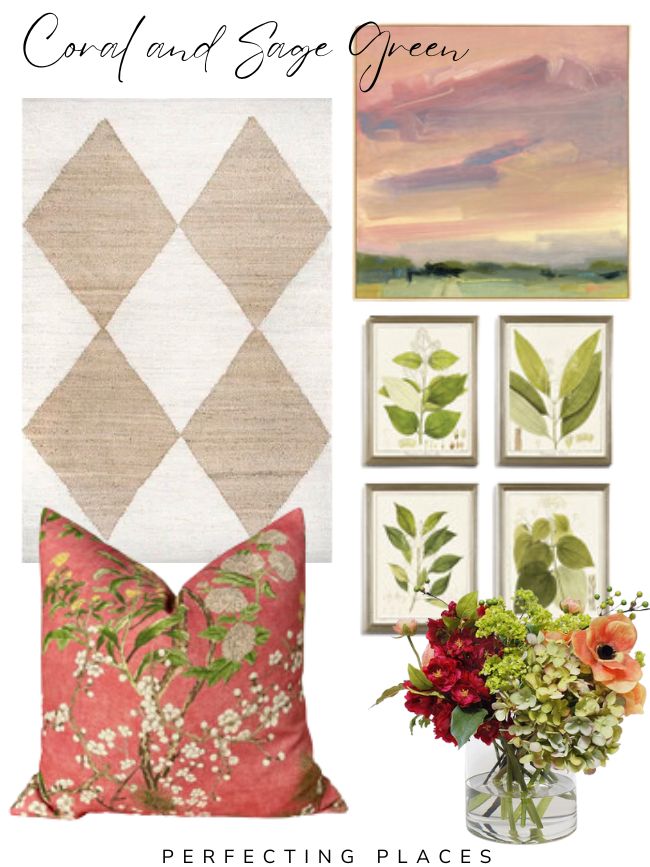 Add Blue and Navy to a Warm Neutral Color Scheme:
Blue is such a classic color, and the combination of classic blue and navy with a warm neutral color creates a sense of elegance and refinement to your home.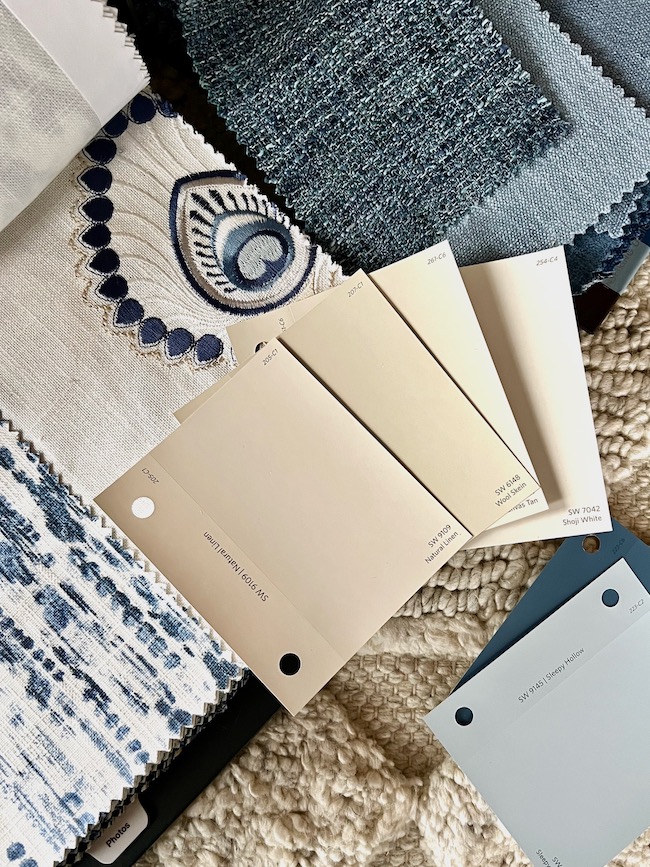 The cool, calming qualities of blue and navy perfectly complement the warmth of the neutral tones, striking a perfect balance that feels inviting and timeless.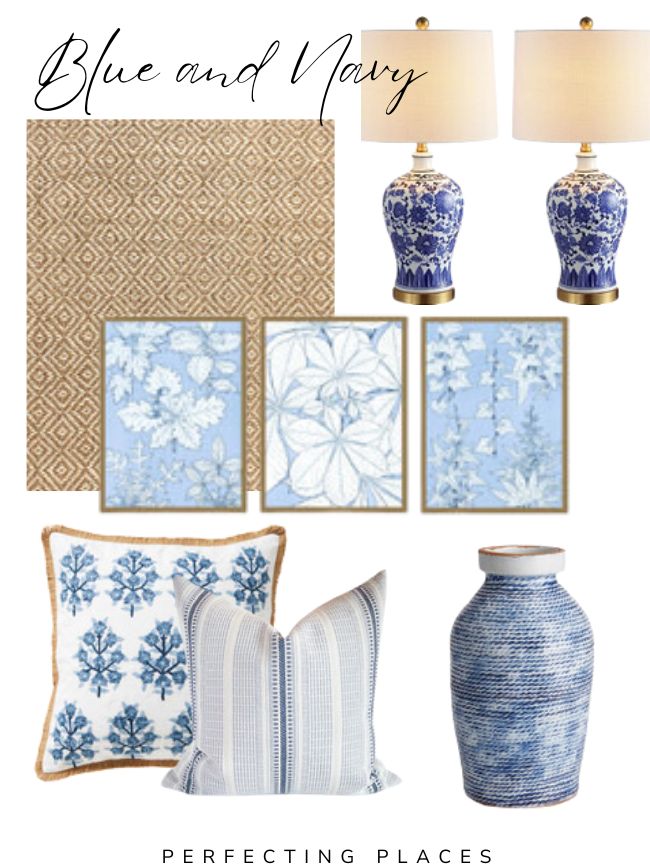 Combine a Warm Neutral with Chartreuse and Orange for Fun Pops of Color:
This is a fun and kind of funky color combo! Combining a warm neutral with chartreuse and orange brings a playful and lively vibe to your space.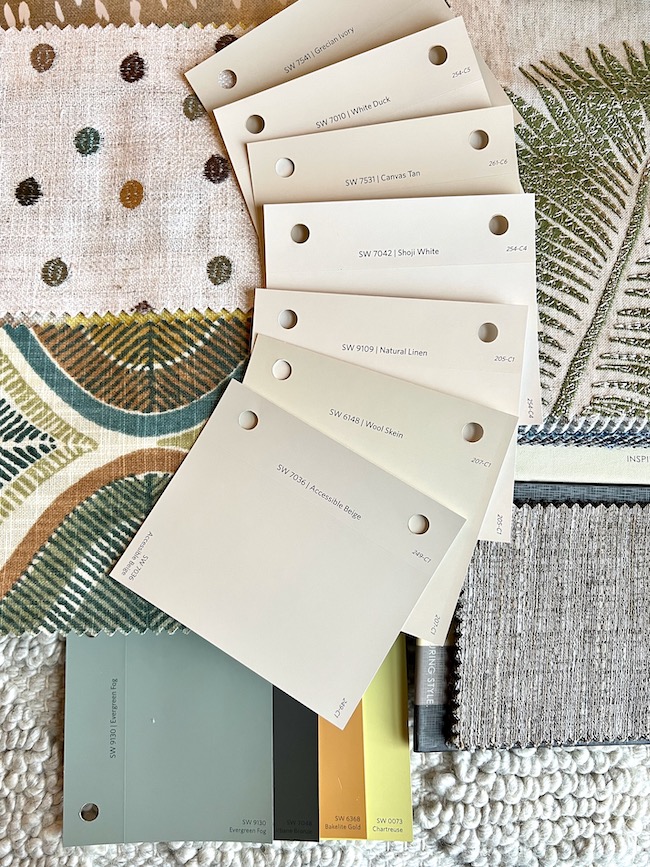 This vibrant green and orange combination refreshes and infuses a space with energy and personality!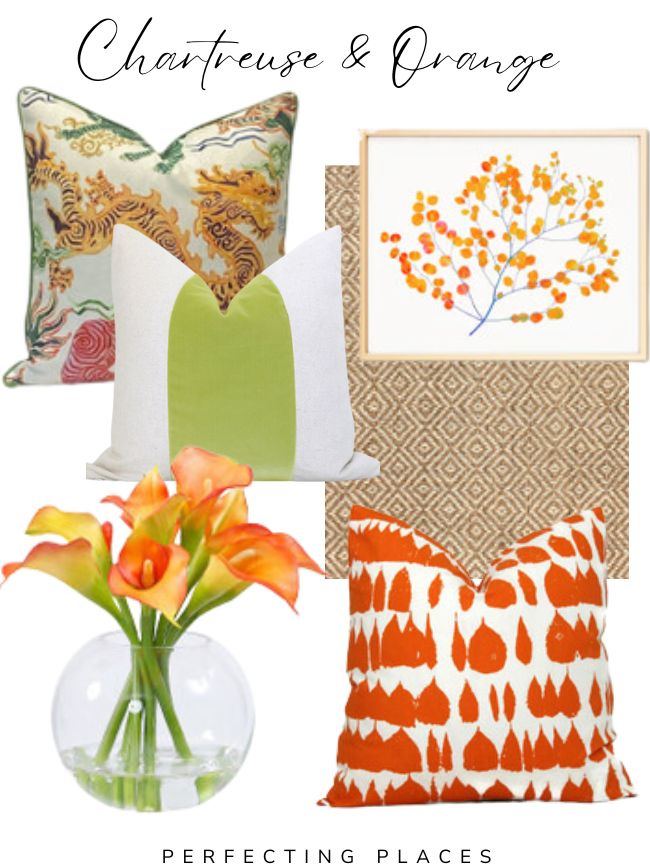 I hope these color suggestions and tips give you a little direction and inspiration for selecting the perfect warm neutral paint color for your home! If you're home is ready for a fresh start, consider one of my favorite neutral paint colors to add a touch of warmth to your space! Whether you're painting a single room or need a whole house color palette, these fresh neutral shades are a great place to start!
Now, time to get busy with some paint samples to test those paint colors!!
Happy Decorating!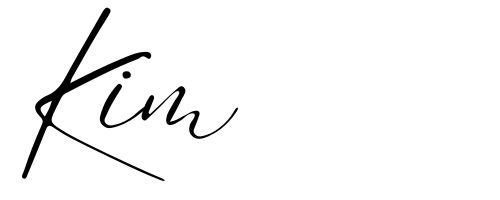 More Ideas for Decorating With Neutrals:
How to Decorate a Living Room with a Warm Neutral Paint Color
Timeless Modern Classic Living Room Style Ideas