My Favorite Fresh Warm Neutral Paint Colors
Is an interior paint project in your plans for this spring? Today, I'm sharing the best fresh warm neutral paint colors for 2022 that you can use in your home.
As I write this, I'm staring out the window at a cold dreary freezing rainy winter day. Are you like me, and just so over all of this winter weather? While you hibernate through this winter weather, it's the perfect time to start thinking about that interior paint project you have coming up. Spring is the perfect time for a fresh start, and the perfect time for a fresh new look in your home!
(This post contains affiliate links, so I may earn a small commission when you make a purchase through links on my site at no additional cost to you. As an Amazon Associate I earn from qualifying purchases.)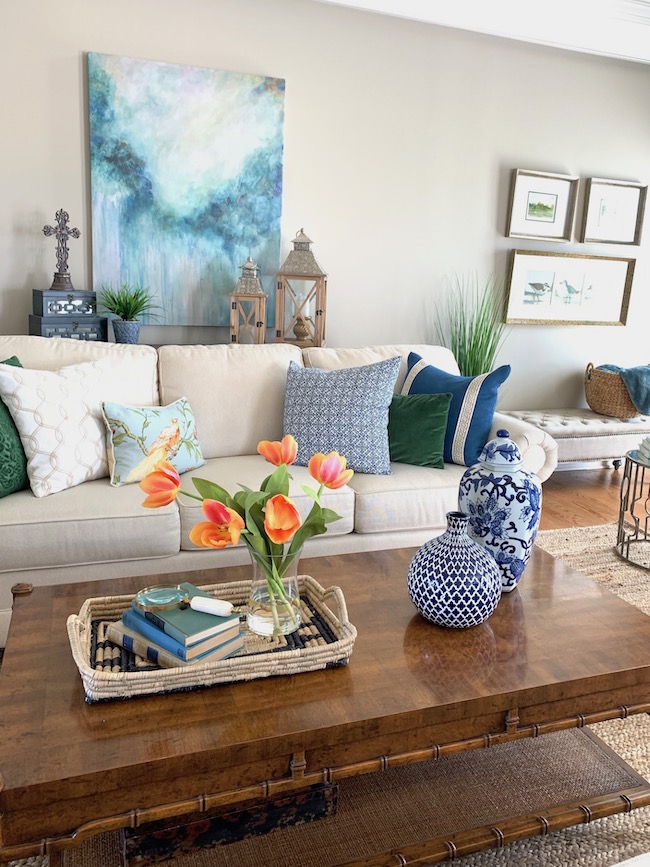 A neutral paint color can be one of the trickiest colors to get right in your home, and it's the most important color decision because it's usually the main color for your whole house color scheme. It needs to work with all of the fixed elements and color transitions throughout your home.
Gray paint colors and all-white interiors have been on trend for some time, but now warmer neutrals are becoming more popular. 
Don't worry, these warm neutrals are not the same dark gold beiges of the early 2000s. They are lighter and fresher and, of course, the placement of the colors in your room and the way you style the space makes all the difference in the world.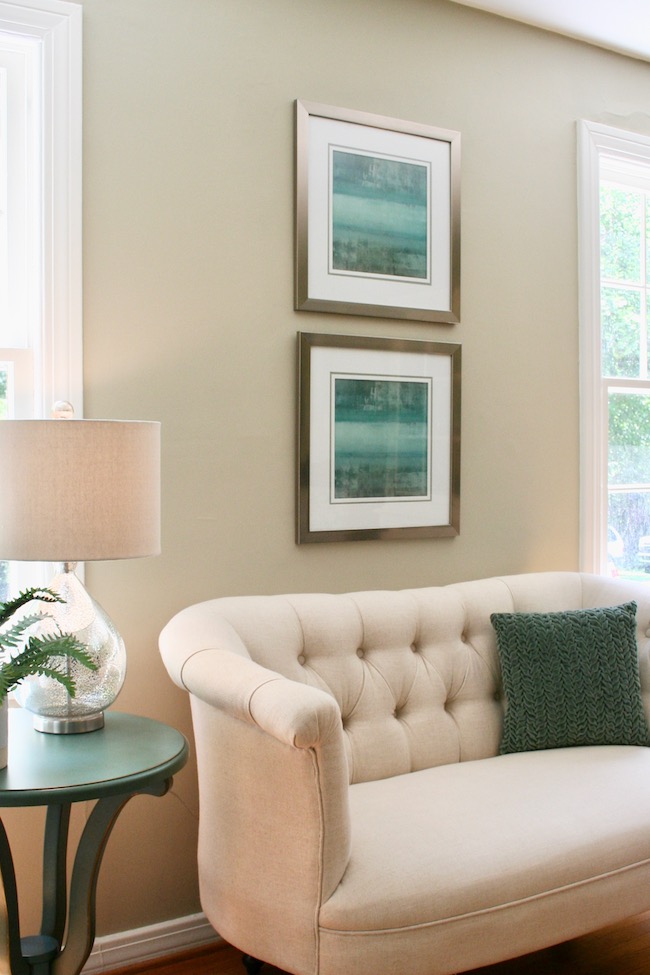 The most important things to consider when choosing any neutral paint color for your home are the fixed elements that are not going to change — the countertops, carpet color, tile, or any large upholstered furniture pieces that are staying in the room. Do these fixed elements have warm or cool undertones — more grays or more browns? When selecting a neutral paint color you don't want it to fight with these other features.
With all that said and done, if you're ready to bring some fresh new warm neutral paint colors into your home, I'm sharing some of my favorites from Benjamin Moore and Sherwin-Williams.
---
---
My favorite warm neutral paint colors from Benjamin Moore: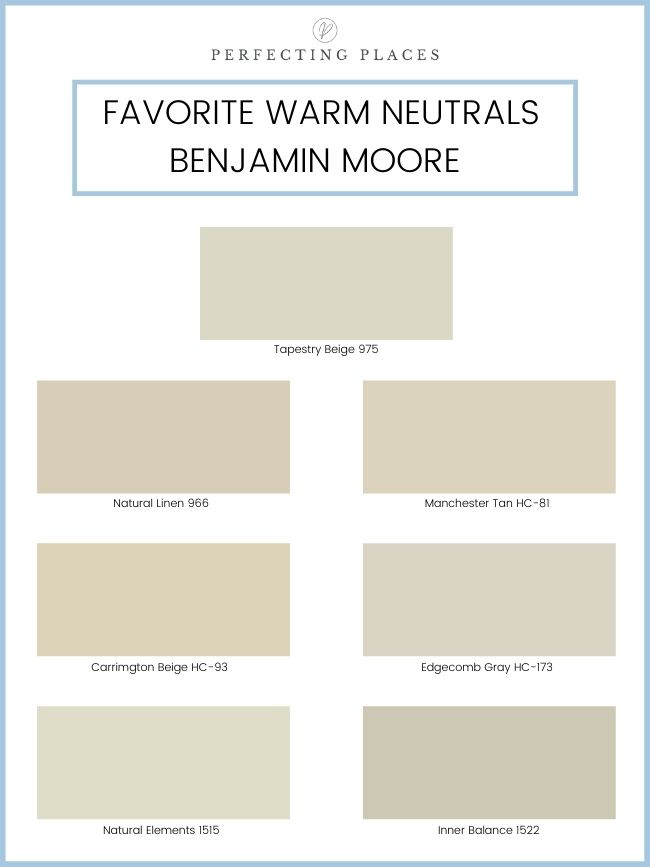 Favorite Benjamin Moore Fresh Warm Neutrals
My favorite warm neutral paint colors from Sherwin-Williams: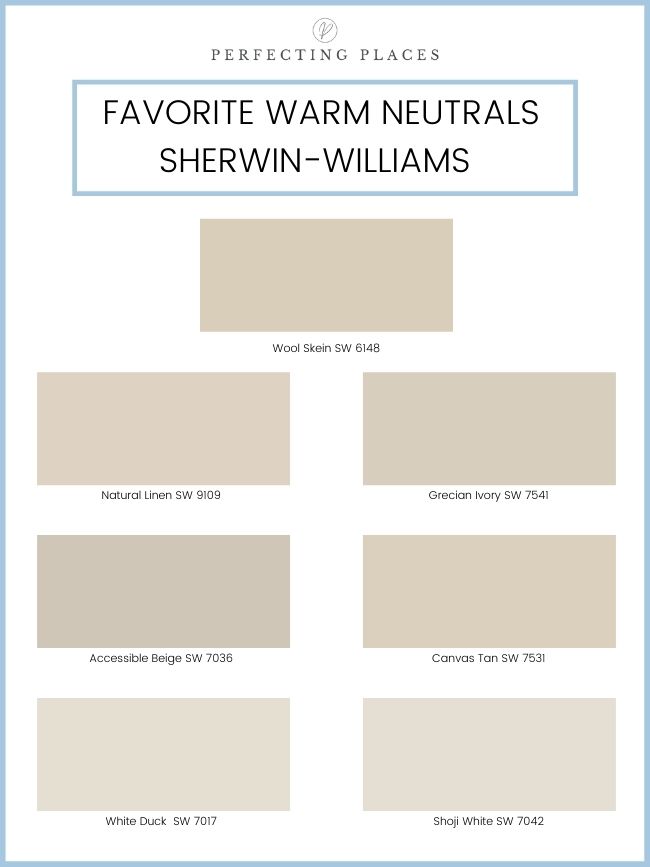 Favorite Sherwin-Williams Fresh Warm Neutrals
Using Sage Green Paint Color as a Neutral:
Sage green is definitely seeing some renewed popularity! I wrote about all of the sage green paint colors of the year in this post, along with some fresh color schemes to pair with it.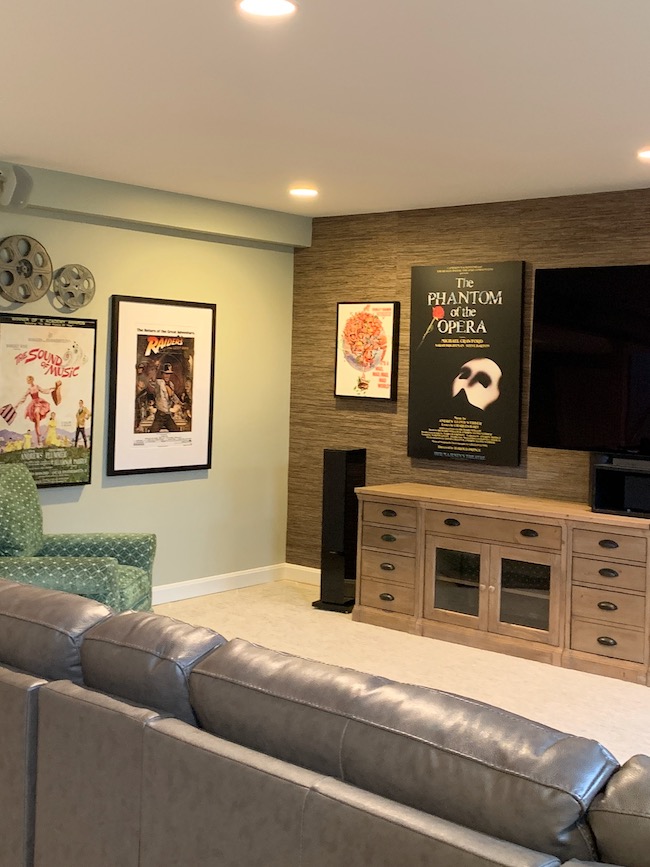 Sage green paint colors are definitely becoming popular, and a lighter sage green can also work as a beautiful neutral in your space. Sage green is really a gray with a green undertone, so it makes a great warm neutral backdrop because the green adds the warmth.
Some of my favorite sage green paint colors to use as neutrals in your home:
Great Sage Greens for Warm Neutral Paint Color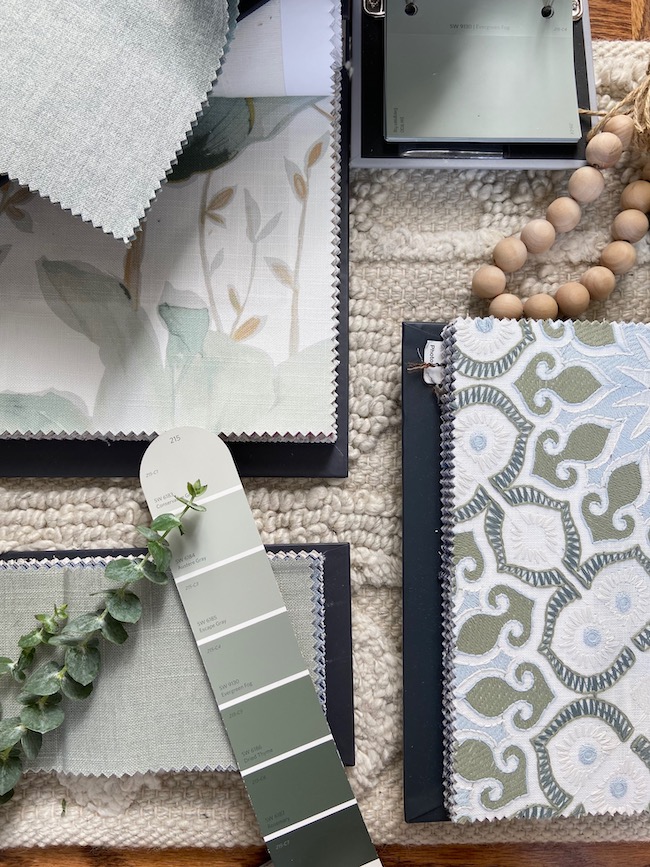 How to choose your perfect warm neutral paint color:
You've heard me say it before, but you really have to test these colors out in your own room before you commit to them. The best way to test is to purchase 2 or 3 small sample sizes and paint them on boards. This allows you to move the boards around your room at different times of day to determine how the light affects them throughout the day. Hold the boards vertically (as if they are painted on the walls) next to your countertops, sofa, floor tile — anything that you need to make sure the undertones work together. It takes a little extra time to do this, but it's so worth it to settle in on the perfect warm neutral paint color!
Vibrant Color Combinations with Warm Neutrals:
Your room doesn't have to be a sea of neutrals. You can certainly add pretty colors in combination with a warmer neutral paint color. Even though these neutrals are warmer than gray neutrals, they are light and fresh, so they pair well with vibrant colors. Some of these, such as Sherwin-Williams White Duck and Shoji White are light enough that they could even be considered a warm off-white.
I've included some color combinations below to demonstrate how fresh your room can be with these light warm neutrals.
Warm Neutrals with Sage Green and Coral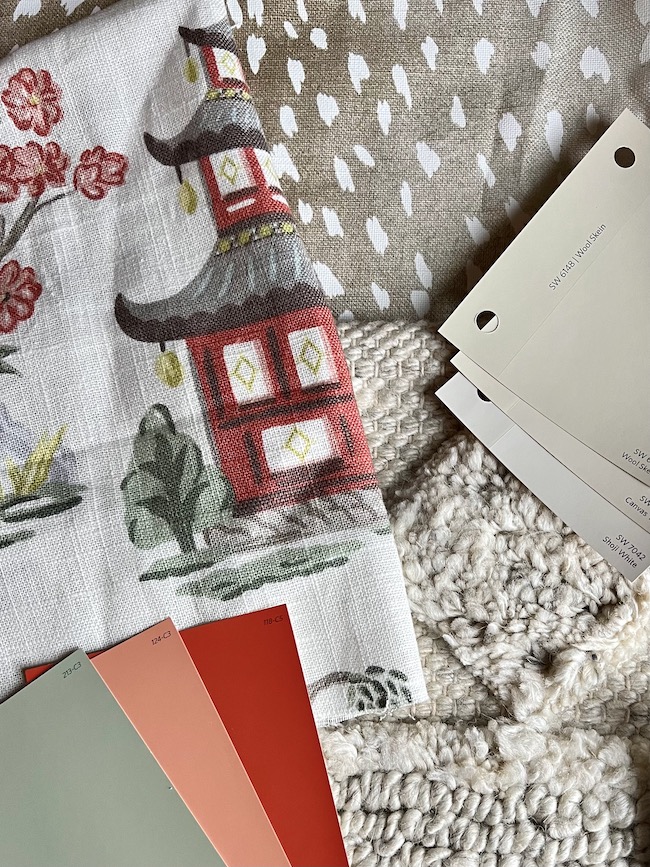 Warm Neutrals with Blue and Navy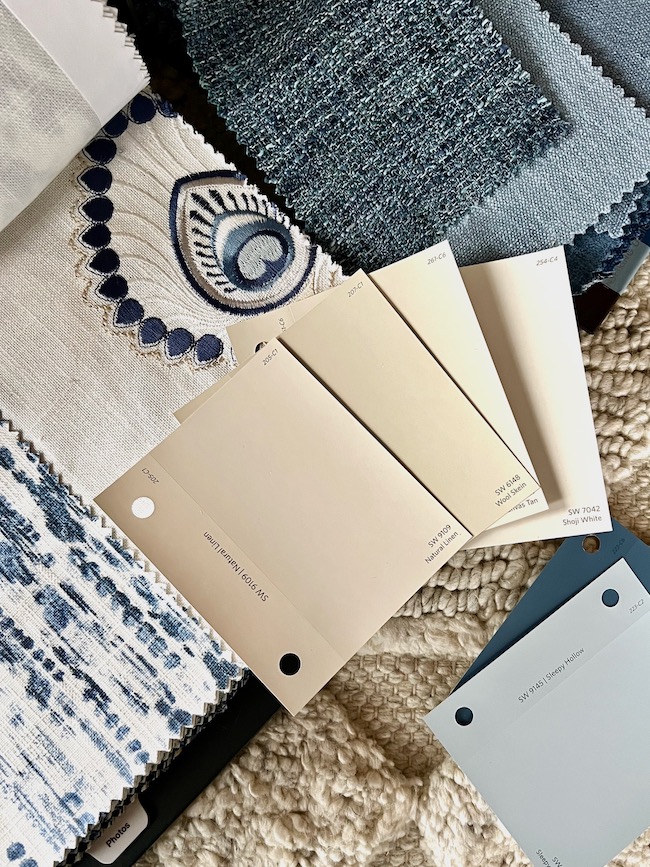 Warm Neutrals with Chartreuse and Orange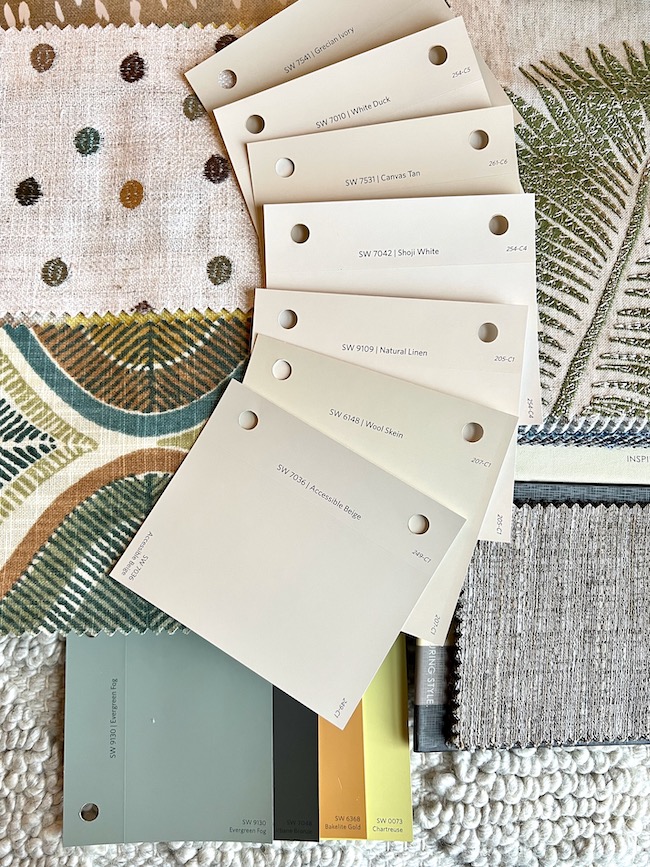 Now, time to get busy with some paint samples to test those paint colors!!
I hope this gives you a little direction and inspiration to help you pick the perfect warm neutral paint color for your home!
You might also find these paint color and home decor posts helpful:
How to Decorate with Sage Green Paint Color
My Kitchen Paint Color Combination – SW Alabaster and BM Hale Navy
Home Decorating Tips and Tricks FAQ