How to Decorate a Living Room with a Warm Neutral Paint Color
Need a little fresh color inspiration for your living room?  I'm sharing how to decorate a living room with a warm neutral paint color.
Design trends come and go and cycle back around. Neutral color trends are shifting back toward warmer tones, but never fear. These neutrals feel fresh but add a touch of warmth to your living space.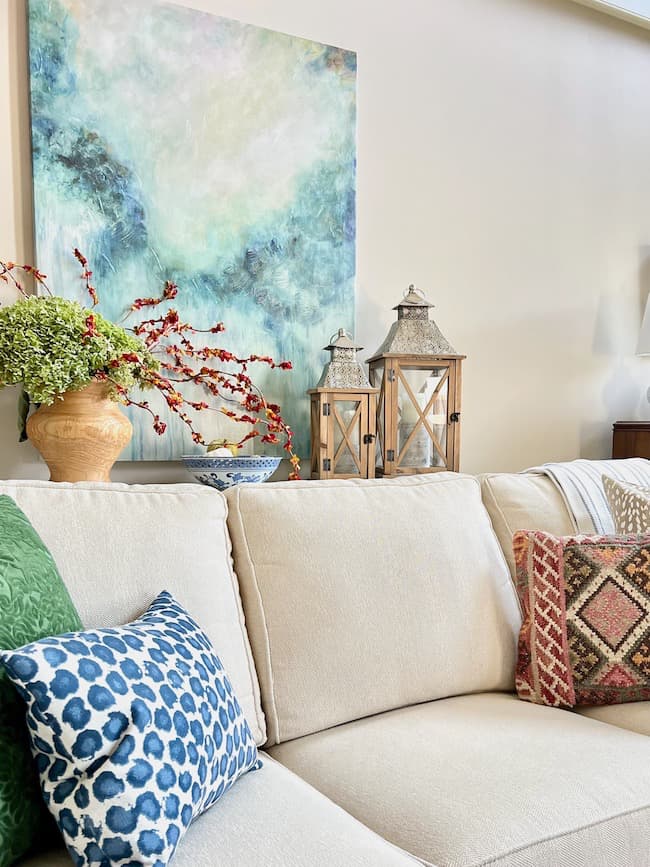 (This post contains affiliate links, so I may earn a small commission when you make a purchase through links on my site at no additional cost to you. As an Amazon Associate I earn from qualifying purchases.)
Do you know your superpower? That special talent or ability that you do really well and people come to you for? They know you're their gal (or guy) to solve a particular problem they can't solve for themselves?
Well, I know mine – it's picking paint colors! 
I am all about paint colors, and undertones, and shades, and color palettes, and I love to help people choose the perfect paint colors for their homes.
Paint color is just magical and transformative, and has so much power to make or break a room, but I know it's also the one thing that can absolutely paralyze people when decorating a room!
If you have in mind that choosing the perfect shade of gray is the right thing to do because everyone you know has gray walls in their home, you just might want to move over a little toward the warmer neutrals in the paint deck, because in case you haven't heard, neutrals are warming up!! 
So, if you're standing there in your living room looking at walls that need a fresh new paint color and don't know where to start, I'm here for you!! I shared my favorite warm neutral paint colors in this post.
And today, I'm going a step further! I've put together a couple of pretty living room design boards in two different color schemes of blues, and pinks, and terracottas that are perfectly paired with a fresh warm neutral paint color for the walls! 
These room design inspiration boards are a great way to jump start your living room makeover! So let's dive in.
But first, let me go find my cape!
What are my favorite warm neutral paint colors?
I wrote all about some of my favorite warm neutral paint colors in this post.  These warmer neutrals are light and fresh and are a far cry from the heavy Tuscan peanut-buttery gold beiges that so many of us had in our homes years ago.
Some of my favorite Sherwin-Williams warm neutrals are below. Keep in mind, most of these colors will read lighter on your living room walls than they appear on your screen. That's why it's always important to test your paint colors before painting!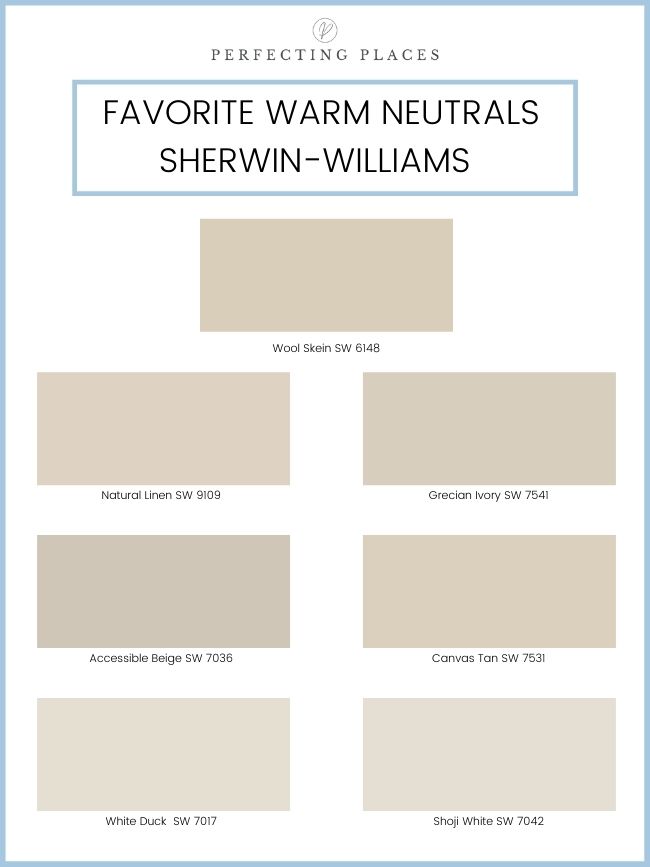 FAVORITE SHERWIN-WILLIAMS FRESH WARM NEUTRALS
Some of these colors, such as SW White Duck and  SW Shoji White will even read like a warm white.
How to Decorate a Living Room with a Warm Neutral Paint Color:
When using a warm neutral paint color on your walls, you don't have to stick with all neutrals and shades of brown in your living room decor. You can inject lots of pretty color, and today I'm sharing a couple of living room design boards with different shades of blues paired with pinks and terracotta.
When deciding on your living room decor and color scheme, it's a great idea to start with a pretty rug, especially if the rug is going to be the star of the room (every room needs a star, you know). You can pull colors from the rug to create a cohesive color palette for the space and add throw pillows and other art and accents to repeat the colors around the room.
I've started with two beautiful and inexpensive Amazon area rugs in the design boards below and paired them with pretty pillows from Etsy. Etsy is one of my favorite sources for throw pillows that have a designer look at a great price. You might enjoy this post with more pillow options from Etsy as well as my Shop My Favorites page for more great pillow sources.
These pillows shown in the room boards are actually pillow covers, which are perfect because they take up less storage space if you like to change out your pillows often.
Navy and Blush Living Room Color Scheme with SW Shoji White (7042):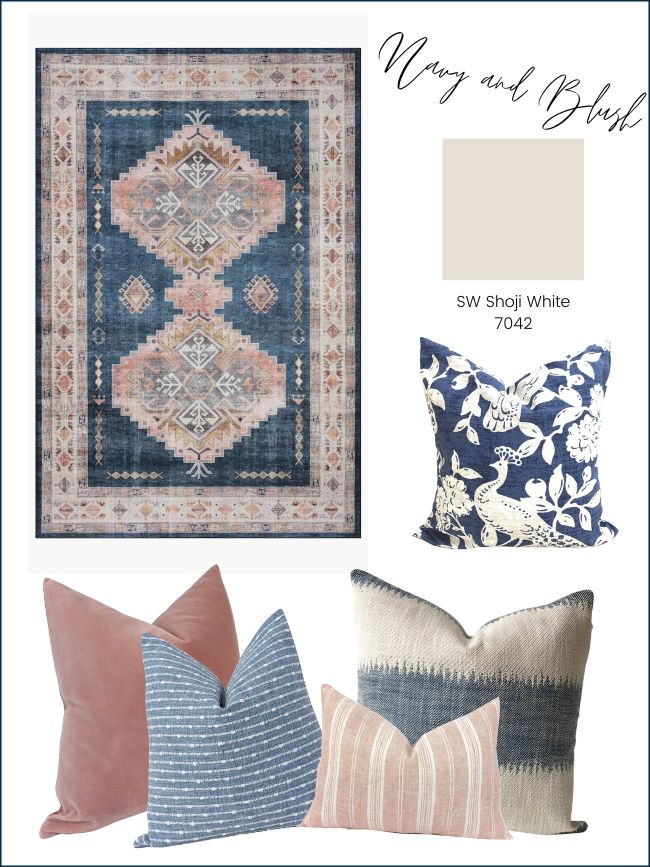 I love blue — all shades of it, and this beautiful navy and blush pink area rug is so pretty! I've paired it with Sherwin-Williams Shoji White (SW 7042). It actually reads as a warm white on your walls that isn't too stark. It's creamy and warm, but feels fresh.
I included a mixture of throw pillows in shades of blue and blush and in a variety of patterns to create a gorgeous pillowscape for your sofa.
---
---
Blue and Terracotta Living Room Color Scheme with SW White Duck (7017):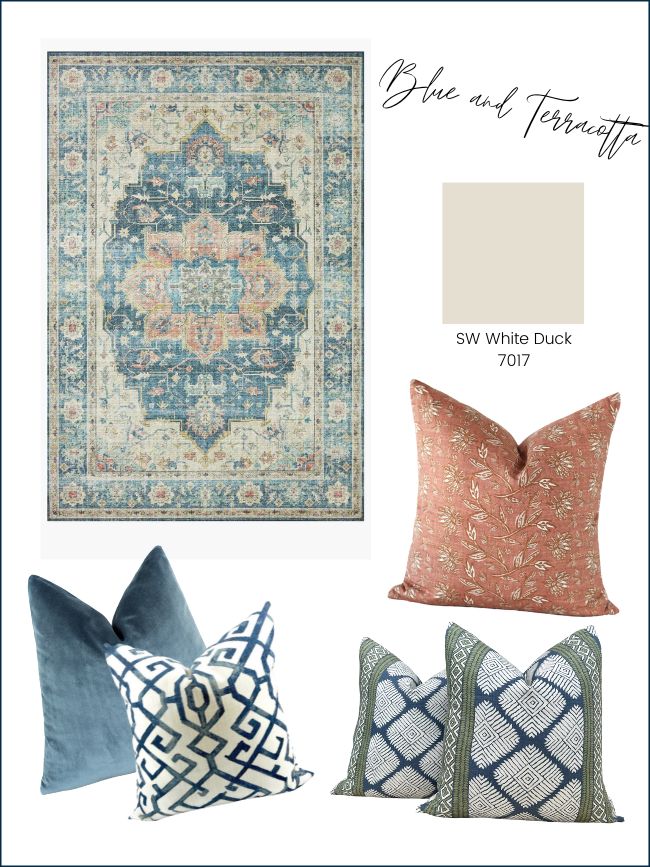 Sherwin-Williams White Duck (SW 7017) is another example of a light warm neutral that reads like a warm white. This beautiful blue rug with pretty terracotta accents is another great option from Amazon!
I love it paired with these gorgeous blue velvet pillows and other pretty pillow designs and colors! This would be the perfect jump start to a gorgeous color palette for your living room!
---
---
Blue White and Green Pattern Pillow Cover
Blue and White Trellis Pillow Cover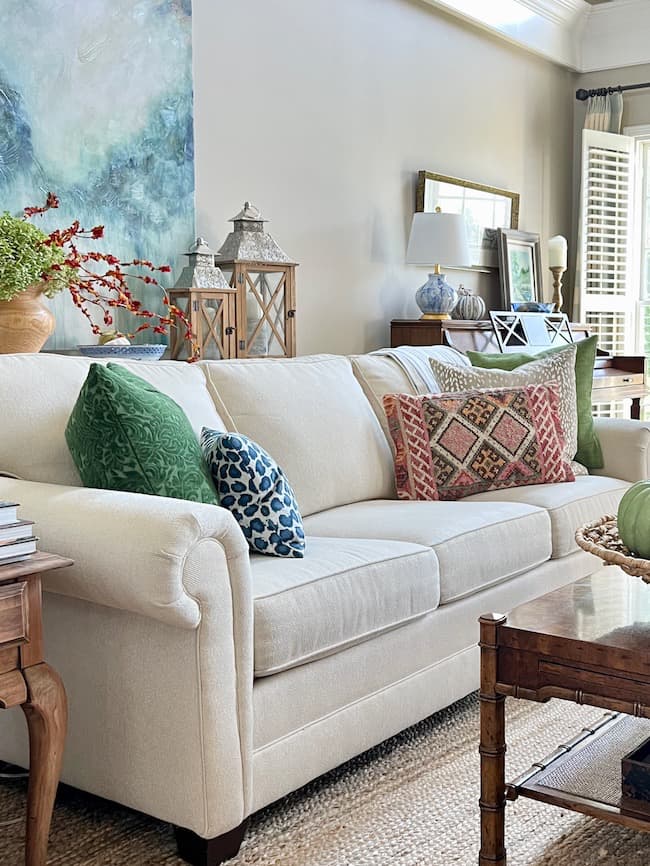 I hope you're feeling inspired now!
Do you have plans to repaint and redecorate your living room? Consider warming up your walls with a fresh warm neutral, and get a jump start with one of these living room design plans. You have the perfect area rug and throw pillow combinations at your fingertips to jump start your living room makeover!
As you can see, you can still inject plenty of gorgeous color in your room and it creates such a lovely cozy look!
Thanks so much for stopping by!
Happy Decorating!
Pin It for Later!!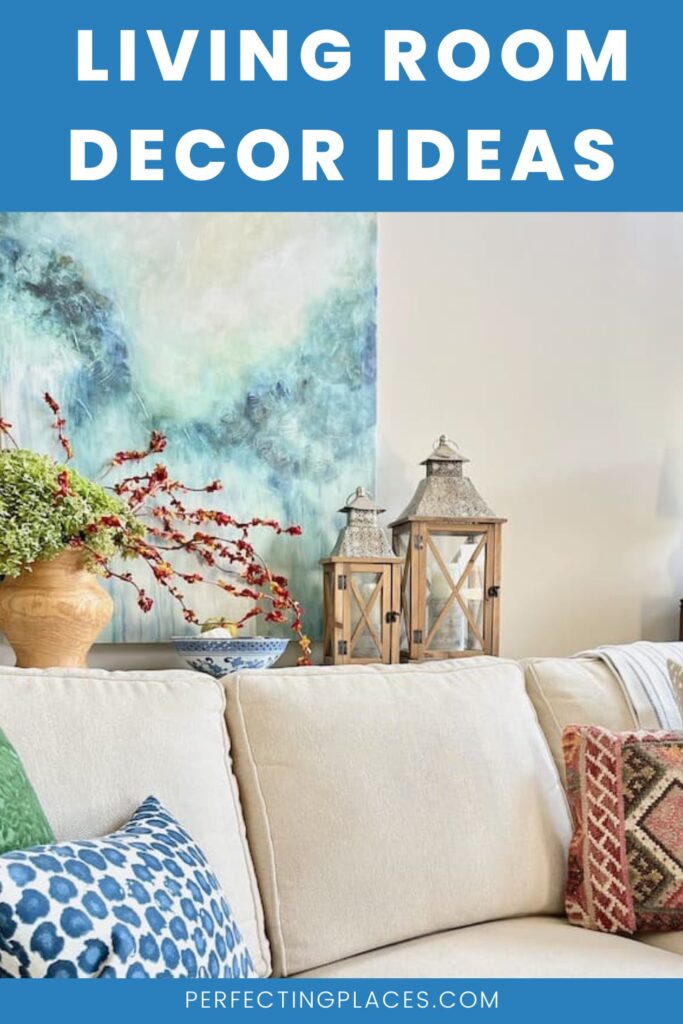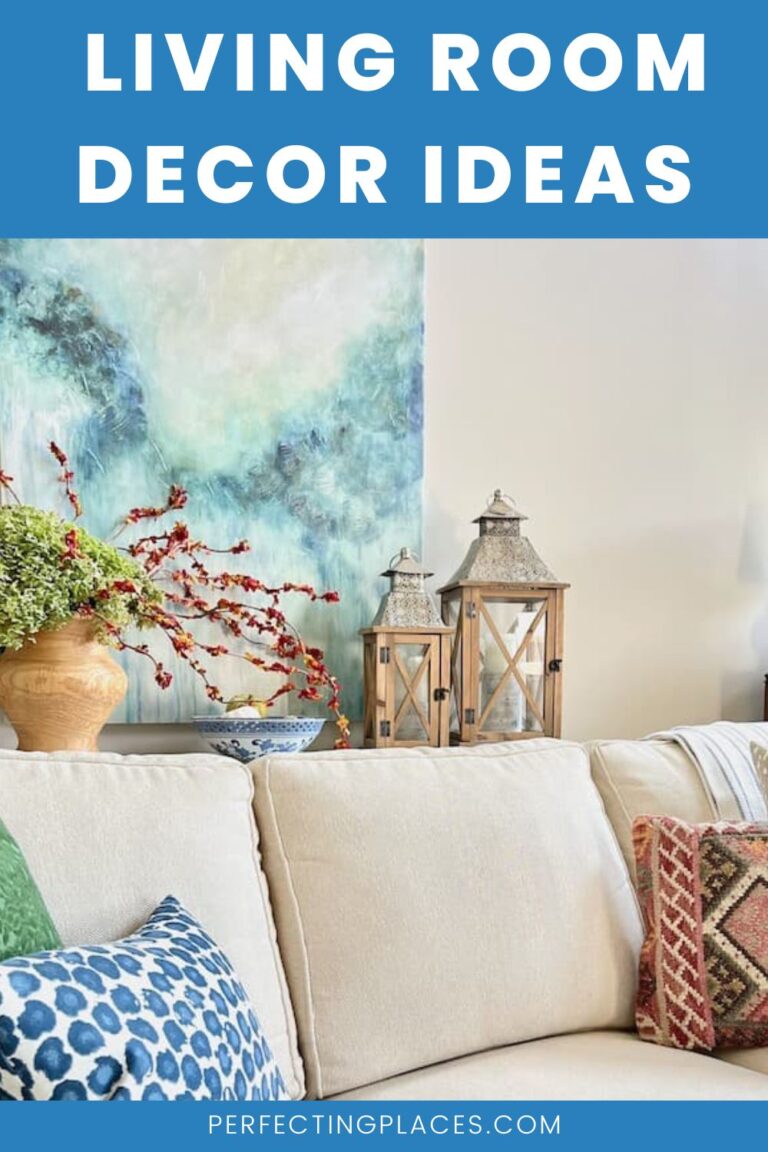 By the way, do you follow me on all the socials??
If not, check out my Pinterest, Instagram, and Facebook and be sure to follow me so you don't miss out on any of my fall and holiday decorating ideas!!