DIY Antelope Print Pillows for the Living Room
Are you ready for a quick living room refresh? These antelope print pillows add pretty pattern and color to your room.
I'm a pillow girl! I LOVE pretty pillows — and I mean A LOT of pretty pillows. Besides new paint color, it's the quickest and easiest way to change the look and feel of your room.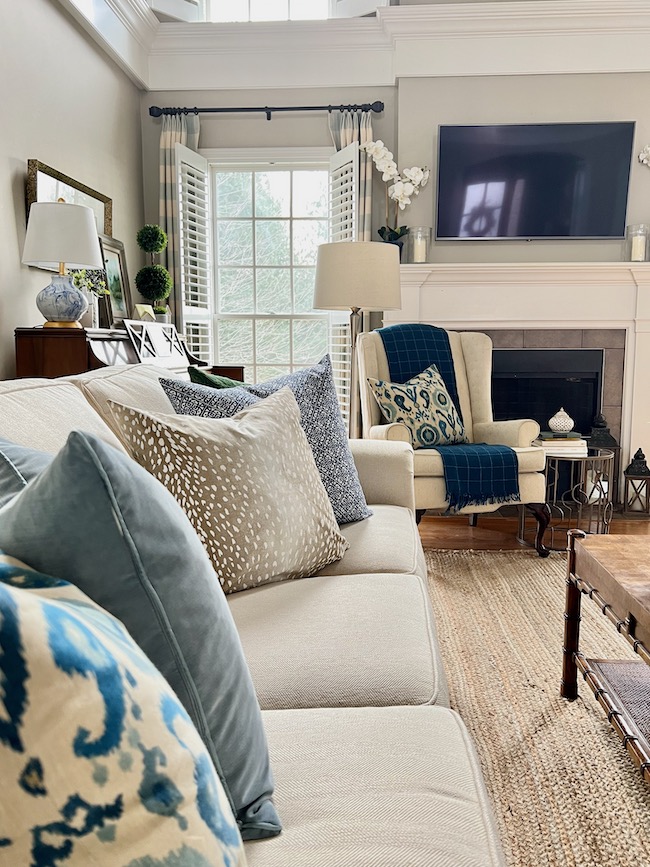 Plus, it makes my husband and children exceedingly happy to see beautiful pillow-scapes stretched across our living room sofas with so many pillow options for them snuggle up with. (Insert wink and sarcasm here.)
They tolerate me and my pillow love pretty well for the most part:)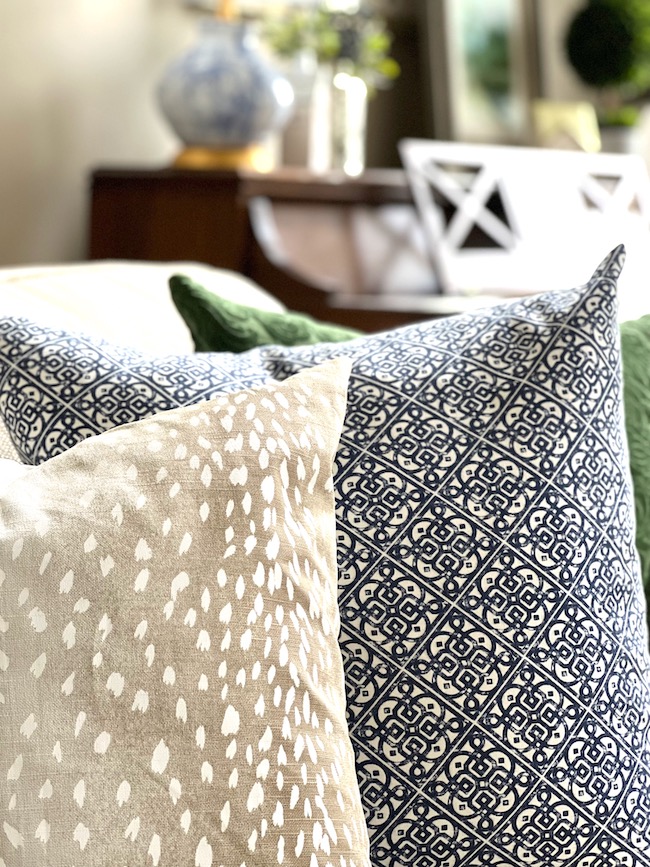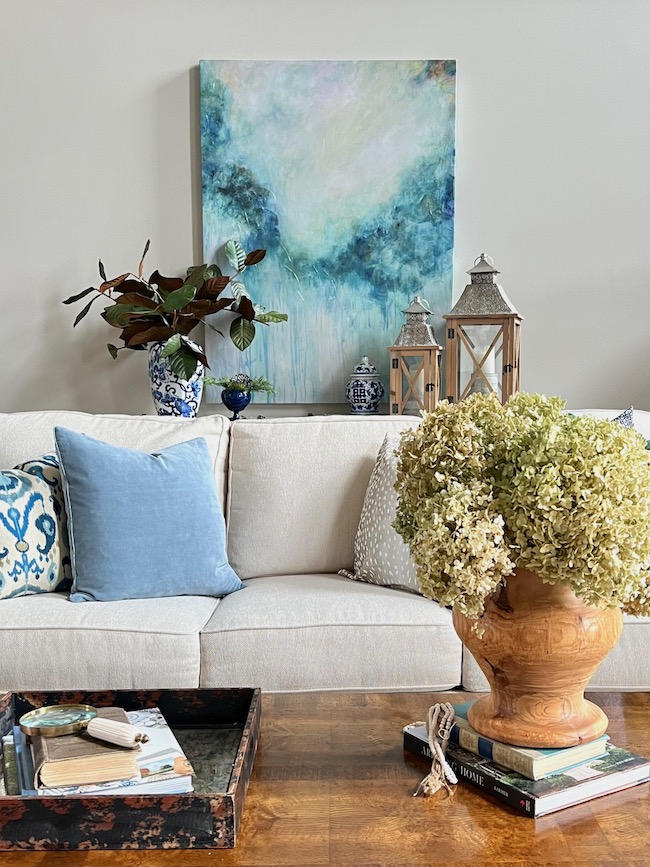 Sometimes you just need a little refresh, and these antelope print pillows are just the perfect neutral pattern as I transition from more subdued winter decor into fresh colors for spring. It may not feel like it right now, but spring is coming just around the corner — I promise!
(This post contains affiliate links, so I may earn a small commission when you make a purchase through links on my site at no additional cost to you. As an Amazon Associate I earn from qualifying purchases.)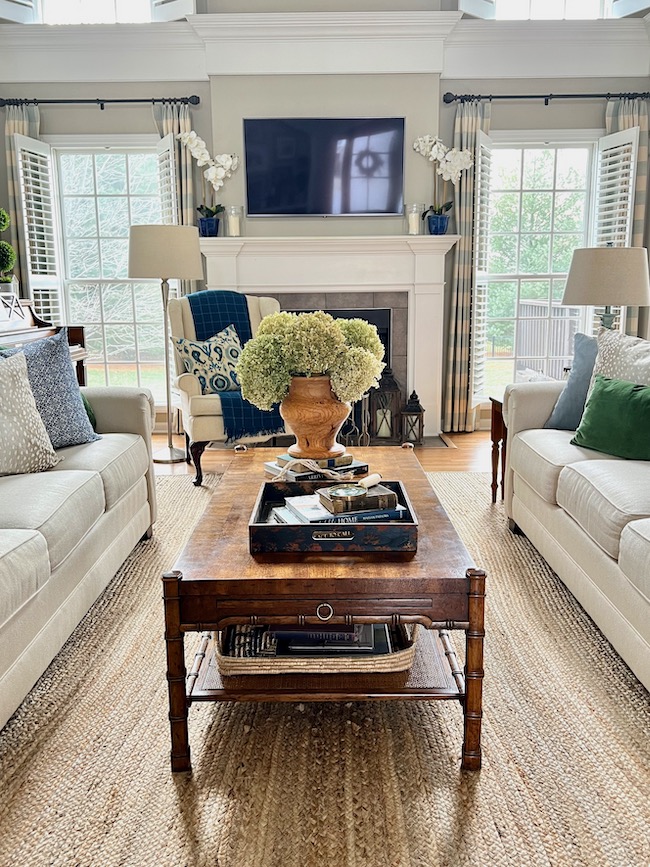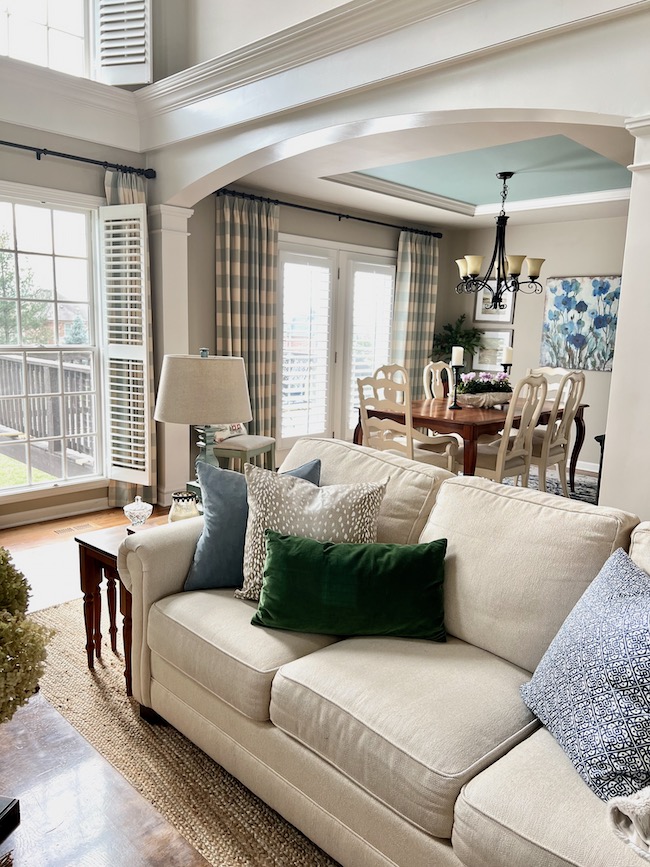 A few weeks ago, I found this wonderful antelope print fabric at Hobby Lobby, and snatched some up for a future project. I didn't know at the time if I would use it for pillows or to cover chairs, but knew it would be perfect wherever I decided to use it.
The soft beige color is the perfect fresh neutral color.
I also wanted to bring in a little green to our winter decor, and love the way the print looks with the green velvet pillows. Over the next few weeks, I'll bring in more vibrant spring colors, but the soft antelope print will still look great! My green pillows were a TJ Maxx find from a couple years ago, but this pillow is very similar in color.
I made my pillows, but you can find ready-made versions online at a variety of price points. These Amazon pillows are a great price. I recommend ordering the 20 x 20 pillow covers. These come 2 in a pack.
Ballard Designs also has a pretty antelope print option in several color ways.
One designer trick is to use pillow forms that are larger than the pillow covers. For these 20 x 20 pillow covers, use 22 x 22 pillow inserts for a nice full look. These pillow inserts come 2 in a pack. Of course, you can always cover a couple of your current pillows if you just want a quick change.
Using new pillow covers rather than new pillows makes it easy to switch out your pillows from season to season, but doesn't require as much space to store when you aren't using them.
How to Make Your Own Antelope Print Pillows: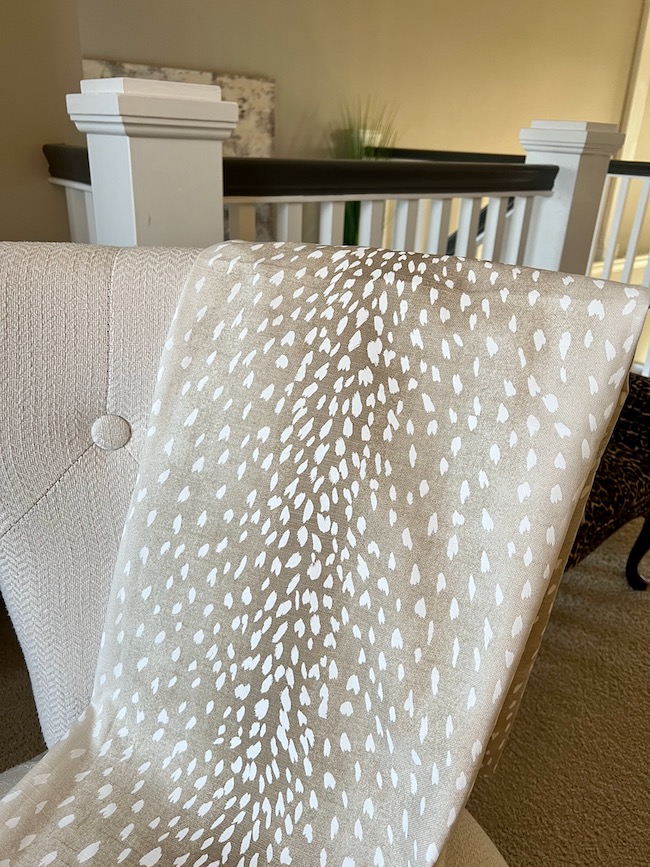 I made my own 20 x 20″ pillows using this pretty antelope fabric from Hobby Lobby. Hobby Lobby calls this fabric "fawn" instead of antelope. You see both terms used online for this fabric pattern, so if searching for items in this print, you might try both terms.
1. I used a t-square to make sure my fabric was squared before cutting. This pattern repeats horizontally, so I was able to get two pillow fronts with one width of the fabric.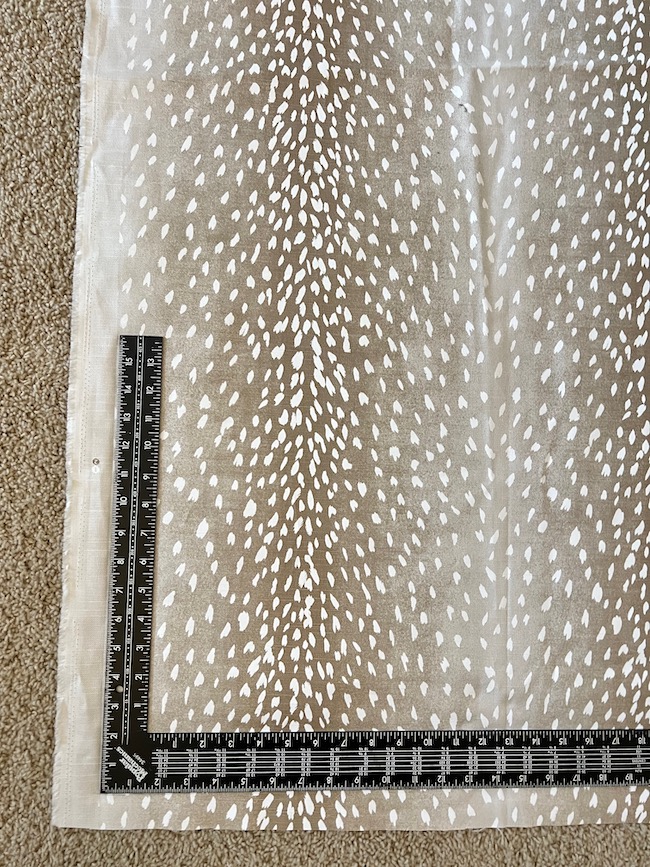 2. After squaring off the fabric, I cut the first width for the pillow fronts. The pillows will be 20 x 20 finished size. I allowed for 1/2 inch seams on all sides, so the fabric squares needed to be 21″ x 21″.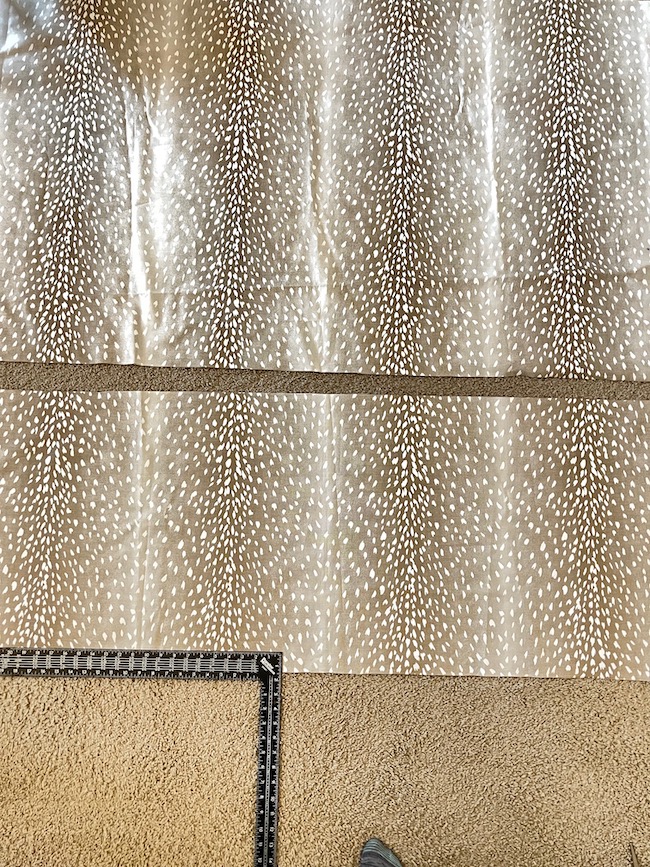 3. After cutting off the first fabric width at 21″, I folded the width of the fabric I half to find the midpoint and cut it into two pieces for the two pillow fronts.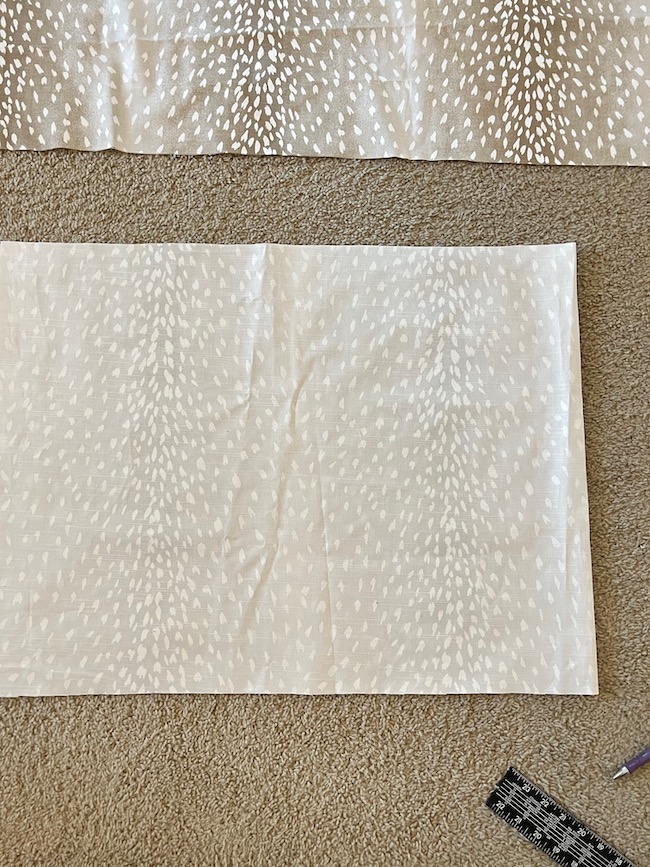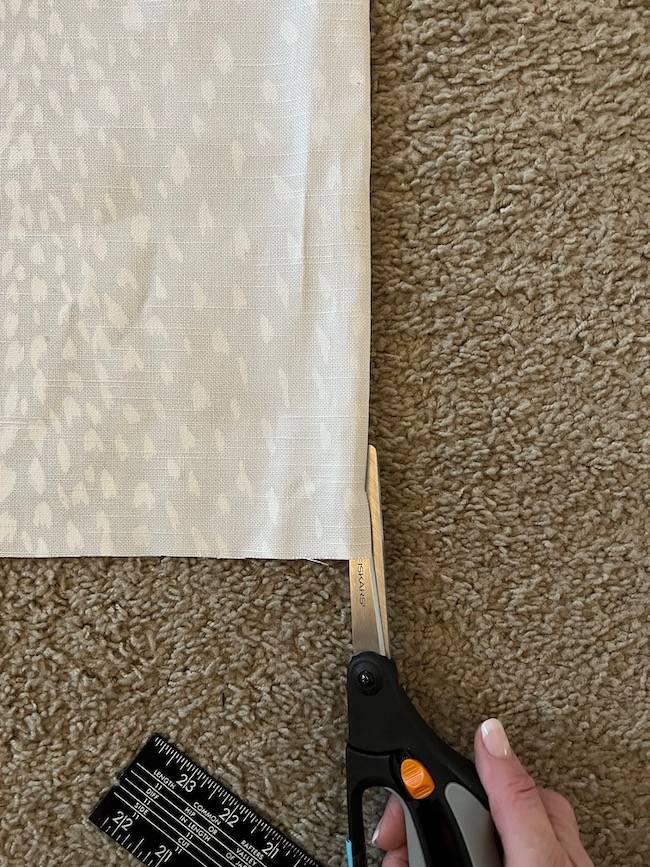 4. I determined the midpoint of the pattern on the pillow front. Since I needed the square to be 21″, I placed my t-square at the 10 1/2″ point right in the center of the pattern. I measured 10 1/2″ in both directions and marked the fabric.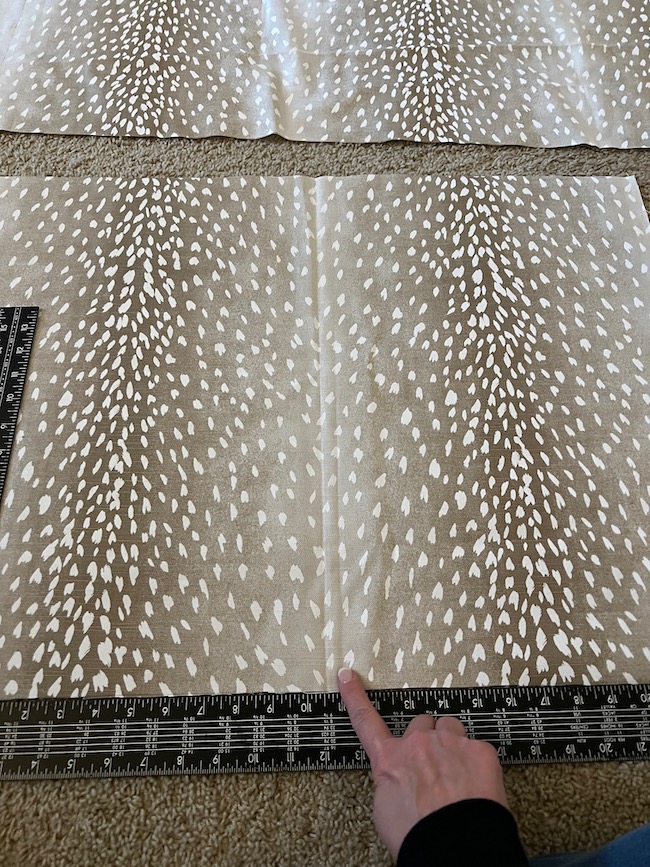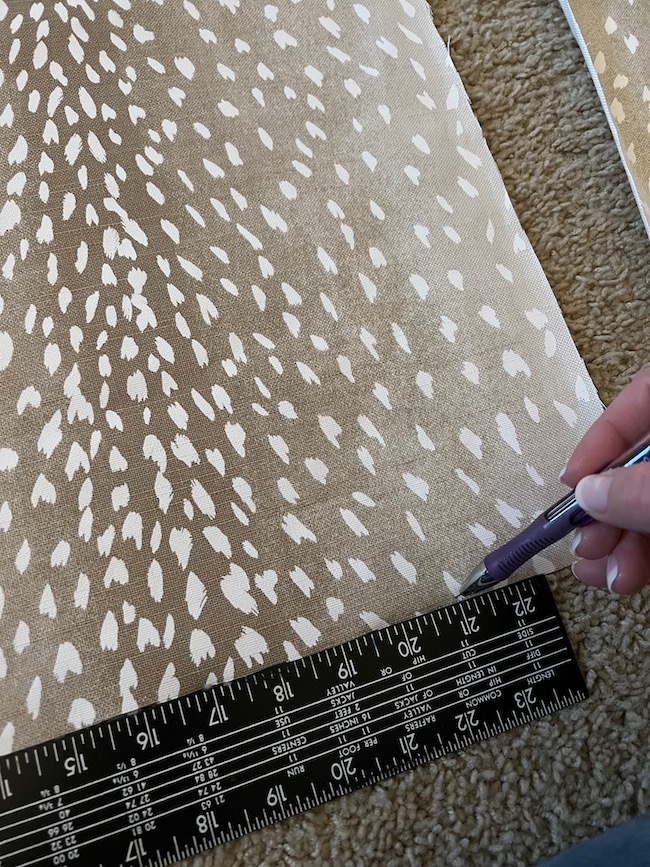 6. I used the t-square to mark a straight line on both sides and cut along both lines.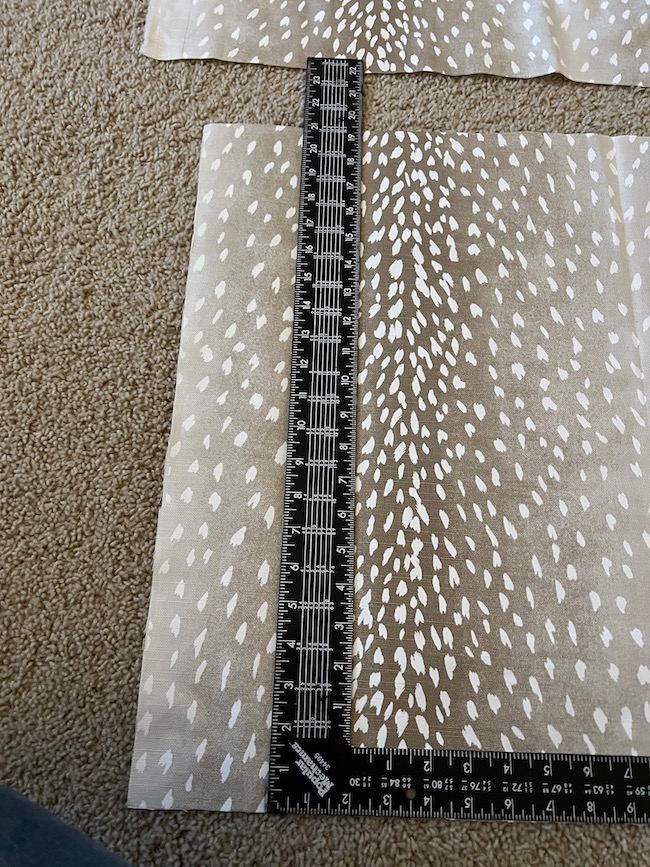 7. To cut out the second pillow front, I placed the first pillow front on top of the other half and matched up the pattern to determine where to cut out the second piece to match the pattern of the first.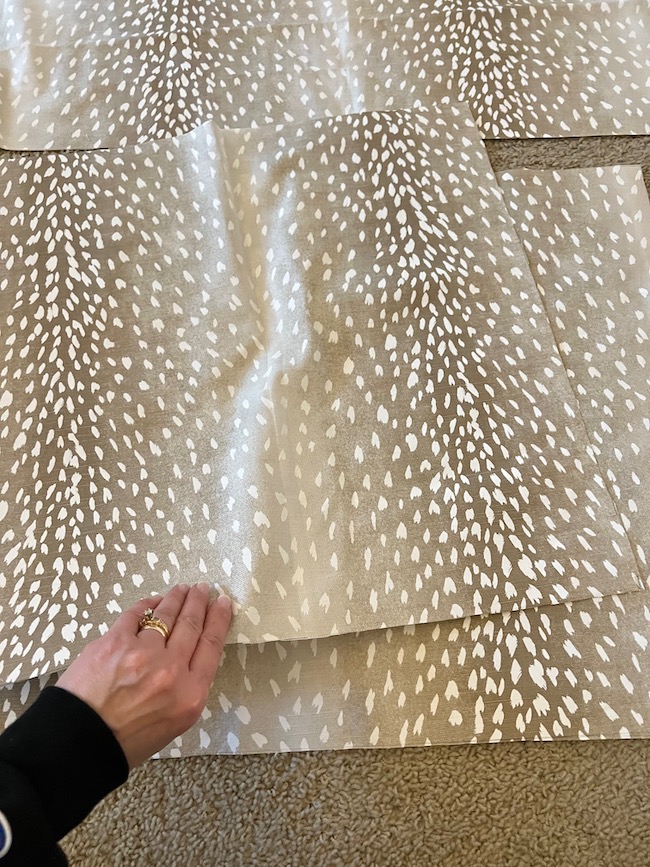 9.I marked the sides and cut out the second pillow front.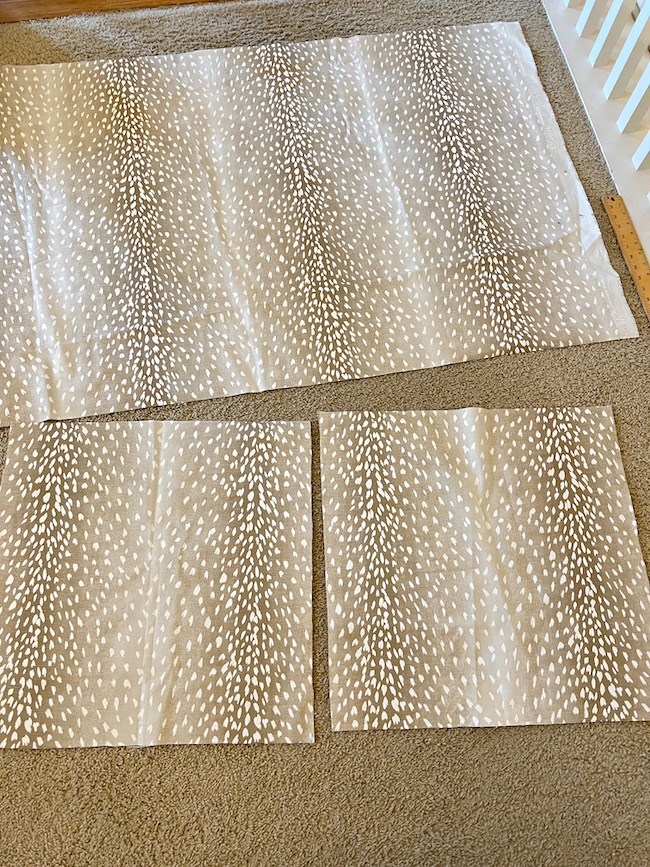 10. I repeated the same process as above to cut out the 2 squares for the backs of the pillows.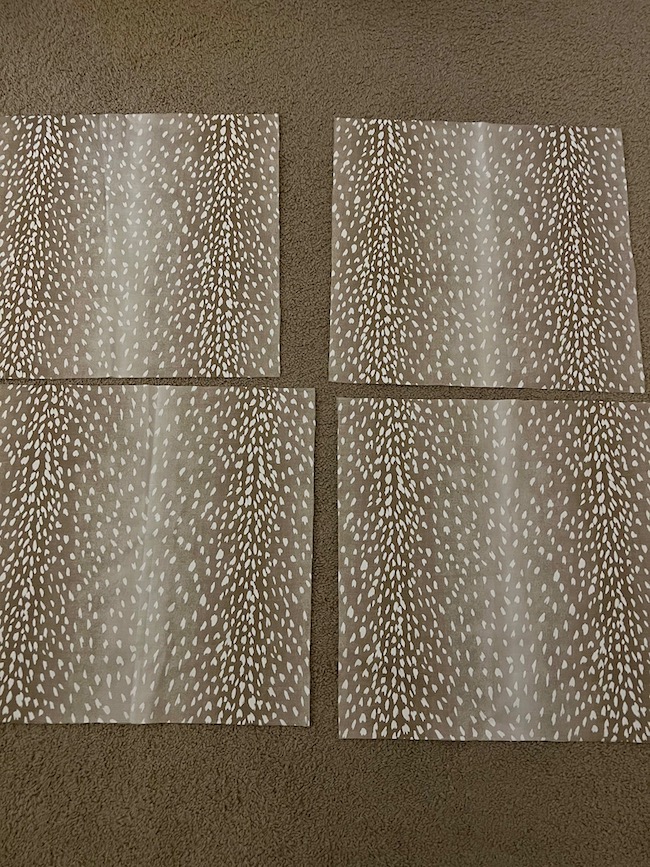 11. I pinned the pillow front and back with right sides together and sewed the pillow cover together using a 1/2 seam allowance. Leave an opening on the bottom for inserting your pillow form.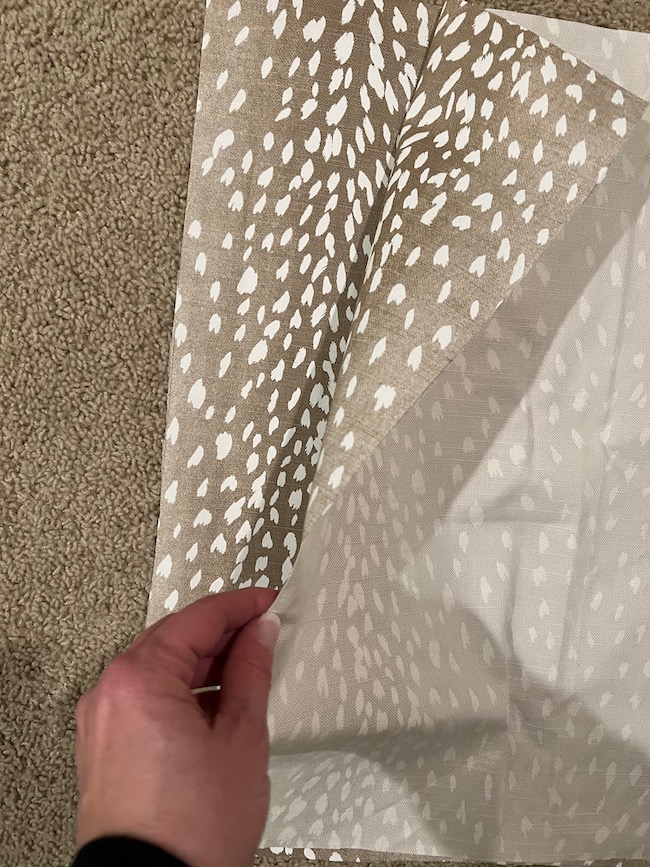 12. Clip the corners of your pillow to create sharper corners, and turn your pillow right side out. Insert your pillow form.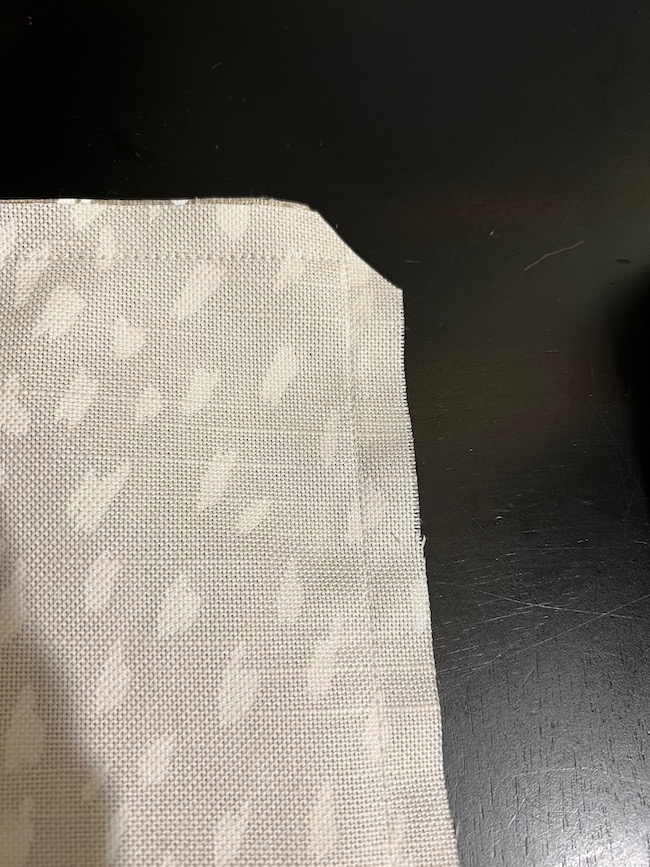 13. I stitched my pillow closed, but you can also add a zipper closure to the opening if you wish to created pillow covers that can easily be switched out later.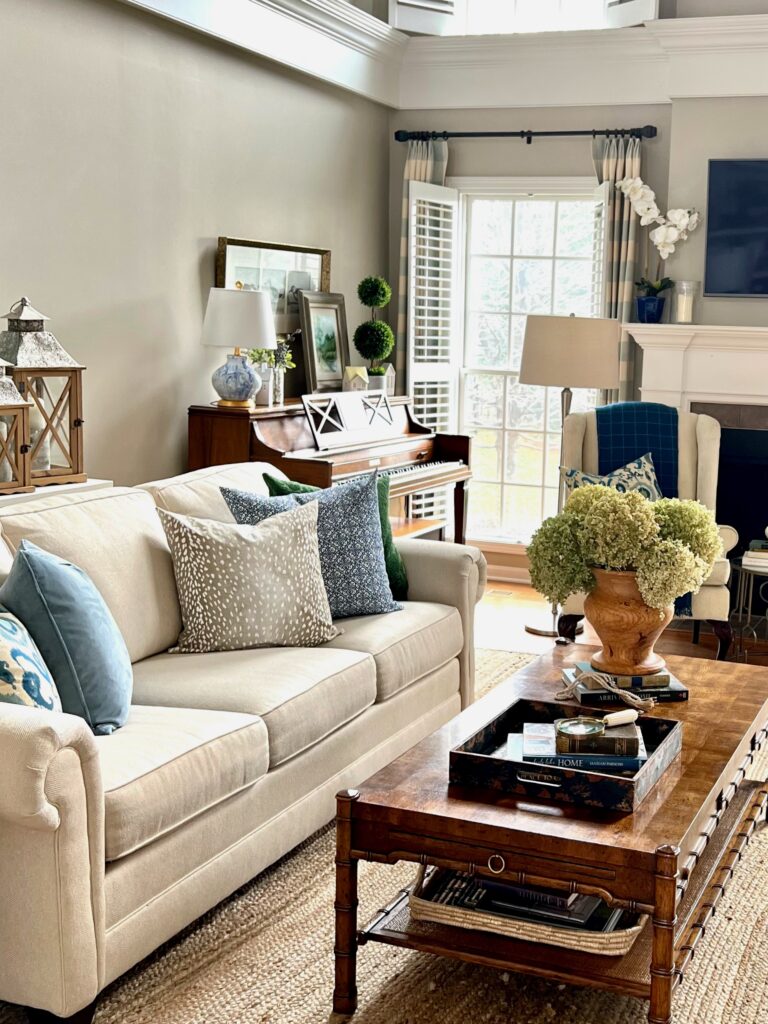 What to Pair with your Antelope Print Pillows:
Even though the pillows are a print, they actually act as a neutral texture, so you can add other textures and colors to your sofa.
I've paired green velvet pillows and blue patterned pillows with the antelope print for now, but will add more color as spring approaches. I've created a design board with pretty pillow pairings for spring with the antelope print pillows.
See how the antelope print really works as more of a solid neutral with the other prints, but still adds a lot of texture and interest.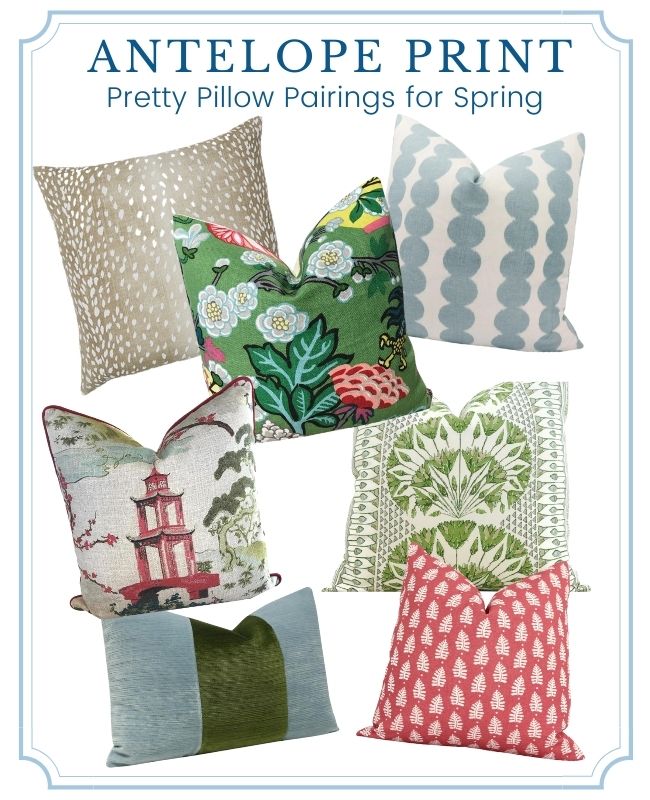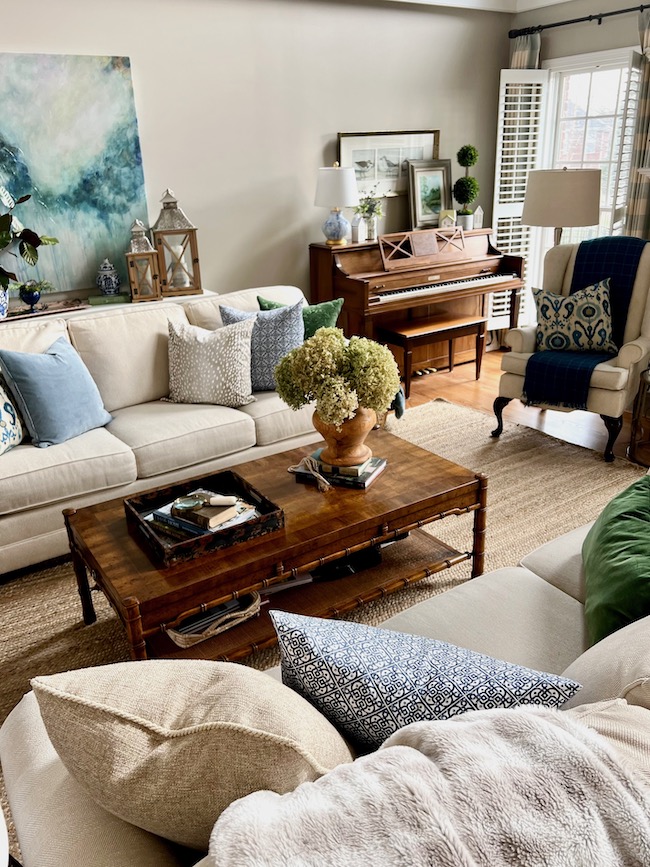 Come on, Spring!! I'm ready to brighten up this place!!
Are you ready for spring decorating?? Let me know in the comments below!
You might also enjoy:
Biophilic Design — How to Bring Nature into Your Home
Our Simple Valentine's Day Table Decorations
Inexpensive Home DIY Projects for 2022