Have you set new goals for the new year? I'm sharing my top home goals for our household this year and the projects I hope to accomplish.
The start of the new year is the perfect time for goal setting and looking ahead to all you hope to accomplish for the year. I like taking inventory of all aspects of my life to evaluate what I can do better or improve upon. Today, I'm focusing in on the home improvement projects I hope to tackle this year around our home. I'm also sharing my goals for setting better priorities to focus in on what's important in our family.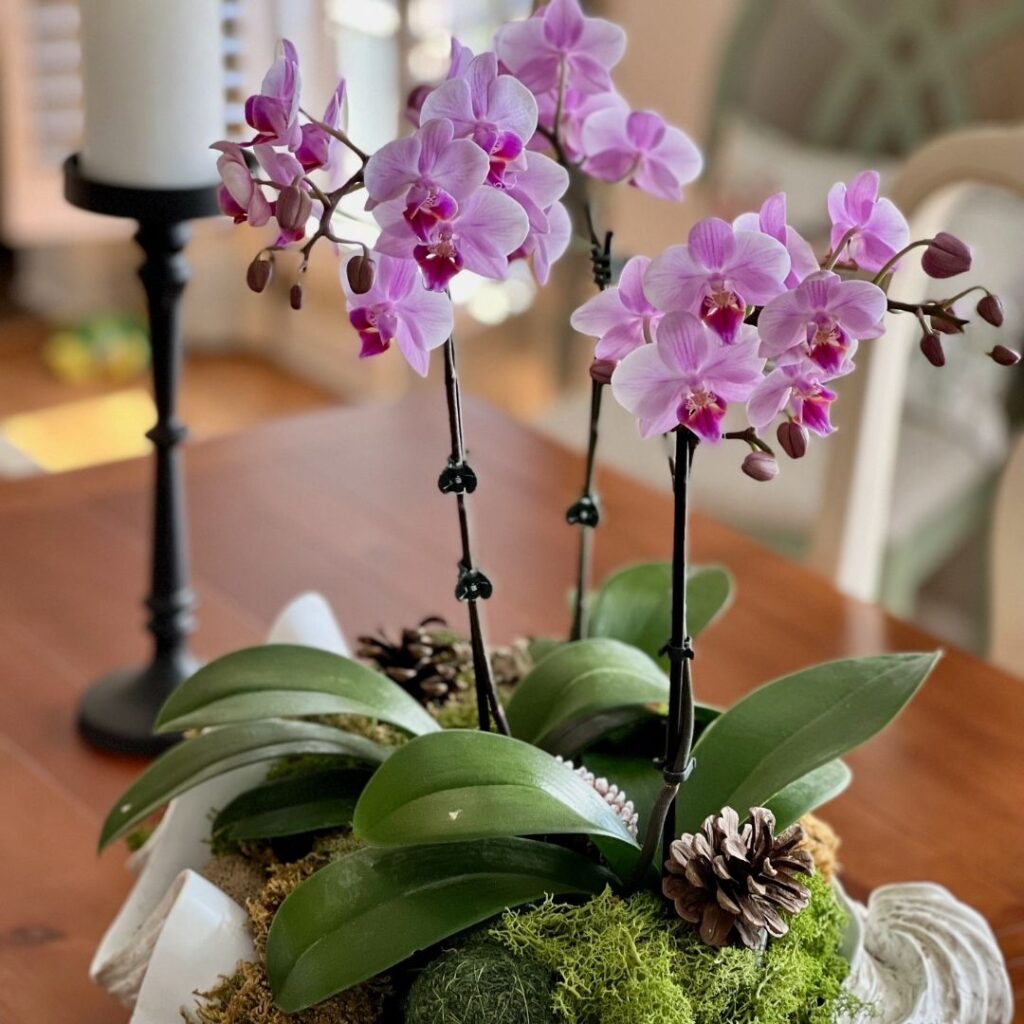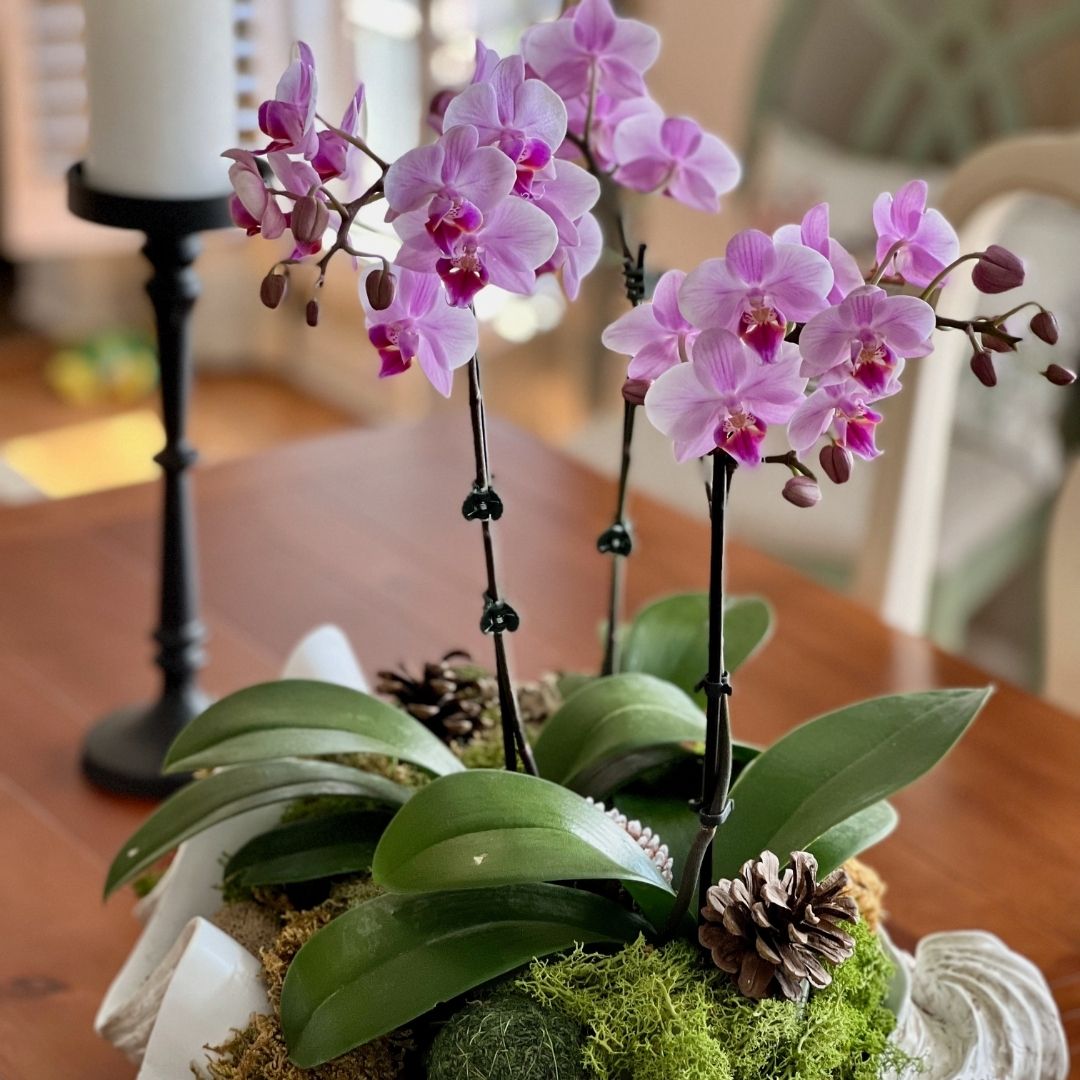 (This post contains affiliate links, so I may earn a small commission when you make a purchase through links on my site at no additional cost to you. As an Amazon Associate I earn from qualifying purchases.)
I have such high hopes for the new year!
We have such an exciting year ahead. Of course, if you've followed me for a while you already know this! We're going to be grandparents for the first time in April!! We're so excited to welcome our sweet Eden Rebekah in just a few short months.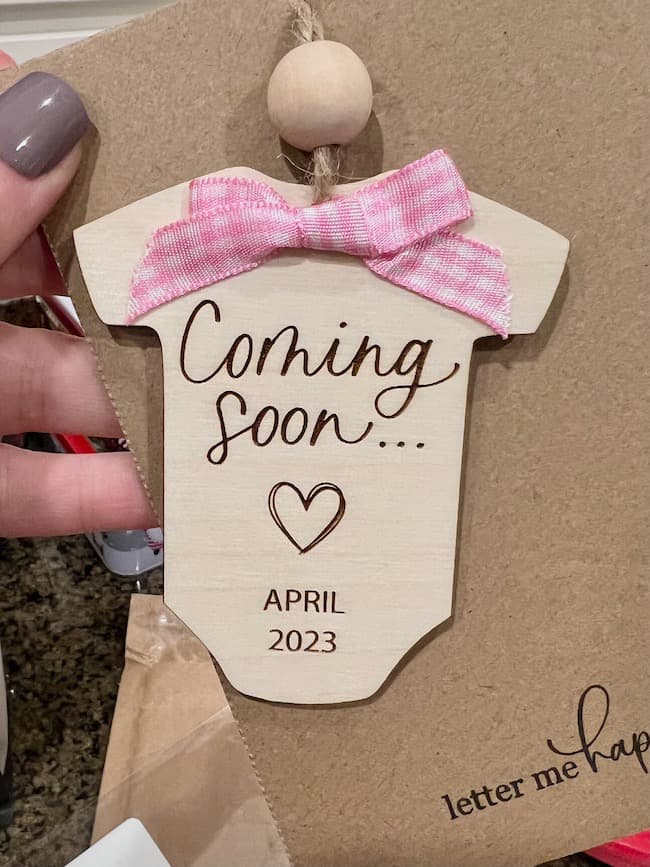 As I've mentioned before, it takes me a few weeks to really work through and begin to step into the new routines, schedules, and processes I want to implement. Home goals aren't just about the physical space of our house, but they also refer to processes and the environment I want to create and cultivate in our home so that everyone who enters feels valued and cared for.
My Word of the Year
For the past week, I've been working through a study to select a Word of the Year for 2023. Through this process, I narrowed down my ideas to the top 5 words that spoke to me as areas I want to focus upon this year. My five words are balance, create, cultivate, intentional, and present.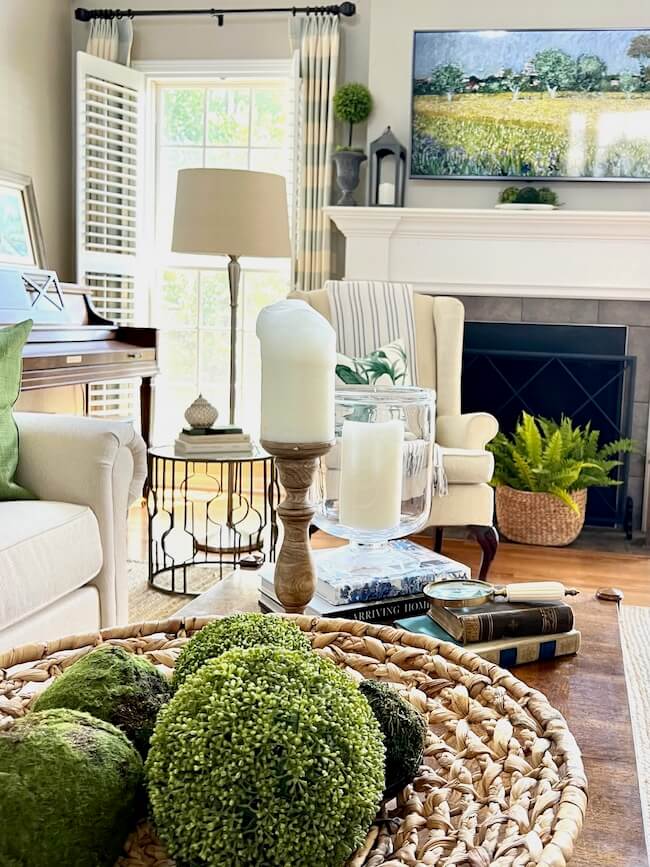 But, as I look back over the past year and how busy and focused in I've been on growing my blog, I realized that I really need to be better about giving the proper amount of attention and focus to many different areas of my life — my family and relationships, my health, my faith, and my blog and business.
So, while all five words are important to me this year, balance seems to be the word that I'm zoning in on to make sure I don't neglect what is most important to me as I continue in this blogging journey!
Of course I have no shortage of home improvement project goals I want to complete as well, and today I'm sharing the projects I hope to tackle around the house this year.
My Completed Home Improvement Proiects from 2022
I think it's always important to celebrate accomplishments, so I'll start with a look back at some of the home improvement projects we completed last year.
Deluttering Storage Areas:
Last year, I focused in on decluttering our home storage areas, particularly in our basement. We have two unfinished storage areas in our mostly finished basement. I sorted and donated so many things we no longer used or wanted from these areas.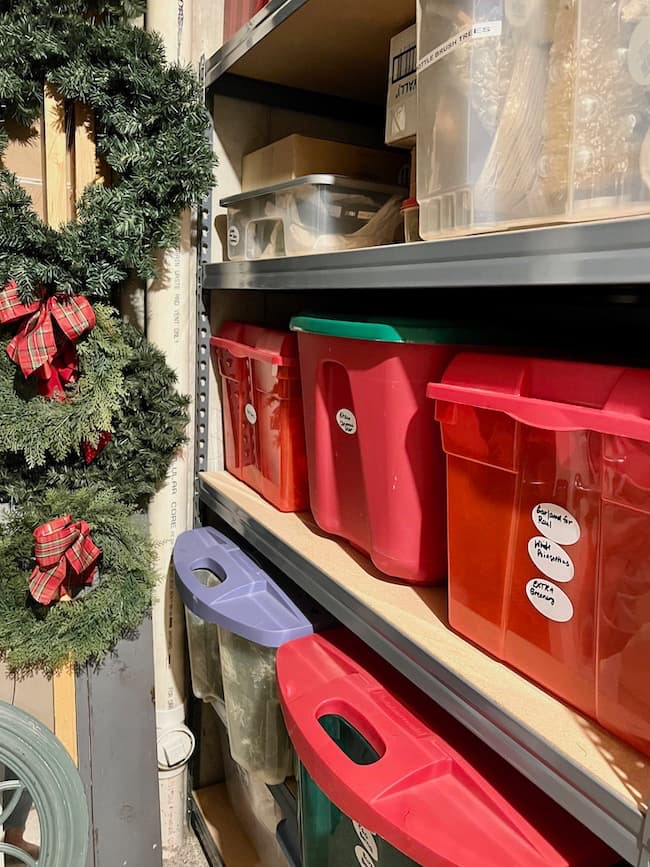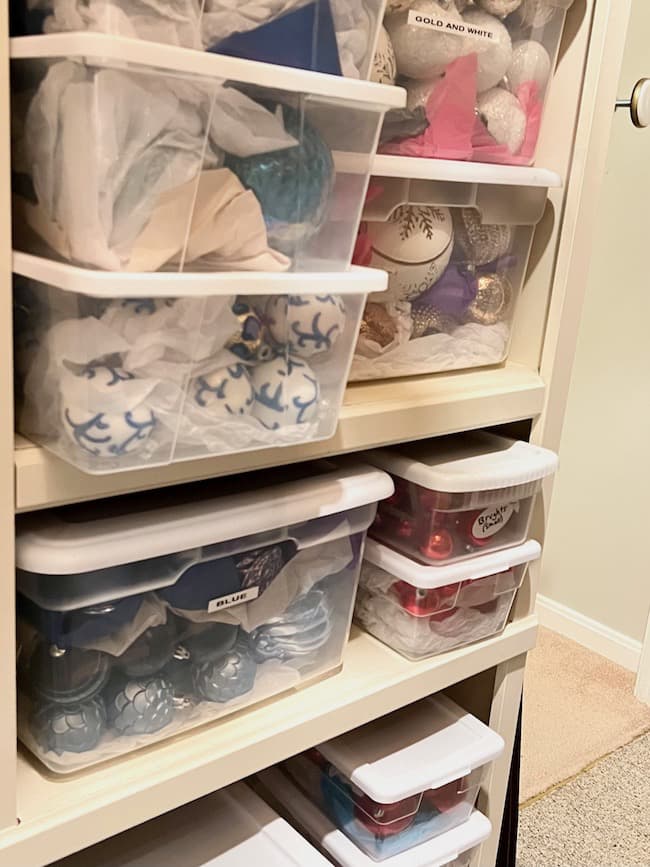 I paired down our holiday decorations and moved them out from under our basement stairs. They're now housed in my dedicated "holiday decor and seasonal" storage area, and every container is easily accessible now. It's so much easier than having to pull every container out from under our steps to get to anything.

When our second son moved to Nashville, we converted one of our basement rooms into a home decor storage area and installed the best deep heavy duty shelving. I keep all of my home decor items sorted in this space as I often switch out my accessories with each season.
This shelving unit is great for holding heavy decor accessories, and it looks great at the same time if you need a storage option in a more public area of your home.
The second basement storage area was decluttered and tidied up, as well as all of the closet areas in our home. I do have to confess that after several months, I need to revisit a couple of closets for an organization refresh.
Pantry Organization:
Our pantry needed a big overhaul last year, and I started the year off with a pantry cleanup and reorganization. You can read about everything we did in this post.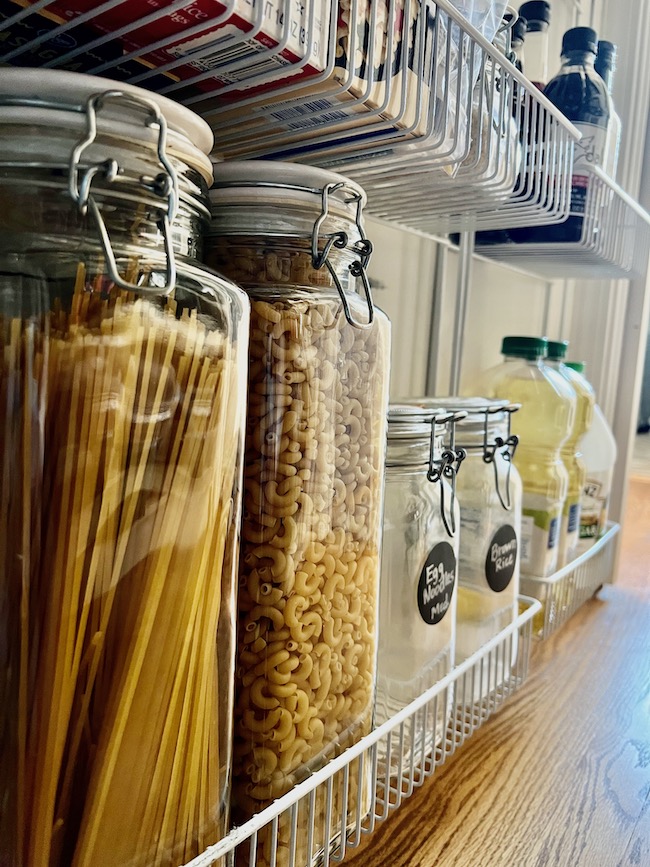 It's still pretty well-organized, but after the holiday baking and entertaining frenzy, it could use a little tidying up again.

Completed Primary Bedroom and Bathroom Makeover:
Last year, I participated in the Spring One Room Challenge project and made over our primary bathroom on a budget.
The main feature of the makeover was the wall stencil project on the bathroom walls. I used this large fern frond stencil to create a gorgeous look on the walls. It's called a fern stencil, but it reminds me more of palm fronds. It was a lot of work, but I just love the end result!!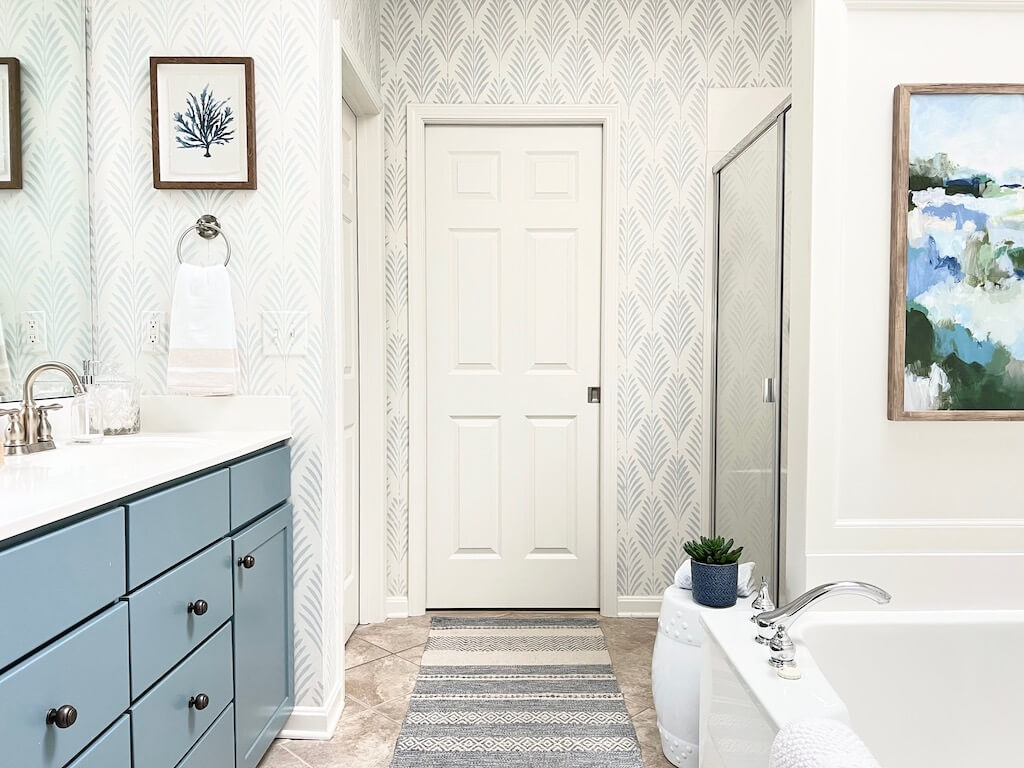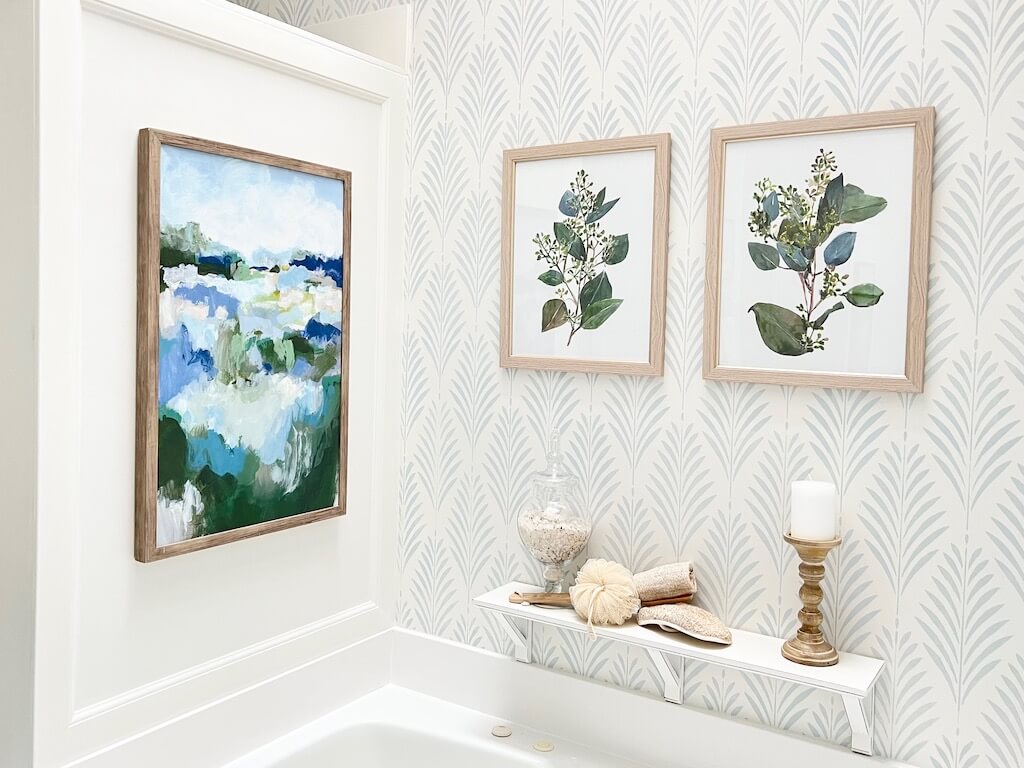 The primary bathroom coordinates perfectly with our bedroom with its gorgeous blue and white palette. I shared some of my favorite bedding in this post about how to created a beautiful cozy layered bed.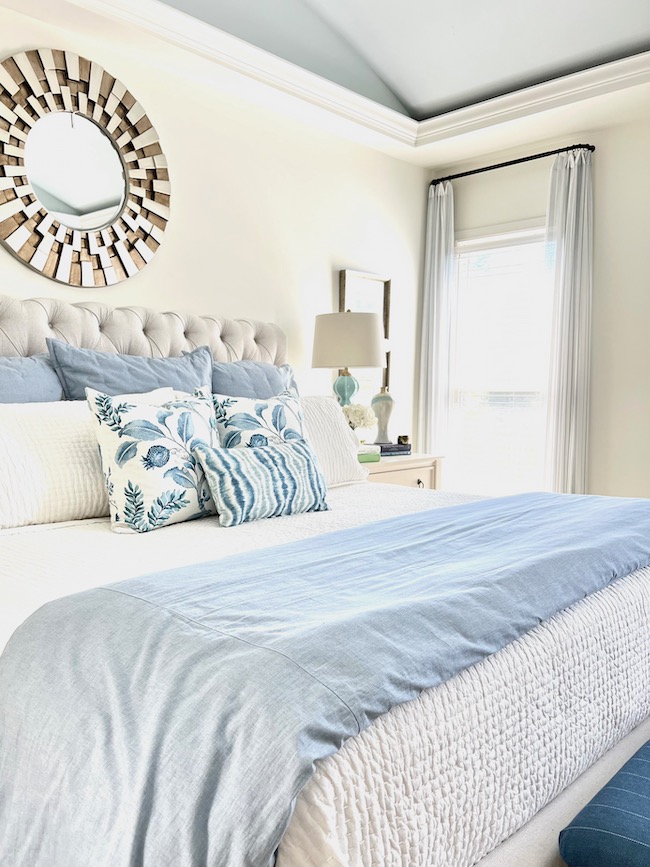 My Top Home Goals for 2023:
I have lots of projects I would like to complete around our home this year, but below I've list our top five. These all happen to be room projects with simple cosmetic fixes rather than major renovations.
1. Update our living room walls with paint and trim work.
Our living room is an open two-story monstrosity. Well, that might be a bit of an exaggeration, but we do have tall ceilings. I'm always trying to think of creative solutions to cozy-up the living room space. I have a few different options I'm considering on the walls, but they all involve new paint and the addition of some trim or millwork to the walls.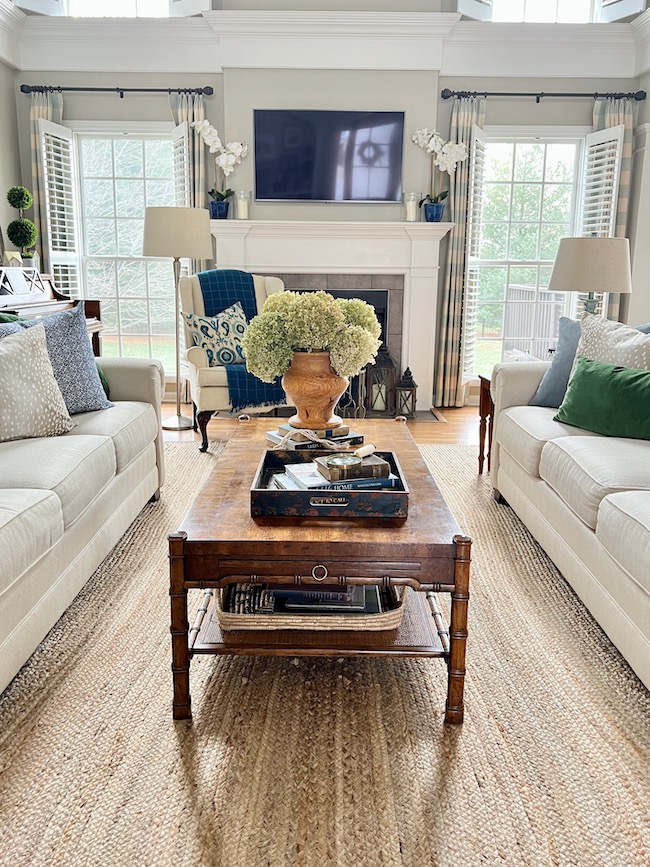 I know for certain that I want to add trim to the firebox above the mantel, and we could certainly use a fabulous architectural decor piece between the two upper windows.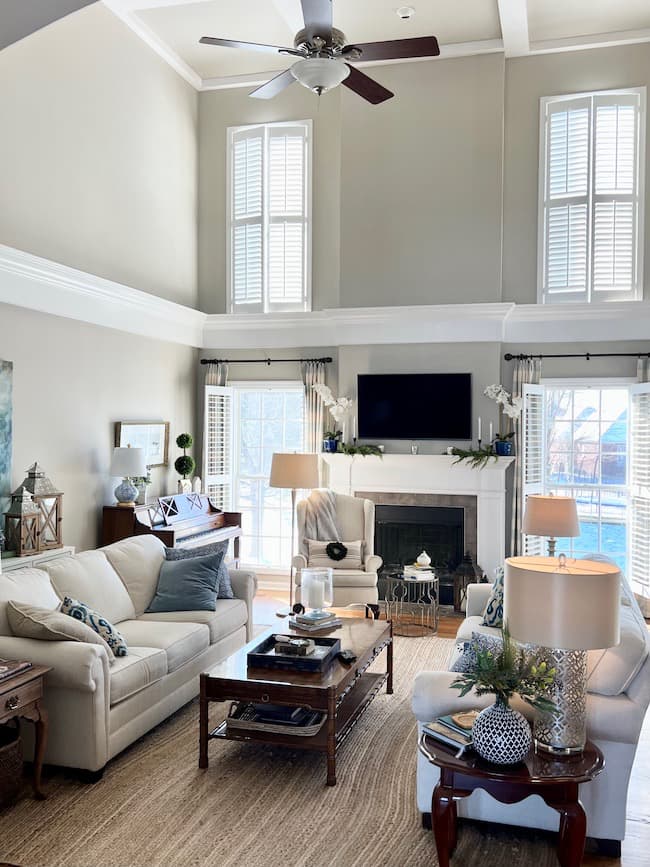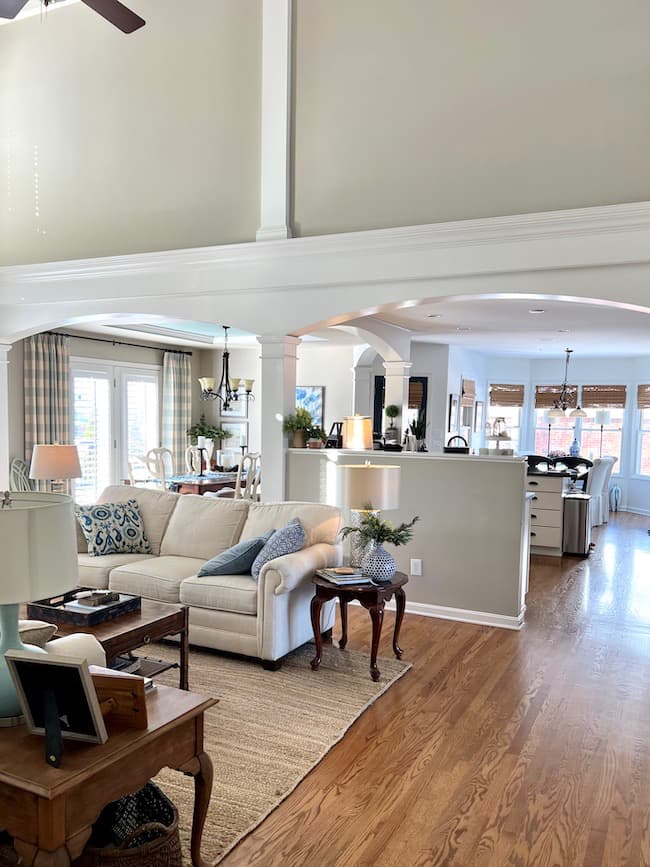 The current trim work that divides our tall walls creates an opportunity to add a little interest to the walls. I'm considering the following options:
Add millwork such as box frame trim to the lower wall and paint the entire lower wall out with the same color and finish as the trim. The upper walls could remain the current color or be painted a lighter neutral than they currently are.
Paint the entire room a lighter neutral — almost an off-white, and only add trim work to the firebox.
We also have some built-in shelving in the room that provides an area for a great accent color.
2. Paint our dining room walls and tray ceiling.
At a very minimum, the turquoise ceiling has to go!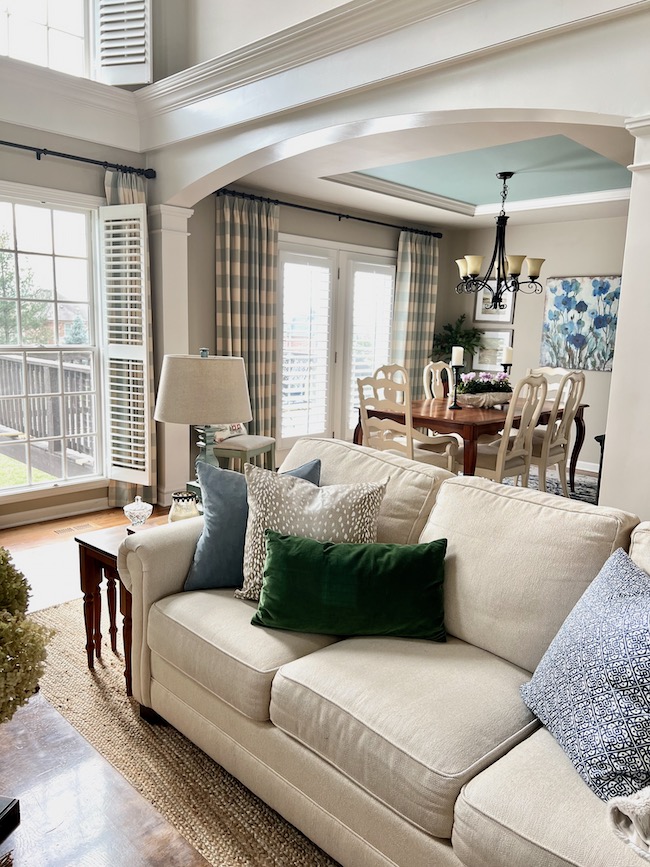 It's had its time as the center of attention, and now it's time for a refreshed look. I'm still deciding whether I want the walls to be the same as the living room color I choose (as they are now), or add a little punch of color in this space.
If I go the route of trimming out the bottom half of the living room walls and painting them as the trim, then I kind of like the idea of a contrast color of some sort in the dining room.
3. Move my office and create a craft studio/office combo.
I currently work at the desk in our upstairs loft area which overlooks our living room. I actually enjoy working here, but I also would like to create a dedicated crafting and DIY space in our home instead of using the kitchen for all of those projects.
One of our upstairs bedrooms was intended to be my home office three years ago, and when the pandemic hit, the space became my husband's work-from-home space. Since he is now back in the office, the room would be a great studio room/office for creating and filming all of the fun DIYs I do.
I'm excited to get to work on this area of our home, organizing all of my craft and DIY supplies into one space.
4. Paint our basement.
Yes, I know! This task remains on our project list left over from last year! It's been a fairly neglected area of our home for a while, so hopefully this will be the year it gets a new look! It's kind of low on the priority list, but I would love to at least refresh the basement bedroom and bathroom! Maybe it will be a great fall project!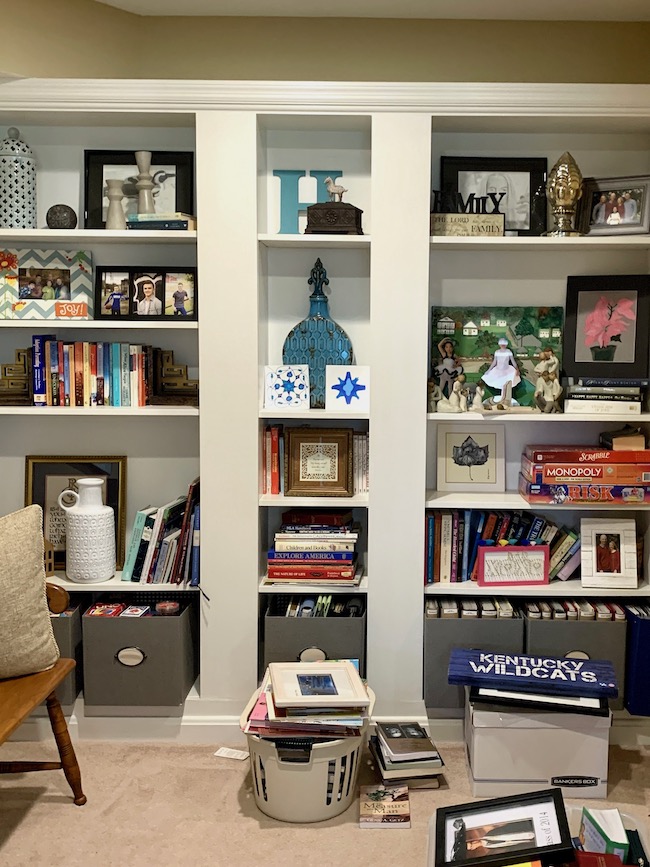 In reality, our basement could use a little more TLC than just paint. New flooring and some updated furnishings would be fabulous to creative an inviting space down there.
5. New paint and bedding for the upstairs guest room.
We aren't quite empty nesters yet, but we have done a lot of rearranging and repurposing of bedroom spaces in our home since both boys are now adults and on their own. The upstairs guest bedroom seems to be the most preferred bedroom when the kids are home, but it could use a little updating.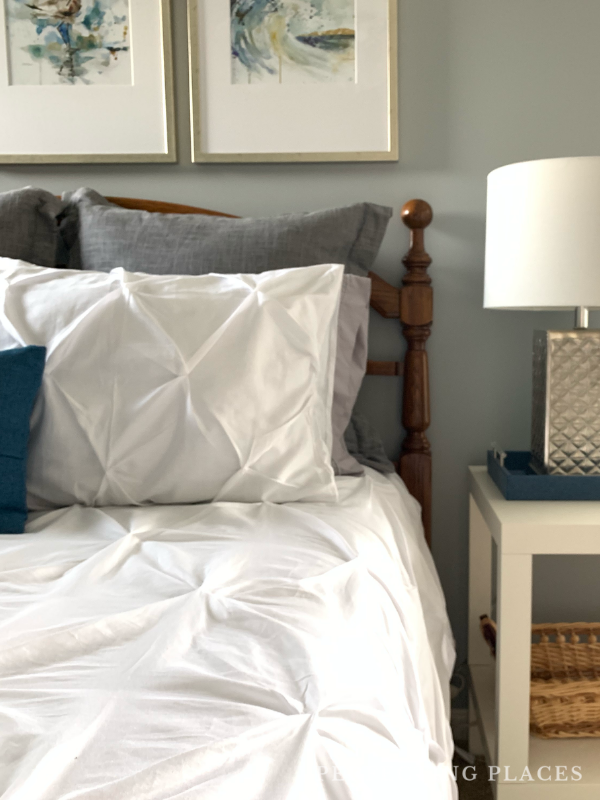 It's currently painted Sherwin-Williams Krypton which is a mid tone gray, but I would love to give it a fresh new look, and I'm leaning toward green in that room. The jury's still out, so we'll just have to wait and see.
Of course, there will be an addition of a rocking chair and Pack 'n' Play in that room to accommodate our sweet Eden when she comes for a visit!!
I hope you enjoyed this little peak into my home project to do list for 2023! Maybe it even inspired you to consider some new possibilities for spaces in your own home.
What home decor projects do you plan to complete this year? I'd love to know your home goals in the comments!
By the way, do you follow me on all the socials?? If not, check out my Pinterest, Instagram, and Facebook and be sure to follow me on all the socials so you don't miss out on any of my decorating and DIY ideas!