A Hand Painted Tole Cachepot DIY
Would you like to add a fresh pop of color for spring? Today, I'm sharing a blue and white hand painted tole cachepot DIY with an adorable lattice pattern.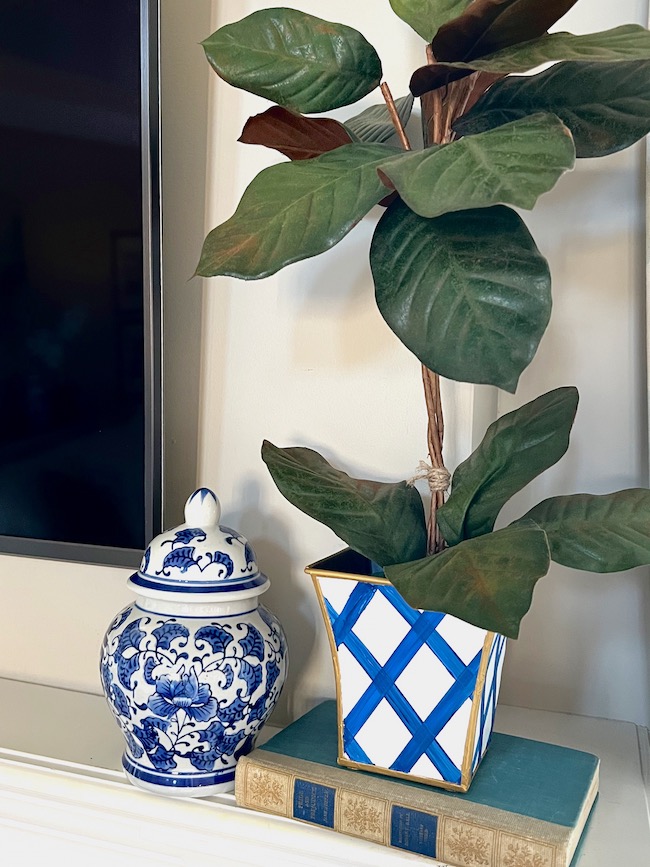 (This post contains affiliate links, so I may earn a small commission when you make a purchase through links on my site at no additional cost to you. As an Amazon Associate I earn from qualifying purchases.)
I've had my eye on cute little hand painted cachepot planters for a while now.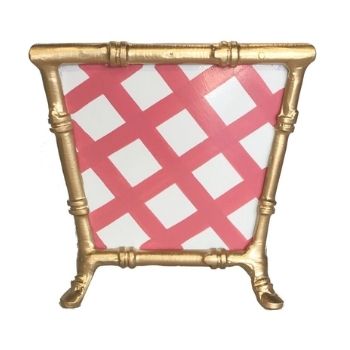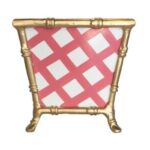 I think these tole painted cachepots from Amazon and One Kings Lane are just lovely, but I always love a good DIY. It's just the little stubborn part in me that always thinks I can just do it myself. Sometimes it works out beautifully and other times not so much, but I always like the adventure of trying to figure it out for myself.
So I gathered some small tin planters I had on hand, a little Frog Tape, and some blue and white and metallic gold acrylic paints and set to work on my DIY planter pots.
I wanted a bright color with some classic blue and white Chinoiserie styling.  I couldn't decide if I wanted to keep the pots plain or if I wanted a pattern, but ultimately I decided on a cute lattice pattern.
I love the gold edging on these examples, and wanted to create that look as well on my cachepots.
What is a cachepot?
Before we get started with the tole cachepot DIY, here's a little cachepot history and reasoning behind their use.
So, just what is a cachepot? It's simply an outer decorative pot for displaying your potted plants. Cachepot decor originated in the late 1800s and the term is French. The idea is to keep the plant in it's original container from the nursery (now, usually plastic with multiply drainage holes) and place it in the decorative pot without repotting it. The decorative pot, or cachepot, hides the nursery container. As your plant grows, you can repot it into a larger plastic inner pot.
There are several benefits to using a cachepot with in inner nursery container instead of repotting your plant into a decorative pot.
It's easier to move the plants because you can easily separate the plant from the heavy decorative container.
It affords better watering and drainage because you can remove the nursery container, set it in your sink and let all of the water drain thoroughly before replacing in the cachepot.
You can keep a better eye on the roots of your plants with the nursery container.
It protects your furniture from drainage.
Plus, one of my personal favorites — you can easily change up your decor using different cachepots!! It's the perfect combination of good indoor gardening practices and home decor styling! Win-Win!
Now, on to the hand painted tole cachepot DIY!
1. Gather your supplies.
small metal containers (I used this set of small topiary planters.)
acrylic paint, satin finish (I used white, two different shades of blue, and metallic gold.)
small flat paint brush
pencil
Frog Tape
a straight edge (I just used a folded sheet of paper for my straight edge.)
2. Paint the containers white. I painted on the white acrylic paint with a paint brush, but you could certainly use white spray paint for this step. I found it easier to just use a paint brush for this small project.  You will need to complete 2 – 3 coats of white paint to fully cover your pots. Allow about an hour of dry time between each coat.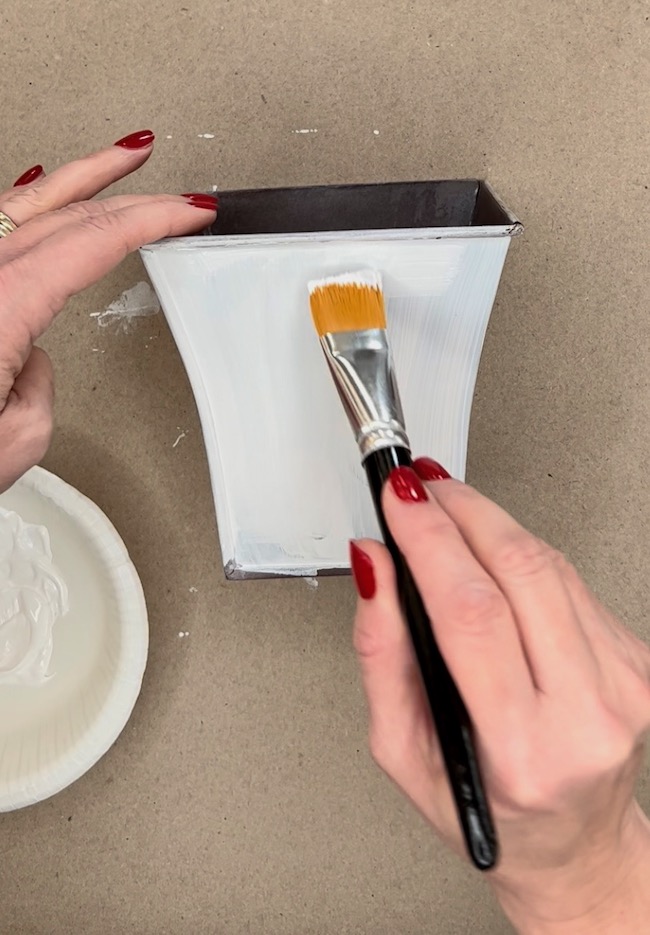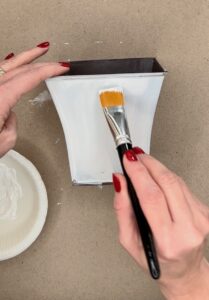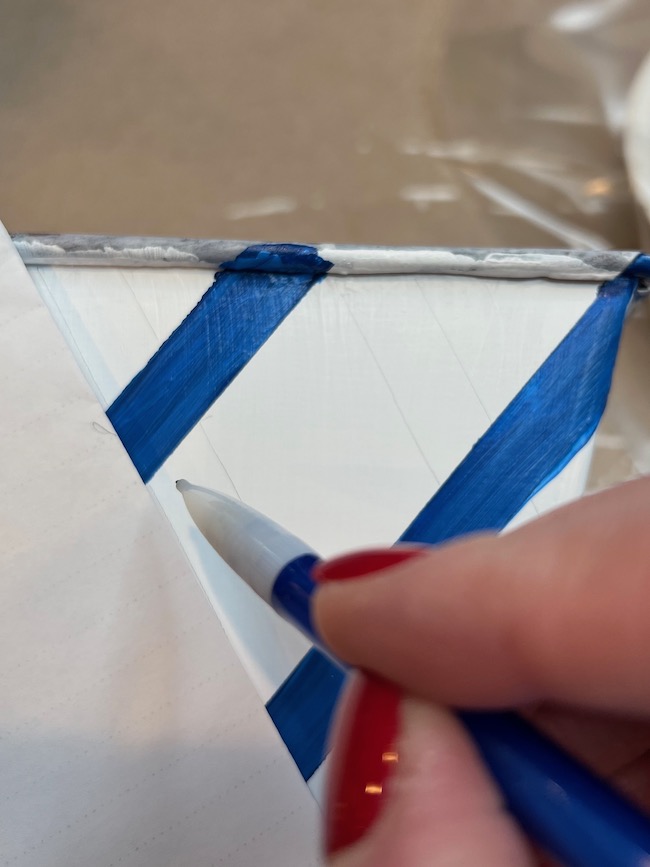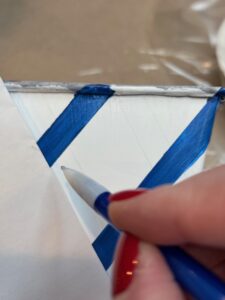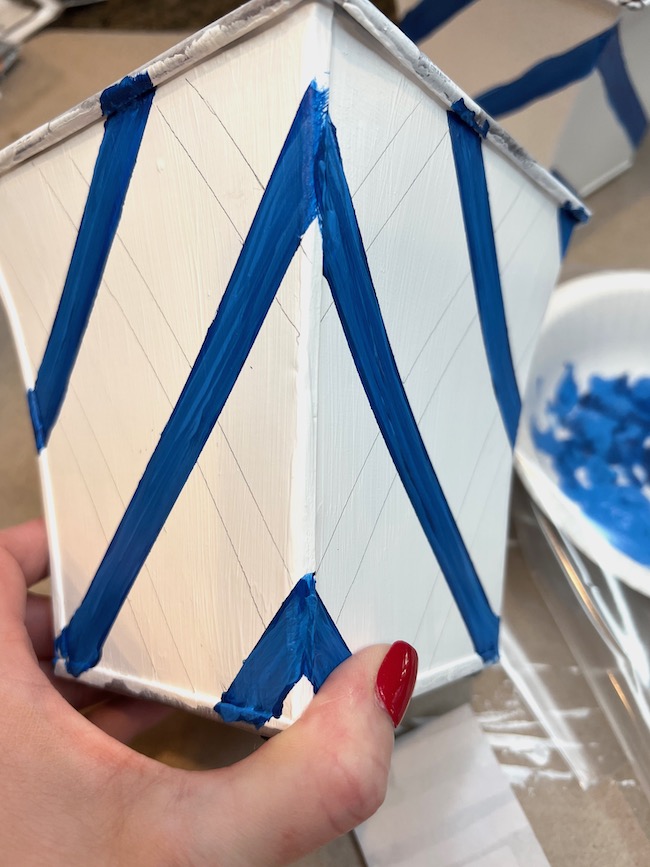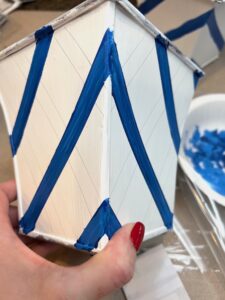 3. Mark off your lines. I found it helpful to use a straight edge and pencil for this. You can go ahead and mark all of your criss-crossing lines (in both directions) to form the lattice pattern.
TIP: When I drew out the pattern on my first planter, I only drew one direction of lines first, then taped and painted those. After those lines were dry I marked, taped, and painted on the criss-crossing lines. You don't have to do it this way. Just go ahead and draw on all of your criss-crossing lines (in both directions) before you tape.
4. Tape off your lines. Only tape off your lines in one direction at a time. I put a small x on the lines to help me remember which areas needed to be painted.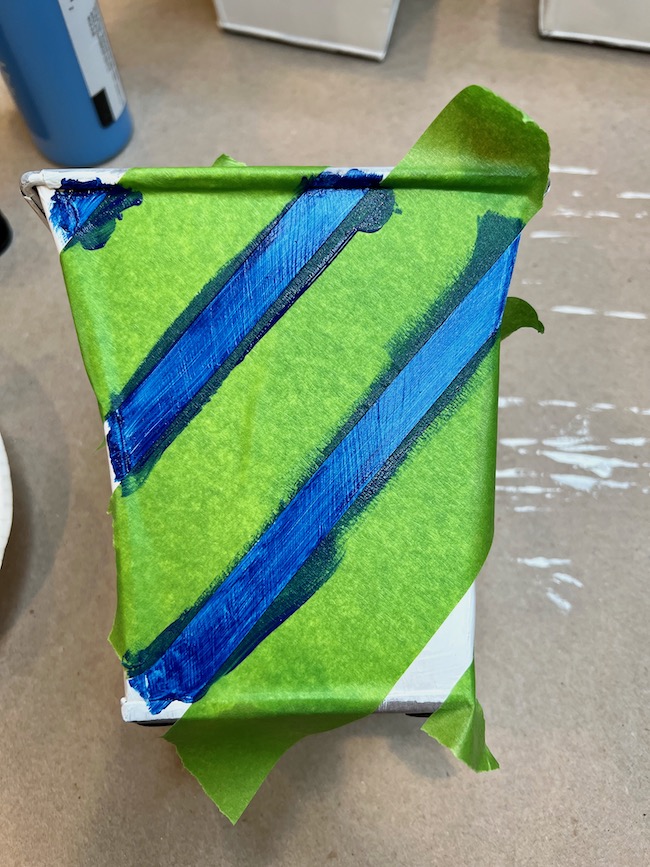 5. Paint your first direction of lines. I used the small flat paintbrush to paint on the darker blue first. While the darker blue was still wet, I brushed in a little lighter blue paint as well to give the lines a little color variation and dimension.
6. Let your first set of lines dry completely. It will take at least an hour.
7. Remove the tape from your first set of lines, then tape off all of the lines in the opposite direction.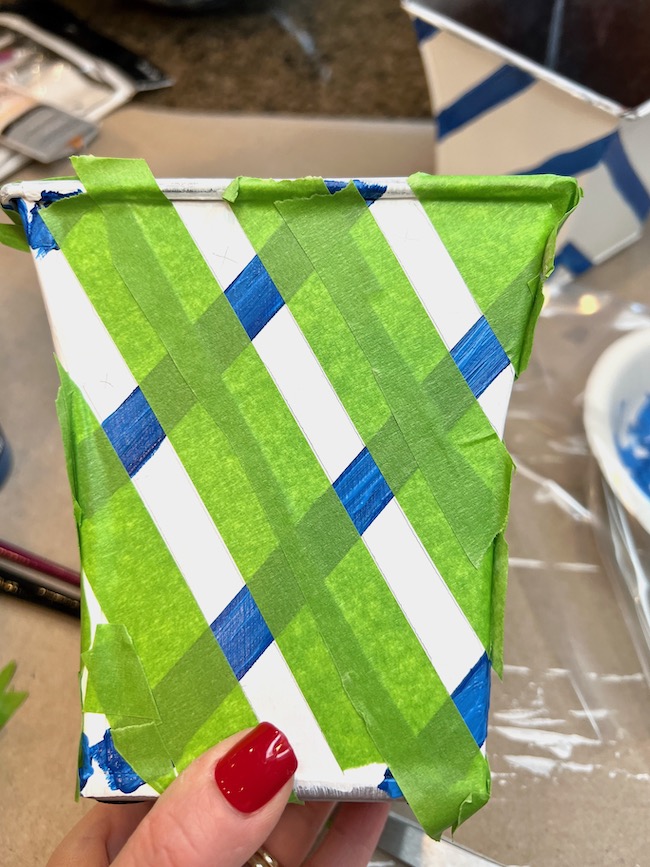 8. Repeat the same steps above for painting the two shades of blue lines. Once this second set of lines has dried, remove the Frog Tape.
9. Tape off all of the edges to form the gold borders. I created gold borders at the rim of the cachepot, at the bottom edge, and along all of the corners.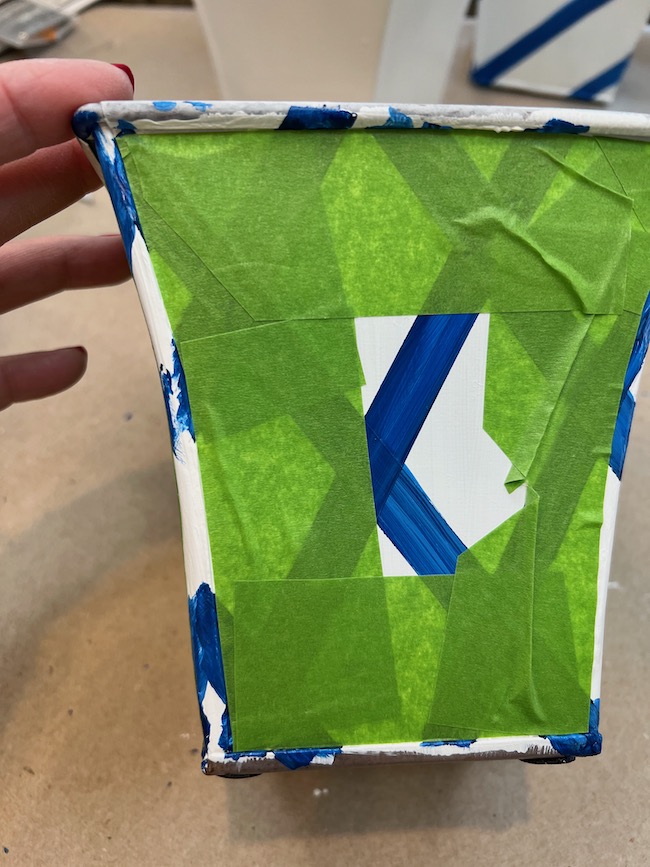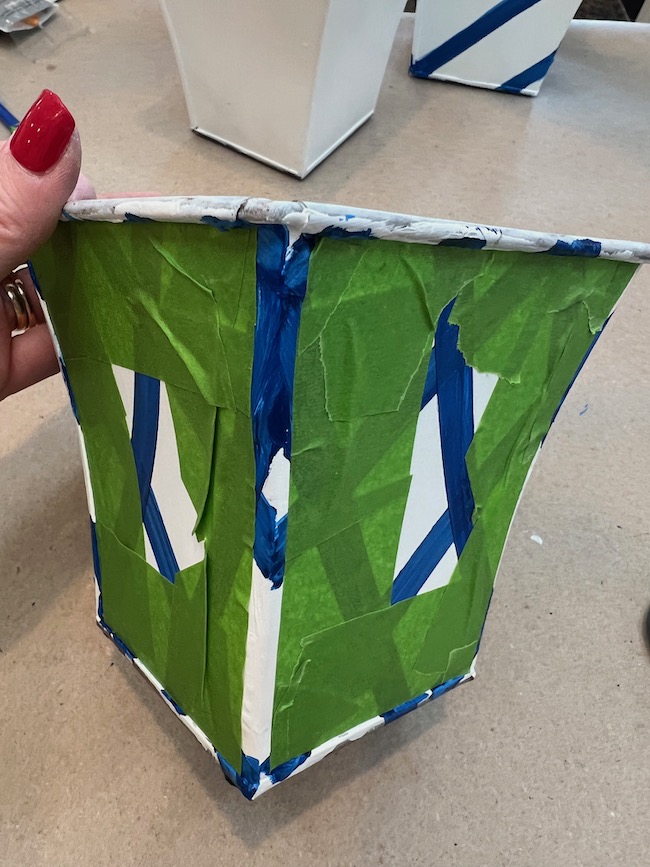 10. Use a paint brush to paint on the gold metallic paint. Let the first coat dry and then add a second coat. It will take two coats of the gold paint to fully cover and achieve the look you want.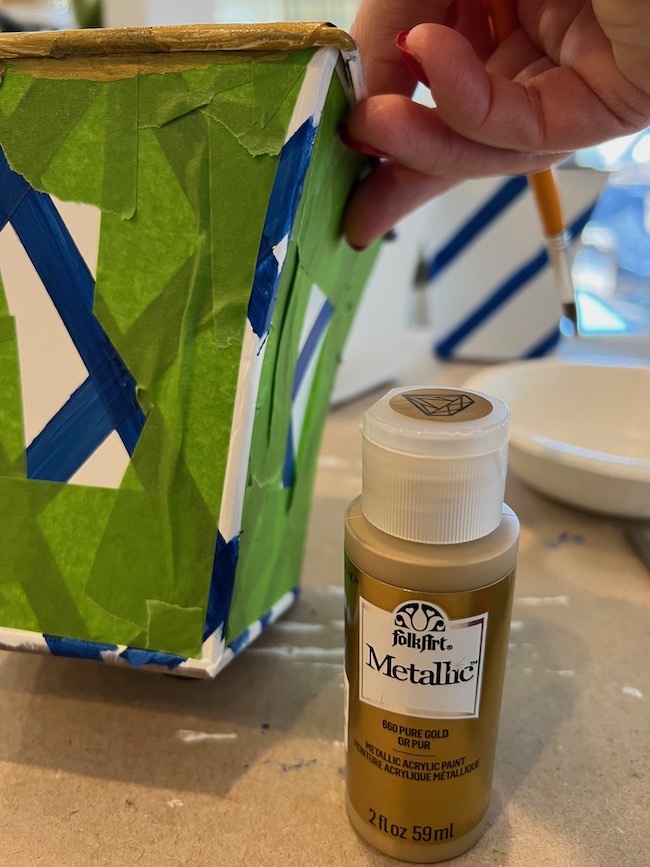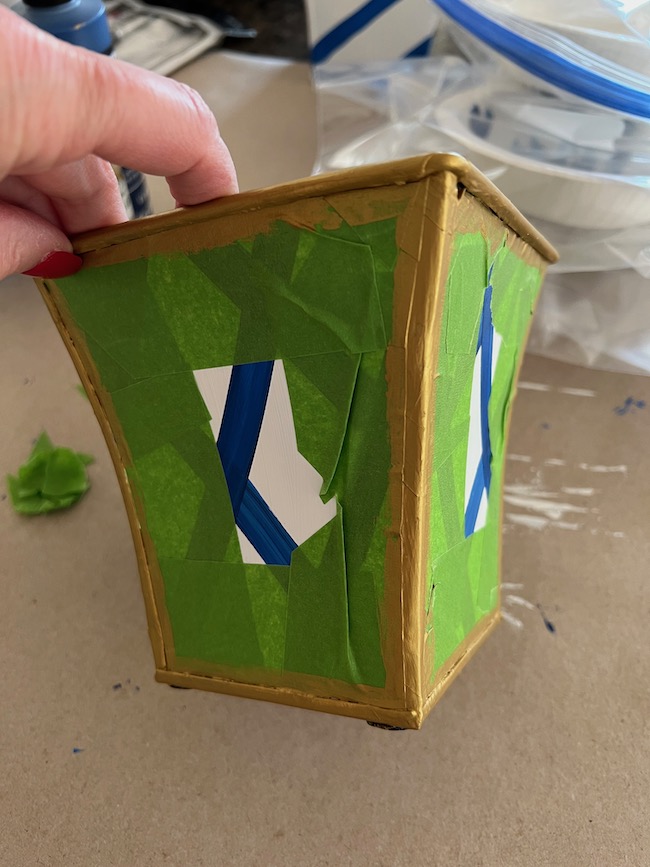 11. After the gold paint dries, remove the tape to see your beautiful handprinted tole cachepot!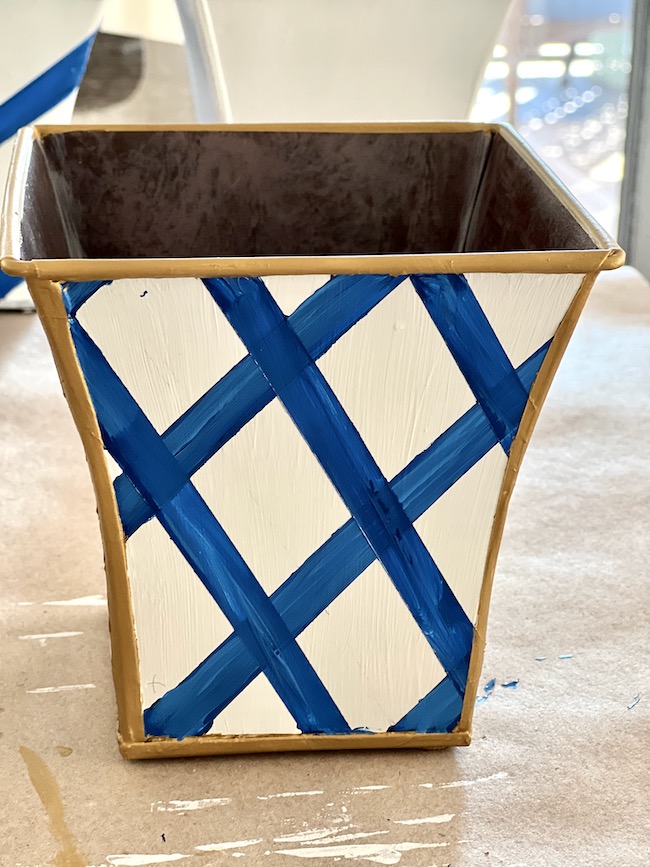 ---
Supplies for Hand Painted Tole Cachepot DIY
---
Make a Magnolia Branch Topiary for your Hand Painted Tole Cachepots:
I decided to create some magnolia brach topiaries to use in my hand painted cachepots. I know techically, I should be using a potted live plant in it's original nursery container inside my cachepots; however, I'm going a different route for now. If you'd like to use a live potted plant, a small orchid would be beautiful in the cachepot. You can read about more decorative ideas for displaying potted orchids in this post.
I saw this pretty magnolia leaf topiary on Instragam and it inspired me to create these. I had magnolia stems on hand so I got to work.
I had to remove some of the lower leaves on the branches, but used those as filler at the base of the topiaries.  I gathered three branches and slightly twisted the stems together. I used floral wire and jute string to tie the stems together in a couple of places.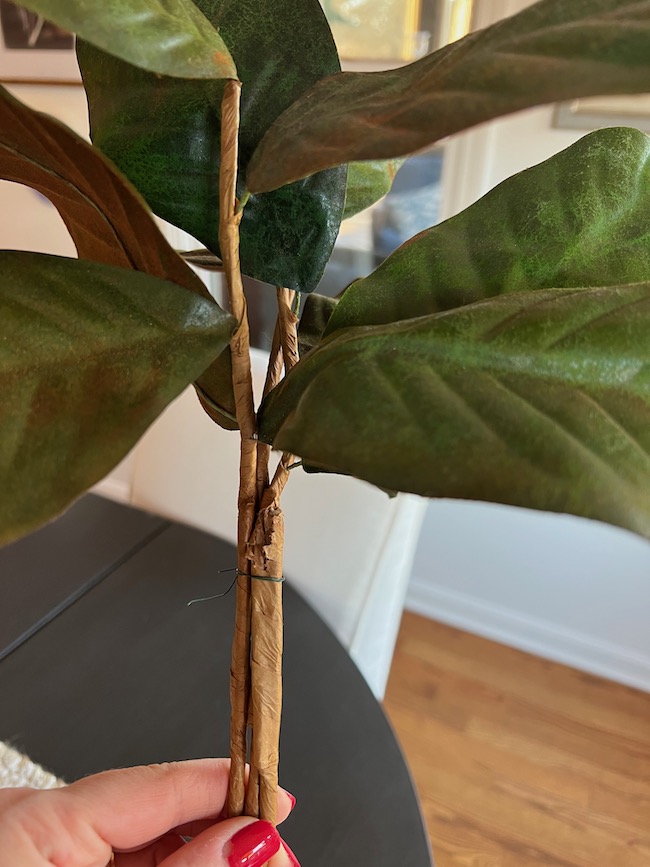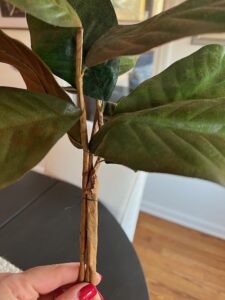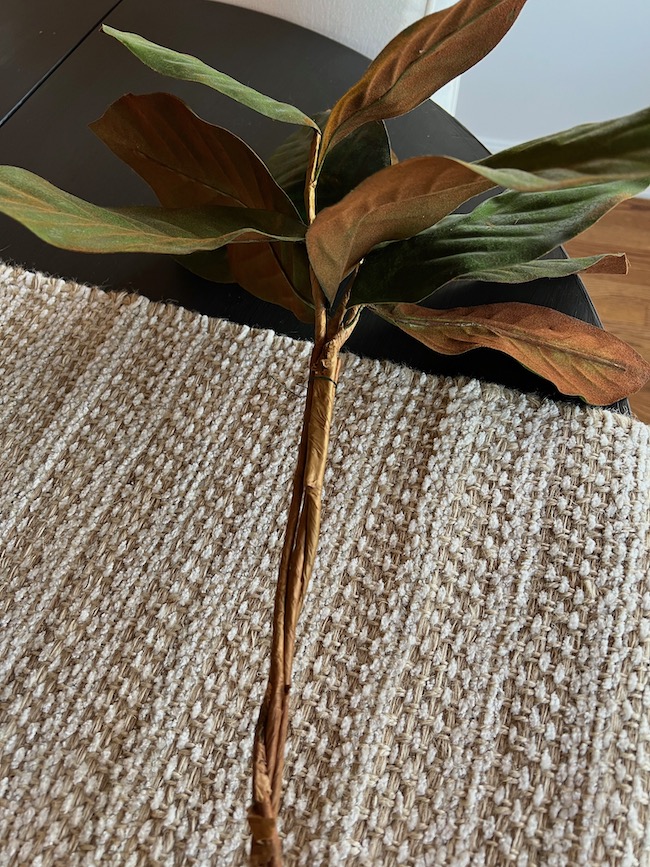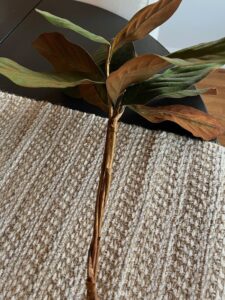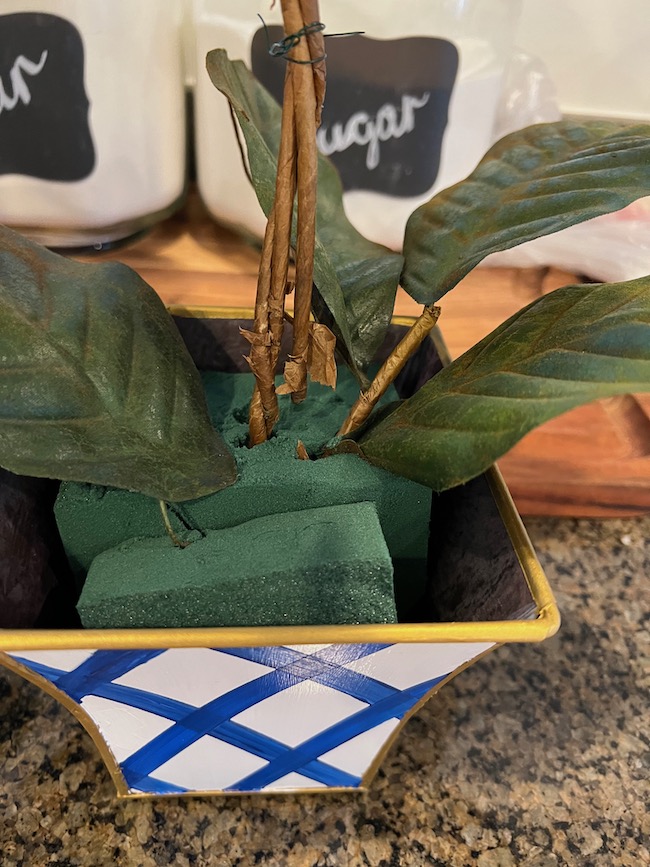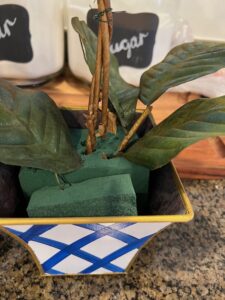 I inserted florist foam into the cachepots and then inserted my bound magnolia stems to the desired height.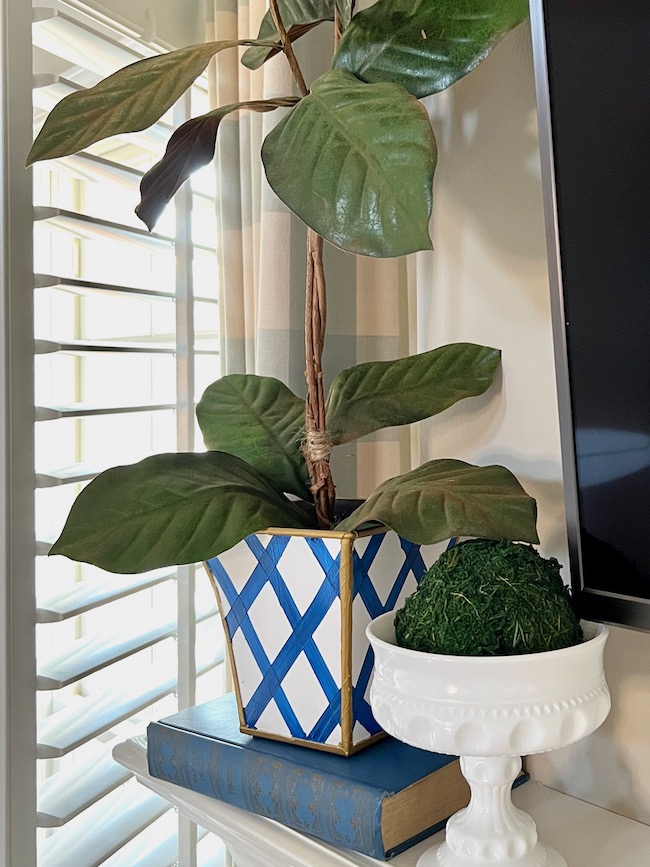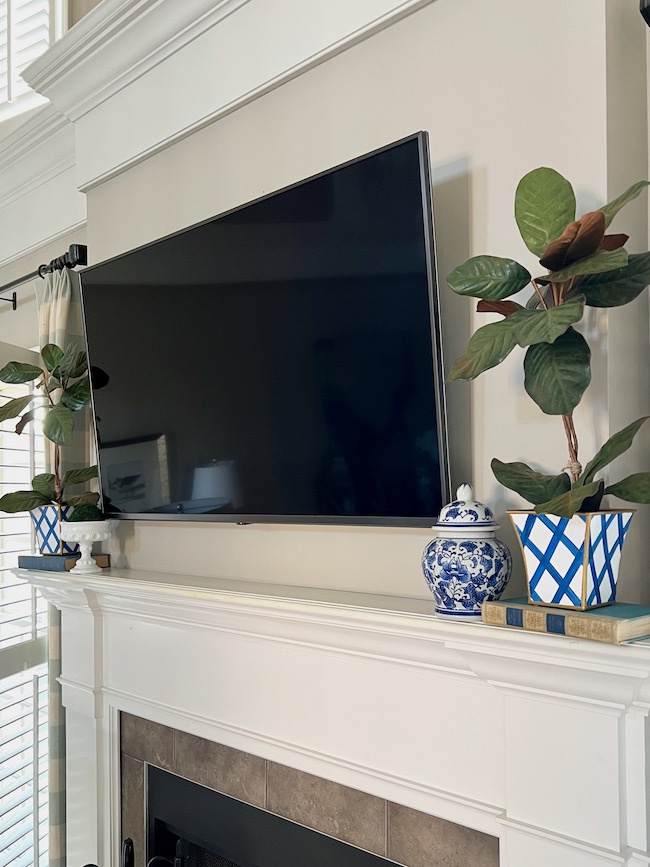 It was so easy to create these, and I love the way they look in the pots on our mantel. They feel fresh and springy, and in a couple of weeks I'll add some pretty spring ribbon to them. Our mantel is very shallow, so the small cachepots fit on it perfectly!
---
Supplies for Creating the Magnolia Topiaries
---
Pin it for later.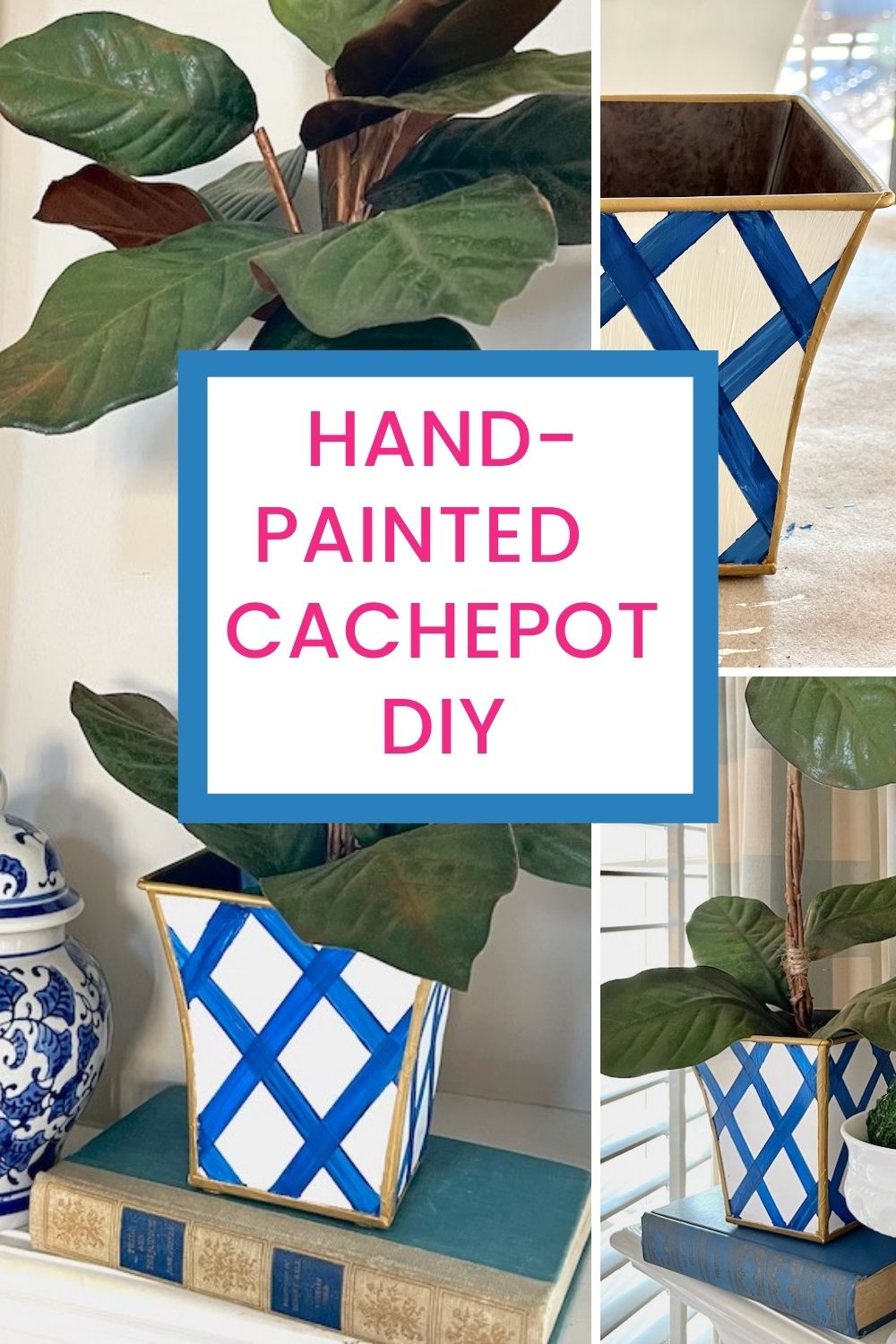 I think I will use this little tole cachepot duo in many different ways around our home throughout all seasons! Whether you follow these instruction and create your own, or purchase some already made, I hope this inspires you with some pretty spring decor inspiration!
Thanks so much for stopping by!
You might also enjoy:
Decorating with Orchids Three Ways
5 Decor Ideas Using Yarn Hearts for Valentine's Day
Home Decorating Tips and Tricks FAQ
Biophilic Design — How to Bring Nature into Your Home
Joining in these fun link parties:
Fabulous Friday Link Party at Living Large in a Small House.
Sundays on Silverado link party at The House on Silverado.
Tuesday Turn About link party at My Wee Abode.