5 Simple Ways to Decorate with Bottle Brush Trees
Today, I'm sharing 5 simple ways you can decorate with bottle brush trees for Christmas around your home.
Ahh, the fun and excitement of decorating for Christmas!! All those nooks and crannies and spaces around our homes are just waiting for splashes of holiday cheer!
We deck out our mantels, bookshelves, buffets, and tabletops, but sometimes they just need a little extra something.
I love to add bottle brush trees to Christmas displays around our home. They come in so many colors and sizes. Some are embellished with balls or snowy flocking, while others are just plain and simple. They add a little extra texture and splash to tabletops, centerpieces, book shelves, or wherever you choose to use them.
So, here are some ideas for bottle brushed trees that I'm using or have used in my own Christmas decor.
(This post contains affiliate links, so I may earn a small commission when you make a purchase through links on my site at no additional cost to you. As an Amazon Associate I earn from qualifying purchases.)
1. Decorate your mantel with bottle brush trees.
I've collected several bottle brush trees over the years. These ball-adorned snowy white trees from World Market have been well used in our home for years, but they always seem to add just the right finishing touch.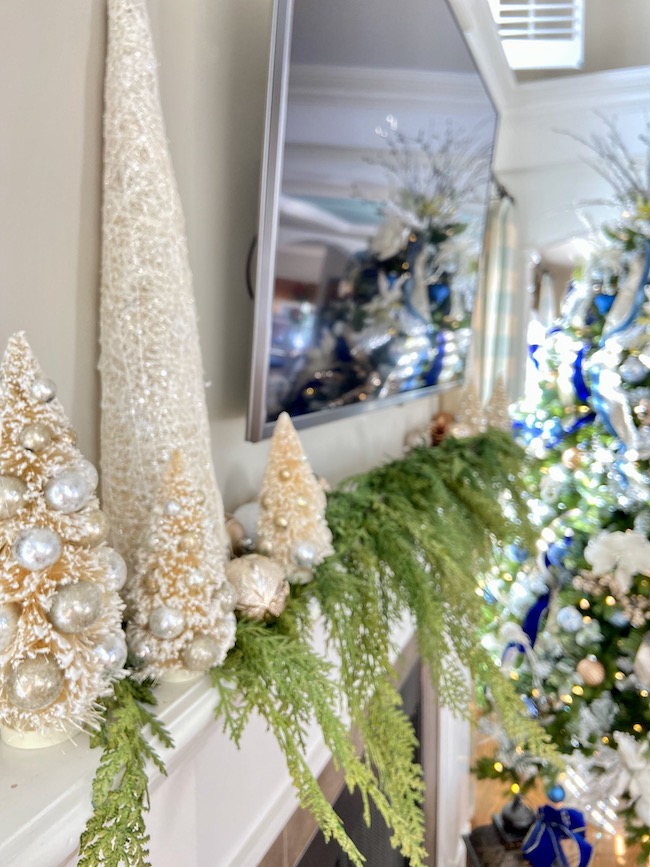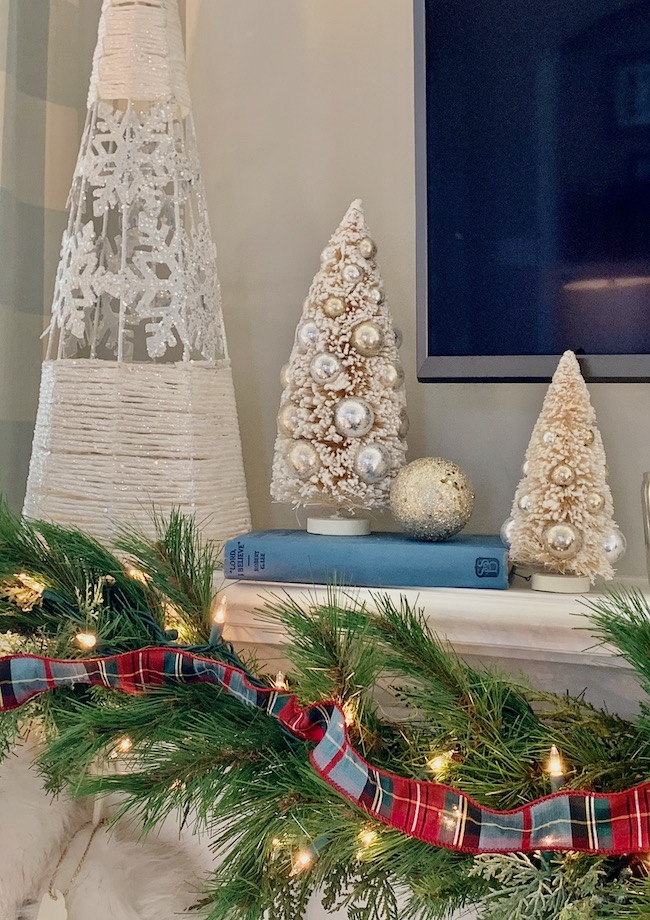 See how we used bottle brush trees in our traditional tartan plaid themed Christmas decor a couple of years ago.
2. Create a Chinoiserie tree forest tray on your buffet table.
These soft blue bottle brush trees from Hobby Lobby are so pretty with blue and white porcelain. I've paired them with gold bottle brush trees and a rattan tray for a perfect Chinoiserie look. (Unfortunately, the blue trees are now out of stock online at Hobby Lobby, but you may still find them in your local stores.) Here is a blue option from Amazon. The green tree is also from Hobby Lobby and available online here.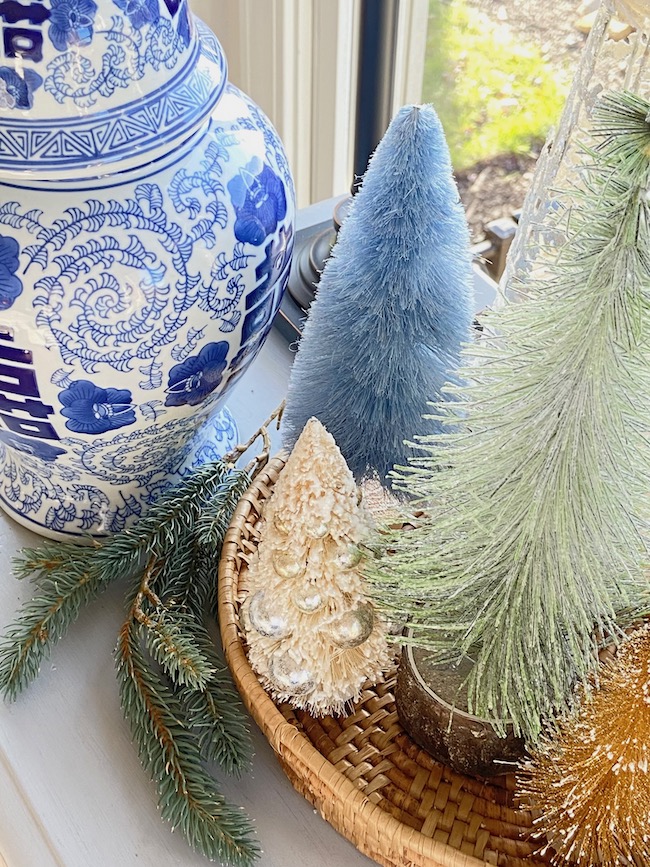 If you love blue and white Christmas decor, check out our blue and white Christmas tree here.
3. Add bottle brush trees and colorful balls to apothecary jars with your nutcracker display.
If you collect nutcrackers, add white sand to apothecary jars, fill with colorful Christmas balls, and add small bottle brush trees for a perfect scene for the nutcrackers to stand guard over.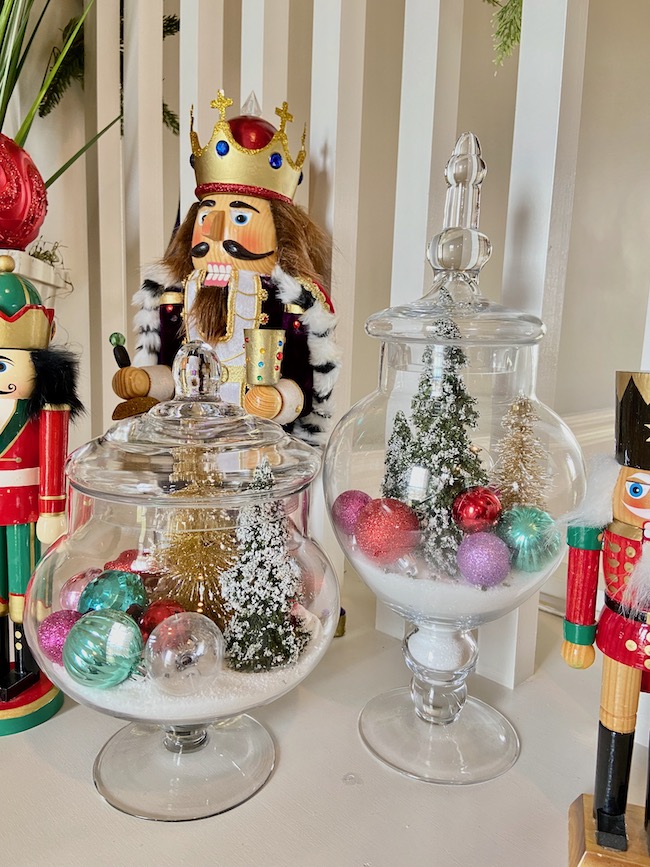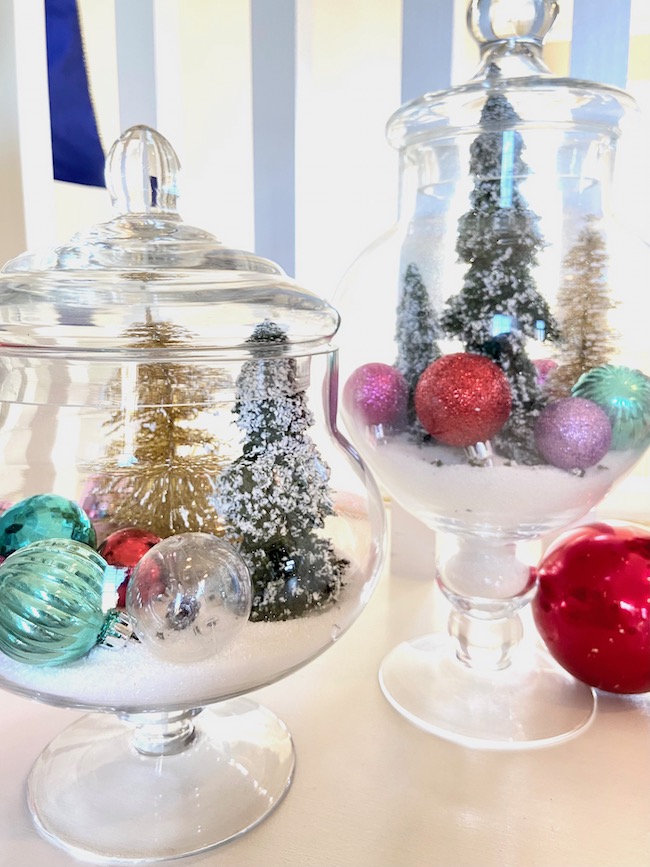 4. Make bottle brush tree topiaries with small urns.
Add bottle brush trees to small urns to create topiaries. They add texture and height and can really dress up your tabletop display or centerpiece. They would also be perfect on your kitchen counters. If you don't have an urn, you can use small candle holders to serve as "pots" for your trees. The blue tree below is "potted" in a mercury glass candle holder. You can add a little greenery or floral around the base of the tree to fill in gaps.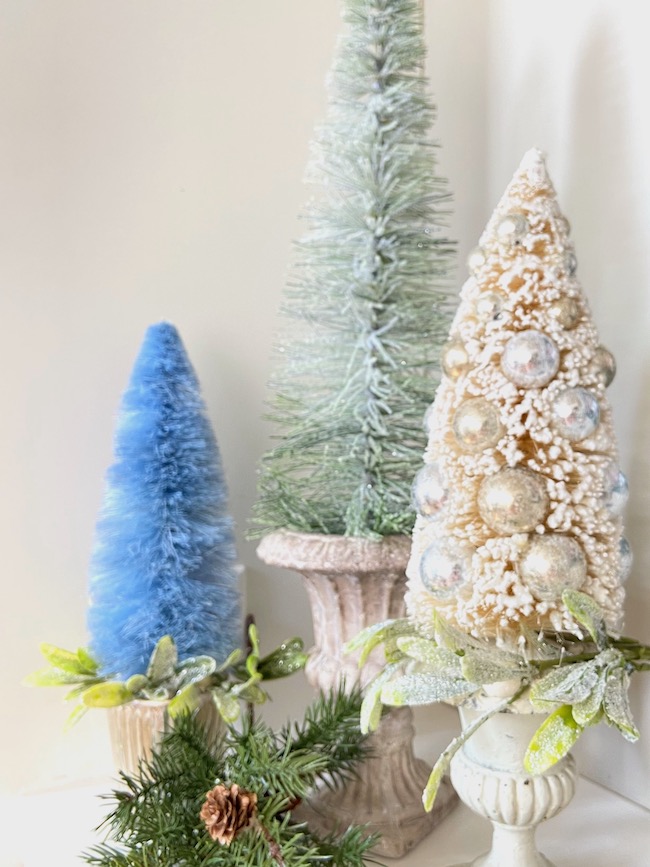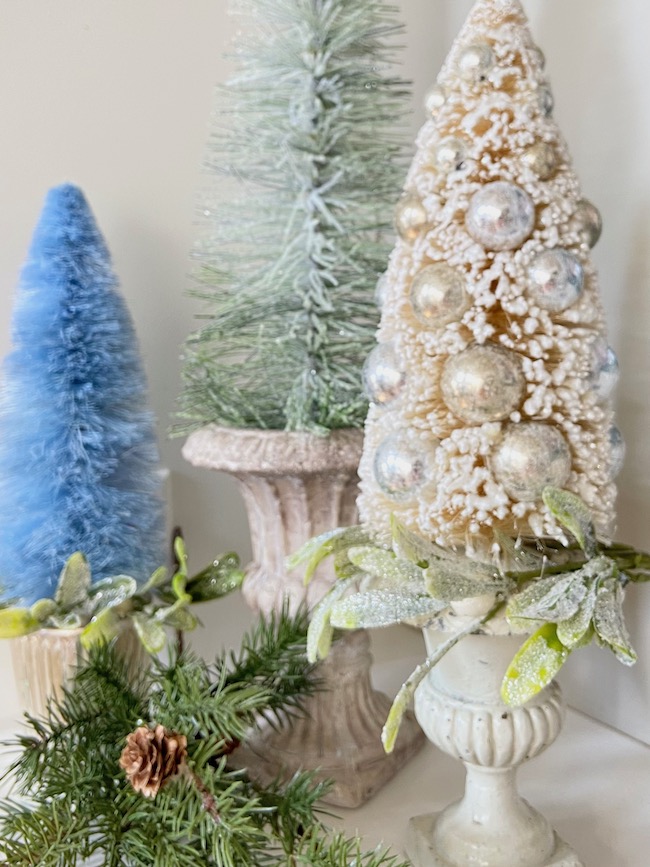 5. Embellish small Christmas tree displays with bottle brush trees.
If your small bedroom tree or home office tree display needs a little something extra, surround it with colorful bottle brush trees.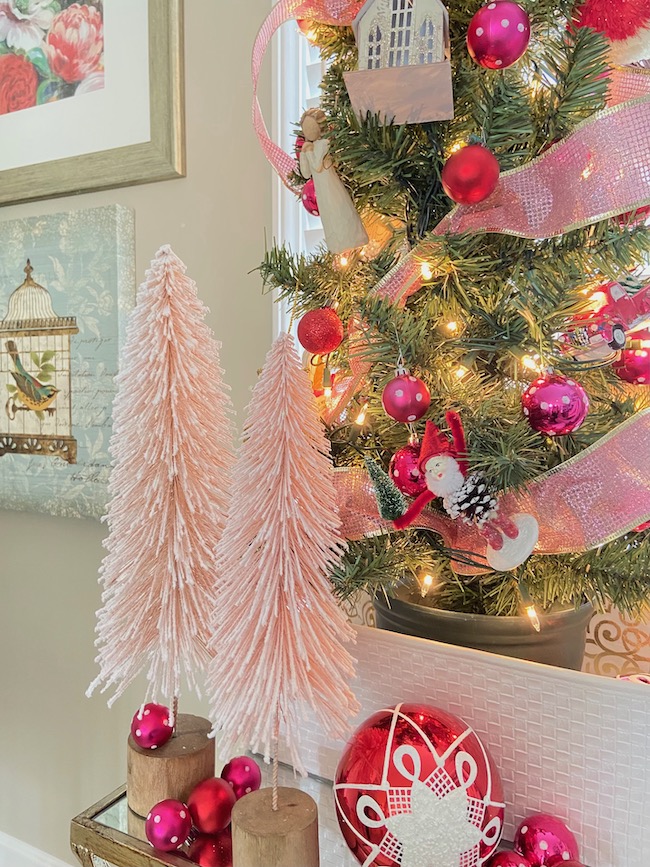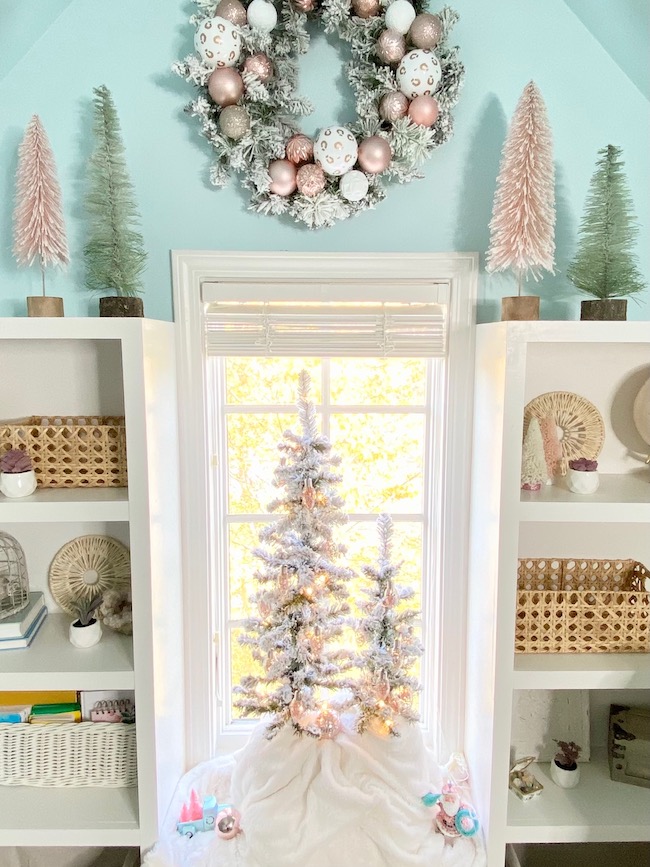 I've collected many of these Christmas decor items and trees through the years, but I've linked to some similar current Amazon and Walmart items below.
---
---

---
I hope these tips give you a few ideas for decorating with bottle brush trees in your home this Christmas!
Happy Decorating!!
What's your favorite way to use bottle brush trees?