Classic Christmas Decor Ideas: Our Christmas Home Tour Part 1
Welcome to our home during this holiday season! Today I'm sharing our Christmas home tour with lots of classic Christmas decor ideas.
It's a classic Christmas in our home this year, and our Christmas decor theme is Pinecones and Velvet. I love combining lots of rich red velvet textures with natural elements of pinecones and wood tones to create a cozy, yet elegant look in our home during the holidays. Throw in a little gold sparkle and some red Tartan plaid, and it's the perfect Christmas combination.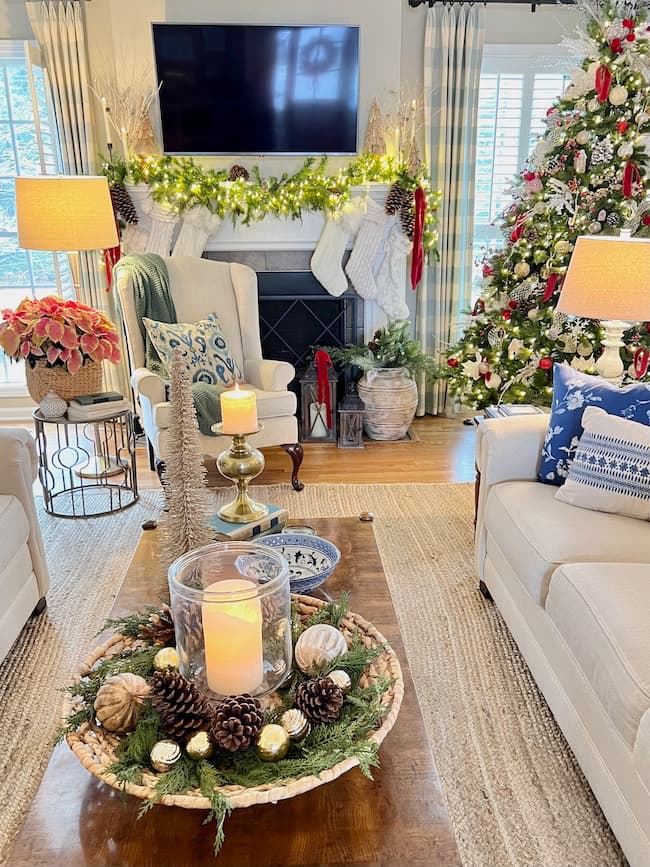 (This post contains affiliate links, so I may earn a small commission when you make a purchase through links on my site at no additional cost to you. As an Amazon Associate I earn from qualifying purchases.)
Our stockings are hung.
Our halls are decked.
And we're feeling jolly (and maybe a little tired) around here in anticipation of all the fun ahead.
It's beginning to look a lot like Christmas in our home!
And that's a very good thing because as I post this we have only 12 days remaining until Christmas Day! Our kids will start to trickle in this weekend and we'll be in full force celebration mode!
Today, I'm sharing the first part of our Christmas Home Tour starting with the main living areas of our home — the gathering spots that will see lots of activity over the next couple of weeks.
Our Christmas Theme — Pinecones and Velvet
Juxtaposition — it's a fancy word, but it drives my Christmas theme this year. I love combining contrasting elements in our home decor, and this Christmas I'm doing just that with our Pinecones and Velvet Christmas theme.
I love pairing the rustic natural elements of natural wood and pinecones with the lush and elegant texture of rich red velvet. As you tour our home, you'll see these elements paired together on our tree, across our mantel, and in tablescapes and vignettes.
You'll also find a little gold sparkle and Tartan plaid thrown in for good measure, because I don't think it's possible for me to decorate for Christmas without those!
Christmas in the Foyer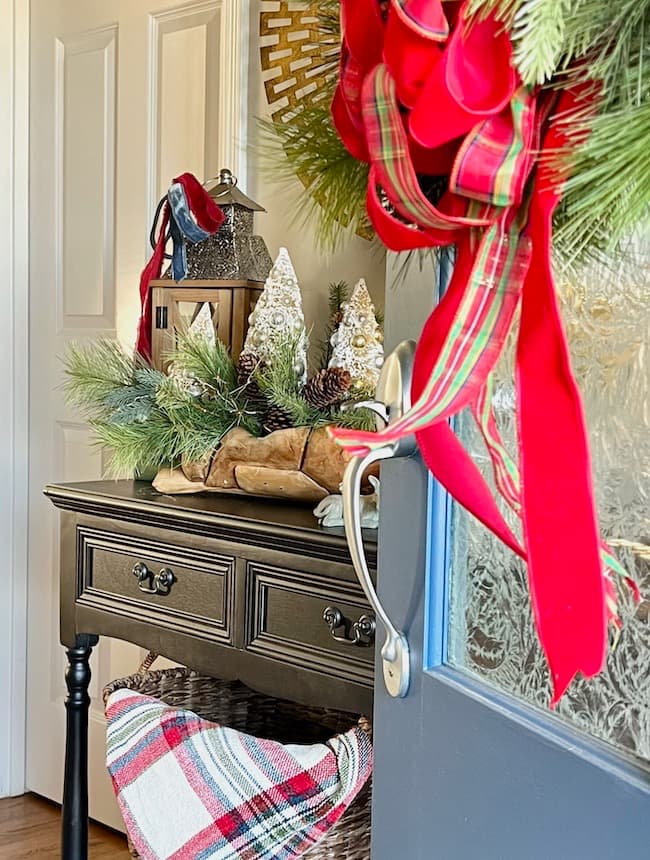 As you open our blue front door (that was newly painted this year in the lovely Sherwin-Williams Endless Sea), you're greeted by a vignette of greenery, bottle brush trees, and a nativity on our painted black foyer table.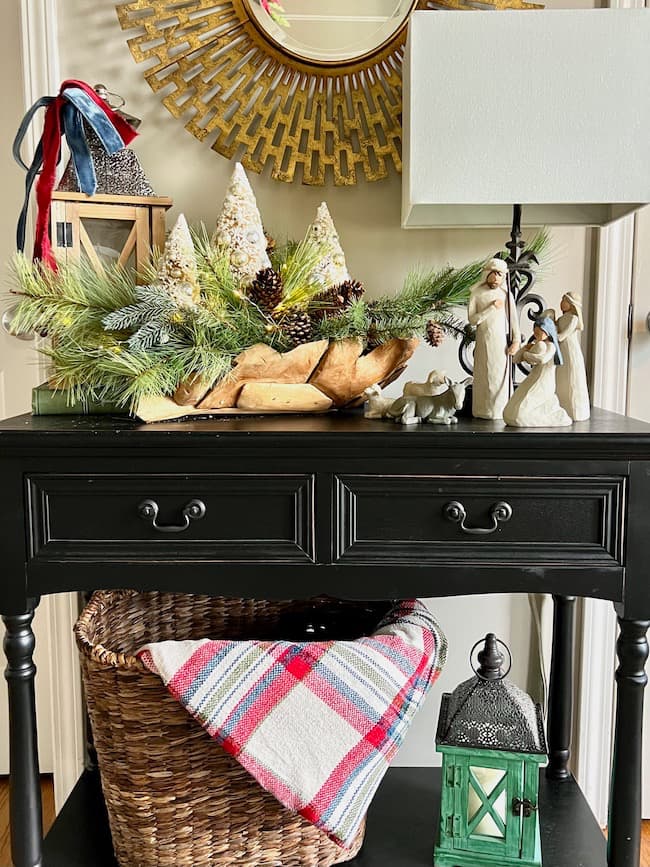 You'll find plenty of rustic notes here in the natural organic texture of the wood bowl and the raw wood lantern. The bowl overflows with greenery, pinecones, and my favorite sparkly bottle brush trees. The sweet Willow Tree nativity reminds us of the One we celebrate this season. The blue and red ribbons tied to the lantern add soft velvety texture.
The cozy plaid throw draped over the basket and green lantern add pretty pops of color.
Classic Christmas Decor in the Living Room:
I just love how cozy and inviting our living room feels for Christmas! The rich red velvet accents are so pretty with our blue and white color scheme.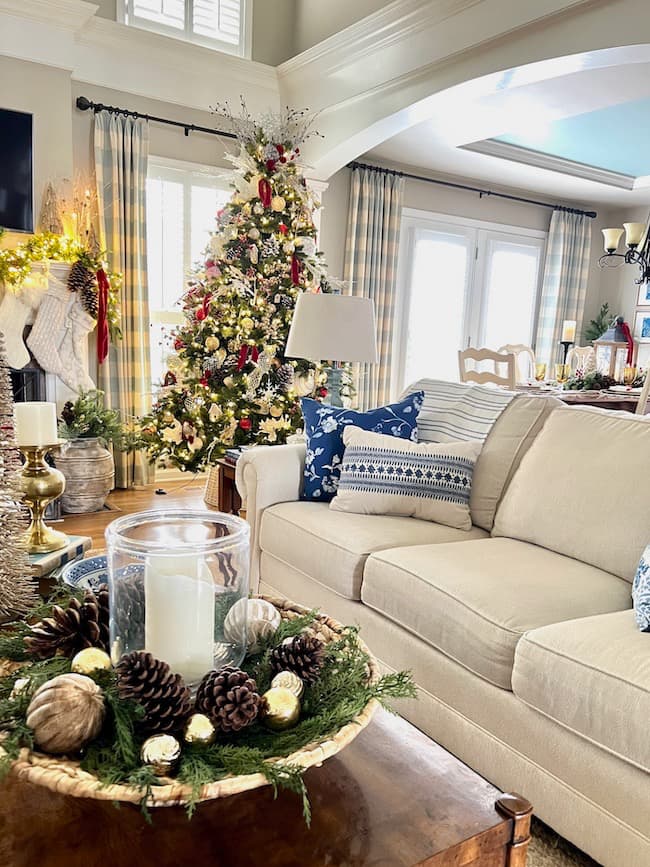 I kept the blue and white throw pillow combination on our sofas, but added some new deep red and white buffalo check pillows to feel extra Christmassy! These pillow covers are such a great buy! I find that I love buying pillow covers instead of pillows when I want to change out our pillows. It saves so much space when storage off-season decor.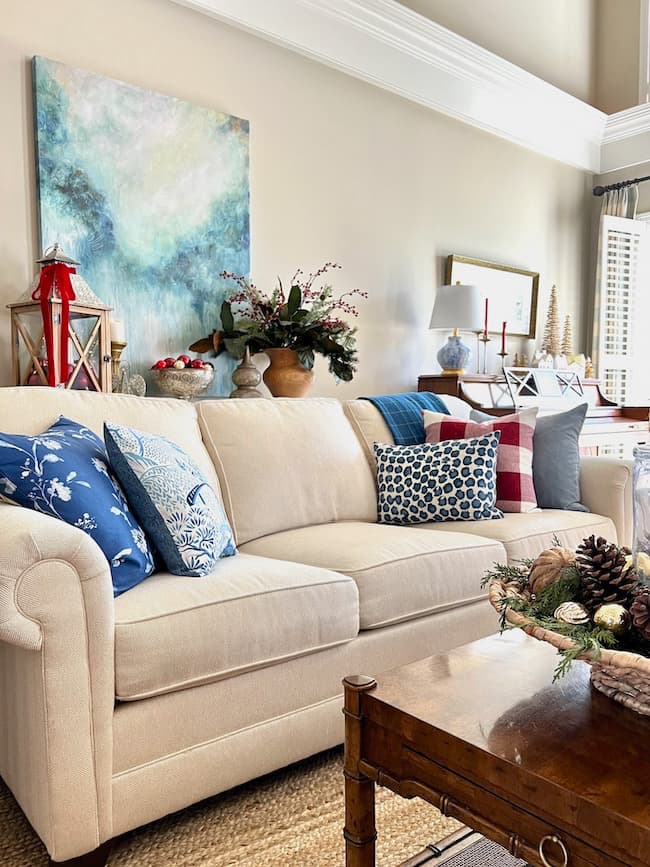 On the sofa table against the wall I have a mixture of wood textures, metallics, and red velvet ribbon. I filled a large natural wood lantern with shiny red Christmas balls and added some gorgeous red velvet ribbon tied in a long bow.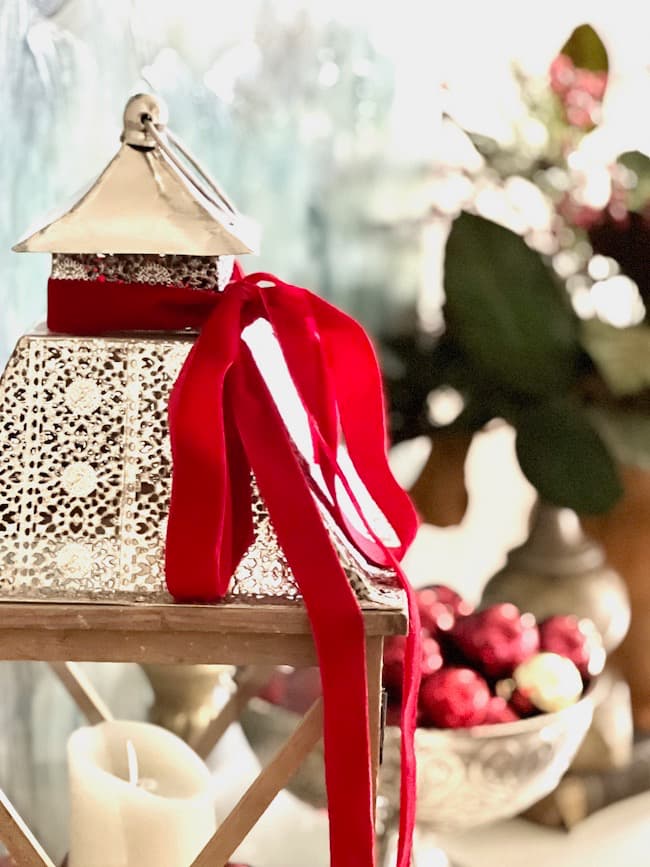 The silver roof on the lantern adds a little reflective light which is so important this time of year when the winter days in Kentucky can be a little extra cloudy.
I added more red Christmas balls to the silver pedestal bowl, and filled a large wooden vase with faux magnolia stems and greenery. The red stems add subtle red color to the arrangement.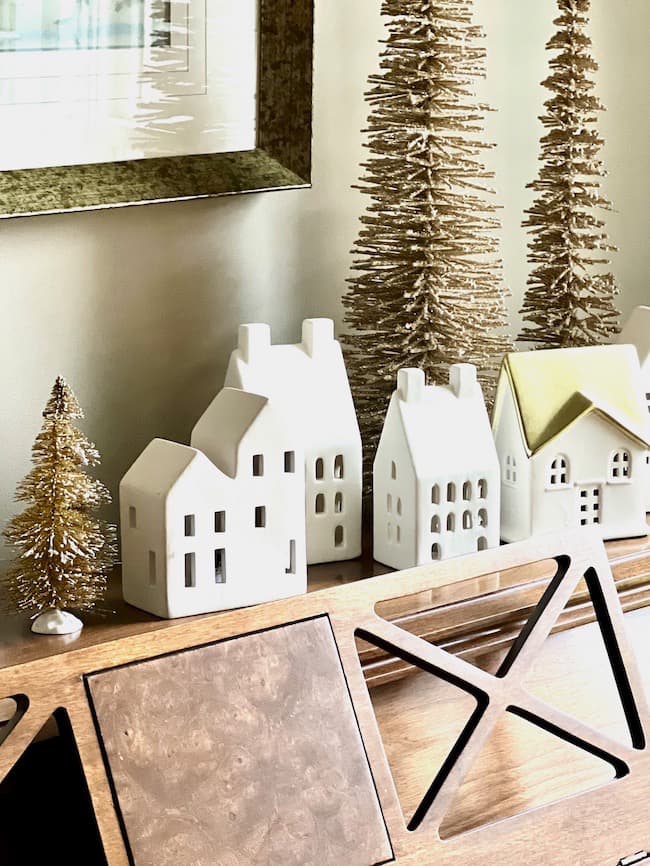 I added a sweet little Christmas village of white houses and gold trees to the top of the piano in our living room. I'm certainly hoping to hear some sweet sounds coming from this instrument when our son arrives home for the holidays!
Our Living Room Christmas Tree and Mantel:
Our red velvet and pinecone themed Christmas tree is one of my favorite trees I've created. I decided to stick with a natural green tree this year. For the past couple of years, I've added flocked stems and flocked garland to our green Christmas tree to create a flocked look. You can read how I did it here.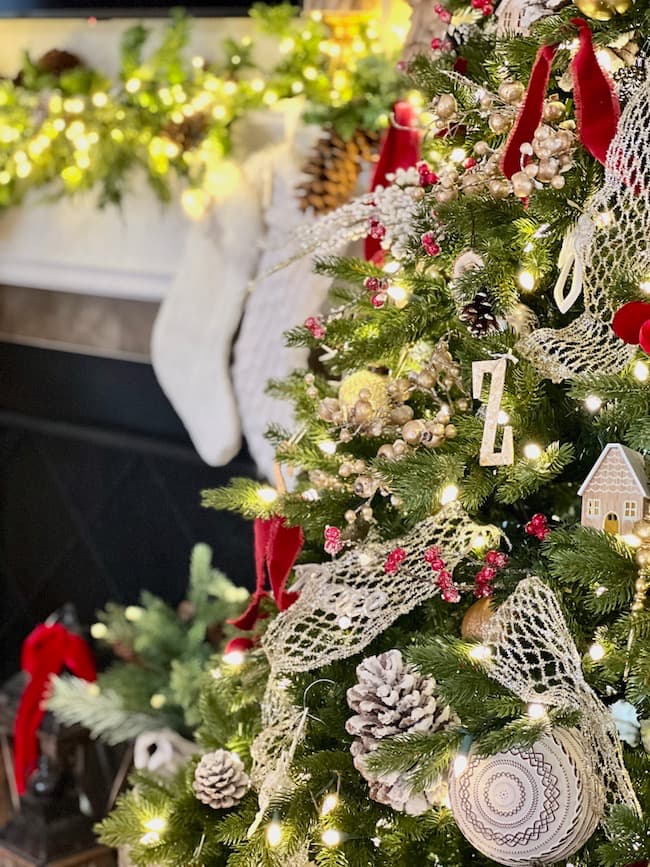 This year I decided to go sans flocking with the living room tree for a more natural look with our pinecones and velvet theme.
I started with a neutral base of color with lots of crystalized branches, white poinsettia blooms, and gold berry stems. I ran metallic mesh ribbon throughout the tree and added Christmas balls and favorite ornaments in shades of gold, white, and mercury glass.
I found the cutest little wooden Christmas houses in the dollar spot section at Target and added them to the tree for a cozy cottage look.
The large snowy flocked pinecones as well as smaller natural pinecones add wonderful natural elements all over our tree.
The pretty red velvet ribbons are from the pretty spools of frayed dark red ribbon I found at Hobby Lobby this year. The frayed edges of the ribbon provides the perfect vintage look and texture I wanted for our tree.
I added some frosted red berry stems for more red color, and finished with pretty sprays of red velvet ball stems.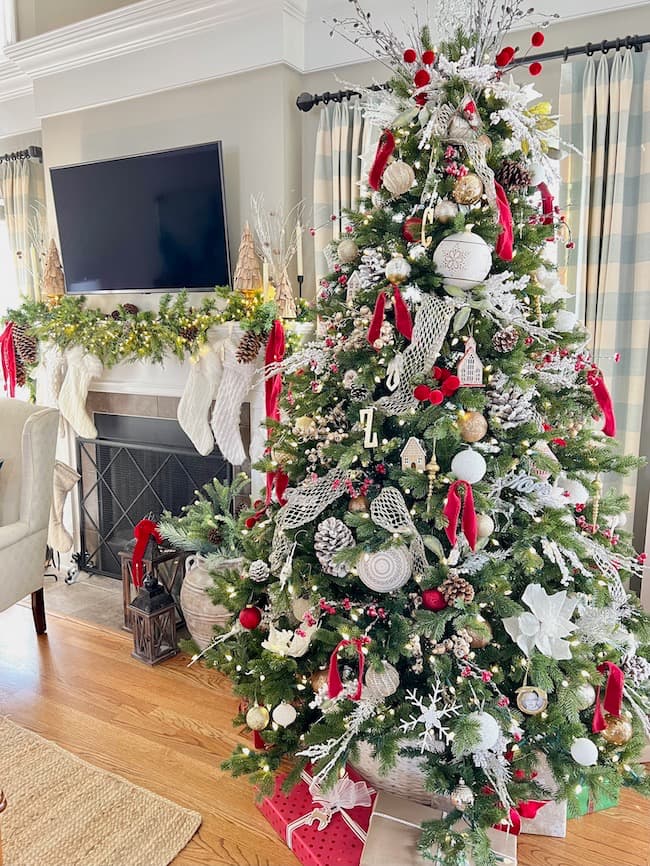 I carried the same look and theme over onto our mantel. I added a garland of greenery with the prettiest strand of cluster lights. Giant sugar pine cones and long swags of red velvet ribbon grace each end of our mantel.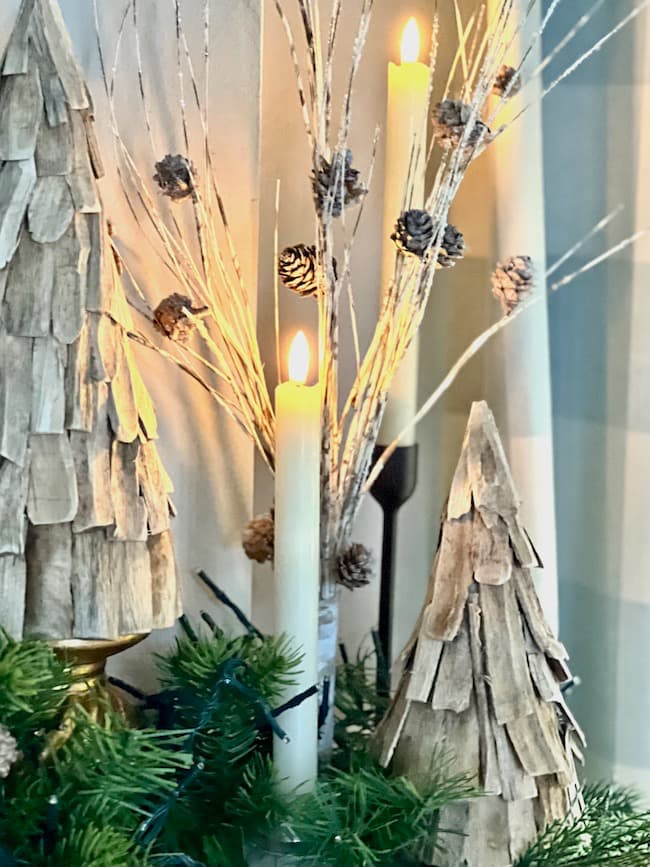 I added the cutest wooden trees which I purchased at Target to the mantle. I placed some on small pedestal candleholders to vary the height. These pretty small pinecone sprays add both height and texture to the mantel.
I added my favorite battery operated moving wick candles in black candleholders. These are the best candles for mantels because they are safe to use and remote controlled. So, it's super easy to "light" your candles each evening.
I use faux moving-wick candles all around our home. They're perfect to use in lanterns and on mantels, and any place that you can't safely burn a real candle. The moving wicks make the candles look so realistic!
These are some of my favorite battery-operated moving wick candles.

Our Dining Room All Decked Out for Christmas: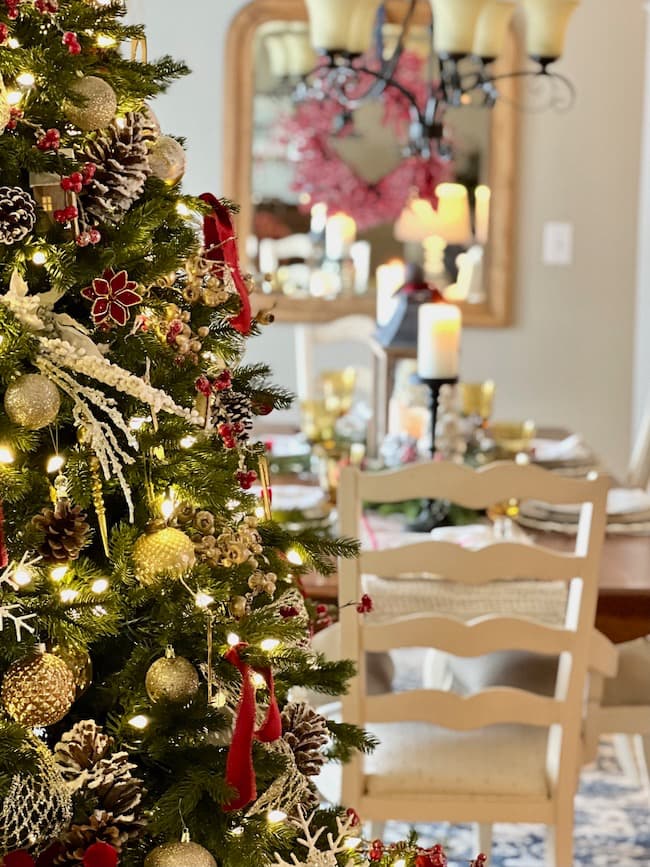 I love setting a pretty table for the holidays — well, for any occasion if you want to know the truth!
I had a ball creating this simple, yet elegant tablescape which brings our Pinecones and Velvet theme into our dining room!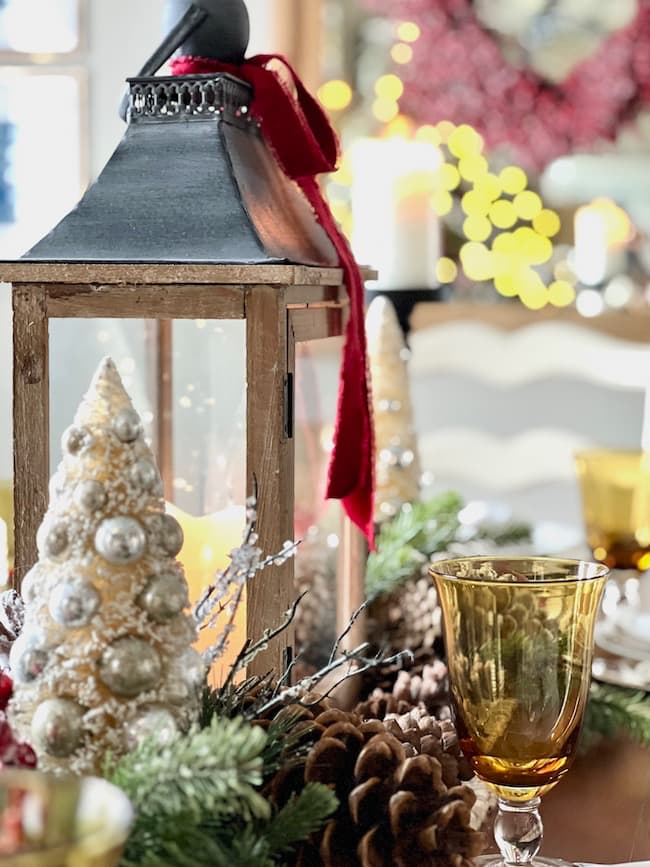 This raw wood lantern with metal roof adds the perfect rustic touch to our table. I flanked it with lots of greenery, pinecones, and red berries.
Sparkly bottle brush trees add a little shimmer and shine to the Christmas centerpiece, and of course, the red velvet ribbon adds the perfect touch of elegance.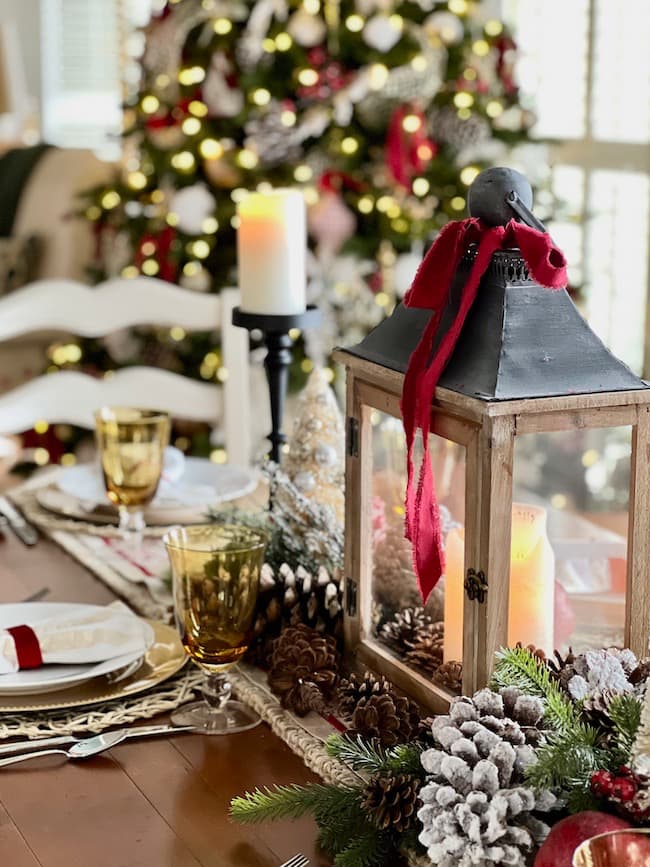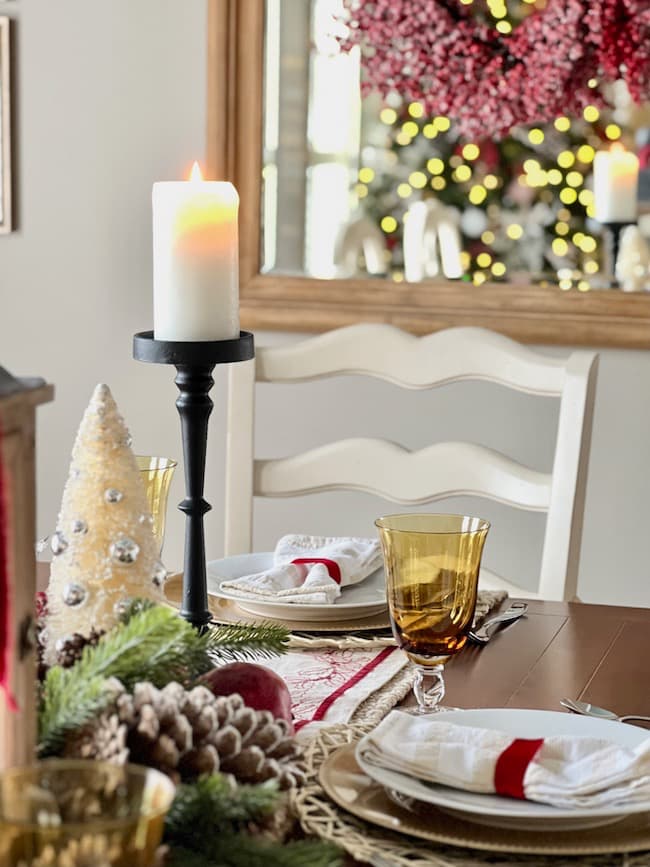 I was so excited when I remembered this red velvet trimmed table runner which I purchased years ago. It's been quite a few years since I've used it on our table, so when I came across it I was thrilled. It's just perfect for our red velvet theme!
The runner is a little narrow, so I did my little double-runner trick to "beef up" the narrow runner. I layered the red velvet ribbon runner over my jute runner to create a wider look. The jute runner also adds nice natural texture on the table.
For our place settings, I used a woven placemat, a gold beaded charger, and simple white dinner plates. The linen napkins have thin gold threads running through to add a metallic touch, and I made a simple napkin ring from the red velvet ribbon for a simple, yet elegant look.
I finished off the place setting with our amber stemware.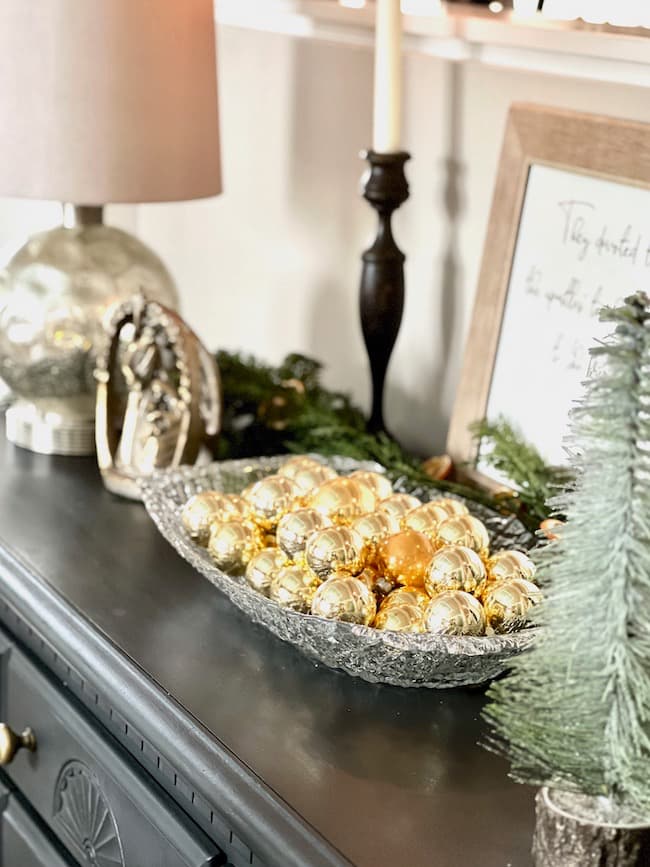 On our dining room buffet I filled a large glass bowl with vintage gold glass ornaments. A faux cypress garland with dried oranges runs the length of the buffet.
I added some bottle brush trees and a small nativity.
Our buffet is actually a bedroom dresser that works perfectly for storing our dishes and table linens. It's painted with Annie Sloan chalk paint in Graphite (the old formula of Graphite which had more of a bluish tint than the current Annie Sloan Graphite).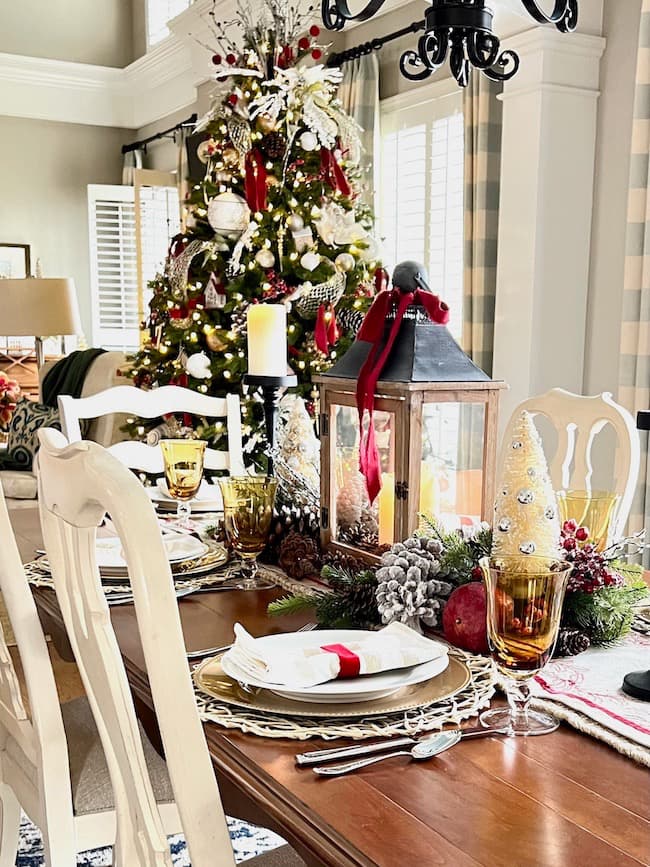 I actually just use the lantern on our table while I'm not serving guests. When we have our holiday gatherings I'll replace the lantern with a smaller floral arrangement for the meals so that guests can converse across the table.
Decorate the Kitchen for Christmas: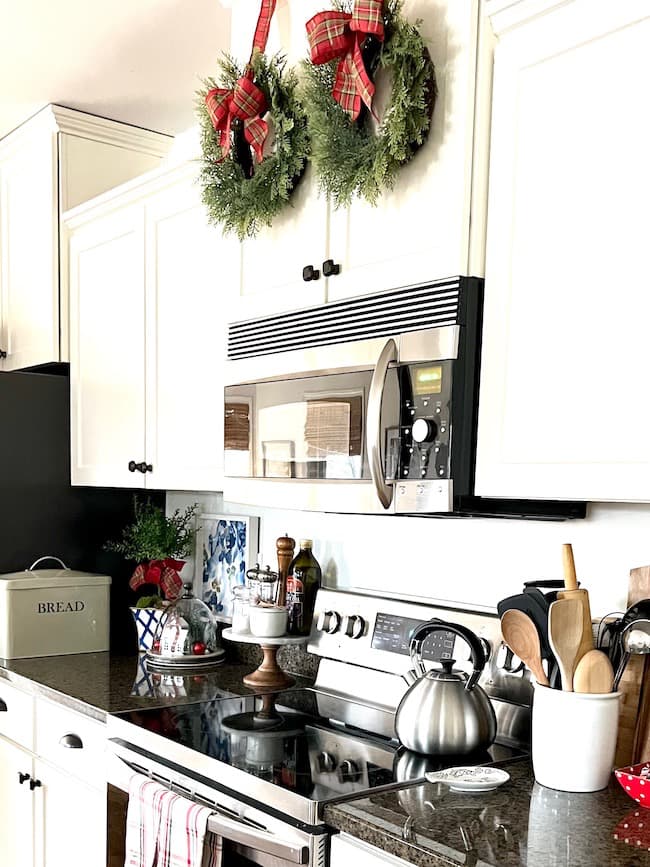 The kitchen is the heart of the home, especially during the holidays! With all the baking, and cooking, and entertaining that goes on here it certainly deserves to be decked out for all the festivities!
You'll find LOTS of Tartan plaid around our kitchen at Christmastime because it's my favorite!
Kitchen Countertop Decor Ideas for Christmas:
I've added some fun but simple touches of Christmas to our kitchen countertops.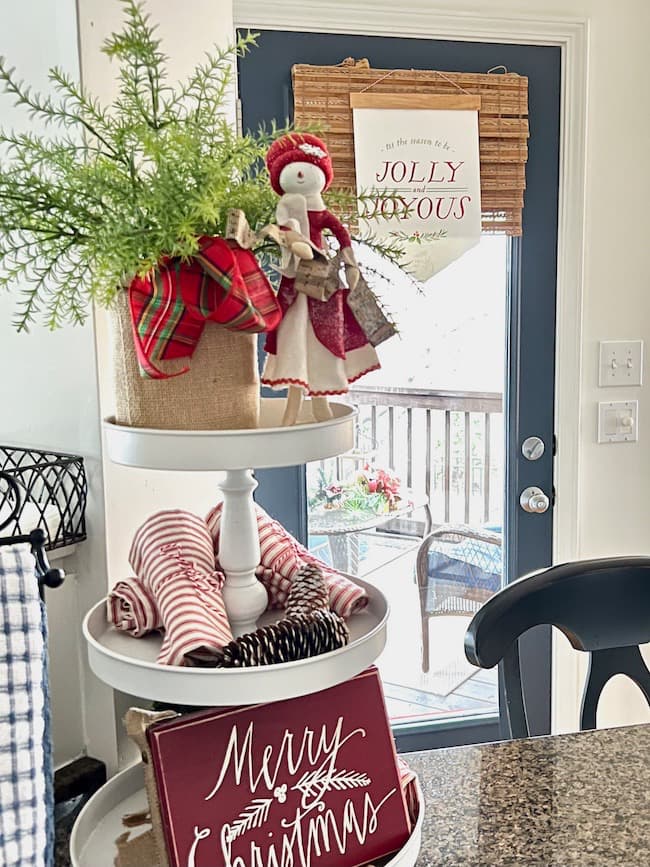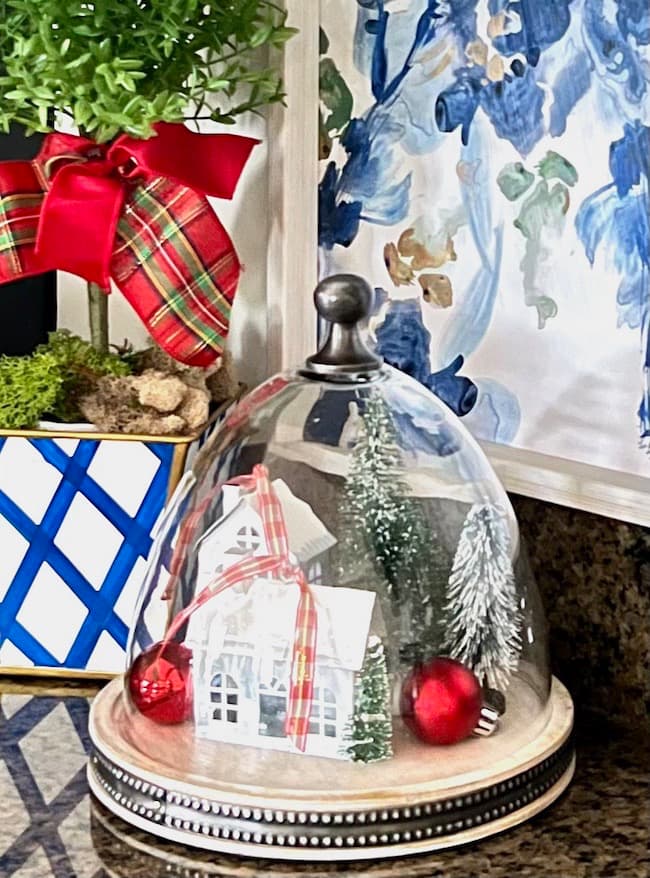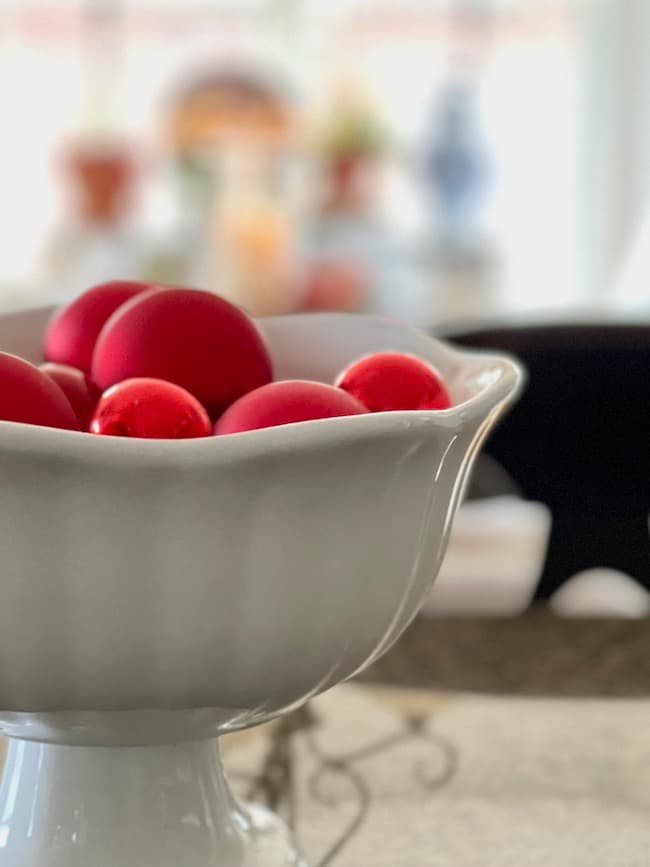 A three-tiered tray holds red and white ticking napkins, a Christmas sign, a little snow-woman, and a plant tied with a Tartan plaid bow (of course).
I filled a decorative glass cloche with little galvanized metal houses from Target. The houses are actually Christmas ornaments, but I think they make a perfect little village. I added some ribbon and bottle brush trees to complete the scene and some small red ornament balls for pretty color.
A simple white pedestal bowl full of red ornaments looks festive on our bar.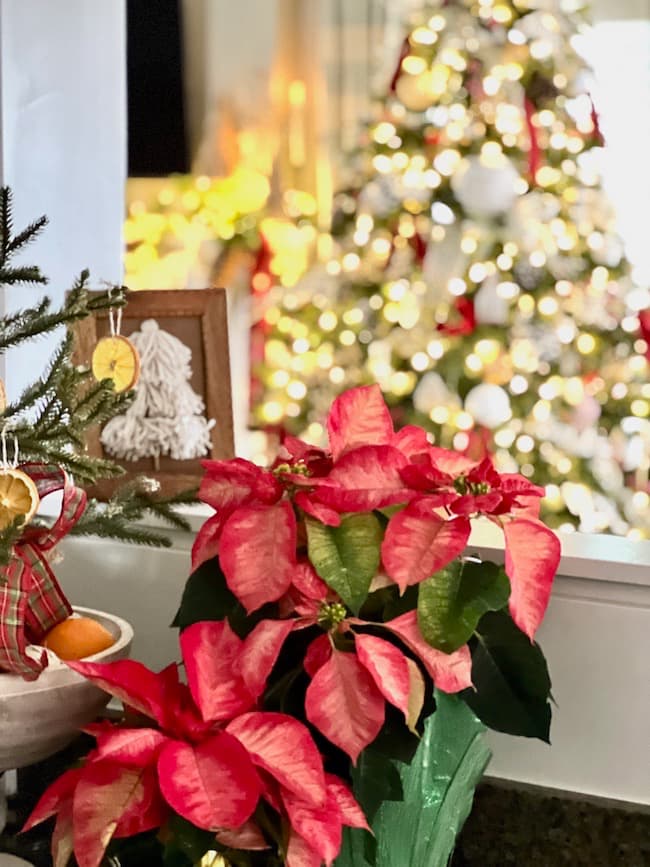 Don't you just LOVE all the gorgeous variegated poinsettia varieties available now? I added a couple to our kitchen countertops.
Hot Cocoa Bar: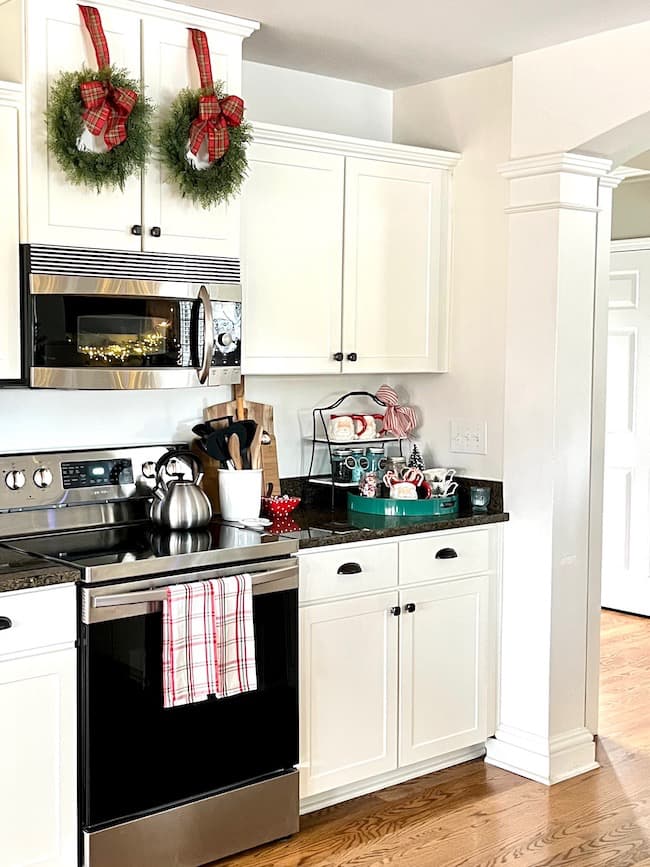 Our kitchen wouldn't be complete during the holidays without a hot cocoa bar full of Santa mugs and delicious toppings. Our daughter certainly has lots of fun with this and loves serving up special warm chocolatey drinks to her friends when they drop by!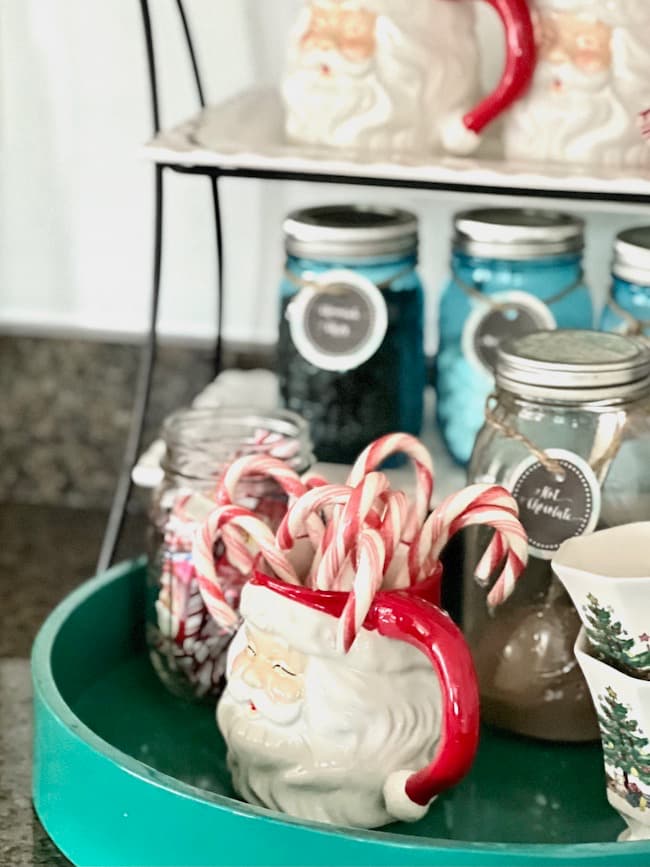 A Classic Cottage Christmas Look in our Kitchen Breakfast Area:
Our kitchen breakfast area certainly has a cottage feel for Christmas.
This year I added a small flocked tree full of DIY Christmas house ornaments for a cozy touch. You can see how I created the tree and ornaments here.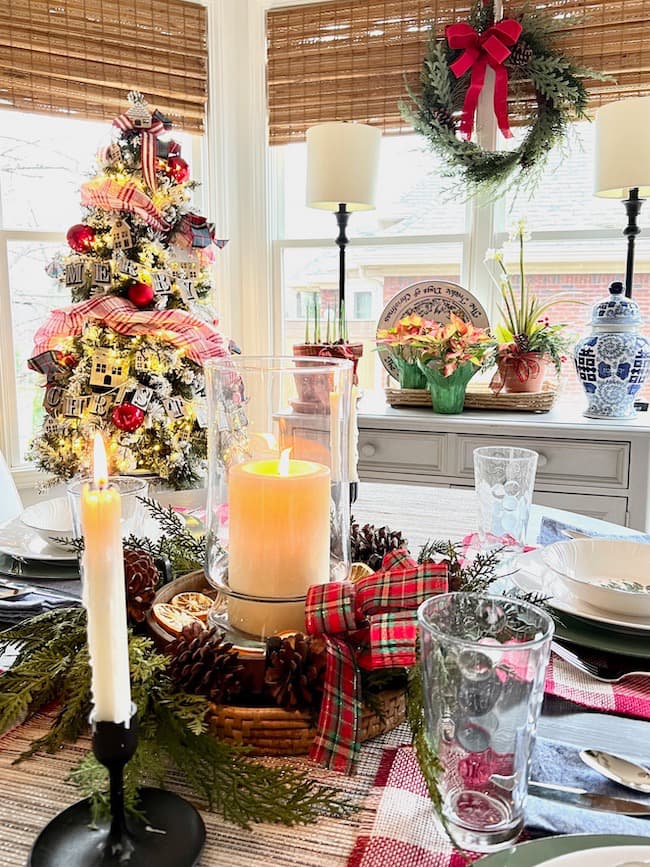 This breakfast area is one of my favorite areas in our home. The kitchen buffet plays host to our potted paperwhites (one faux, and one real which you can read more about here), a blue and white ginger jar, and our Louisville Stoneware 12 Days of Christmas plate.
A Christmas wreath with red bow hangs in the window.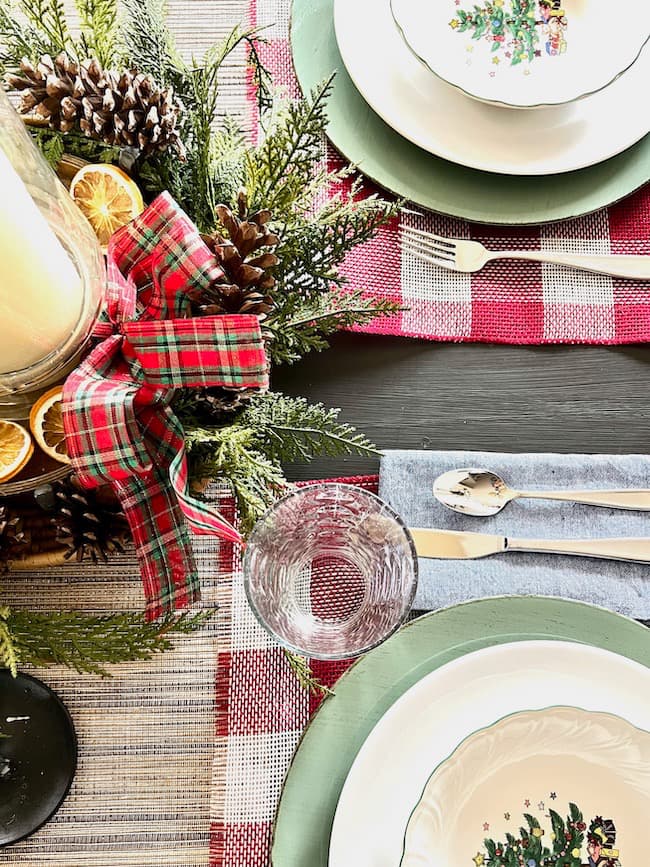 On the table, I'm using some simple red and white plaid placemats which I cut from a roll of decorative burlap.
The place settings are made up of green chargers, white dinner plates, and Spode Christmas bowls. Blue chambray napkins finish off the settings. It's a nice casual look for our kitchen table.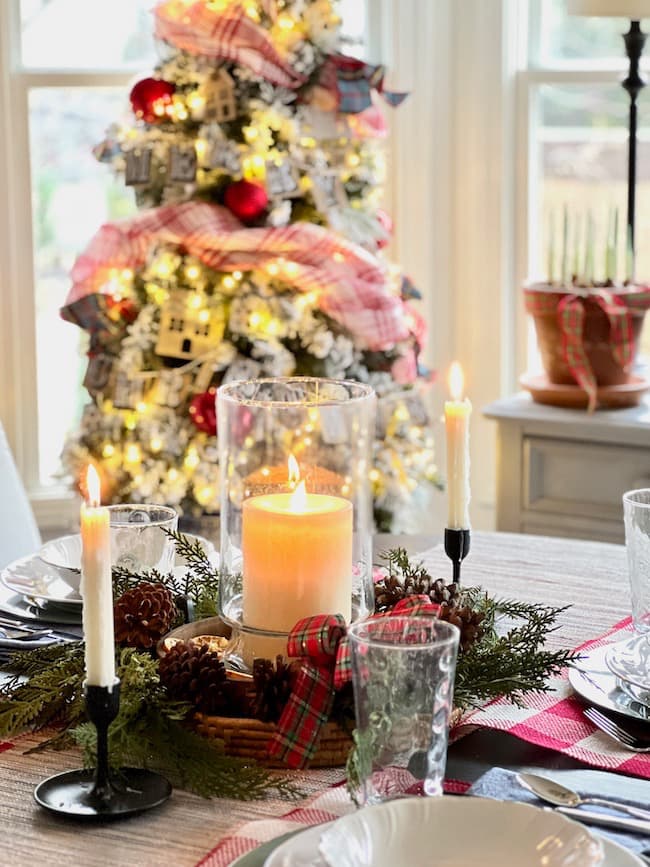 The centerpiece is simple with a white candle in a glass hurricane on a round woven tray filled with greenery, pinecones, dried oranges and a plaid ribbon.
Shop the Look

That rounds out Part 1 of my Christmas Home Tour. I hope you enjoyed this little trip around the main living areas of our home during the holiday season. These areas are quiet now, but in just a few days they'll be overflowing with activity and lots of love and laughter!
I hope you enjoyed the tour, and please be sure join me on Friday for Part 2 of the tour!
Merry Christmas!
Pin It for Later!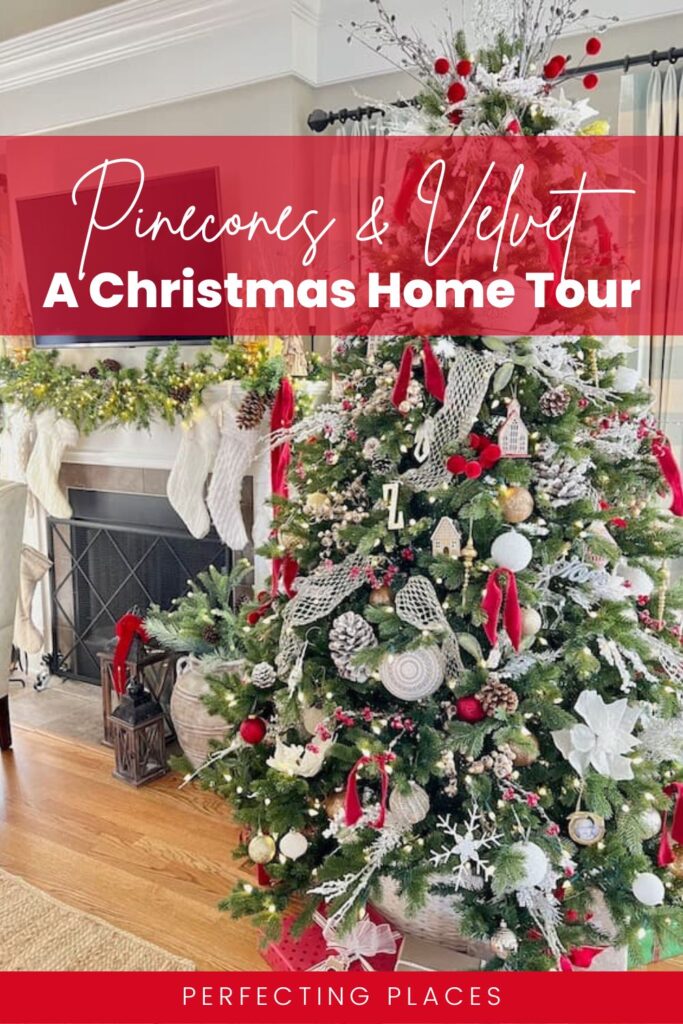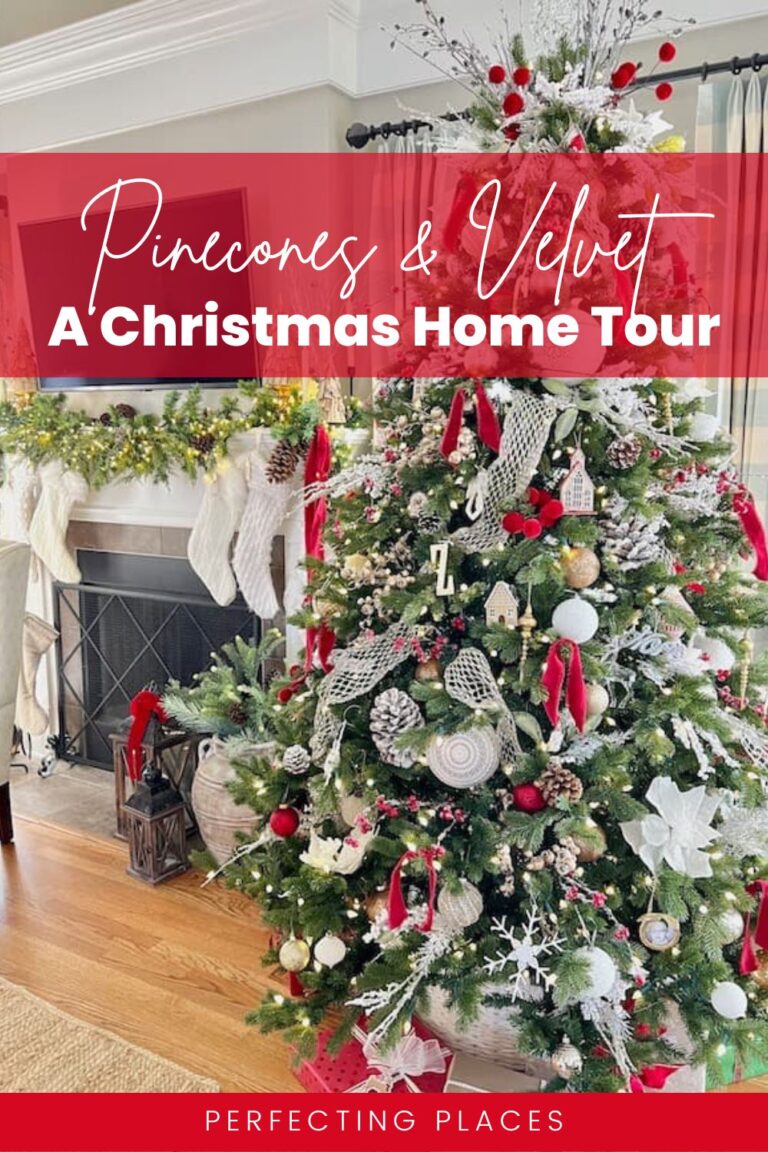 By the way, do you follow me on all the socials?? If not, check out my Pinterest, Instagram, and Facebook and be sure to follow me on all the socials so you don't miss out on any of my holiday decorating and DIY ideas!