DIY House Ornaments for a Kitchen Christmas Tree
Do you decorate a Christmas tree in your kitchen? I'm decorating our kitchen Christmas tree with the cutest DIY house Christmas ornaments.
Add a little Christmas cheer to your kitchen with a small tree decked out in your favorite kitchen Christmas color scheme.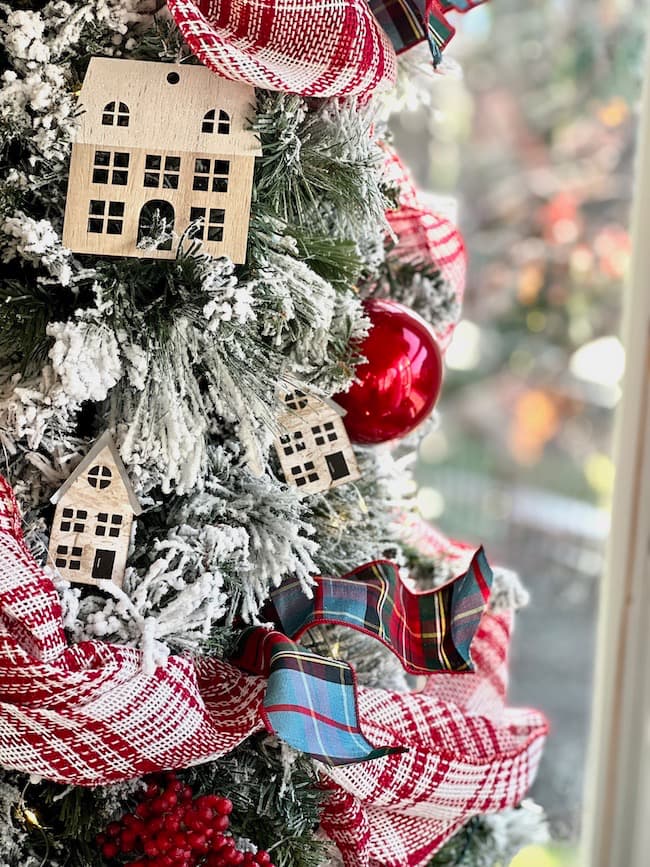 (This post contains affiliate links, so I may earn a small commission when you make a purchase through links on my site at no additional cost to you. As an Amazon Associate I earn from qualifying purchases.)
Today, I'm pleased to be joining 13 other bloggers in the 14 Days of Christmas Blog Hop full of lots of Christmas ideas for your home. Special thanks to Juliet at A Loverly Life for hosting! Be sure to hop over to the other participants at the end of the post!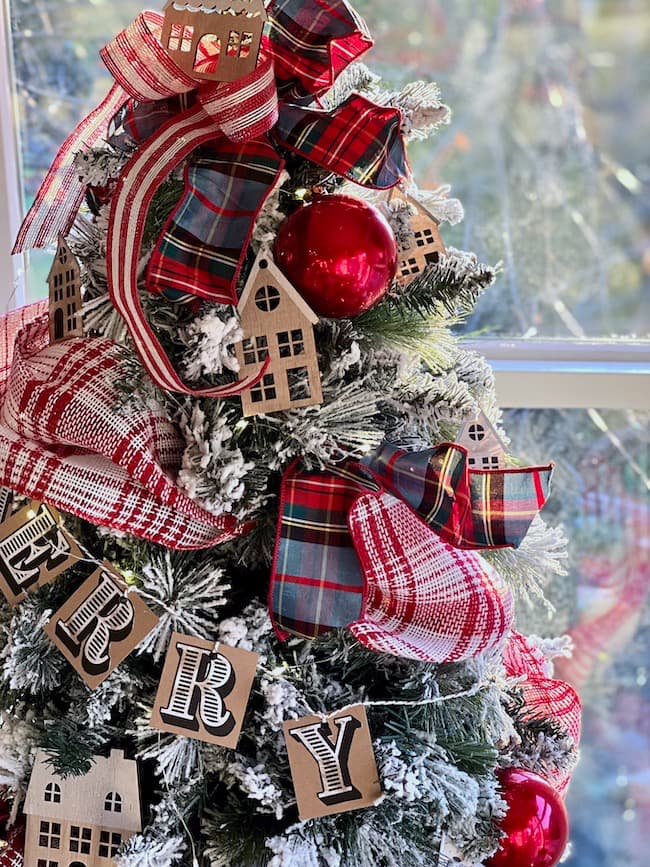 I love decorating our home for Christmas, and I just can't bring myself to stop at one tree in our living room. I need a little Christmas in just about every room!

Our kitchen is no exception (even though it's only a few feet from our living room tree)!
The bay window in our kitchen breakfast area was just screaming for a little Christmas cheer, so I complied and added the cutest little tree!
When I say little tree, I mean little!
I started with the scrawniest little potted tree. But it didn't stay that way.
Would you believe this …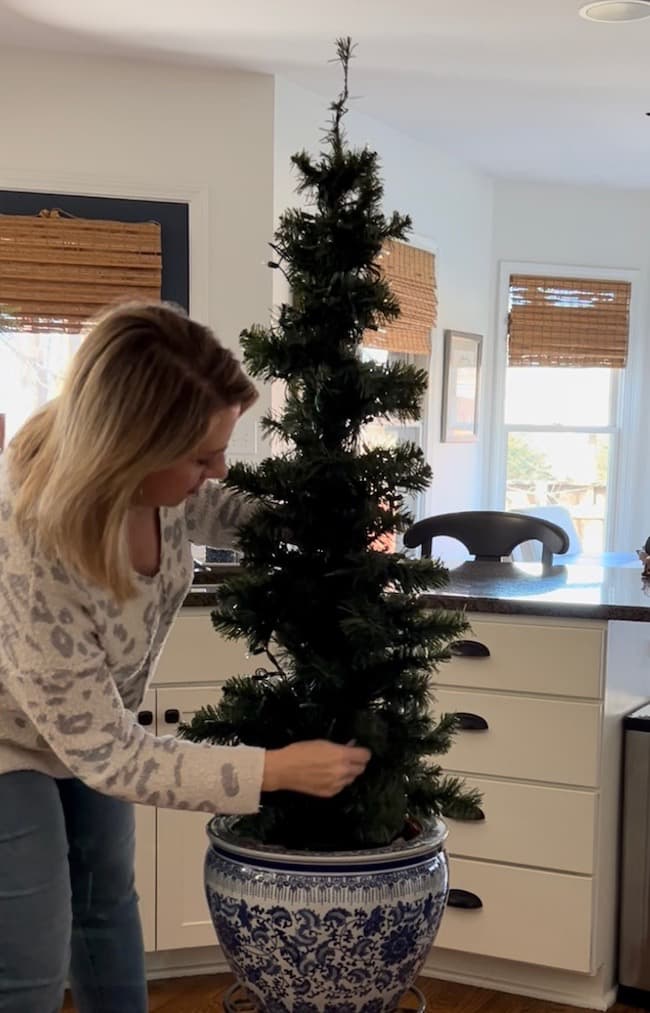 … turned into this?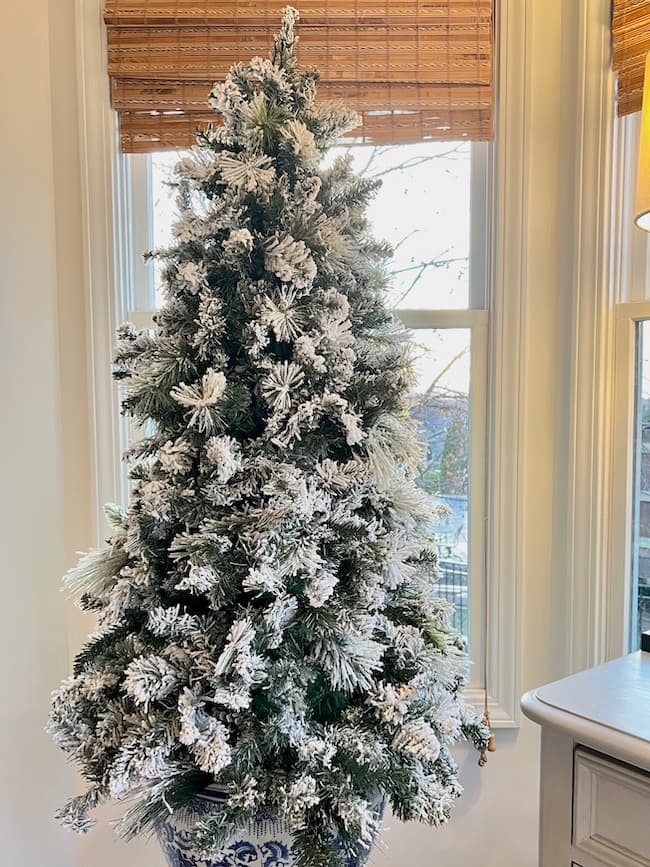 With the magic of a little flocked garland cut into pieces and a lot of dancing around the Christmas tree it transformed into a pretty flocked tree for our kitchen. You can read about how I transformed this little tree in this post.
DIY House Christmas Ornaments:
The kitchen is the heart of the home, and I love for our kitchen Christmas decor to reflect that feeling.
Speaking of home, I found the cutest little gingerbread house garland in the Target dollar section last year, and those little houses inspired the theme of our kitchen tree. Our little Christmas house tree is all about home and being home for the holidays. I also used these little houses in a Christmas brunch tablescape which you can read all about here.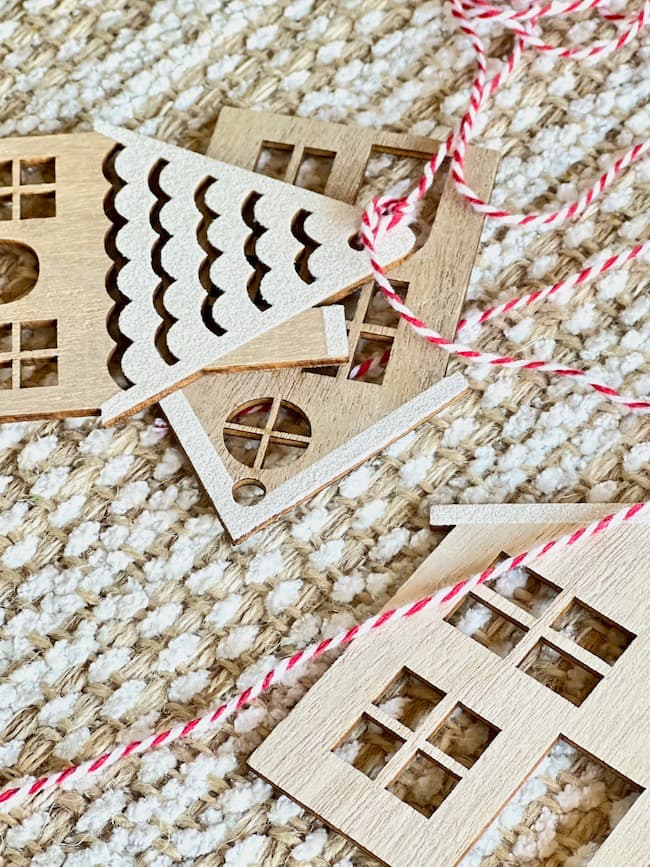 I added the simple gingerbread houses to our kitchen tree and used them as a template to make more easy homemade ornaments.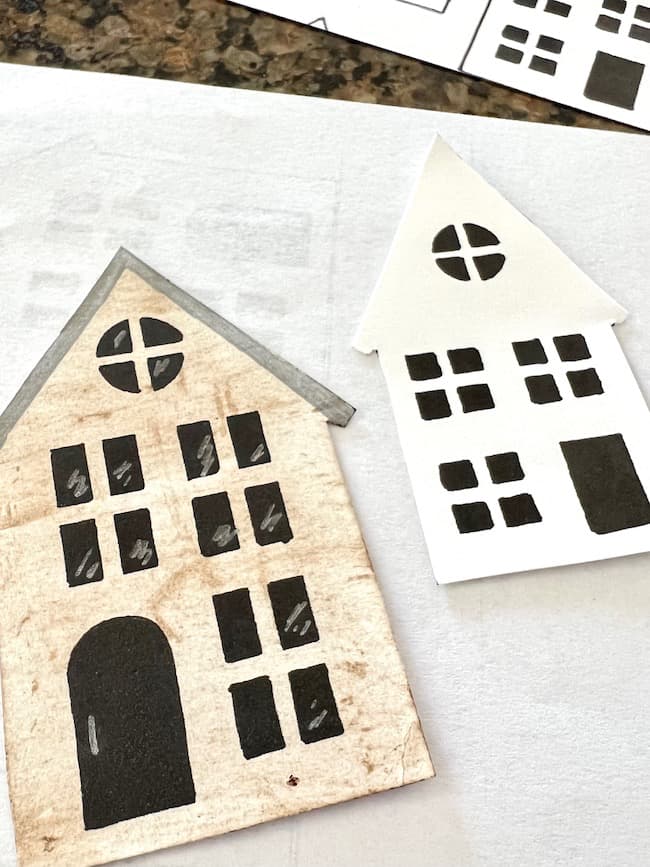 How to Make Simple Christmas House Ornaments:
I used a couple of the wooden houses from the garland as a template and traced the house designs onto paper.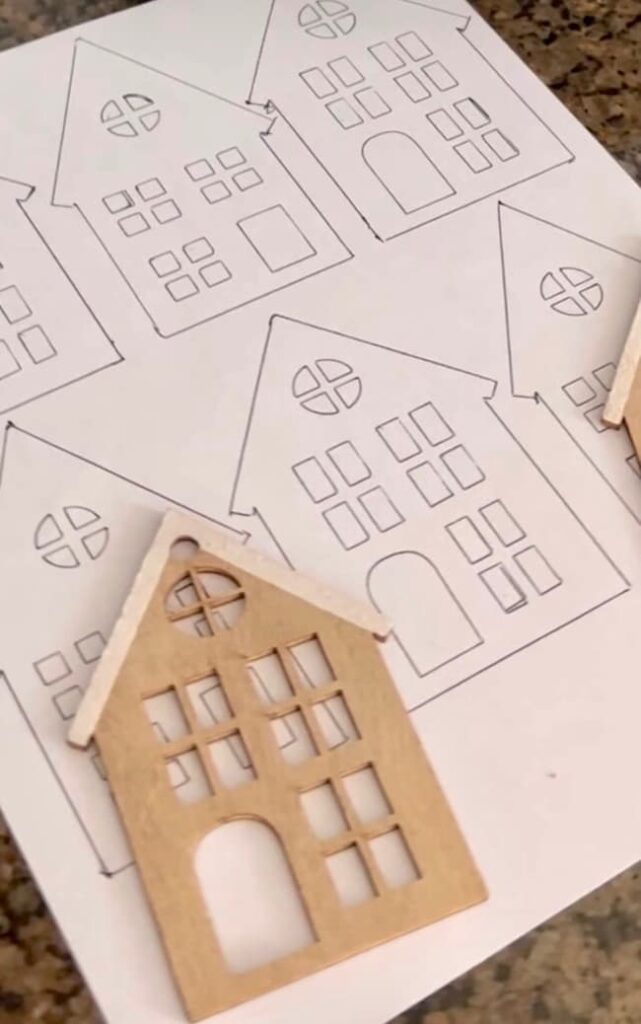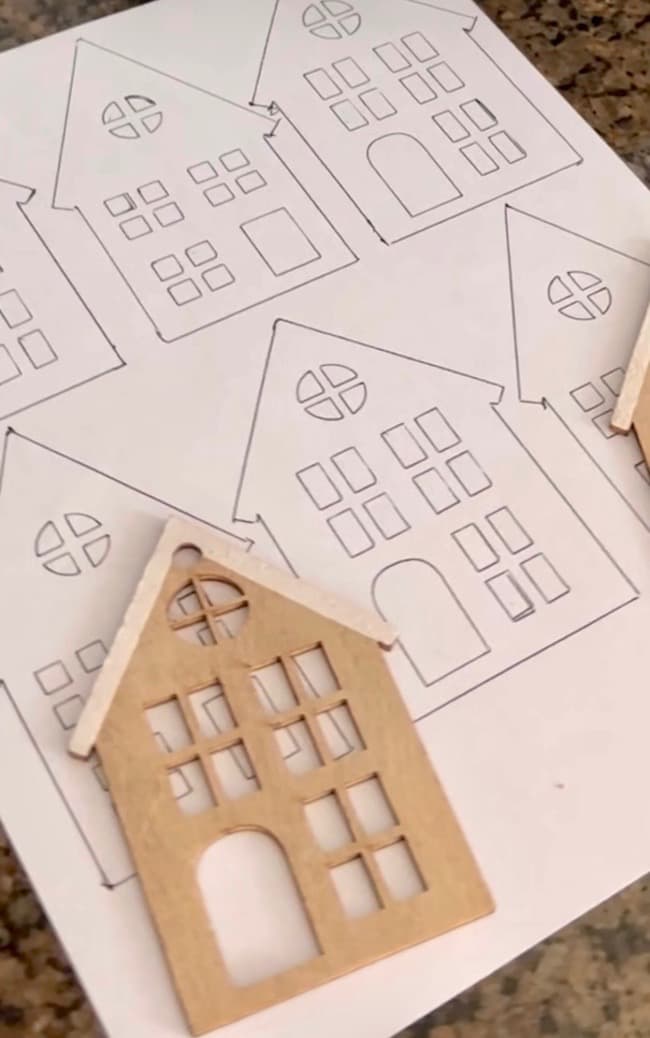 I wanted these houses to be a little smaller than the houses from the garland so I reduced the size of the houses with the printer.
I printed the houses onto white card stock, but you could use cream or brown paper if you want more of a gingerbread house look.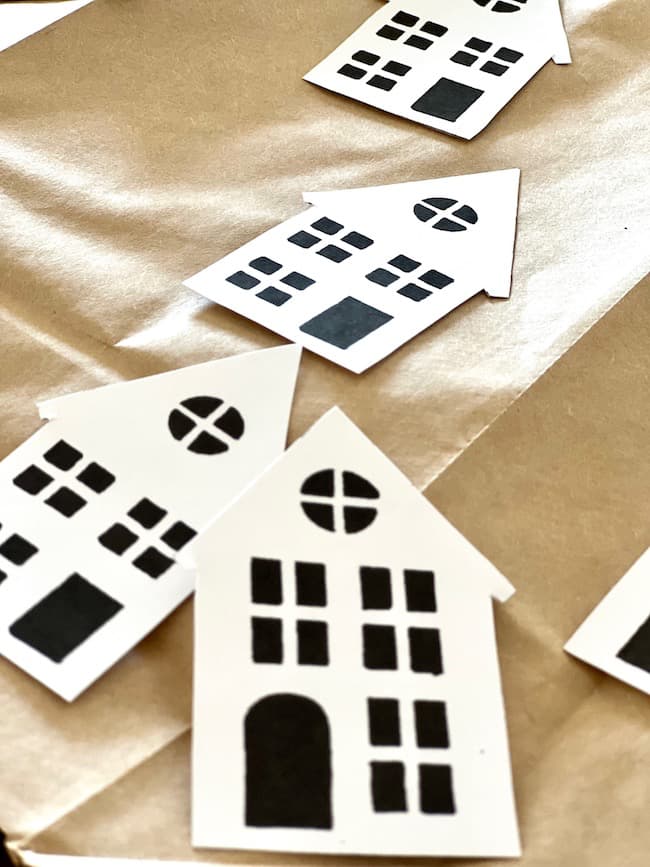 I decided to add a little "wood-look" texture to the houses.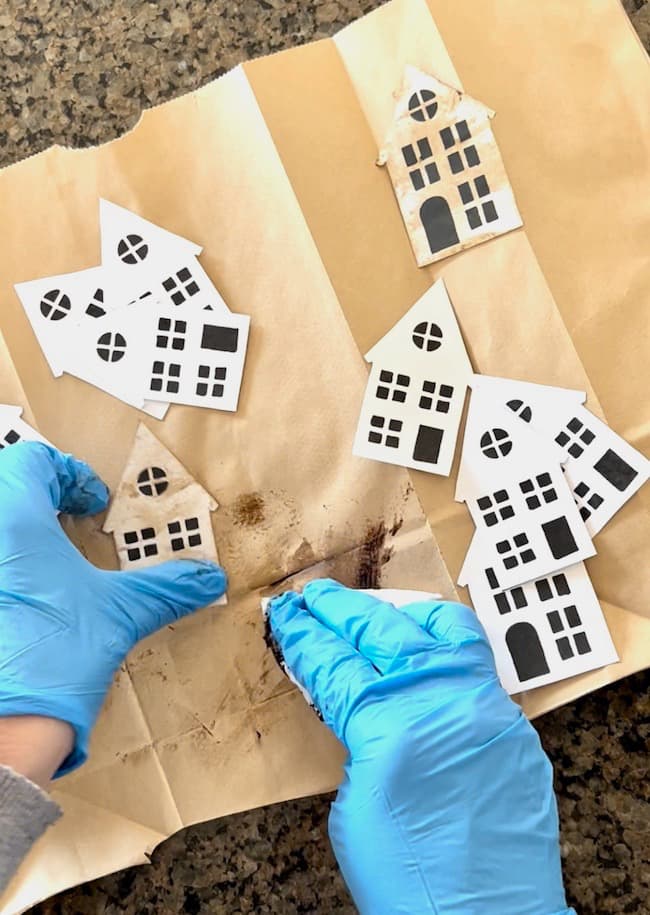 I used a tiny bit of dark wax smeared on with a paper towel to create a textured look.
Use a silver Sharpie marker to draw on a metal roof.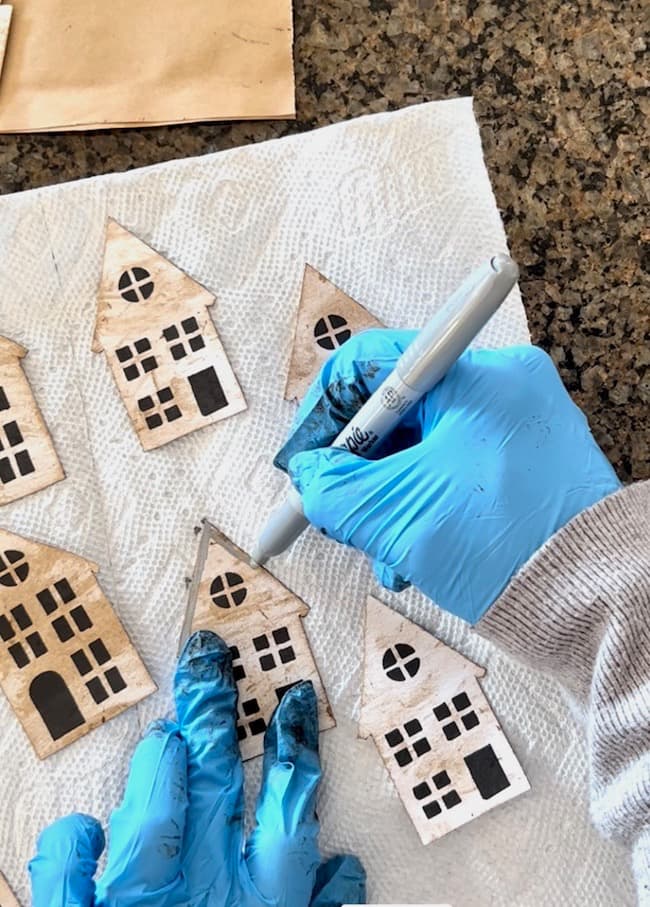 Red, White and Tartan Plaid Theme for our Kitchen Christmas Tree:
I used red and white plaid mesh ribbon as a garland around our kitchen tree. Christmas plaids are perfect for the kitchen, and I added a couple of different plaids to the tree.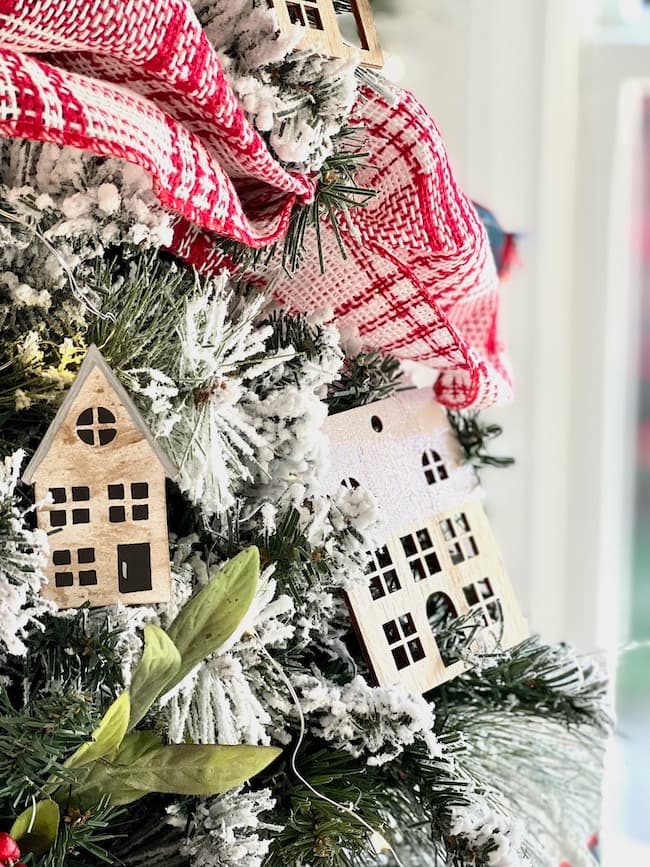 I started with this red and white mesh roll and twisted it around the tree.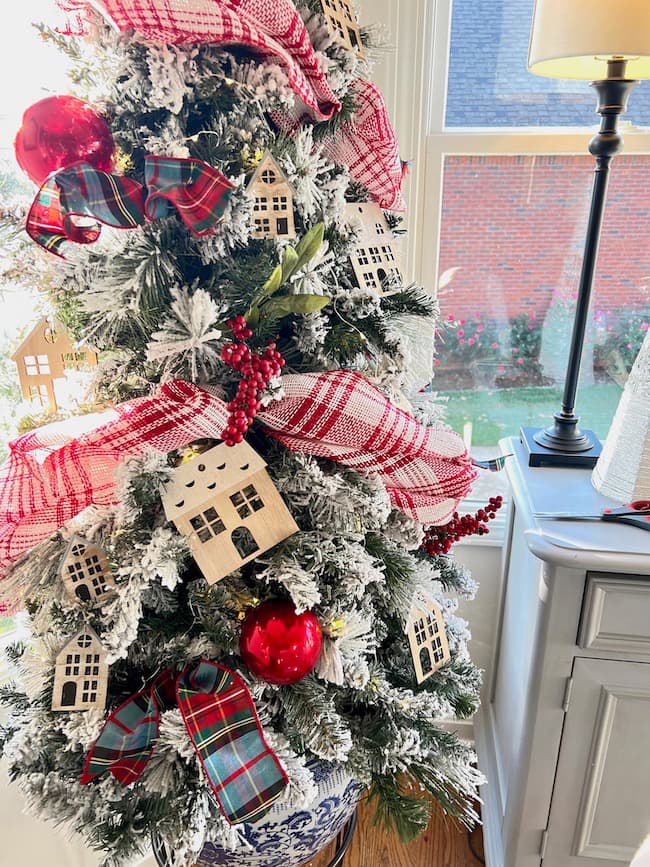 Next, I added little sections of blue tartan plaid ribbon to the tree and a few simple red Christmas ball ornaments.
Make a Merry Christmas Banner for the Kitchen Tree:
Keeping with the theme of simple paper tree decorations, I created a Merry Christmas banner for the tree out of card stock and twine.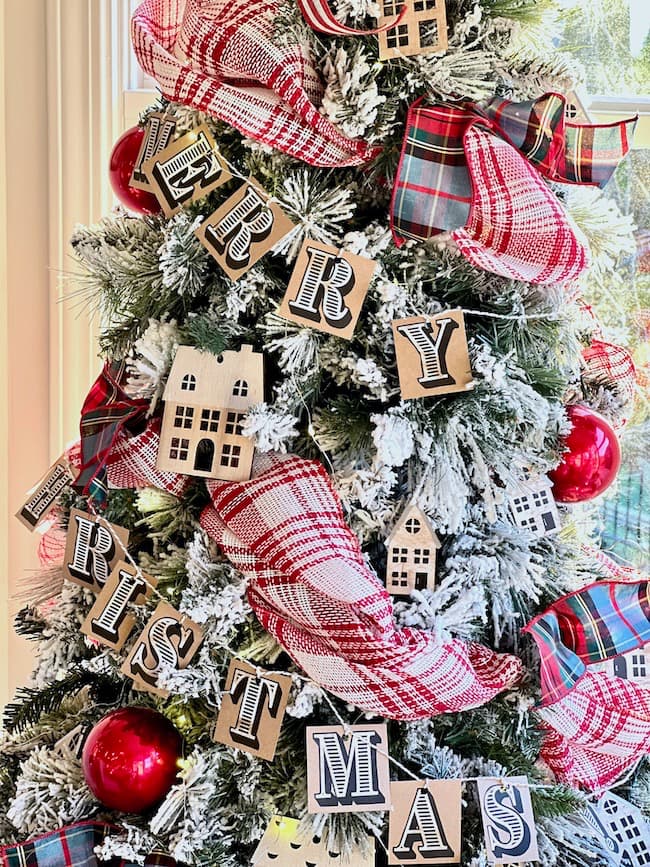 I printed the letters onto white card stock and then followed the same method as above to apply dark wax to "age" the paper.
I cut out the letters and glued them onto brown card stock.
I hung them on the tree with gold and white twine.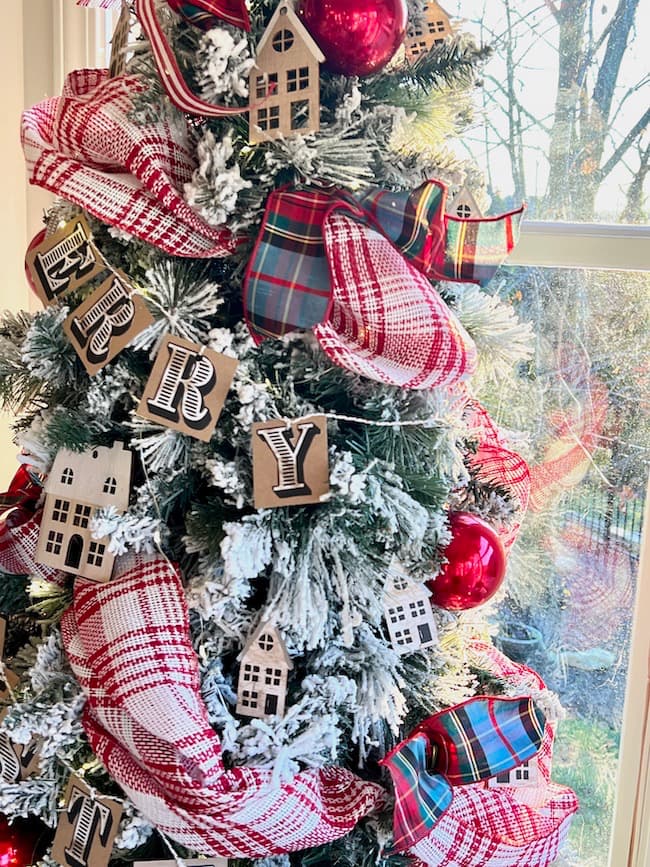 Other Decor Ideas for Decorating a Kitchen Christmas Tree:
The kitchen is a great place to get creative with your holiday decorating. The following items are perfect additions to a kitchen tree. Many of these ideas are homemade and some are store bought.
cinnamon sticks
dried oranges
candy canes
popcorn garland
cranberry garland
dough ornaments
small wooden spoons
small bottle brush trees
pinecones
origami snowflakes
small mason or glass jars with battery-operated votives
fairy lights
pom poms or yarn tassels
small jingle bells
jute twine braided into little wreaths
---
Shop the Look

---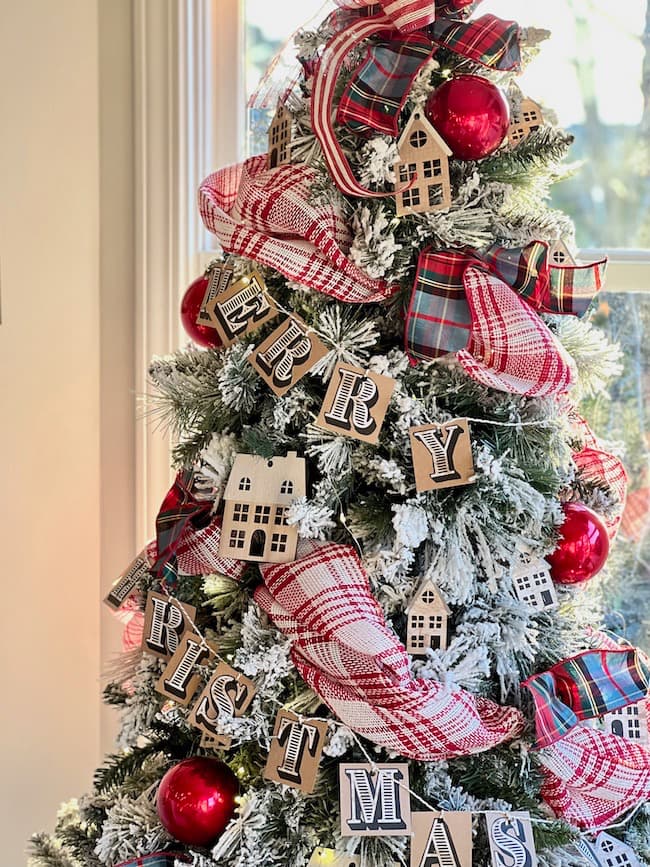 There are so many possibilities to create a festive tree for your kitchen. Whether you have a large tree on the floor, a smaller potted tree in a stand, or a simple tabletop Christmas tree, a kitchen tree is a great way to add a festive touch to your kitchen during the holiday season.
Happy Decorating!
Pin It for Later!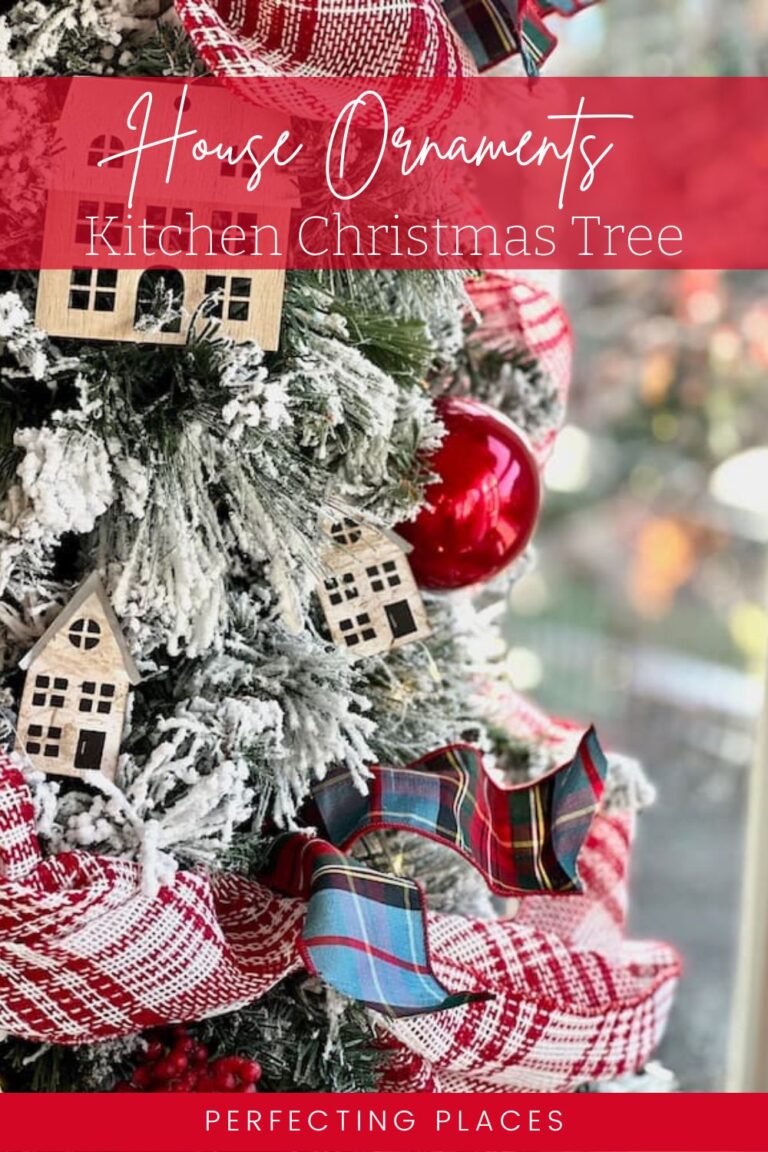 By the way, do you follow me on all the socials?? If not, check out my Pinterest, Instagram, and Facebook and be sure to follow me on all the socials so you don't miss out on any of my holiday decorating and DIY ideas!
---
14 Days of Christmas Blog Hop
Be sure to visit these talented bloggers for more creative Christmas ideas! A special thanks to Juliet from A Loverly Life for hosting our blog hop!