Simple Christmas Brunch Decor Ideas for Your Table
Are you hosting a festive holiday brunch? Create a beautiful tablescape with these simple Christmas brunch decor ideas for your table.
If you're treating your best girlfriends to a Saturday morning brunch or your family to your favorite Christmas brunch recipes on Christmas morning, these easy Christmas table decorations are a simple way to create a lovely holiday table.
I'm also excited to be invited to join 11 other talented bloggers in the inaugural Fabulous Friday Features Blog Hop!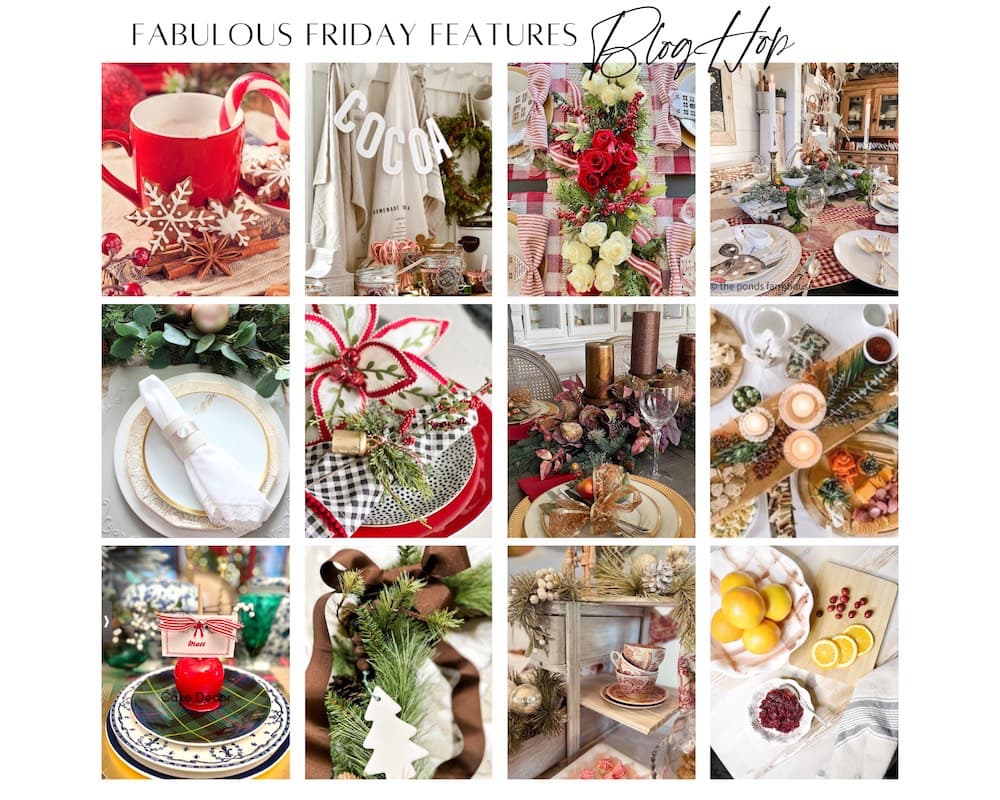 Welcome to the first Fabulous Friday Link Party Blog Hop. The Fabulous Friday Link Party is a place for bloggers to link their best posts every Friday and potentially get featured the following week. The Link Party has now extended its presence to some bloggers who link up regularly. Today the 6 Hosts and 6 Talented Bloggers are launching their 1st Fabulous Friday Blog Hop. Follow along to see all of the amazing Christmas Entertaining Inspiration. All the links to the Hosts and their Featured Blogger Friends are at the end of the blog.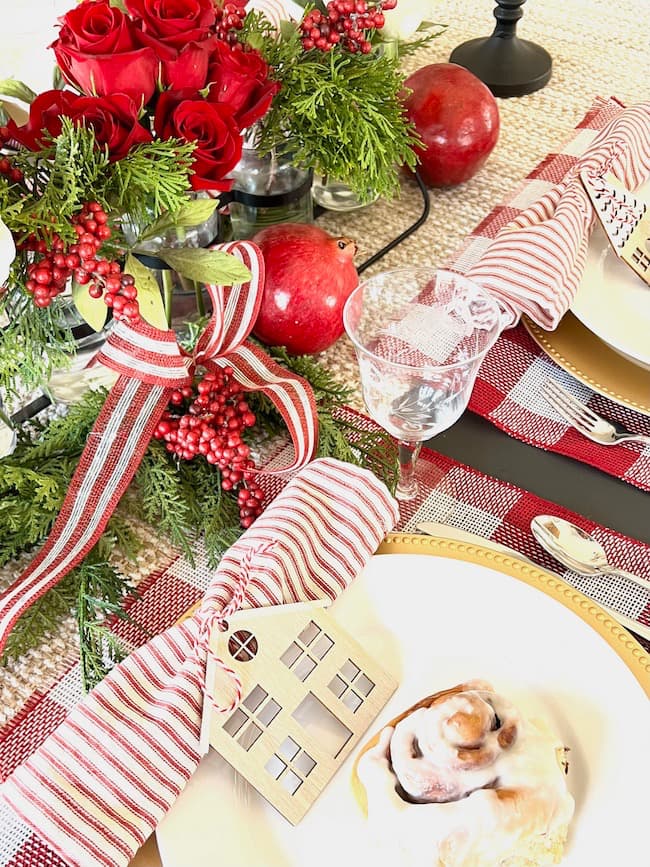 (This post contains affiliate links, so I may earn a small commission when you make a purchase through links on my site at no additional cost to you. As an Amazon Associate I earn from qualifying purchases.)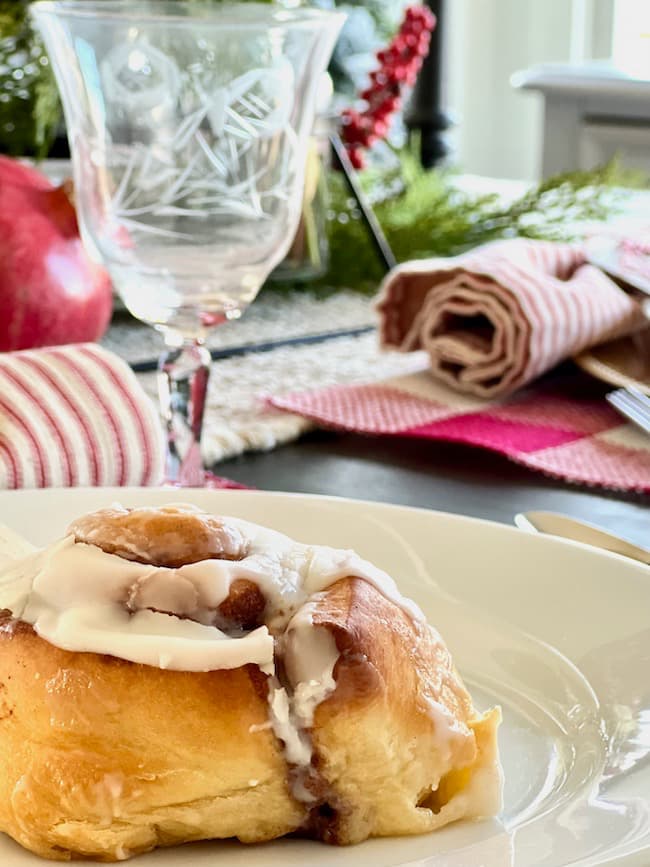 One of my favorite things about Christmas is making it a priority to gather and celebrate with different groups of family and friends.
It's the time of year when we make it a point to spend time together and celebrate the blessings of our family and friends.
I especially love when I get to gather with some of my sweet friends for a Christmas brunch. It's such a special treat to gather together for just a little while on a quiet December morning and catch up on all the details of each other's lives and families. It's such a decadent treat to pull away from the business of the season and sit down at the table with some of my cherished friends over coffee and some yummy breakfast dishes.
My favorite part about preparing for any holiday occasion is setting a pretty table with a beautiful holiday centerpiece and simple decorations!
And today I'm sharing all the details of this pretty red and white themed brunch table.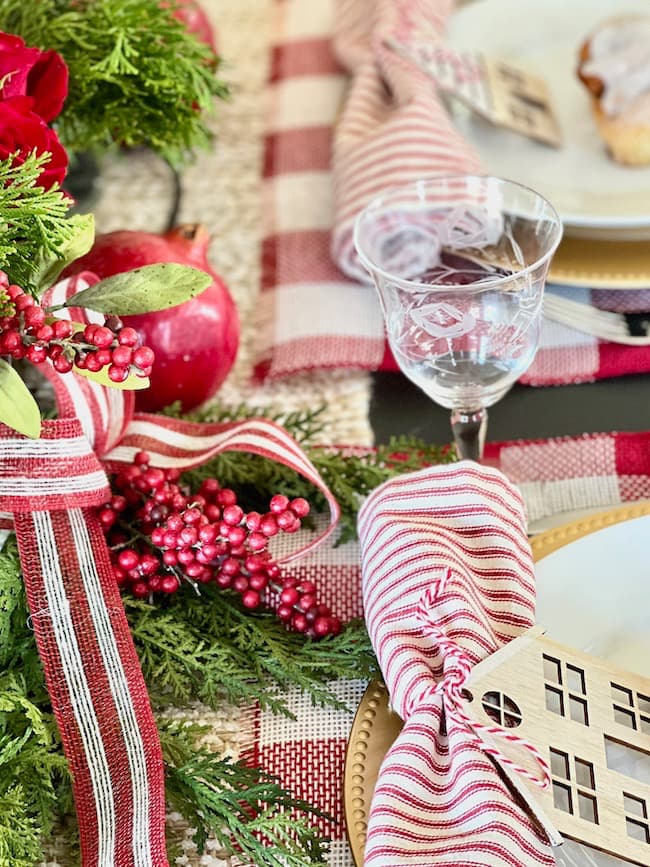 My traditional red and white table color scheme:
To create a cozy classic Christmas look for this holiday brunch table, I chose a simple red and white color scheme. This simple red and white color combination has such a charming cottage feel, and I love to use this in my kitchen throughout Christmas.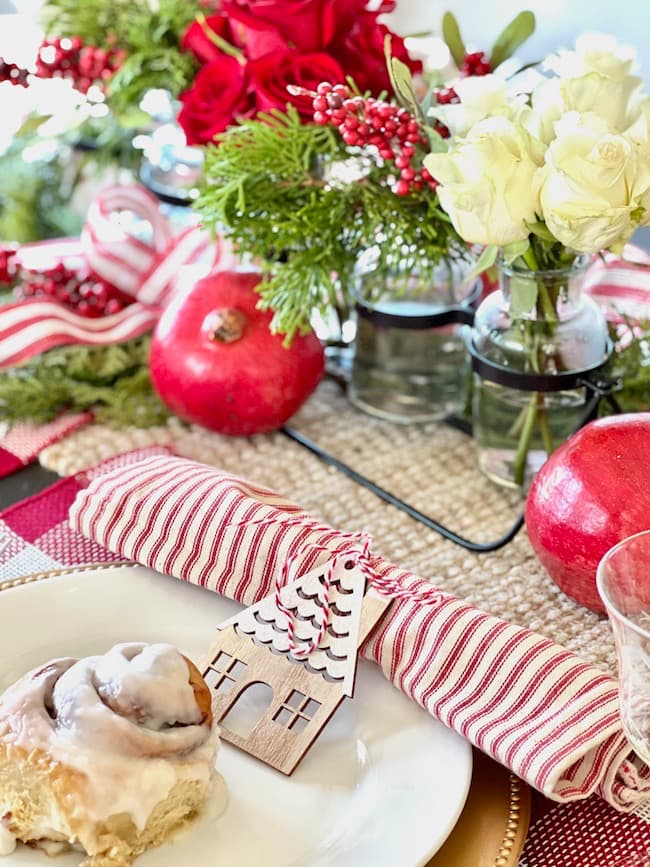 I wanted the table to feel comfortable and casual, yet festive and special, and red and white were the perfect color choices.
The inspiration for my Christmas brunch table theme:
The feeling of coming home or being "home for the holidays" is the special feeling I want my home to exude at Christmas time. I'm drawn to Christmas houses and love to decorate with them.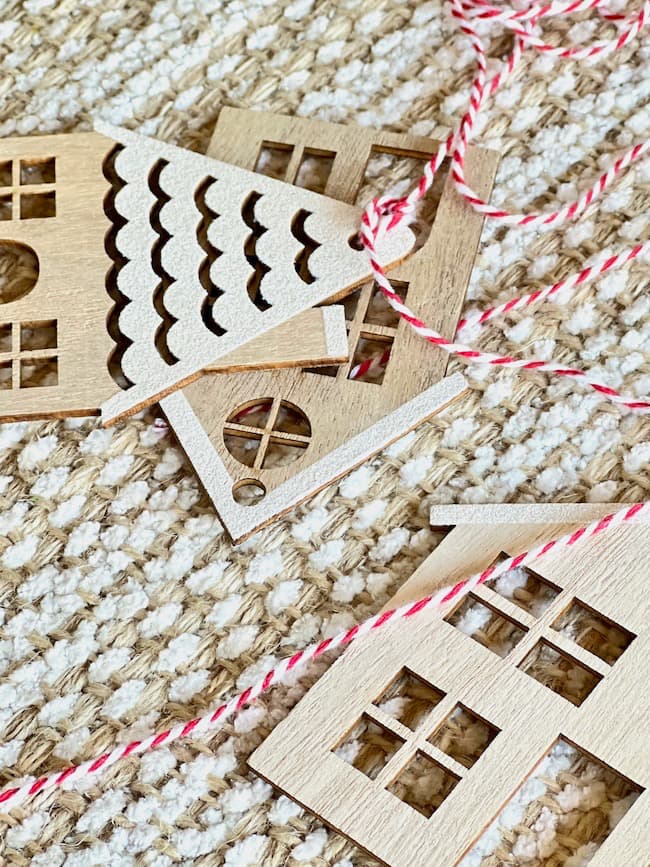 I found this simple house garland in the Target dollar section last year, and just loved the little houses. It became my inspiration for my Christmas brunch tablescape.
How to decorate your dining table for Christmas brunch:
A Christmas tablescape doesn't have to be elaborate or take a lot of money. These Christmas brunch decor ideas are simple ways to create a pretty holiday table for your guests.
Start with a table runner down the center of the table.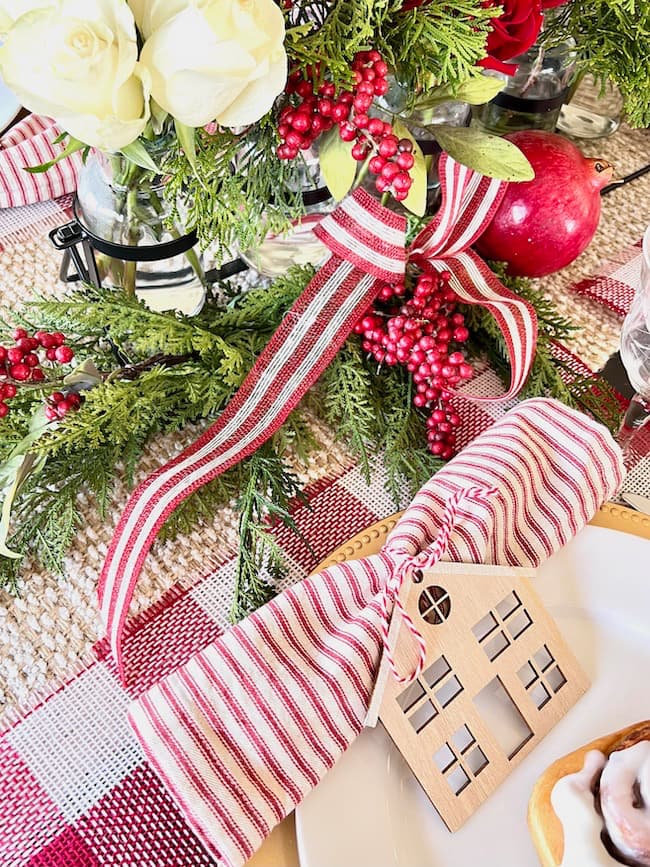 I love to use this simple jute table runner from Walmart on our dining table. It provides a nice neutral and textured base for the centerpiece. The jute texture keeps the tablescape from feeling too fussy or formal.
Add festive red and white plaid placemats.
I actually made these plaid placemats from a roll of burlap decorative mesh. I simply cut off the amount I needed for each placemat and then pulled the threads to create frayed edges.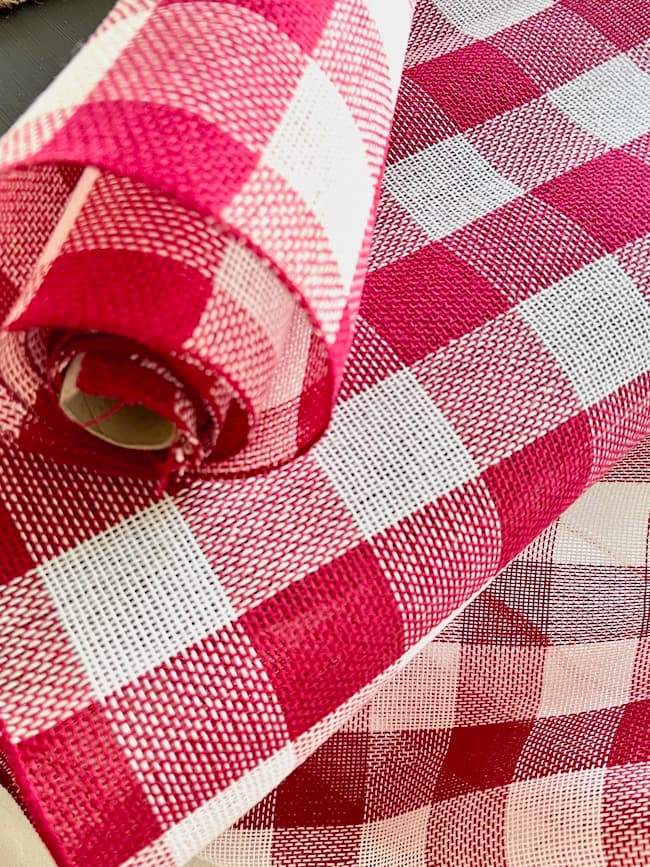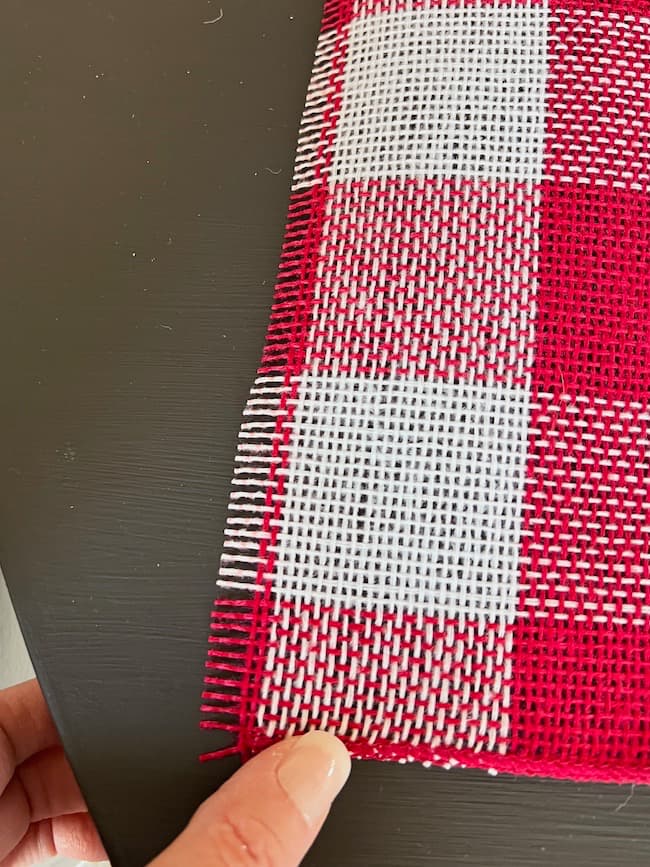 Add a pretty centerpiece as the focal point of the tablescape.
This floral centerpiece is so easy to create with this fabulous multi-bud vase holder. You could also use a series of small glass vases or even five small mason jars to create the same effect.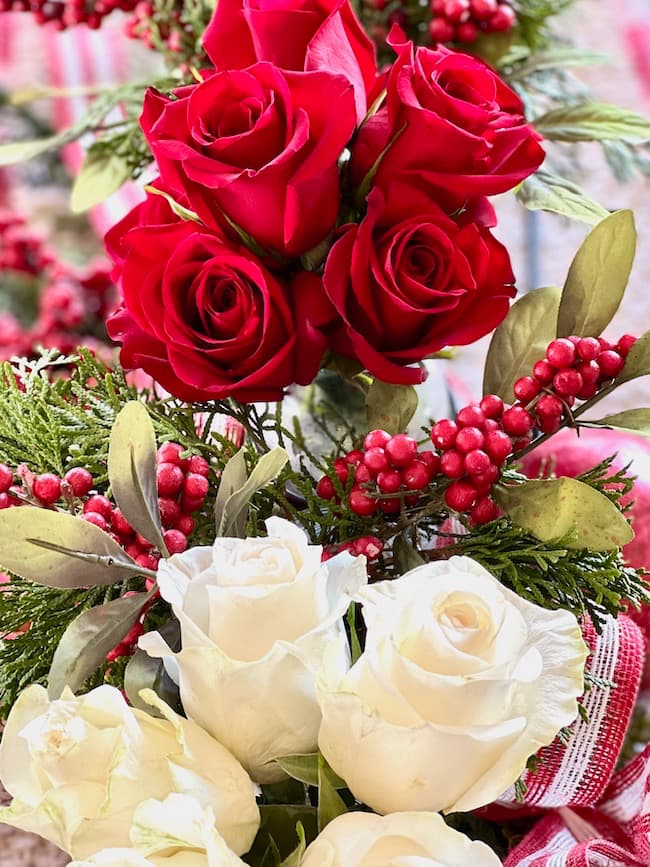 I used red and white roses and some fresh cut greenery from our yard to create a fresh natural centerpiece.
How to create the Christmas brunch centerpiece: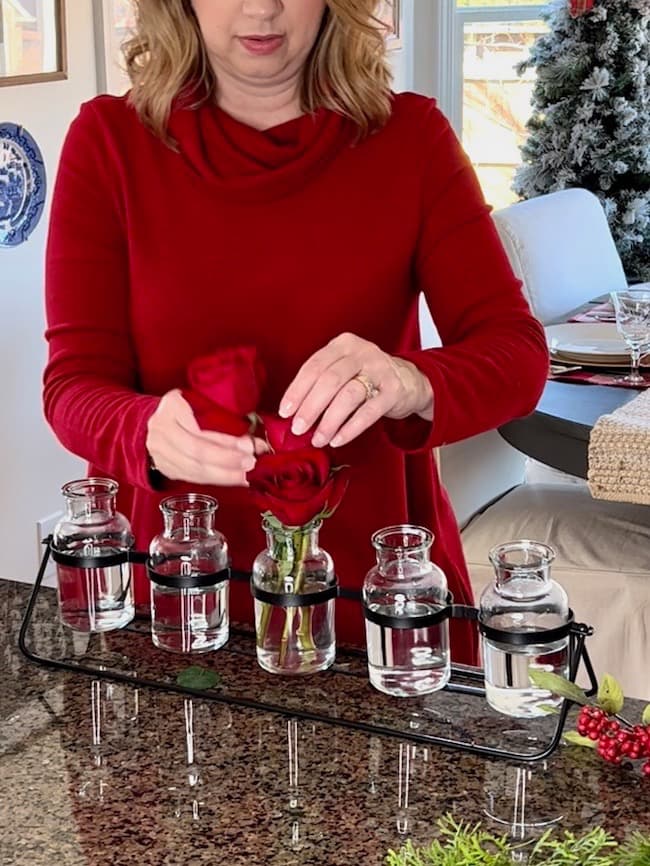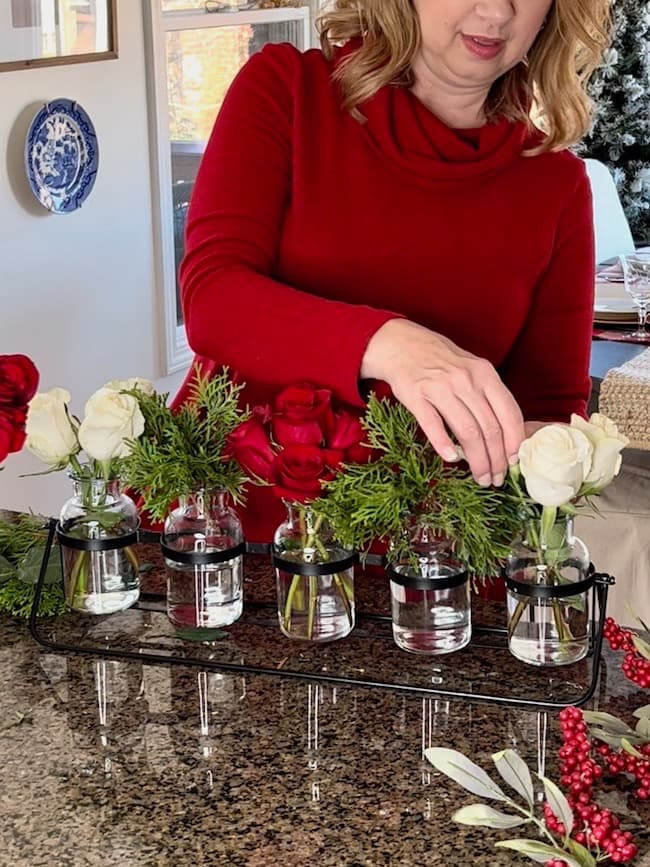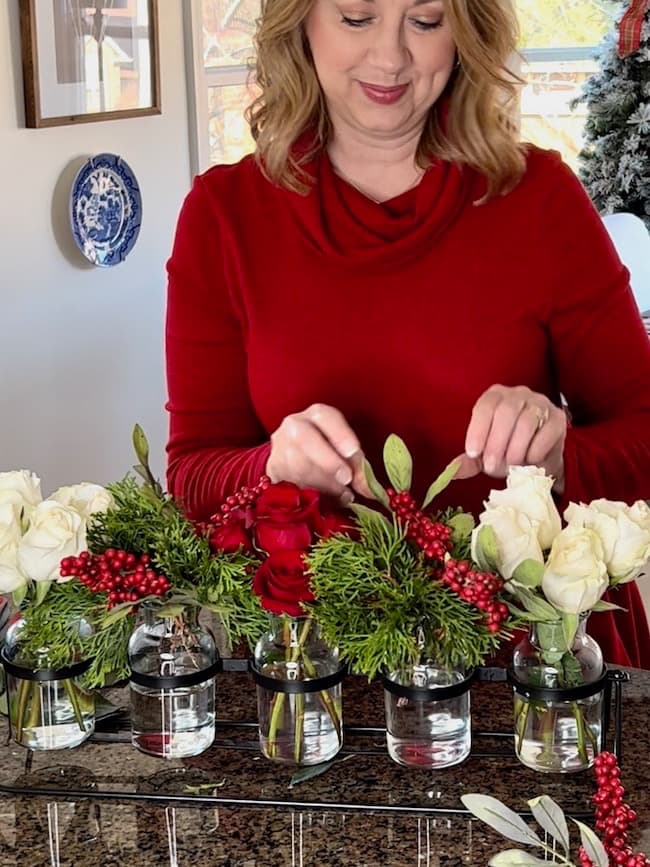 Trim your roses and greenery to a short height. You'll want to be able to see across the table when conversing with guests, so cut the rose stems down to create a low centerpiece.
Start with the middle vase and add 5 red roses trimmed to size.
Next, add the fresh cut greenery to the to bud vases on each side of the roses.
Cut the white roses down to size and add 5 to each of the outer small vases.
Add red berry stems to the greenery. I used faux berry stems in this arrangement, and also added a few sprigs of leafy faux greenery to the berries. You could also add some fresh eucalyptus if you have it on hand.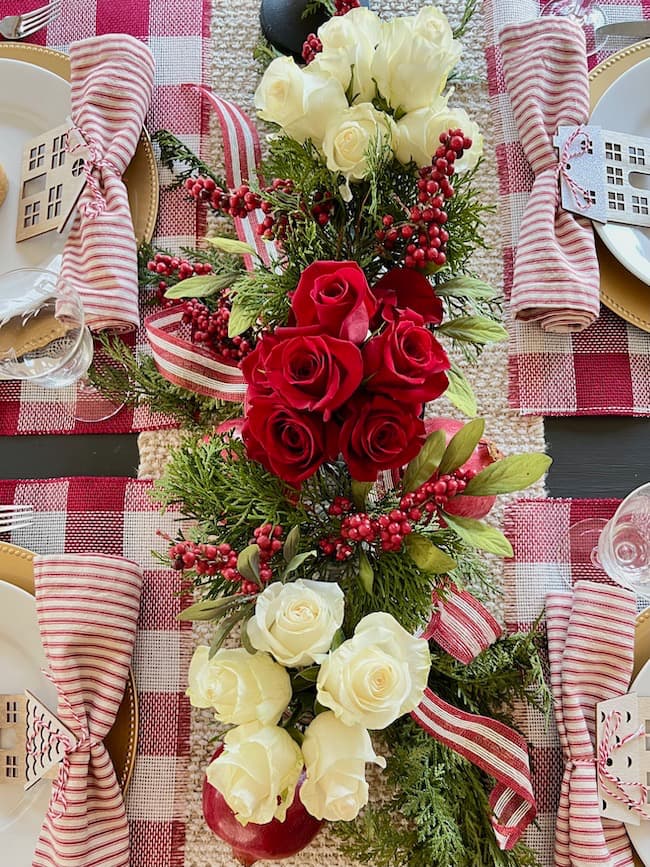 This multi-bud vase holder has become a favorite decorating staple in my arsenal of home decor pieces. It's such an easy way to create gorgeous floral arrangements throughout the year! I purchased this one from Hobby Lobby a year or so ago, and can't locate a link for you; however, these options from Amazon are very similar.

Arrange some evergreen garland around the vase holder centerpiece. I'm using realistic-looking faux greenery, but you could certainly add fresh garland to the table centerpiece if you choose.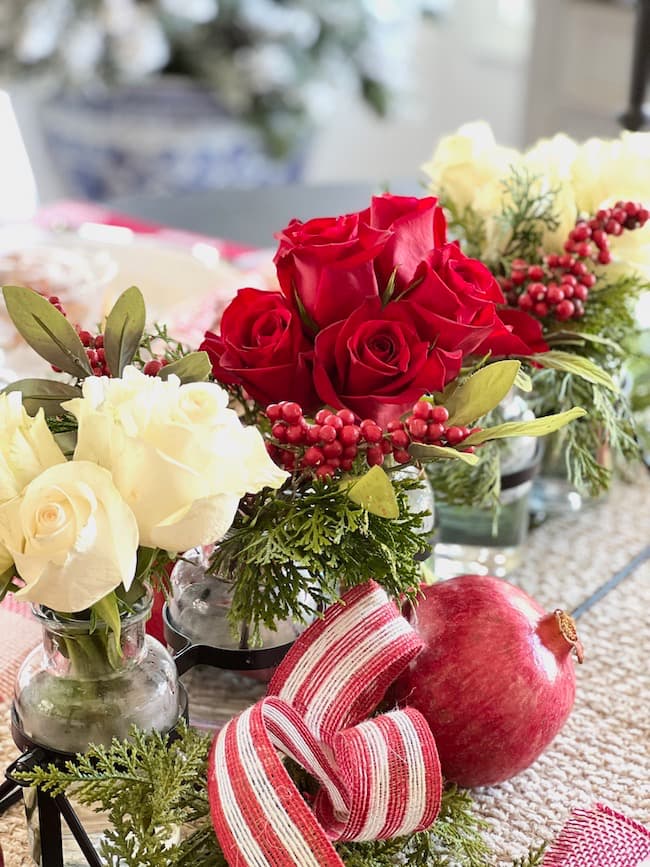 I finished of the centerpiece be adding a couple of red and white striped bows to the arrangement.
Add pillar candles in candlesticks.
I added white pillar candles to heavy black candle holders to provide candlelight for our table decor. Candlelight adds a warm festive touch to any special occasion.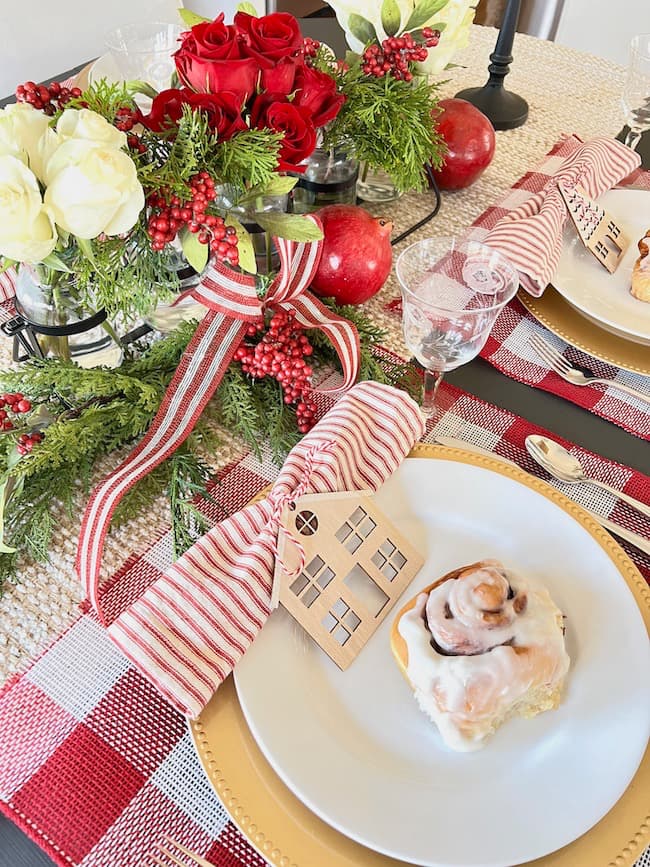 Create simple Christmas place settings.
I kept the place settings simple, using gold chargers with simple white plates. They're perfect for plating your favorite breakfast casseroles, French toast, fresh fruit, or yummy cinnamon rolls!
I added my grandmother's delicate stemware for a special delicate touch, and used our stainless flatware.
Get creative with your napkins and napkin rings.
This is the fun part of the table and what pulls the whole theme together! I used small red and white ticking tea towels for napkins. I tied red and white twine to the sweet little wooden houses from my inspiration "Christmas house" garland. These served as napkin rings for the striped napkins. You could also add your guests' names to them to serve as place cards for larger gathering.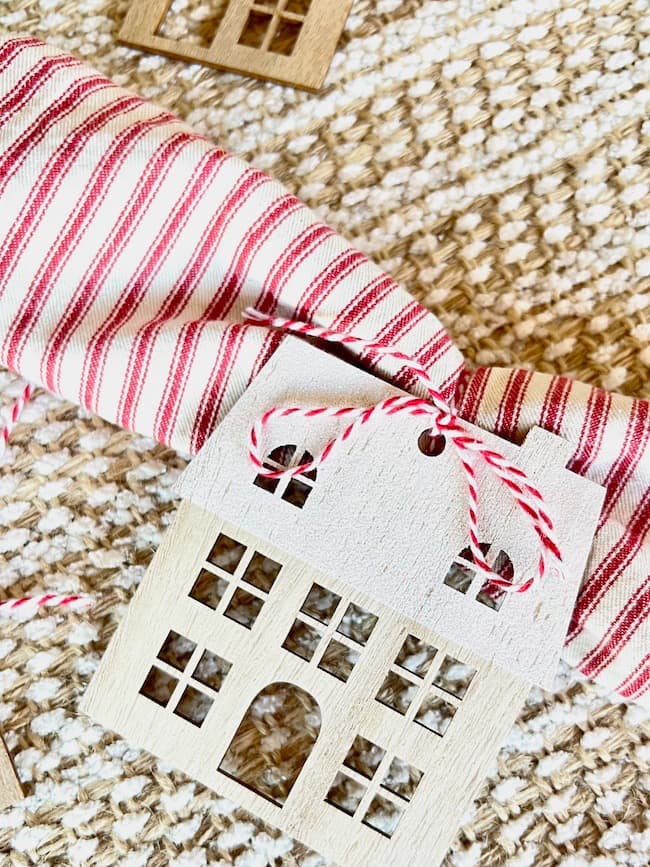 At the end of the brunch, guests can keep their little house as a special memento of the day.
---
Shop the Look

---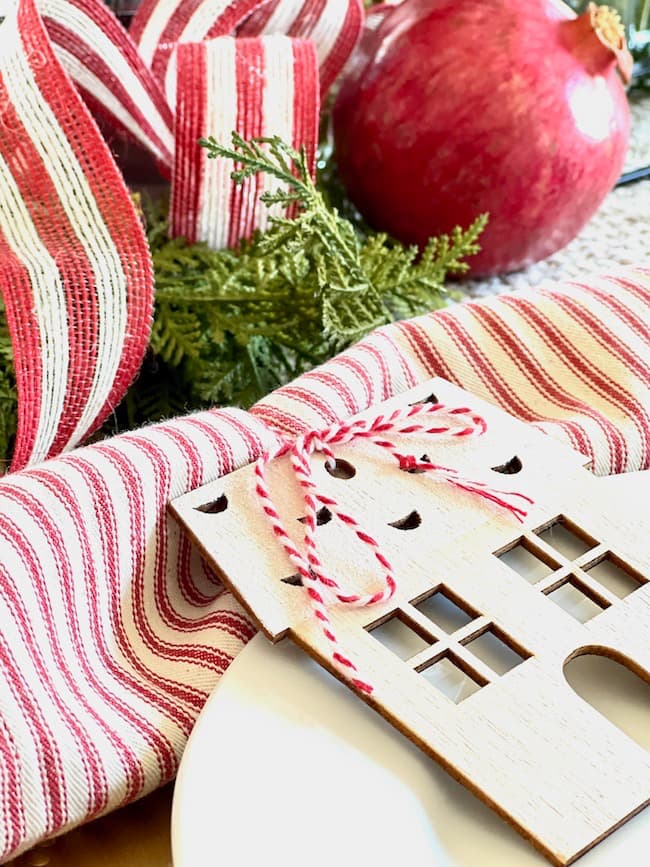 I hope this inspires you to get together with sweet friends this holiday season. Whether you're hosting a brunch or a Christmas dinner party, I hope these simple Christmas brunch decor ideas for your table spark your creativity to pull a pretty table together with a few simple festive touches!
Merry Christmas!
More Christmas Tablescape and Decor Inspiration:
Our Christmas Table Centerpiece and Tablescape
An Easy Chinoiserie Ornament DIY and Christmas Tour
Pin it for Later!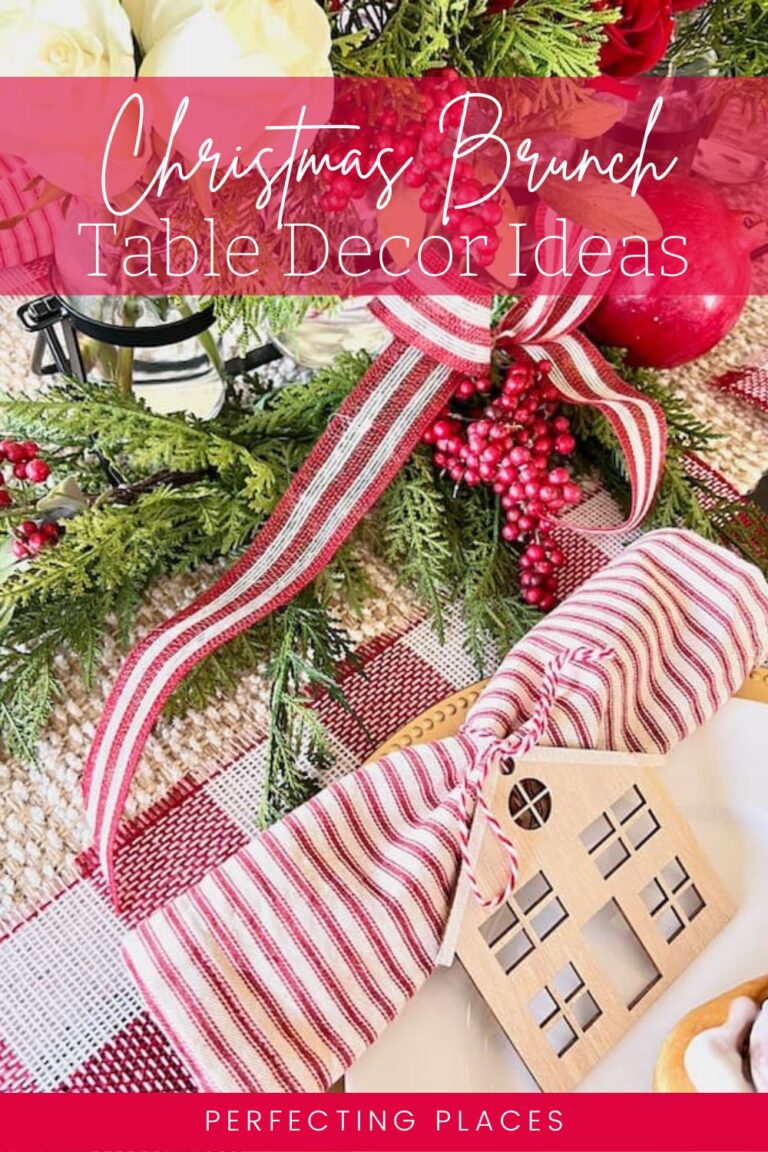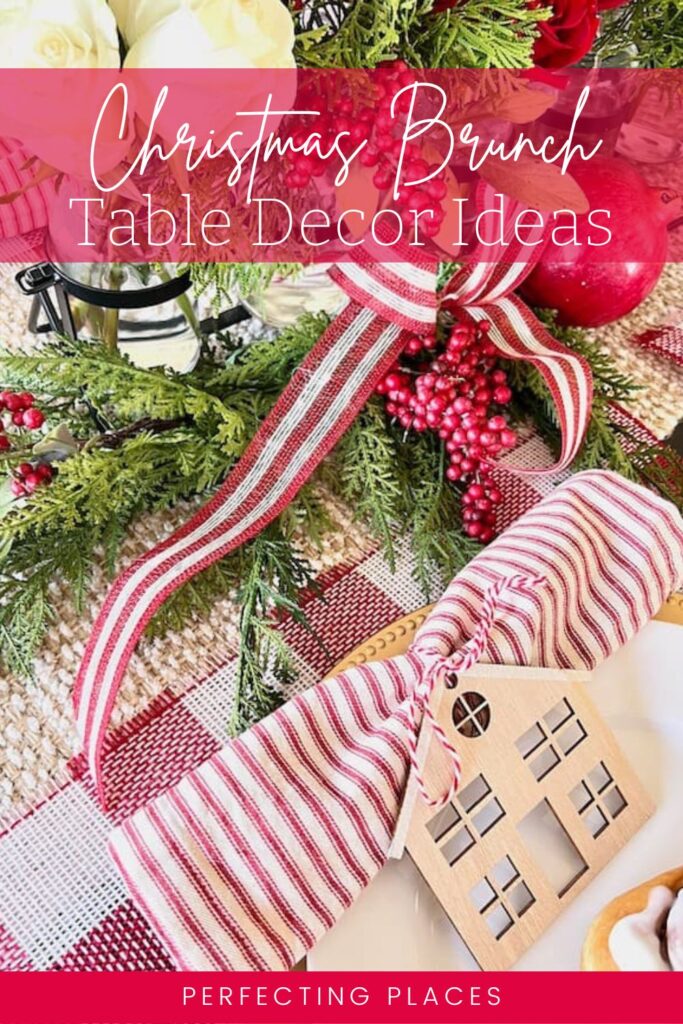 By the way, do you follow me on all the socials?? If not, check out my Pinterest, Instagram, and Facebook and be sure to follow me on all the socials so you don't miss out on any of my holiday decorating and DIY ideas!
---
Fabulous Friday Features Blog Hop
Thanks so much for stopping by! Be sure to check out the other amazing bloggers in the Fabulous Friday Features Blog Hop below, and see their creative ideas for celebrating and entertaining during the holidays!