5 Decorating Ideas for Valentine's Day Yarn Hearts
Do you need an easy and inexpensive decorating idea for Valentine's Day? These 5 simple decor ideas using Valentine's Day yarn hearts add a special touch of Valentine's Day fun around your home.
These Valentine's Day DIY yarn hearts are easy to make and fun to decorate with. It's a great Valentine's Day craft for young children as well as older kids to create, and they look fabulous around your home.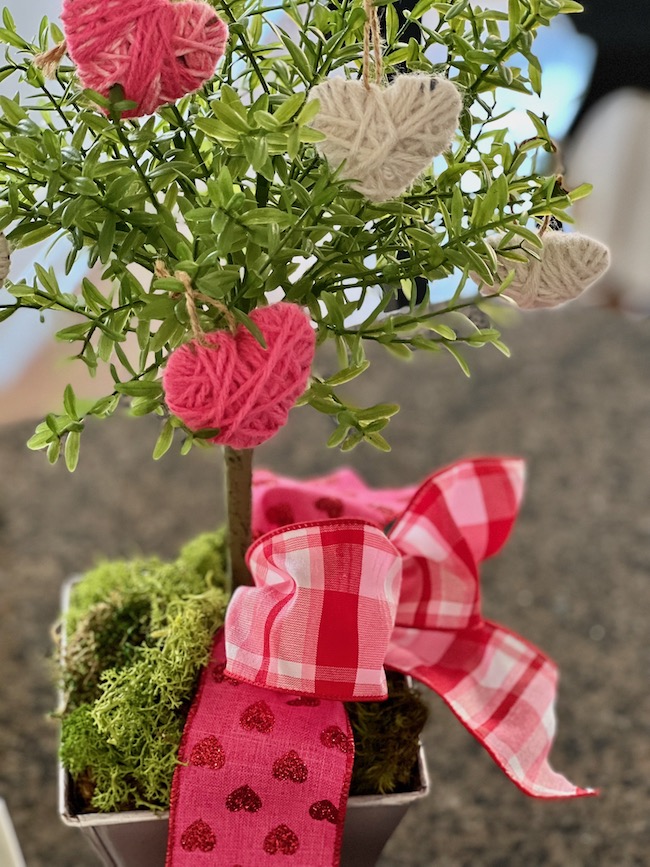 (This post contains affiliate links, so I may earn a small commission when you make a purchase through links on my site at no additional cost to you. As an Amazon Associate I earn from qualifying purchases.)
Today, you're in for a Valentine's treat! I'm joining my talented blogger friends in the Celebrate the Holiday Valentine's Day Blog Hop hosted by Carol from Bluesky at Home. A special thanks to Carol for putting this amazing blog hop together! Be sure to stop by and visit all of my creative friends at the end of this post for lots of fun ideas!
If you're stopping by from Thistle Key Lane, didn't you just love Michelle's creative Valentines ideas?
If this is your first time here, welcome to my blog, Perfecting Places! I blog about all things home decor and share lots of creative design ideas, DIYs, and resources to help you create a home that you love!! I'm so delighted that you've stopped by!
Do you love to decorate for Valentine's Day?
I generally don't go overboard with Valentine's Day decor, but I do like to add a few festive touches around our home during the month of February.
These little yarn-covered hearts are so fun to make and add such a festive touch, so I decided to make a bunch to use around our home in various ways!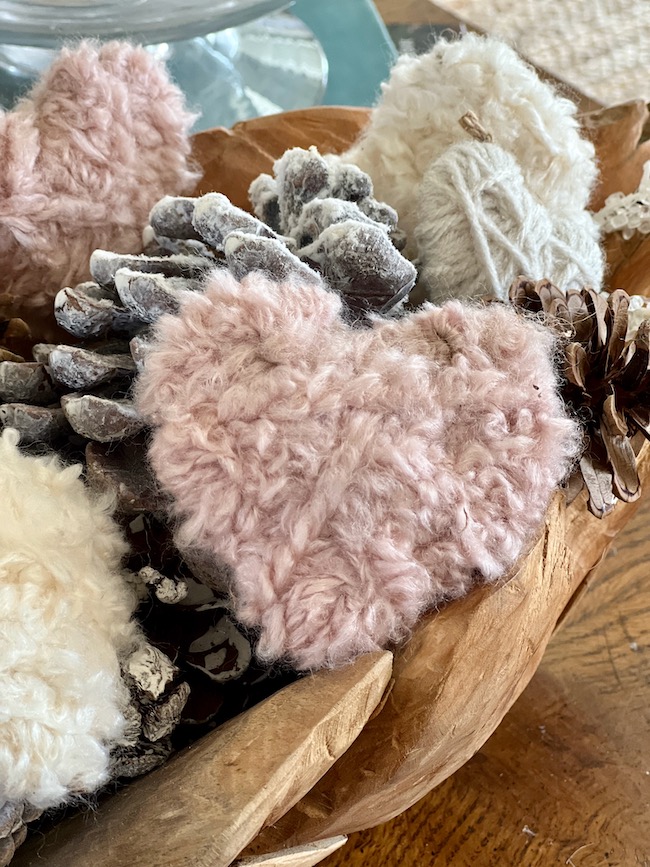 First of all, if you've never made a yarn-wrapped heart, this fun little craft is super easy!
How to Make the Yarn Hearts:
To make the hearts you'll need the following supplies:
a piece of cardboard for cardboard cutouts of hearts
sharp scissors (for older kids or adults)
Yarn (in the colors of your choice)
Pencil
Heart shaped cookie cutter, stencil, or template (or you can just draw free hand).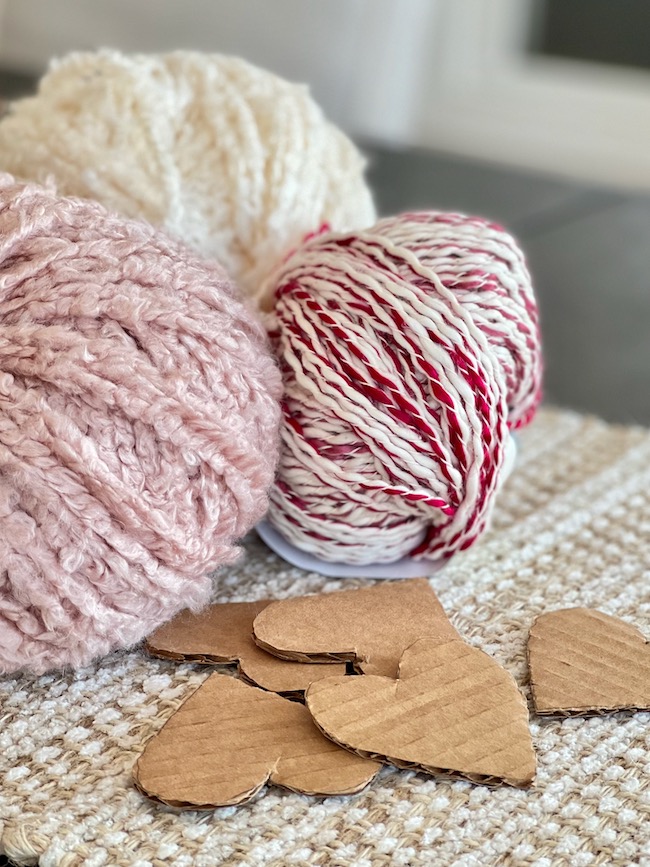 Step 1 – Decide on your colors.
Of course, red and pink are the traditional Valentine's Day colors, but you don't have to stop there. There are so many pretty colors and textures of yarn, so get creative.
You can use a wide variety of yarn textures to make these yarn hearts, from embroidery threads to think, chunky yarn. I think the variety of textures makes the hearts really fun to decorate with. I kind of love the think, chunky hearts!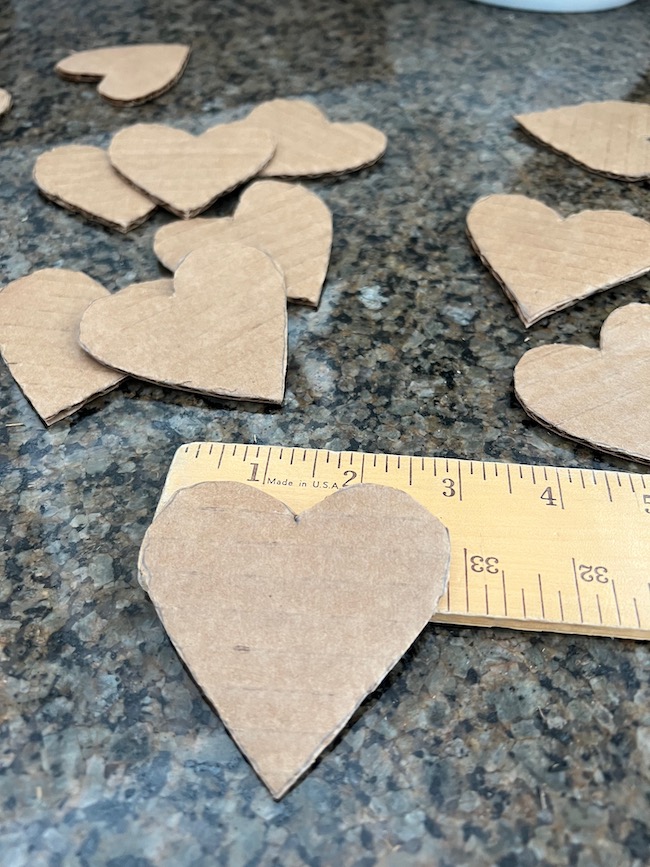 Step 2 – Make your hearts.
Use a cookie cutter to create your heart shape or simply draw the hearts free hand.
I drew roughly 3 inch hearts on the cardboard box and cut them out. I also made a few smaller hearts to add some variety to our Valentines Day decor.
Step 3 – Wrap the hearts with yarn.
Secure the end of your yarn to the cardboard heart. You can either hold it in place with your fingers as you wrap, or secure it with a piece of tape or glue stick.
Start wrapping the yarn all around the heart in different directions. It takes quite a bit of yarn to cover each heart. Keep turning your heart in various directions as you wrap it to make sure you cover the entire heart, and rotate to even out the thickness of the yarn. If you have small children, let them help in this process to develop those fine motor skills!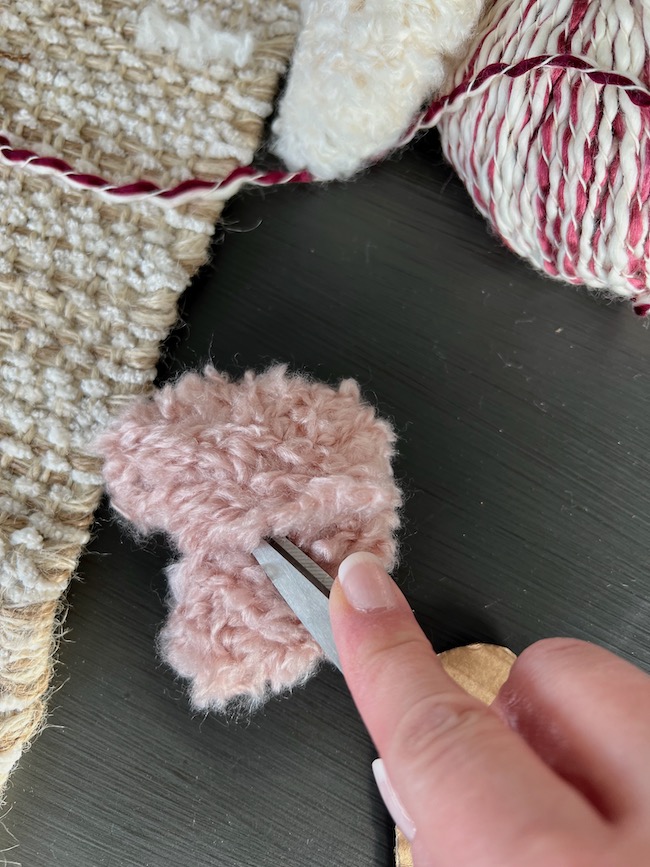 Once it's entirely covered, cut your yarn, and tuck the loose piece in. I use the point of my scissors to tuck the yarn end in to secure it. I did not use glue to secure it, but you certainly can.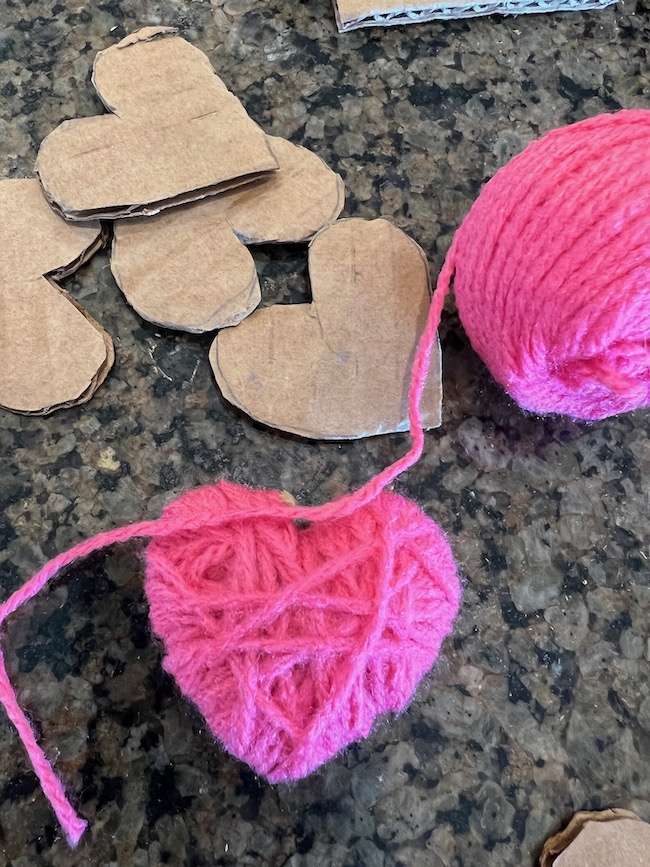 Now that you have the hearts made, try one of the fun ideas below.
5 Different Ways to Decorate with Your DIY Valentine's Day Yarn Hearts:
1. Make a yarn heart garland.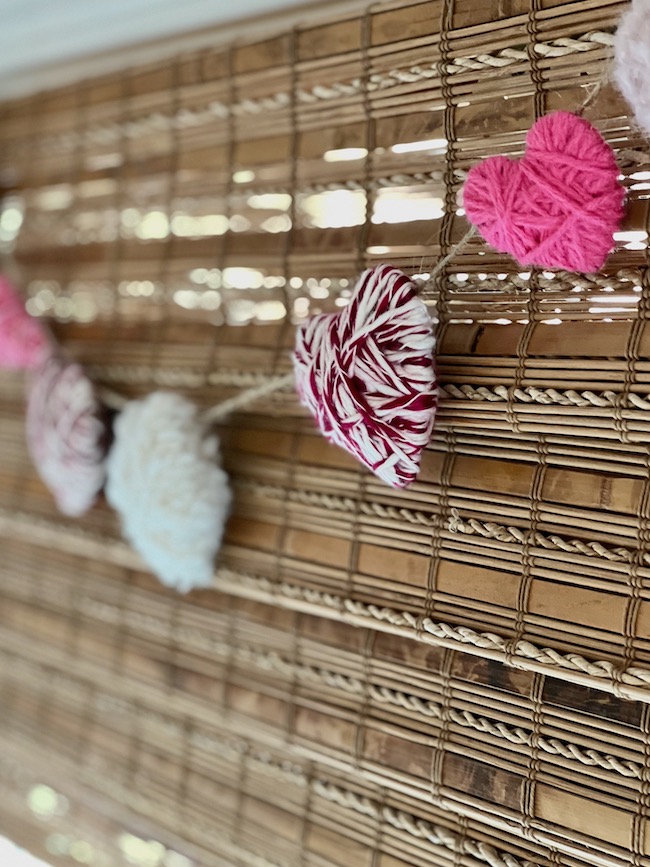 Decide on the pattern you would like for your hearts to hang on the garland, and begin stringing the hearts on a piece of twine.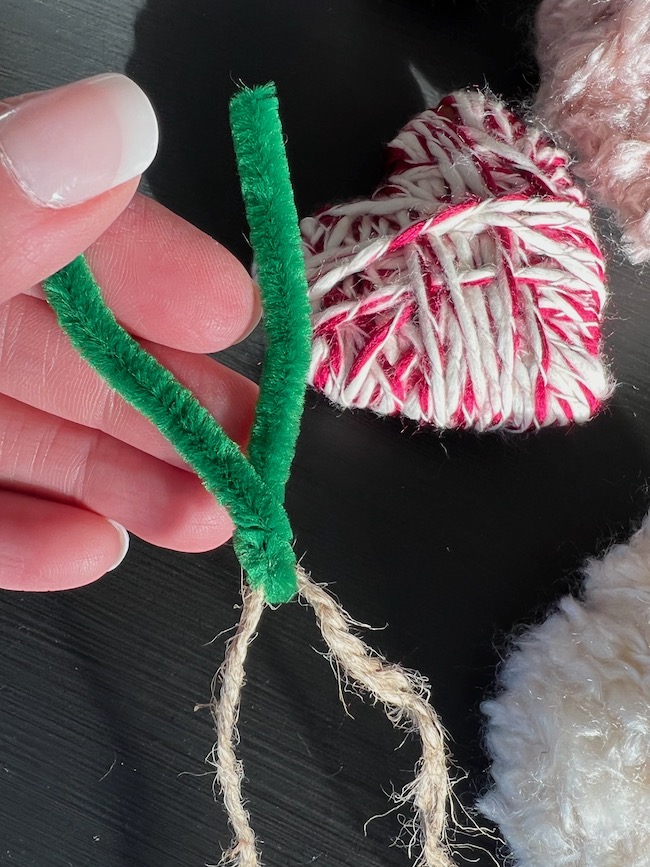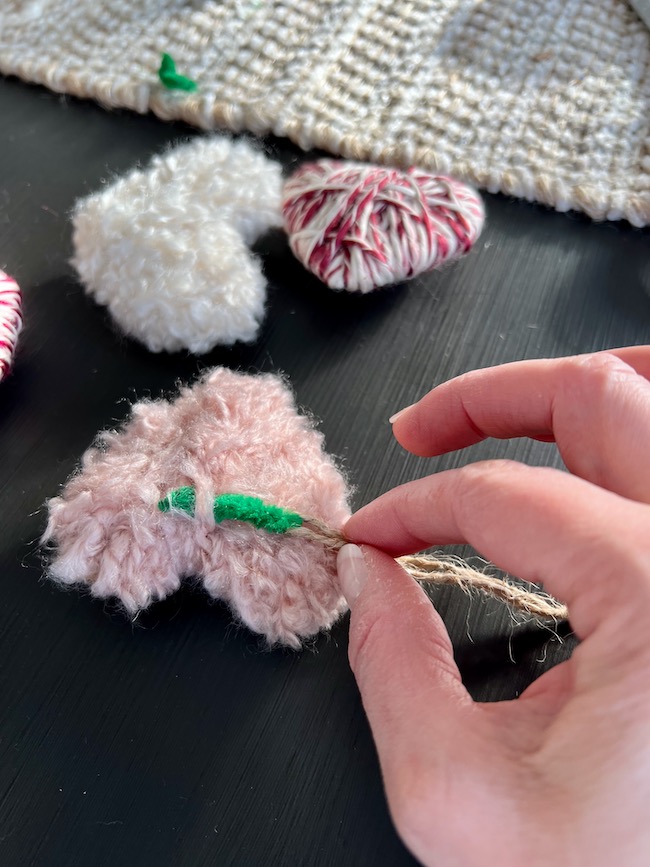 I made a little "needle" out of a folded pipe cleaner to thread the jute twine through the backs of all the hearts. I threaded the twine through a couple of places on the backs of the hearts so they would hand straight on the garland.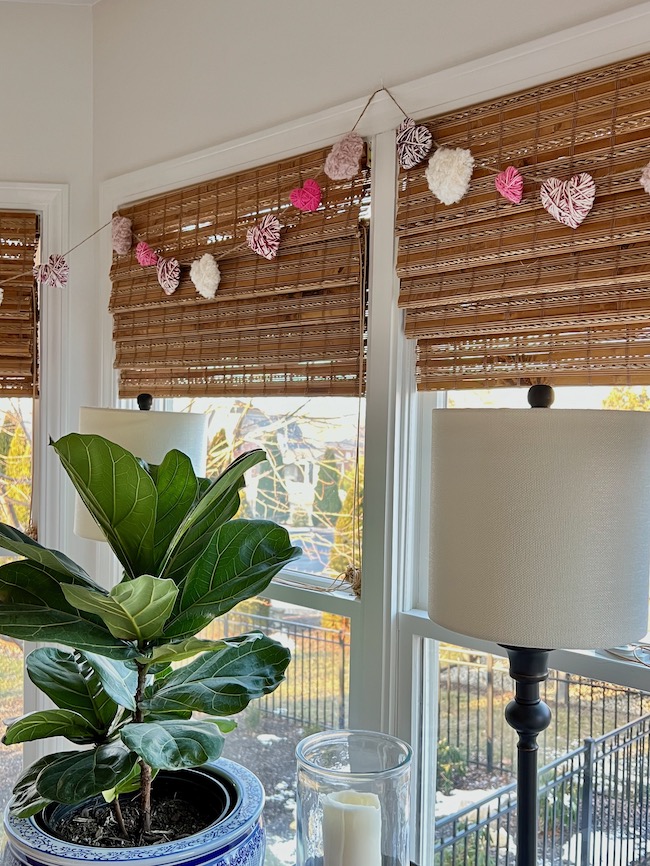 2. Make yarn heart picks for greenery and floral arrangements.
If you already have a vase full of greenery or other flower arrangements, you can create yarn heart picks to add a festive Valentine's Day touch to the arrangemnt.
Insert small wooden dowels, long floral picks, or a wooden skewer (which is what I used) into the back side of the yarn hearts to create little heart picks to add to an arrangement of greenery.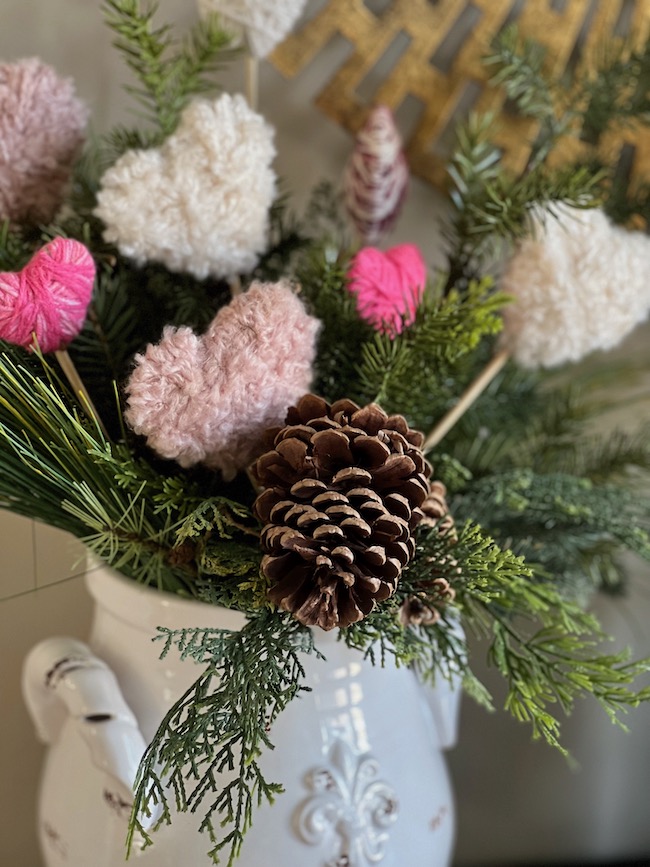 In the month of February, I still have some winter greenery tucked around our home in vases, and I add the picks to the greenery bouquets for some quick and easy Valentine's Day decor.
3. Decorate a topiary with yarn-covered hearts for a cute "Valentine's Tree".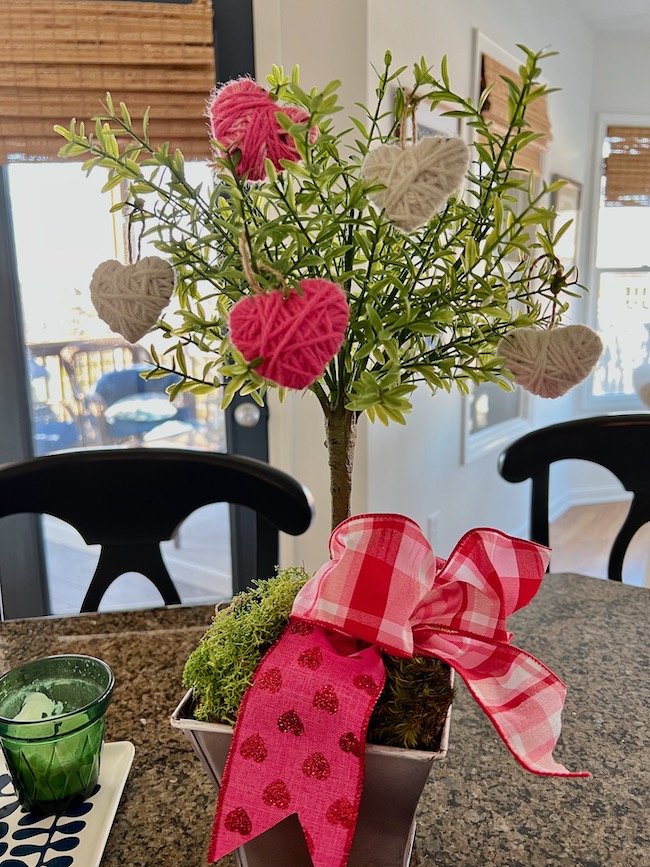 I just love a pretty topiary! I found this cute thyme topiary at a local craft shop, but you can easily find them online, like this one from Amazon.
Thread some jute string or yarn to make loops, and then hang the hearts on your topiary. I made small hearts for the topiary. What a fun Valentine's Day addition to your kitchen!
4. Fill a tray, a mini dough bowl, or decorative container with yarn hearts.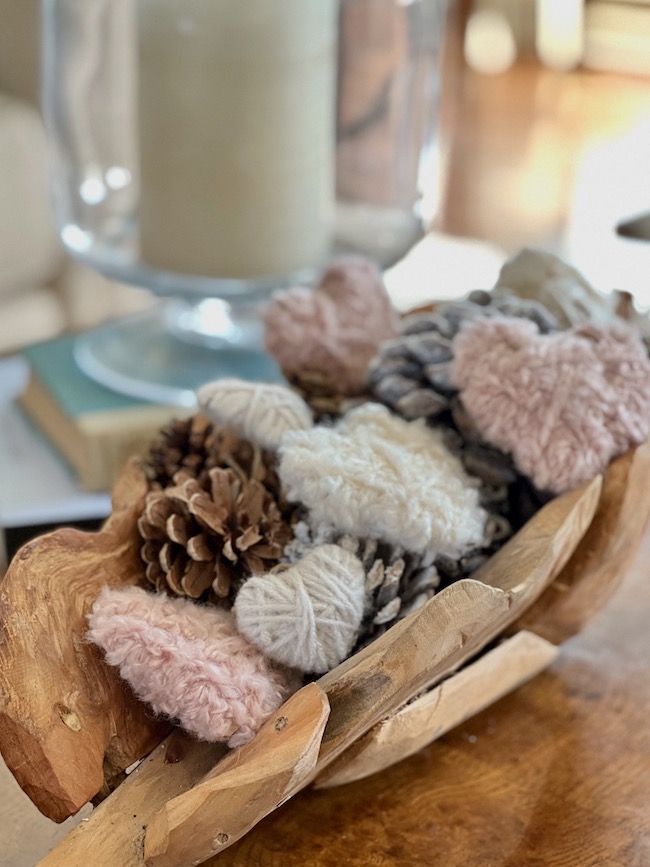 Use your hearts as "filler" for a pretty bowl or tray on your coffee table. I love this wooden bowl, and love it filled with the colorful hearts. My bowl was a Homegoods find years ago, but a pretty wooden dough bowl like this would look terrific!
You could also add small wooden beads to your dough bowl along with the yarn hearts for a little extra texture.
Adding a little Valentine fun doesn't get much easier than that!
5. Add yarn-covered hearts to a centerpiece.
Keeping with the winter decor theme, I added yarn hearts to our pinecone centerpiece on our kitchen table. I simply swapped out the dried orange slices and added the hearts in their place.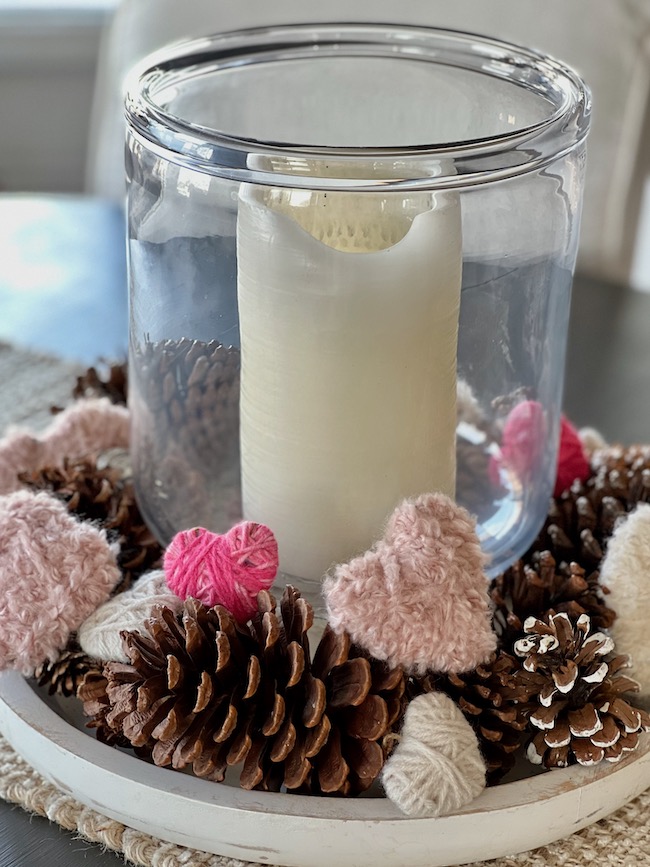 ---
Shop the Look

---
Don't you just love simple decor ideas that are so much fun and easy to make?
I hope this Valentine craft idea gives you a little inspiration for a fun and easy way to add some fun Valentine's Day love to your home decor.
These little yarn hearts are such a fun project, so get creative!!
Thanks so much for stopping by!
Now, be sure to hop over to White Lilac Farmhouse to see Tammy's fabulous budget-friendly Valentine's Day ideas!!
Pin This Idea for Later!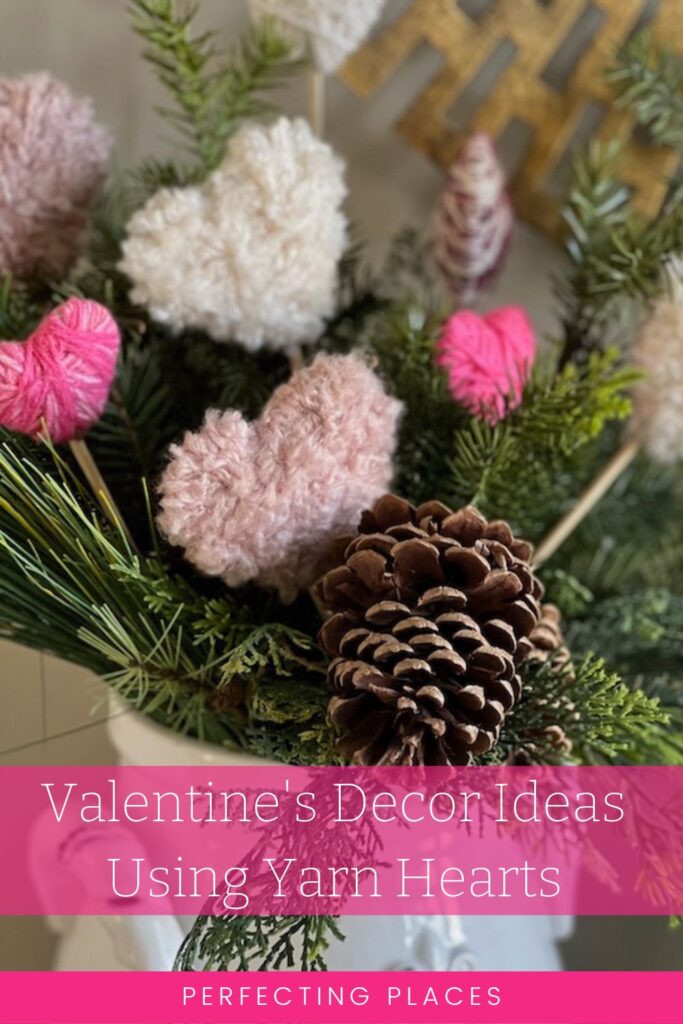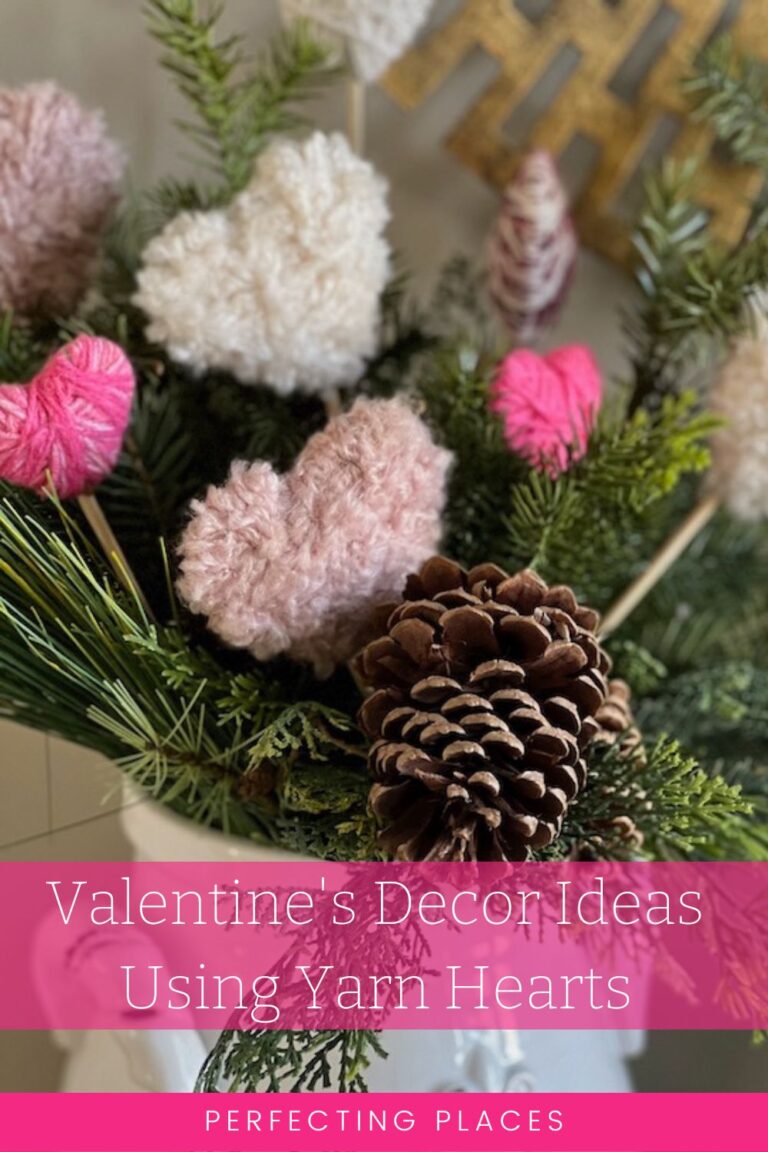 By the way, do you follow me on all the socials? If not, check out my Pinterest, Instagram, and Facebook and be sure to follow me on all the socials so you don't miss out on any of my decorating and DIY ideas!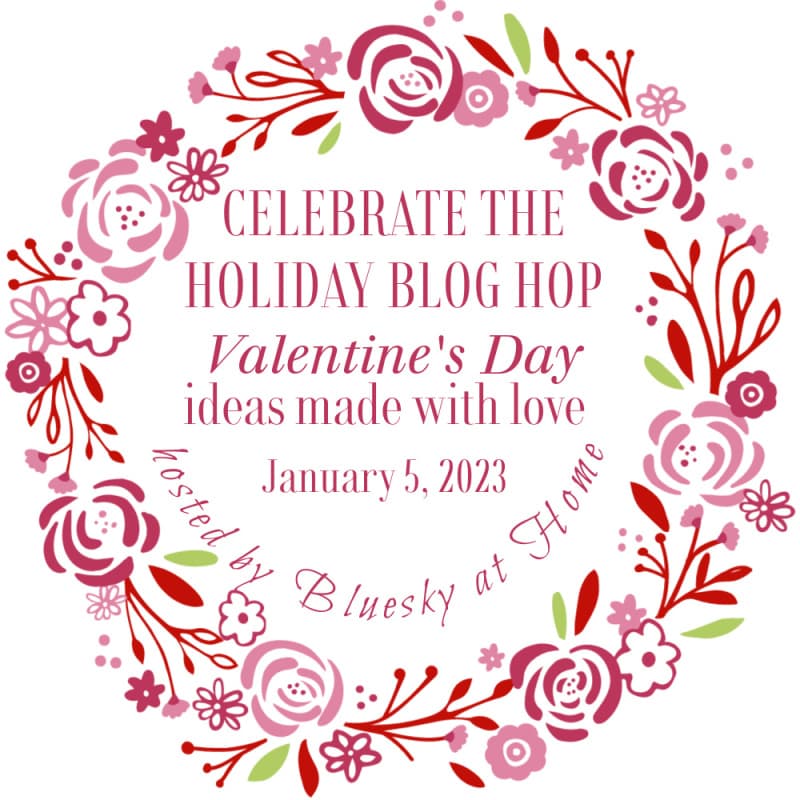 For more creative Valentine's Day ideas check out my amazing blogger friends below!
You might also like:
Our Simple Valentine's Day Table Decorations