9 Spring Decorating Ideas and Inspiration
If you're asking "when should I start spring decorating", now's the time, and today I'm sharing 9 early spring decorating ideas for inspiration!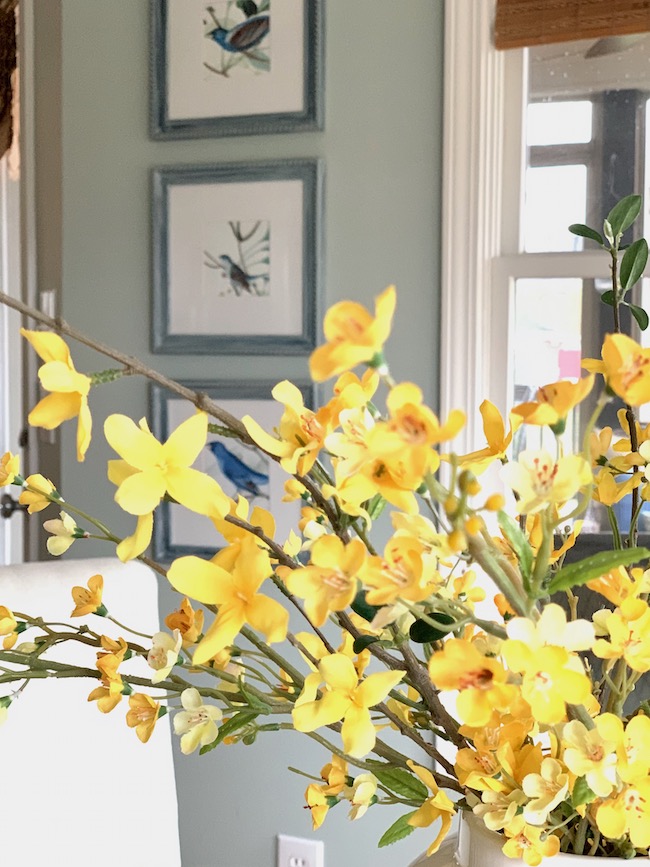 (This post contains affiliate links, so I may earn a small commission when you make a purchase through links on my site at no additional cost to you. As an Amazon Associate I earn from qualifying purchases.)
Oh, there's nothing like a sunny day in February to make your heart long for spring! The weeks of winter have been long, and I'm so excited to add some fresh, pretty touches of spring around our home. The wheels in my mind are spinning with all of the fun ideas, and today I'm sharing a few spring pictures that I hope give you a little inspiration and some ideas for your home as we head into spring.
Now is a great time to take inventory of what you have around your home, and think about any decor purchases you might want to make.
1. Add a pretty spring pillow to your sofa.
It's time to brighten up your pillow scape with some pillows in fresh spring colors. You can read about the new antelope print pillow I made here.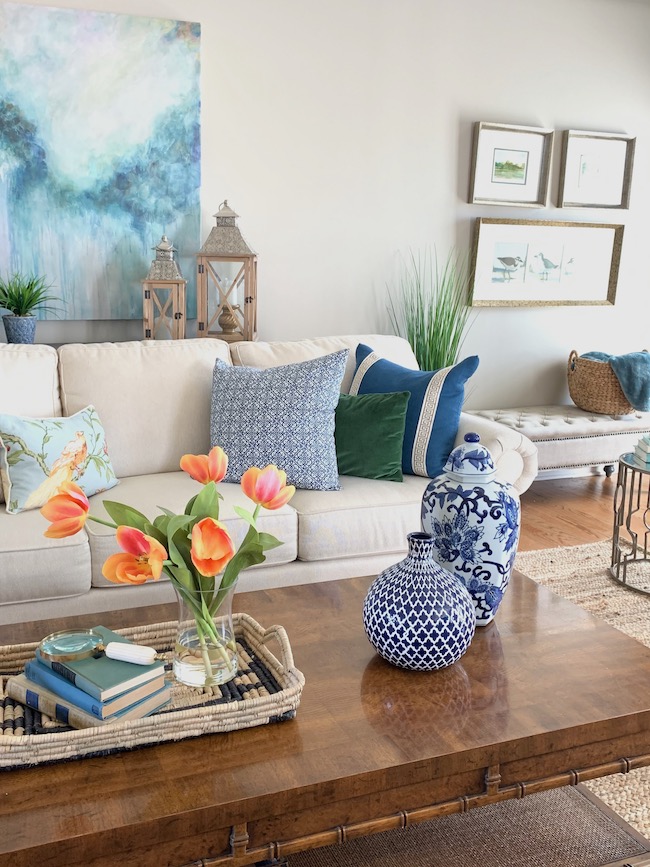 2. Pick up some potted orchids from the grocery store.
Orchids are always a pretty addition to your decor, and so easy to "dress up". Here, I've used three potted petite orchids in a giant clam shell bowl for a dining table centerpiece.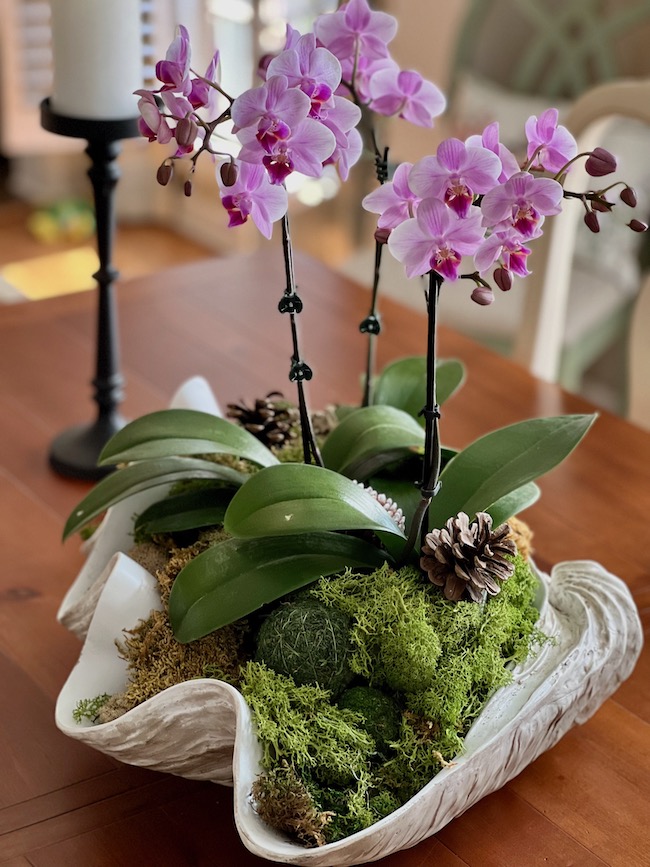 Orchids are perfect for your home year round, and such a pretty way to add vibrant color to your home. I think this shade of lilac is perfect for transitioning from winter into spring. It works so beautifully with more subtle neutrals and textures of winter decor, and adds the perfect pop of spring color moving forward into warmer months.
You can read three ways to decorate with orchids in this post.
3. Another easy spring decorating idea — Add a spring ribbon to a boxwood wreath.
I love the classic statement a boxwood wreath makes, and it's the perfect "evergreen" to use throughout the year. This wreath looks nice and "springy" with the addition of a pretty coral ribbon.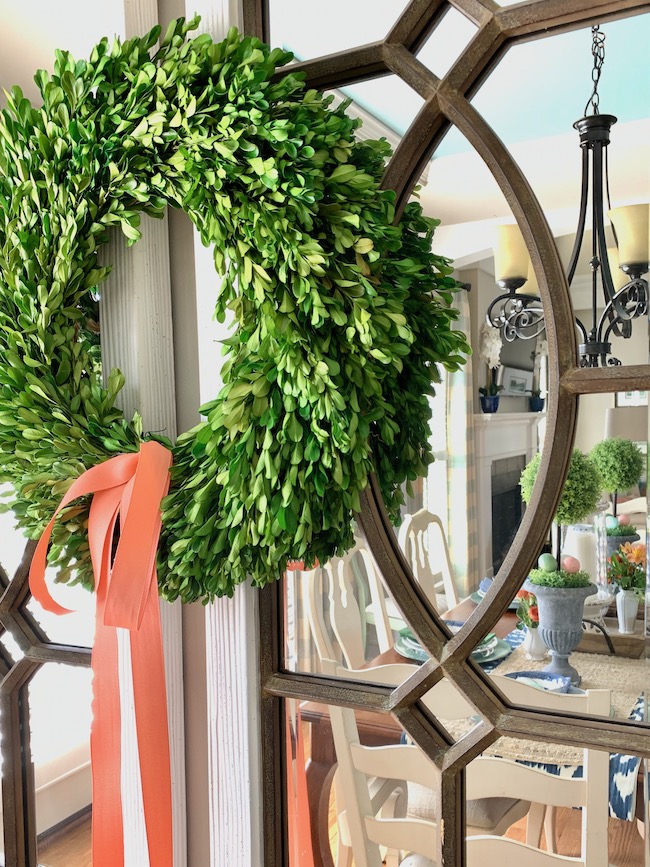 4. Force some spring flowering branches.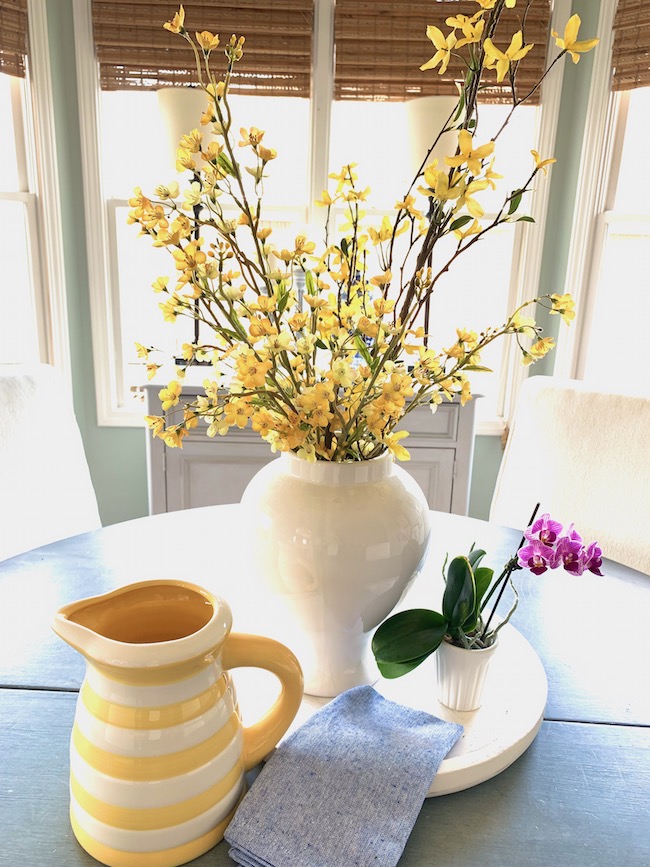 Forysthia branches are a classic early spring flower and the long graceful stems add nice height to a vase. I'm using faux forysythia branches in this white ginger jar, but you could also try forcing some stems.
Spring flowering branches such as forsythia, quince, pussy willow, and redbuds are fun to force into bloom this time of year.
You might also enjoy this post about how to incorporate biophilic design in your home (bringing the outdoors in).
5. Use a pretty tray for a spring centerpiece.
Add a pretty spring tray to anchor a grouping of spring flowers for an easy spring centerpiece. Round it out with a colorful pitcher, vase, or candle holder.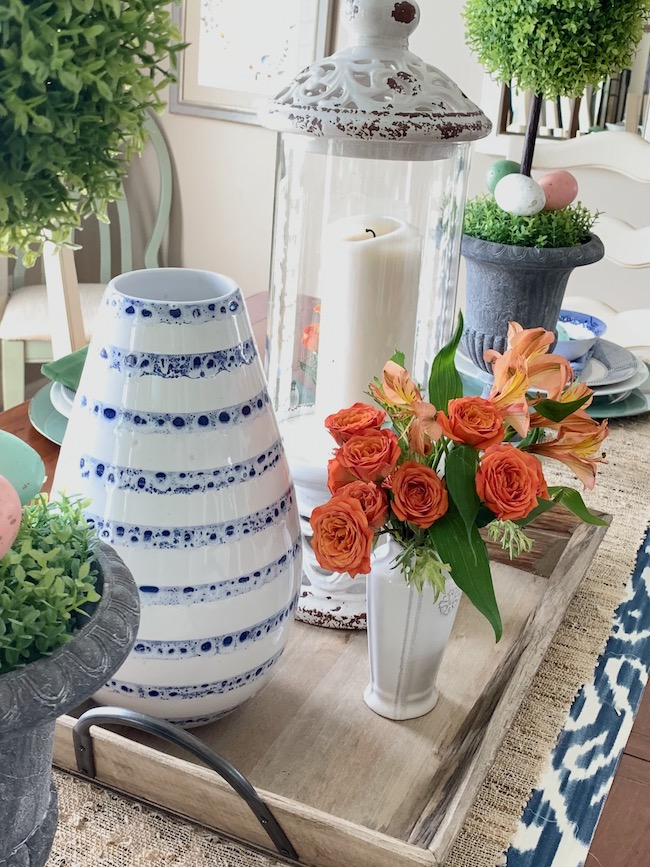 6.  Decorate with tulips!
Tulips are my favorite spring flowers, and there are so many pretty colors to choose from! This time of year, tulips are plentiful. You can find potted tulips as well as fresh cut tulips to use for arrangements and centerpieces.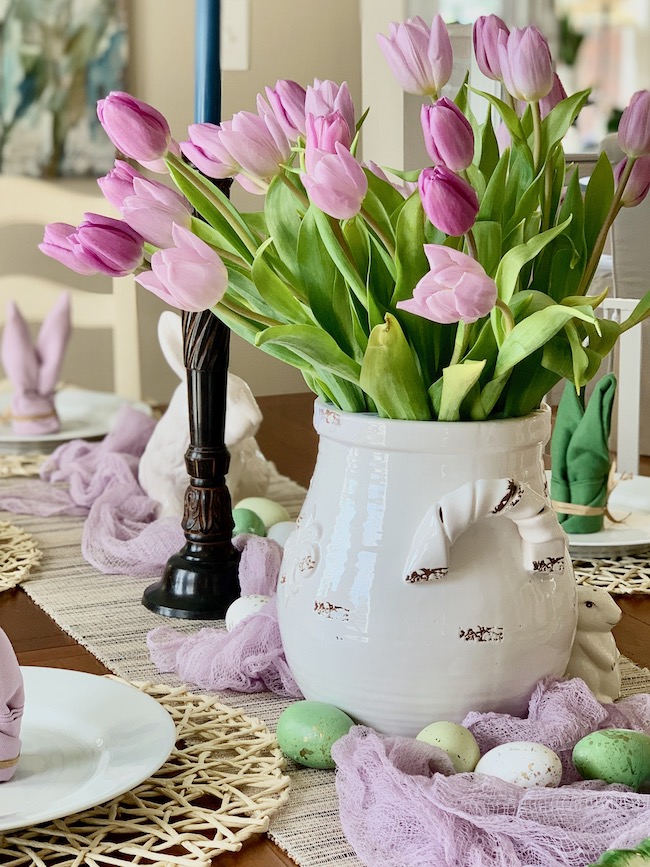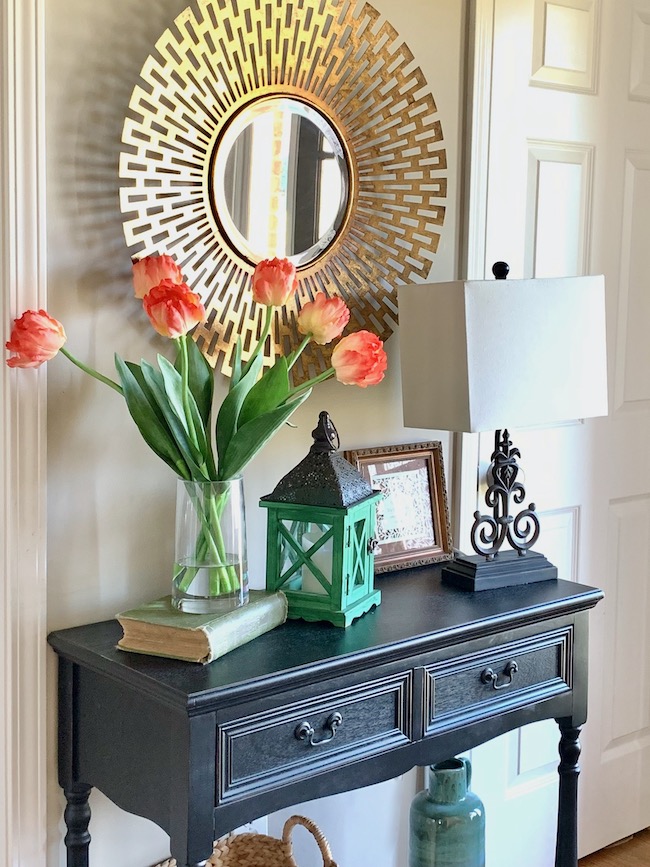 You can also find some great faux tulips to create beautiful arrangements and wreaths.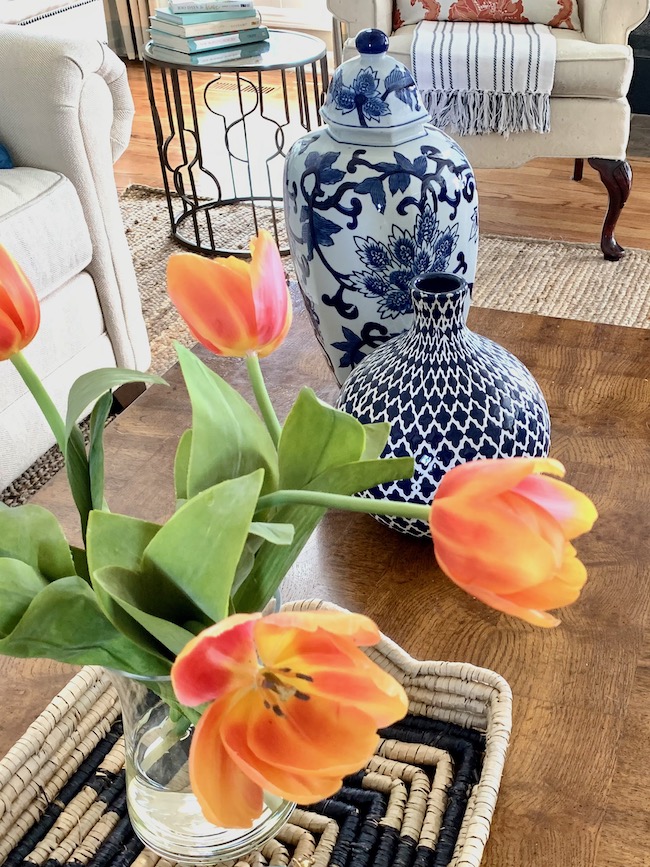 7. Spring Decorating Idea — Add a small potted flower to a lantern.
Lanterns are a great staple decor accessory and are perfect for your spring decor. Add a petite potted orchid, kalanchoe, or African violet for vibrant color. Display your potted flower with the lantern door open.
The live variety of these potted blooming plants are great for the lanterns, but of course, you can always display a great faux example.
Small flower arrangements arranged in small bud vases are also pretty displayed in a lantern.
You could even display a grouping of lanterns with flower arrangements or plants for a great dining table centerpiece!
---
Shop the Spring Looks
---
Are you like me and itching for warm weather and pretty spring color? I'm so ready for spring to arrive, so even if it's not quite here yet outdoors, with these early spring decorating ideas, it's sure to be making it's way inside our home very soon!!
Come on, Spring!! It's time!!
Pin It for Later!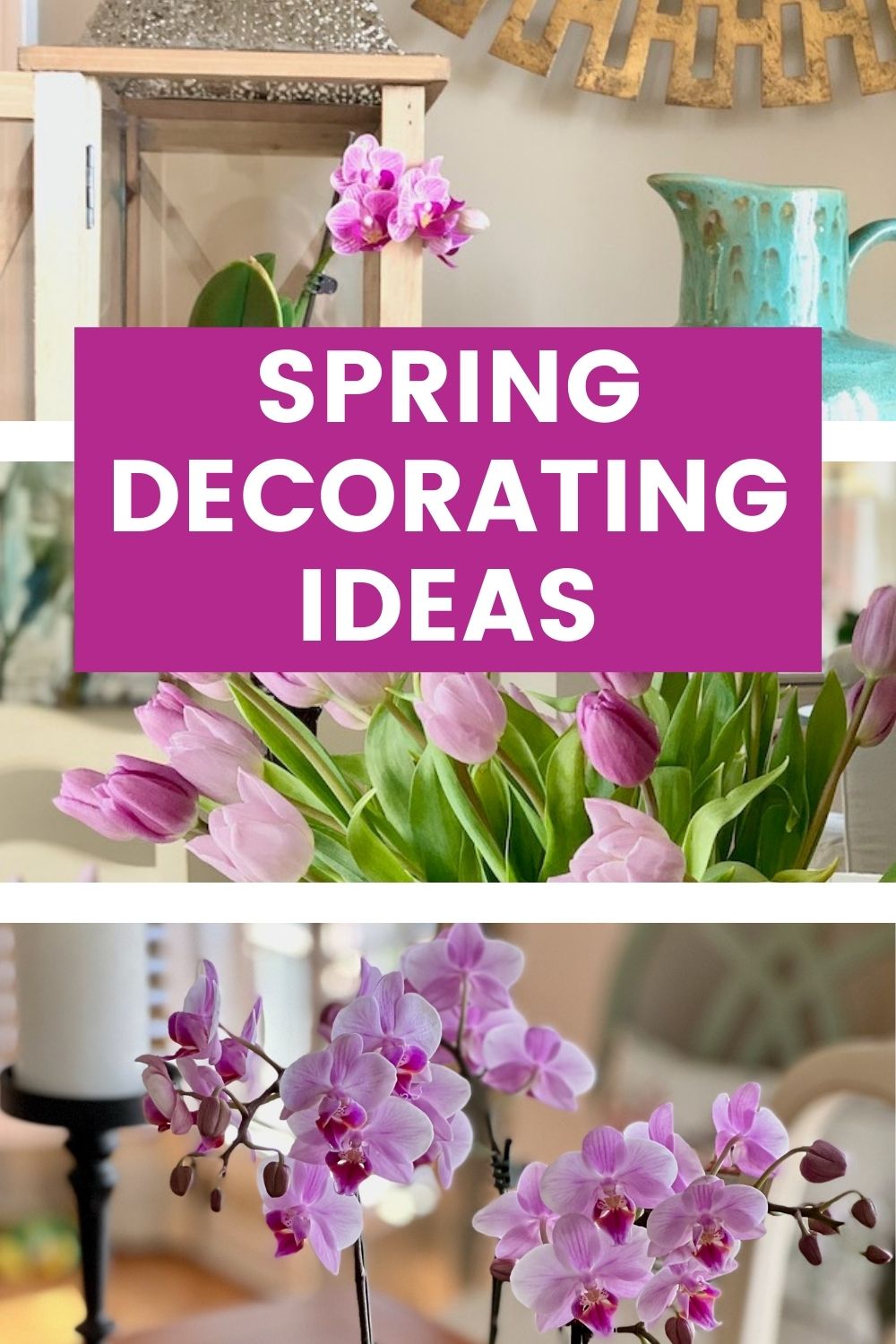 You might also enjoy these posts:
A Hand Painted Tole Cachepot DIY
Home Decorating Tips and Tricks FAQ
My Favorite Fresh Warm Neutral Paint Colors
Joining in this fun link party:
Tuesday Turn About at My Wee Abode.