Create a Bright Spring Color Palette in Your Home
What color scheme is best for spring? Today, I'm sharing a fresh, bright spring color palette for your home that's happy and fun, along with some pretty decor accessories that you can incorporate in your home right now to add a little spring happiness!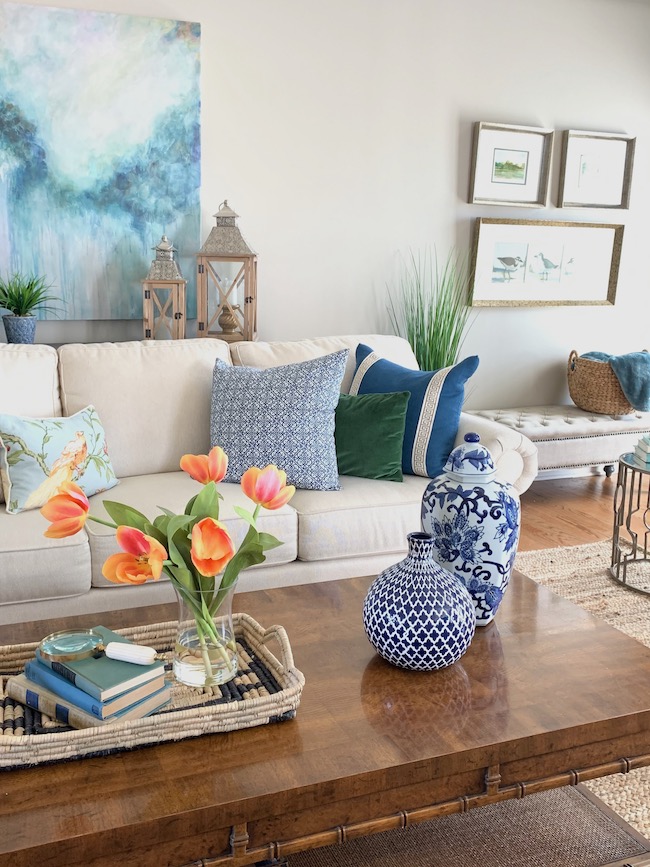 (This post contains affiliate links, so I may earn a small commission when you make a purchase through links on my site at no additional cost to you.)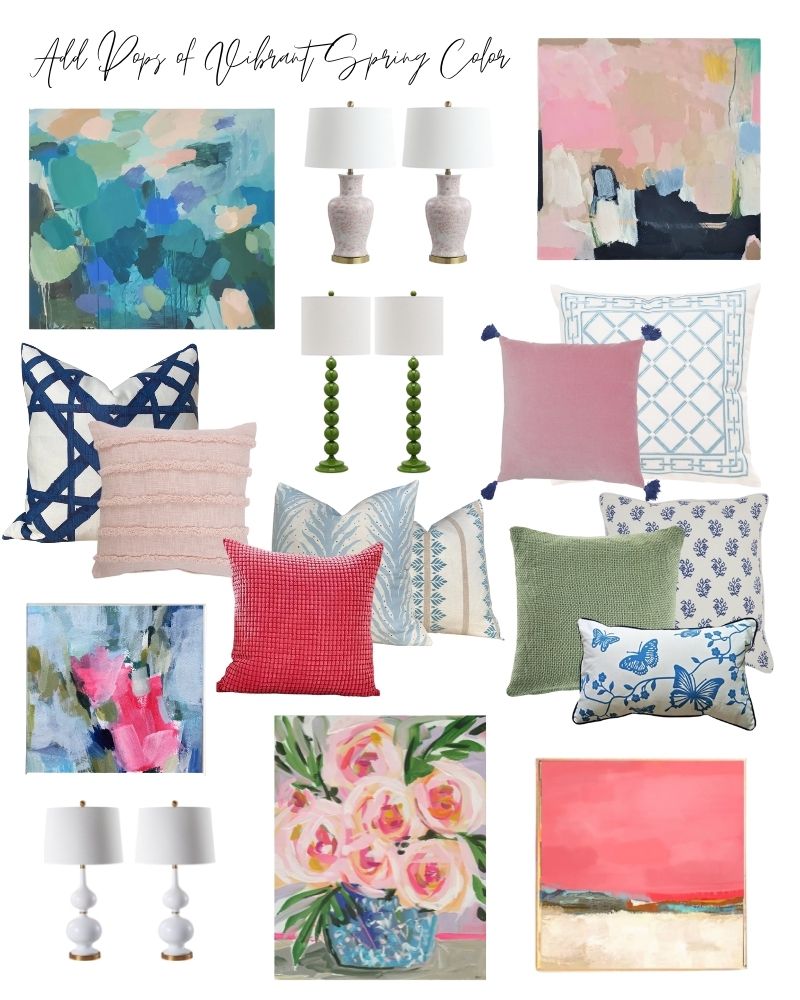 I find myself so drawn to color more than ever now. Our home's color scheme has always had some color, but it's more of an analogous color scheme of blues and some greens, and with a strong neutral base running throughout. I've typically kept to my blue and green favorites, but lately, I'm finding myself drawn to pink!
As the weather starts to warm (hopefully) and the days get a little sunnier and a little longer, I'm ready to bring in a little more color to our rooms, and I think it's high time to have a little pink thrown in the mix!
3 Easy Ways to Add Spring Colors to Your Home:
You can add a little fresh spring color with new throw pillows, some new lamps, or some colorful art. Just a few colorful pieces splashed around your room can really create a fresh new look, while staying anchored to your neutrals.
1. Add a colorful abstract painting.
I shared in this post, that I'd like to try my hand at a little artistic painting this year, and I think this just might be the time to do it. I love an abstract done in a bright spring color palette. Even if your home decor is more traditional, adding a vibrant splash of color in an abstract is a great way to keep your traditional decor feeling fresh and current.
I'm sharing some gorgeous abstracts in a bright color scheme from Etsy, but they also are going to serve as some inspiration for my artistic endeavors! I'll keep you posted on those!!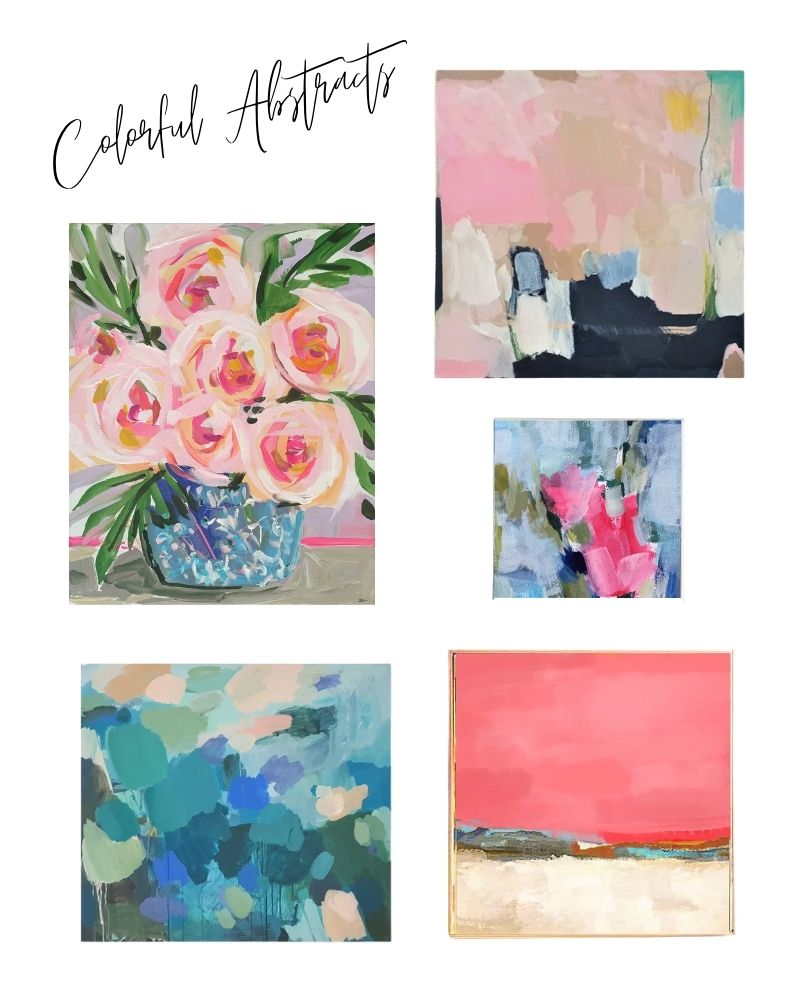 This pretty pink with navy abstract is stunning!
This abstract floral still life is so vibrant!
This petite floral abstract in blue and pink would be pretty framed on a bookshelf.
This pretty acrylic abstract in teals, blues, and greens is lovely!
Make a bright pinky/coral statement with this abstract piece!
2. Add a pretty pair of lamps in a fresh spring color.
Adding a new set of lamps to your room is a great way to inject color. These pretty pairs would be pretty on living room end tables, a sofa table or console, a dining room buffet, or on bedroom night stands. One helpful tip is to always buy your lamps in pairs — even if you separate them to use in different rooms for now. It's fairly likely that at some point you're going to need two matching lamps!!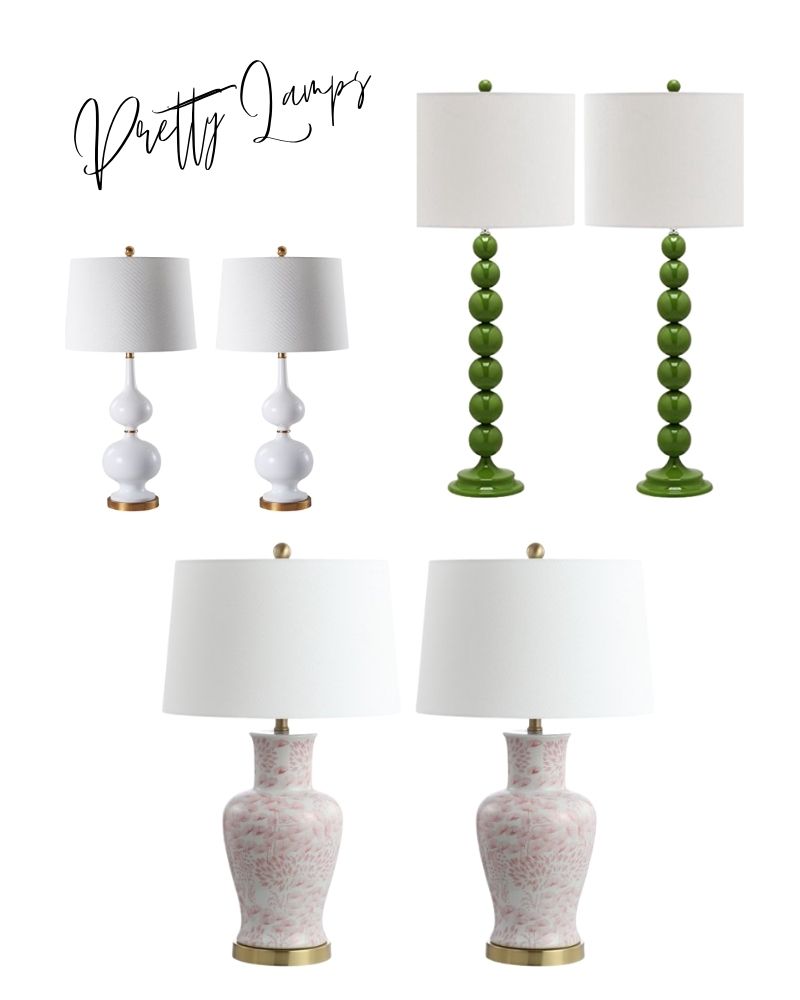 This pair of white and gold lamps is gorgeous!
These green lamps are so fun and springy!
This pretty set of pink floral lamps with gold accents is just perfect!
3. Add some new throw pillows in pretty spring colors and patterns.
If you've followed me for a minute, you know I love throw pillows! I love beautiful fabrics, and one of my favorite ways to inject spring color is with new throw pillows. One of the first things I learned to make early on in our marriage was throw pillows. Making them myself makes it a little more affordable to have pillows in pretty designer fabrics.
If sewing isn't your forte, you can still find gorgeous pillows in lots of colors and patterns in a wide range of prices. I'm sharing some pretty options in my spring color scheme below.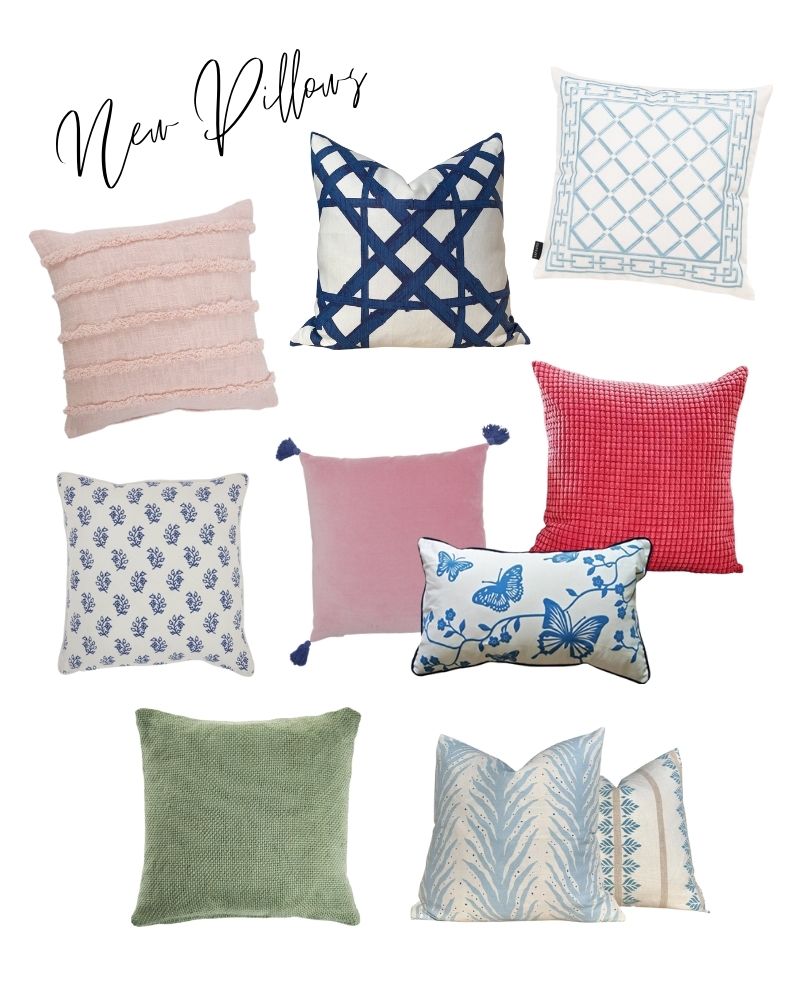 This soft blush pink pillow is so pretty.
This navy and cream bamboo lattice print pillow is stunning!
This soft blue and white lattice design pillow is perfect for spring.
This petite blue floral print on white pillow is so sweet!
This pink velvet pillow with navy tassels is fun!
This blue and white butterfly lumbar pillow is delightful!
This bright pink pillow adds a big pop of color!
This fresh green pillow adds color and texture.
This Schumacher blue fern pillow is beautiful!
Are you feeling inspired to inject a little color into your decor to create a bright spring color palette for your home? Even if your home is primarily neutral, a little pop of color here and there can add a fresh touch of spring to your home!
You might also enjoy:
9 Spring Decorating Ideas and Inspiration
My Favorite Fresh Warm Neutral Paint Colors
Home Decorating Tips and Tricks FAQ
DIY Antelope Print Pillows for the Living Room
How to Decorate with Sage Green Paint Color